In that sense, a garden office is a marvelous idea. Whether this is intended to be a private or a shared space, it has the potential to be wonderful in every way. These 10 examples below support this idea and they're also a great source of inspiration if you ever want to add such a workspace to your own garden.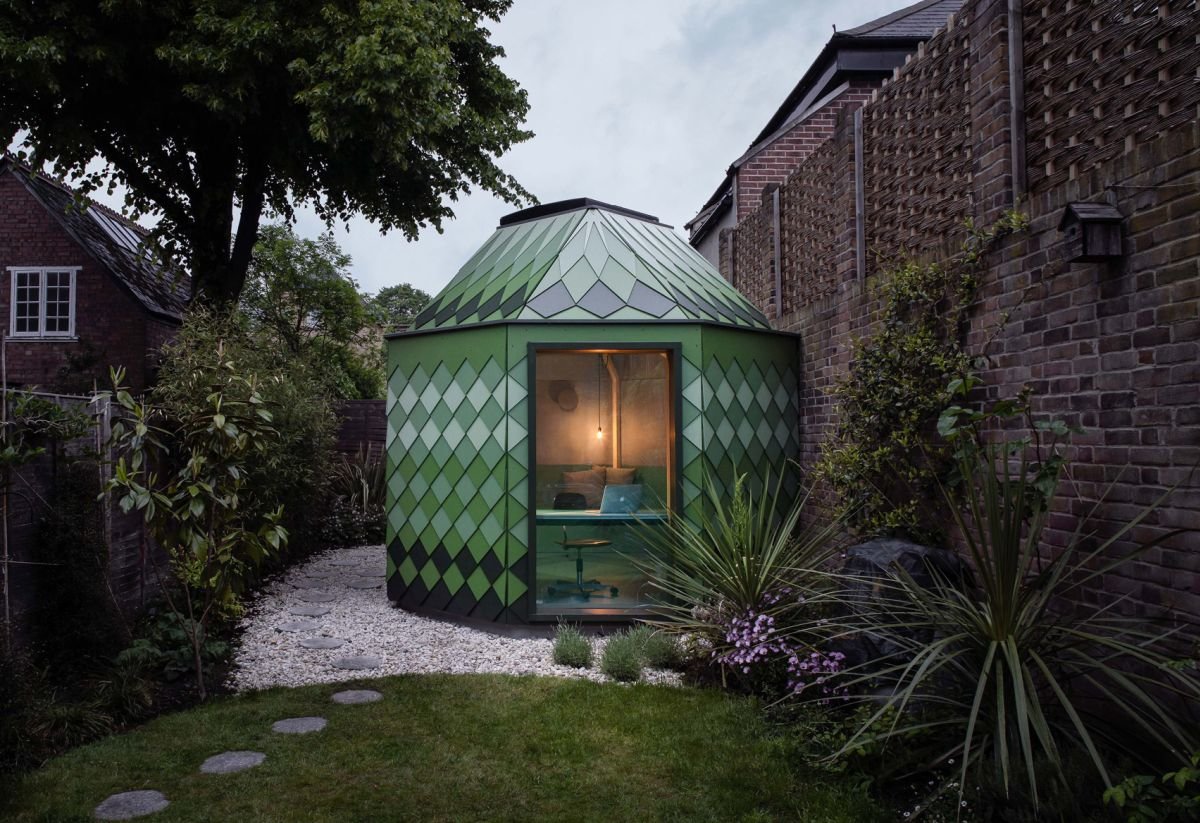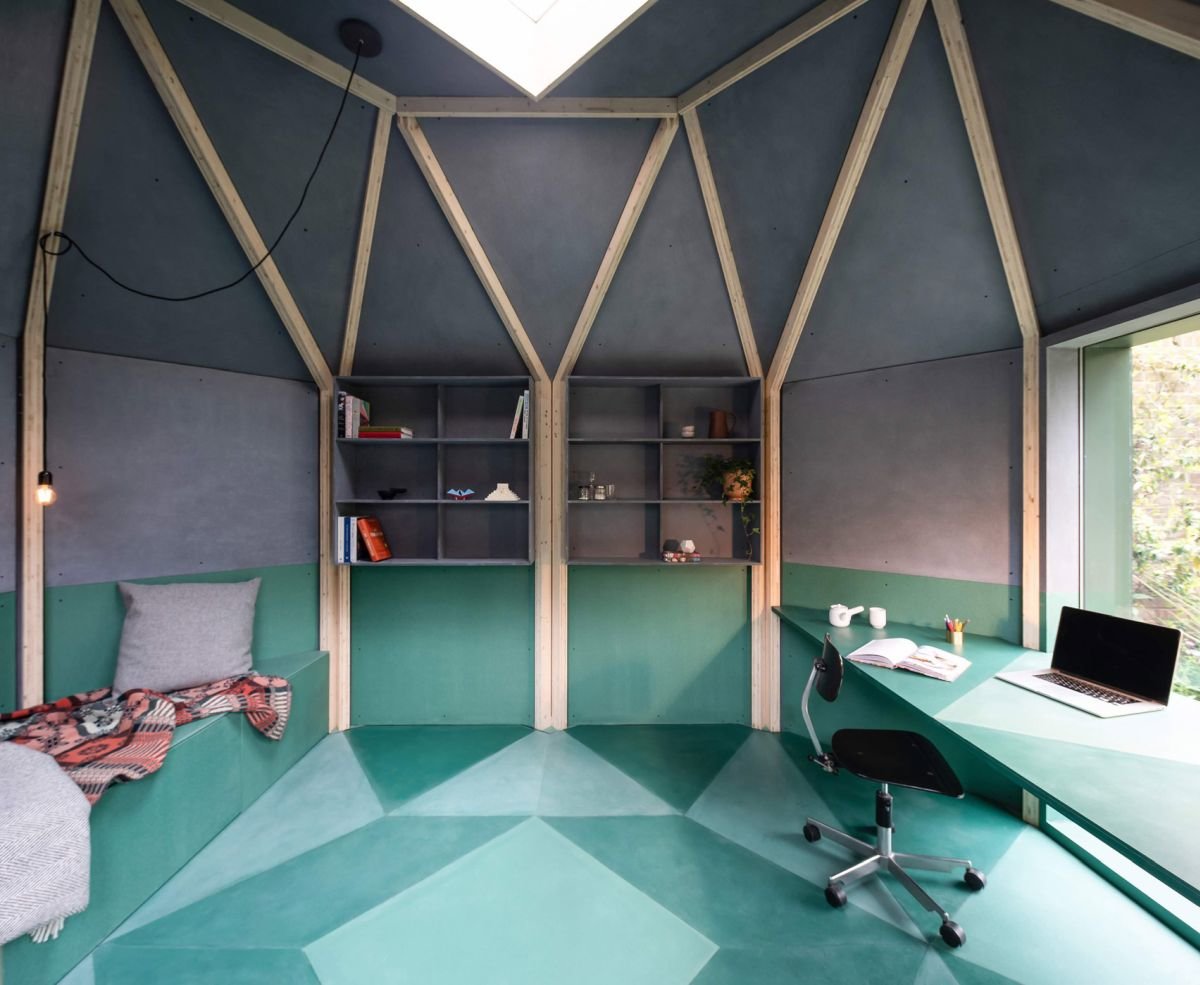 The inspiration for the unique design of this office entitled simply A Room in the Garden comes from nature, namely from the shape and color of artichokes. The design is playful and original and also manages to be simple and complex at the same time. This quirky garden office was designed by Studio Ben Allen and was built in London. It has a single large window overlooking the garden and there's a big floating desk in front of it. On the other side there's a wooden built-in bench which can transform into a bed if needed. The exterior and the entire bottom section of the interior feature various different shades of green in an attempt to camouflage the office into the garden surroundings.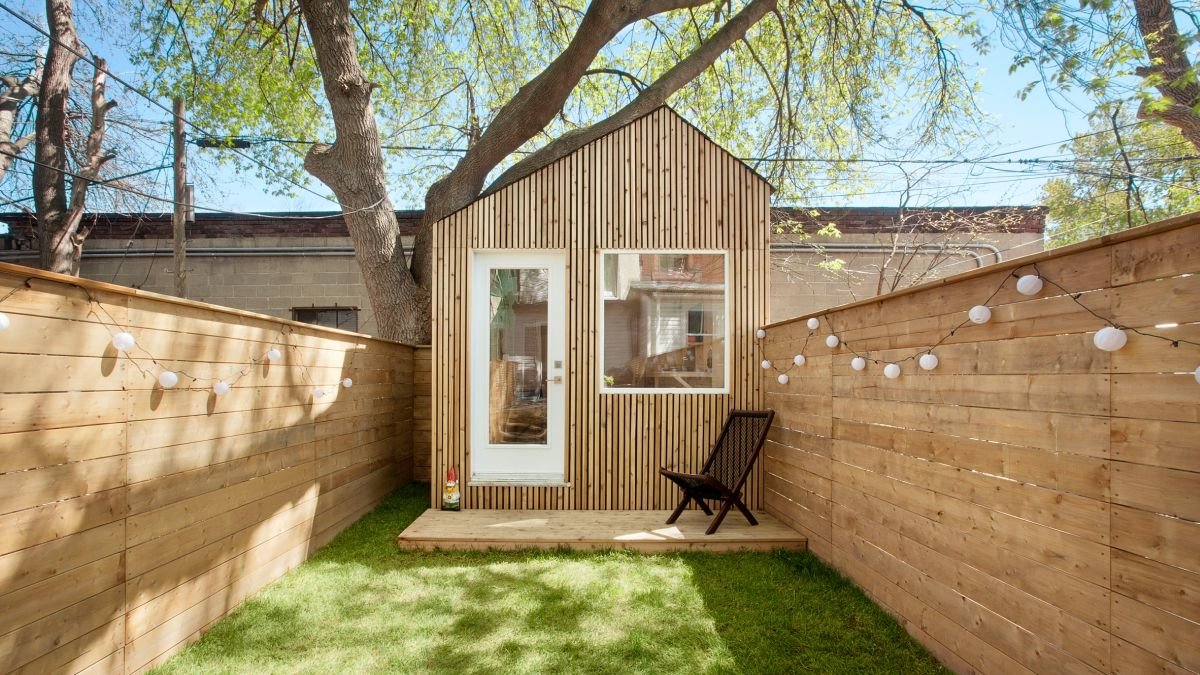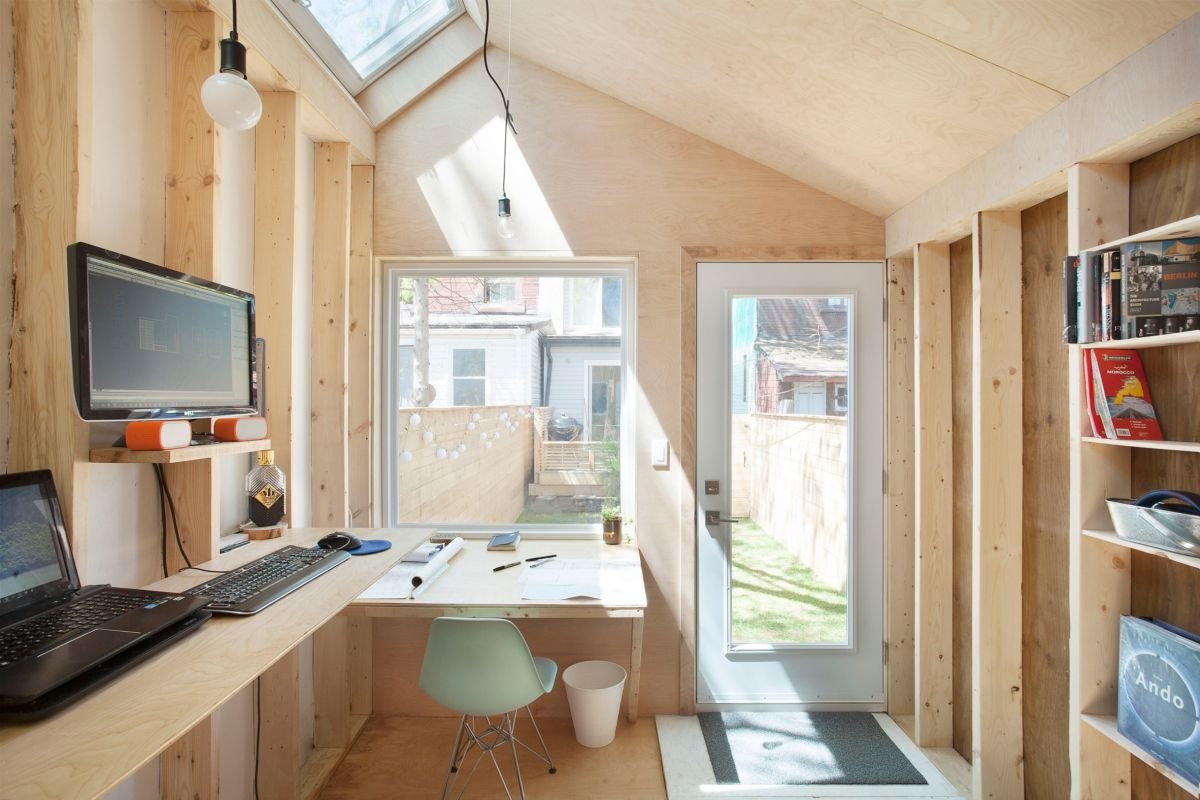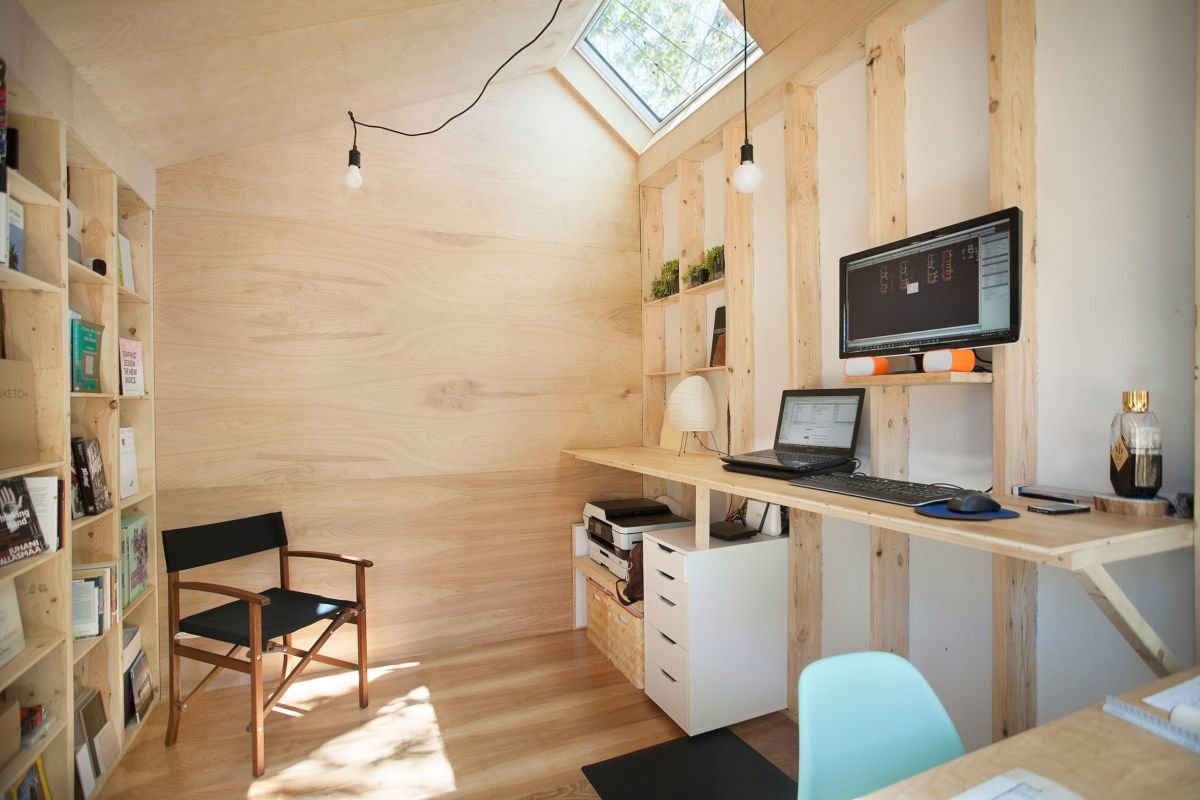 This lovely little garden office was designed by Oliver Dang, the founder of architecture firm Six Four Five A. It's an addition to his family home in Toronto and it takes advantage of the available free space out in the backyard of the property. It's a small and compact structure with a total surface of only 9.3 square meters (100 sq ft). It's clad in cedar wood and it has an asymmetric pitched roof which adds a playful and modern touch to the overall design. The white frame door and window let natural light inside and give this lovely office space a cute and cozy look.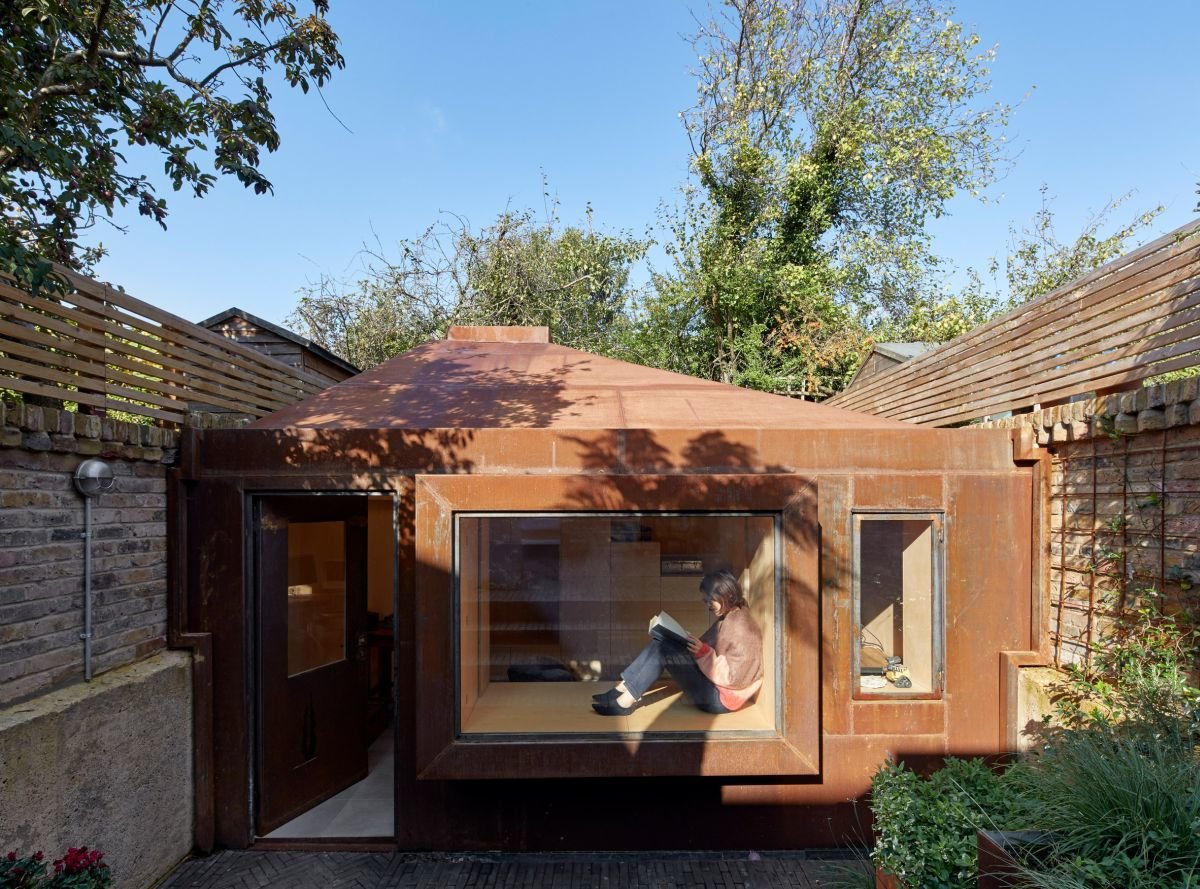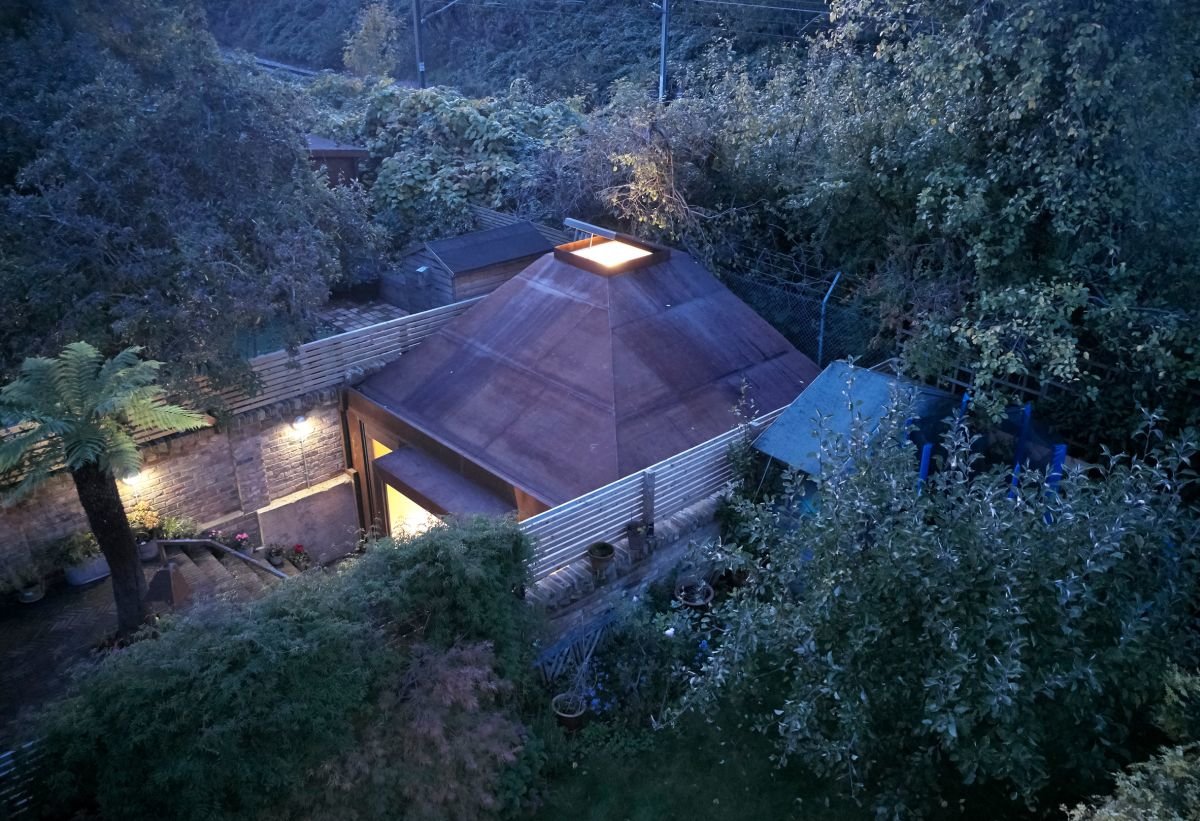 This garden office takes up quite a bit of space, extending from one side of the backyard to the other. It was built as an extension for a house located in London and it was meant to serve as a small sanctuary from the Brexit-dominated environment at that time. Dubbed the Brexit Bunker, this structure was designed and built by Rise Design Studio. As you can see, it has a very distinctive exterior, being clad in weathered steel which gains a unique patina over time. The materials were left to rust and change color in order to give this place an authentic look. The roof has a particularly interesting design, featuring a pyramid-inspired shape.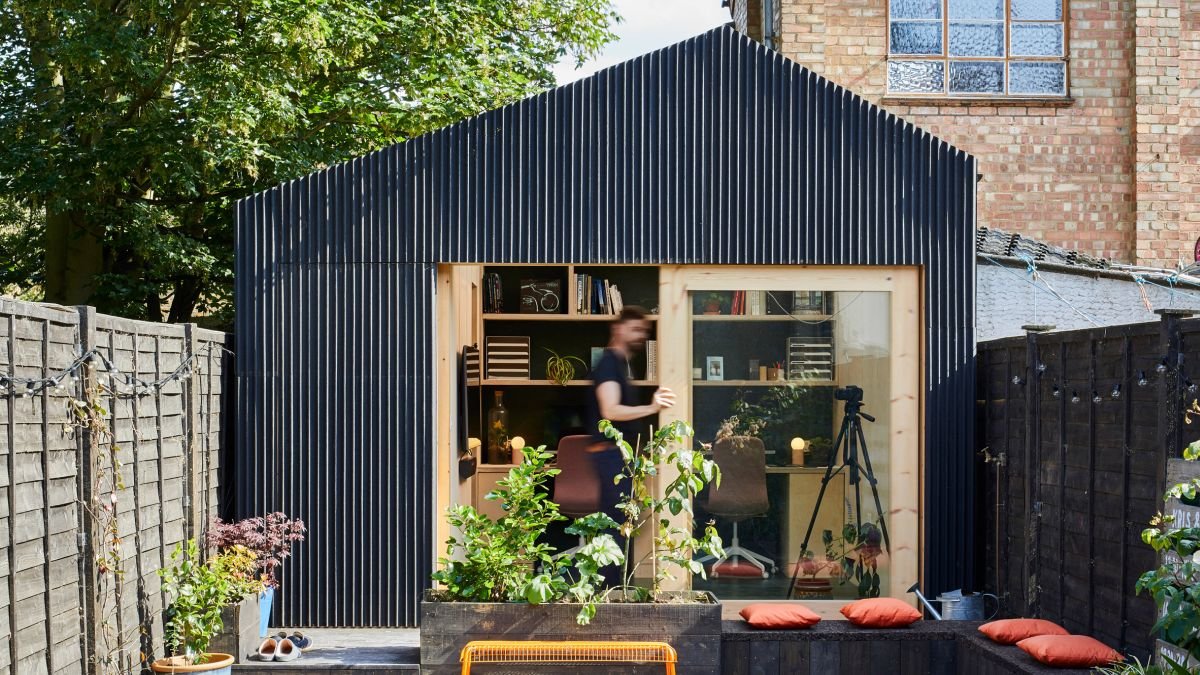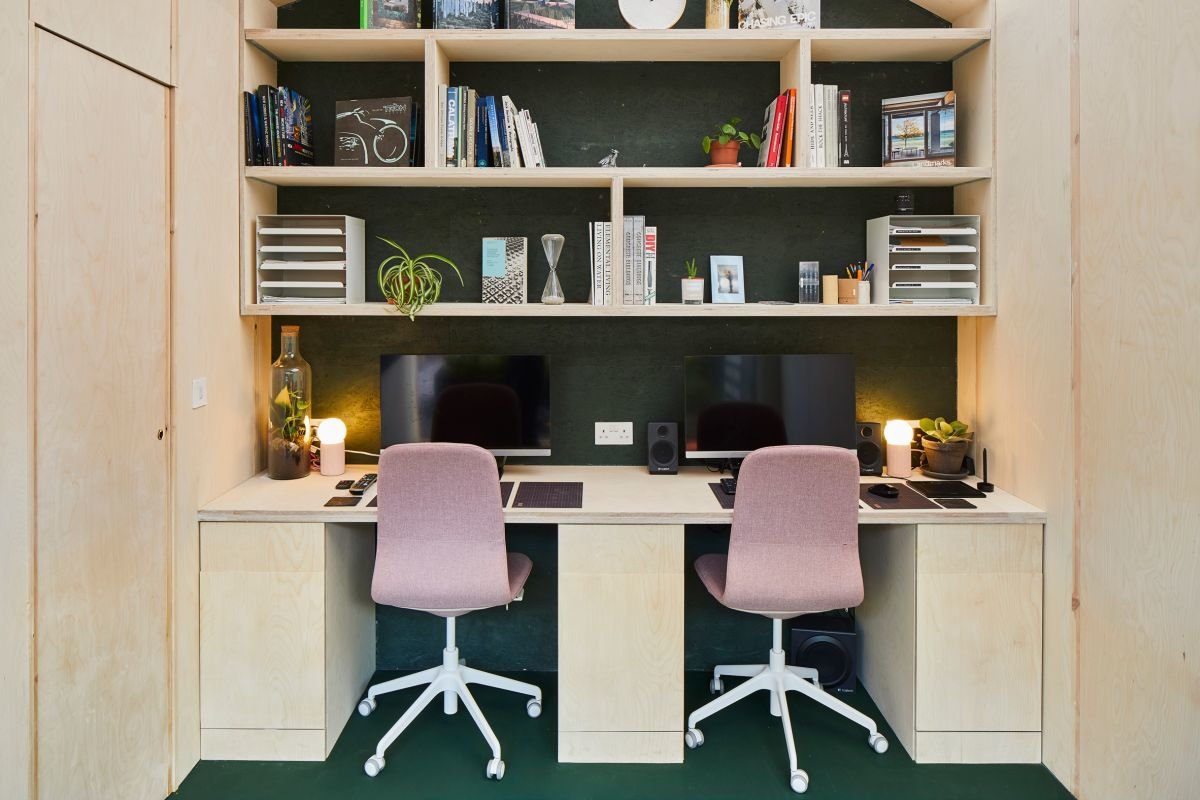 The Light Shed is a really cool garden office that architect Richard John Andrews designed in order to use it as his own workspace/ architecture studio. The name has an important significance in this case because it references the fact that the roof is made of translucent polycarbonate. It allows natural light to filter through in a very pleasant and convenient way. The exterior of the building is clad in black corrugated fiberglass panels which gives it a modern and sleek look. The interior is lined with plywood and that creates a warm and inviting ambiance inside.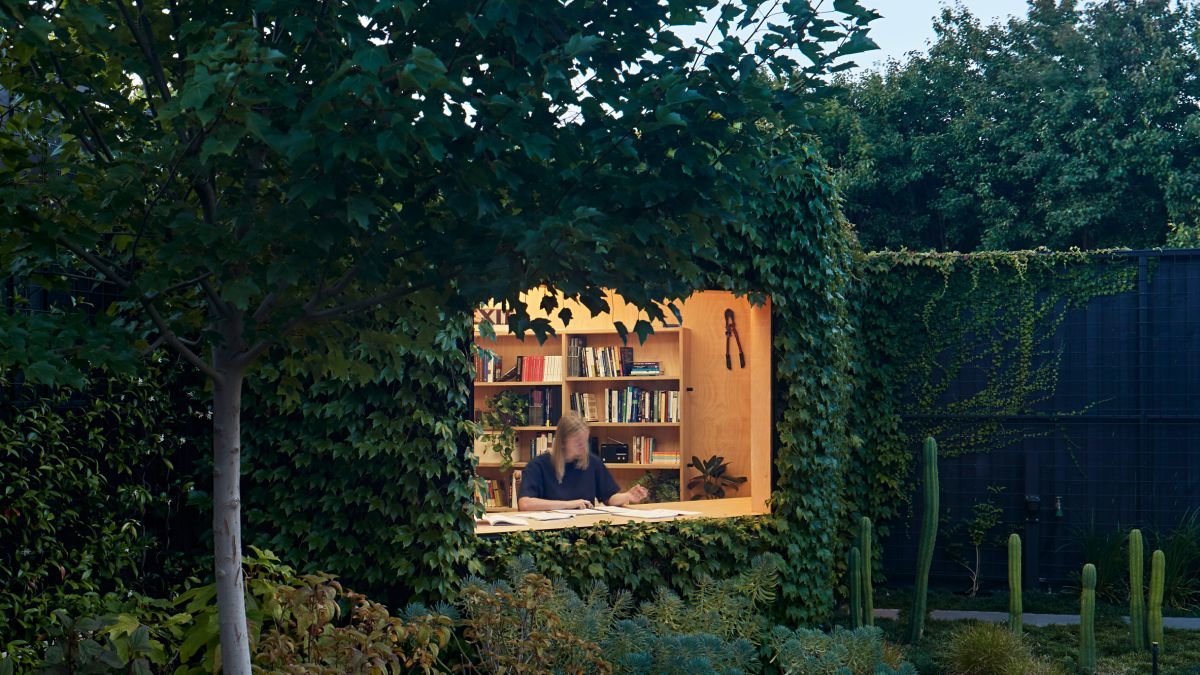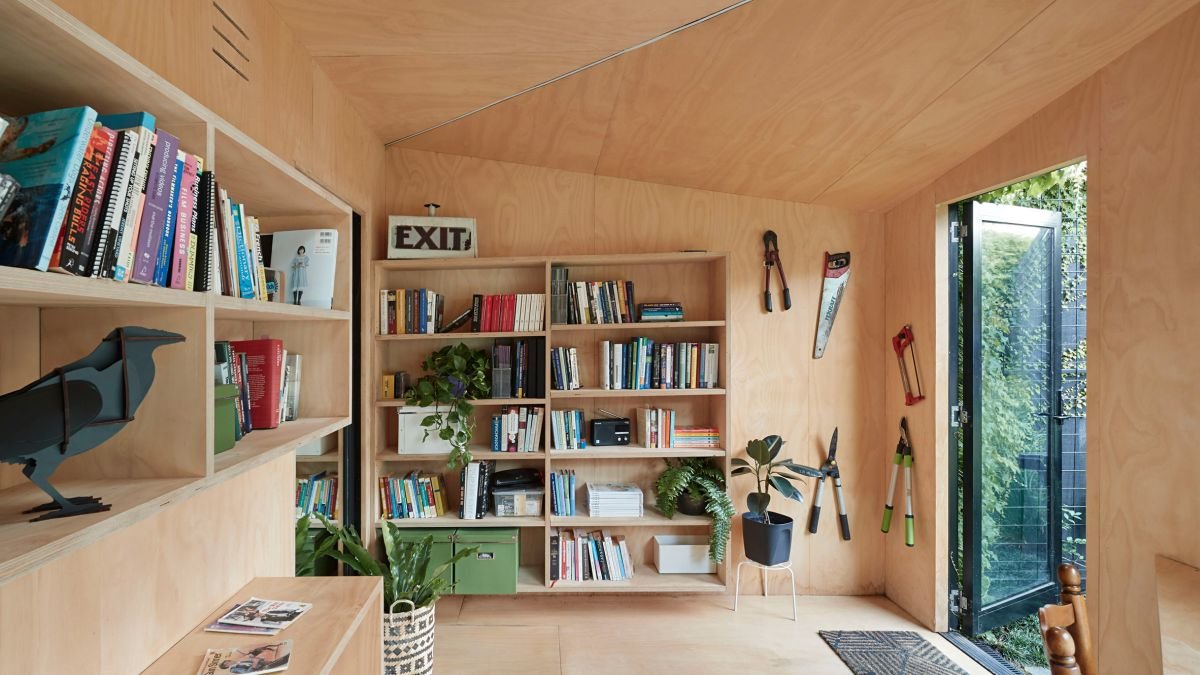 Managing to naturally integrate an office or any other structure into a backyard or a garden can sometimes prove to be challenging. That however wasn't the case here. This garden studio was designed by architect Matt Gibson and is quite unique in the sense that it's covered in ivy. This was a project developed for a writer who wanted a small detached space to do some work and seek inspiration into. The office was built into the corner of the garden and the architect worked with landscape designer Ben Scott to camouflage it and to make it feel like a natural part of the garden.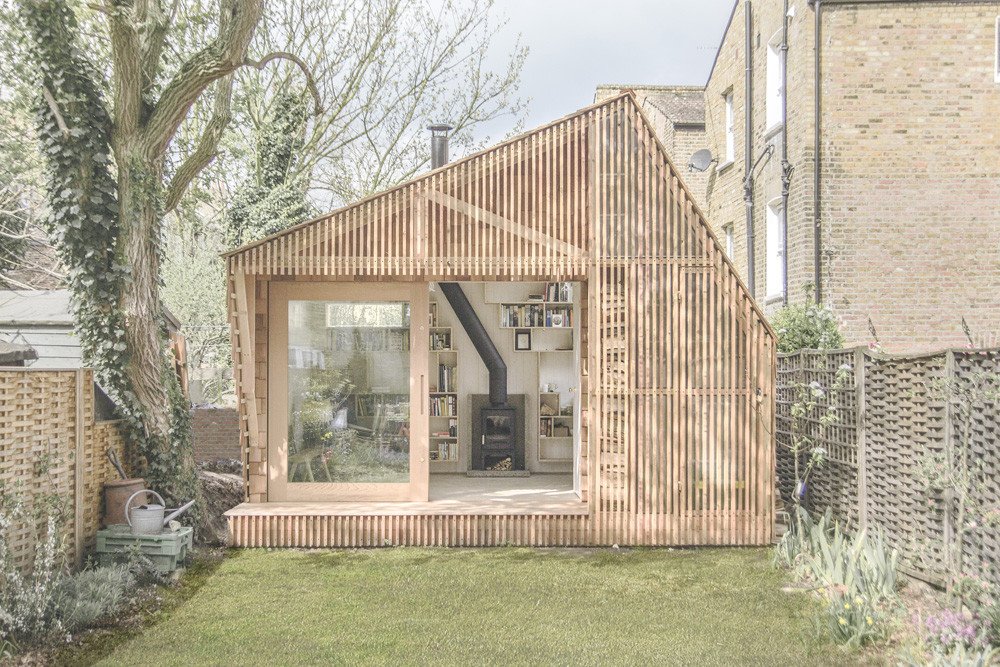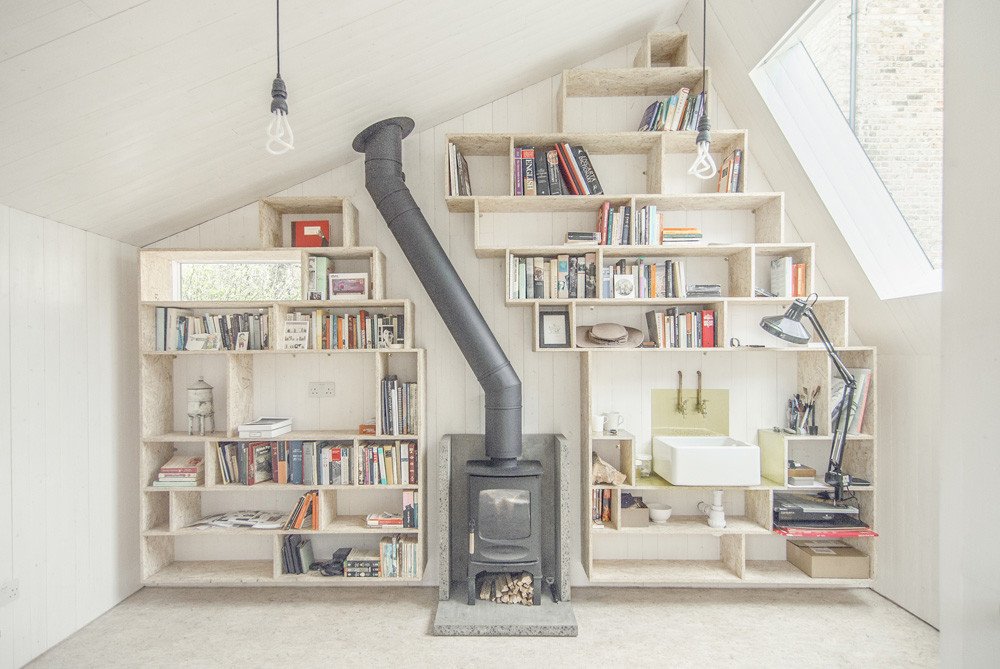 Speaking of writer's studios, there's also a very beautiful project completed by studio WSD Architecture which we find very inspiring. This is a small garden office which they designed for a writer and illustrator who specializes in children's literature. It was built in the backyard of a house from Hackney, East London. The building and its unique design reflect the owner's passion and there's definitely a lot of character in it. The asymmetrical roof gives it a playful look and inside there's this crooked wood-burning stove framed by custom-made bookshelves on both sides. There's also a tiny desk with a chair placed in front of the window and more bookshelves plus a firewood storage nook.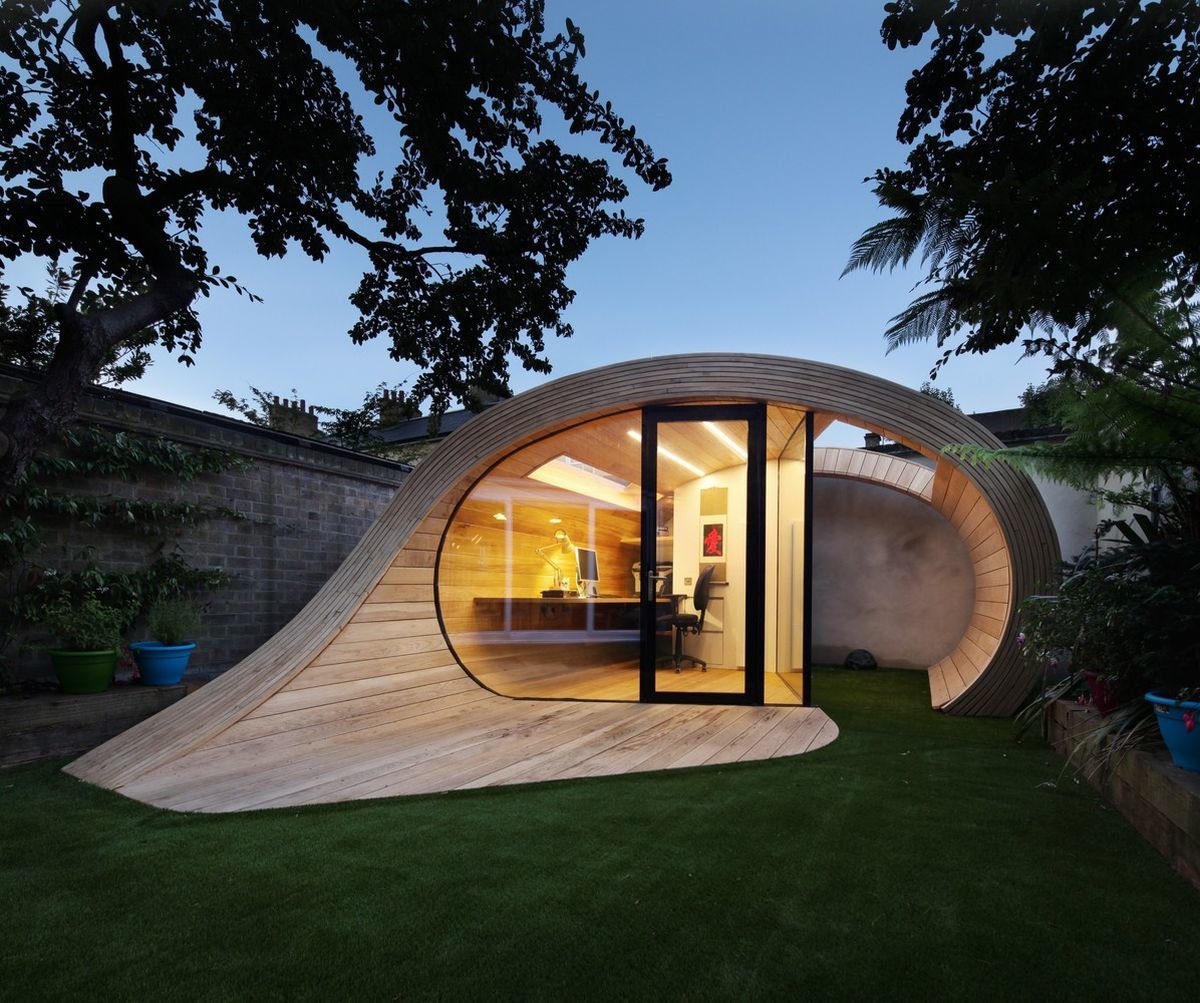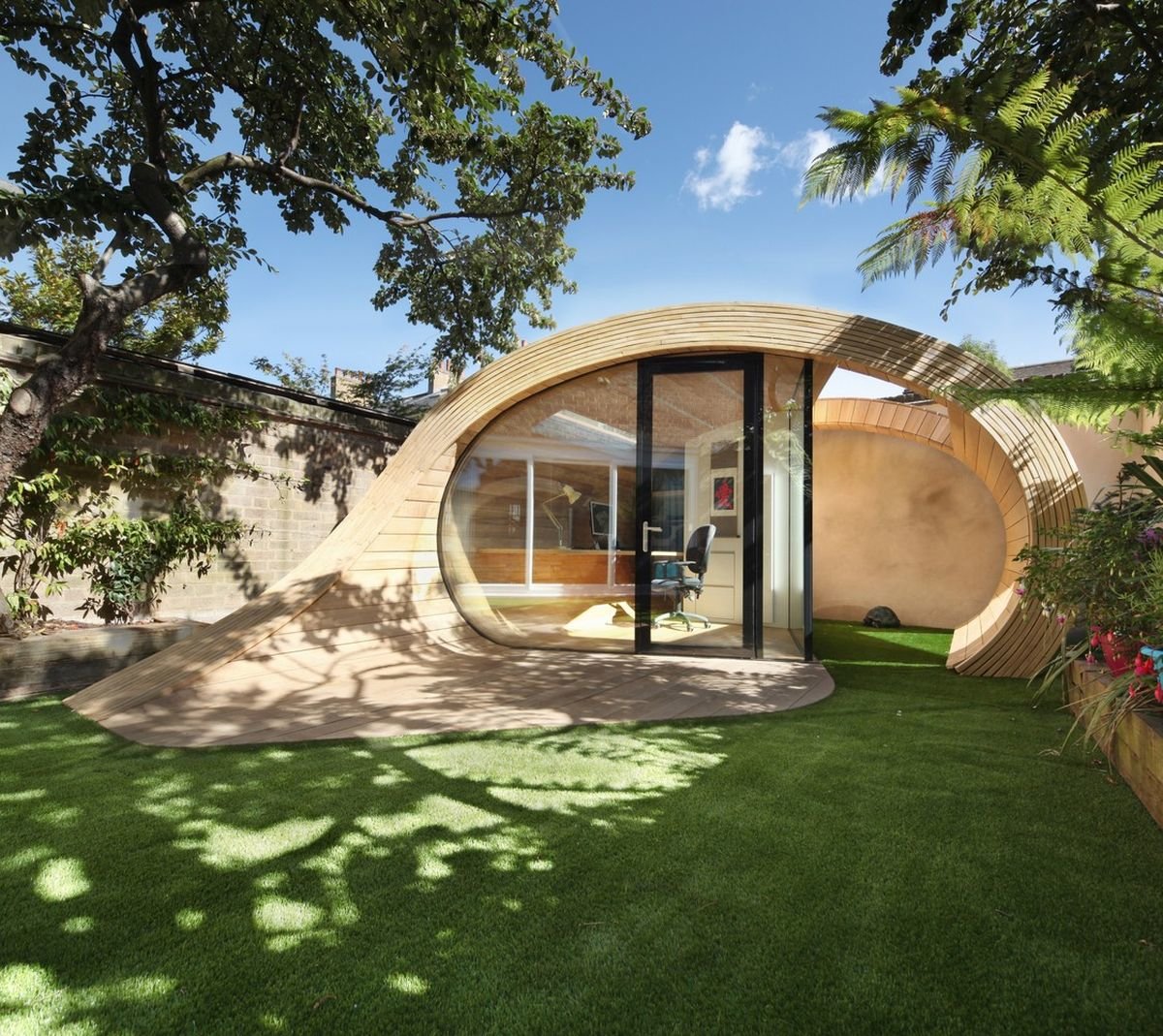 The Shoffice was designed by Platform 5 Architects and is situated in London, United Kingdom. The name reflects its duality, the result of a combination between a shed and an office. What's also unique in this case is the overall shape and form of the building. It resembles a giant elliptical shell and it's a very sculptural structure. The exterior frame curves and gives the office a dome-like shape and it also extends at the front forming a small open terrace. The glazed front lets in lots of natural light and also gives a full view of the interior.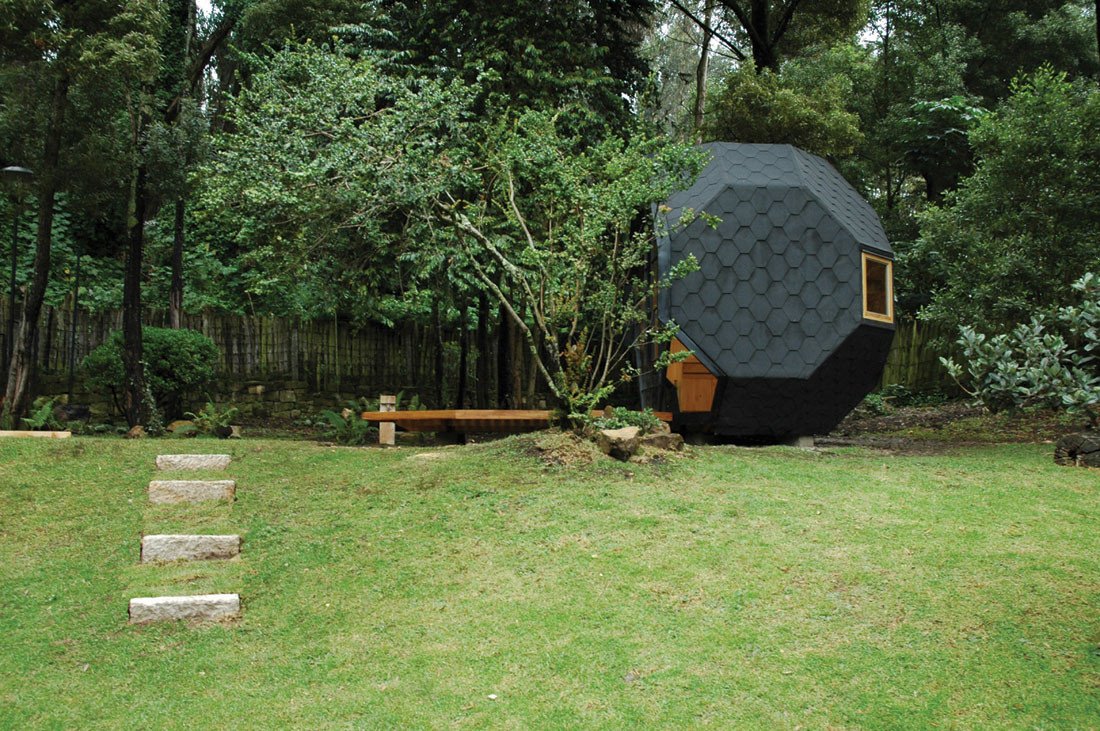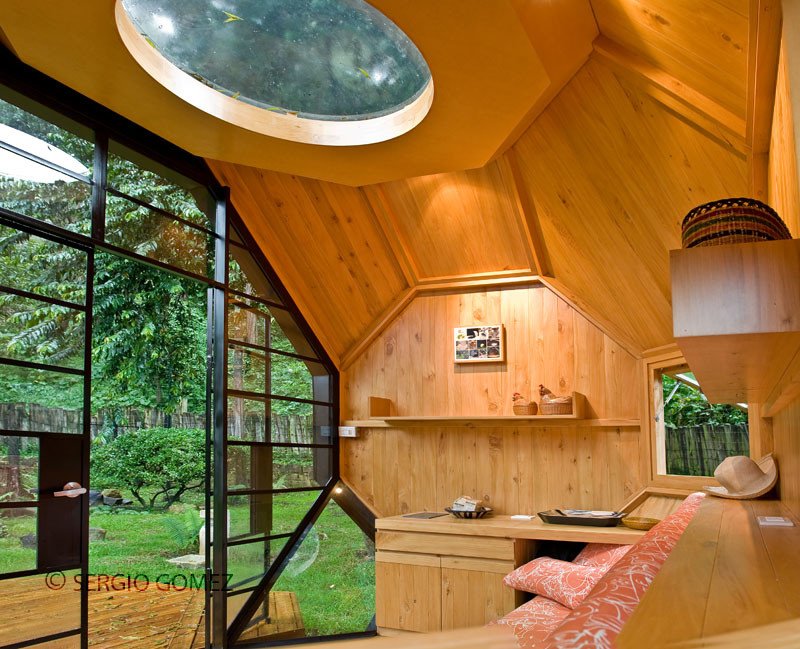 This odd-looking geometric structure was designed by architect Manuel Villa and is situated in the backyard of a family home in suburban Bogota, in Colombia. The owners wanted this to be a multifunctional space which they could use as a workspace or an office but also as a play area, a space where they could spend time with their child and enjoy various different outdoor-based activities. It looks like a big sculpture and has a circular dome-shaped skylight at the top, a tiny square window on one side and an entire front section which opens up and transforms into a deck while also offering access inside.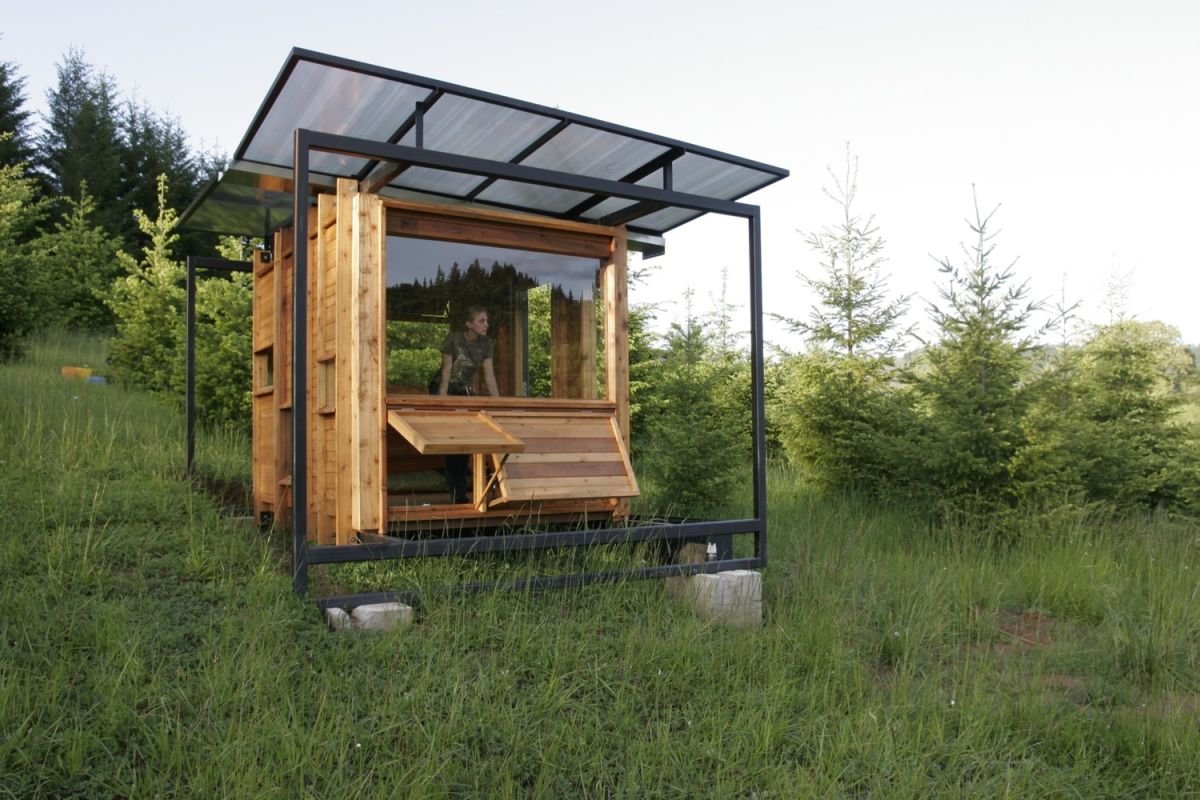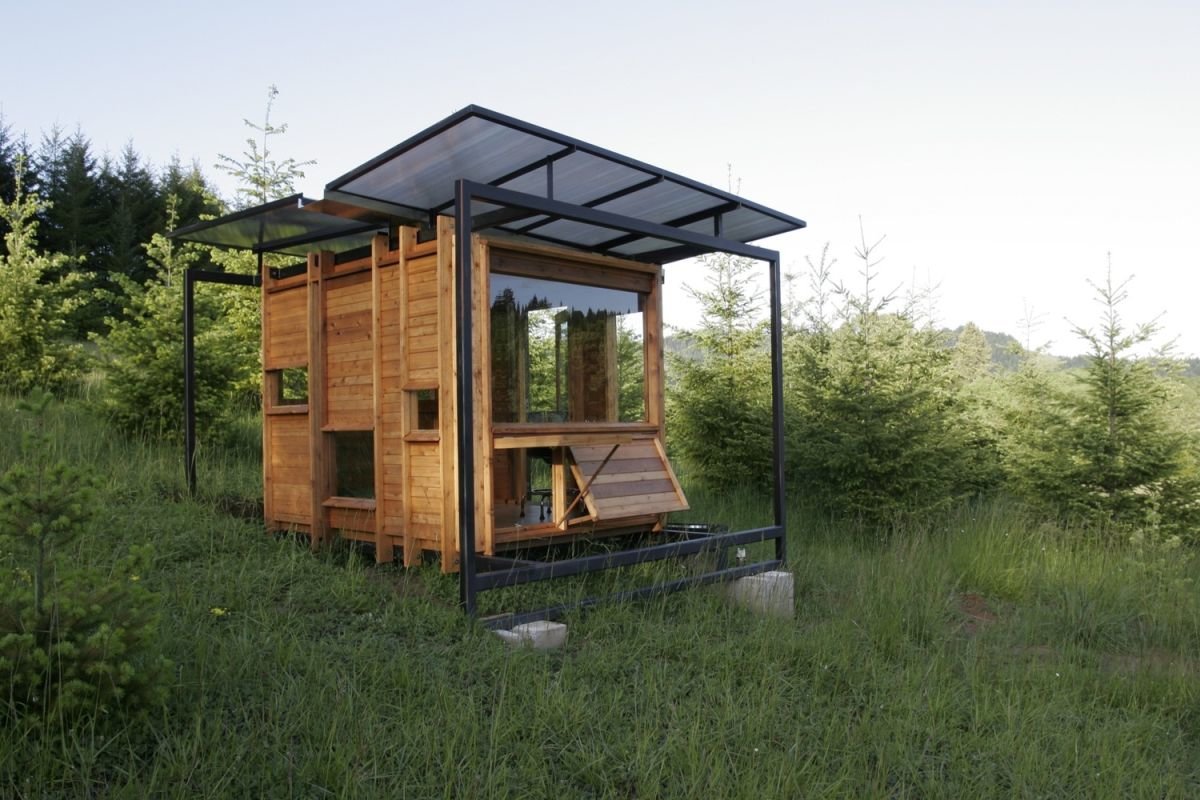 This small garden office came with a very unusual and interesting request. The owner who is a philosophy professor and a writer wanted a studio which she could use as a workspace and a place of relaxation. She specifically wanted to be able to listen to the sound of the rain falling onto the roof and that inspired the team at studio FLOAT Architectural Research and Design to come up with a really cool design which creates a strong bond between the studio and the nature surrounding it. The roof amplifies the sound of the raindrops and allows the water to collect into a basin which attracts birds and deer whose silhouettes are projected onto the ceiling at midday. Also, small tunnels were created underneath the studio so the reptiles could get out in front of the window.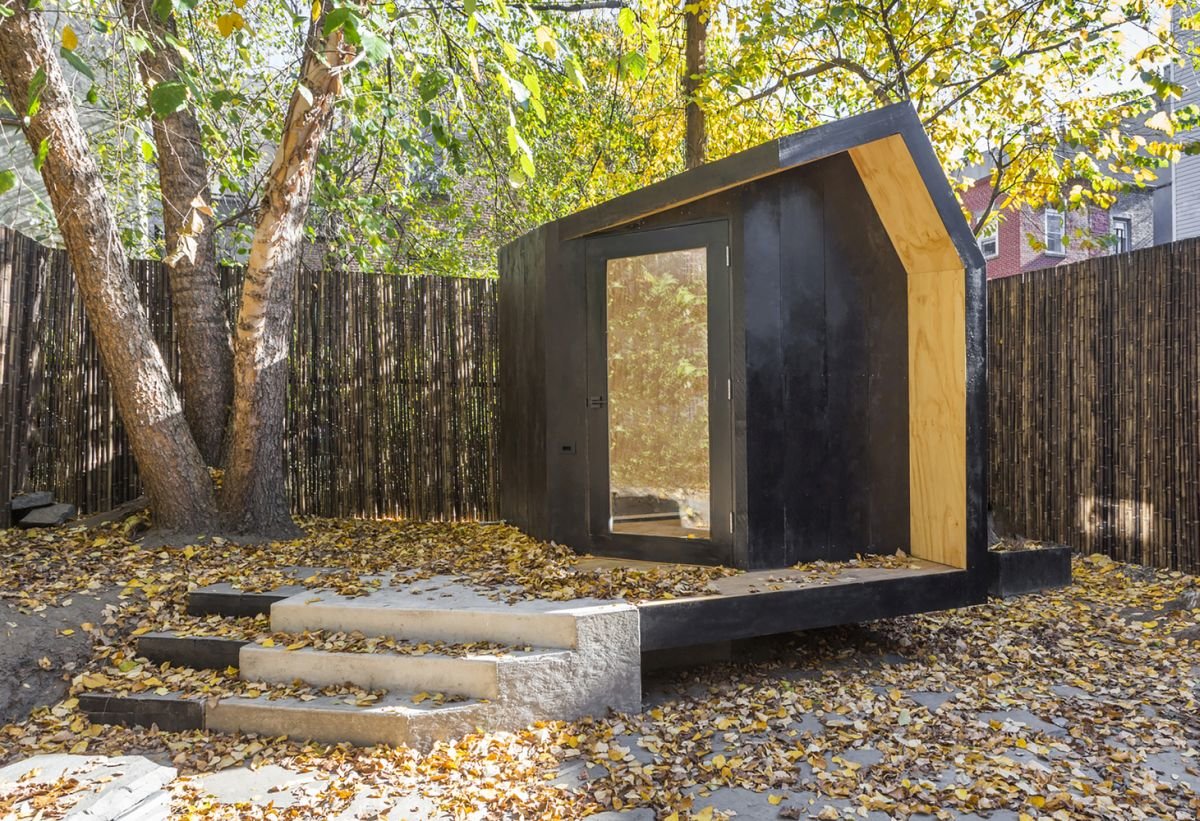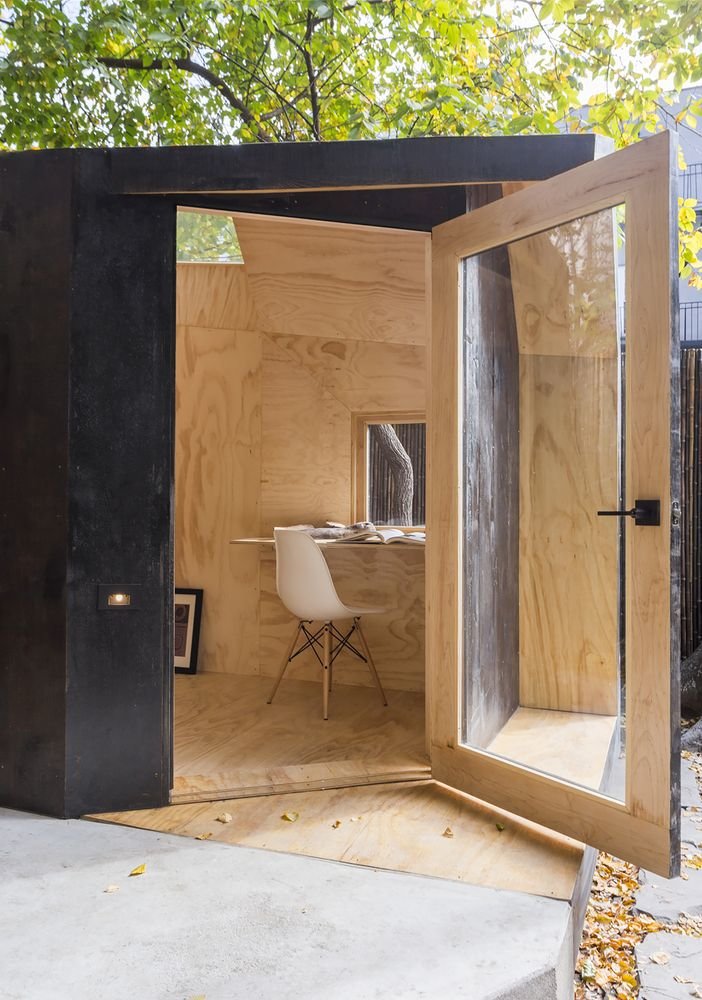 It's very small and it has an odd shape but that only makes it more interesting. We're talking about this beautiful writing pavilion, a garden office designed by studio Architensions. It sits in the corner or a lush and beautiful garden and somehow it manages to be both minimalist and complex at the same time. The building stands on a concrete platform and its exterior is clad in black stained cedar. That allows it to blend into the surrounding more easily given the particularities of its location. The interior is lined in natural pine plywood and is very simple, with very little furniture. The focus thus remains on the geometry and overall form of the building.