When considering a new staircase, think about your family members and how they use the stairs to make the best choice because each kind has advantages and disadvantages.

Here we run down the different types of staircases and the considerations for each one.


Straight Stairs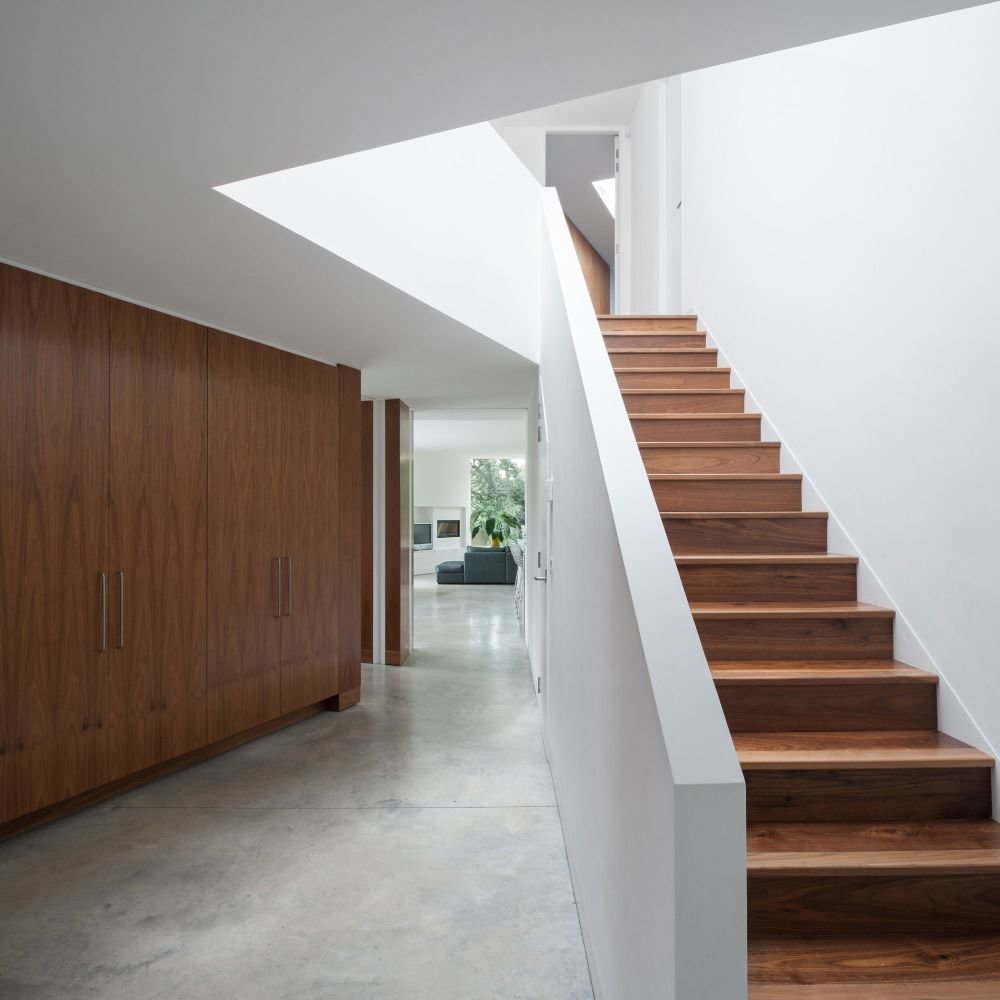 A straight staircase is the most common and affordable style available. Pre-cut risers — the vertical part of the staircase — are available in lumber yards home stores and many builders use these because of their simplicity.

The straight-line design means that the staircase doesn't need any special support and only needs to be attached at the top and the bottom. This type of staircase also allows for easier installation of railings and handrails.

Of course, there are variations of the straight staircase that include open risers, modern materials and metal cable railings that significantly alter the basic look.

While a straight staircase may be the most common, it does have a few drawbacks, namely that it takes up a greater amount of linear space, which can really affect your design.


Straight Stairs with a Central Landing

If you have a tall, high-ceilinged room and are considering a straight staircase that will need to be more than 12 feet high, it will require a central landing. The same is true if your planned staircase has more than the standard number of risers, which is usually 16.

The main drawback of straight stairs with a central landing is the increased amount of space they require, which usually leads designers to choose another style. This type of staircase is generally used in commercial buildings, not private homes.


L-shaped stairs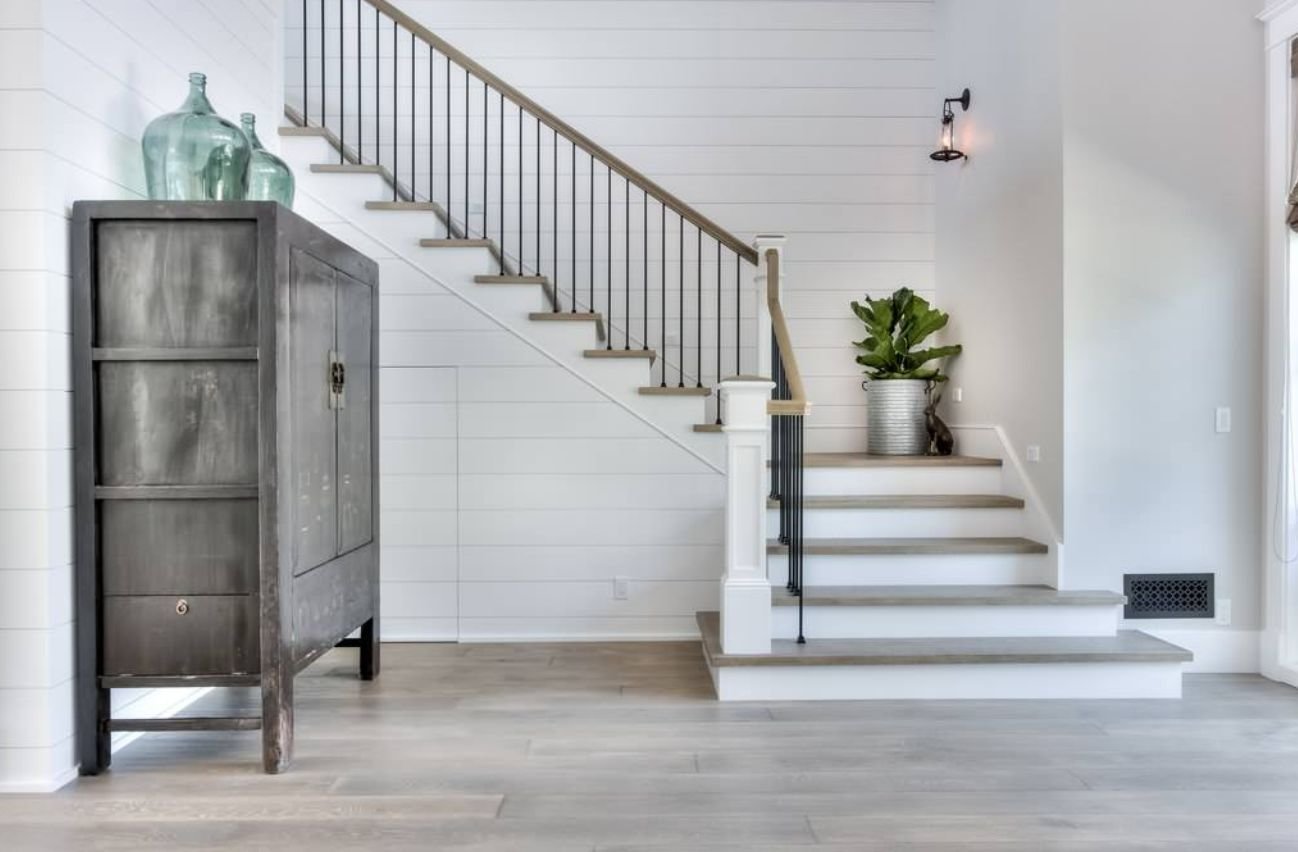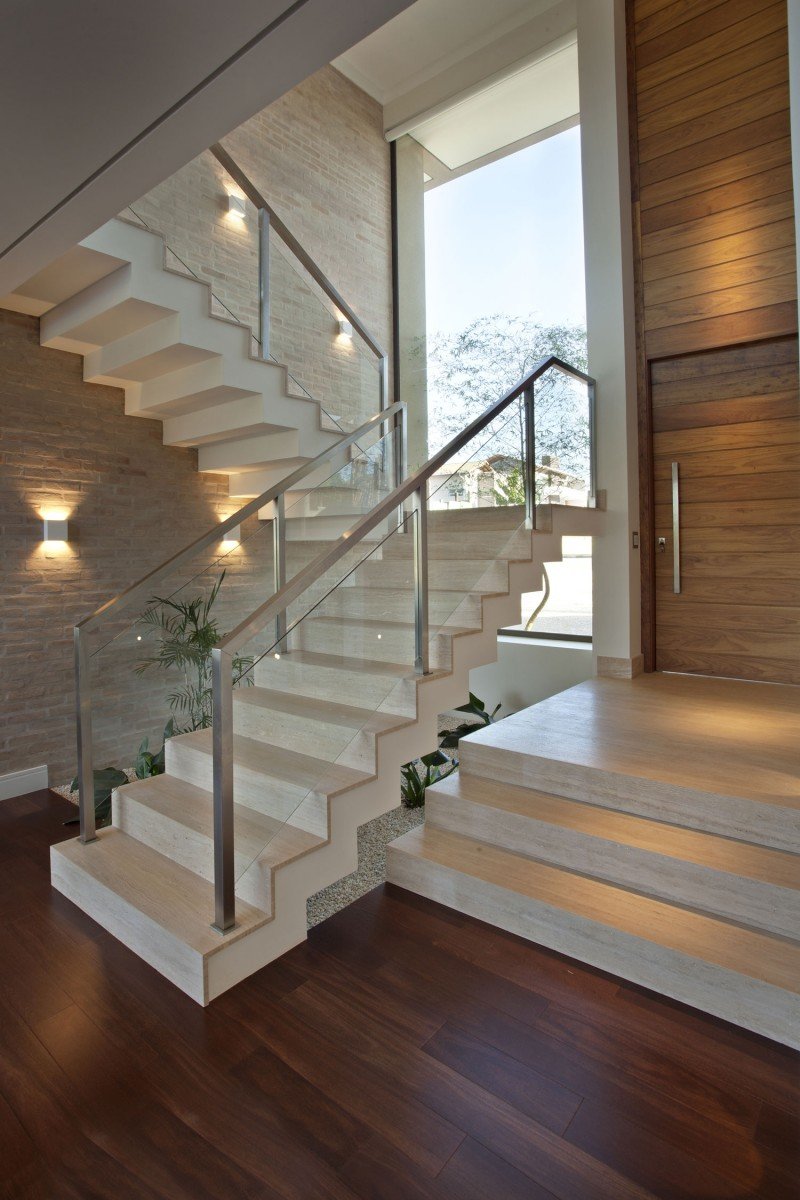 L-shaped stairs are another common style of staircase. They are basically a straight staircase with a turn, either in the middle or closer to one end or the other. L-shaped stairs are appealing for a variety of reasons, primarily because they are more visually appealing.

In addition, they tend to take up less space and can be used in the corner of a room. For some people, they are also easier to navigate because of the wider landing that breaks up the flight of stairs.

Of course, these types of staircases are more complex to build and consequently more expensive. L-shaped staircases also usually require support for the landing and the turn.


U-shaped Stairs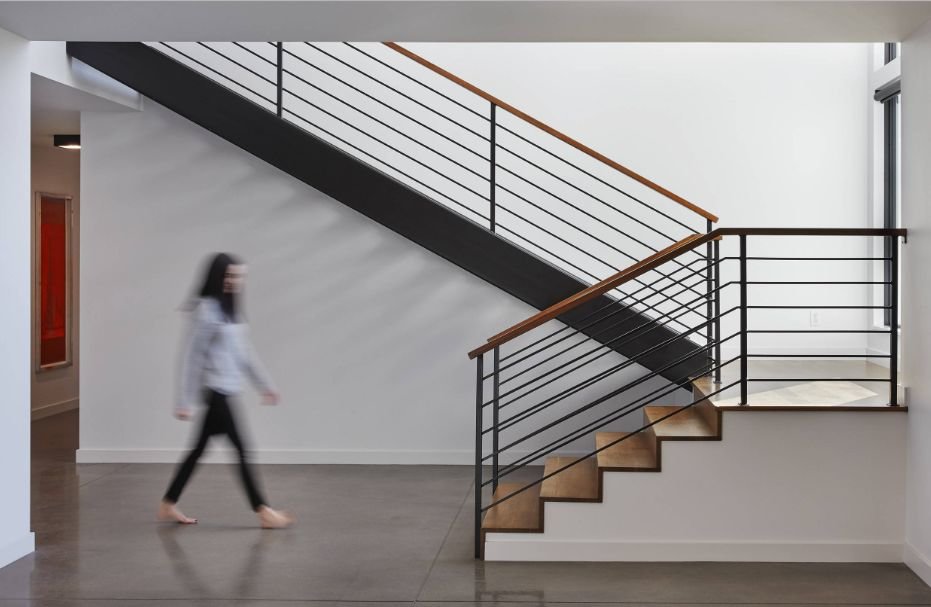 U-shaped staircases generally consist of two flights of stairs that go in opposite directions with a landing at the switchback. These are also more visually interesting than a straight staircase.

Moreover, they take up less linear floor space and can be handy for a corner design. Typically the landing is of a generous size. The main drawback of a U-shaped staircase is the turn that makes it more difficult to move larger pieces of furniture upstairs.


Winder Stairs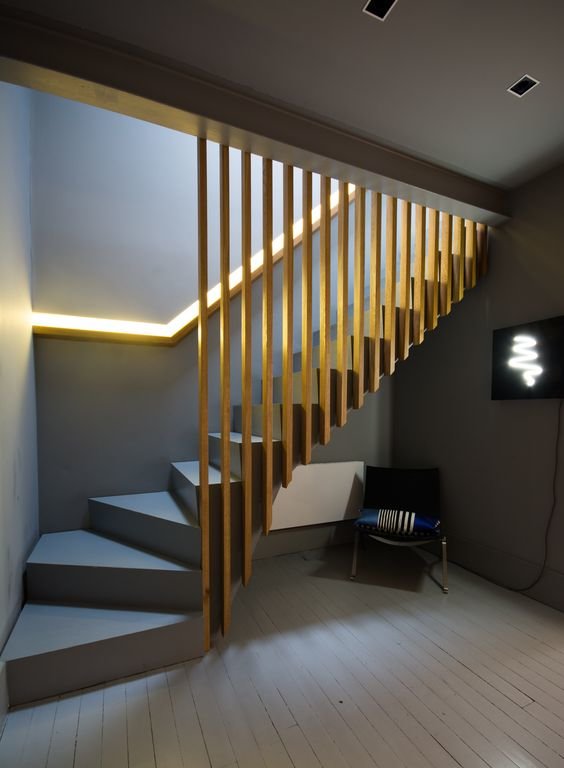 Winder stairs are a lot like an L-shaped staircase, except that there is no landing. Instead, the stairs are continuous, taking on a wedge shape as they make the turn. These have been far less common in contemporary homes and are typically found in older residences. Rarely were they used as the main, front stairs and were more likely to be found as the second set of stairs in the home.

This type of staircase is seeing a resurgence in popularity, thanks to the trends that favor smaller homes and more sustainable homes.


Spiral Stairs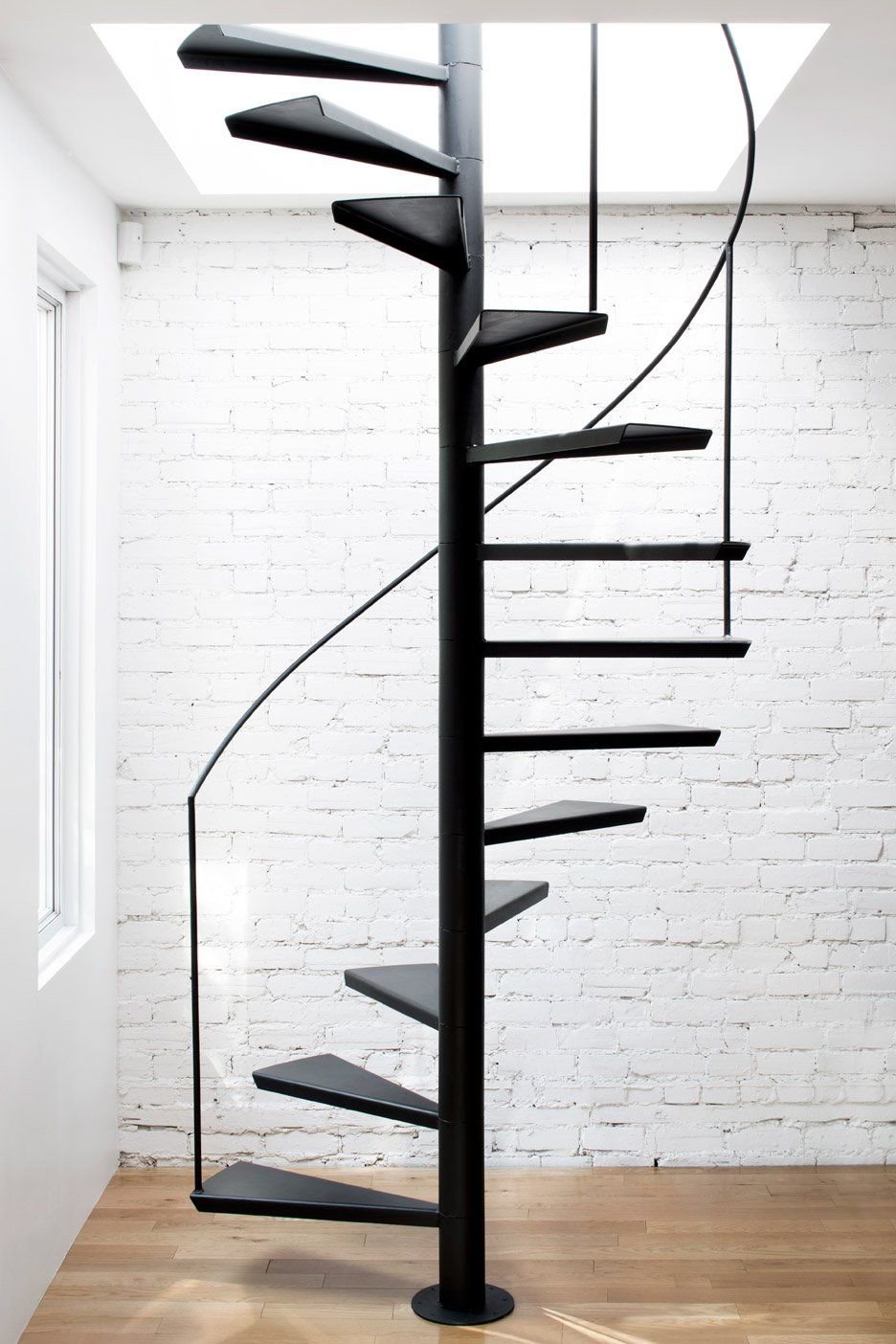 While perfect for tighter spaces, spiral staircases are still considered more of a novelty style. True spiral stairs have one central post to which all the radiating steps are attached, as they spiral upward through a space in the floor above. Because of their contact nature, they are typically found in beach houses and compact city dwellings because of the small amount of space they require.

Many city and municipal building codes require that a spiral staircase be a secondary route of egress from the higher floor because they are not as easy to navigate.

In fact, that is one of the main drawbacks for a spiral staircase: Only one person at a time can use the stairs and footing require caution because the inner portion of each step is narrow. Besides, it is much harder to move larger items up and down a spiral staircase.


Circular Stairs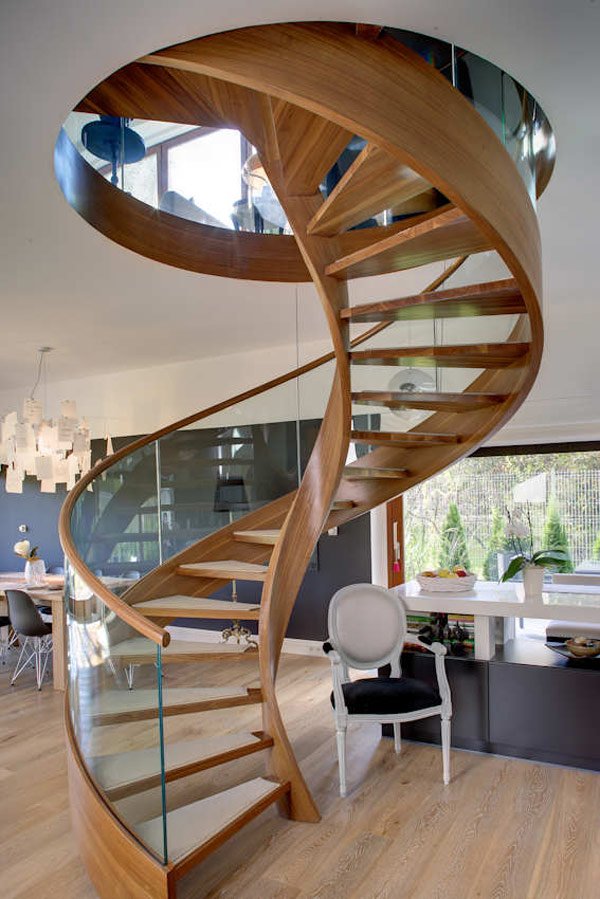 A circular staircase is more like a traditional staircase than a spiral one — think of the kind you might find in a medieval castle. While it does go around and the steps are tapered, the curve is more relaxed than a spiral staircase with steps are easier to navigate.

Sometimes called helixed stairs, their curve is more graceful and less compact, which helps to create an architectural focal point. Of course, these require more open space and are costlier to build.


Curved Stairs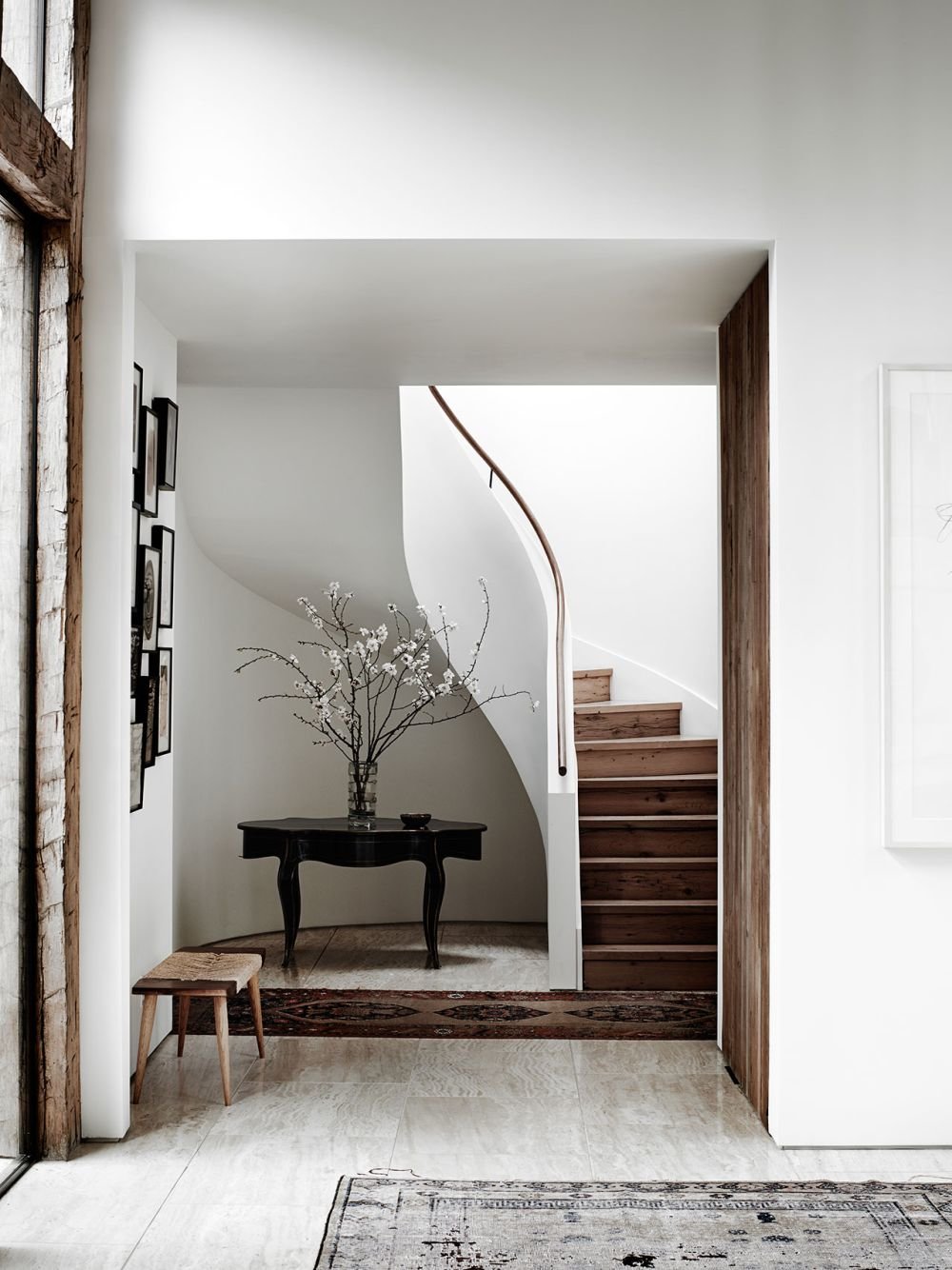 Most commonly used in or near an entryway, a curved staircase is a design statement. They do not form a circle as spiral or circular staircases do, and instead, are meant to be a major design feature.

Easy to traverse, the curve is usually gentle and is an elegant choice for any style of home. This type of staircase is said to be the most difficult to construct and, consequently, one of the most expensive.


Ladder Stairs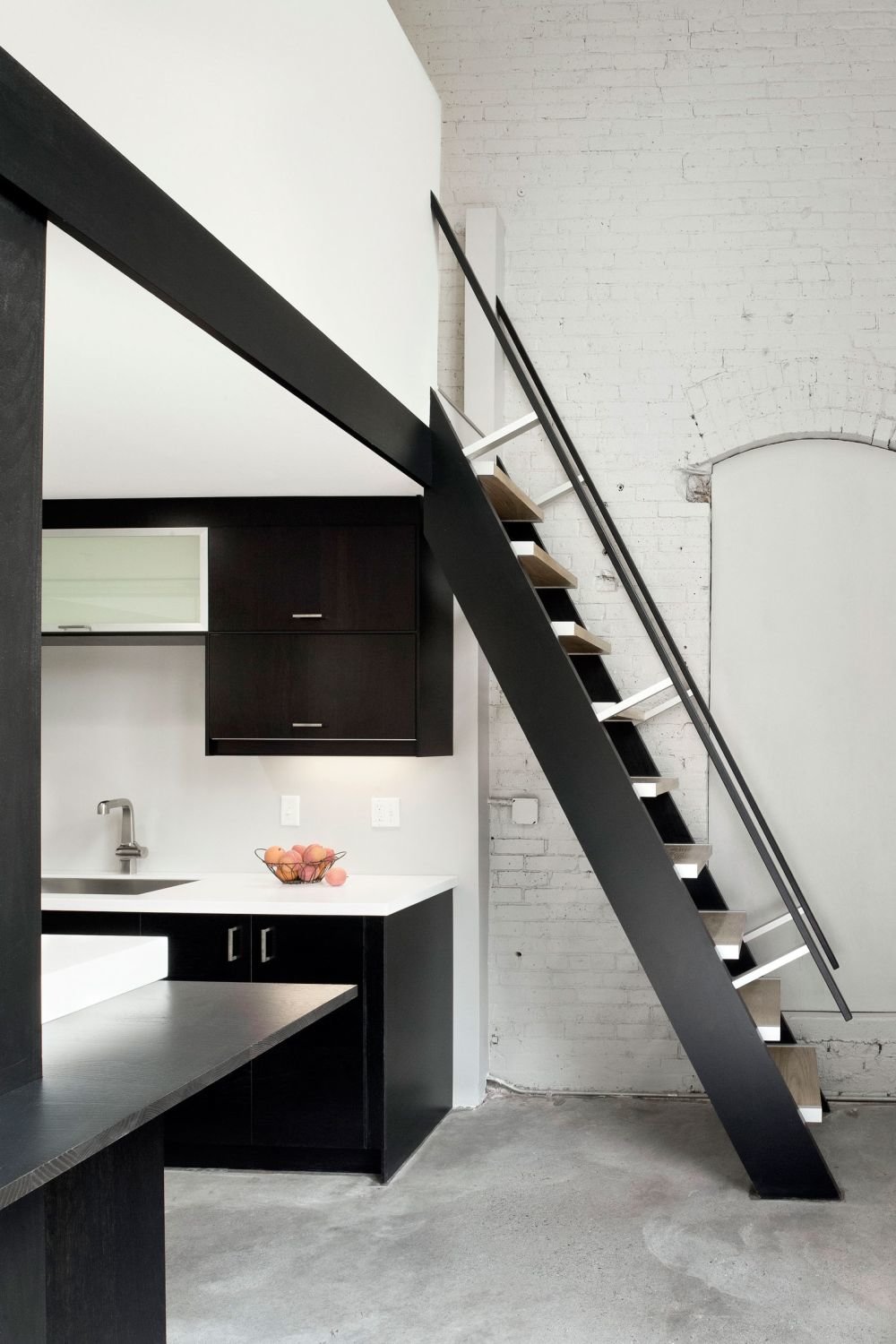 Great for tight spaces and small residences, ladder stairs are one of the most space-efficient types of staircases. Of course, it's a good idea to check building codes in the local area because often they are not permitted as the main staircase.

Ladder stairs can be built in a variety of styles, from a literal ladder style, as in this photo, to more stylized versions. In any case, ladder stairs will typically have taller steps and can be particularly difficult to climb, especially when coming down the staircase.

These types of stairs can be very handy for other uses, such as for reaching the upper shelves of extensive bookcases or extra tight spaces.


Split Staircase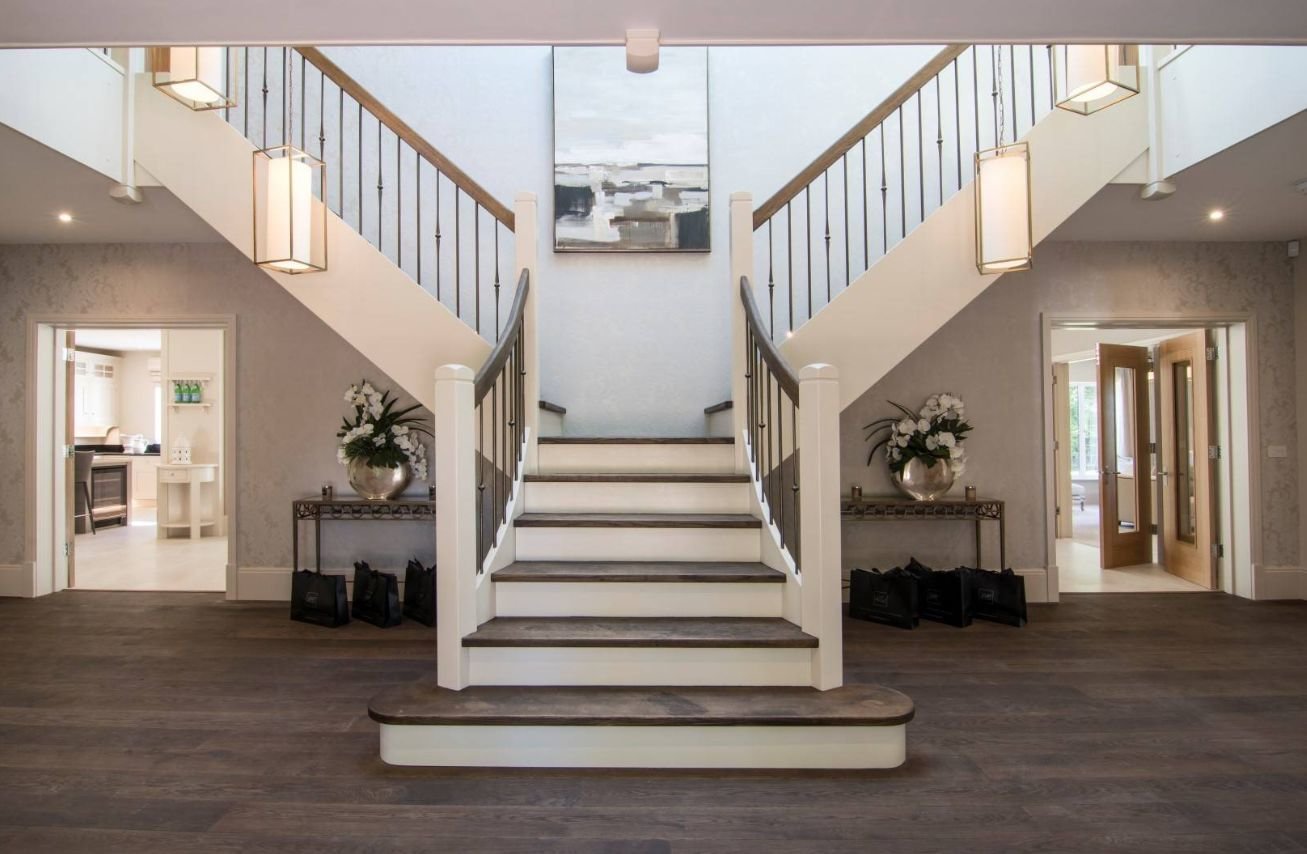 A split staircase — originally called bifurcated — is the grande dame of all staircases. Typically used in the entryway of a very grand and spacious home, the staircase starts with a wider flight at the bottom.

Part of the way up, there is a generous landing with two narrower flights on either side of the bottom section — one going left and the other going right. Large, expansive and expensive, this is a design statement that is intended to make a big impression.


Space-Saving Staircase

While circular staircases and ladder styles are good for compact homes, there is a wide variety of other styles that are space-saving options for staircases.

Stairs that are more steeply pitched, ribbon style stairs, and narrower, alternating steps are all ways to incorporate a staircase in a home with minimal lost space. As long as the choice meets building codes, the actual style is up to you.


Floating Staircase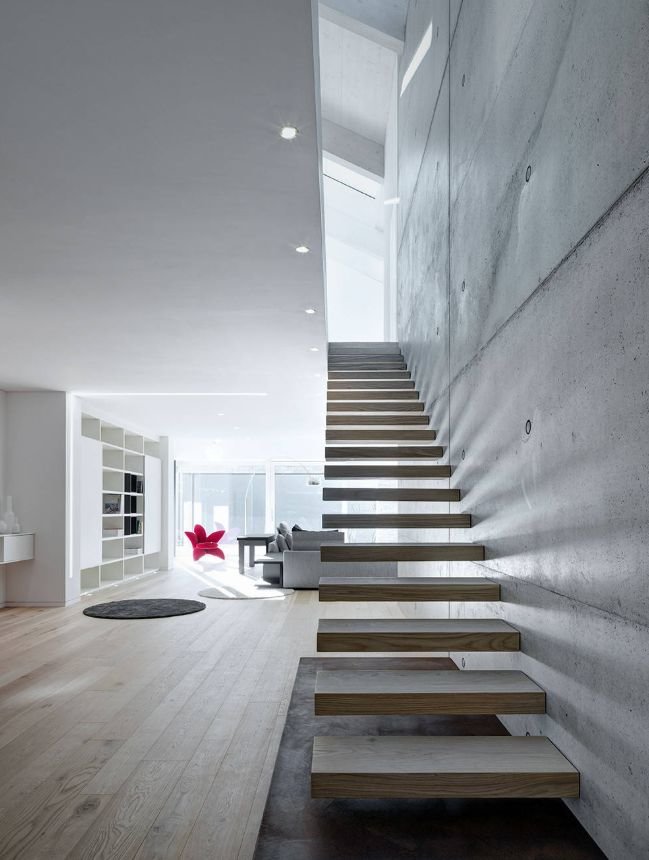 Usually a variation on a straight staircase, a floating staircase usually consists of treads with no risers. Instead, the treads themselves are attached to the wall in a way that the support is invisible, or at least minimally visible. Other times, glass or plexiglass risers are used to achieve a floating appearance.

The material used can be wood, but it is often something else like metal, glass or stone. It is a contemporary look that often foregoes handrails, although glass can be used for safety instead of a traditional railing without sacrificing the open feeling. Again, any floating style must meet local building codes.


Storage Staircase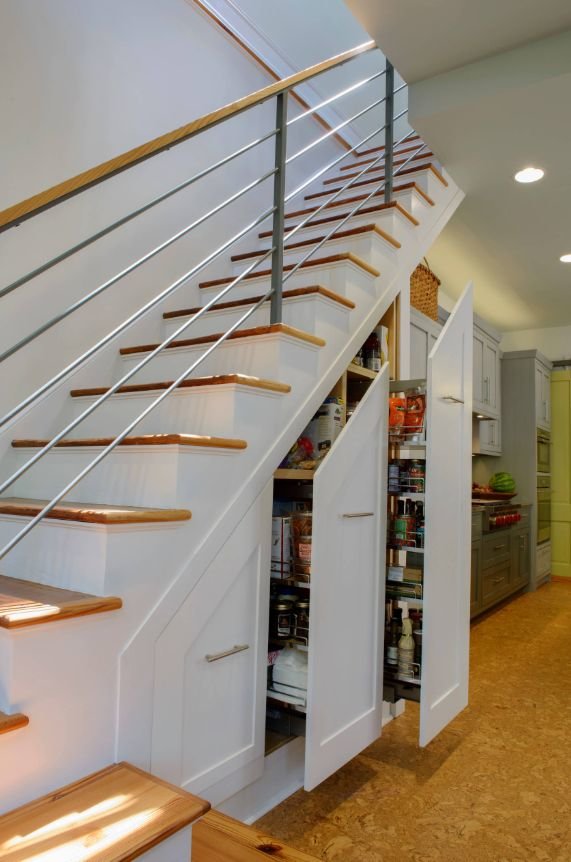 Large or small, almost any home can use more storage and the often-overlooked area underneath the stairs can be turned into valuable space for stashing necessities. The most common way to do this is by building cabinets underneath the risers instead of simply walling off space.

A second way is to turn each riser into a drawer, which is the best option when you can't make full use of the void underneath the staircase.


Sculptural floating stairs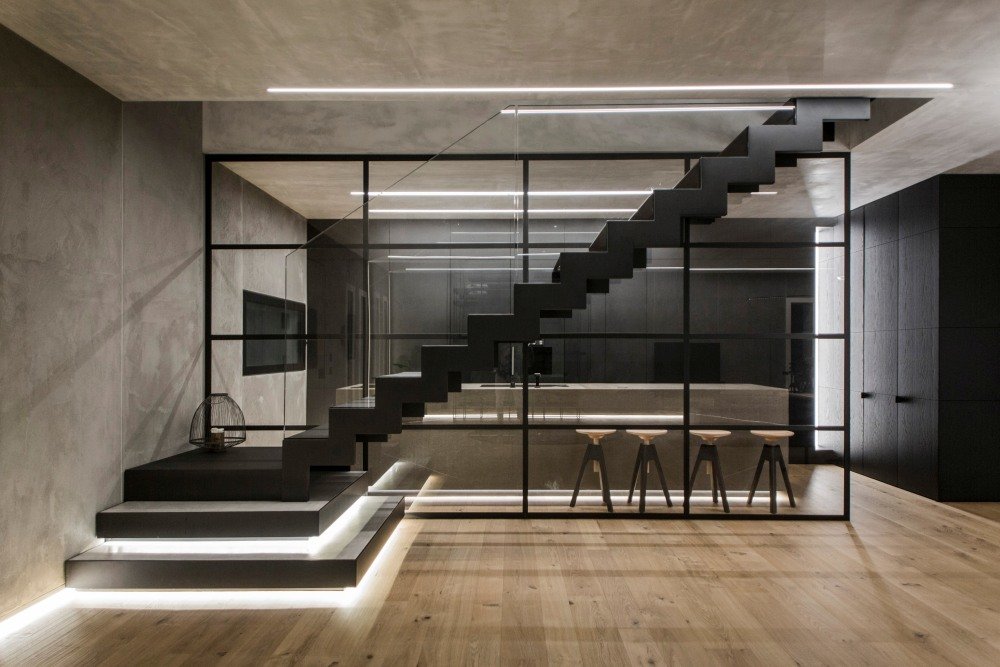 This stylish private home by studio Olev places a lot of emphasis on the lighting and the ambiance in each of the rooms. There's also a very interesting dynamic between all the different spaces and this staircase only makes things more intriguing. The floating stairs have a minimal and sculptural aesthetic and they're not leaning against a solid wall but rather going across a glass divider.


Bent metal staircase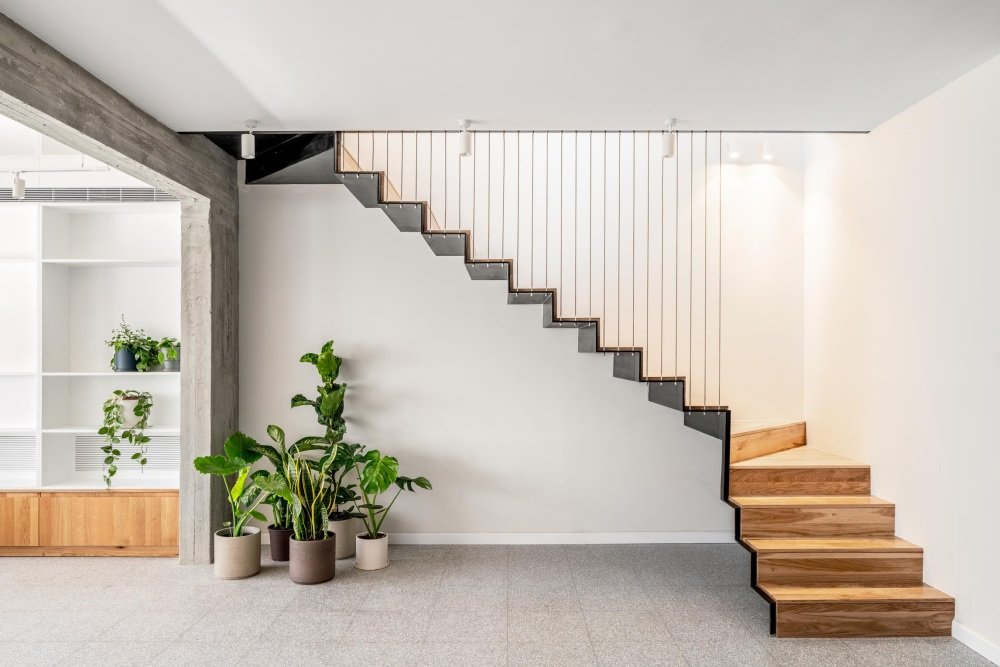 If this staircase looks unusual and intriguing to you that's because it is. The main question that we all have is what this is made of because it's so slender and it looks lightweight but also sturdy and durable. The answer reveals it all: bent metal with wooden accents. This is a staircase designed by RUST architects.


Floating standalone stairs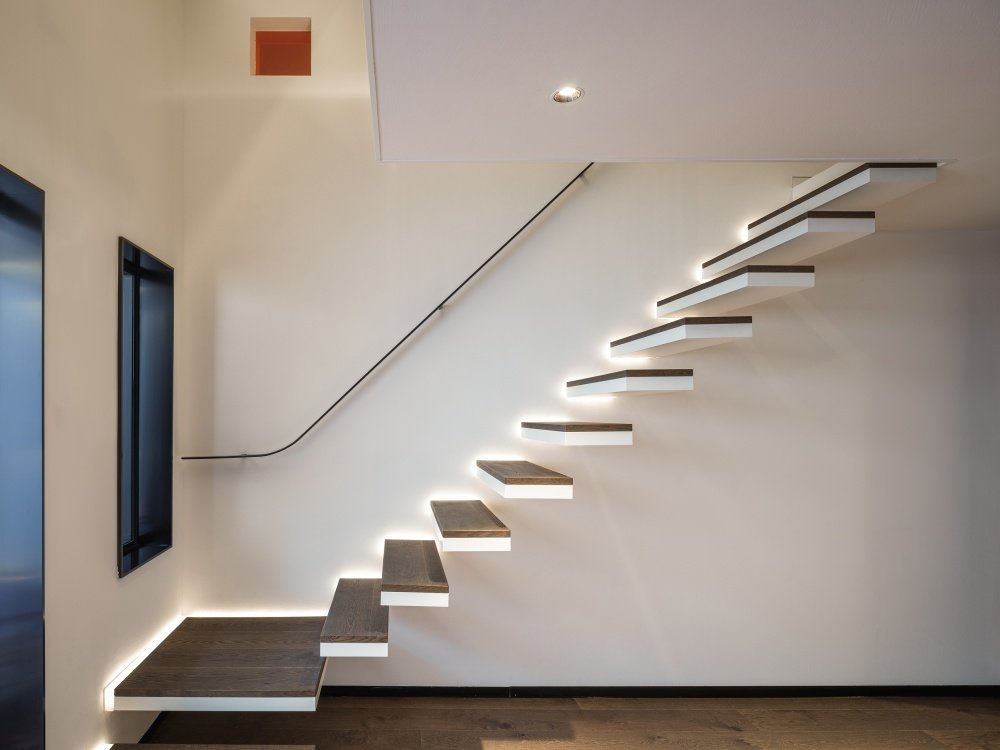 We've seen floating staircases before but not like this one. Typically all the steps are connected and they form a continuous structure but in this case they're all individual freestanding elements. Each is separately attached to the wall and there's no safety rail which really emphasis the sculptural nature of the design. The accent lighting is also a cool detail. This is part of a house in Shanghai designed by Wutopia Lab.


Spiral staircase made of metal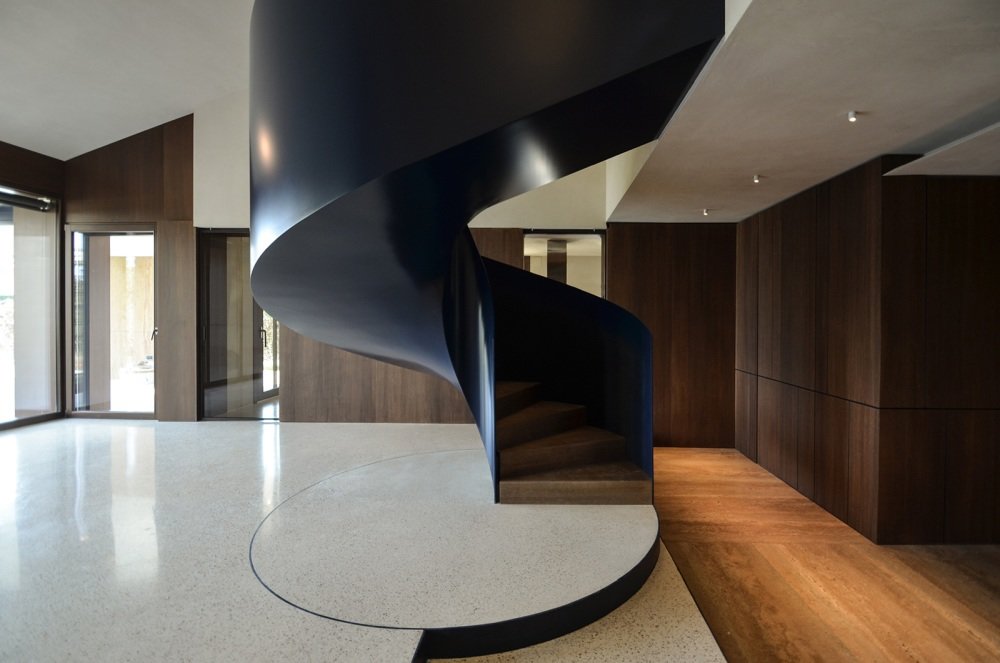 Metal is the go-to material whenever something needs to be super strong and durable but also sleek and slender. You can see it being put to good use here by depaolidefranceschibaldan architects to create a space-efficient spiral staircase. The dark blue nuance suits it well and looks beautiful in combination with the natural wood used for the steps.


Spiral staircase with landing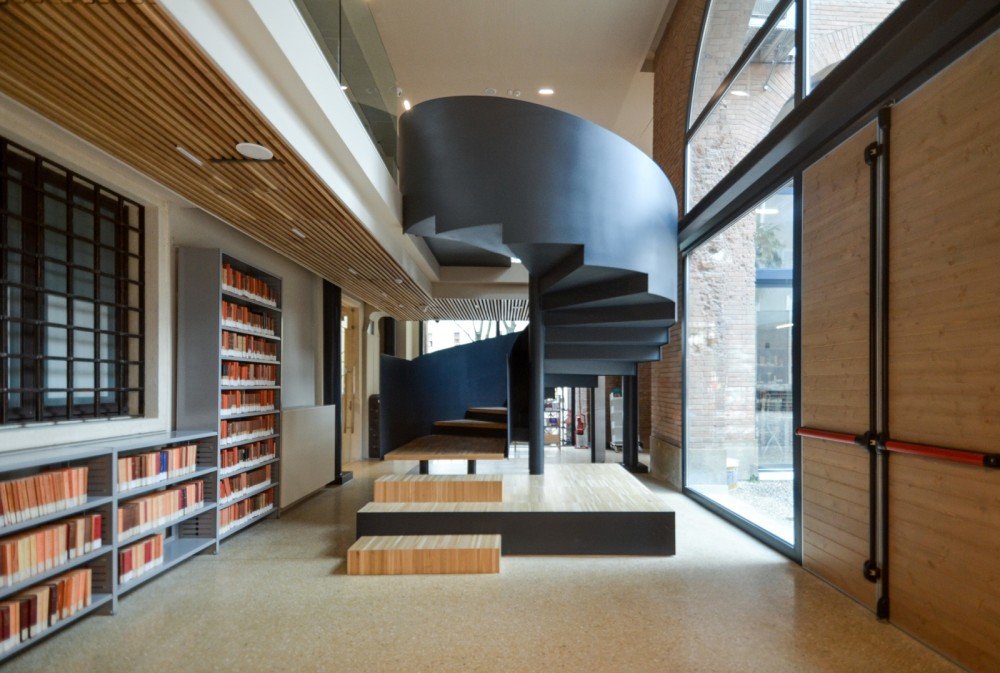 Not all staircases follow a particular style. Some have eclectic designs that combine elements and features from two or more styles. This allows them to better adapt to the space that they're a part of and to serve their function as best as possible. This spiral staircase depaolidefranceschibaldan architects is a good example.


Stairs and bookshelves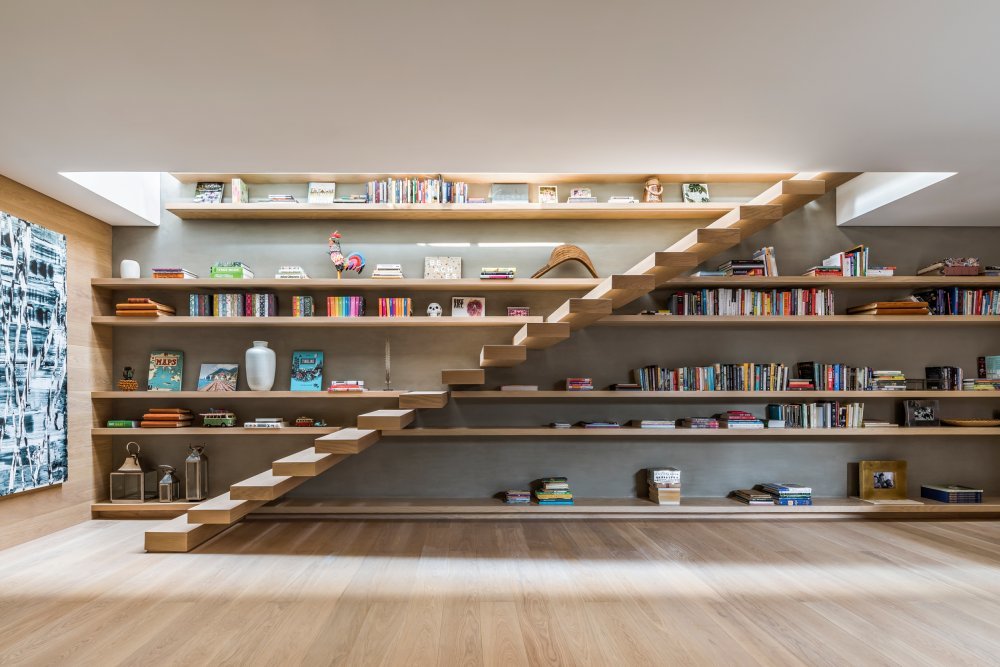 This beautiful floating staircase is a companion for the bookshelves that stretches all along this wall, from one side to the other. The shelves as you can see also continue upwards and some can only be reached from the top of the stairs. It's definitely a very beautiful, practical and eye-catching combination, one that studio Esrawe came up with.


Concrete stairs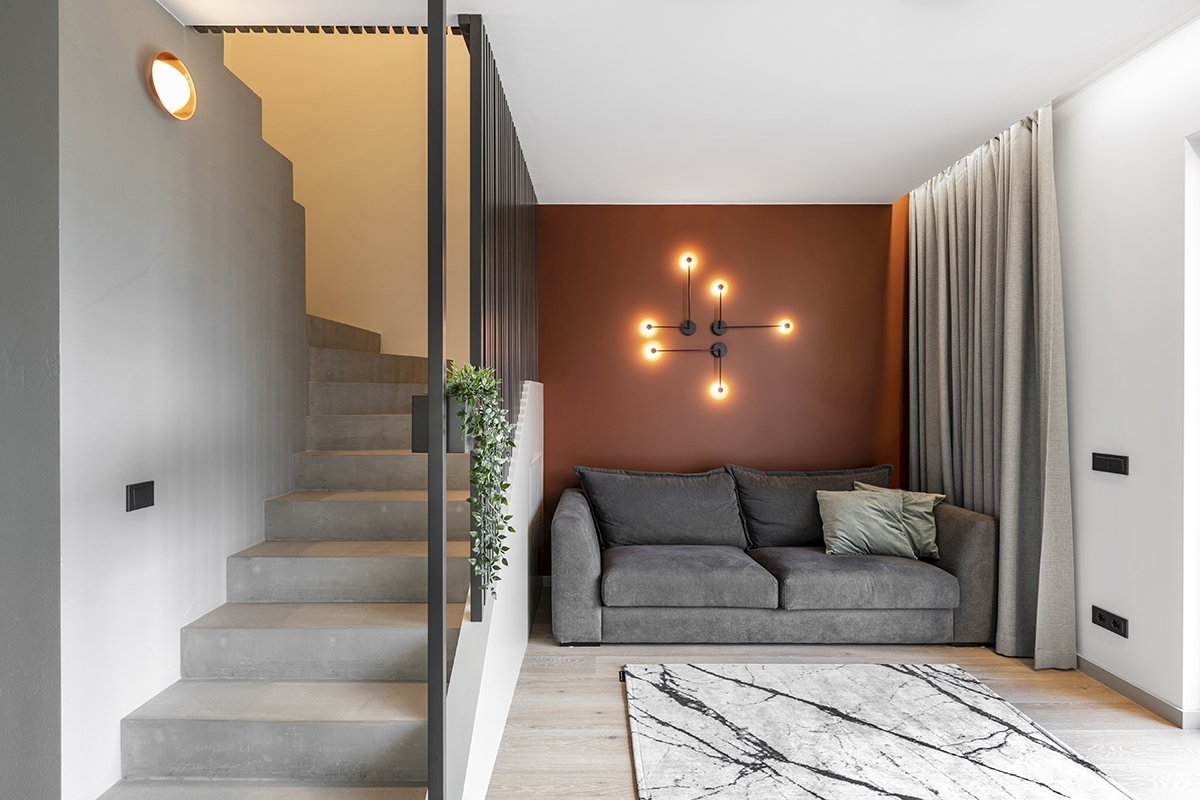 In interior design some types of materials are sometimes associated with specific styles. Concrete for example is a trademark of industrial decors but also suits really well a variety of modern and contemporary spaces. These stairs for instance don't looks as rugged and as harsh as one might imagine, especially since they curve around the wall and have this beautiful decorative wall doubling as a railing. This is a space designed by Kristina Lastauskaitė-Pundė.


Organic staircase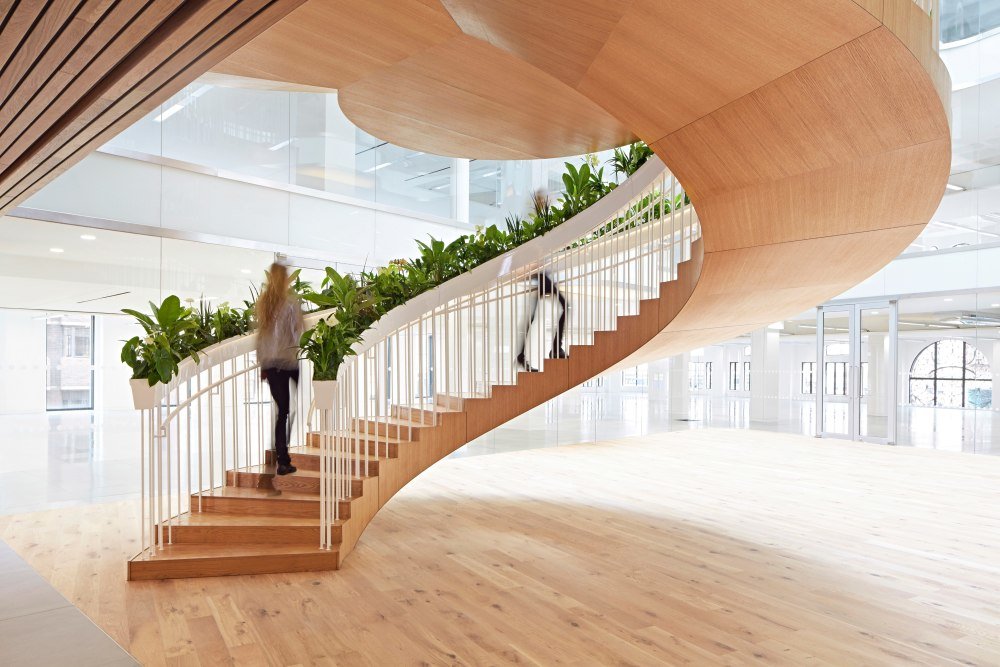 This staircase is unique and special in more than just one way. It has a very organic, flowing design and it makes use of natural wood which gives it a warm and welcoming look. It has a sculptural shape and it's the centerpiece of a beautiful office building. It's been outfitted by Paul Cocksedge Studio™ with a variety of interesting features such as little nooks for reading, drawing, relaxing and drinking tea, thus becoming a sort of social hub for the building.


Graphical iron stairs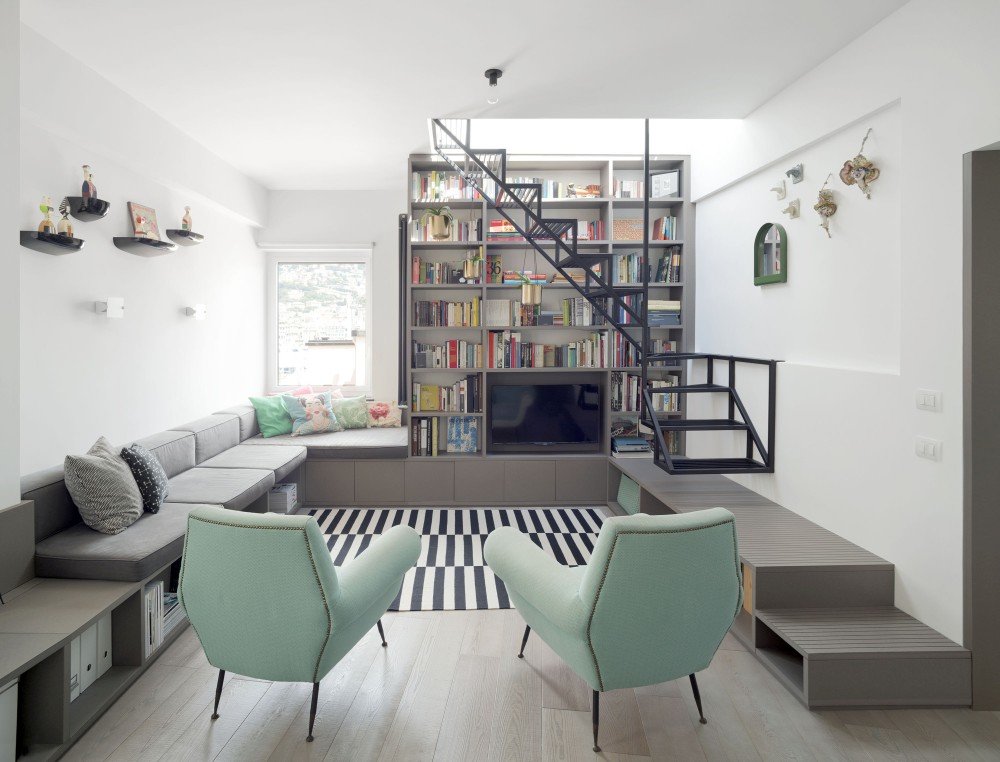 The design of this staircase is also unusual in the sense that it's made from a rather unexpected material: iron. It also has a very graphical sort of look, like it's been sketched out with only the outlines showing and gaps that are not filled in. The design is meant to look interesting but also to be space-conscious and to fit into this small living area without being in the way, visually or otherwise. It was all done by Gosplan architects.


Two-tone spiral staircase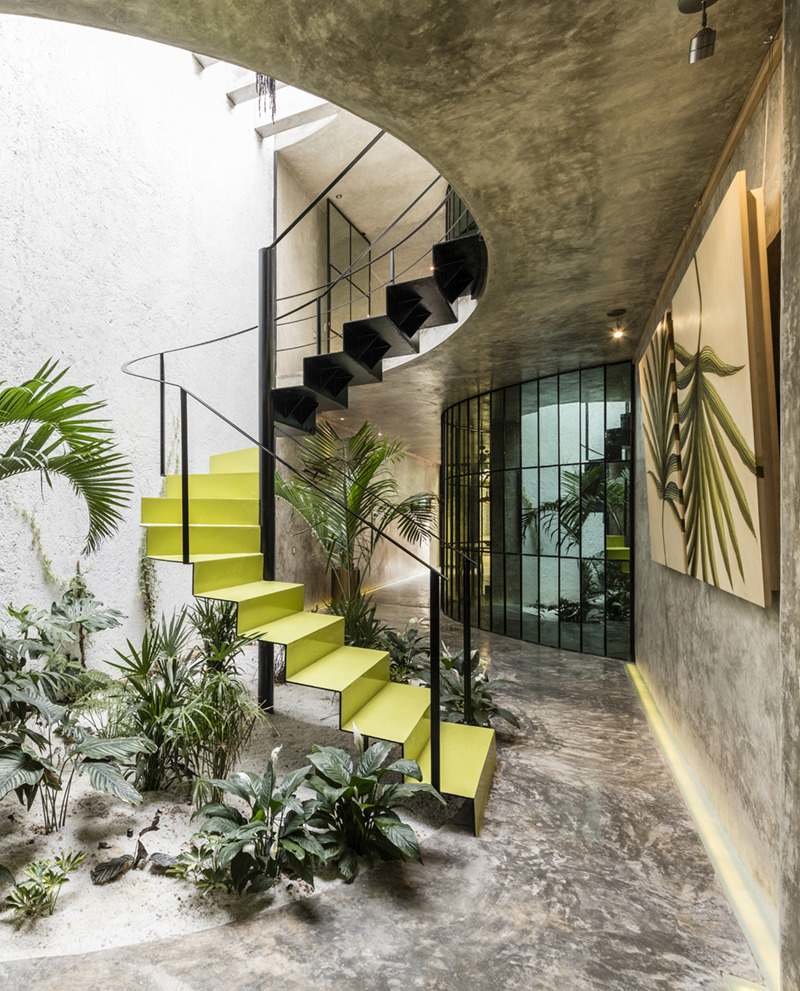 Here's another really cool design, this time by Taller Estilo Arquitectura S de RL de CV. The staircase has a sinuous, spiraling shape which makes it space-efficient and gives it a graceful appearance. It's made of metal which allows it to be slender and to have a lightweight appearance. The stairs have an accordion-like shape and they're black on the underside and chartreuse on the other.