Trying to define bedroom modern ideas is not as straightforward as you might think: are we talking clean-lined minimalism? Going for more glam and glossy uptown finishes? Interested in a mix, not match, of vintage finds? Layering up colours, styles and materials for all-out maximalism? Or choosing contemporary designer pieces? Actually, it's about every one of these style choices and more, for modern nowadays is about creating a look or mood that reflects the tastes and needs of the person who uses the space, rather than simply investing in the latest on-trend must-haves.

As interiors guru Abigail Ahern – whose new bookEverything: A Maximalist Style Guide(Pavilion) is just out – explains, 'I happen to think anything goes for modern bedrooms, as they don't need to feel all minimal and pared back. I prefer something a little more expressive, so I mix materials, forms and styles, and weave it all together with a restrained palette.'


1.What is a modern bedroom?

So, in this time of anything goes, what defines a modern bedroom idea? Different designers all have different thoughts: 'There are no hard and fast rules, which is what makes designing a bedroom fun, but not without its challenges,' says interior designer, Suzy Hoodless. 'It's key to address practical requirements, while making sure to create a comfortable and deeply restful room.'

She's right – ultimately a bedroom is a sanctuary – a relaxing space in which to escape the outside world. And because of this a modern bedroom shouldn't feel overdesigned or untouchable. 'Bedrooms shouldn't be too formal. Creating that perfect balance between designed, yet lived in, is all in the styling,' says interior designer Adele Lonergan, Co-Founder and Creative Director, Covet & Noir.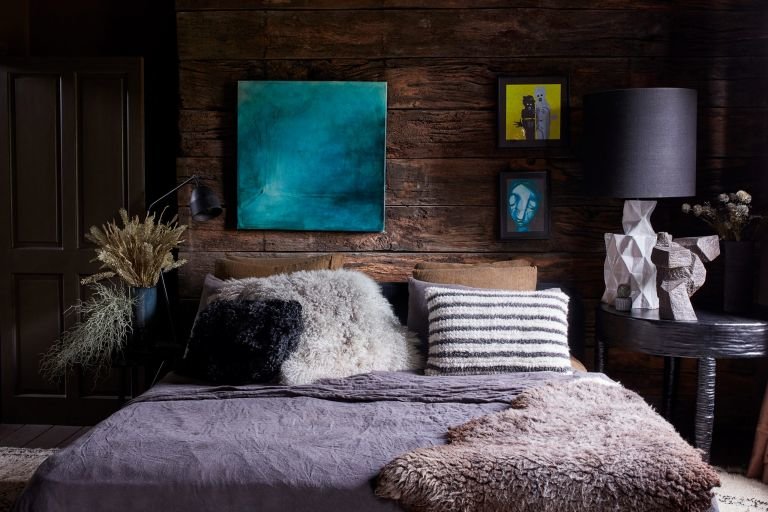 Having said that, there have been noticeable style shifts in the ways people are decorating their bedrooms. For starters, the bed has become even more of a focal point and is often the item around which the whole look of the room is built. So, whether you go for a modern four-poster, a velvet-covered bedframe with a hint of Art Deco styling, a more contemporary wrap-round headboard or one of the woven rattan finishes that are everywhere, use your bed as the launch pad for your look.

While the bed is key, other furniture has come into its own: think leggy cupboards that give the illusion of weightlessness or the way people are more inclined to combine old with new by selecting stand-out antique pieces such as mahogany chests of drawers or teak dressing tables and pairing them with a run of sleek fitted wardrobes – it's all about the mix.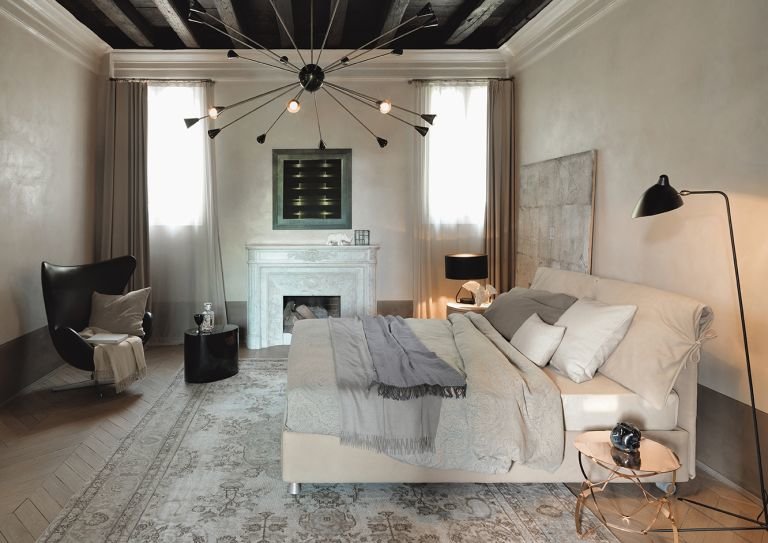 Other trends that look here to stay include the resurgence of colourful bedding – notably in the shape of gorgeous, tactile, luxe-y, natural linens – and, concurrently, a new willingness to try out a bolder range of colours when decorating – whether that's rich navy or softer, earthy hues. 'In terms of colours I am obsessed with warm darks; so soothing, muted, earthy, hues that speak of familiarityand comfort,' says Abigail Ahern. Having said all this, it's definitely worth taking on board the advice of Ruth Mottershead, Creative Director of paint company, Little Greene: 'When it comes to styling, it's your space, so you make the rules.'


2. What makes for a luxurious bedroom?

All the experts we consulted are agreed that whatever its style, the bedroom is the space where you rest and unwind, and it's the little luxe extras that make all the difference to how the space makes you feel – even in the most minimal room. So, whether that's soft, ambient lighting – warm white bulbs should be your go-to – wall-to-wall carpets, or sleep-inducing room scents, it's worth thinking about final touches that have sensory appeal.

But back to your key investment piece: 'The bed should be the biggest size the room can take, be the most comfortable and be the best you can afford,' says interior designer Emma Deterding, Founder and Creative Director, Kelling Designs. 'The next element is then getting the best bed linen, duvet and pillows you can afford, for that added level of comfort.'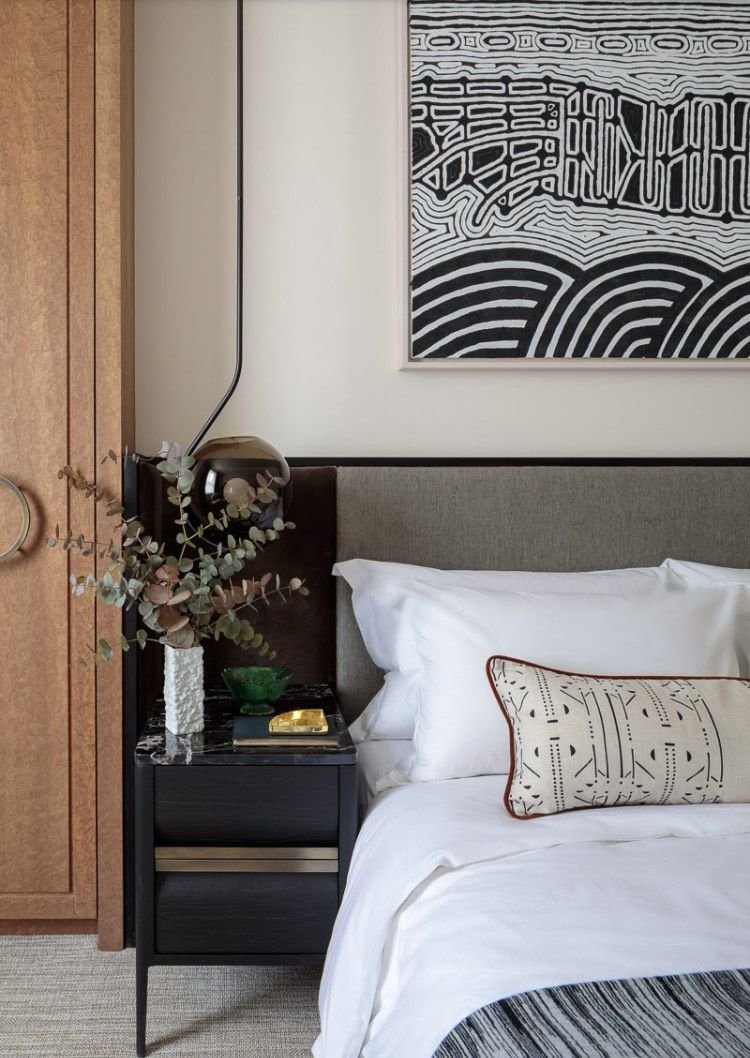 Tina Mahony, Director of contemporary furniture store, Go Modern has noticed a shift in customer requirements recently – perhaps due to the difficult times we are currently experiencing: 'Our customers seem to be looking for warmth and softness, so upholstery and textures are big news this season,' she says. Choosing materials for the room that have a real tactile quality will up the luxe factor: 'Using luxury textures in fabrics for curtain finishes and bed linen really does go a long way,' says interior designer Camilla Clarke, Creative Director, Albion Nord.

And don't forget where you walk: 'We prefer a wooden floor as it feels more modern,' says Adele Lonergan, 'But you still need softness underfoot, so a rug is important. Choose an under-bed rug that extends past bedside tables to give that sense of luxe.' The desire for comfort can also explain why there's been a bit of a carpet renaissance recently – particularly with people braving saturated colours and bold patterns. 'The bedroom is a private space and so is a great place to experiment with statement shades and styles,' says Joanna Ramsden, Creative Director at Brockway Carpets . 'Bold, rich colours are great at creating a real attention-grabbing feature.'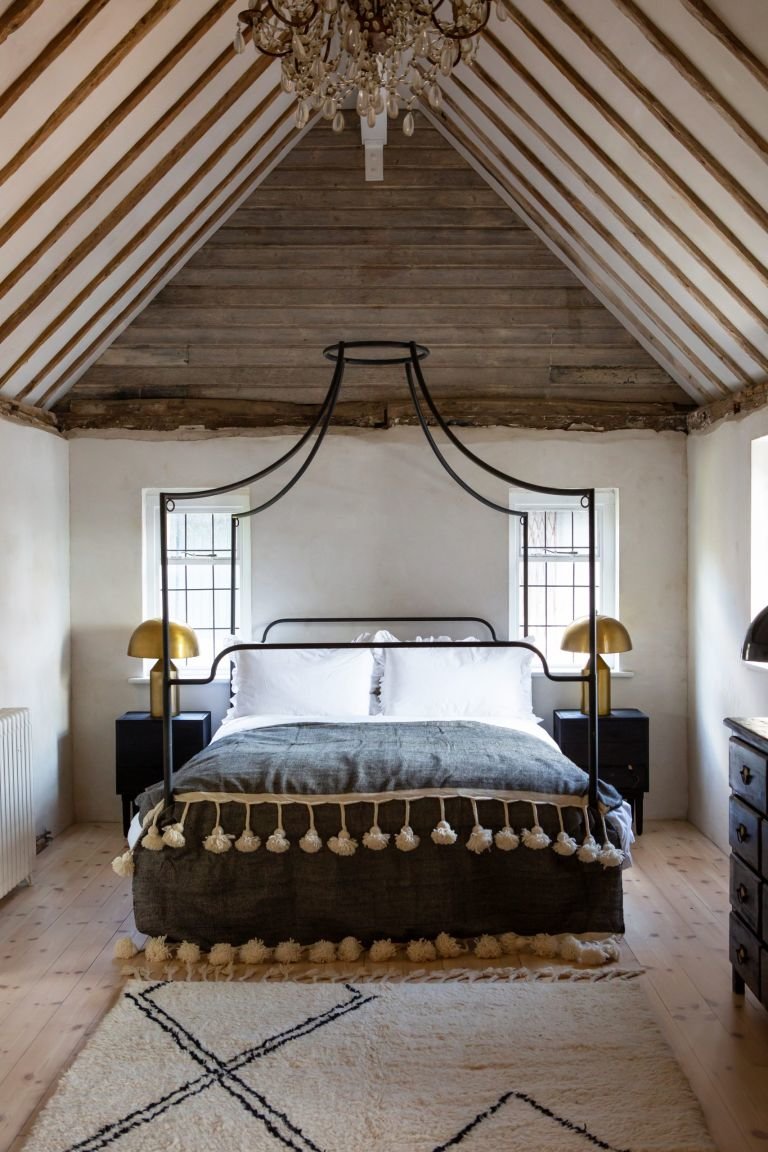 3. How to get a good night's sleep in a modern bedroom

Joa Studholme, Colour Curator for paint company Farrow & Ball, probably speaks for us all when she says, 'In these troubled times I want my bedroom to give me a great big hug at the end of the day.'

But how to achieve that? It's really all about creating the right environment to help you develop healthy sleep patterns – oh and taking the time to choose a good mattress – 'Buy the best mattress you can afford, sleep is so important, so having the best, most comfortable, mattress for you is the ultimate luxury,' says Lucy St George, Co-Founder of e-boutique Rockett St George – as well as great linen.

Jonathan and Emily Attwood, the Founders behind specialist bedding company Scooms, have got getting a good night's sleep down to a fine art and advise thinking about the following:

Have a routine: 'Go to bed and get up at roughly the same time every day as this programmes your body to sleep better.'

Create the right environment: 'Make sure your bedroom isn't too hot or too cold – around 15-18 degrees C is perfect. And keep it dark, quiet and clutter-free.'

Have a tech-free zone: 'Light is one of the biggest triggers to our brain about being sleepy or awake, so power down and dim the lights at least an hour before bedtime. Turn off all devices and don't watch TV or work on a computer in bed.'

Think about food and drink: 'Too much food and booze play havoc with sleep patterns. Avoid heavy meals when it's late – your body isn't meant to be digesting while you sleep. And avoid excess alcohol and caffeine as these interfere with the neural pathways that promote sleep.'

Buy natural bedding: 'You spend a third of your life in bed, so the right bedding is key. Go for natural materials as they wick away any excess moisture and help with temperature control, keeping you cool and comfortable.'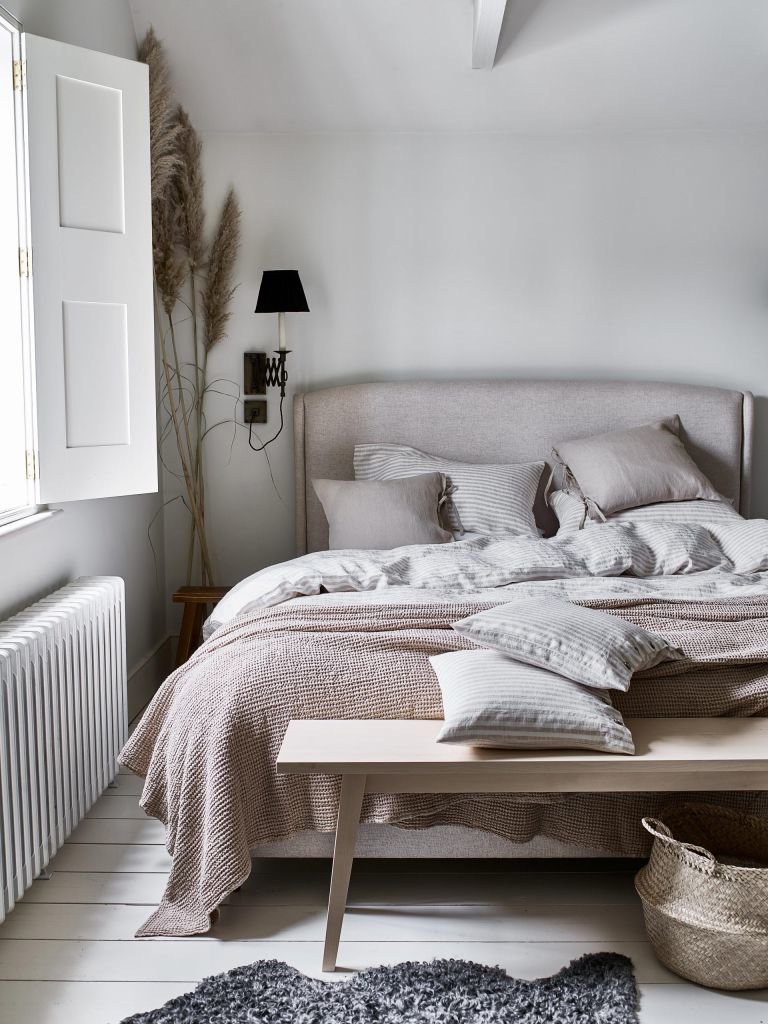 4. How to style a modern grey bedroom

The fifty – and more – shades of grey paint widely available have become decorating favourites for good reason. Grey offers a great neutral base from which build a look and pairs effectively with nearly every other hue in the spectrum, whether that's a hit of cerise as an accent or a swathe of sage as a complementary colour.

Not only that, but from the subtlest dusting of dove to dramatic near-black charcoals, grey runs the full gamut of tones, offering endless decorating possibilities. So, whether you go for paler shades to bounce light around the room or richer tones for a cocooning effect, grey is the perfect canvas for a bedroom decorating scheme.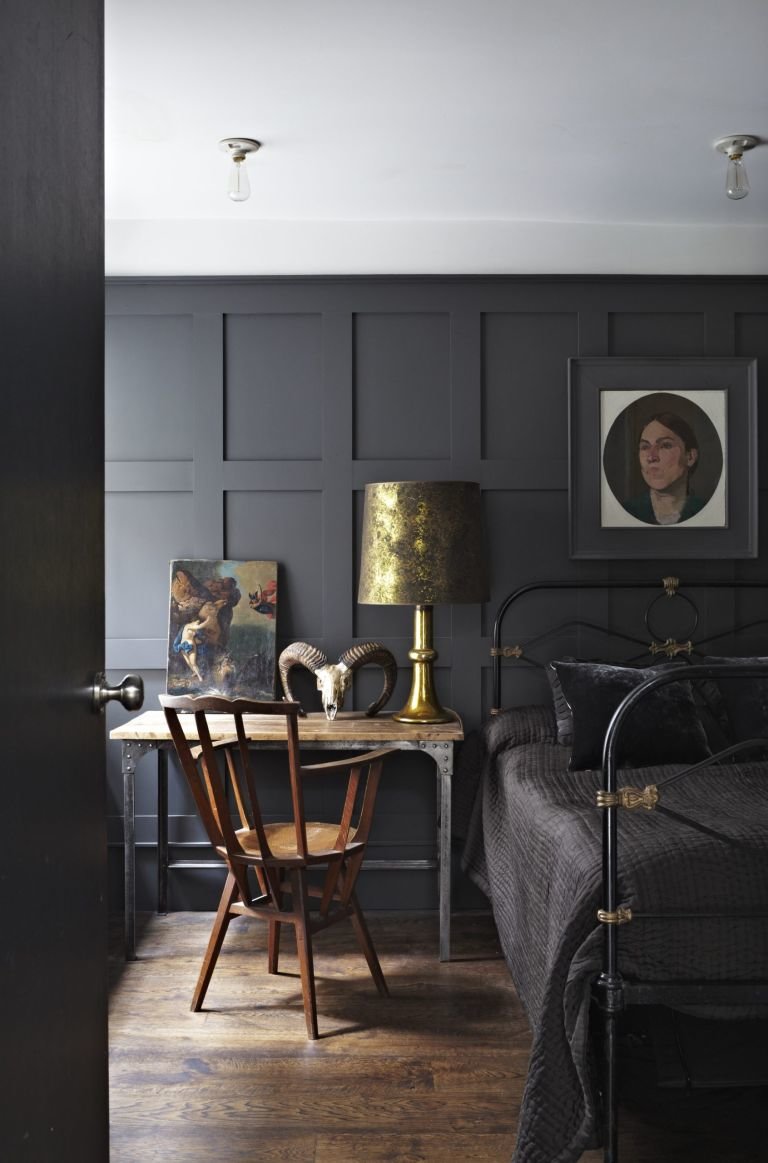 'Grey has universal appeal as, due to its timeless nature, it makes a perfect backdrop,' says Ruth Mottershead. 'I recommend a soft, neutral grey, like French Grey – it's not too cold or too warm, but somewhere in the middle, so offers great versatility.' 'Whether you're opting for a contemporary or traditional scheme, keeping the main canvas grey allows you to build on the look with accent colours used for accessories,' adds Helen Shaw, Director of paint firm Benjamin Moore UK. 'Soft pinks or greens work well with grey and will create a feeling of calm.'

Paint sorted, it's time to think about the other elements in the space. 'Remember to soften with texture so that nothing is too harsh,' says interior designer Jo Littlefair, Co-Founder and Director of Goddard Littlefair. 'Consider mohair velvets and waxy leathers contrasting with open weave, lightweight linen for drapery. Adding one colour into the mix brings it to life - even if it's just the glossy green from a houseplant.'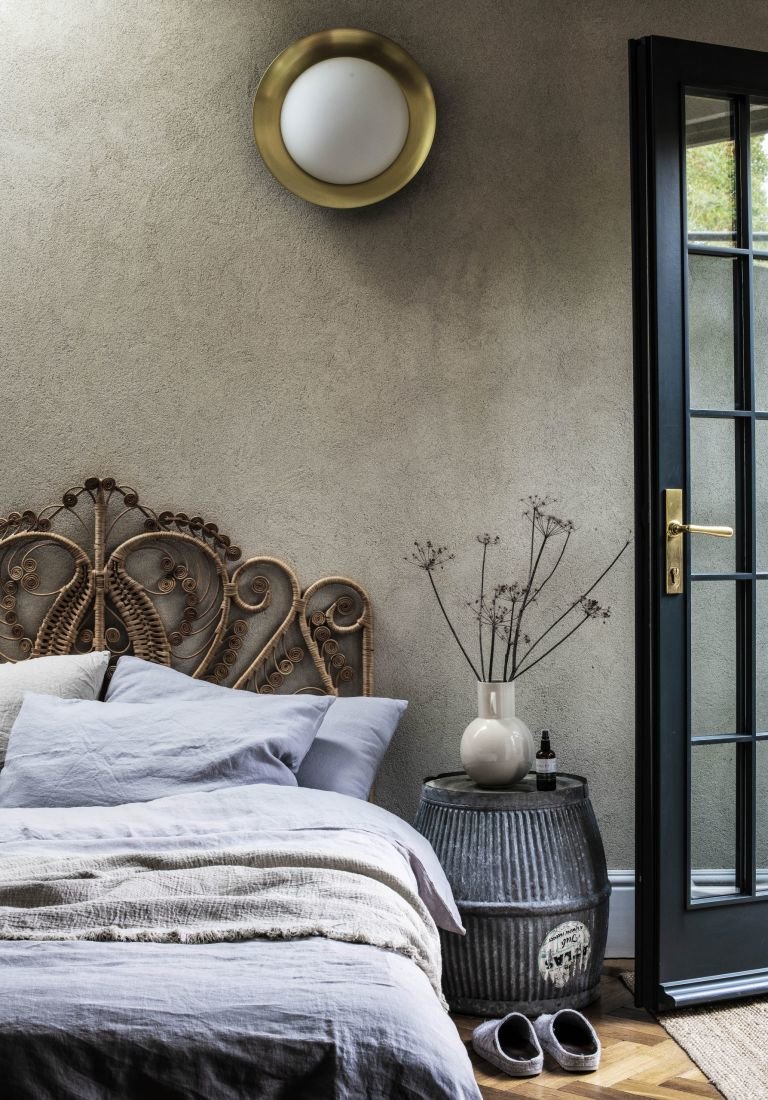 5. How to style a contemporary white bedroom

Who better to turn to about the whys and wherefores white modern bedroom ideas, than the Queen of all things pale and interesting, Chrissie Rucker, Founder of The White Company and author of For the Love of White: The White and Neutral Home (Mitchell Beazley). 'I like the sense of calm that a neutral bedroom provides; it's wonderfully versatile and it never dates,' she says. 'It's important to remember that white is not one colour but a thousand different tones and shades, all slightly different from each other. Opt for a chalky texture, rather than shiny – it's more tactile and warm, especially for a space like a bedroom.

'Layering different textures and introducing subtle contrasts is also key; a soft rug underfoot, a diaphanous drape at a window or a wicker light can really transform a room,' she continues.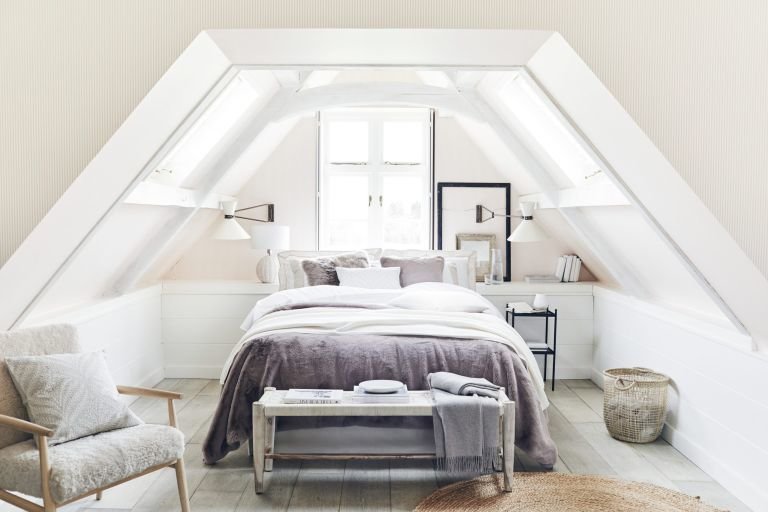 When decorating with white, don't be afraid to mix up various shades of pale, advises interior designer Jo Berryman: 'This ideathatecru and bright whitedon't harmonise is so dated,' she says. 'Texture isalso vital within a muted scheme. Accentwith shearling cushions, or a bold and beautiful devoré velvet throw.' Joa Studholme agrees with adding textural interest in an all-white scheme. 'Neutral coloured walls can be enhanced in winter with layers of colour and texture in the form of rugs, throws and cushions,' she says. 'These can then be stored away when we want our bedrooms to become lighter and airier in the summer.'

Emma Deterding is also keen to think of white as the blank canvas on which she builds a bedroom palette: 'We tend to go for neutral walls for a calming feel, but bring in character and life with headboards, furniture and accessories in bold pops of colour and eye-catching prints,' she says. As Chrissie Rucker rightly sums up,'White is a great canvas on which you can layer your personality.'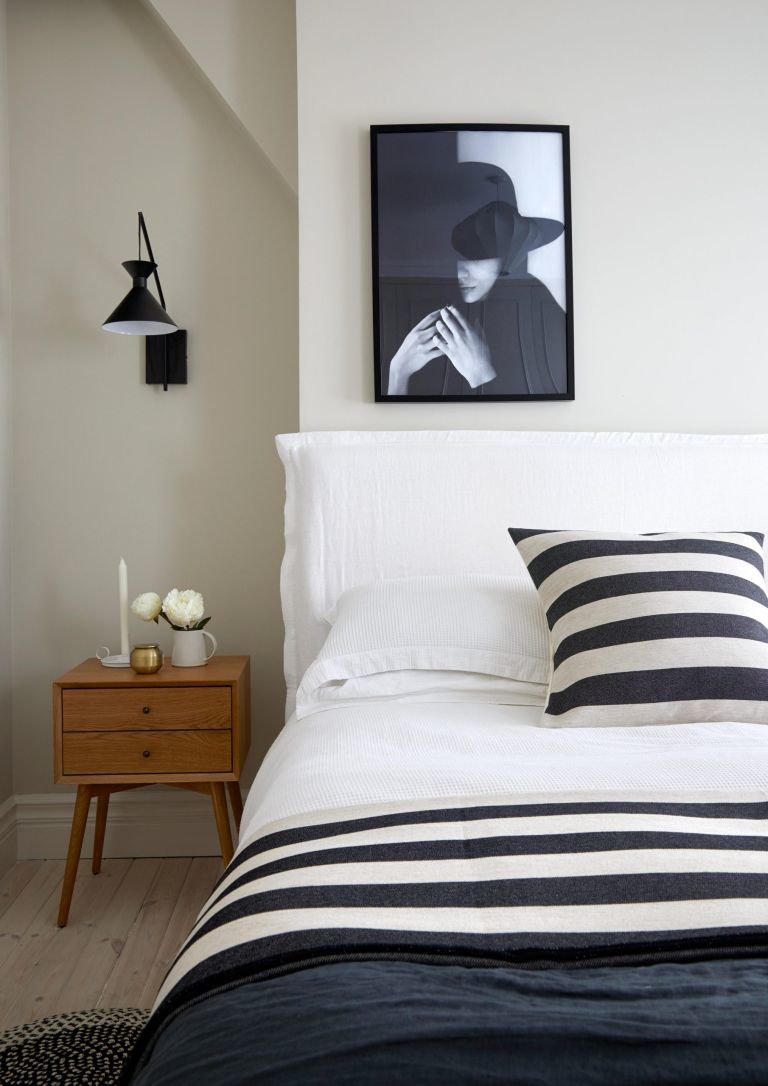 6. What are the best modern bedroom wallpaper ideas?

We're all aware of the great wallpaper renaissance and the many decorative opportunities it can offer – from prairie-print repeats to eye-popping wall murals. But with so much choice, it's sometimes tricky to know how to make wallpaper do its best work. The key is to choose a print that speaks to you and really think about the effect you want.

'Wallpaper choices are very subjective, so stay true to your personal sense of style,' advises Lucy St George. 'For the maximalists out there, don't be afraid to use it on all four walls. Alternatively, I love the idea of painting the walls and adding wallpaper to the ceiling for a bold statement.'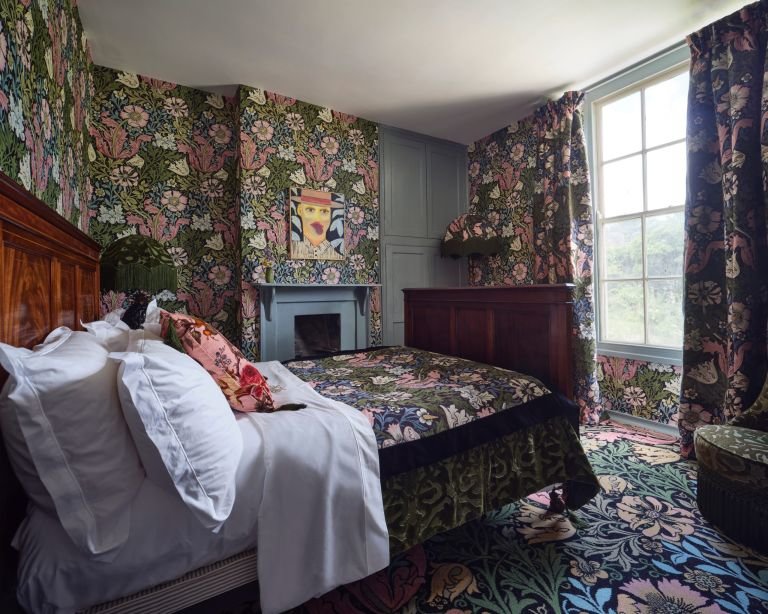 If that all feels a bit too outré, try a feature wall: 'It's an easy way to add drama in a non-committal way,' says Jo Berryman. If you are brave enough to go for a more OTT print, but not quite up to committing to covering the whole room, the wall behind the bed is the one to paper: 'Once you are lying down, you won't see as much of it, meaning it's a fantastic place to be dramatic and adventurous with your design choice,' says Ruth Mottershead.Another option is to try it as an accent: 'Use it in small areas, like the interior of a wardrobe or lining drawers,' says Joa Studholme.

Not a fan of pattern? There are other ways to approach wallpaper: 'Textured linen wallcoverings are amazing at making a room feel cosy and soft,' says Camilla Clarke. Alternatively: 'Introduce textured papers intopanels of joinery to add some interest or update the overall look of joinery without replacing it,'suggests Clara Ewart, Senior Designer at Kitesgrove (kitesgrove.com).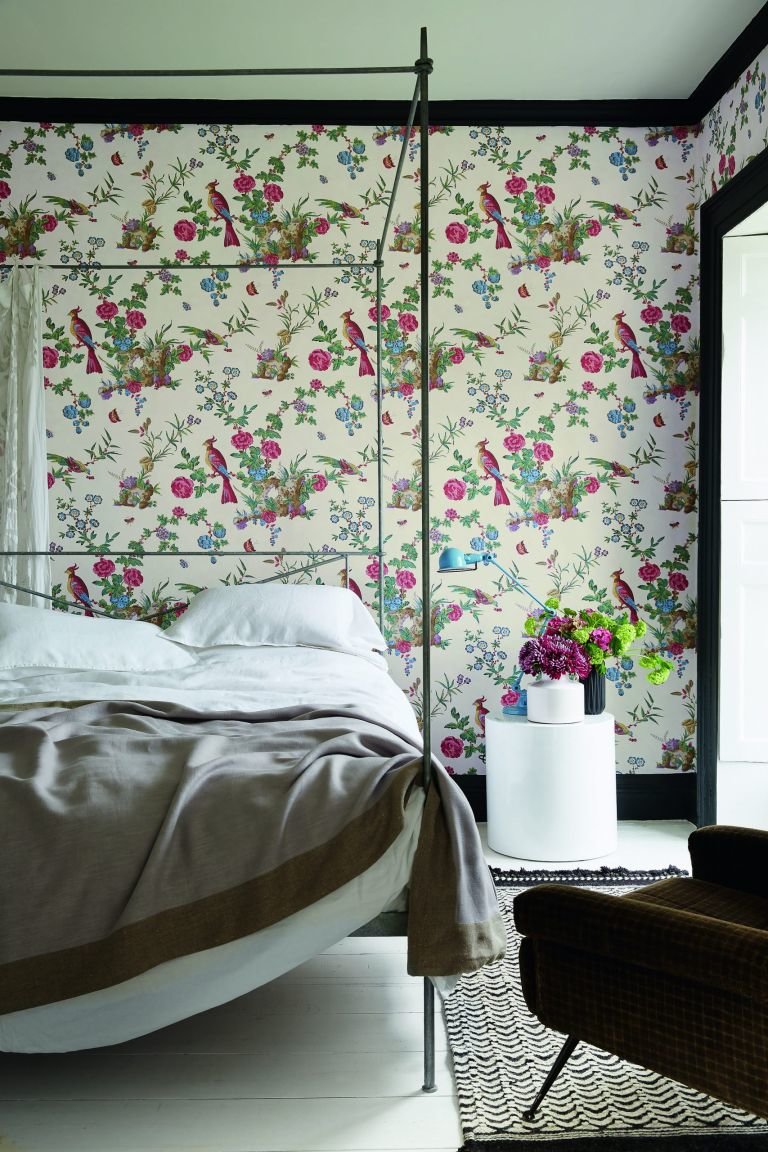 7. What are the best modern bedroom storage ideas?

Decent storage is the key to making a bedroom feel less chaotic, more Zen. So, fitted or freestanding – what's the best way to go? 'Fitted cabinetry is always going to make a space feel more premium and when it's properly designed, you get so much more storage,' says Adele Lonergan. 'It doesn't have to be fussy, go for a simple fronted door and invest in decent handles.' Camilla Clarke suggests a mix and match approach: 'We love to design fitted wardrobes that appear freestanding, but also mix them with antiques to add character,' she says. This is also favoured by Lucy St George: 'I love mixing and matching old and new, fitted and freestanding, furniture to find balance between practicality and character,' she says.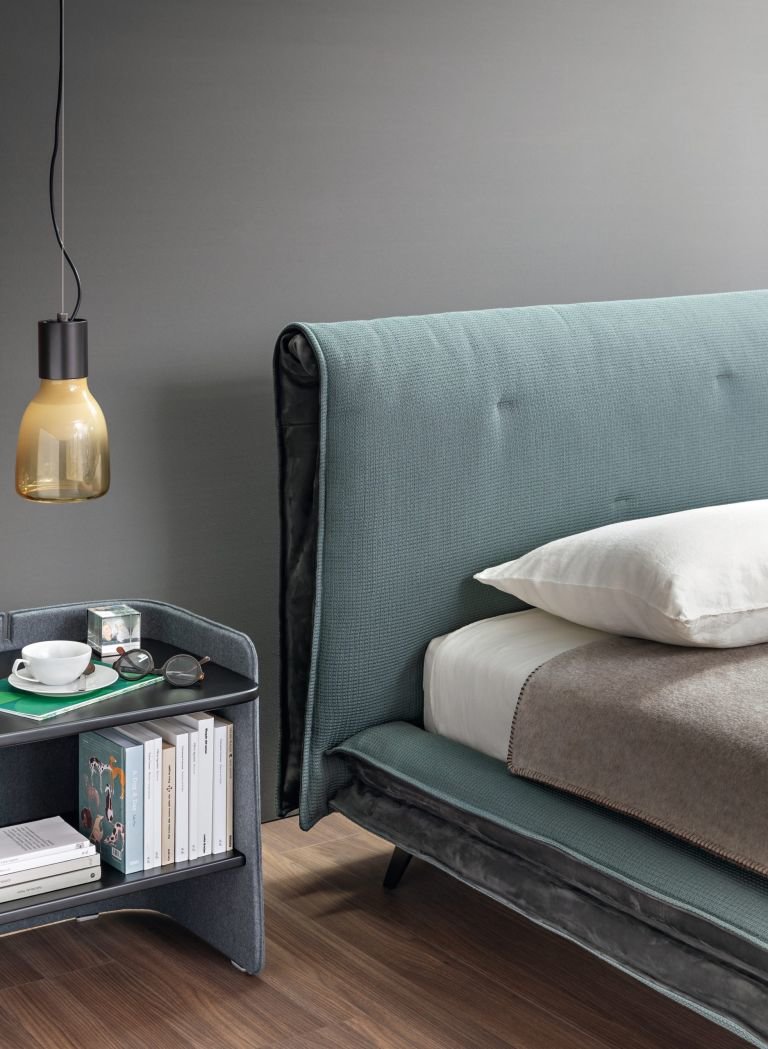 If you're not yet in your forever house, it's probably worth considering going freestanding and buying pieces that can move with you. If vintage-minded, the online marketplaces such as 1stDibs, Vinterior or Selling Antiques are good ports of call, but if that's not your bag, then look to the contemporary storage specialists for a modular system that can grow with your requirements. Source these from the designer 'department' stores such as ARAM and Chaplins.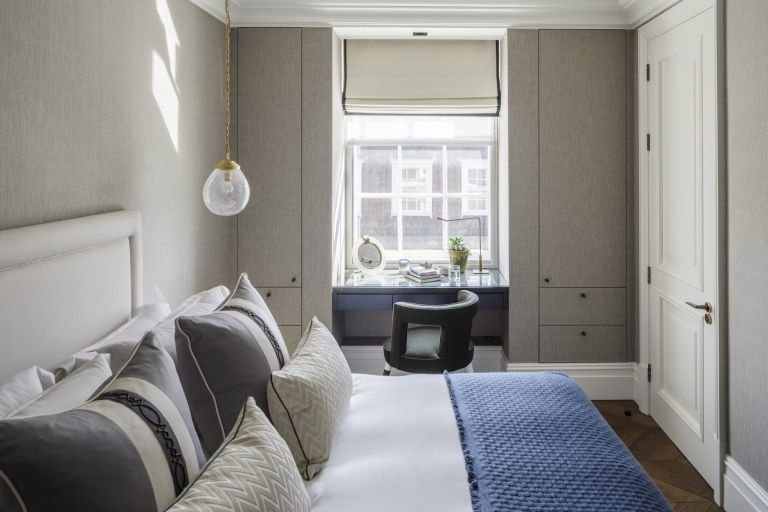 Whichever route you choose, make every storage item work hard to earn it's keep: think of trying a tallboy instead of a standard chest of drawers; make sure bedside tables have drawers or shelves incorporated; buy a storage bed that can house spare bedding or out of season clothes. Our final word of advice comes from Elena Paparozzi, Senior Furniture Buyer at Heal's: 'If you're looking to mix and match furniture, choose similar materials, finishes and silhouettes to build a cohesive look.'