Black + White + Aqua

Black brings drama and depth to exterior color combinations. Pair black siding with white trim to highlight your home's architectural features and prevent the dark neutral from appearing too gloomy. Here, an aqua front door adds another element of brightness that contrasts with the inky painted siding and black metal roof.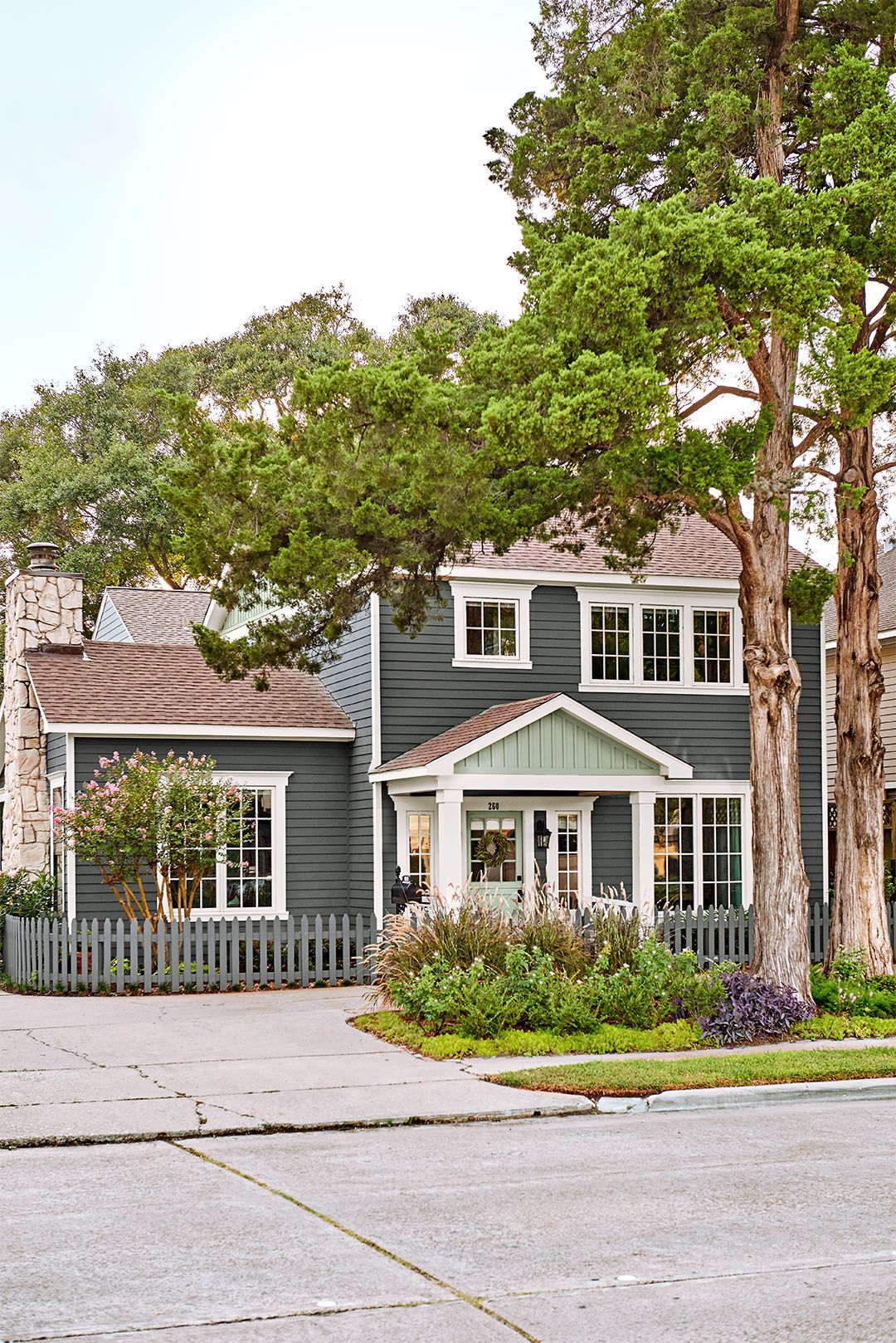 Hunter Green + Muted Sage + White

Without the lighter green gable and door, this home would look dark and uninviting. A small splash of color goes a long way, especially when framed in white trim. The chalky matte finish on the green exterior paint colors is a great way to make non-neutrals pair well together. The choice to paint the picket fence hunter green, instead of traditional white, keeps the attention on the home's sage green door.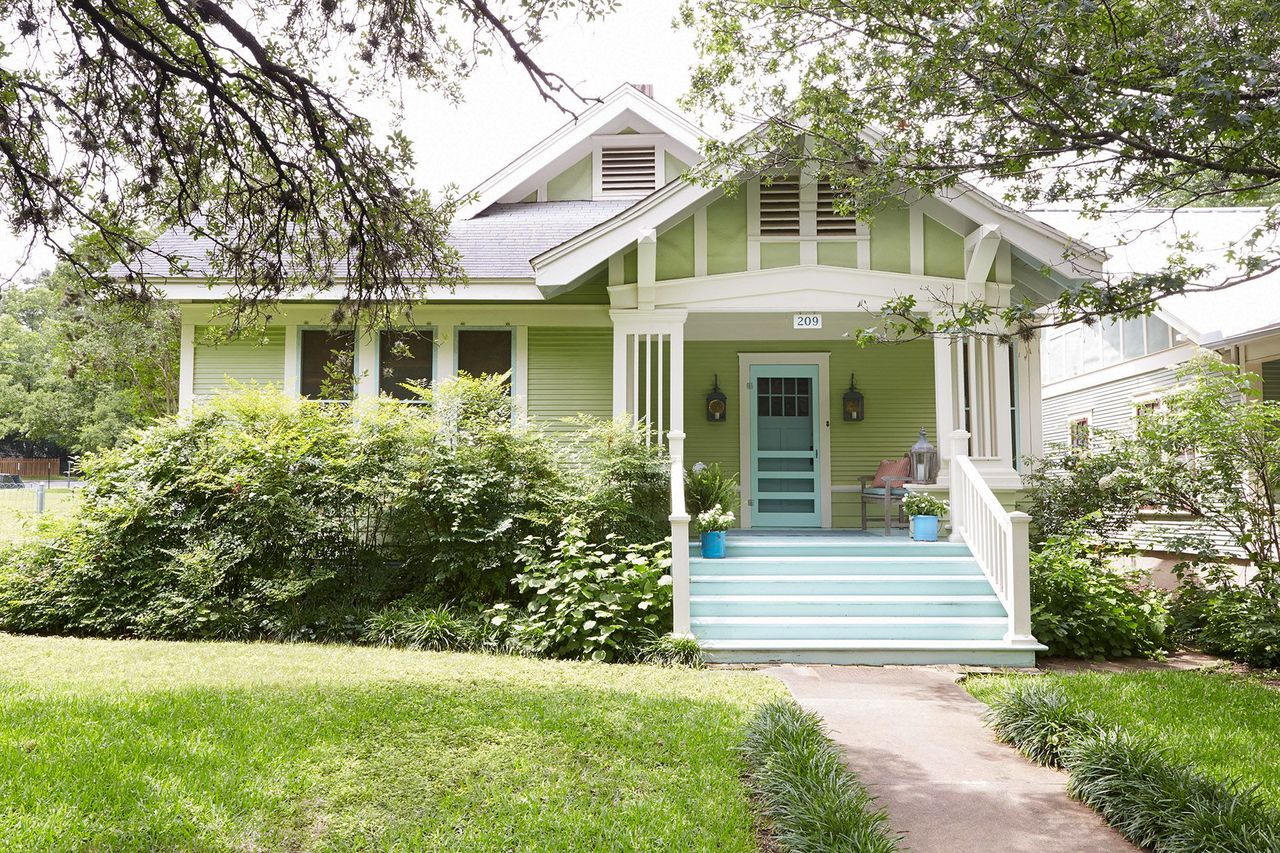 Soft Lime + Powder Blue + White

Set a whimsical tone from the street with exterior paint colors in pretty pastel hues. This bungalow features a muted lime-green color that blends gently into the surrounding landscaping. Powder blue paint on the front steps and door playfully sets off the siding and beckons guests inside. To avoid a candy-coated effect, choose less saturated shades of bright colors, and balance them with plenty of white trim.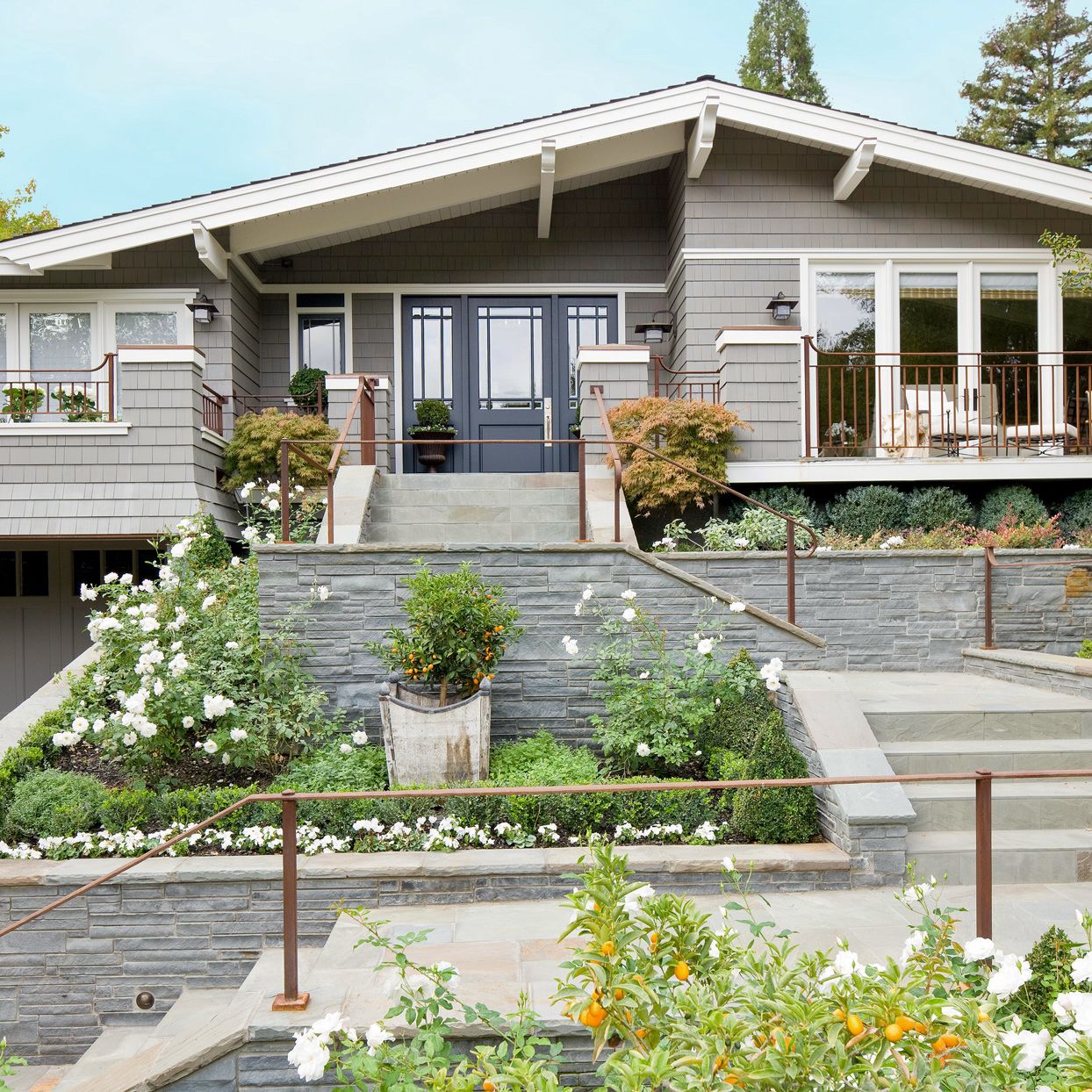 Pearl Gray + Slate Blue + White

Taking its cue from nearby stone and concrete hardscapes, this home steps quietly into view. Its peaceable palette highlights the home's best features, establishes a sense of symmetry, and fashions a fresh take on midcentury modern style. By placing the slate blue house paint at the front entry and using bright white extensively, the homeowners created a home with a pleasingly streamlined silhouette.



Red + White + Blue + Beige

A bright red front door is a warm welcome into this Tudor-style cottage. White window trim gives dimension to the home's beige trim, which is repeated on the fence as well. Light blue, as opposed to a navy blue, keeps the home from looking too much like Fourth of July decor.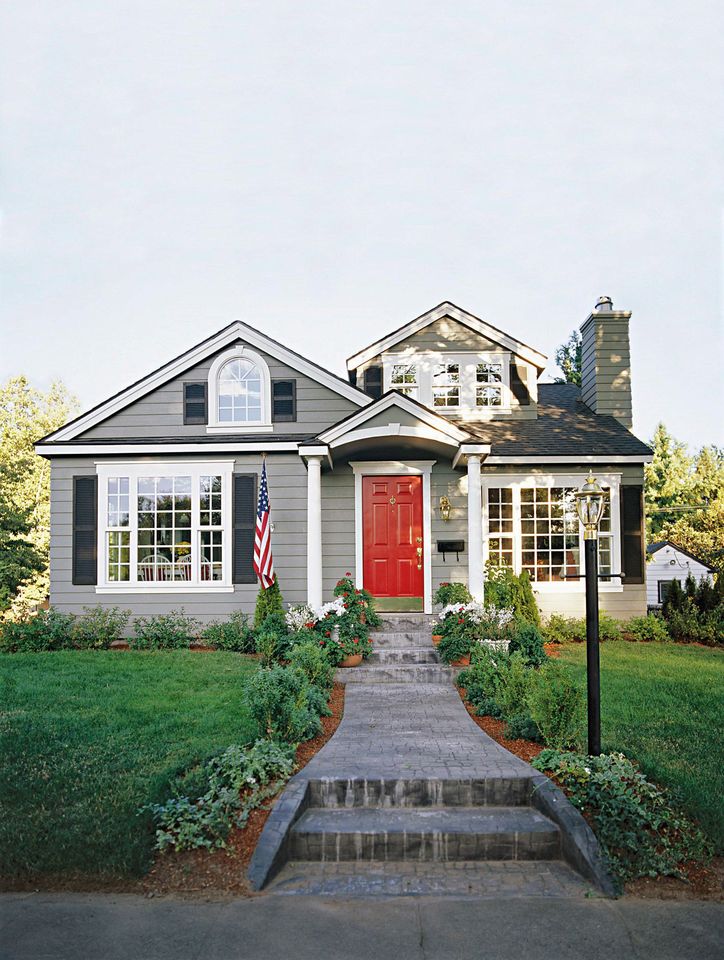 Warm Gray + Red + Black

Especially on smaller or more traditional-style homes, simple works best for exterior color combinations. Neutral siding colors like warm gray create a solid foundation. Then introduce color in small doses, such as a glossy red front door, to create a focal point that doesn't overwhelm the exterior color scheme. Here, a touch of black, supplied by the shutters and mailbox, against white trim keeps the look crisp and modern.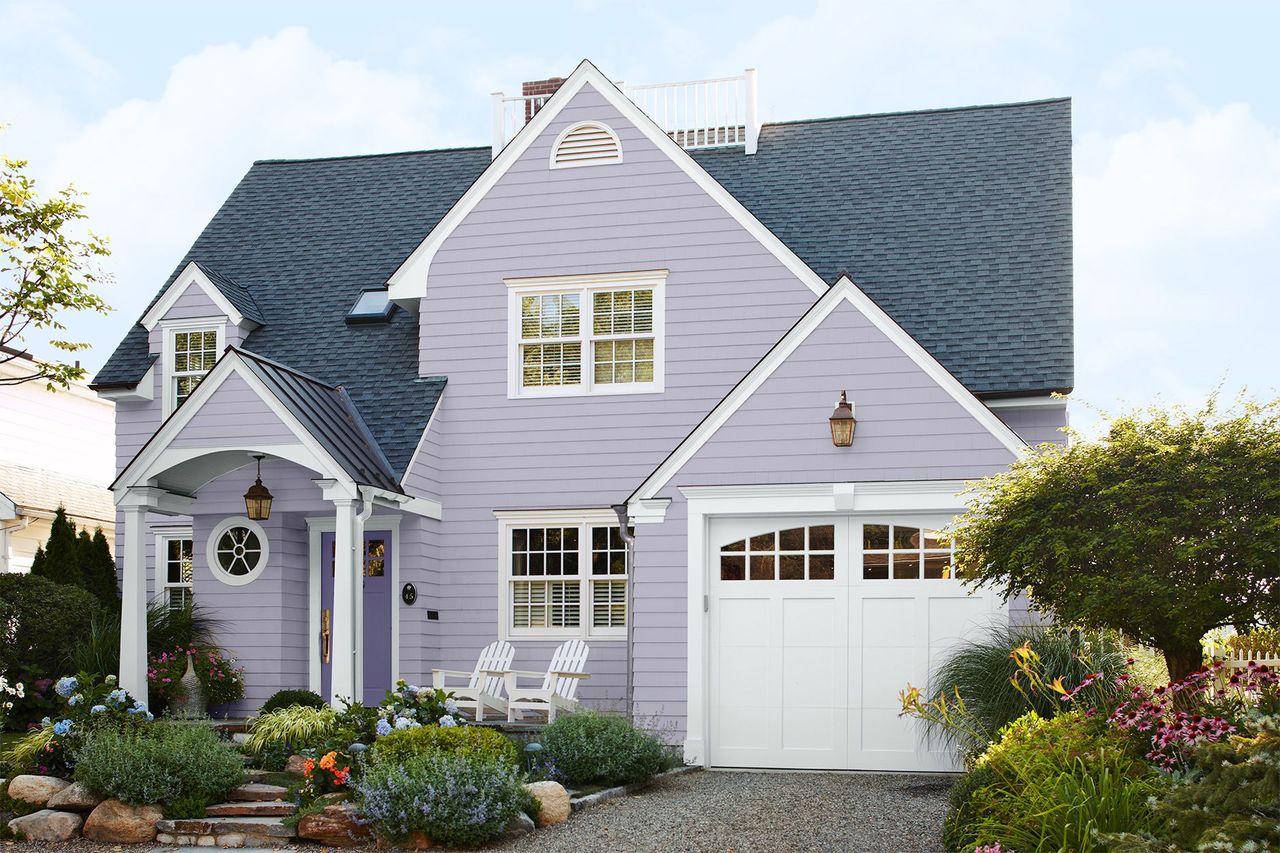 Lavender + White + Purple

Lavender is an unexpected addition to an exterior color scheme, especially when paired with an equally colorful door. To tone down the hue, choose a pastel paint color with cool gray undertones. The neutralized color palette will modernize your home's exterior.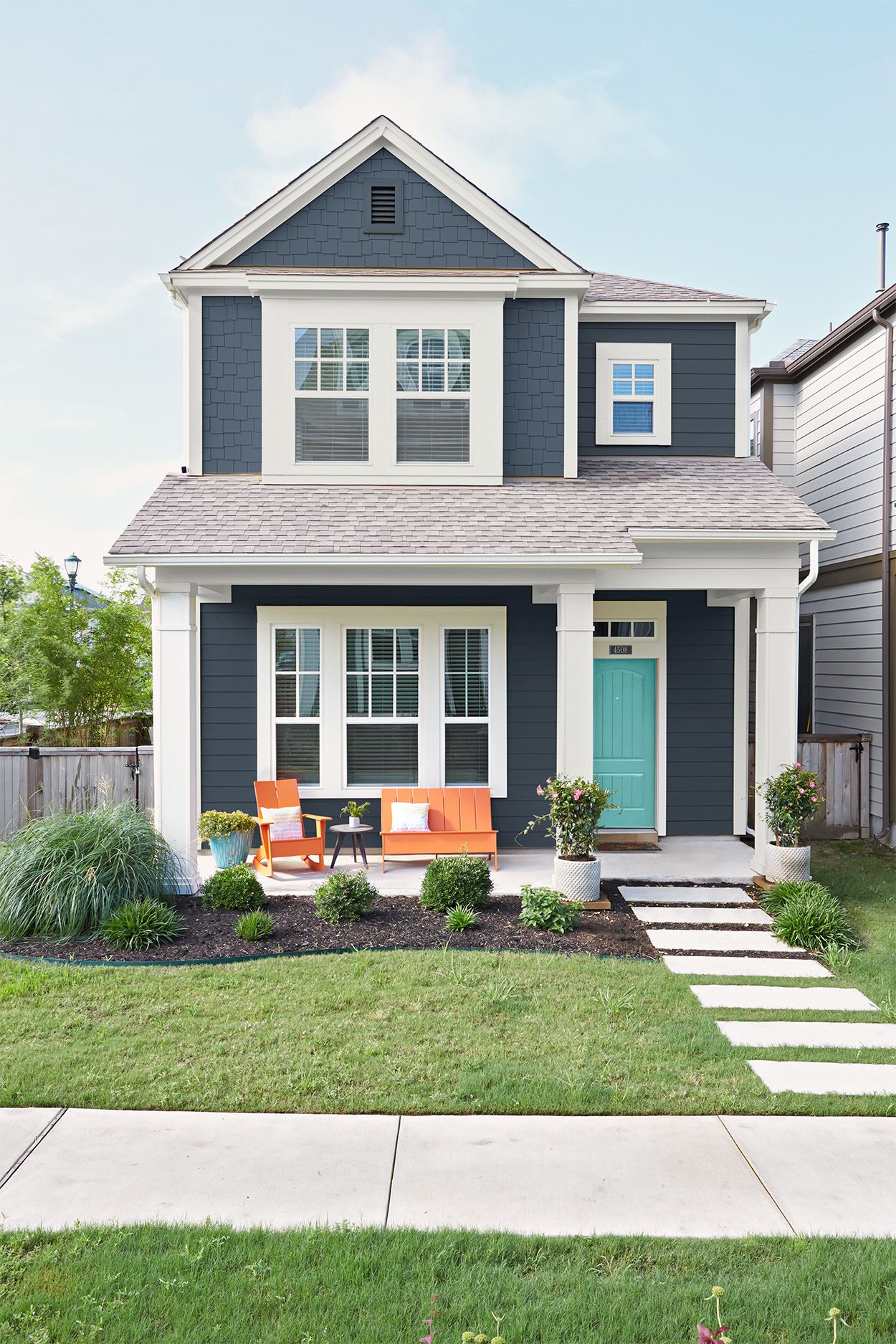 Navy + White + Turquoise

This home has two different siding types, but a single color unifies them. The dark navy hides the textural differences while white trim pops against the classic shade of blue. A fun turquoise front door is a welcoming touch.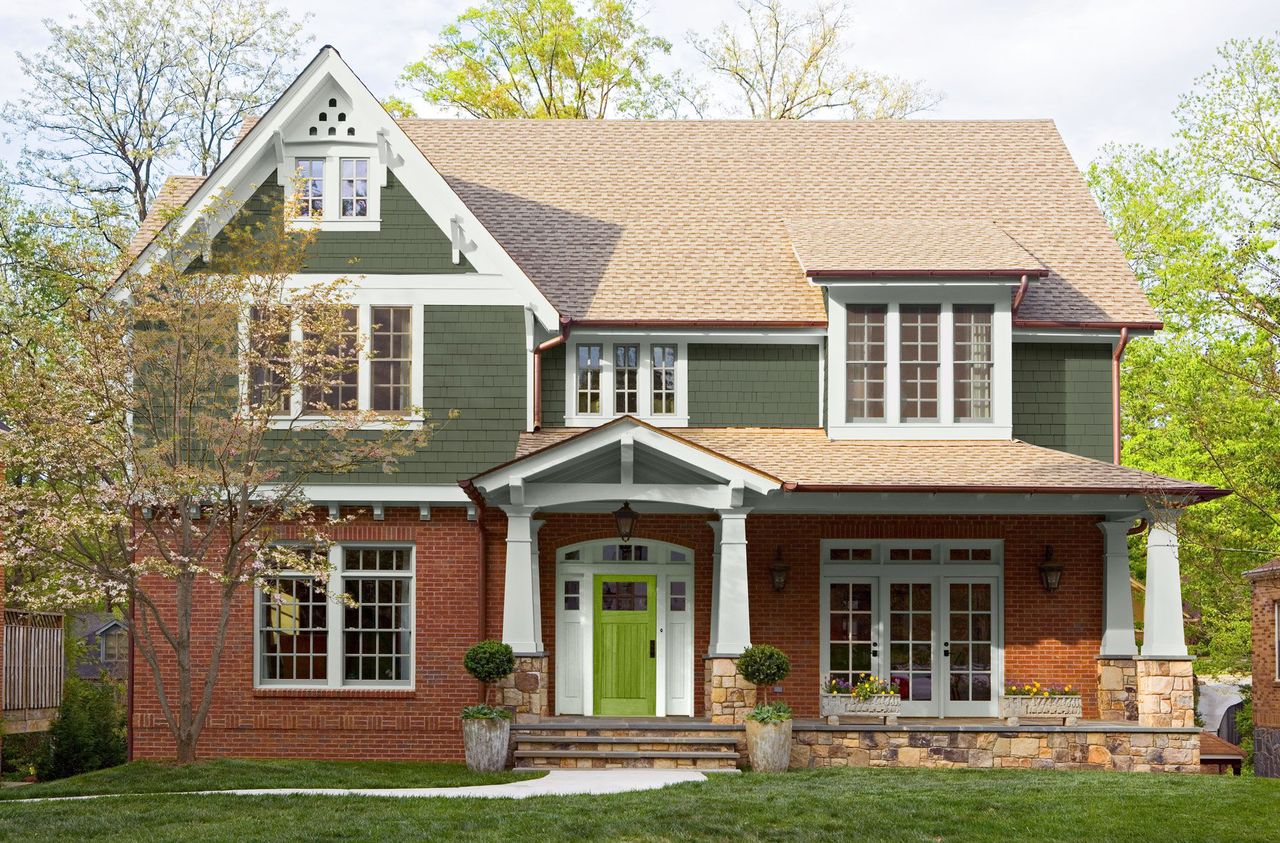 Forest Green + White + Lime

The brick facade on this home was the starting point of inspiration for its color palette. The forest green color on the siding was drawn from the brick itself, and the white trim was chosen to brighten the exterior. A bright lime-green door puts a modern twist on the traditional home.


Cocoa + Olive + Off White + Russet

Dark olive-color brick steps and foundation firmly anchor the cocoa brown siding to nearby perennial borders. Olive green lightens to moss green window sashes, which are highlighted by off-white trim. The russet-hue door sports orange undertones that allow it to stand out from the brown siding. Choosing light and dark shades of nature-inspired neutrals as exterior paint colors helps fashion an entrance that steps lightly on the landscape.