Sunlight and refreshing connections with Mother Nature make these modern dining rooms into irresistibly inviting spaces in which to gather, break bread and linger for a good while longer. In this varied collection of 51 dining rooms that connect with light and nature, we'll take a look at botanical dining spaces that are filled with living greenery, dining rooms with linked courtyard designs, glass walls that break open indoor eating spaces to lush gardens and poolside terraces, plus outdoor dining rooms for an authentic al fresco experience. We'll cover many different aesthetics too, from boho and rustic to modern and industrial style, plus global inspiration from Vietnam, Thailand, Indonesia, India, Mexico, and Brazil.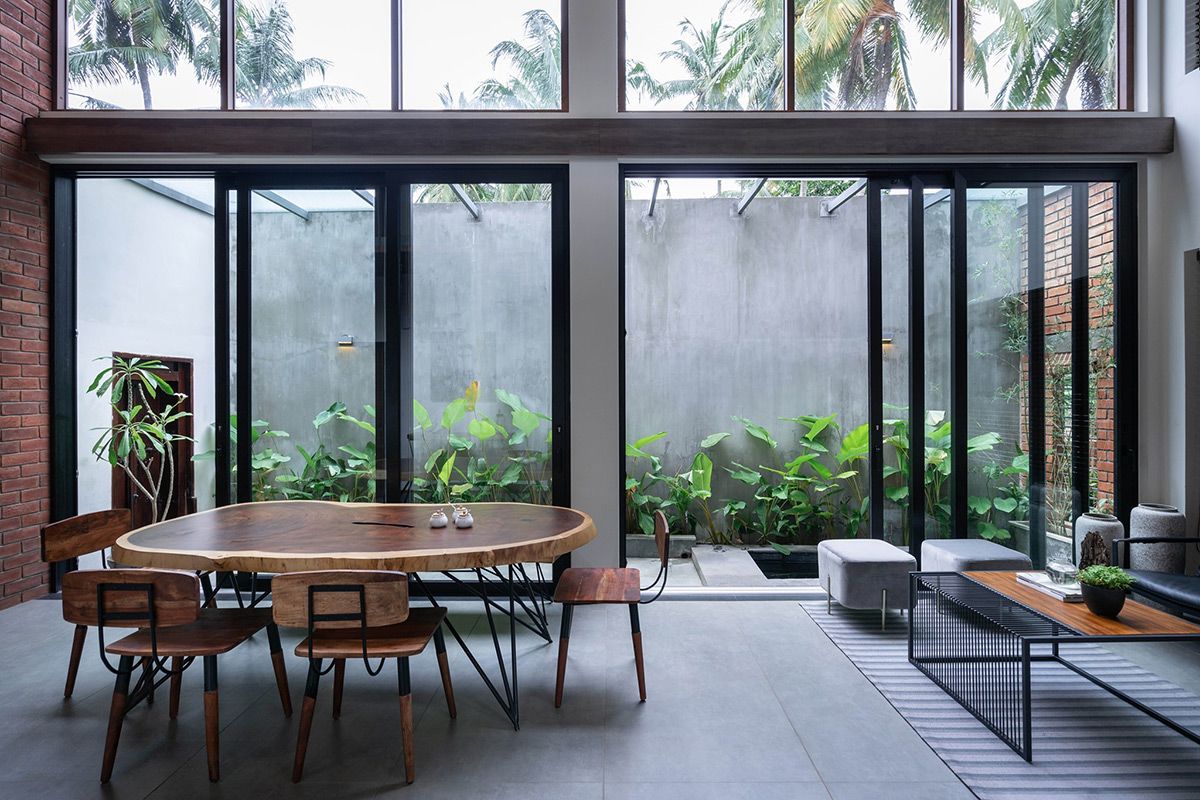 Stack it. Double-banked windows pull the sky into this modern dining room interior, where the rich wood tone of a stunning live edge dining table is complemented by walls of exposed red brickwork. A grey concrete floor cools the combo.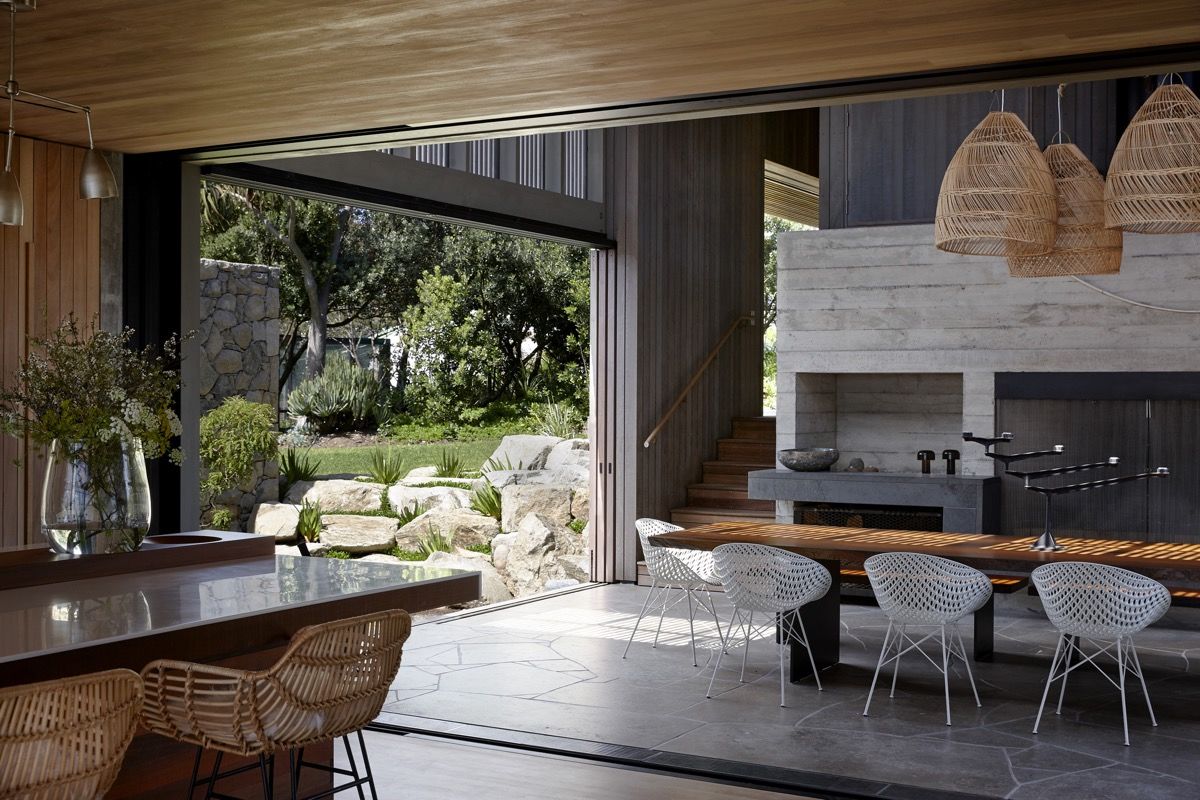 Paint a picture. Fully retractable doors turn this dining room's garden view into a perfectly framed picture. Slatted panels cross a clerestory window to filter warm sunbeams upon a long wooden dining table. The light play and natural wood tone is complemented by a cluster of wicker dining room pendants above.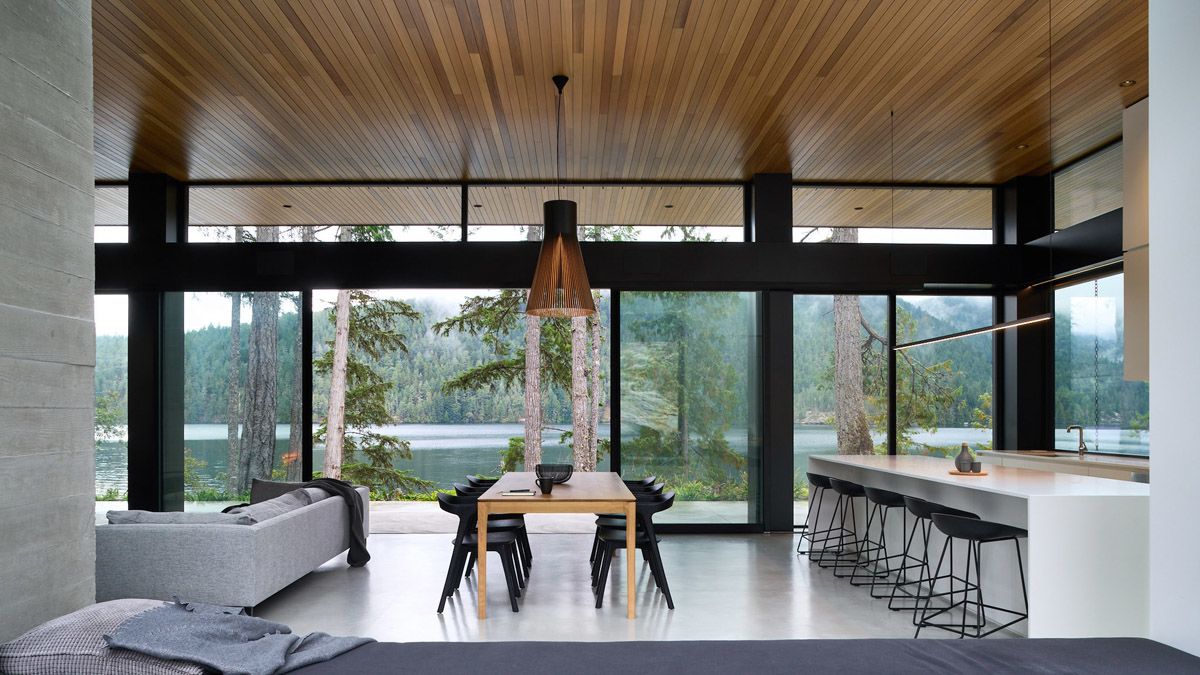 Bridges to nature. A wooden ceiling treatment seamlessly bonds this airy dining space with a terrace and lake panorama.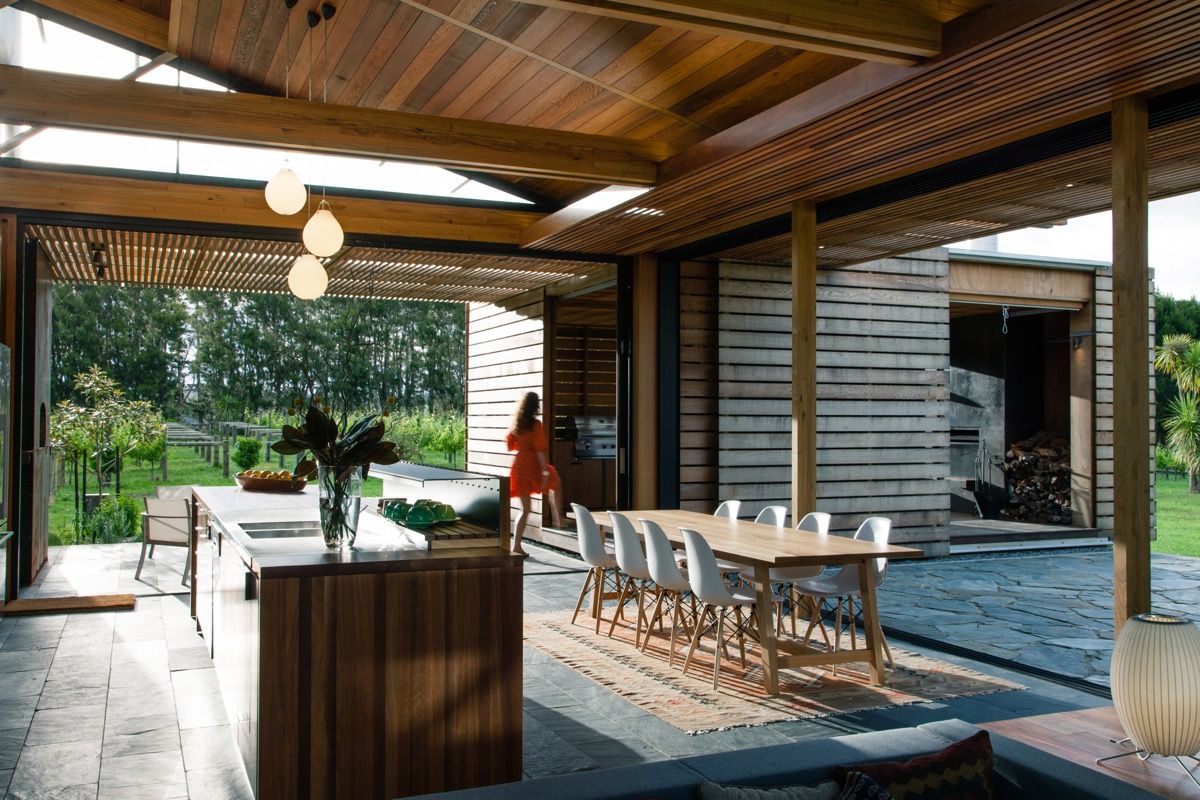 Multifaceted connections. Dual aspect windows and roofline windows crack open this large and light-filled dining space to different views of the garden and skyscrape. Glass walls retract to allow a through-breeze to flow freely, bringing with it the sounds and scents of the environment.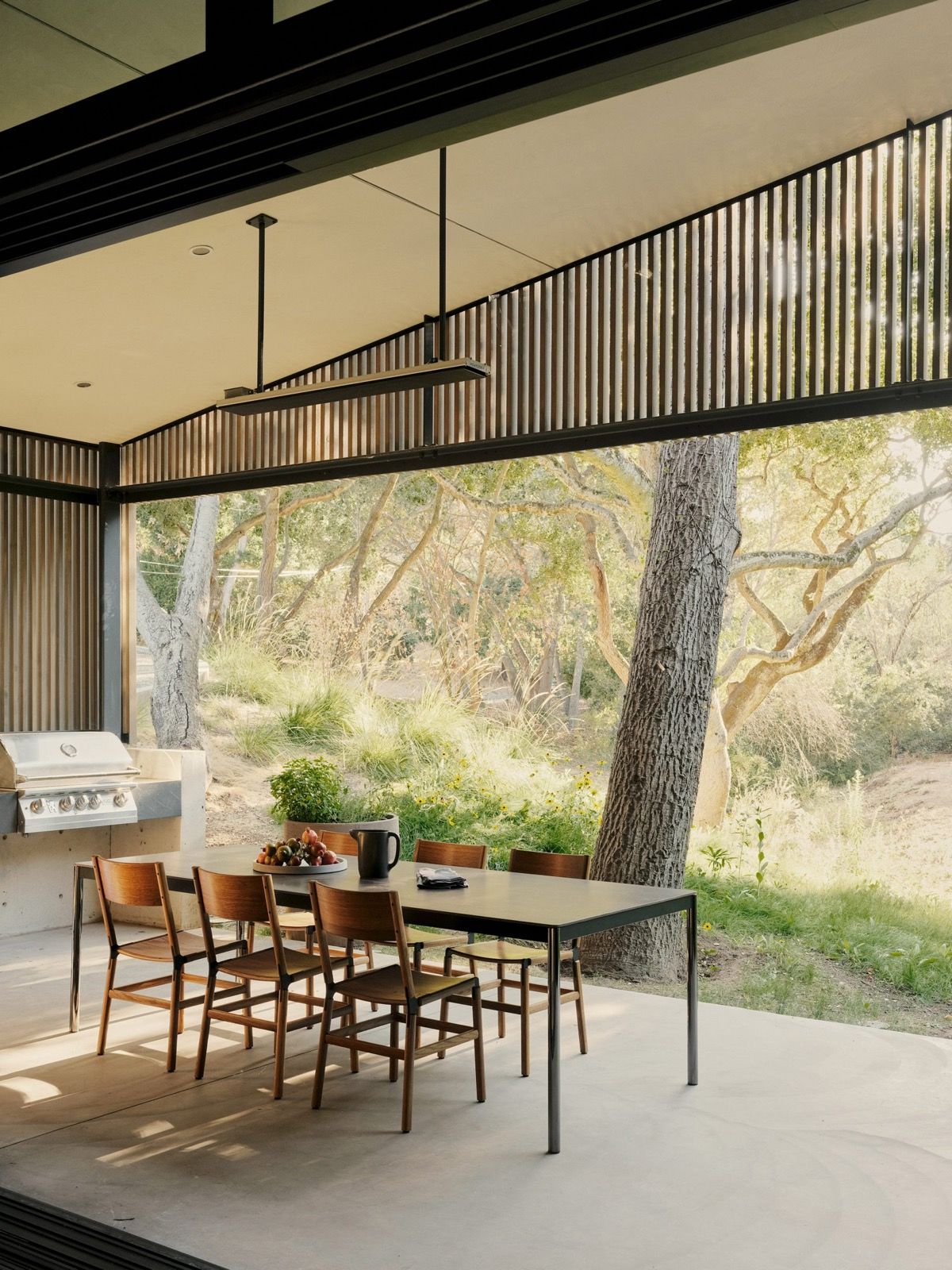 Blur indoor-outdoor boundaries. A concrete floor communicates both interior and exterior aesthetics, whilst a built-in barbeque grill provides al fresco flavours. The woodland landscape rushes right up alongside, creating a tangible vista.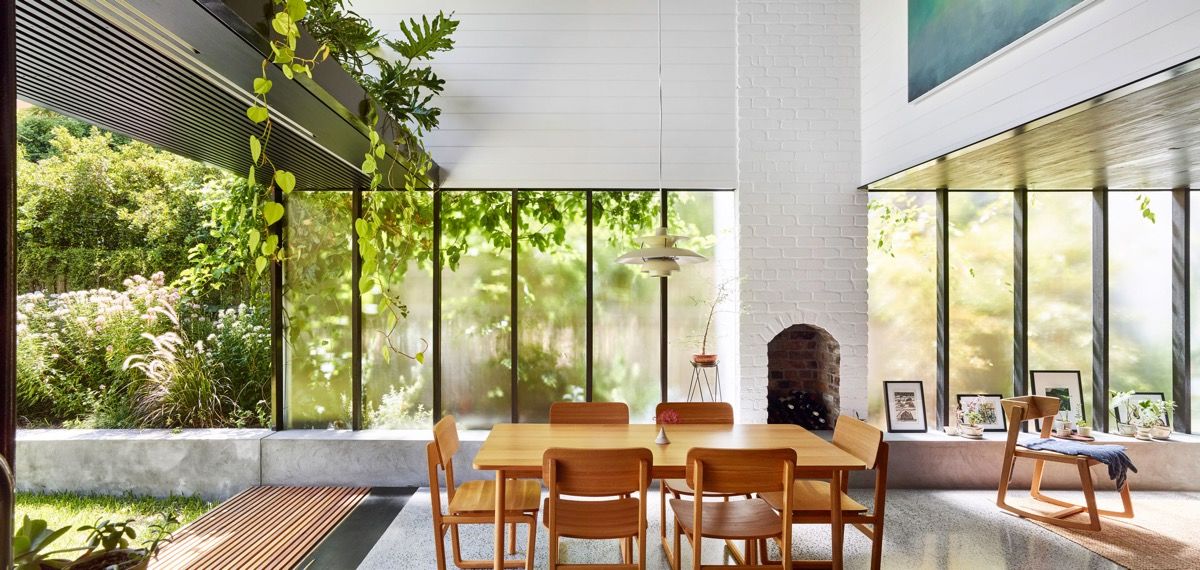 Draw nature's influence inside. Trailing plants trickle outside the tall windows of this dining space and some are nurtured inside of the home to obscure the border.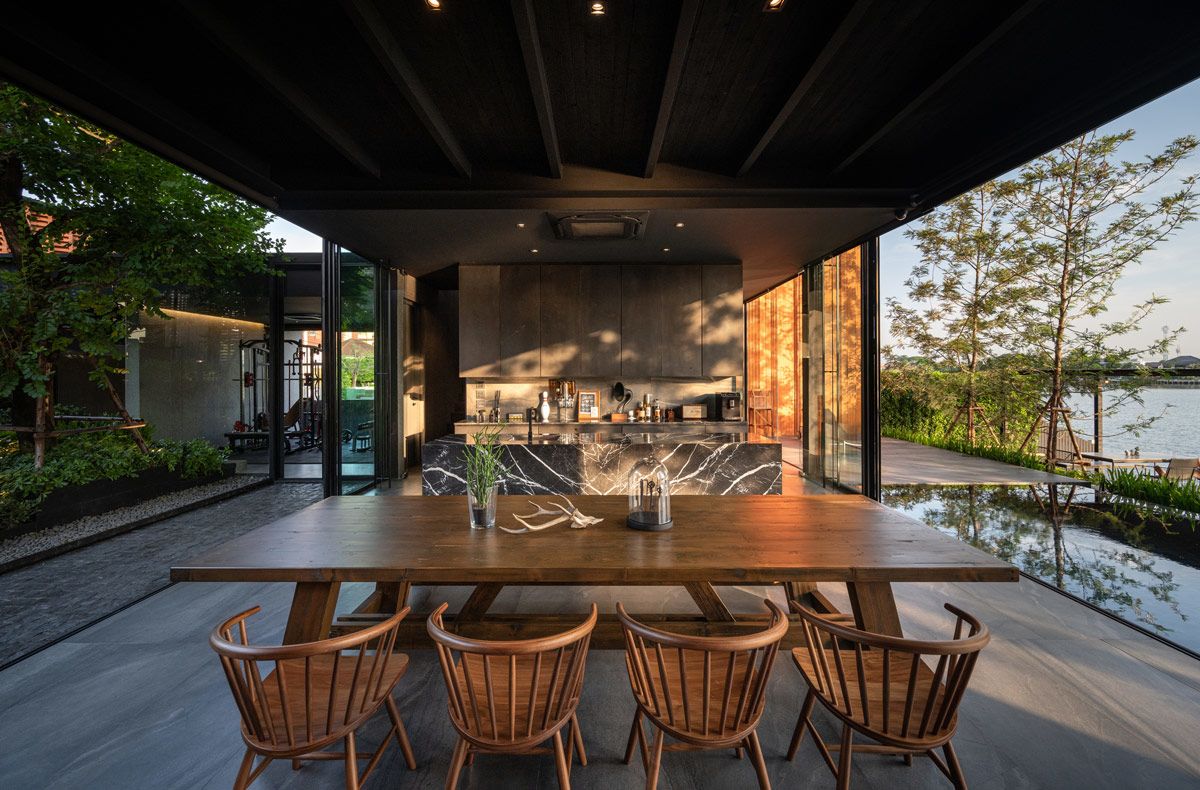 A nature sandwich. With open views of the environment on one side of the house, constructing an internal courtyard will sandwich your dining space between enriching natural scenery.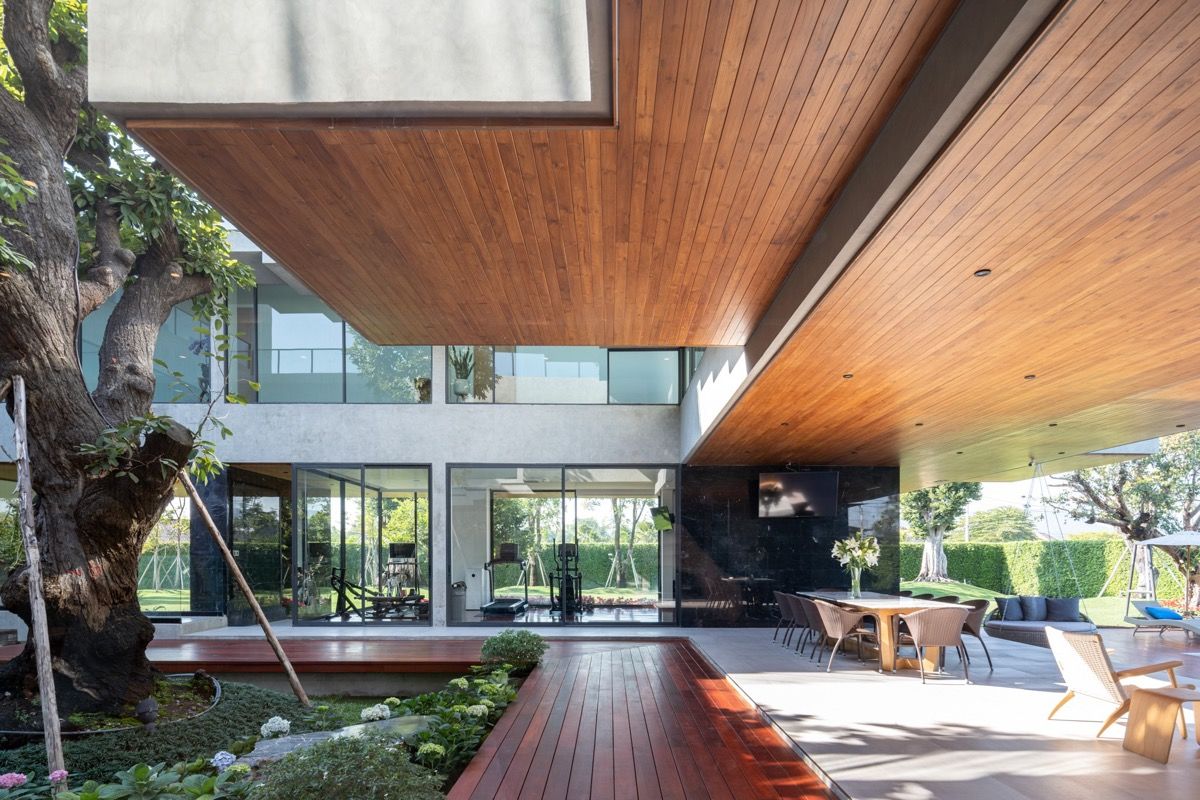 This double-sided, nature kissed dining space features a majestic tree that pushes up through a centrally situated courtyard. This courtyard design also gives the dining room a solid connection with the rest of the home.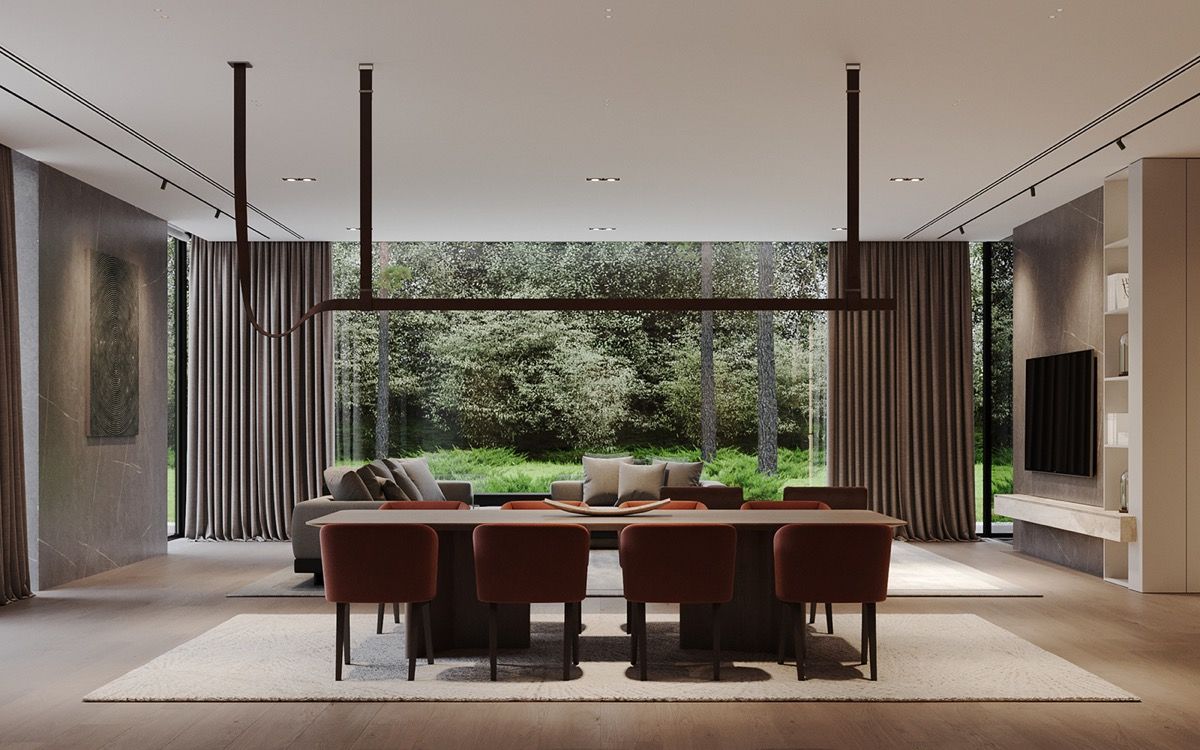 Dramatically draped. This sophisticated dining spot features a wide woodland view that's flanked in heavy, dramatic drapes. A bold linear suspension light adds to the framed effect.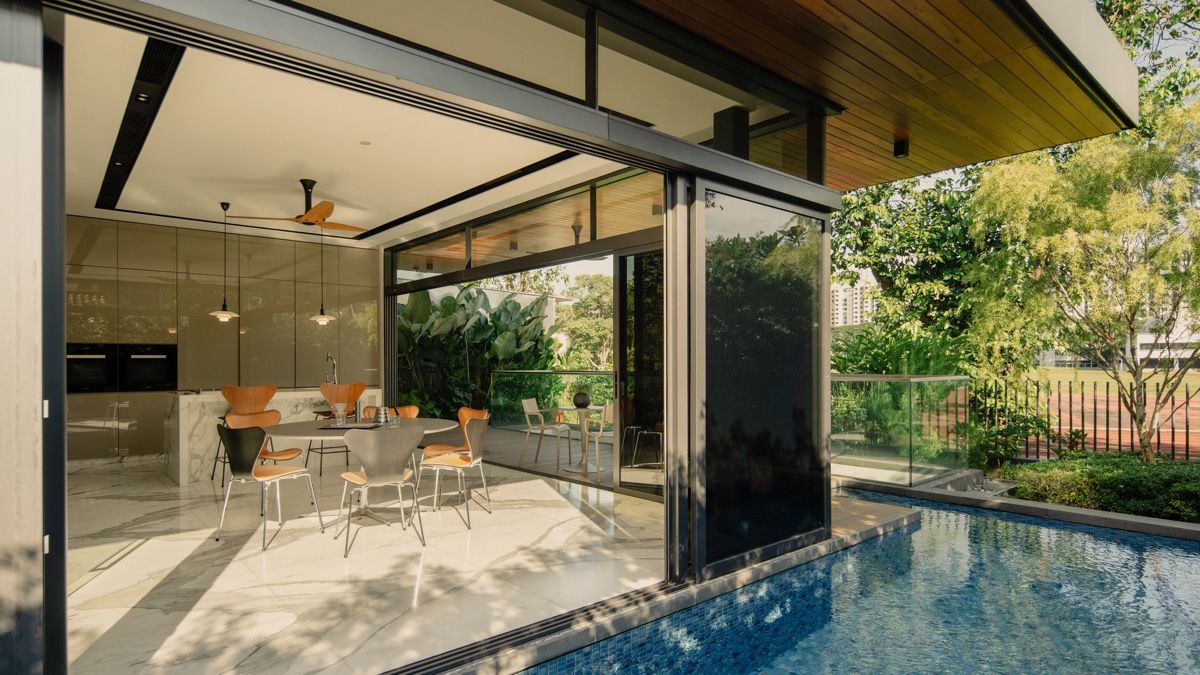 Take it to the water's edge. If you don't live by a lake, then create the waterside experience for yourself with a wraparound pool design. The water will make magical light reflections of walls, ceiling and floors.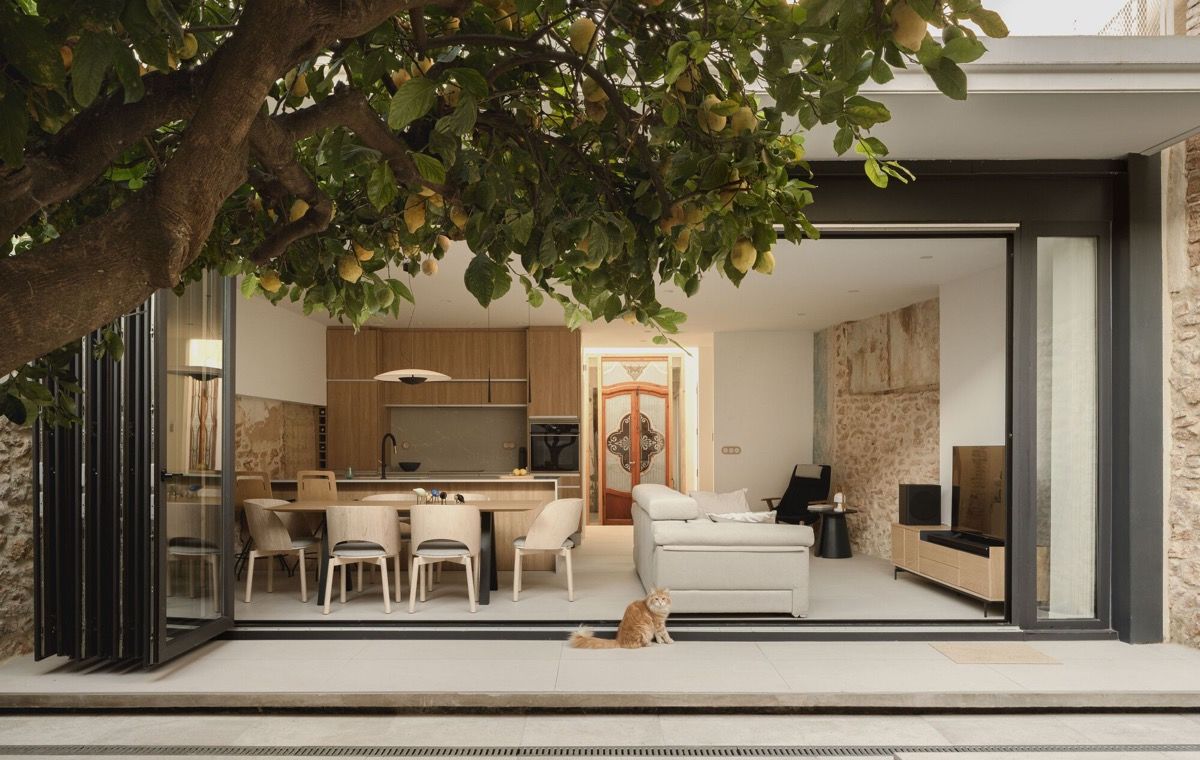 Is there anything more perfect than having a fruit-bearing tree outside of a dining room? This lemon tree leans lushly toward the dining room doors, offering a fresh squeeze of citrus for salads and liquid refreshments.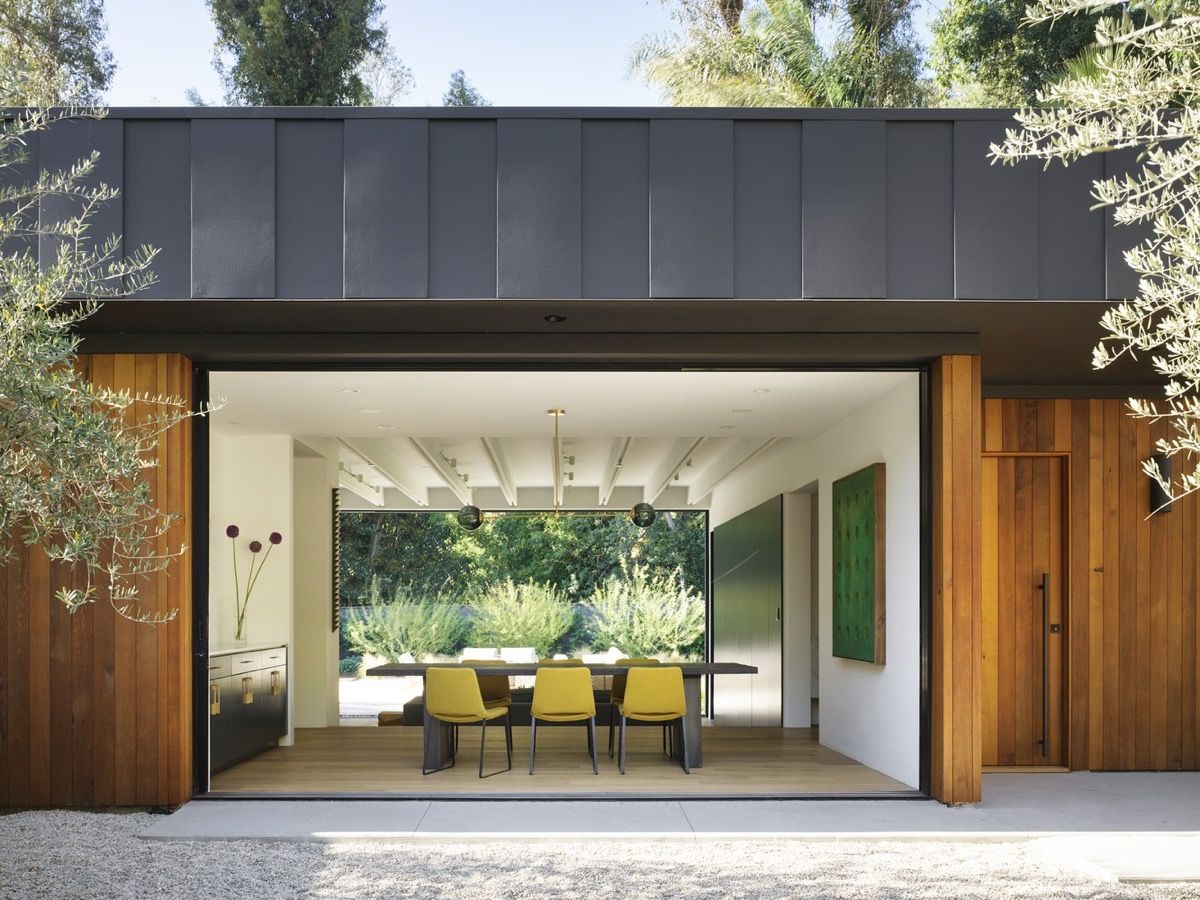 It's the chairs that bring a zesty lemon vibe to this enviable dining room setup. The brightly coloured upholstered dining chairs make cheerful companions for surrounding green views.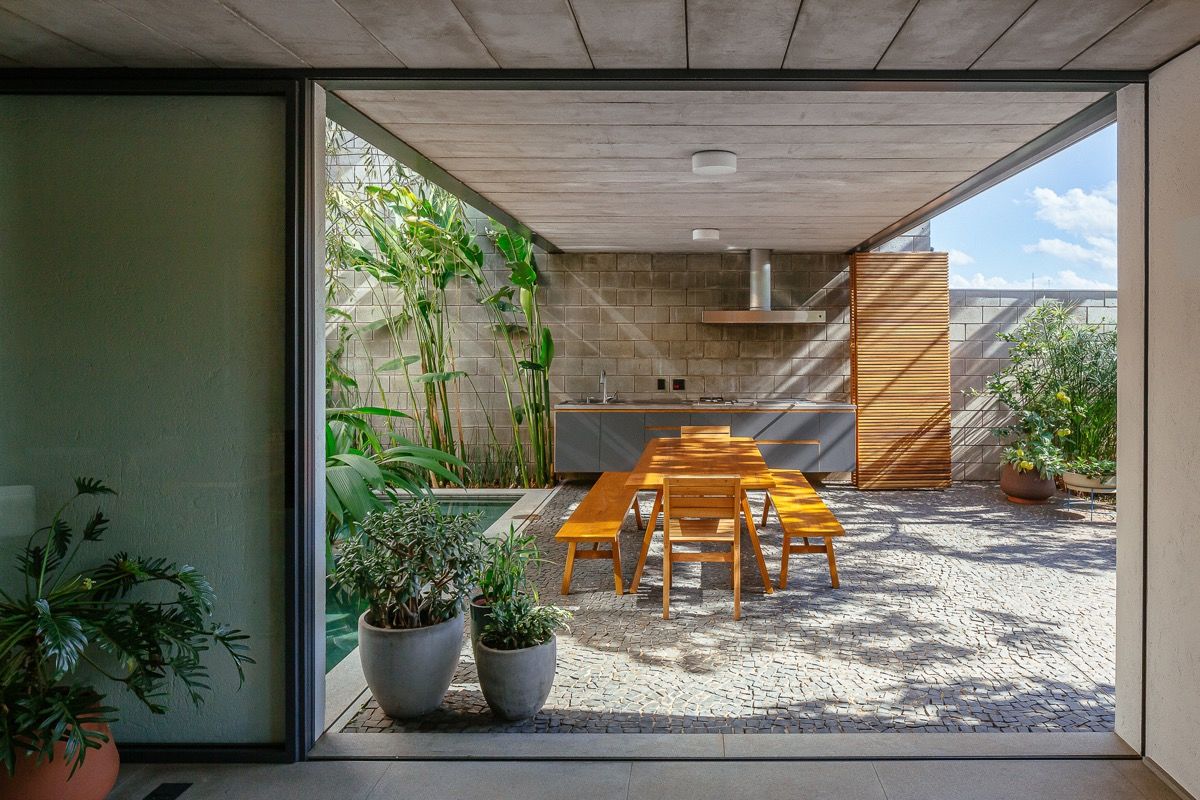 Sheltered and shaded. Outdoor eating areas have a special draw, bringing us closest to nature when we're caring for ourselves in the most natural way. Adding a shelter over top means that we can continue the experience even in light rain showers or searing sunlight.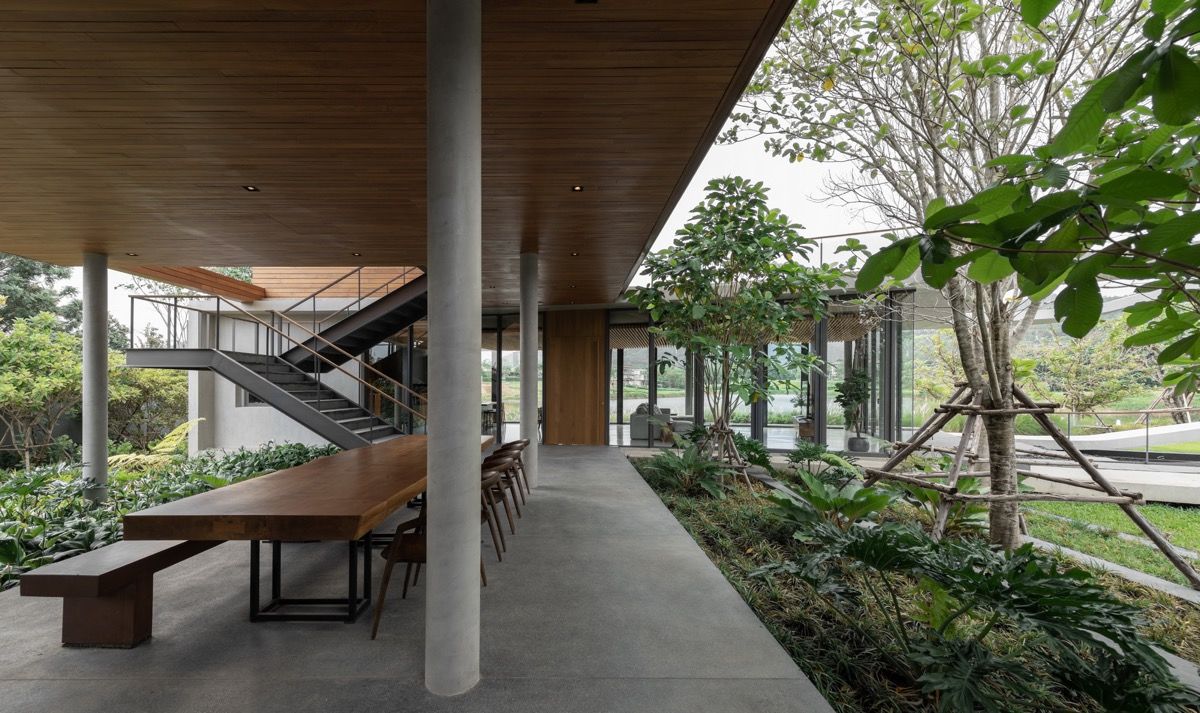 Another sheltered outdoor dining area, this time with a landscaped border to bring nature right to the fingertips.

You can also add a ceiling fan to tightly walled-in terraces to stir up a much-needed breeze.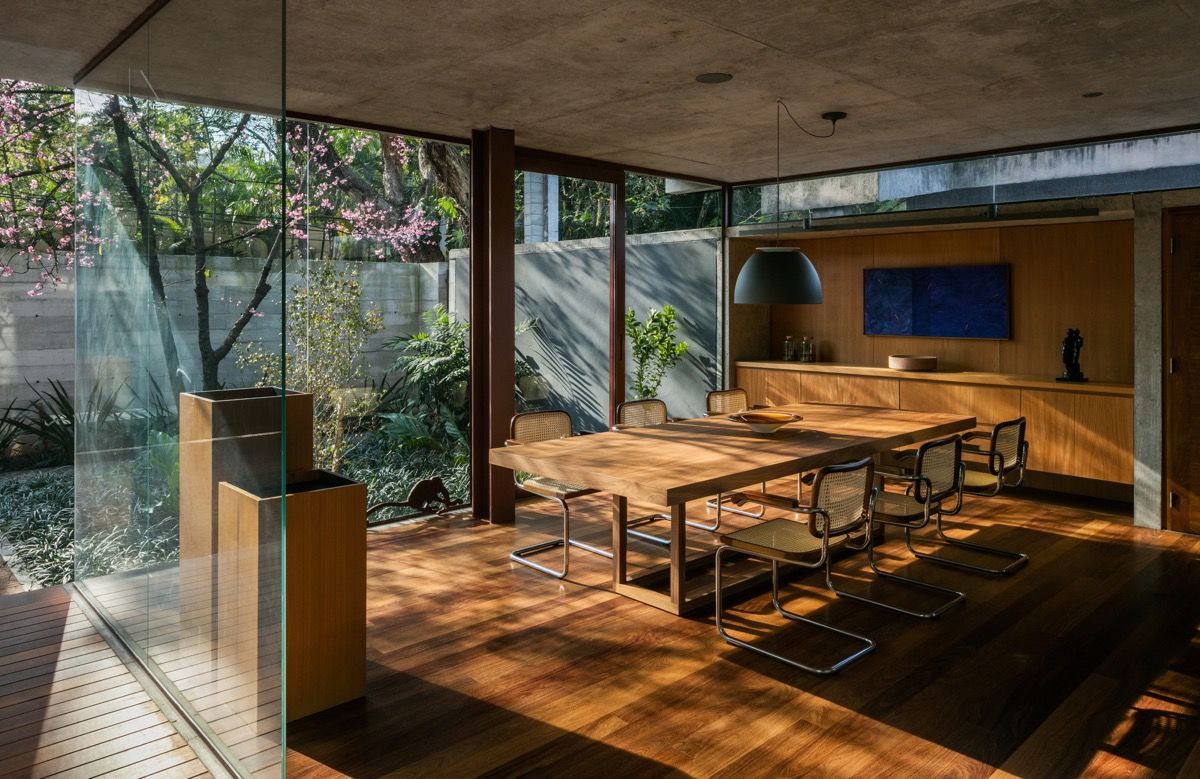 Enjoy gardens to the fullest with frameless corner windows. The expanse of wraparound glass achieves an uninterrupted connection with the garden–without having to contend with the weather or the bugs.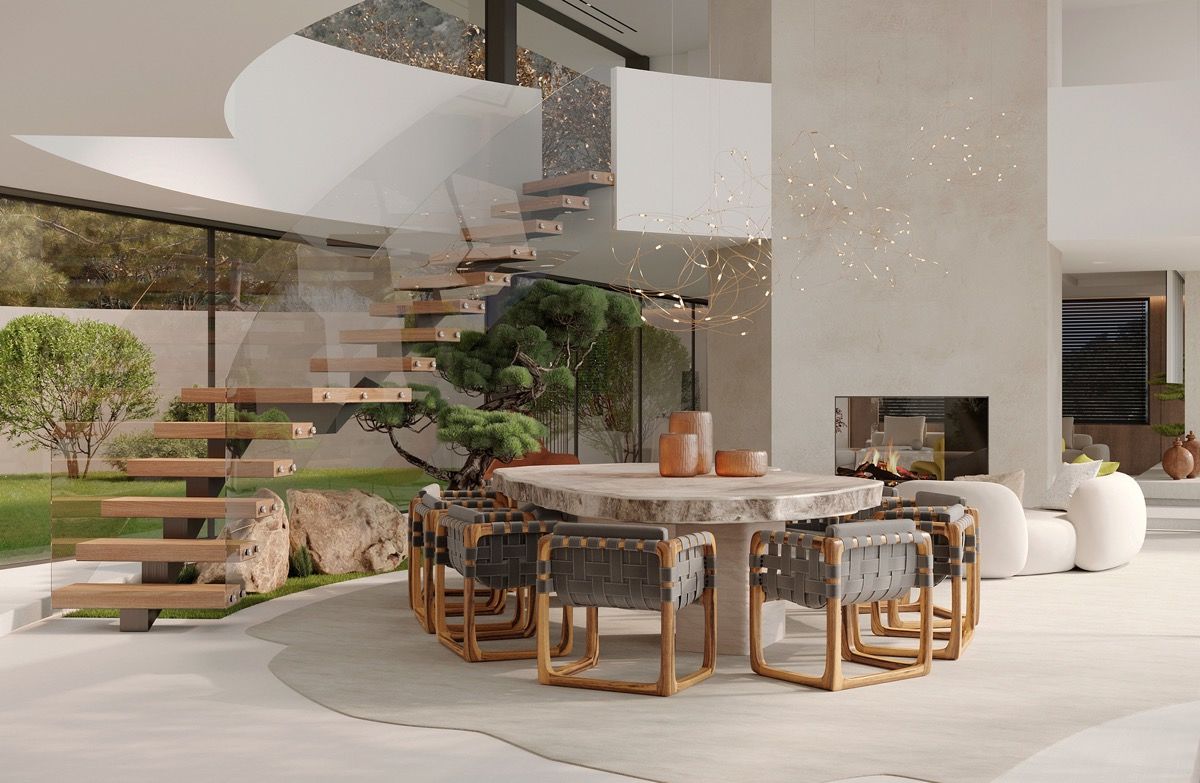 Spectacular subtractions. The presence of this staircase design is minimised with a single stringer and glass balustrades that allow the garden panorama to push through. The double-height void of this spectacular dining room is a shapely circular cutaway in white stucco that smoothly reflects the light.

In this Vietnamese villa, the white ceiling space above the dining room is further emphasised by a contrasting dark wood clad counterpart above a cosy lounge area.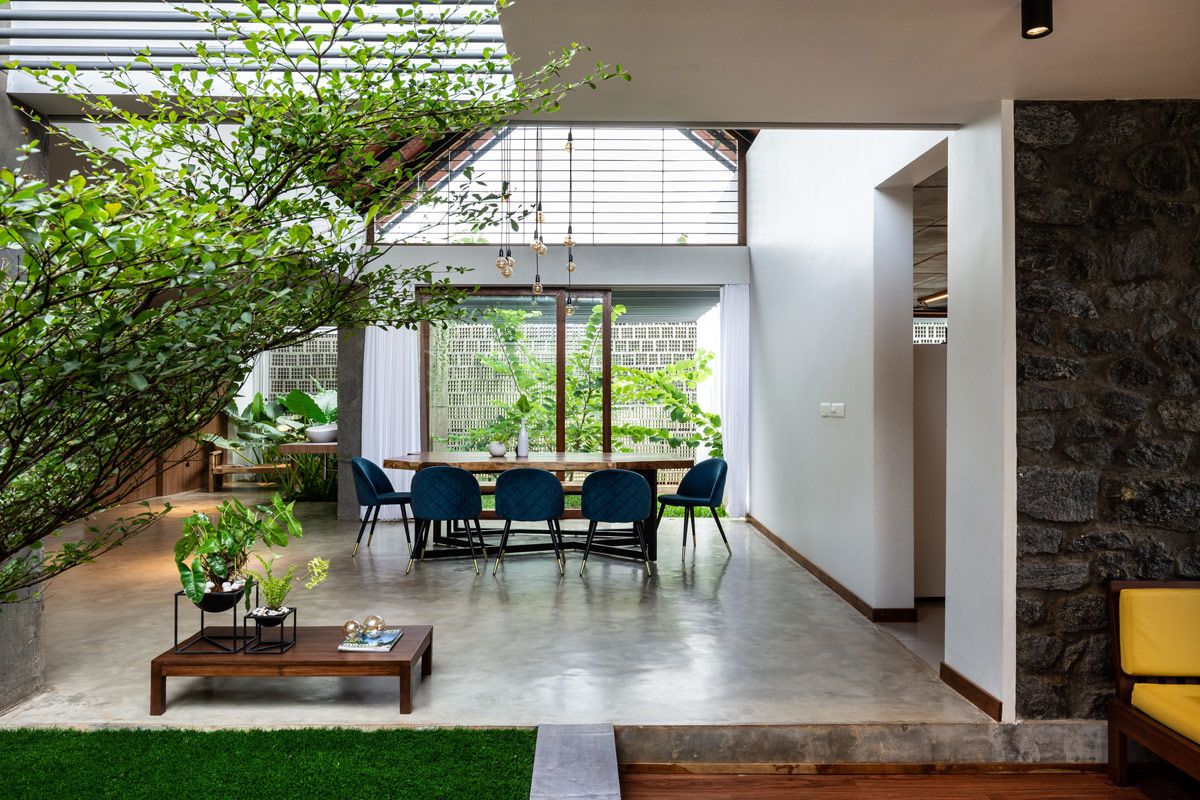 Clerestory cutaways highlight the pitched roof shape of this luxurious, ​tropical Kerala house.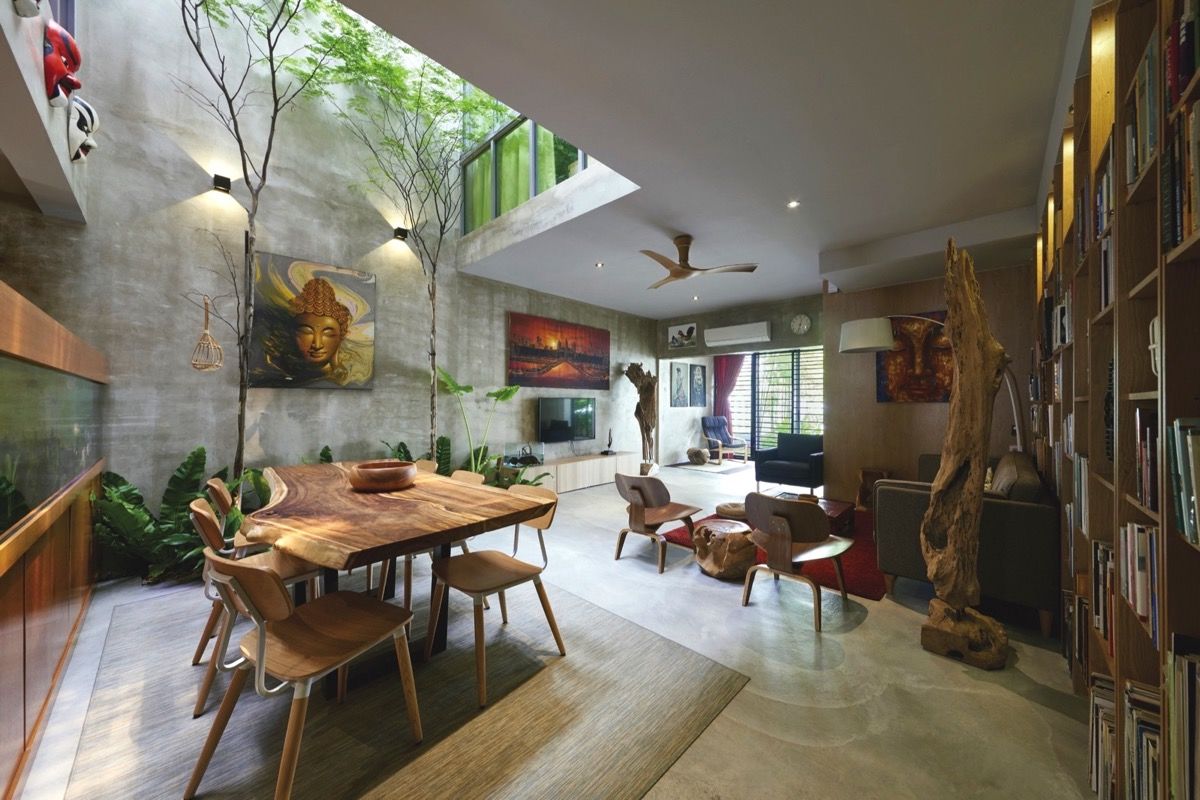 Curate a complementary materials palette. Natural wood cabinets, bookshelves, chairs and side tables branch off from a beautiful live edge wooden dining table here. Elegant indoor trees and Asian artwork instil a sense of zen.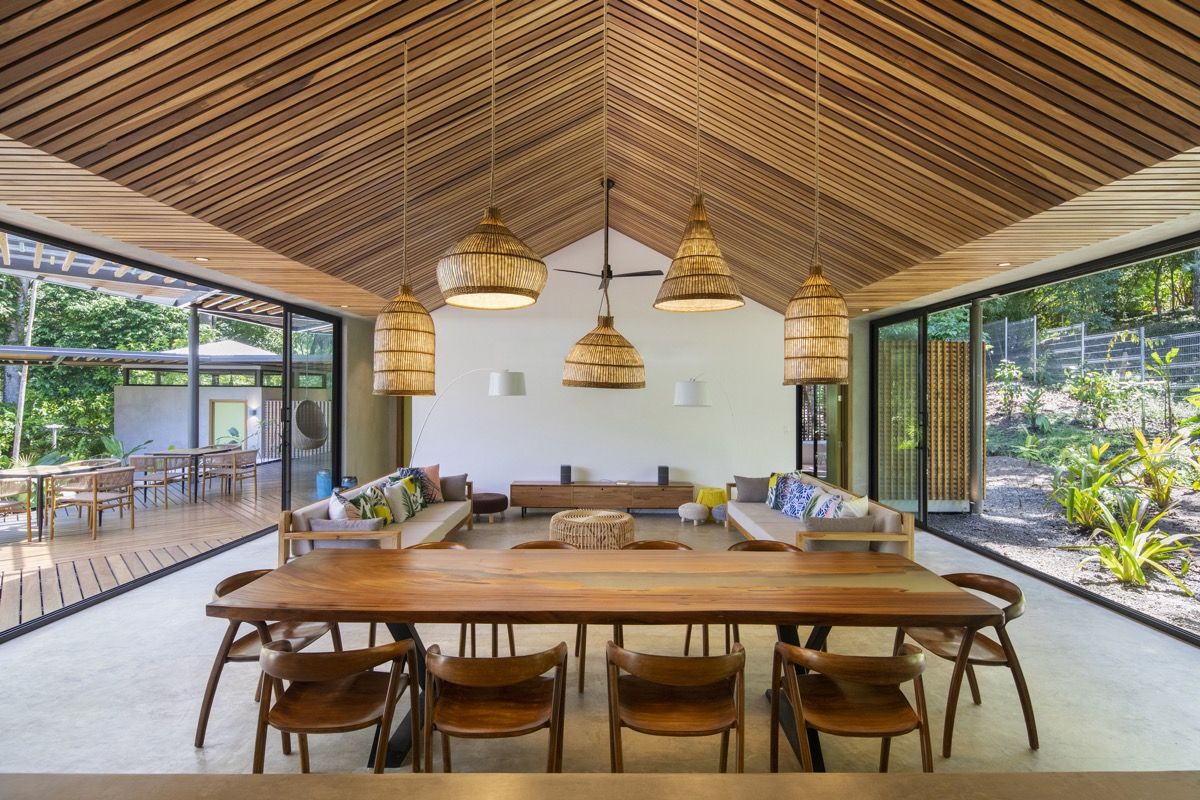 Wood ceilings and wicker pendant lights make a harmonious match in tone and texture. This impressive, pitched ceiling opens wide to accommodate a compilation of five assorted pendant shades along the length of the dining table.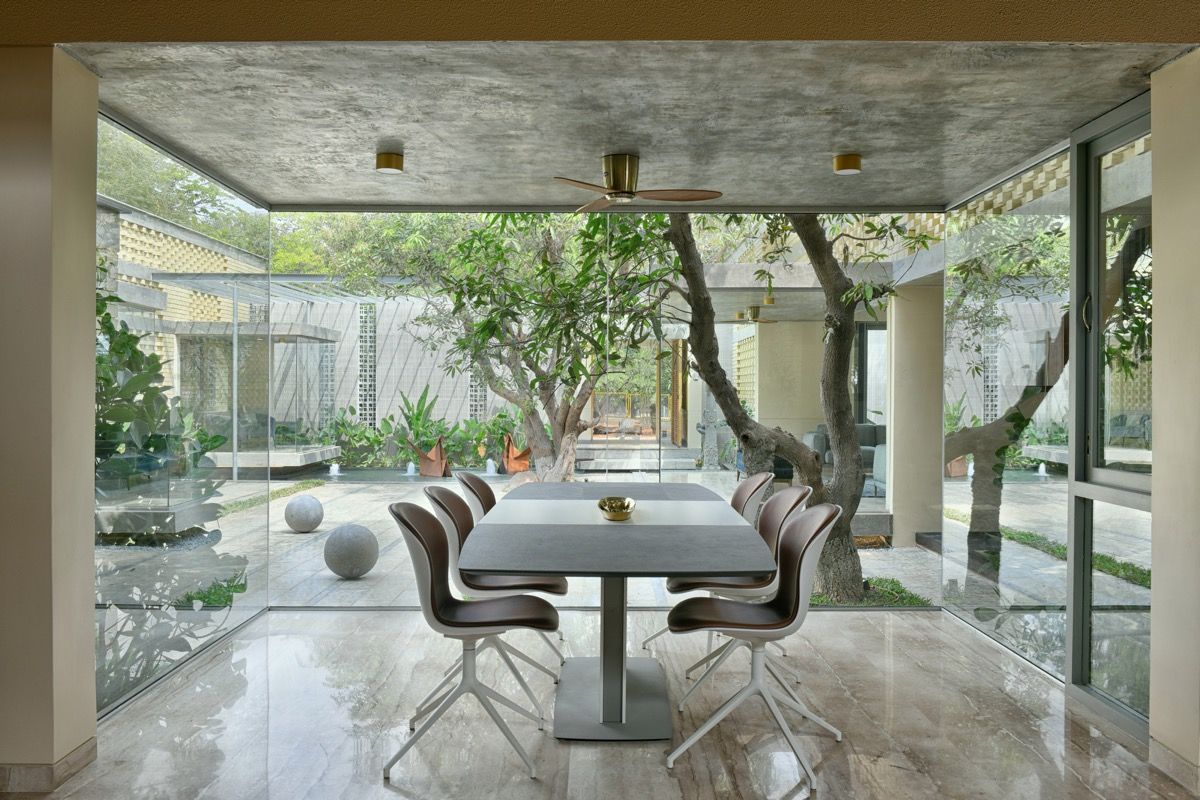 Inspired by nature's palette, this modern grey dining set draws influence from the grey tree bark just outside of edge-to-edge windows.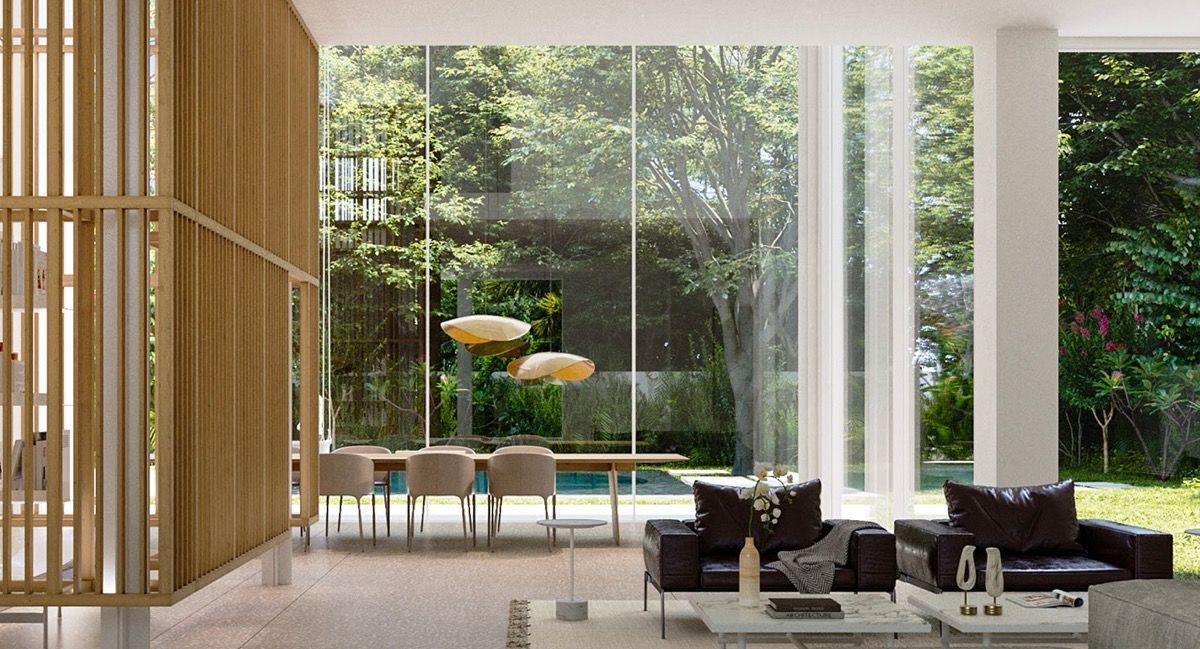 Not an inch wasted, these custom-made windows are full stretch of a high-ceilinged dining space that receives a flood of natural light throughout the day and the changing seasons.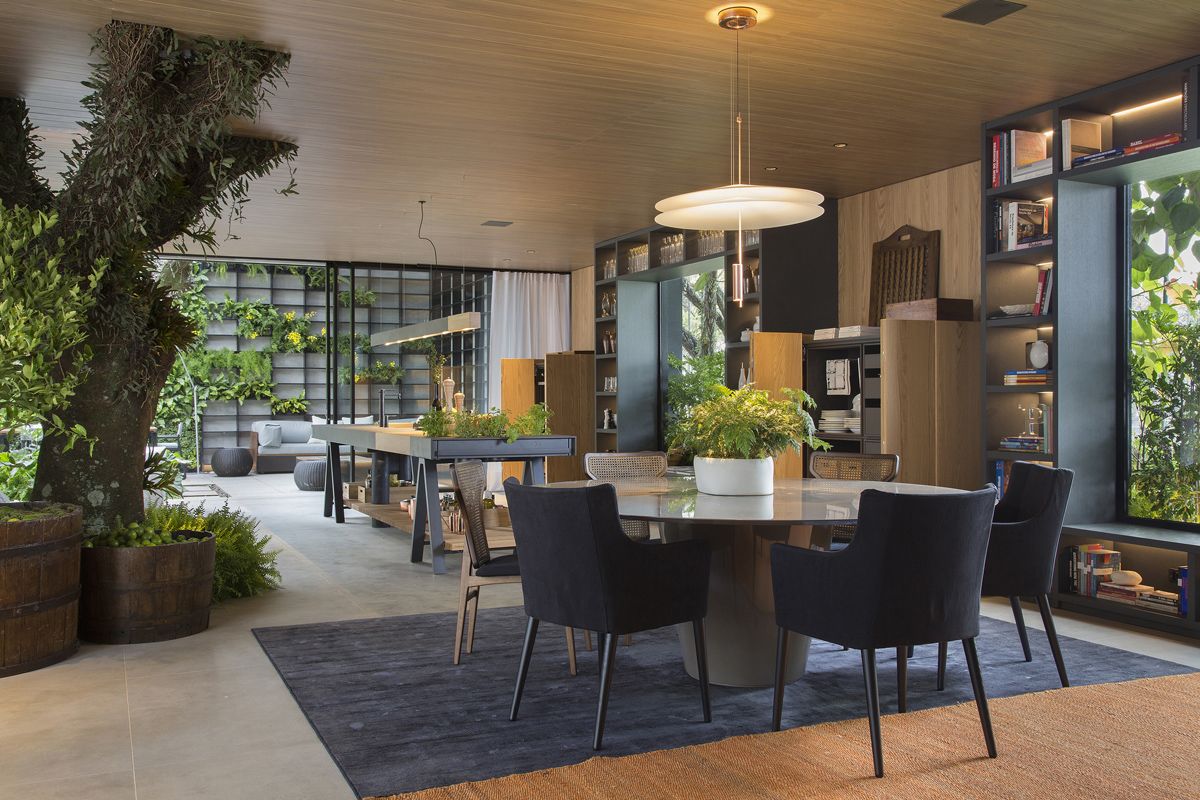 Trees and shrub-filled tubs become the stars of the show in this unique home. See more inspiration from ​​Brazillian houses centred around trees.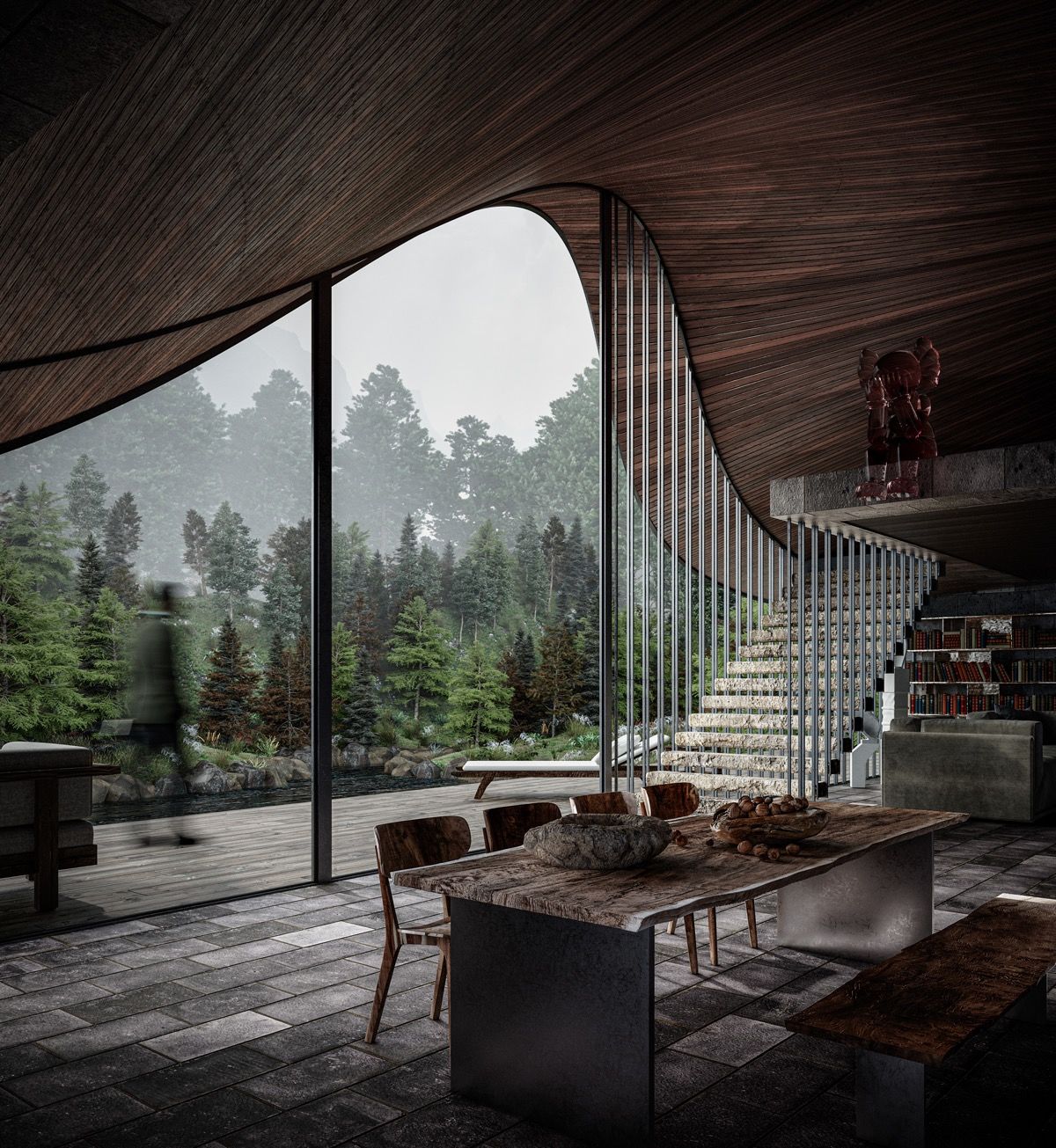 Mimic the landscape. An undulating roofline mimics the sloping silhouette of trees.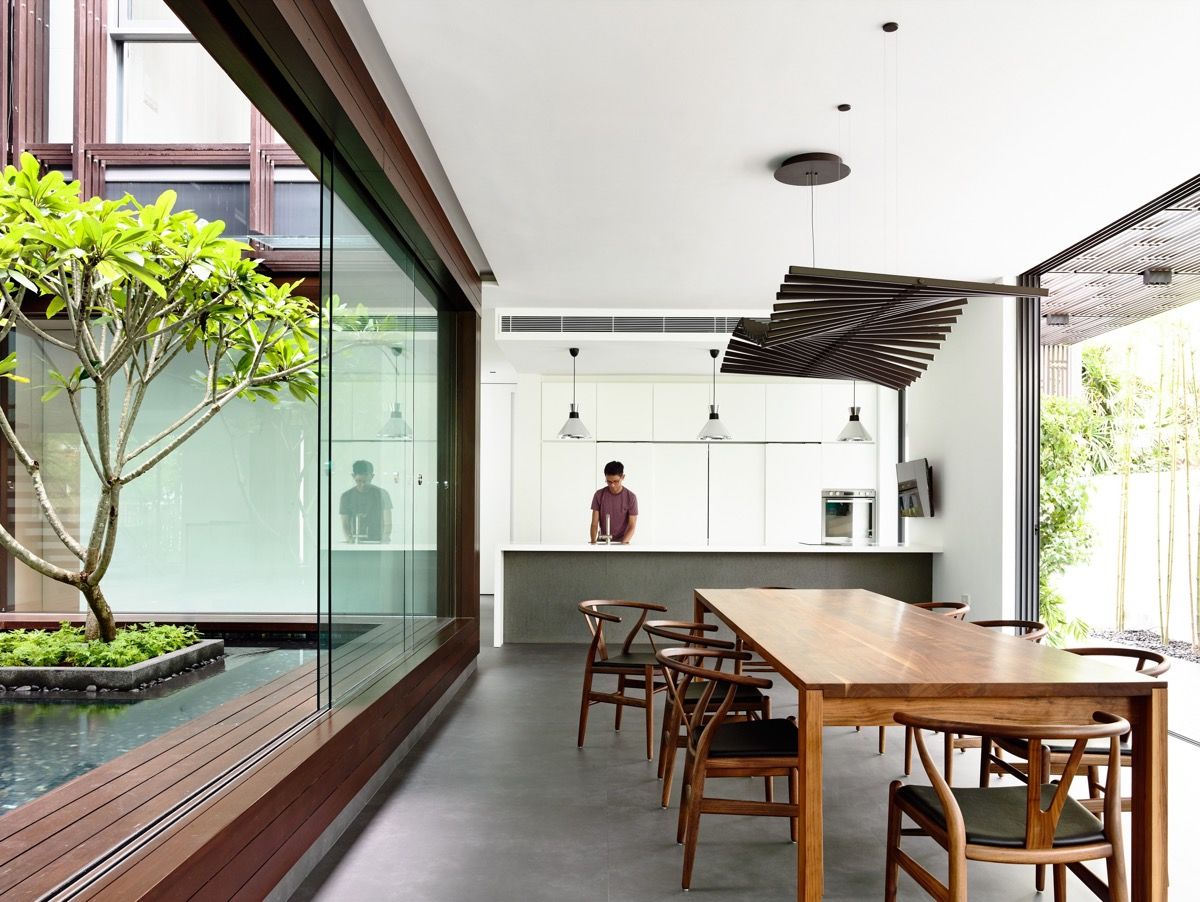 Pleasant pond views. The wide window sill in this minimalist dining room design also serves as a window seat. Here, the home owner can take a moment to rest or have a quick sandwich at the very edge of a raised pond. The raised position of the water feature also puts it at prime viewing height from the dining table.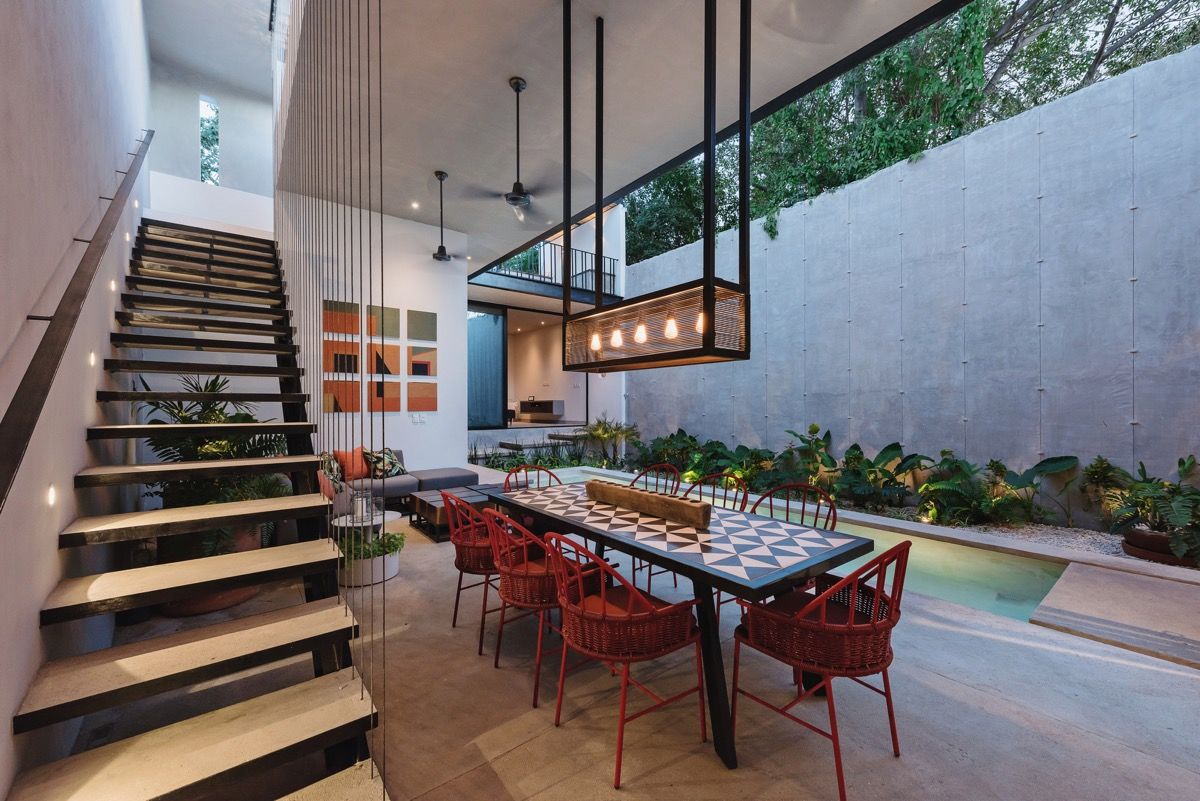 Turn up the colour contrast. When decorating with botanical themed decor elements or natural greenery, hot red and orange accents make a perfect punchy colour contrast.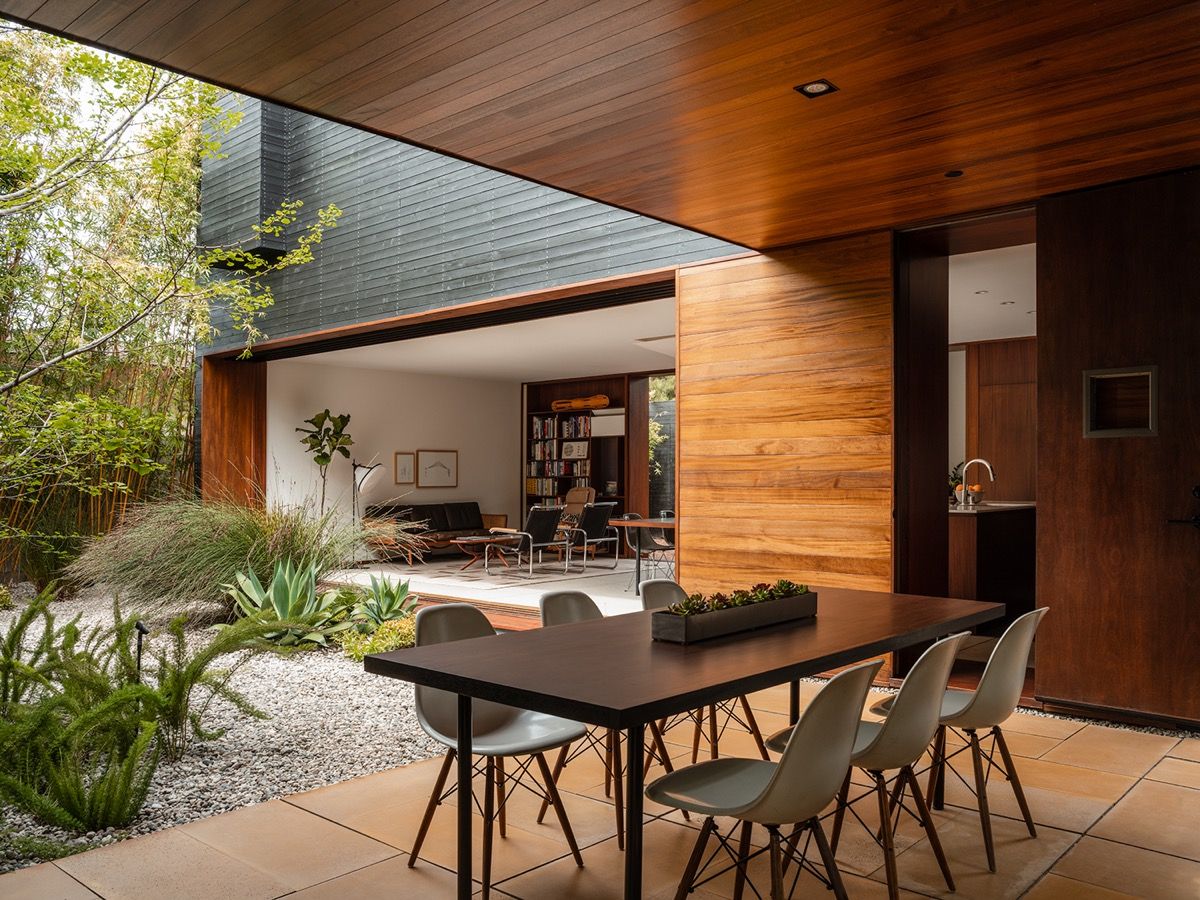 TImber and smoke. With swathes of wonderful wood tone, it's possible for the look to become a little boxy. Set the look on fire with smoky grey and charred black elements to create zoning and striking definition.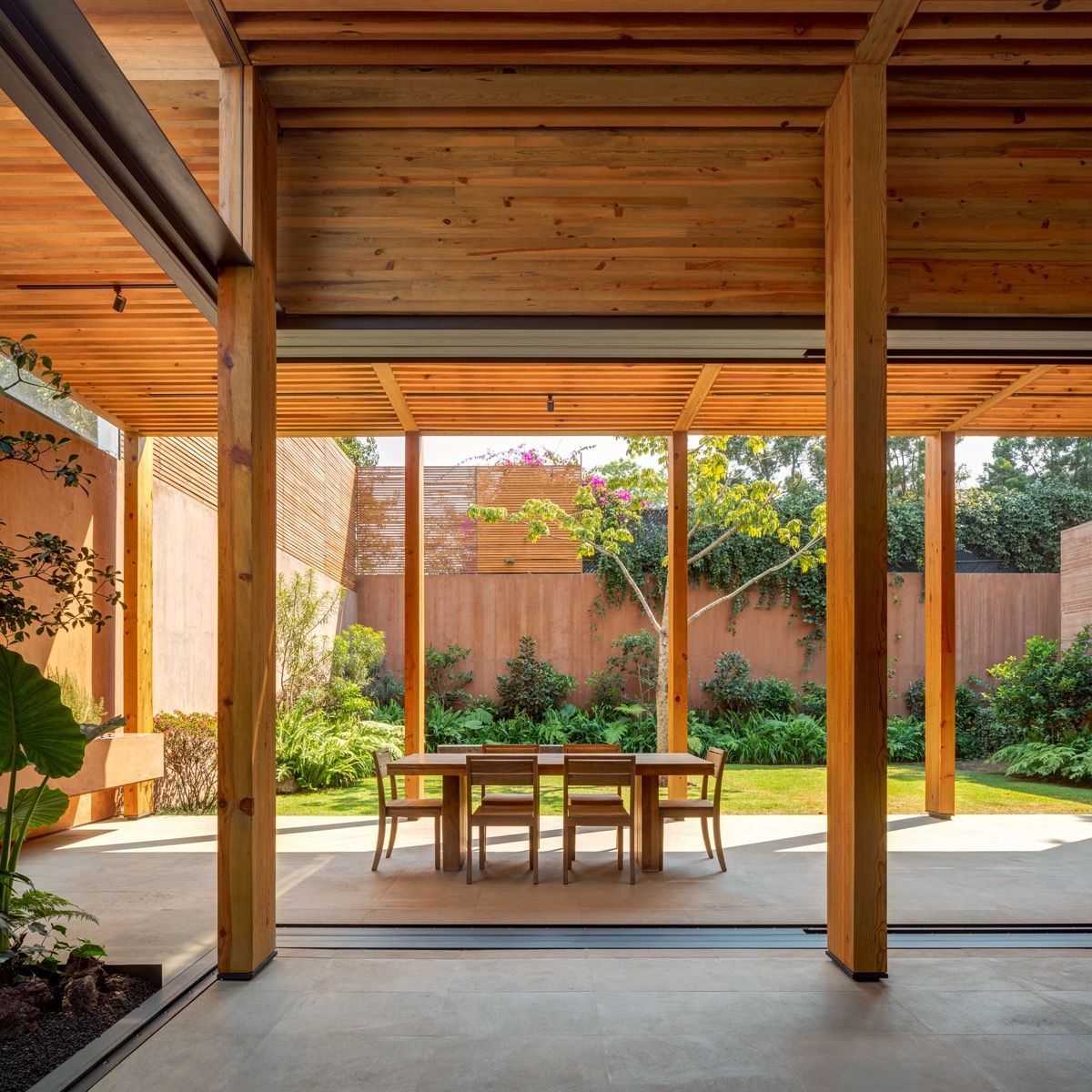 Beautiful inside and out. This wood slatted ceiling makes a fitting companion for the outdoor upper fencing.

Make room for nature. This large living room is split down the middle with a glass interlude that accommodates a native tree.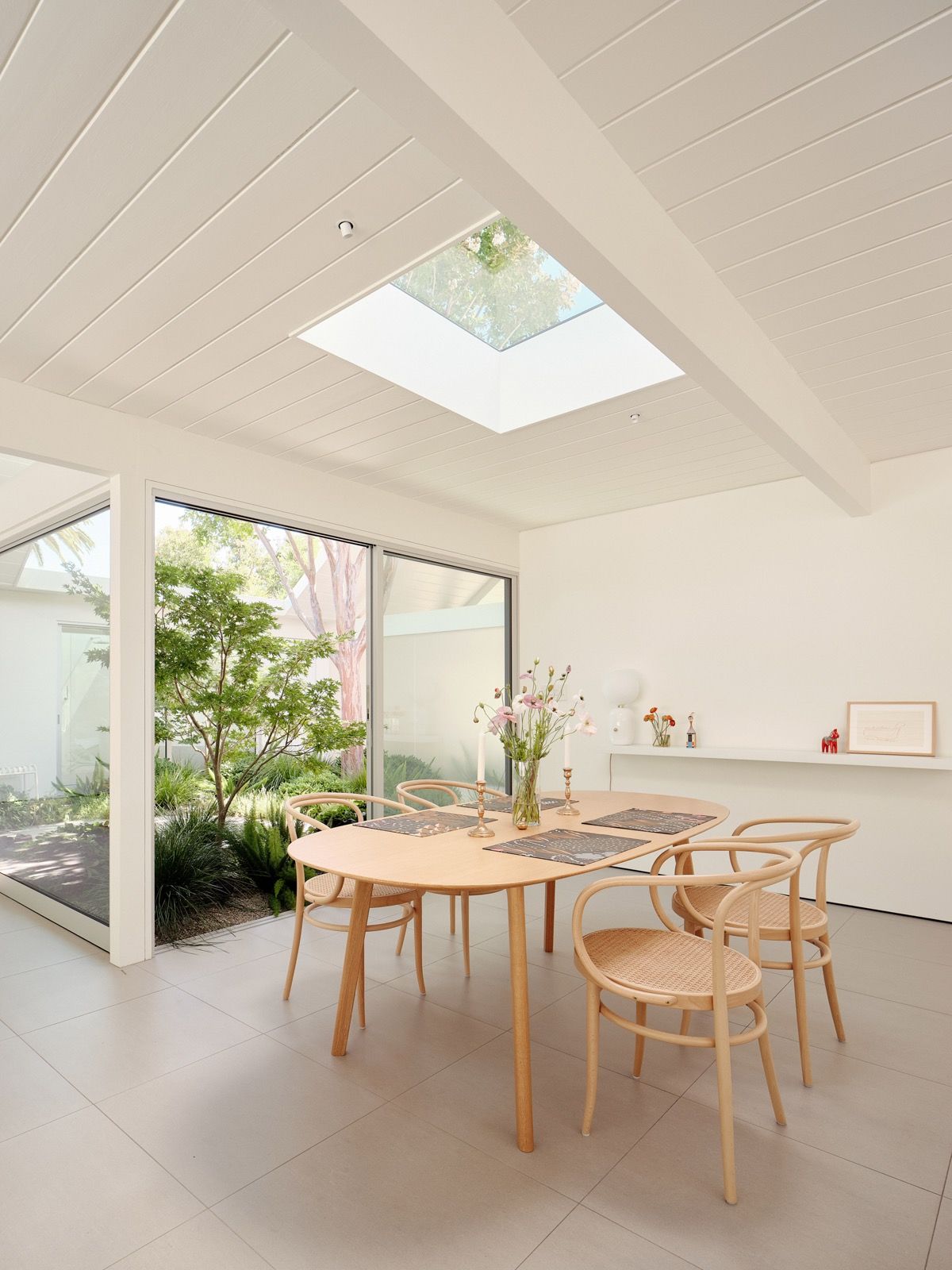 Dull dining spaces can be brought to life with a well-placed skylight.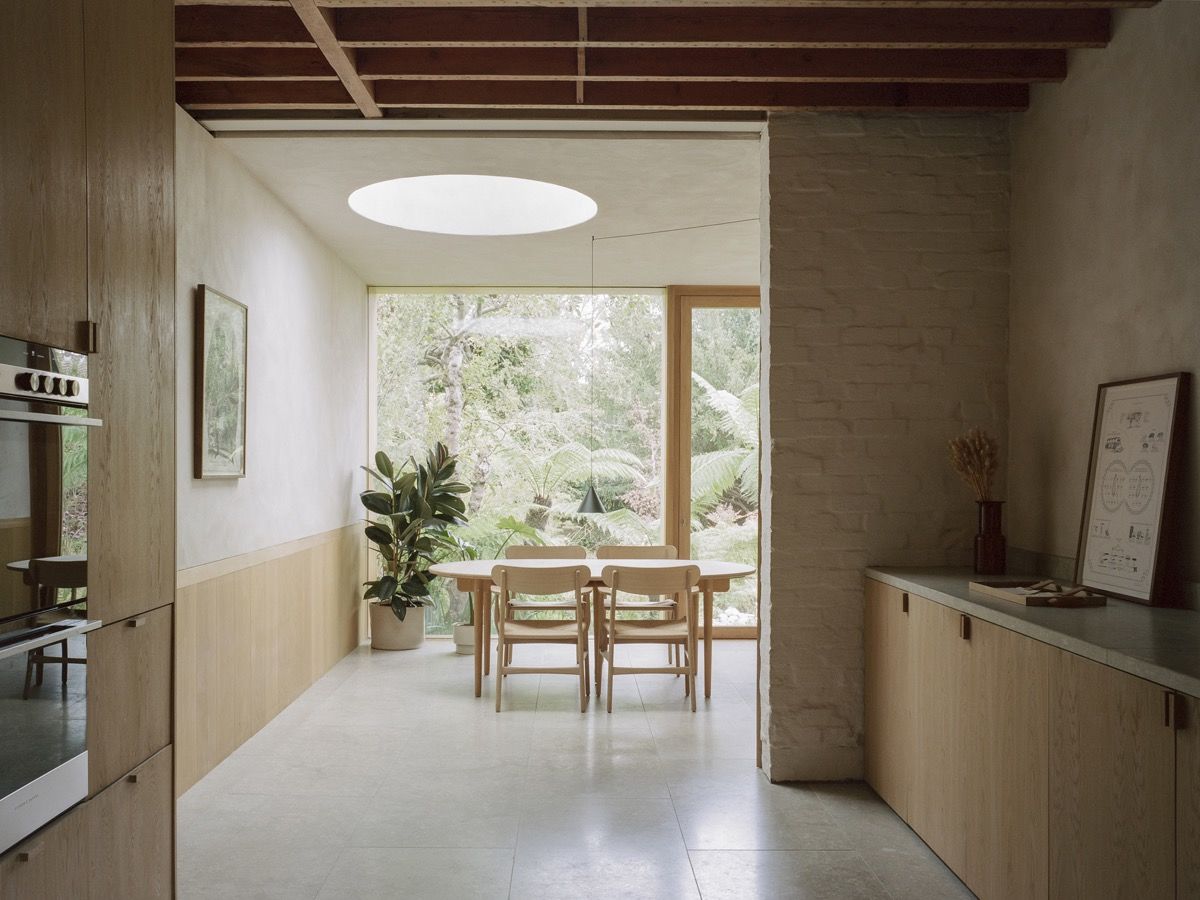 A round skylight imitates the sun.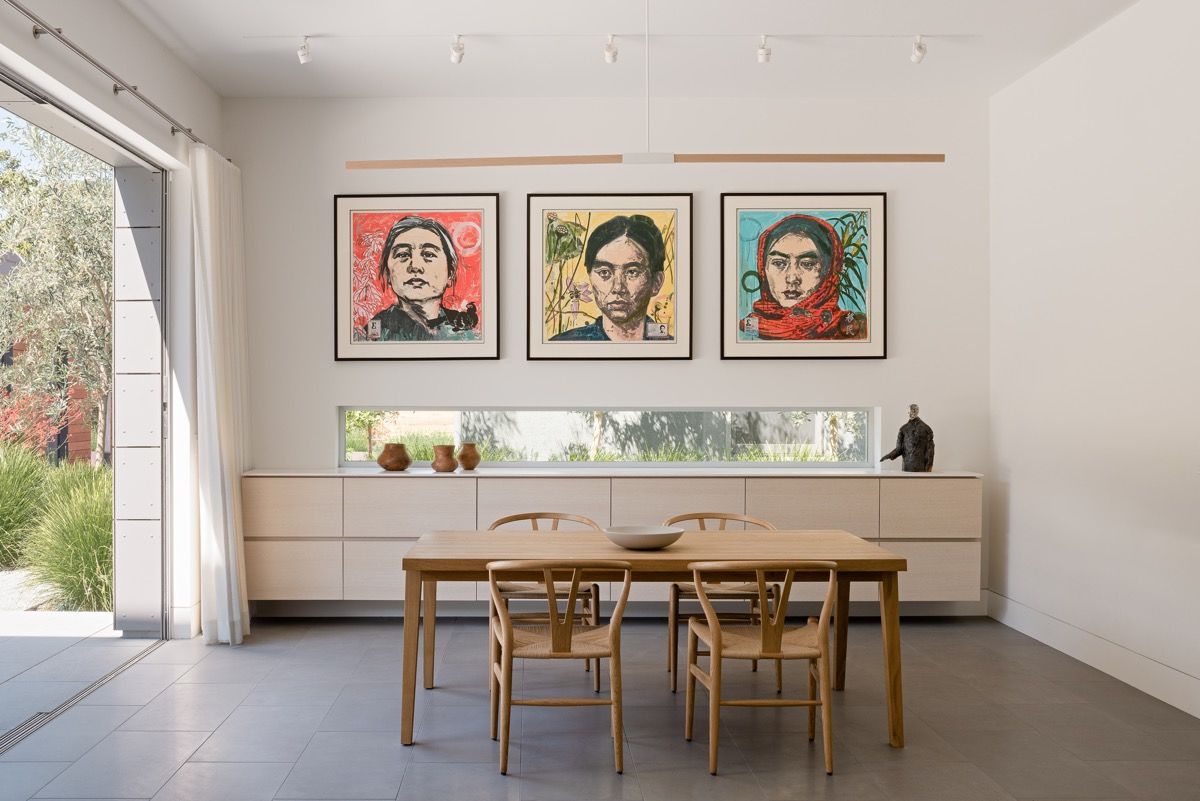 You don't have to choose between panoramic views and wall space for art. A slimline letterbox window gives you the best of both worlds.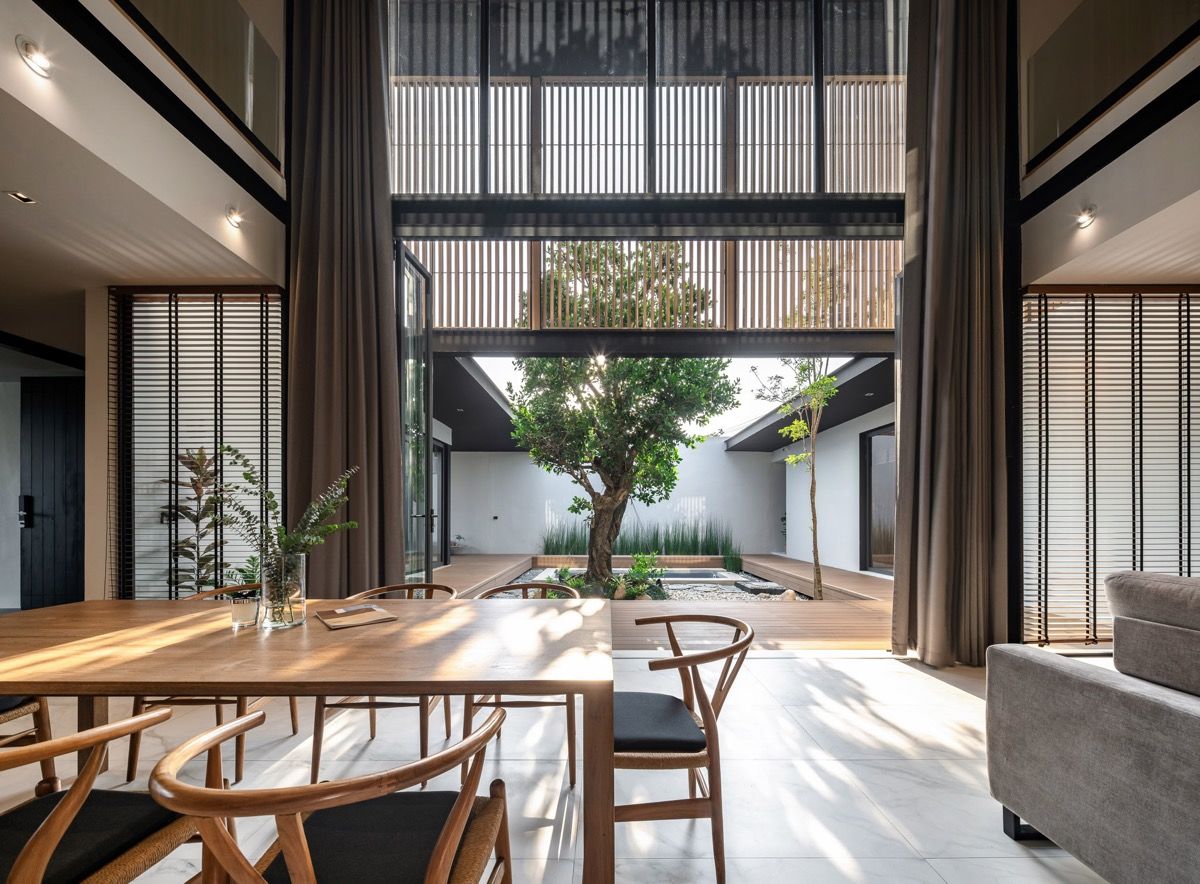 Slatted shutters gently diffuse the sunlight in this zen home in Thailand.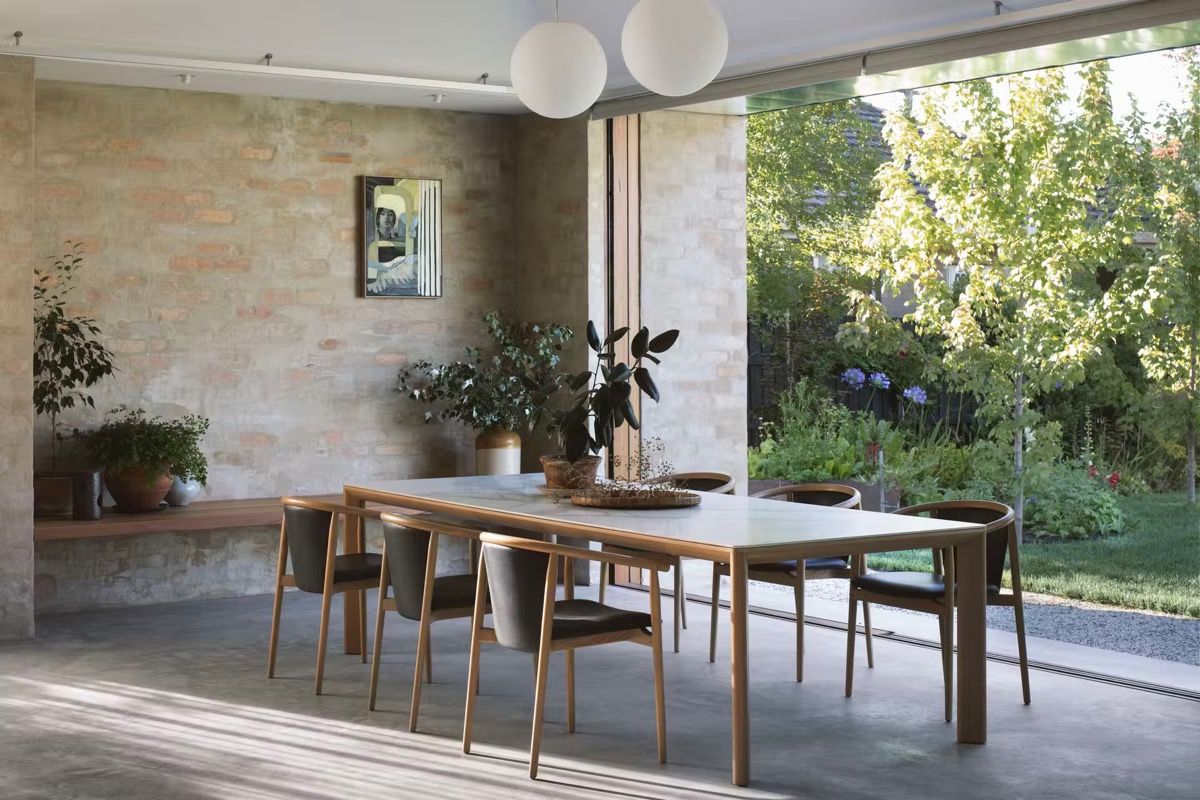 Exposed brick walls translate the outdoor essence into interior spaces.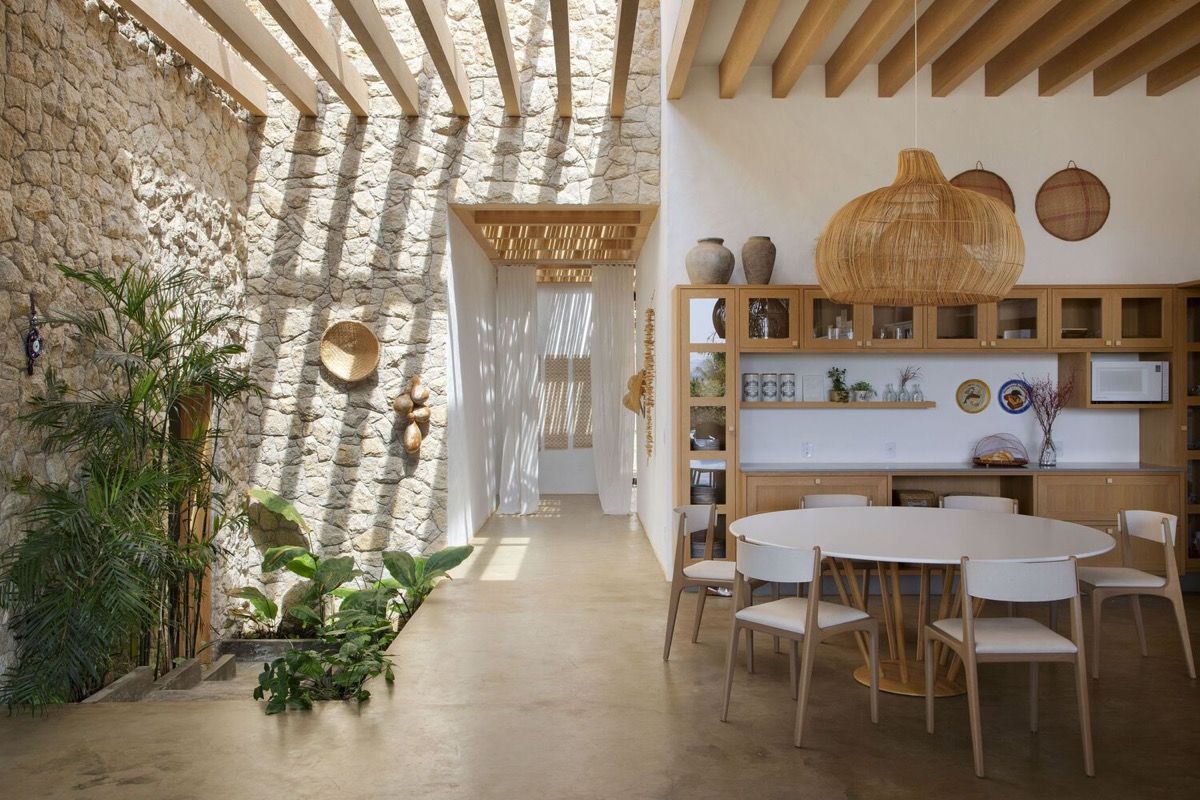 Stone walls bring deeply textured rustic and boho vibes.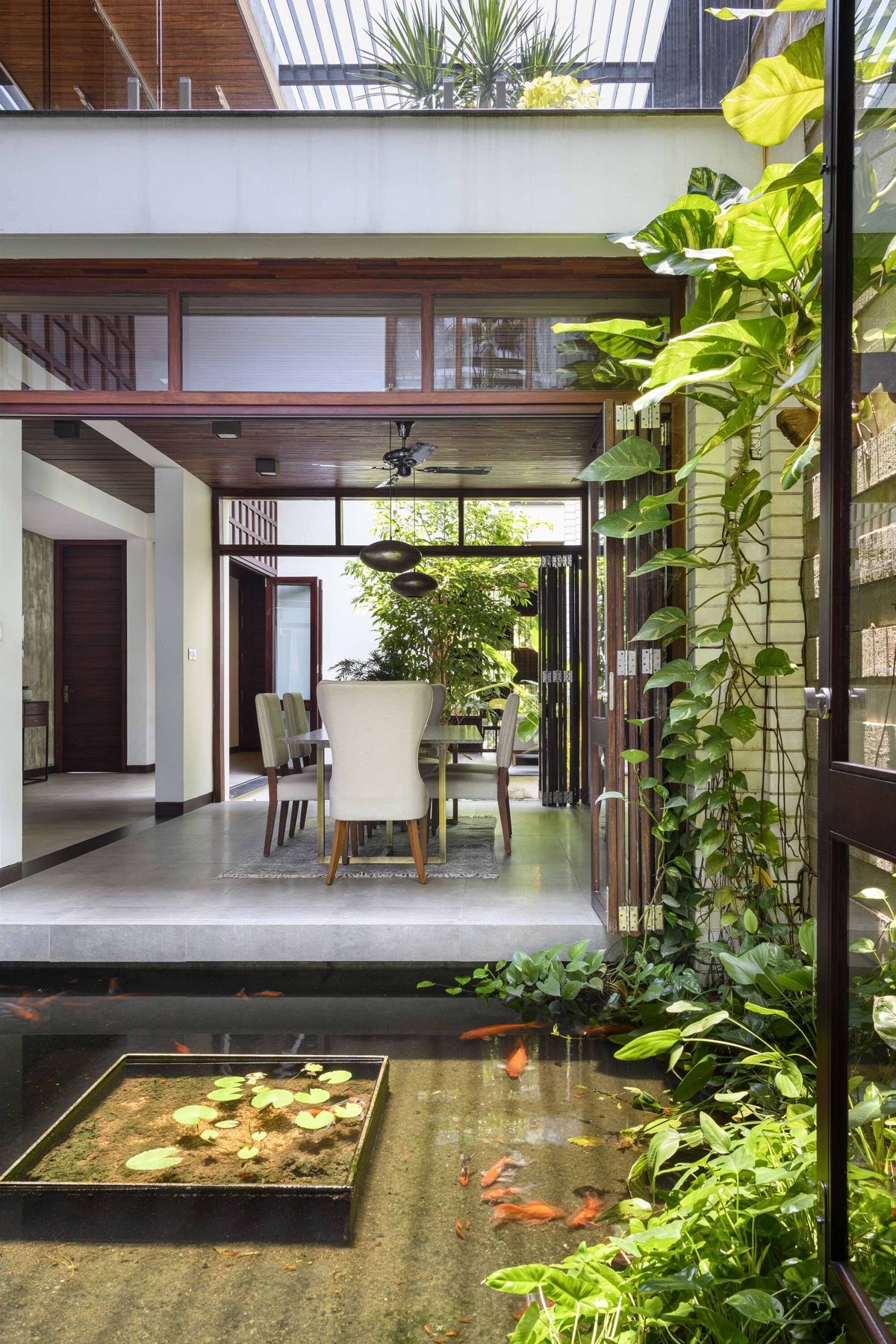 Sounds of nature increase serene ambience. Think fountains and bubbling fish ponds, like the one in this fabulous modern Indian house.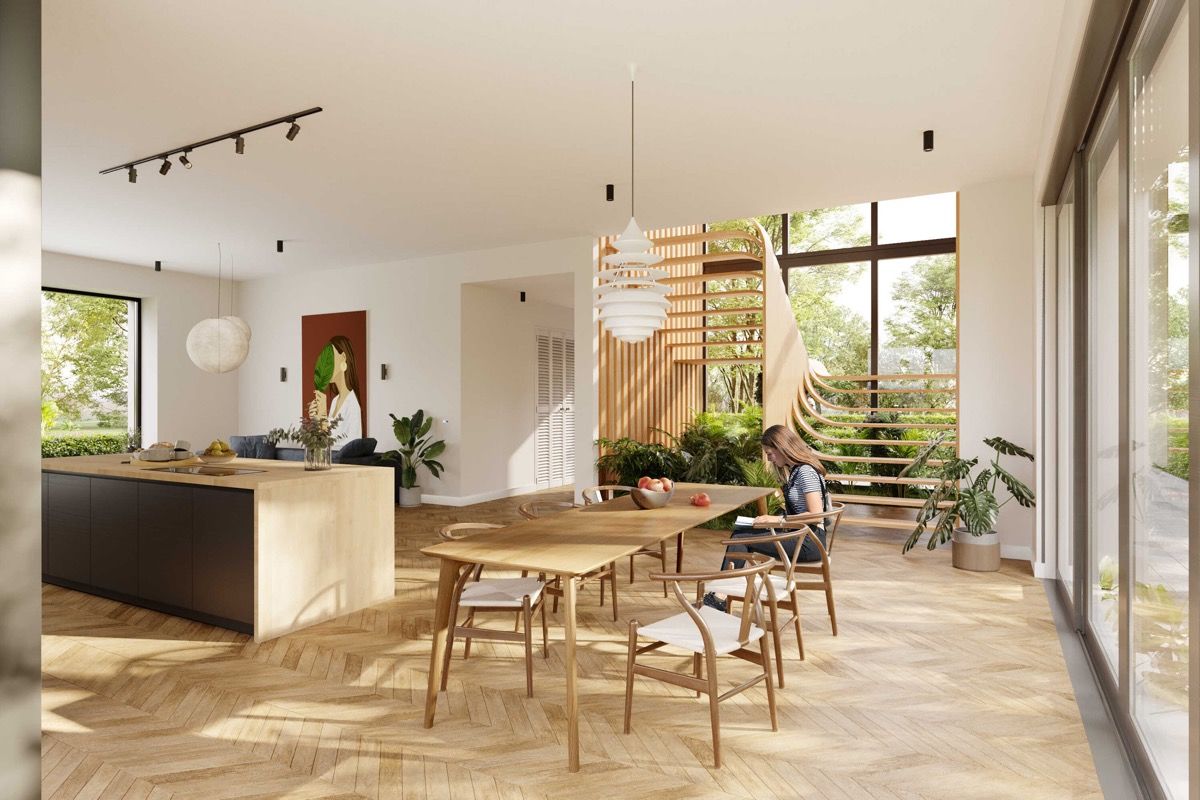 Use garden views as a stunning canvas to build upon, as in the unique staircase design of this open plan dining space. The curved treads create playful moments of light and shade over the dining set and beyond.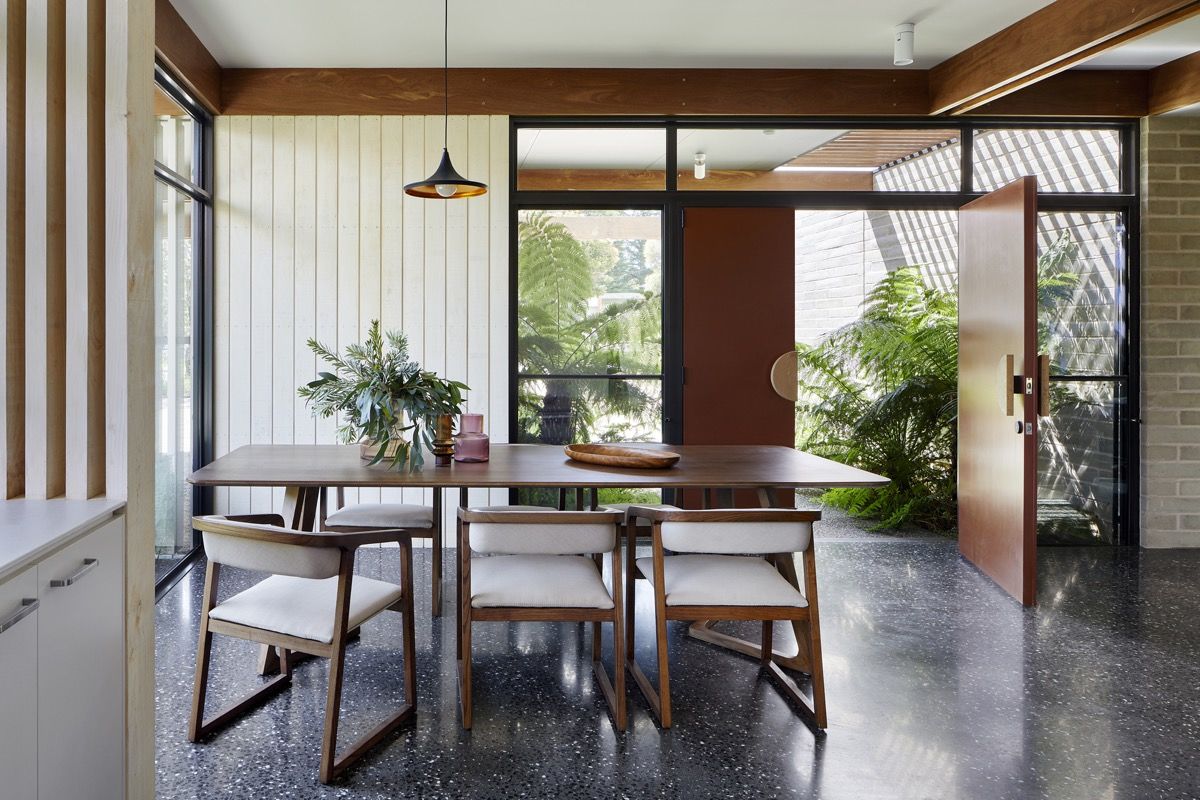 Take your dining area to the lightest part of the house with the best garden view, even if that's by the front entrance.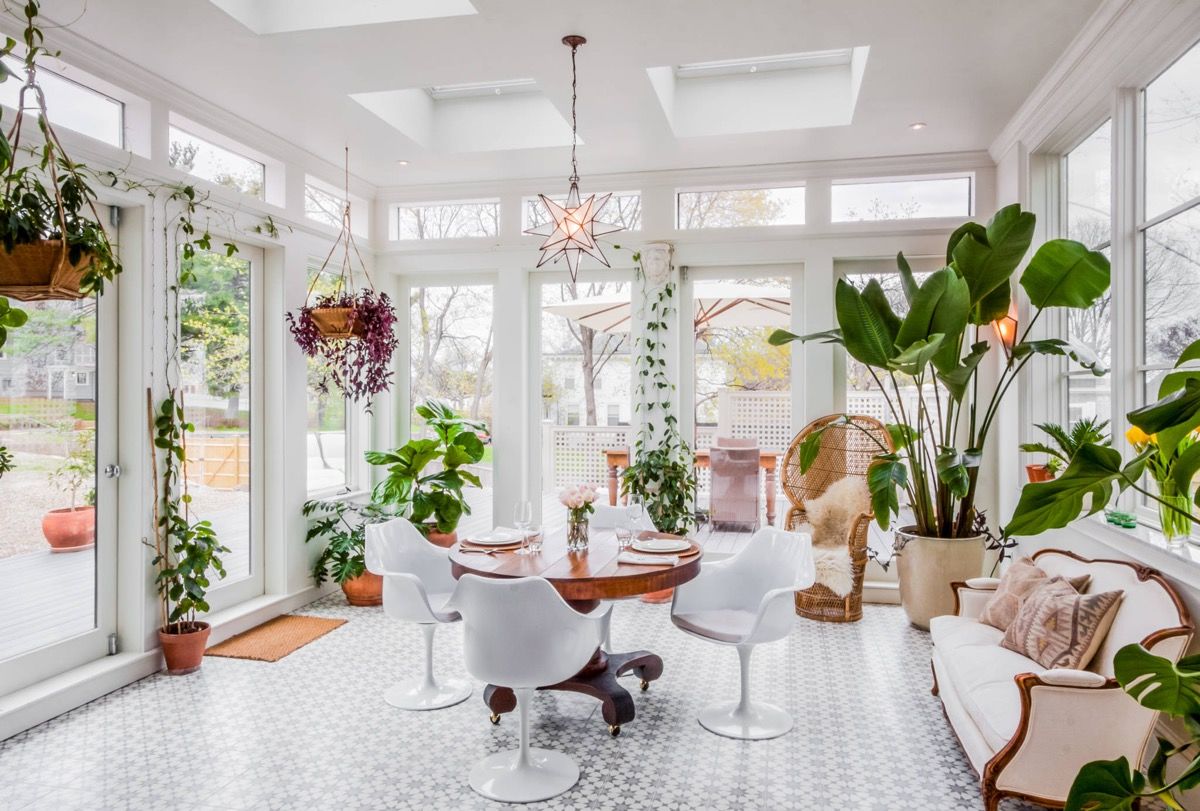 Of course, you don't have to own a garden when you have a plethora of flourishing indoor plants.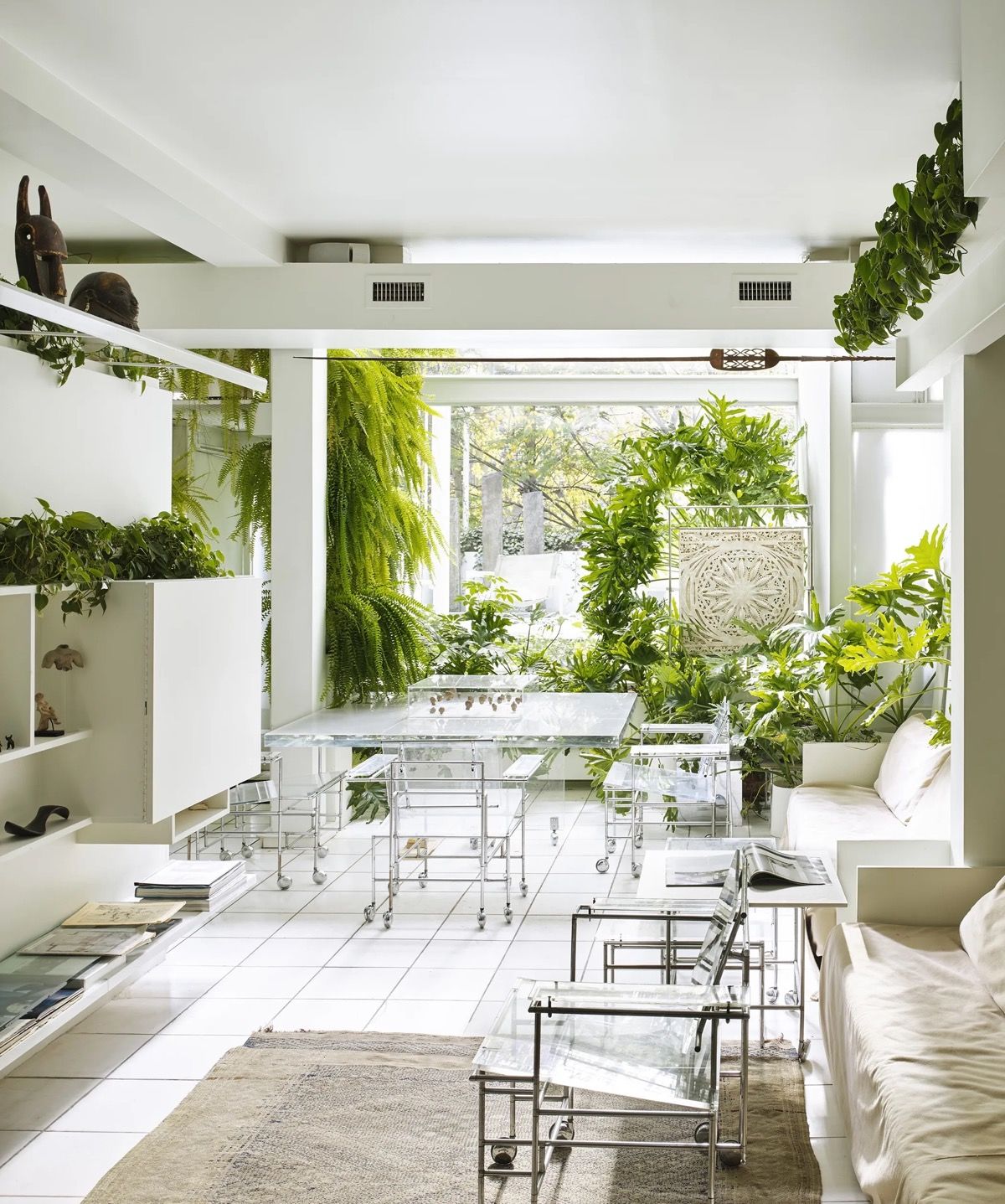 Don't stop at just a few pots when you can go all out.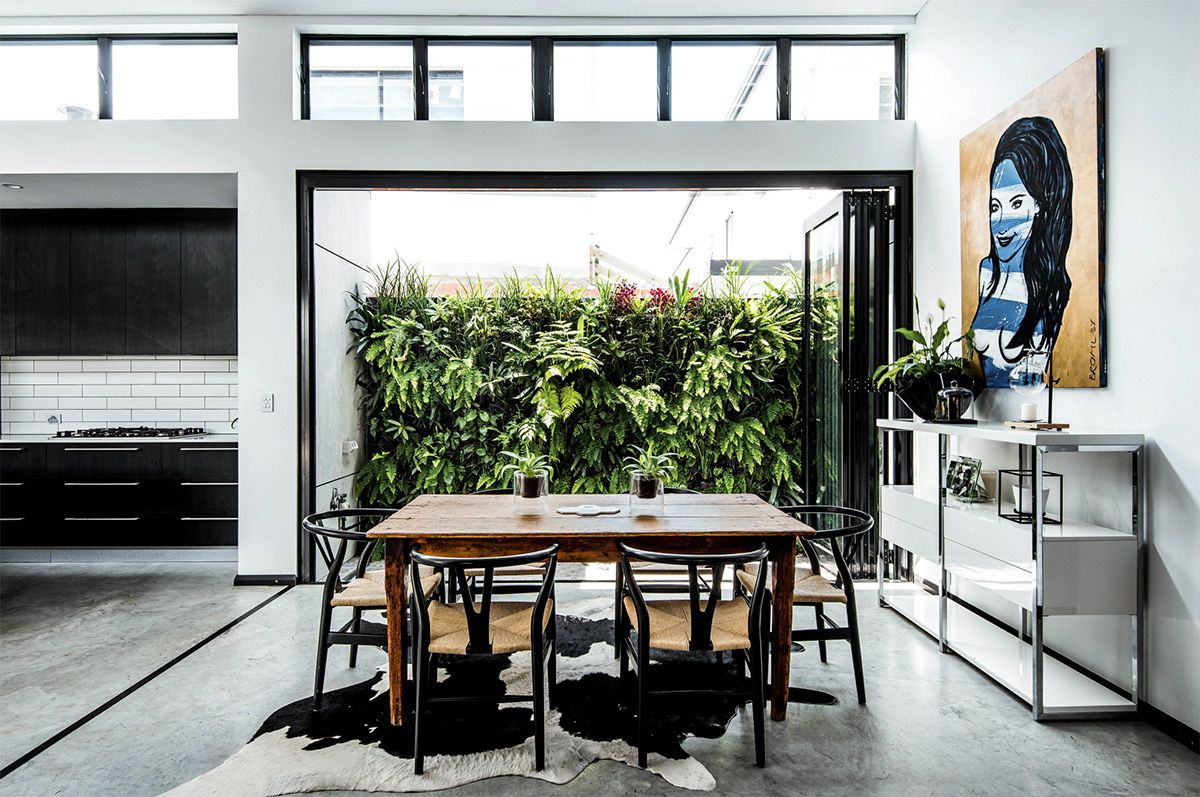 If you only have a small yard, then consider nurturing a vertical garden wall to grow yourself a lush green dining room view.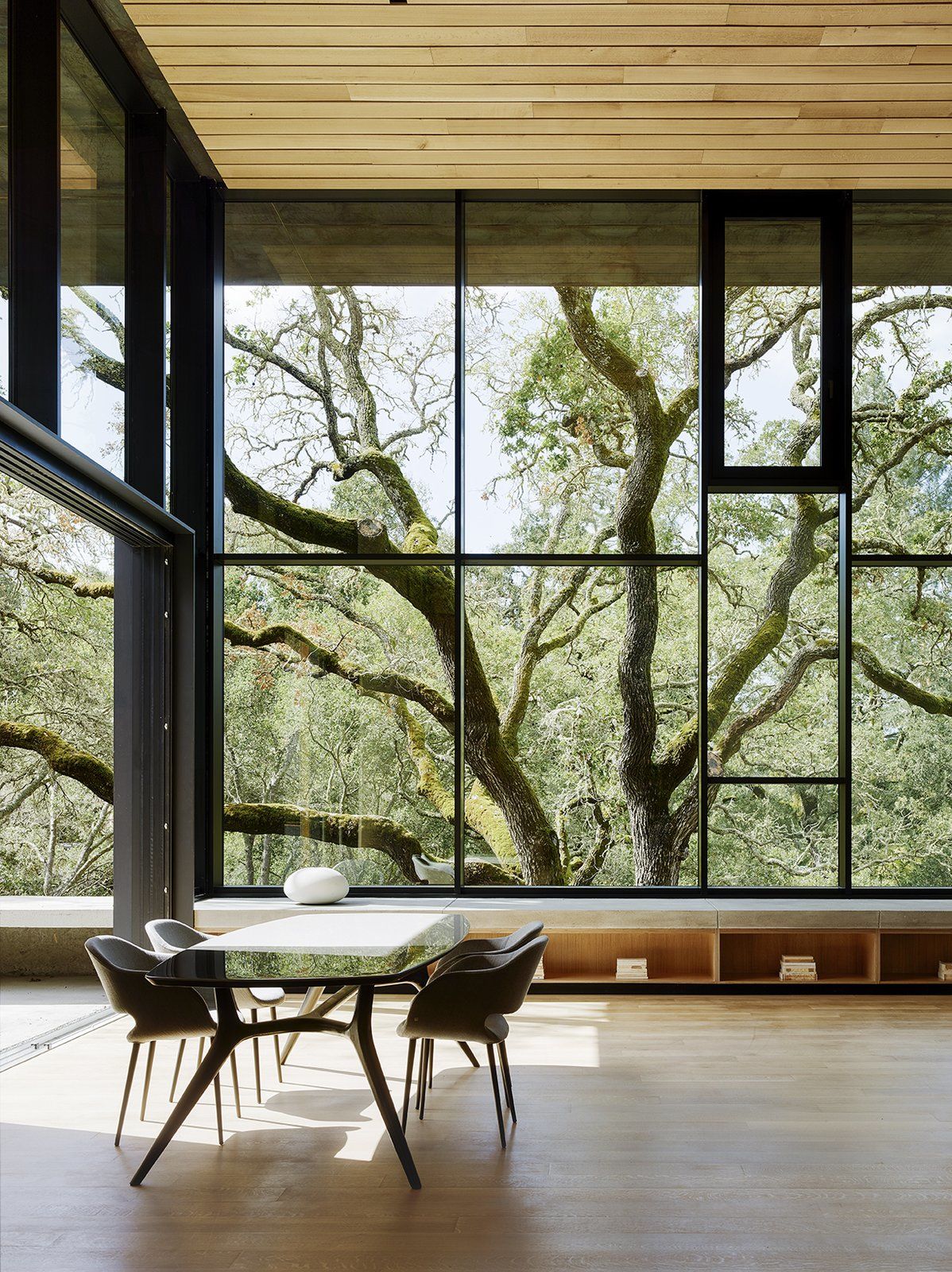 In an upstairs apartment, take it to the treetops.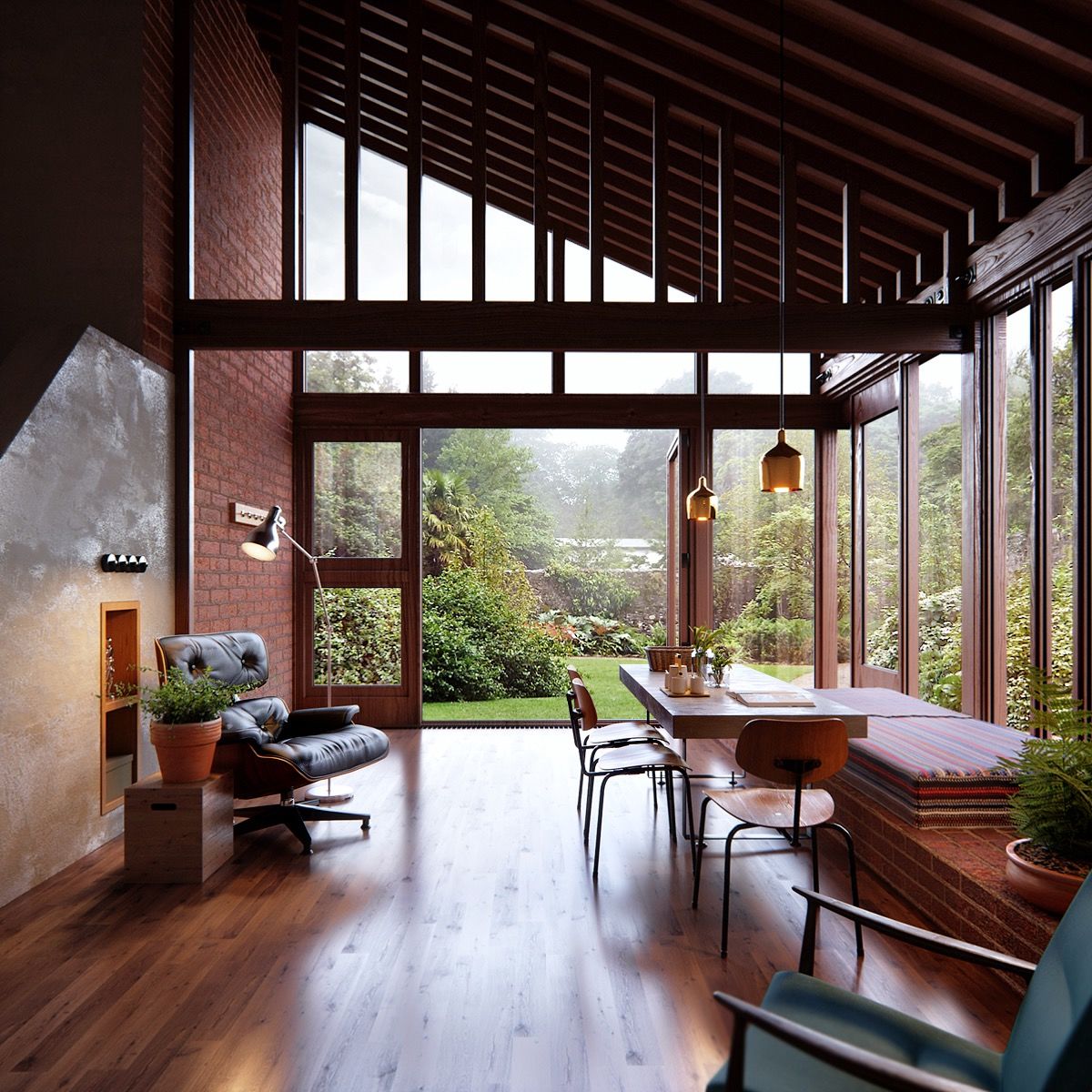 This dining banquette will be the prized seat of the house, dinner time or not.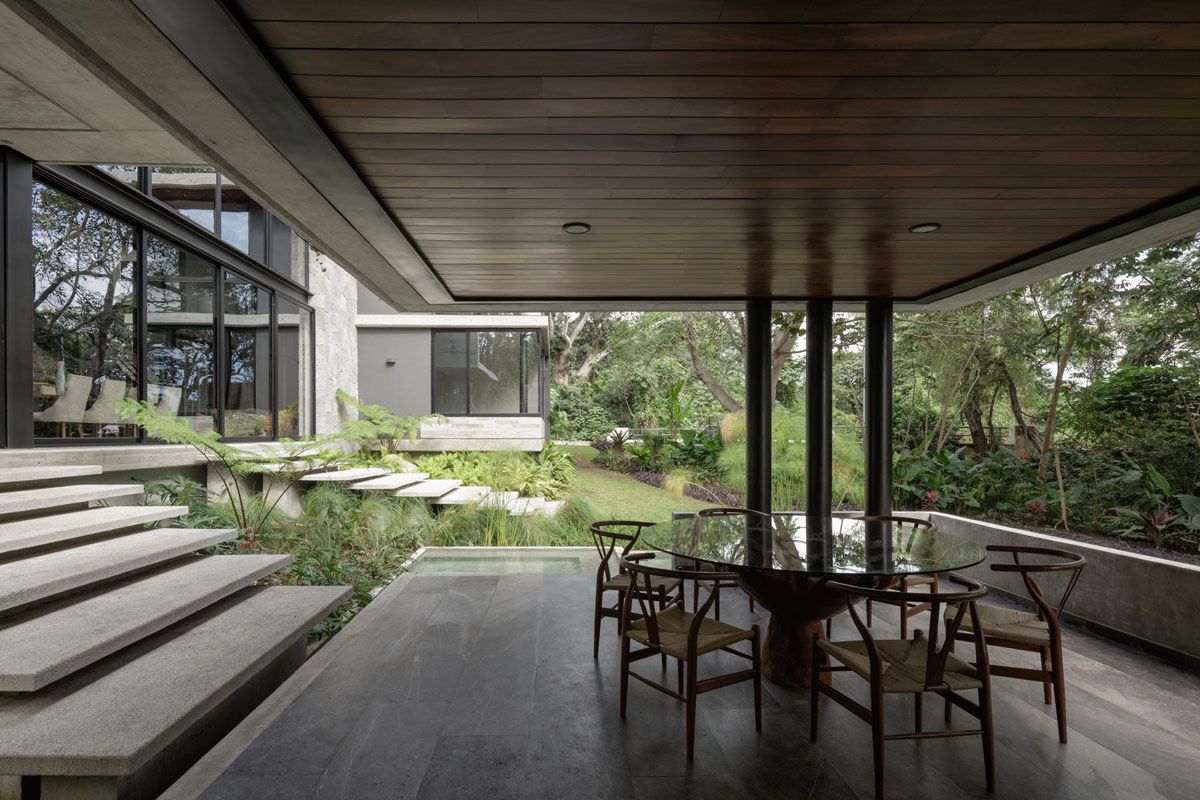 Stepping out. Adding staircases through the brush allows you to plant an outdoor dining room on sloped terrain without having to build up the foundation.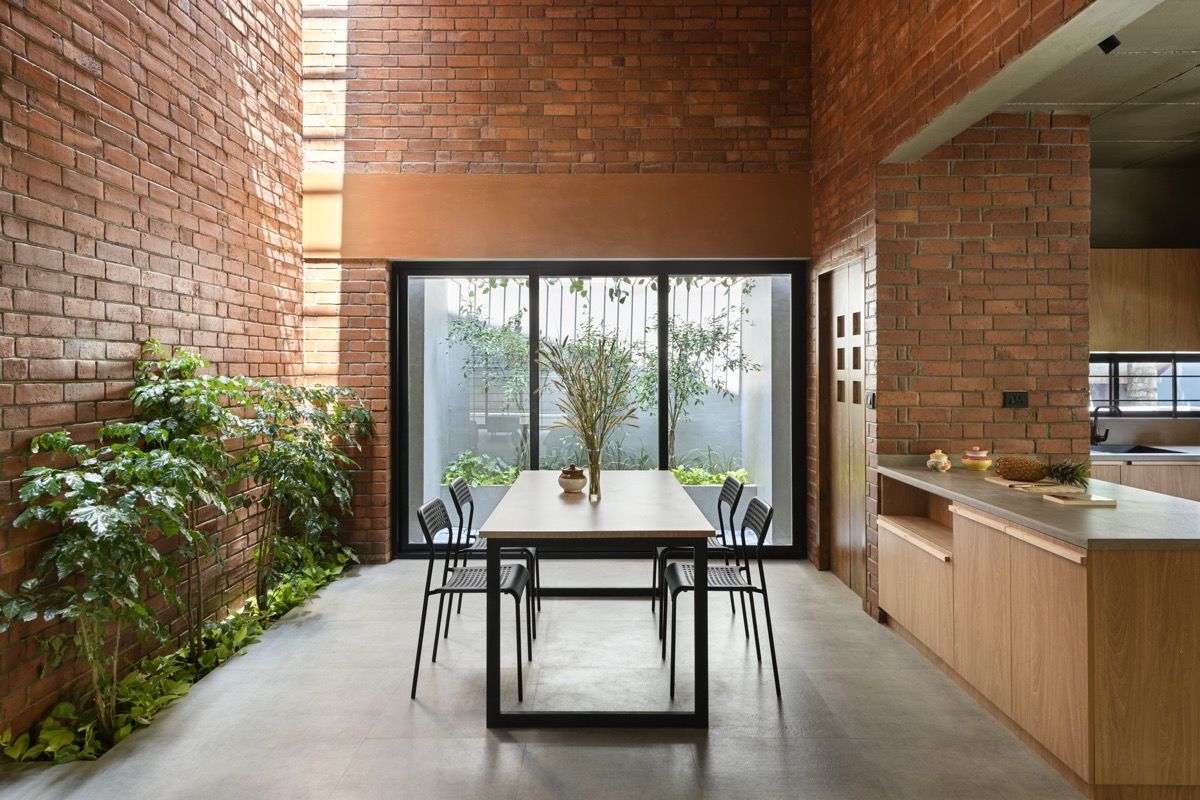 Instead of having a clutter of indoor planters, carve out one neat channel in the floor.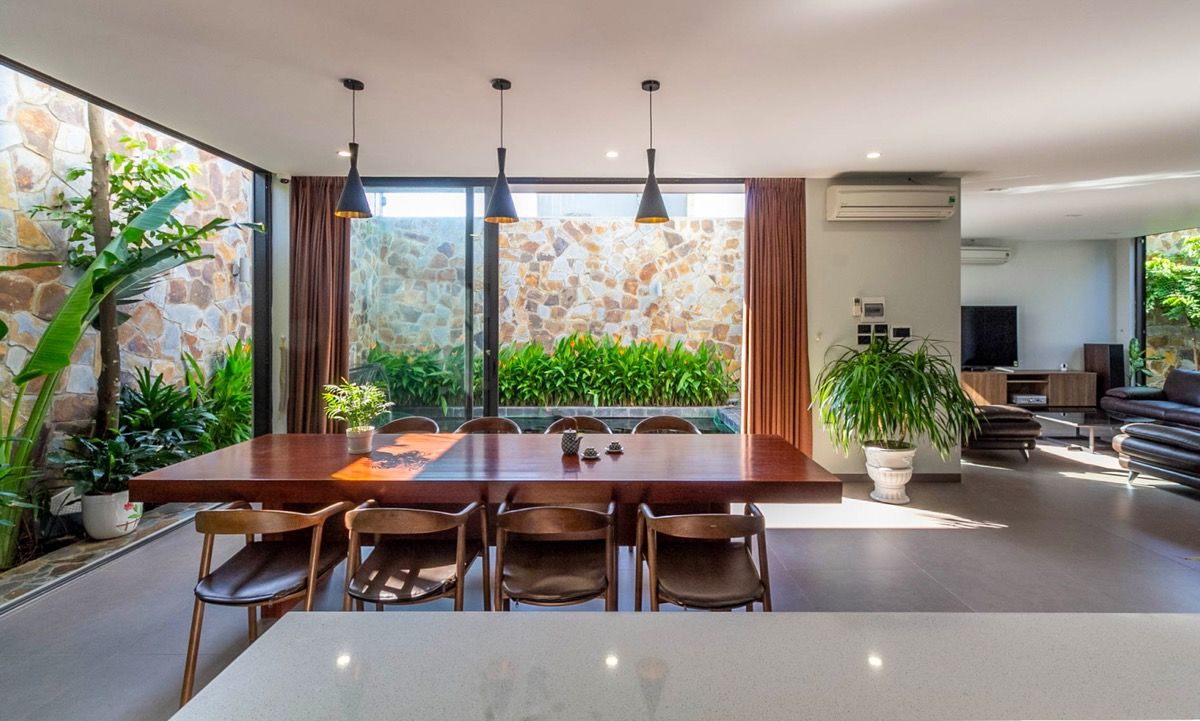 Even the narrowest garden border can contribute to an effective wraparound result.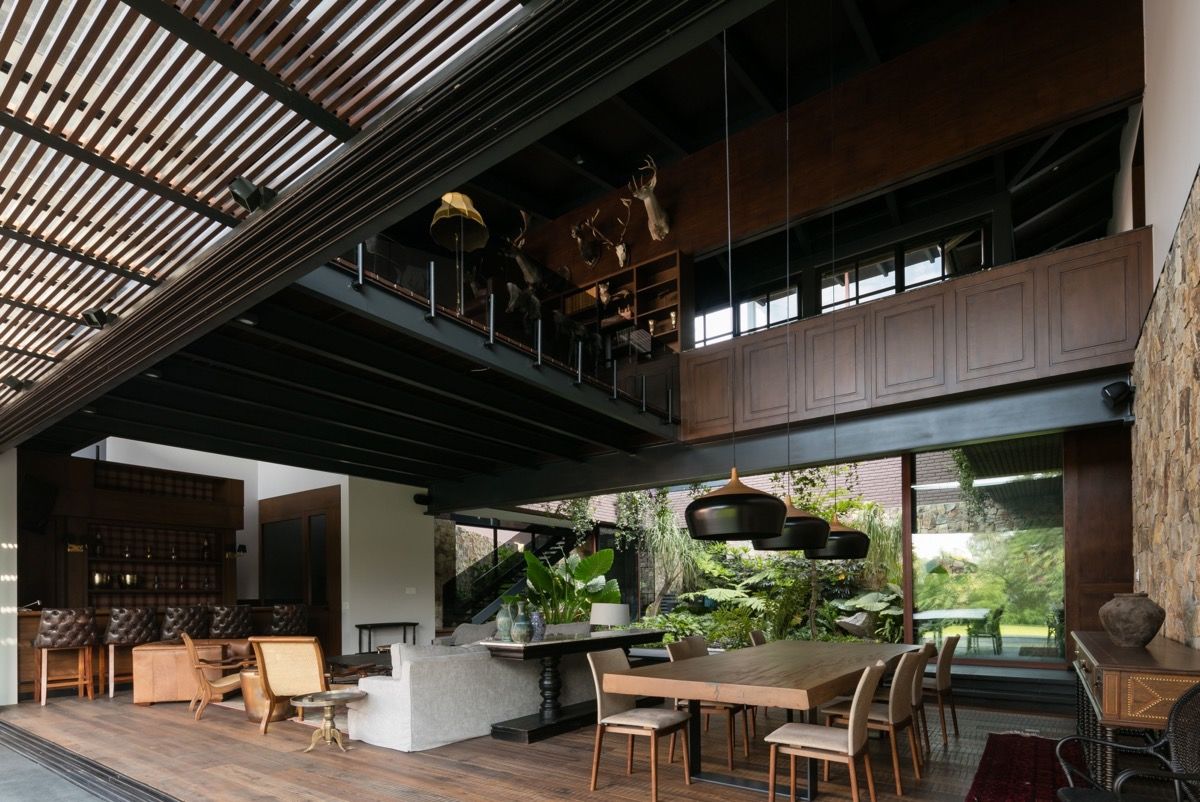 The interior of this ​​modern Mexican house makes deep chocolate brown contrast with the fresh green environment.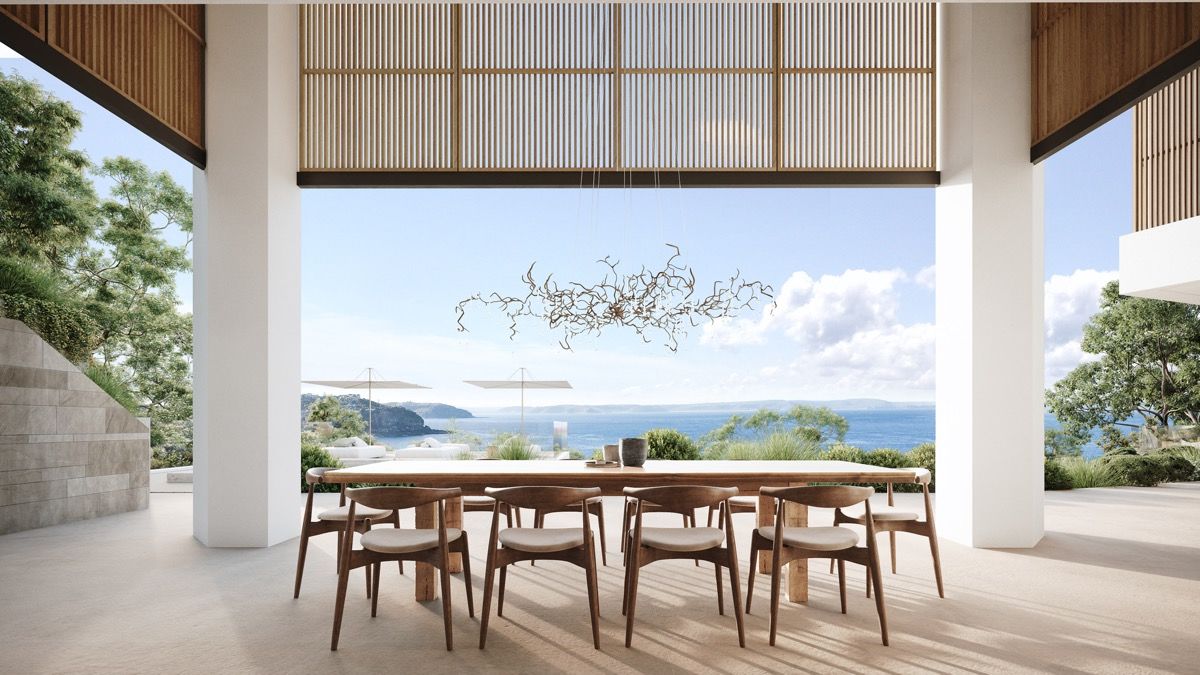 Seaside dreams. The ethereal white stucco that surrounds this light dining room design adds to the dreamy effect of its mesmerising seascape.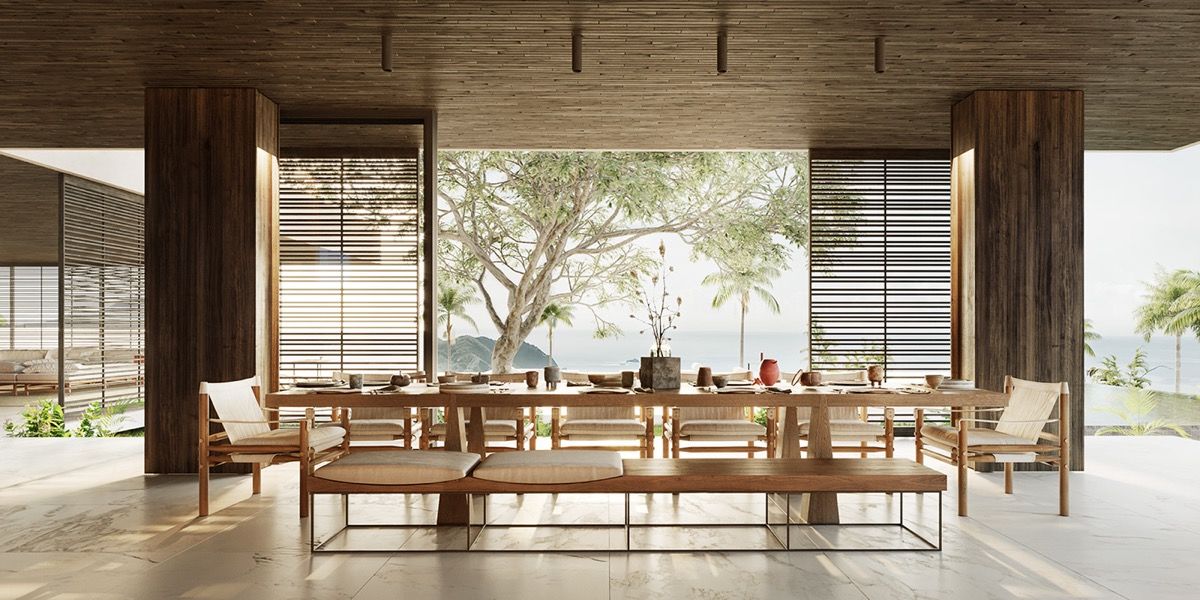 Sweet symmetry and natural materials achieve peaceful balance in this luxury Indonesian villa.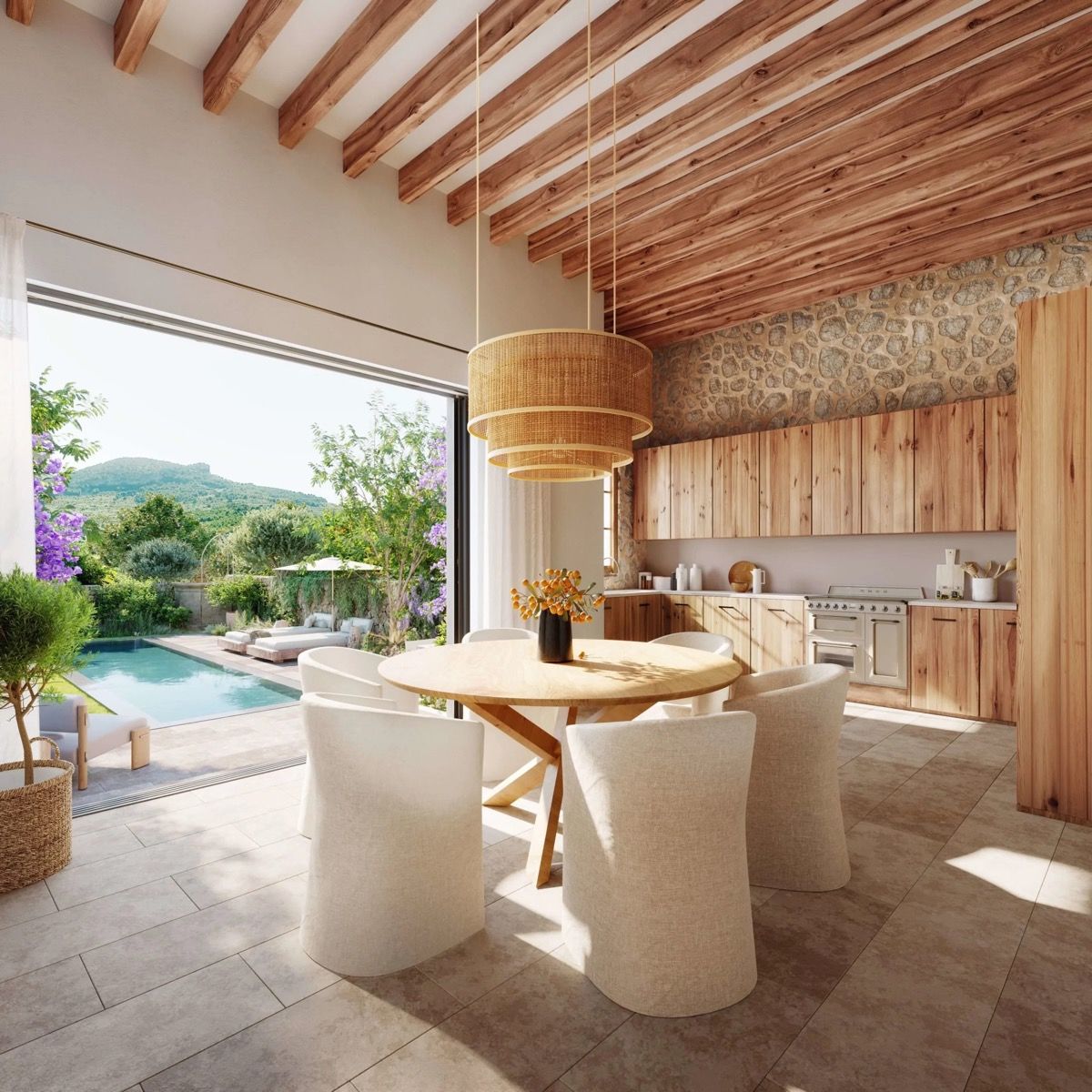 A boho spirited interior and a luxurious pool terrace are linked together via wide patio doors in this pretty villa design. A stone feature wall drops in an outdoor essence that complements the invigorating flower-filled vista. The circular chandelier stays true to the theme.