Creating an outdoor living room allows us to be at one with nature whilst being surrounded by the creature comforts we adore indoors.

Outdoor living room ideas are one of the biggest garden trends of 2022 and utilizing the backyard, large or small, as additional living space allows us to maximize the square footage of our homes.

No matter the size, from a wraparound deck directly off the house, to an intimate balcony, or a sprawling patch of lawn, any plot can be furnished to function as a stylish outdoor living room by adopting a few simple interior design principles.

Not sure how to get started? We chatted to some interior design experts who shared their top tips and outdoor living rooms ideas for 2022...

Our favourite inspirational outdoor living room ideas

"The outdoors is a brilliant place to have fun with color, and make the bolder choices you may crave, but wouldn't pursue indoors," says interiors expert Elias Blunden-Stone, aka The Room Editor (opens in new tab). "Play off the colors of your planted flowers, or channel your favorite holiday destination by creating the same vibe as a treasured location; like bold azure and bright white for fans of the Greek islands."


1. Choose a comfy sofa arrangement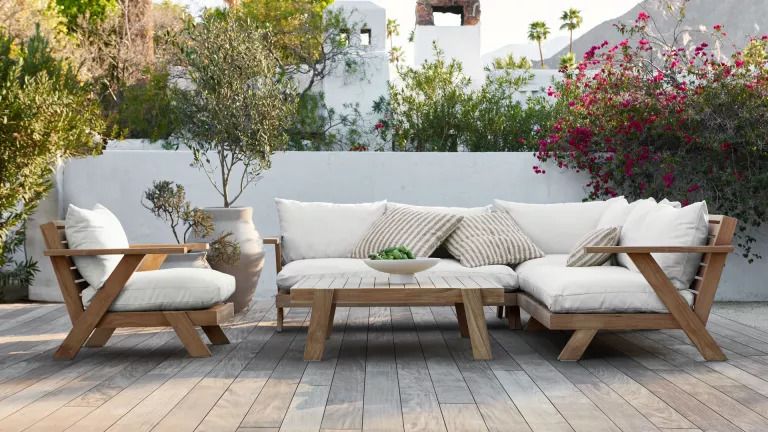 While adding the best garden plants to your space is a good way to get started, investing in some key pieces of furniture will make your place feel like a true hideaway from the world.

Recreate the creature comforts of your indoor living room by choosing the same style of outdoor furniture. Comfy corner sofas have become hugely popular for outdoor living spaces to emulate the authentic feel of a living room, rather than traditional wooden garden furniture. An upholstered sofa instantly brings an indoor living room feel to any backyard social space. Not to mention, it also proves highly practical for offering plenty of seating for all.

Sabina Miller, buying director at Heal's agrees, saying: "The key to creating a functioning alfresco space is ensuring you have suitable outdoor furniture that will offer the same comfort and durability that you would expect from indoor designs. Cushioned seating provides a sumptuous spot to relax in the summer sunshine."


2. Add an outdoor rug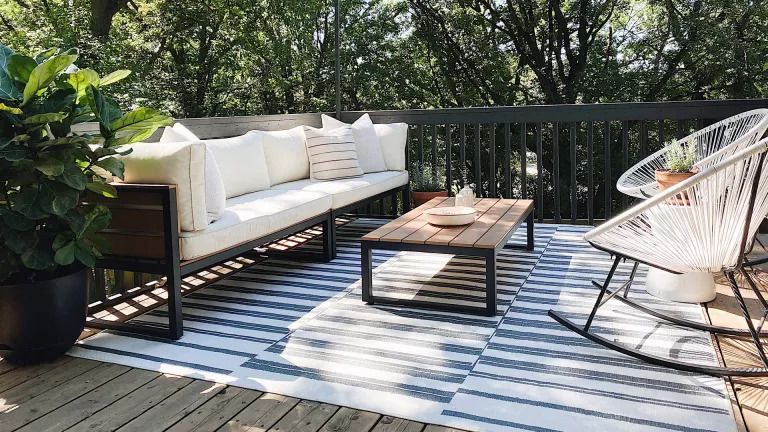 Outdoor rugs serve a multitude of functions when used in an outdoor space. Firstly, adding pattern and color to the flooring, be it patio paving, turf or decking, instantly brings the space alive, adding a touch of interior design flair.

Secondly there's a practical element of providing comfort underfoot, because unlike being barefoot in your living room, your bare feet are exposed to the elements in an outdoor living space. The simple placement of an outdoor rug alleviates the issue of problem surfaces: it will save your feet from burning on hot floor surfaces during the hottest part of the day, or from slippery surfaces during a sudden downpour.

Let's not forget a rug can also protect outdoor flooring from spills that may occur from any food or drink being enjoyed while entertaining or throwing a garden party.

Start from the ground up. "Define the space with an outdoor rug, then build up seating, decorative textiles (in outdoor-friendly fabrics) and surfaces (like tables or stools) – I like tray-top tables for maximum versatility," advises Elias Blunden-Stone, aka The Room Editor.


3. Arrange furniture around a coffee table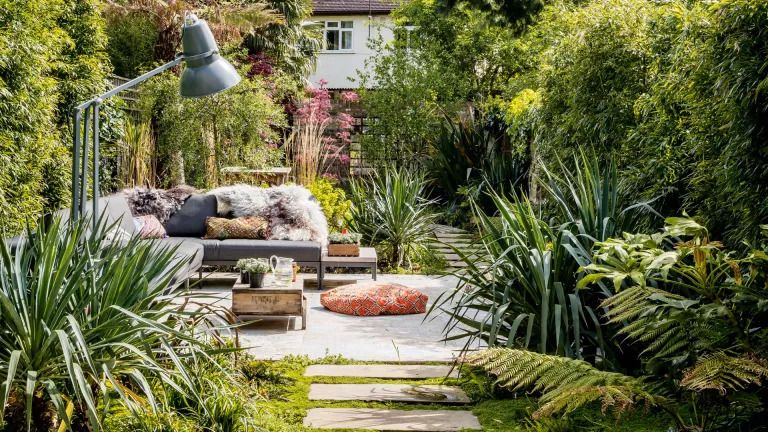 When it comes to arranging furniture in an outdoor living room idea, apply the same styling principles as you would when configuring an indoor living space. Look for a focal point to arrange your sofas and chairs around - a coffee table is a perfect solution.

A low table in the center gives an outside space more purpose. A coffee table indoors is sometimes solely there to anchor the decor, providing a focal point to fill an otherwise wasted space, or act as somewhere to fan out your favorite magazines or favourite coffee table books. In contrast, a coffee table in an outdoor living room idea is much more practical, providing the perfect platform to place useful items, like gardening supplies or snacks and drinks if you're entertaining - in turn saving you constant trips indoors to fetch them.


4. Dress furniture with cushions and throws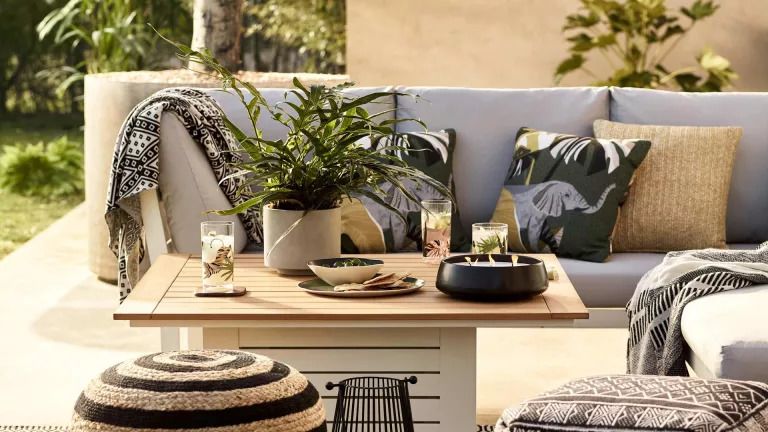 No living room sofa is complete without a curated collection of cushions, yet so often the garden furniture sits naked in the backyard, not styled and accepted as merely a seat rather than cozy and welcoming like a living room sofa.

Using the same interior design trends and styling principles as you would apply indoors, layer seating with textured throws against brightly colored cushions to bring an outdoor living space to life with a pop of personality.

Clotilde Passalacqua, Interior Design Manager at IKEA (opens in new tab) says: "Adding small decorative touches such as cushions and throws is a great way of rejuvenating your current outdoor furniture this season, without needing to spend a lot of money. Tactile accessories will effortlessly add an element of comfort to your outdoor space, helping to create an inviting environment for you and your guests to enjoy time outdoors."

Choose specially designed outdoor fabrics to ensure your accessories are fade-resistant to the sun and splash-proof from any water exposure.

"We shouldn't have to compromise when using fabrics outside. Long gone are the days of slippery nylon cushions and covers. Now there is a whole host of luxurious and well-designed fabrics that can be used," explains David Harris, Design Director at Andrew Martin (opens in new tab). "Outdoor weaves and eco digital prints all perform incredibly well against light and fading, so there's no need to compromise on style outdoors."

If you're feeling crafty, check out our guide on how to make a cushion cover (just remember to use waterproof materials!)


5. Make a style statement with lighting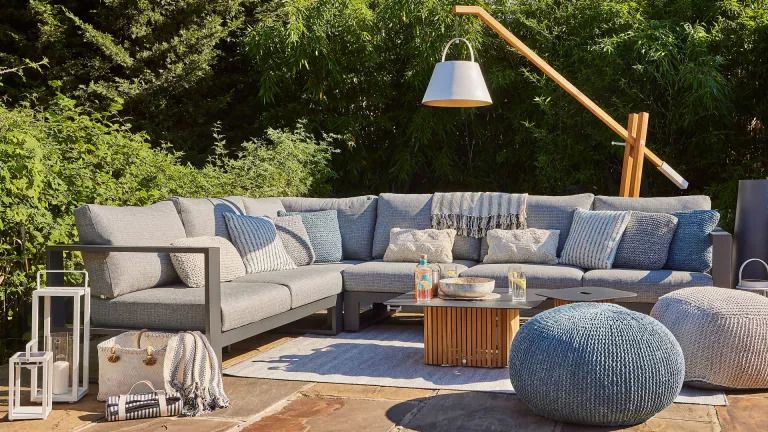 When it comes to backyard lights we often think function over form, giving all the aesthetics to the interiors of the home. Instead, take inspiration from the ambient lighting scheme in your living room to welcome the same level of lighting to outside spaces. Incorporating more thoughtful lighting adds a stylish living room feel.

While outdoor lighting comes in many practical forms, such as directional spotlights around borders and paths and large patio lights, we love the idea of using lamps to enhance the indoor-outdoor feeling of the outdoor living space.

"Freestanding lamps and lanterns, that are solar-powered and rechargeable, are great outdoors as they can be moved around the space easily, offering a lot more flexibility and the option of directional lighting," explains Reilly Gray, Founder, SUNS Lifestyle (opens in new tab).

"We've seen sales of our solar-powered lanterns and lighting increase as customers invest more into their outdoor spaces and look to make the most of them all year round. The right lighting gives a real sense of home whilst allowing you to enjoy your outdoor space long after sundown."

Solar-powered lighting can offer up to 18 hours of light on a full battery, but can also be charged using USB-C as an alternative power source, presenting not only a practical but a sustainable living solution too.

If you don't have space for outdoor lighting, consider using small flourishes instead, like outdoor fairy lights or the best flameless candles.


6. Gather around a fire pit in the evenings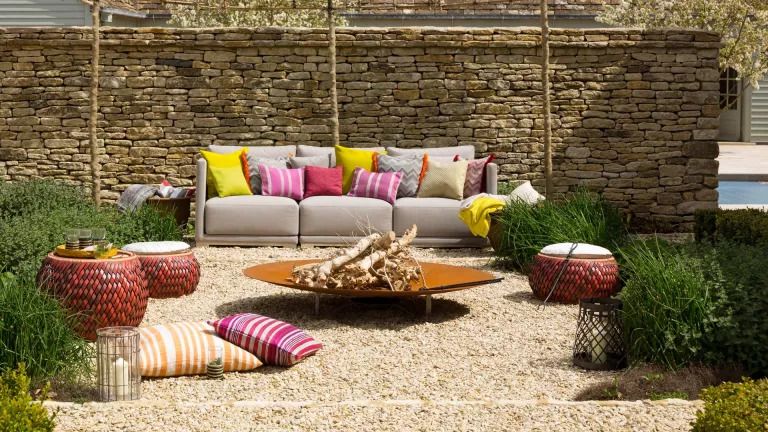 An outdoor living room isn't complete these days without an on-trend fire pit, a perfect way to inject heat and ambiance into your space.

As well as being highly practical from a heating perspective, a fire pit can also act as a great focal point to style your space around and is a great garden party idea to keep gatherings going long after the sun has set.

"Much like an internal living room, either center the space around a focal point or lay it out for conversational ease. Where the focus might be a fireplace (or television) indoors, focus outdoor living around a particularly pleasant view of the garden, or (if you have a safe environment for it) a fire pit or fire bowl," advises Elias.


7. Welcome shade to maximize usage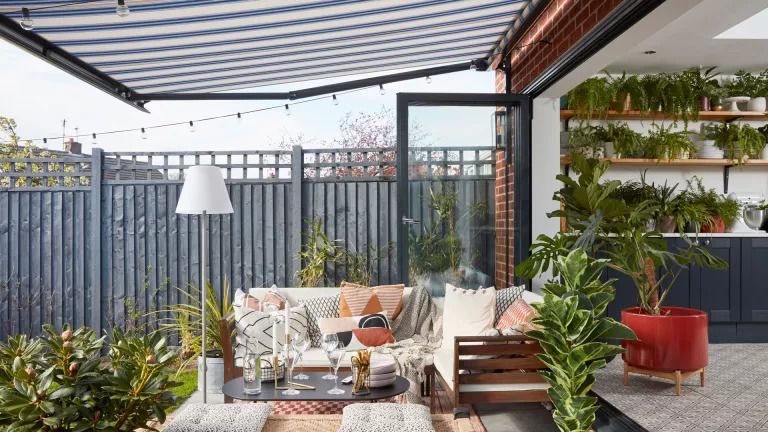 While an outdoor living room is a dream, there will be times when you need to escape the rays and for that, you need a suitable shade. An awning is a winning way to provide shelter, even better when choosing a motorized design that can be welcomed at the touch of a button.

"Firstly, you need to think about how you currently use your space, and what you might like to achieve by having an awning installed," advises James Chilton, product manager, awnings, Hillarys.

"If, for example, you love using your garden into the evening, you may want to consider an awning that has the option of a built-in heater, so you can use your space as it gets chillier. Similarly, if you'd like to use your garden year-round, including in the darker autumn and winter months, you're likely to benefit from built-in lighting."

"All awnings work extremely hard: they offer shade on a hot summer's day; provide superior UV protection, and are retractable for complete flexibility."

Awnings come in a variety of fabrics which allows you to find the color, pattern and texture that's right for your space.


8. Add occasional furniture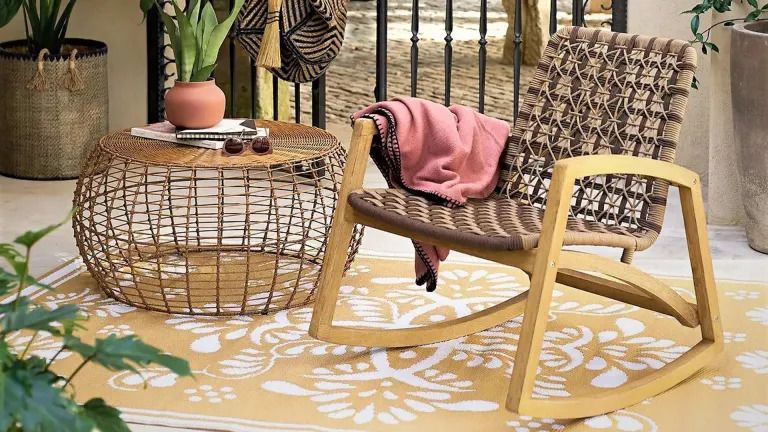 Occasional furniture is a great way to effortlessly style your outdoor living space. As you would in your indoor living room, team occasional chairs with a garden sofa to provide ample seating. Consider buying a rocking chair to create the perfect spot to rock the hours away with a good book.

Incorporating additional chairs into your outdoor living room space means you can cater to everyone when entertaining, ensuring a comfortable place for all to perch.

"Try and offer seating at different heights and comfort levels for different guests," advises Elias. "As fun and garden-friendly as they are, not everyone wants to flop around in a beanbag chair.


9. Adorn the walls with accessories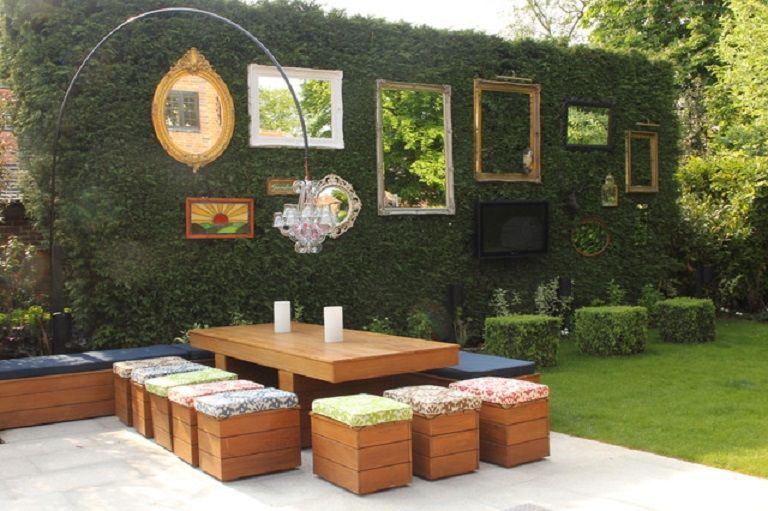 Wall decor is no longer just reserved for interiors, as decorating exterior walls with mirrors and artwork is becoming increasingly popular. Dressing the walls helps to instantly create a sense of an outdoor living room by mimicking classic interior styling.

Garden mirrors are the styling gem that everyone should embrace when styling their outdoor living rooms. Not only do mirrors add a sophisticated touch to the space, the reflection also adds depth and curiosity. This is especially effective in smaller plots because mirrors can create a sense of space by bouncing light around, helping to make the garden feel bigger.

Taking exterior wall decor one step further Elias adds: "For a truly indoor decorative kick, look into adding garden-friendly art. I am a huge fan of art outdoors, and I like to think beyond the garden gnome. Look for durable ceramic or metal sculptures, or rustic wooden or metal wall art panels that will age well in the elements. Weathered vintage signage is a way to add fun retro style."


How do I set up an outdoor living room?

Homeowners looking to upgrade their outside spaces should approach the decor with the same level of consideration as indoor styling.

Take key trends (such as the popular Japandi trend) outside, to create outdoor living room ideas filled with considered furniture and accessory choices. From comfy corner sofas to practical side tables, the key is in the detail for comfortable alfresco living. Thanks to the latest garden furniture and accessory designs, it's never been easier to create a more beautiful and luxurious outdoor living space that feels like a seamless transition from indoor to out.

"When it comes to furnishing a terrace or outdoor area don't be scared to mix different styles of furniture together in the same way as you would in an interior," says global interior designer Sophie Paterson, at Sophie Paterson Interiors (opens in new tab).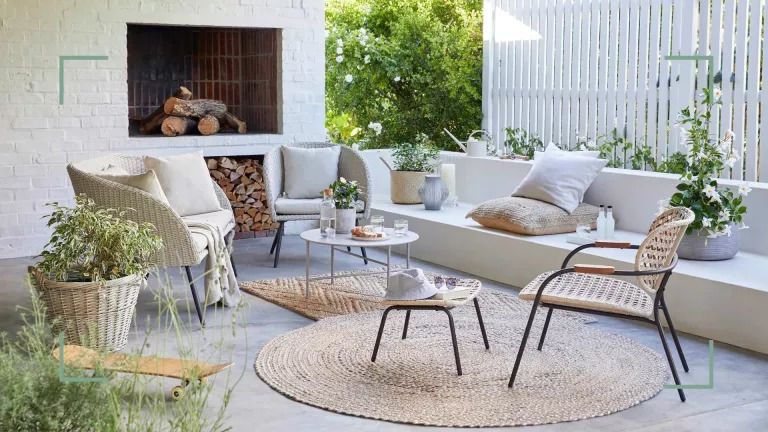 How do you make a cozy outdoor space?

Making an outside space cozy is easy when you know how. "If you like to get outdoors and use your space as early (or late) in the season as possible, make sure and have "after-dark" accessories, that will help you cozy-up, on standby," says Elias. Dig out your best blankets from winter and give them a new lease of life when the sun goes down.

"It's pretty obvious, but extra throws will come in handy once the sun sets. Ambient candlelight definitely makes things cozy. Invest in tall lanterns that will keep lit candles secure, transportable and out of the wind," Elias continues.

"Even artificial light will add coziness. There are more options than ever for either rechargeable outdoor-friendly lighting or more stylish solar-powered units that charge all day in the sun and provide the perfect glow after dusk."

"Never before has the word 'cozy' been associated with the garden. Historically, gardens have been utility spaces, or for aesthetic value such as decorative botanical gardens. Now, however, people want to give their garden a cozy feel, making it an extension of their homes," says Jonny Brierley, CEO at Moda Furnishings. "With the introduction of softer outdoor-use upholstery, lighting, accessories and even fire pits, people are applying the same interest in the design of their homes to the design of their gardens."