This weekend home south of Sydney is more than just an escape for architect Hannah Tribe and her family. Situated at the edge of Royal National Park in the beachside hamlet of Bundeena, the design by Hannah, principal and founder of Tribe Studio Architects, is also a prototype for a new kind of kit home.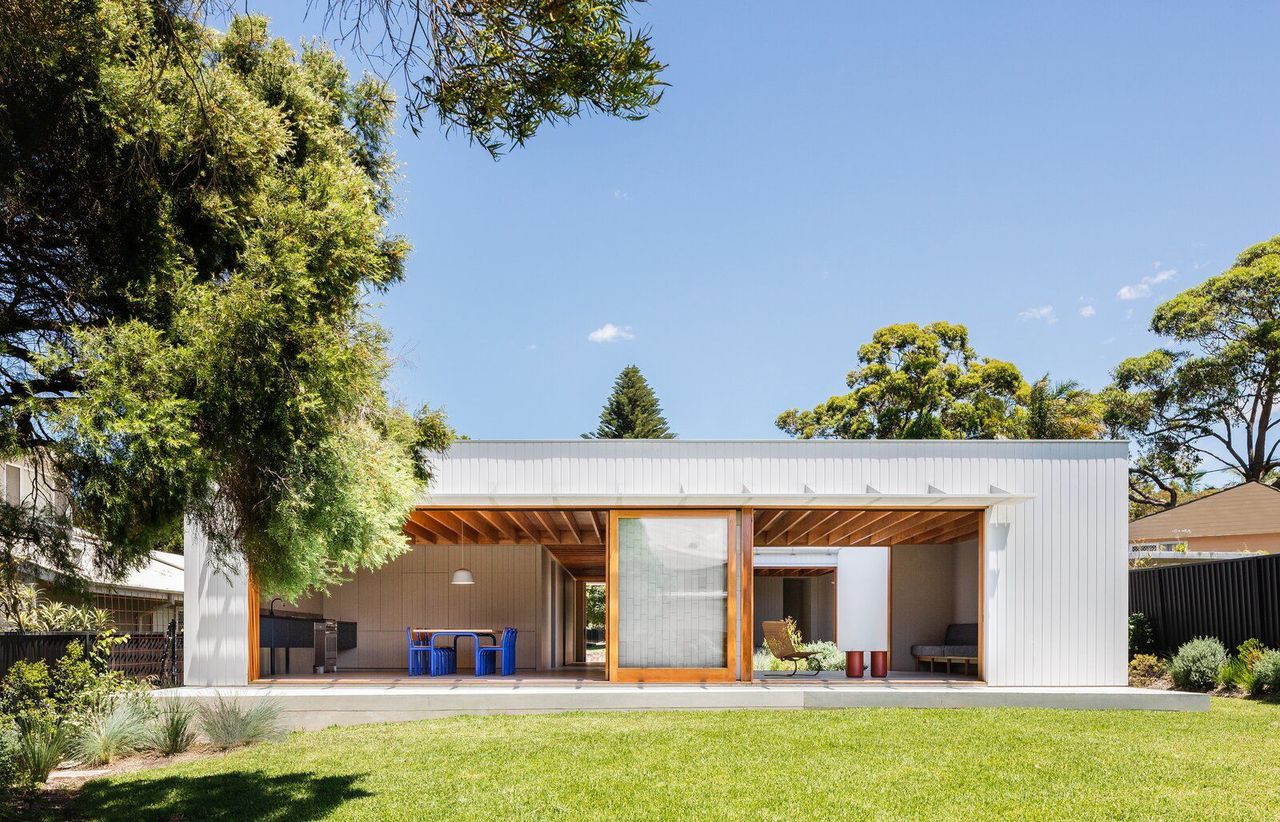 Architect Hannah Tribe designed her family's holiday home-a nod to the fisher cottages in the area-using prefab technologies. "We moved away from modular," explains Hannah, "because New South Wales has steep, windy roads which can make modular tricky, and kit construction provides opportunities for more local labor, supporting regional communities."

Looking at it from the street, the roughly 540-square-foot design presents itself modestly enough. Its minimalist timber-clad exterior nods to local vernacular, keeping with fishing cottages prevalent in the region that stand in large gardens with their rectilinear forms. Hannah's innovations-and this is where the Bundeena home parts ways with the buildings of yore-are primarily concerned with economy of materials, energy efficiency, and sustainability, which allow the design to be replicated affordably and with ease in a variety of settings.

Everything relies on a "strict mathematic logic," says Hannah. Although she doesn't dive into the numbers, the design starts with a concrete slab, and a modular timber frame that rises roughly 17 feet without the support of structural steel. Hannah could have expanded the home's tight footprint and added a second level to capture water views, but that would have betrayed the area's aesthetics.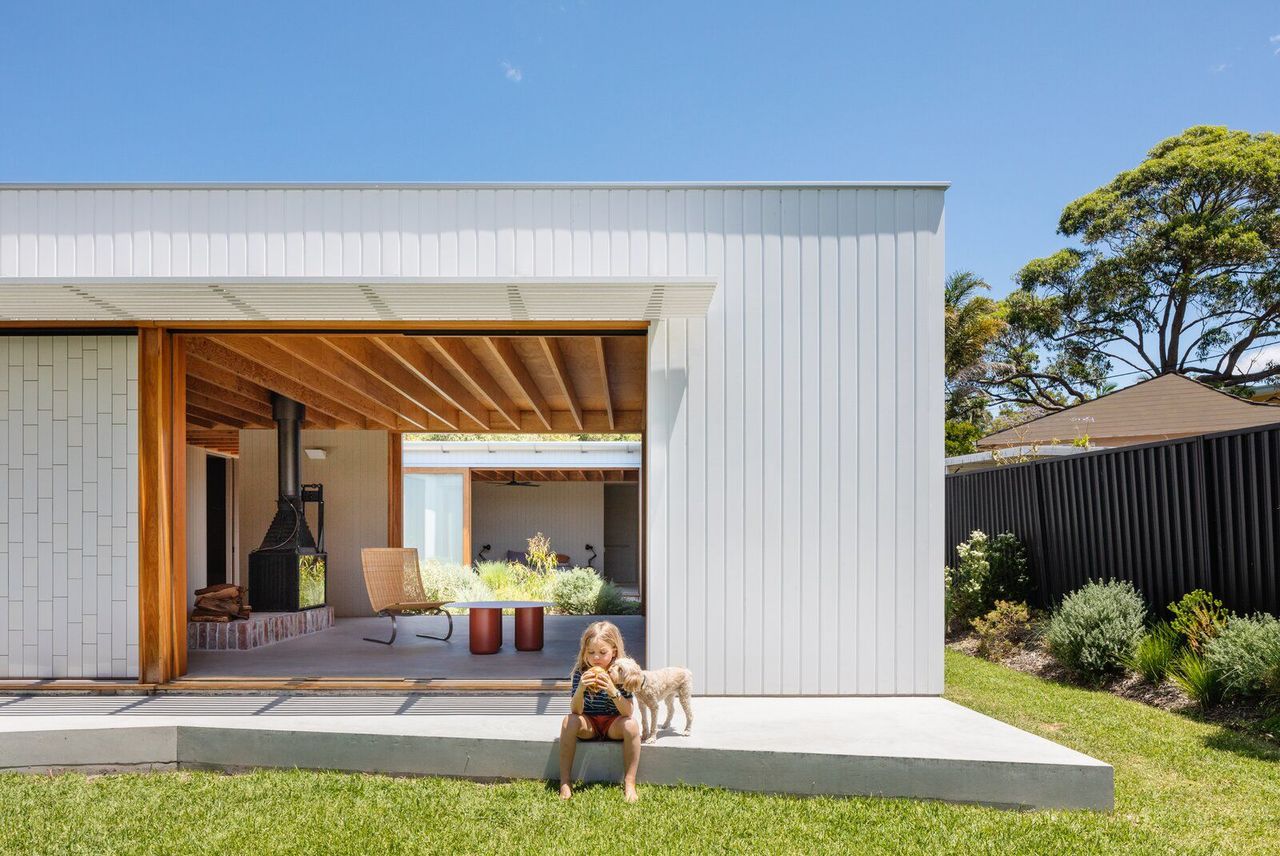 The family-friendly design can host up to 12 people and is sturdy enough to withstand "salt and sand," says Hannah.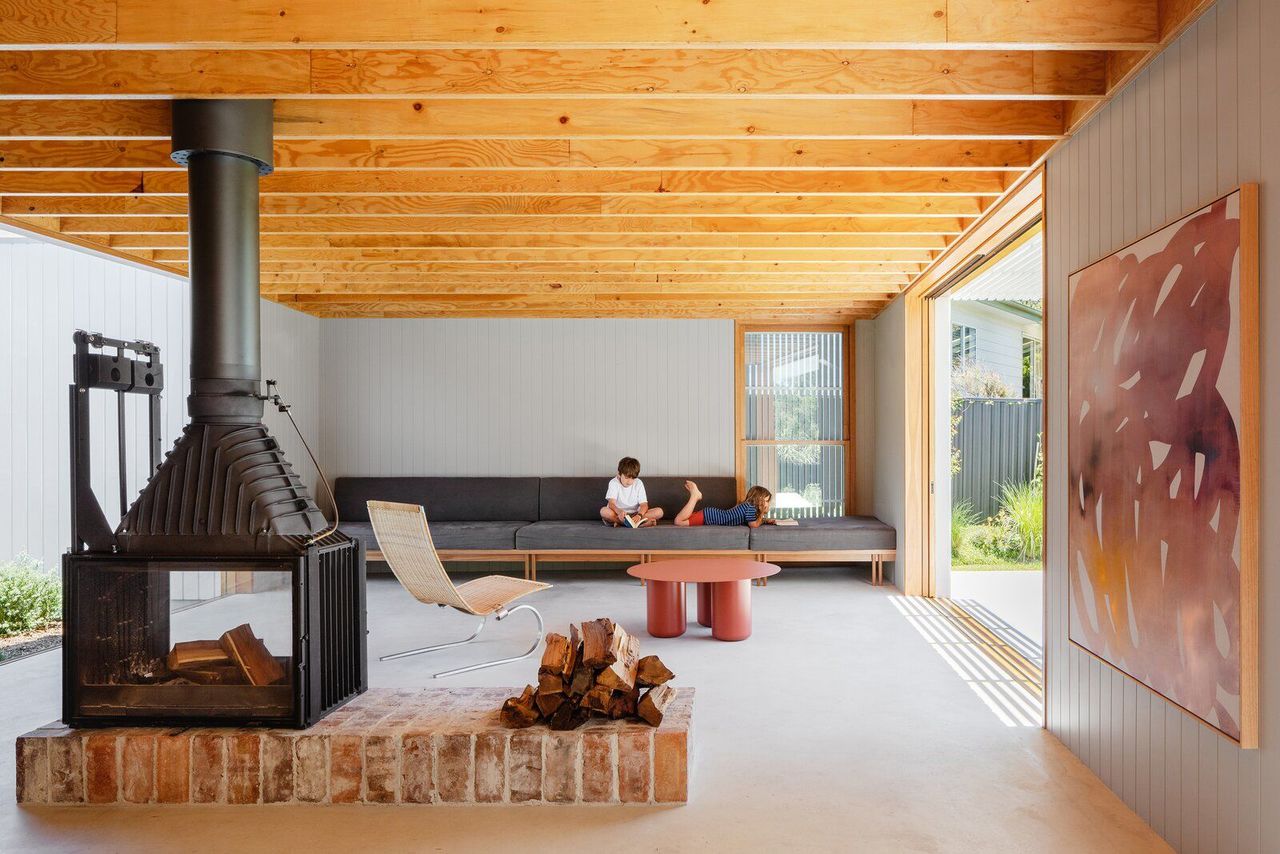 It doesn't take much to heat the entire home, but on chillier days, a French Philippe Chemise fireplace does the trick.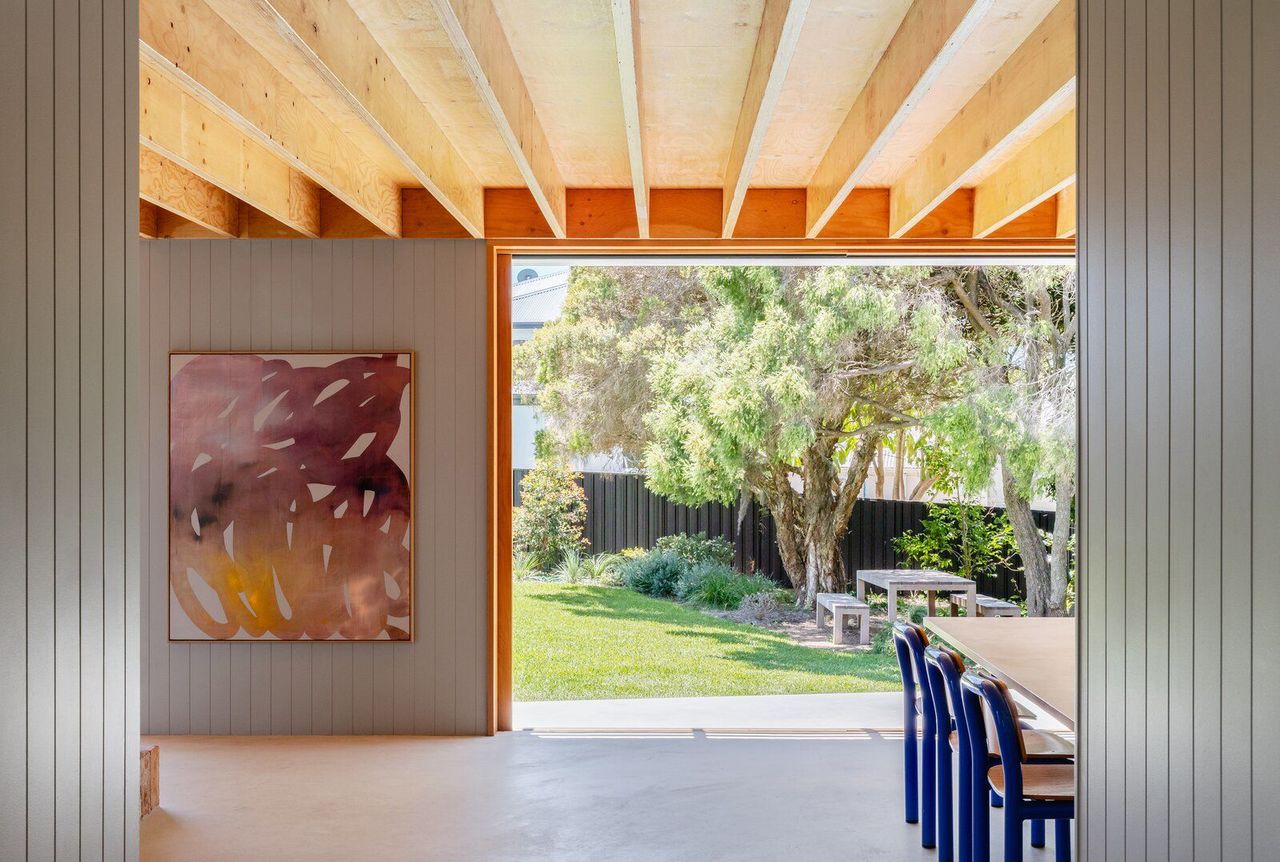 "This house is a retreat from busy city lives that encourages a slower way of living by the beach," explains Hannah. "It is a garden- and cooking-focused holiday home and a place where children and adults are connected." The painting is by Australian artist Gemma Smith.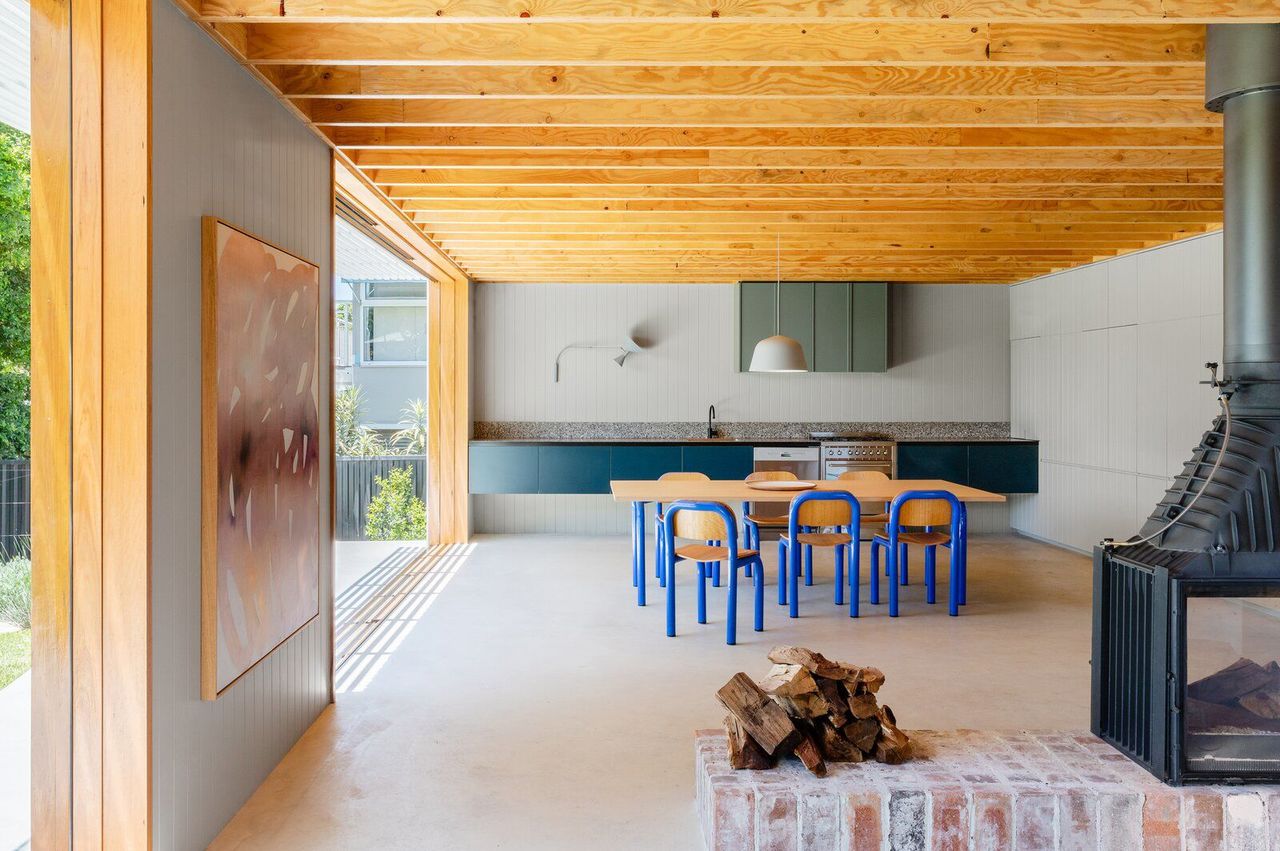 The open kitchen is perfect for Hannah and her family, who love cooking for crowds.

"We could have had glorious views from a second story," Hannah explains. "However, we felt that reinforcing the local vernacular of single story timber cottages was important, and that an introspective garden diagram was preferable to outward looking in this context."

A second level would have also worked against Hannah's initial concept, she says. And with a single level, it meant she could focus on energy efficiency.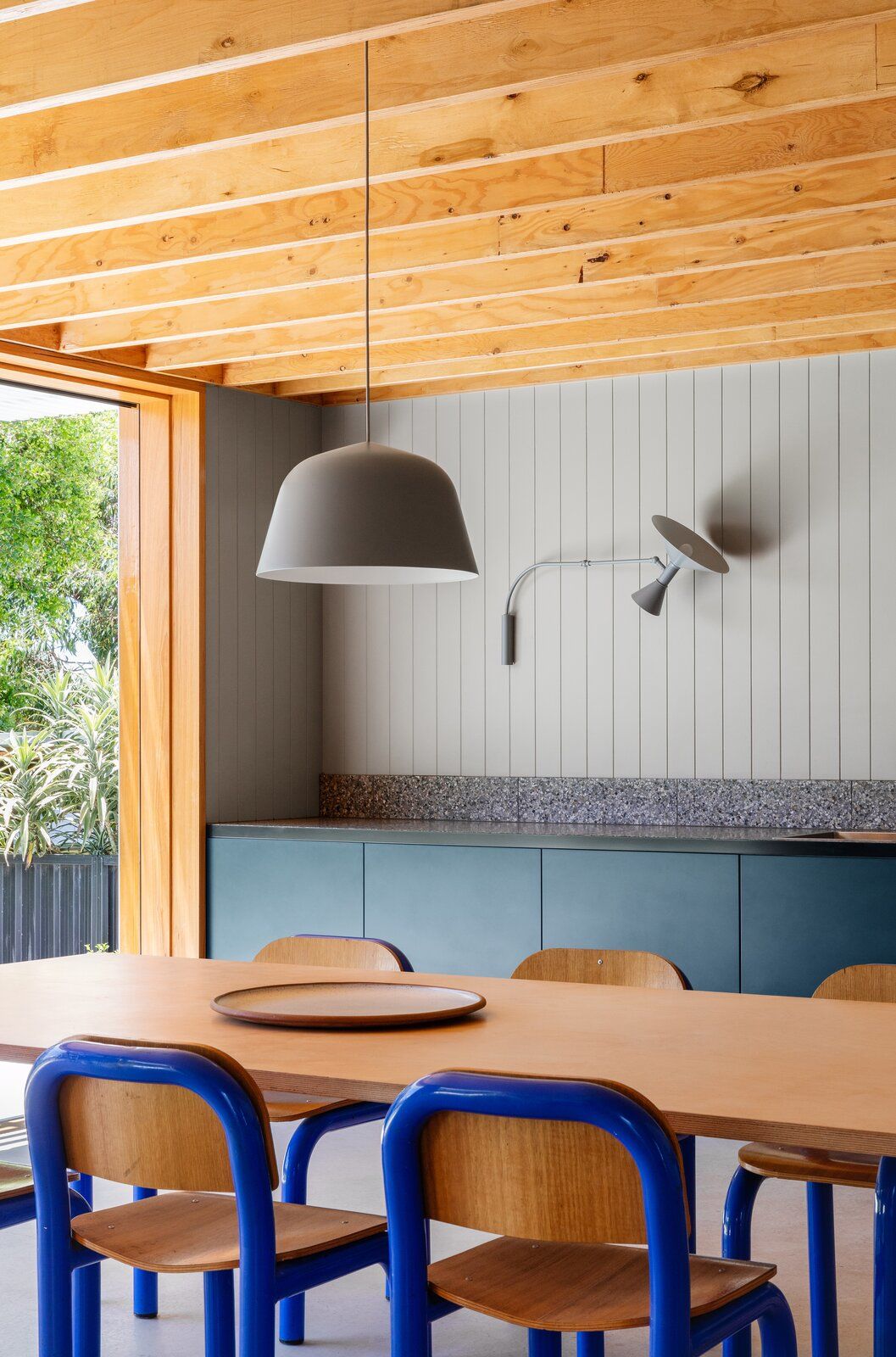 The electric-blue dining chairs are vintage school chairs sourced by Hannah. The rounded pendant light hanging over the dining table is by Muuto and the sculptural wall lighting is Le Corbusier's Nemo.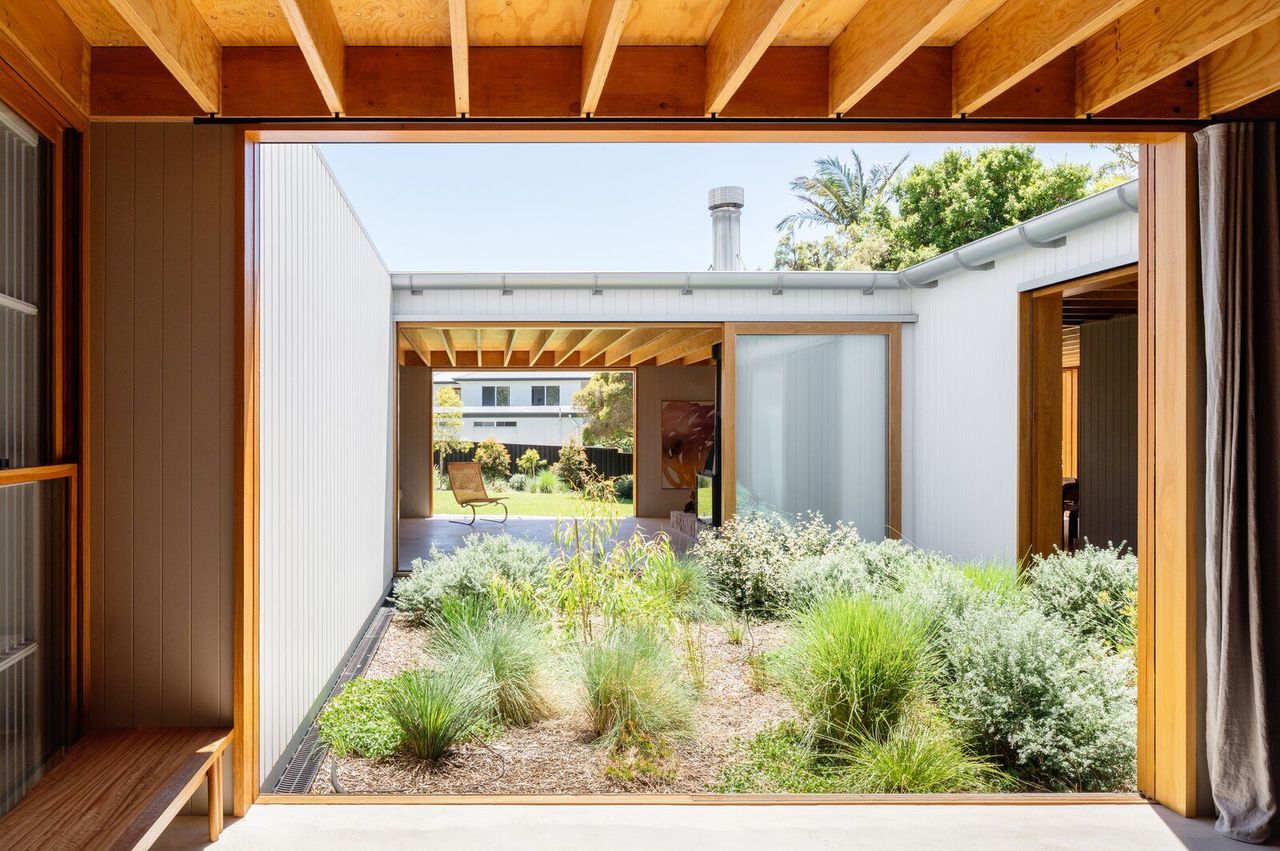 The U-shaped floor plan wraps around a sunny central courtyard.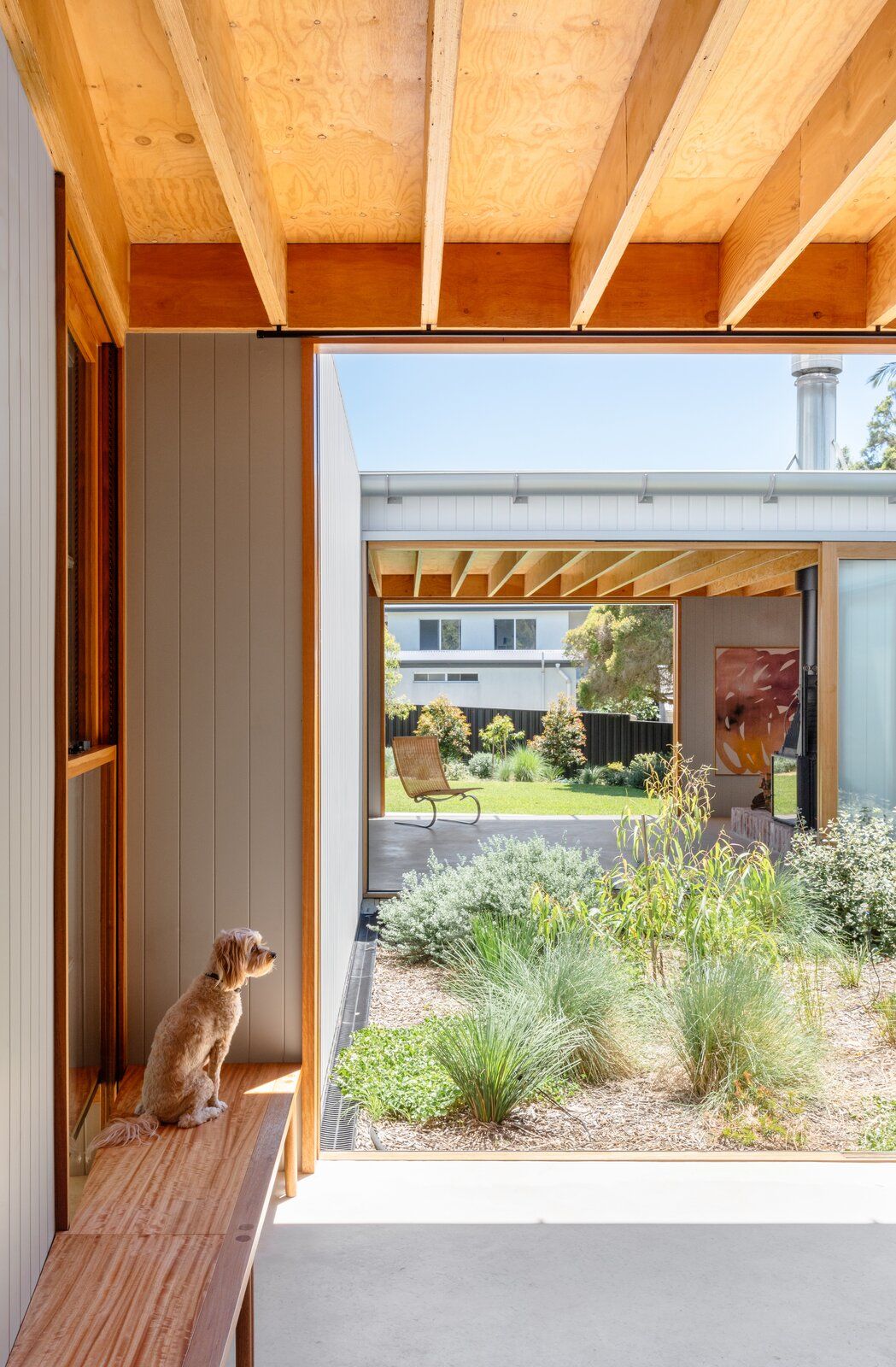 Hannah engaged landscape architect Christopher Owen to enhance the garden. His plan fosters native and endemic species that attract bird life, including kookaburras, tawny frogmouths, cockatoos, fairy wrens, and sea eagles.

Passive heating and cooling are achieved through the thermal mass of the concrete slab, and by siting the house to allow breezes to flow through its floor-to-ceiling sliders. Windows facing east, north, and west feature adjustable shading to reduce solar gain, while ceiling fans in the bedrooms provide a little extra airflow. All windows are double glazed, and the walls, although lightweight, are heavily insulated.

An extensive 5-kW photovoltaic array attached to the roof provides energy to the home, while a rainwater recycling system harvests water for the bathrooms, washing machine, and a garden irrigation system.

Hannah also made an effort to choose recycled materials and plantation timbers, and low- or no-VOC paints and finishes. The home's water is heated with solar, and energy-efficient LED lighting runs throughout.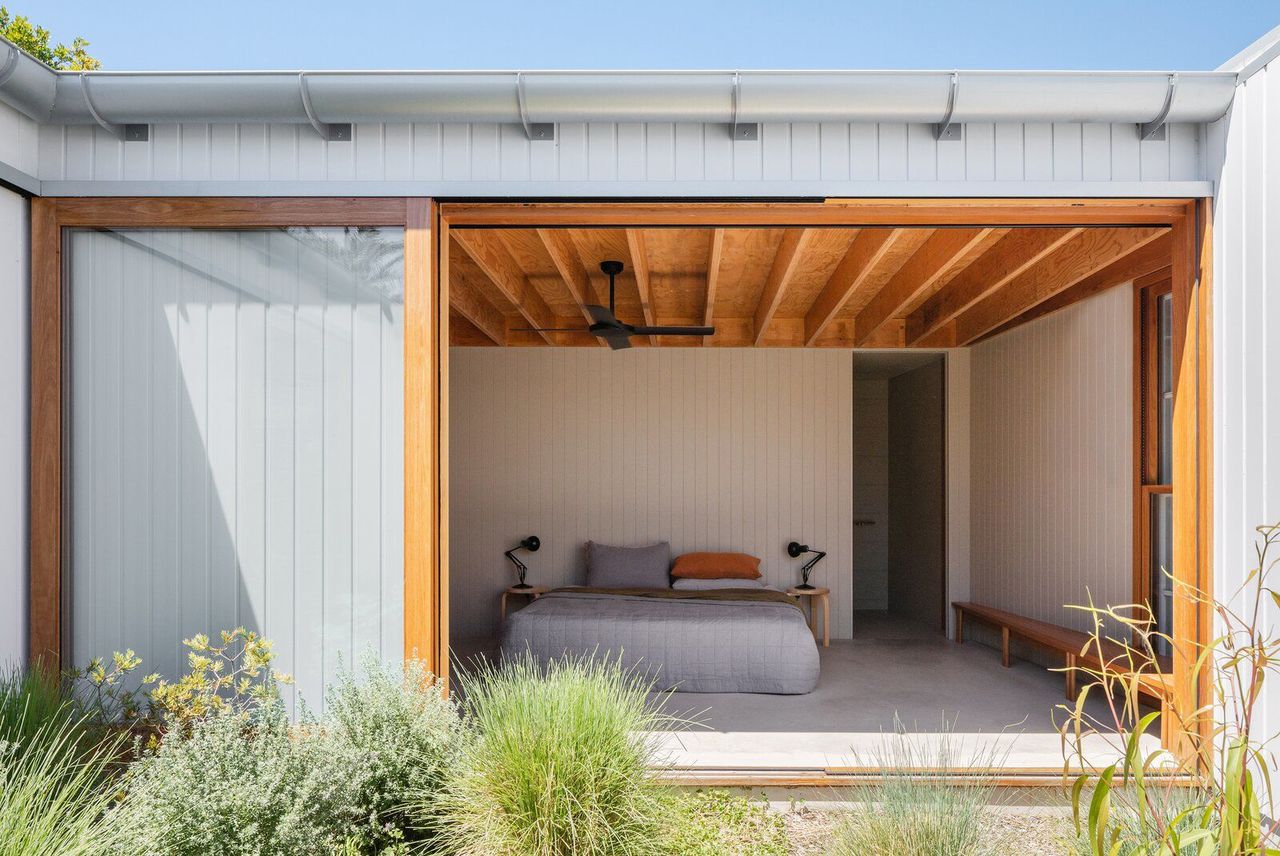 One of the adult bedrooms opens to the courtyard.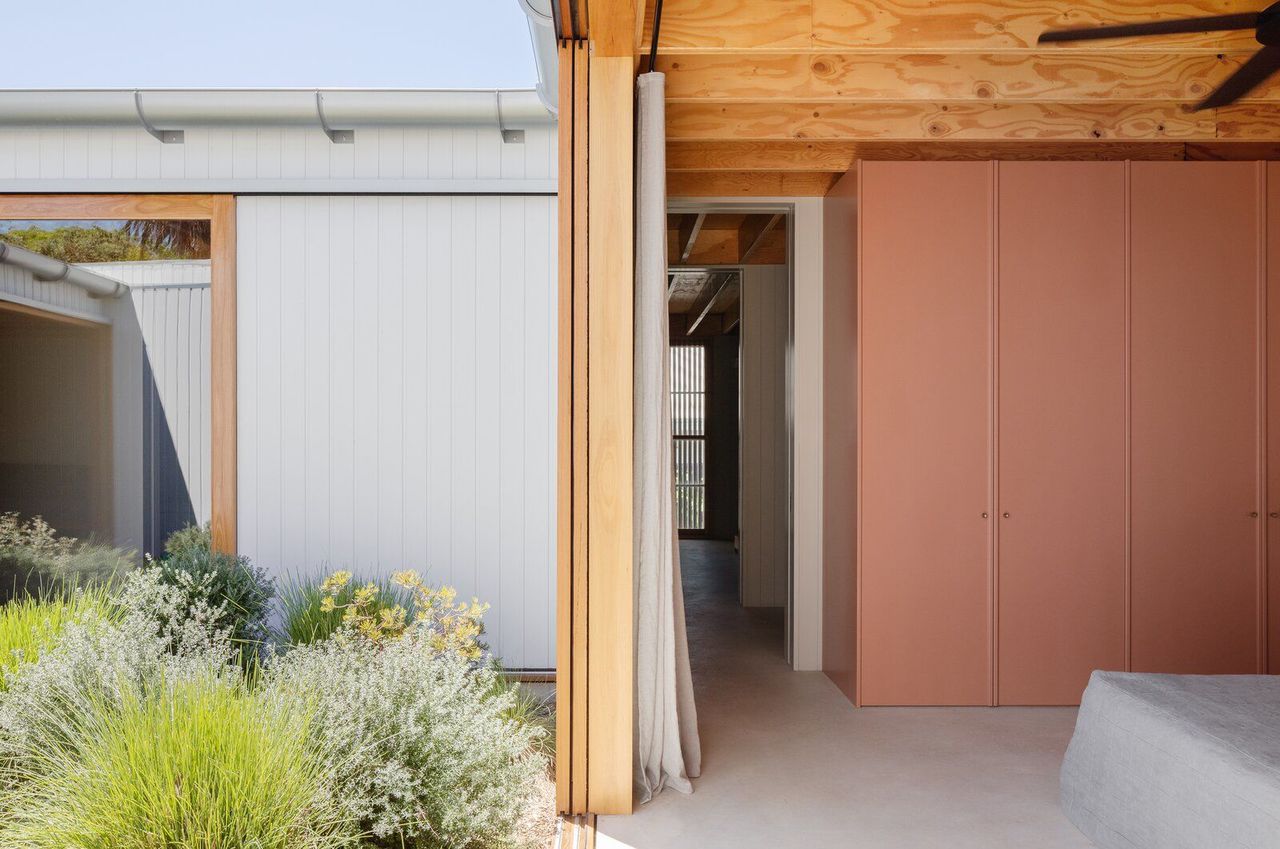 Awnings positioned over north-facing windows reduce solar gain, so there's no need for air conditioning. Ceiling fans provide light airflow in the bedrooms.

In plan, the U-shaped home wraps around a sunny central courtyard that faces a rear garden to the north. Inside are two adult bedrooms, and a kids' room with beds and built-in sofas can sleep up to six. Instead of a mudroom, a laundry-and-bathroom combo in the entry is "a deliberate sand trap" for beach towels, wetsuits, and shoes-an appropriate substitute given the home is sited just 350 feet from the beach.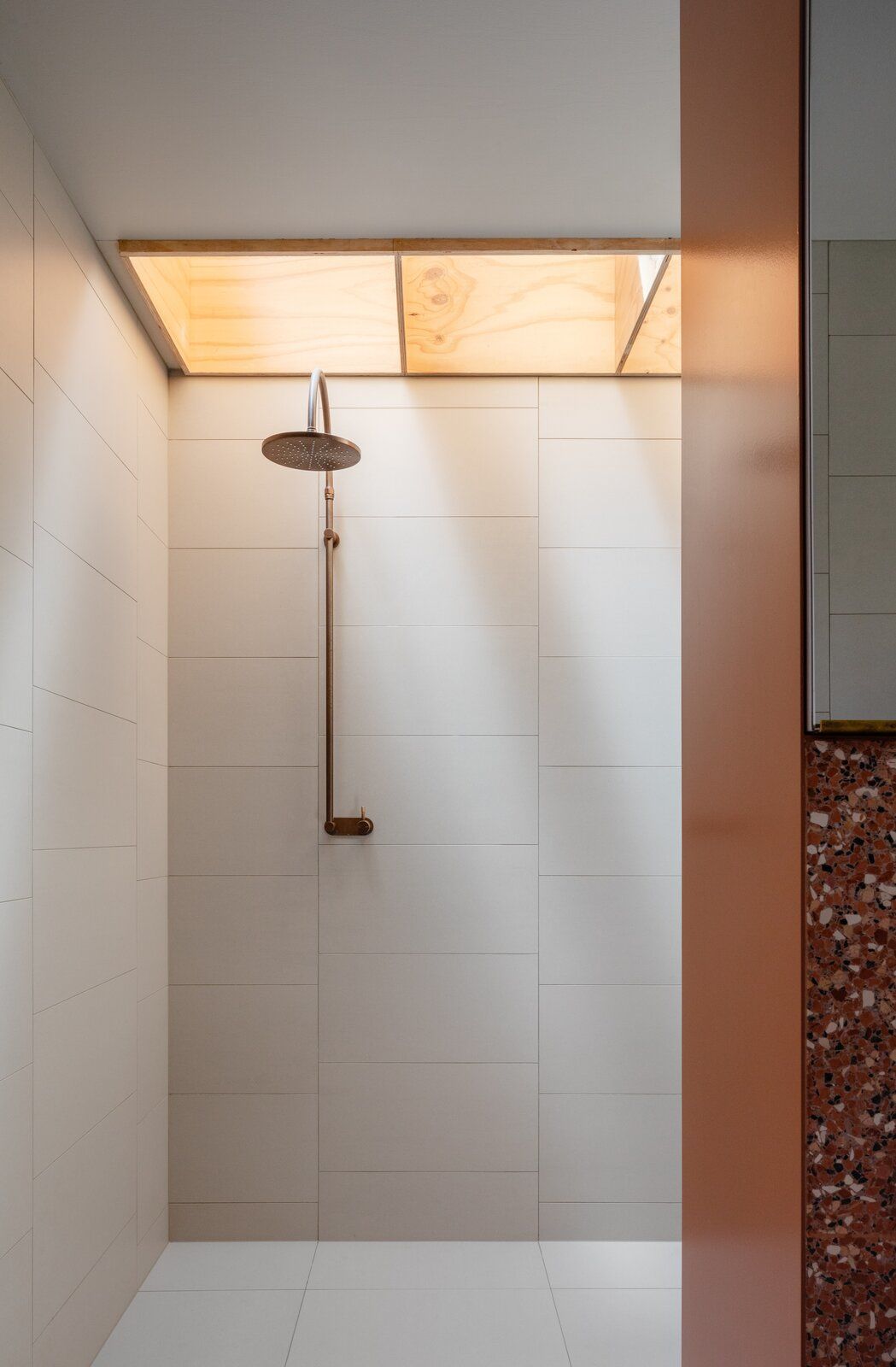 The bathroom features a skylight and rose-colored terrazzo.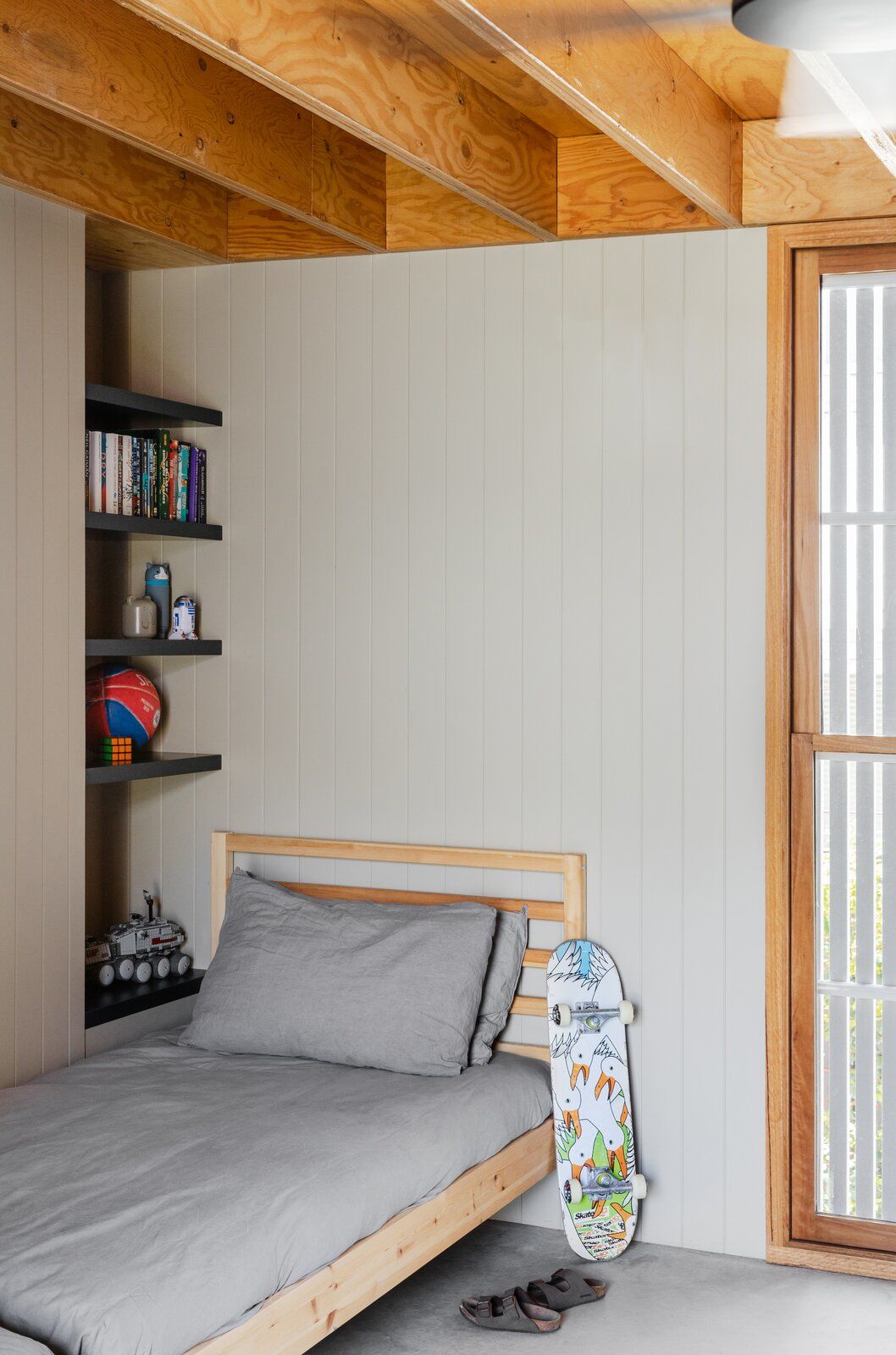 One of the kids' rooms features built-in shelving.

All in, the family-friendly design can host 12 people, "including lots of kids and dogs," says Hannah. The home's full-height doors create an indoor/outdoor connection between the garden, the living spaces, and the interior courtyard. It's also designed to be sturdy enough to accommodate the family's sporty leisure activities, and "to withstand the salt and sand," as Hannah puts it. "[We do] lots of swimming and paddle boarding and kayaking and walking in the bush."

By putting the home on a slab, Hannah has created a stepless design, allowing her to eventually age in place or accommodate guests with limited mobility. "This house is an attempt to achieve a high level of architectural and sustainable outcomes at a low cost," says Hannah. "It is an experiment in delivering a more thoughtful kit home."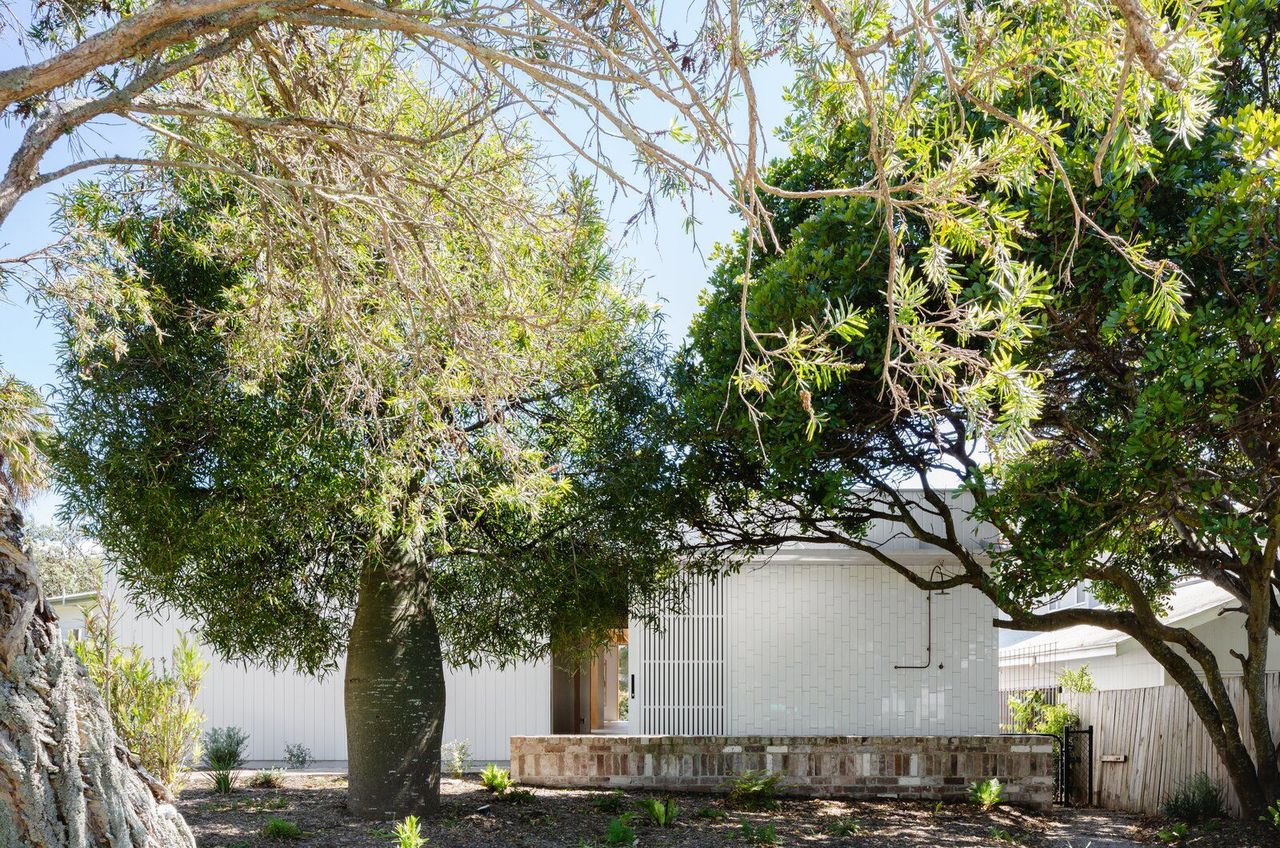 An external wall frames a beautiful existing Queensland bottle tree.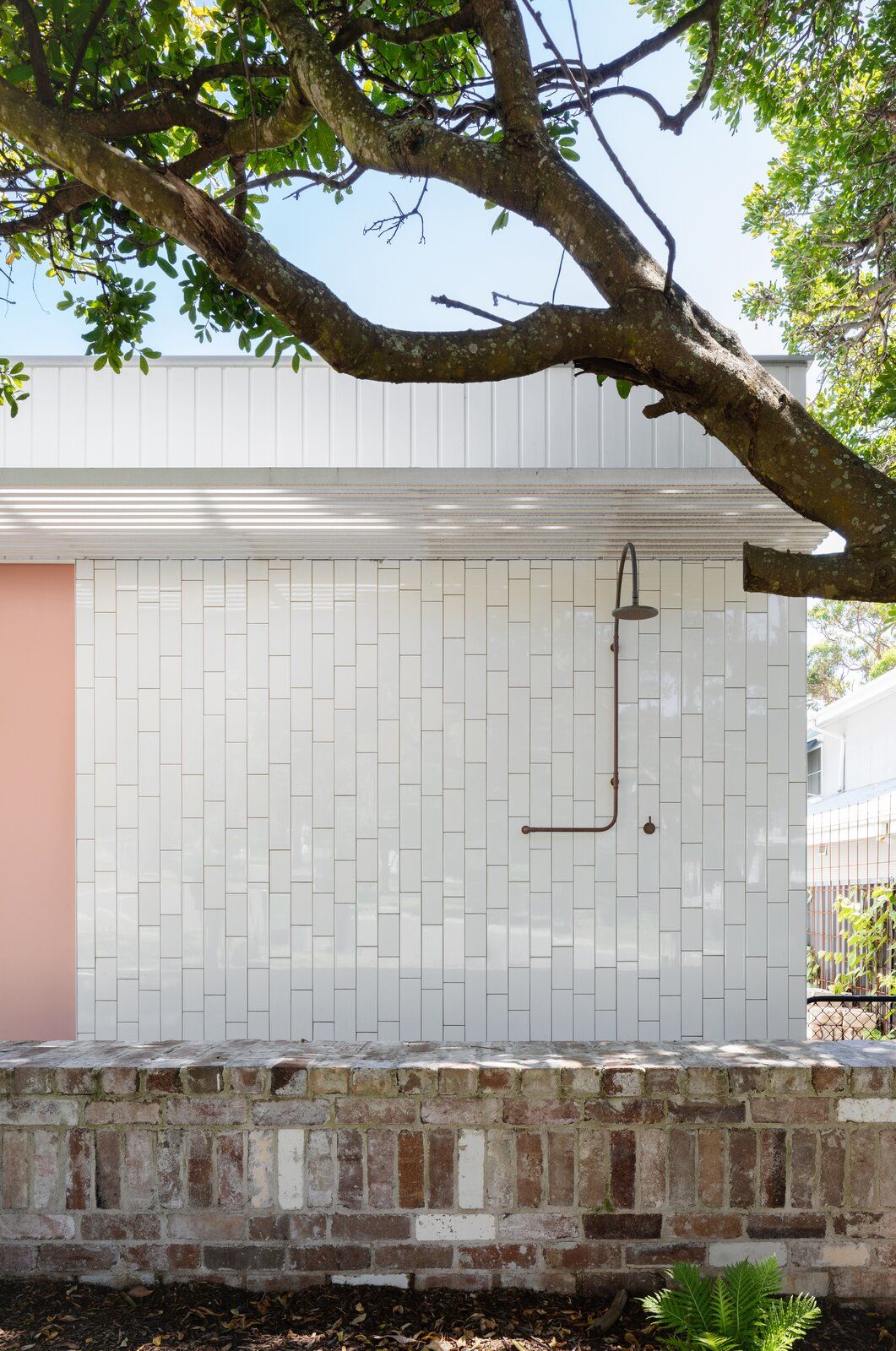 An outdoor shower allows everyone to rinse off alfresco after a long day at the beach.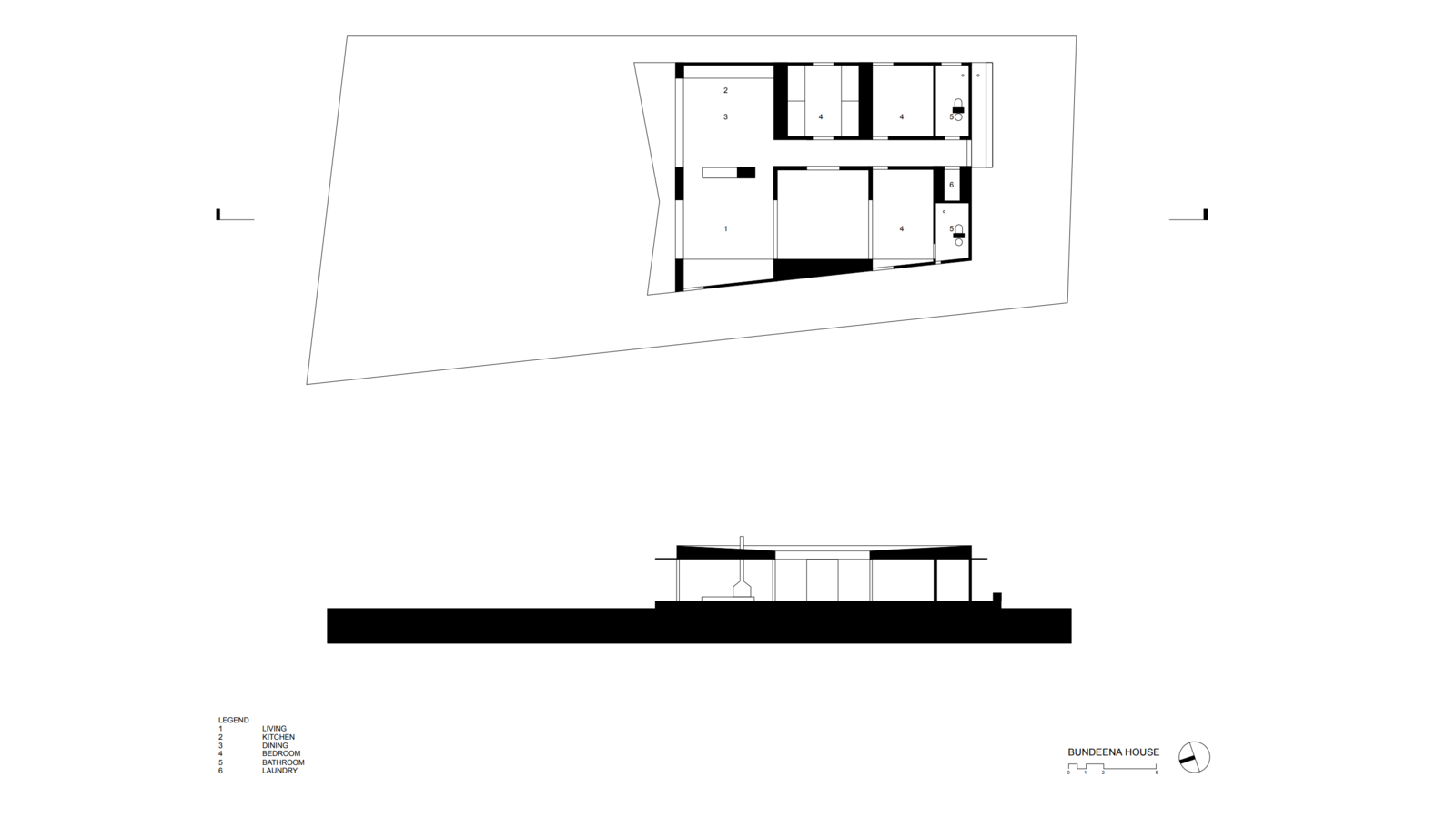 Bundeena House Floor Plan