If you've ever dreamed of escaping to a secluded corner of Iceland, the Aska Cabin may be of interest. Designed by architects Casper Berntsen and Aldís Gísladóttir of Studio Heima, the wood-clad structure is perched along the active geothermal pocket of Mývatn-a volcanic lake in northern Iceland.

According to Studio Heima, the Danish-Icelandic firm behind the project, the cabin's name was inspired by the idea of volcano ash and lava "lying like a blanket over the landscape."

"The cabin presents a landscape with surrounding lava formations, volcanoes, and hot springs," notes the Danish-Icelandic firm. The Aska Cabin-which derives its name from the Icelandic word for "ash"-is located on the site of a 300-year-old lava field in the Hlíð Ferðaþjónusta campground complex.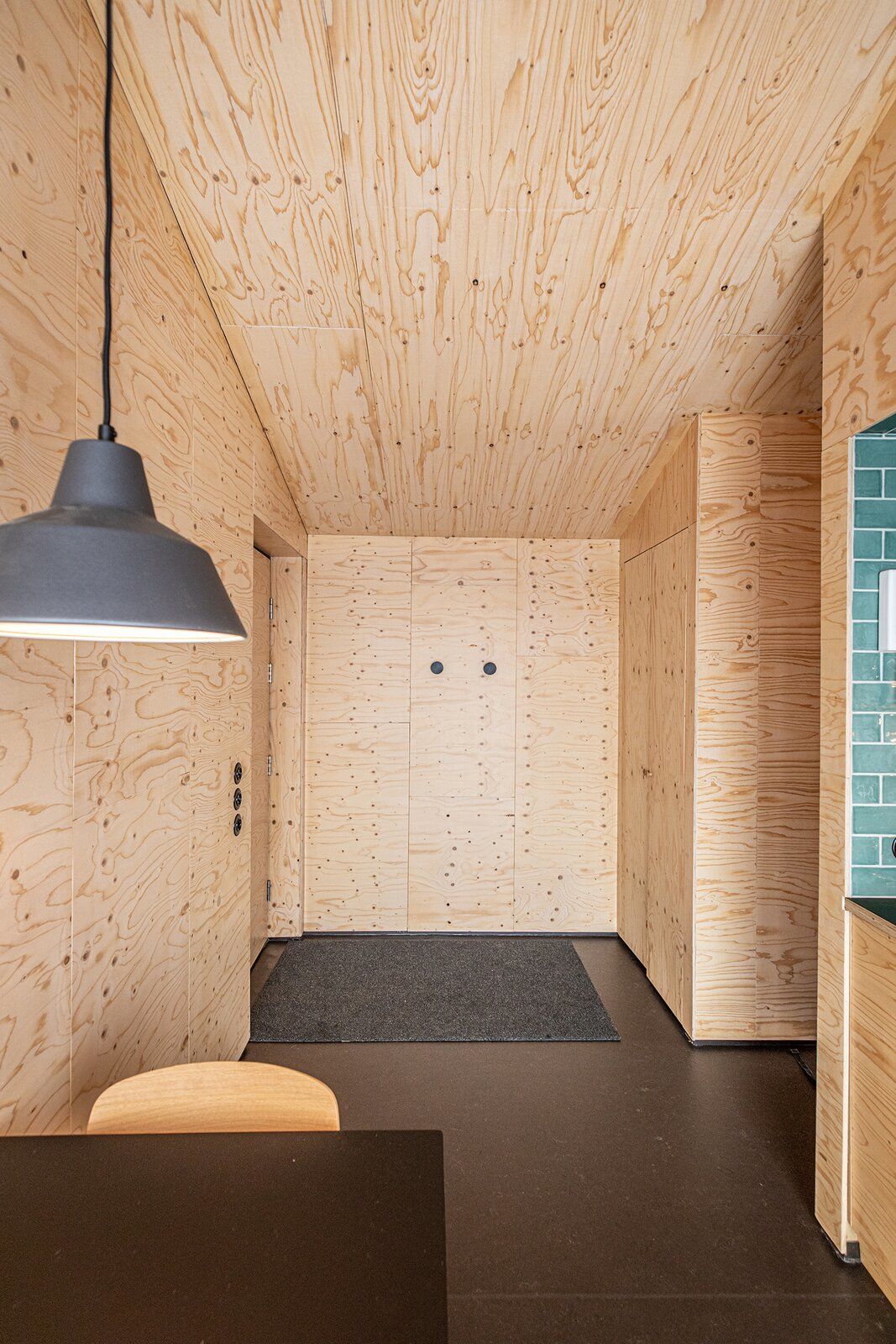 The cabin's light plywood interior offers a stark contrast to the dark cladding of the exterior.

To protect the 226-square-foot structure from extreme weather, the firm relied on charred-pine cladding made using the ancient Japanese method of shou sugi ban. "With this technique, we were able to create a sustainable and robust facade from entirely natural materials," the architects explain.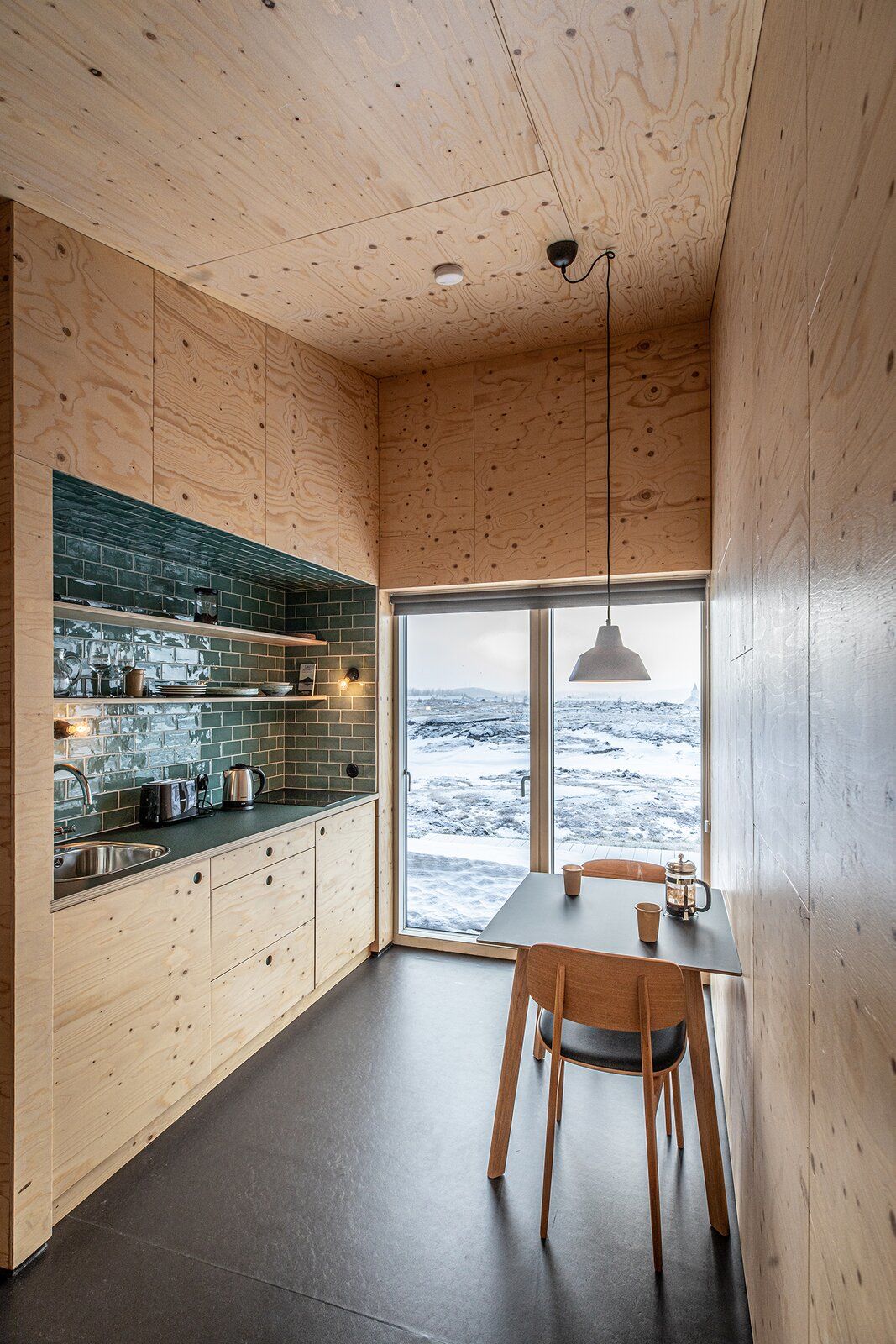 From the kitchen, a sliding glass door provides direct access to a large terrace.

Inside, the cabin reveals a warmer side. Light pine plywood wraps the ceilings and walls, while emerald tiles span the fully equipped kitchenette, adding a playful splash of color. Large picture windows usher ample natural light into the living spaces while framing captivating views of the surroundings, which include Mývatn and Hverfjall, a tuff ring volcano.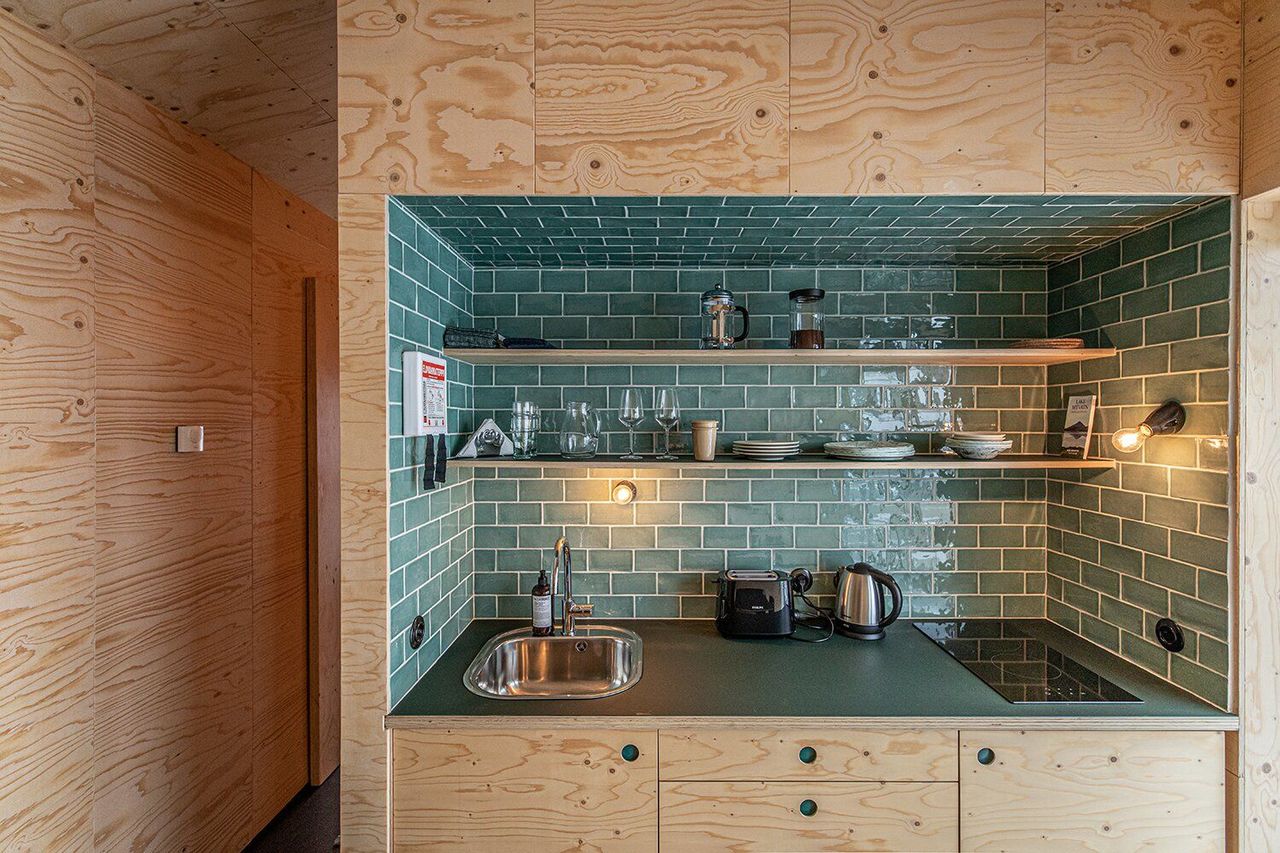 Bespoke details such as cut-out cabinetry knobs help to enhance the cabin's minimalist flair.

Although the cabin is small in size, the interior feels sufficiently spacious thanks to the high ceilings that are found throughout the structure. In addition to an open-plan kitchen and dining area, the cabin features a double bedroom, as well as a private bath.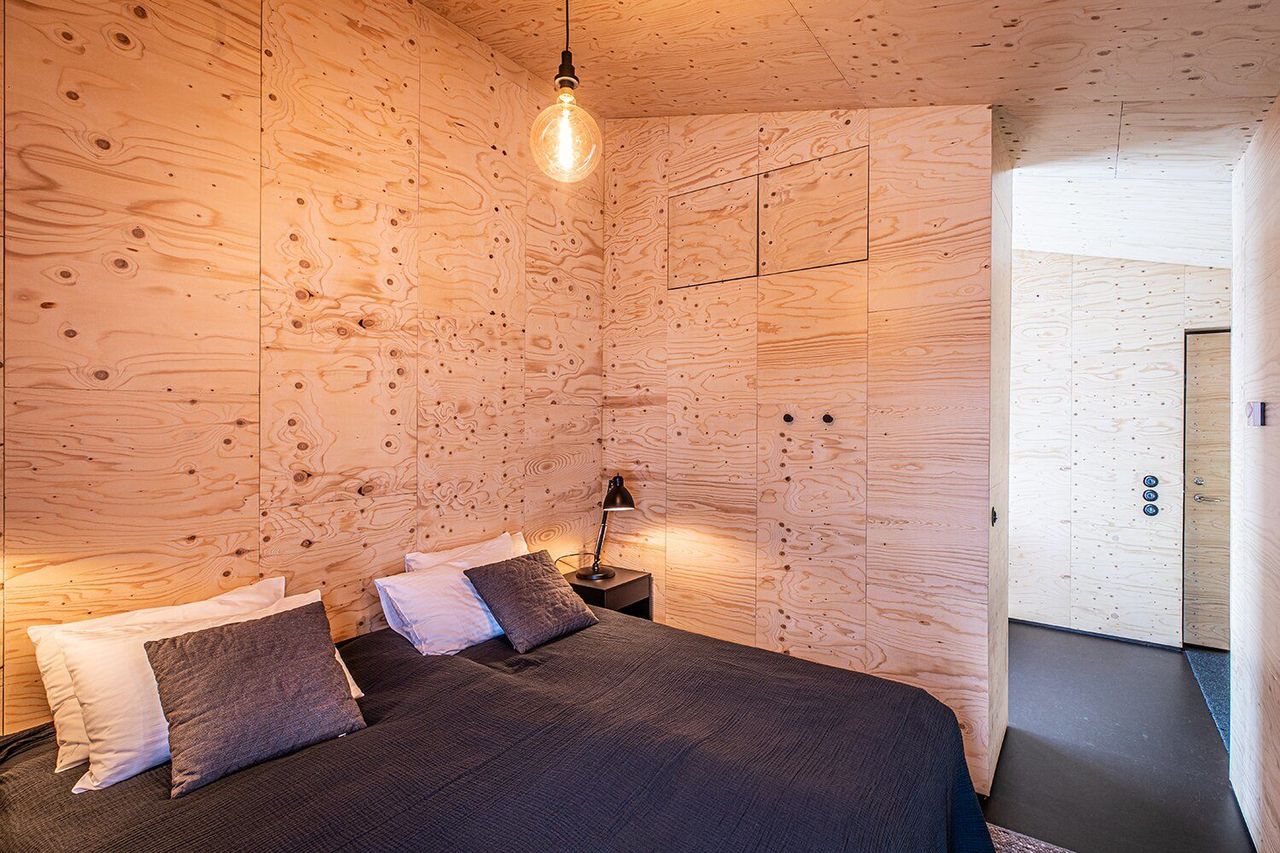 The double bedroom offers plenty of storage, including a custom-designed closet.

"Our goal was to enhance the spirit of the country's natural settings, while inserting an architectural piece into the landscape-offering a place to stay, sleep, and enjoy the environment," the architects say.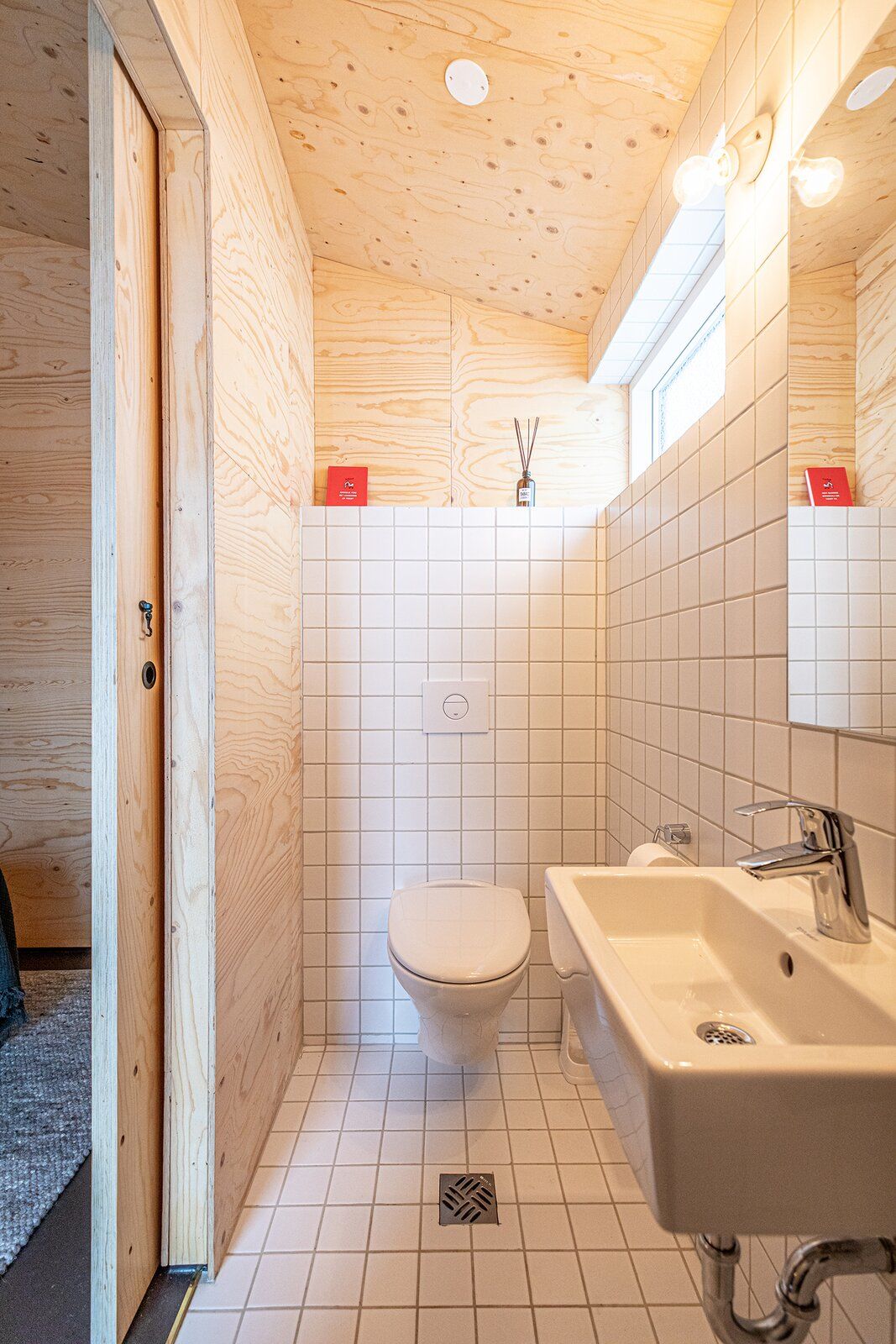 A sliding pocket door opens to the bathroom, which is complete with a large glass shower.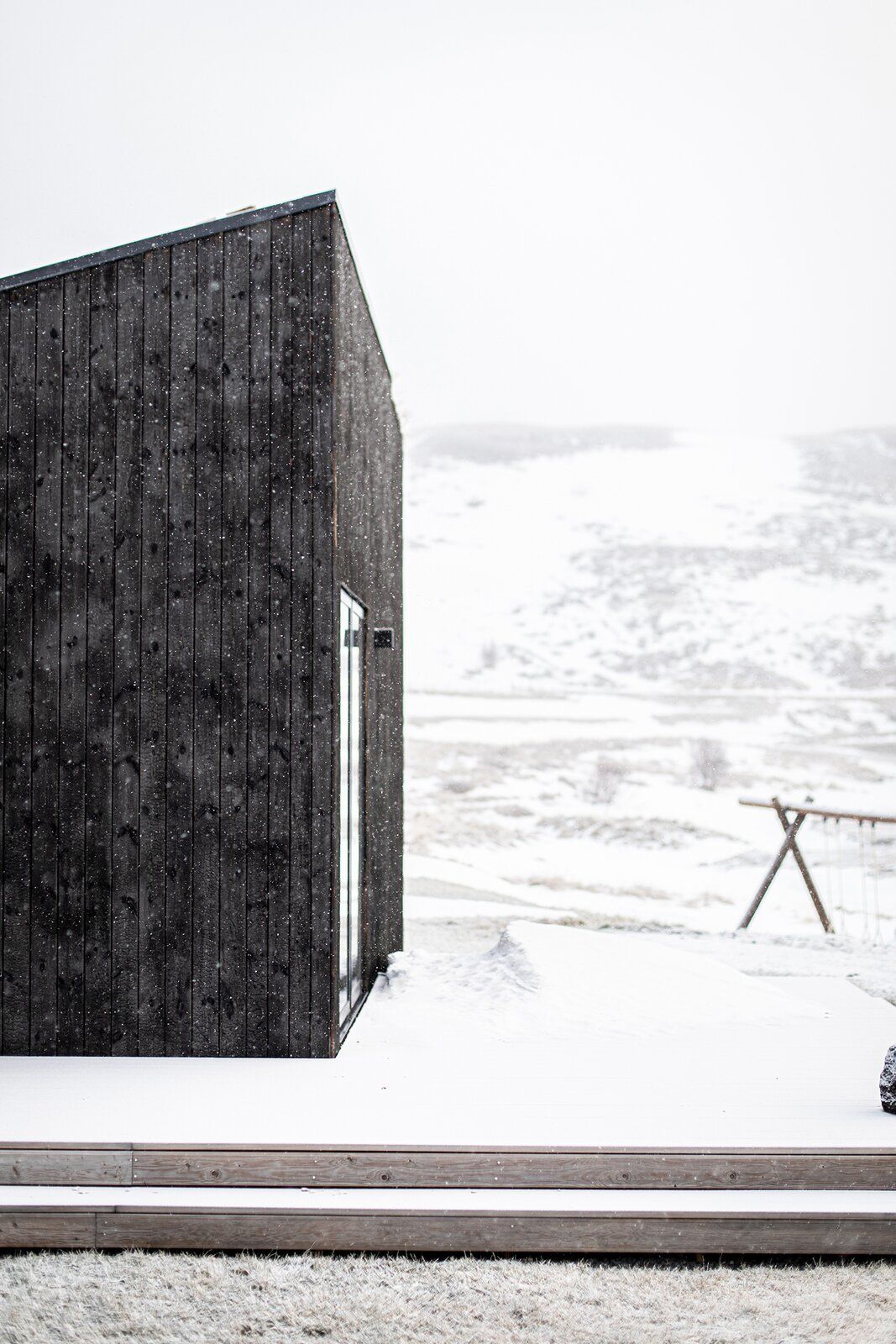 "The placement of the cabin was carefully chosen according to wind and snowfall in the area," the explain the architects. "This way, the entrance is accessible throughout the seasons and in various types of weather-even in heavy snowstorms."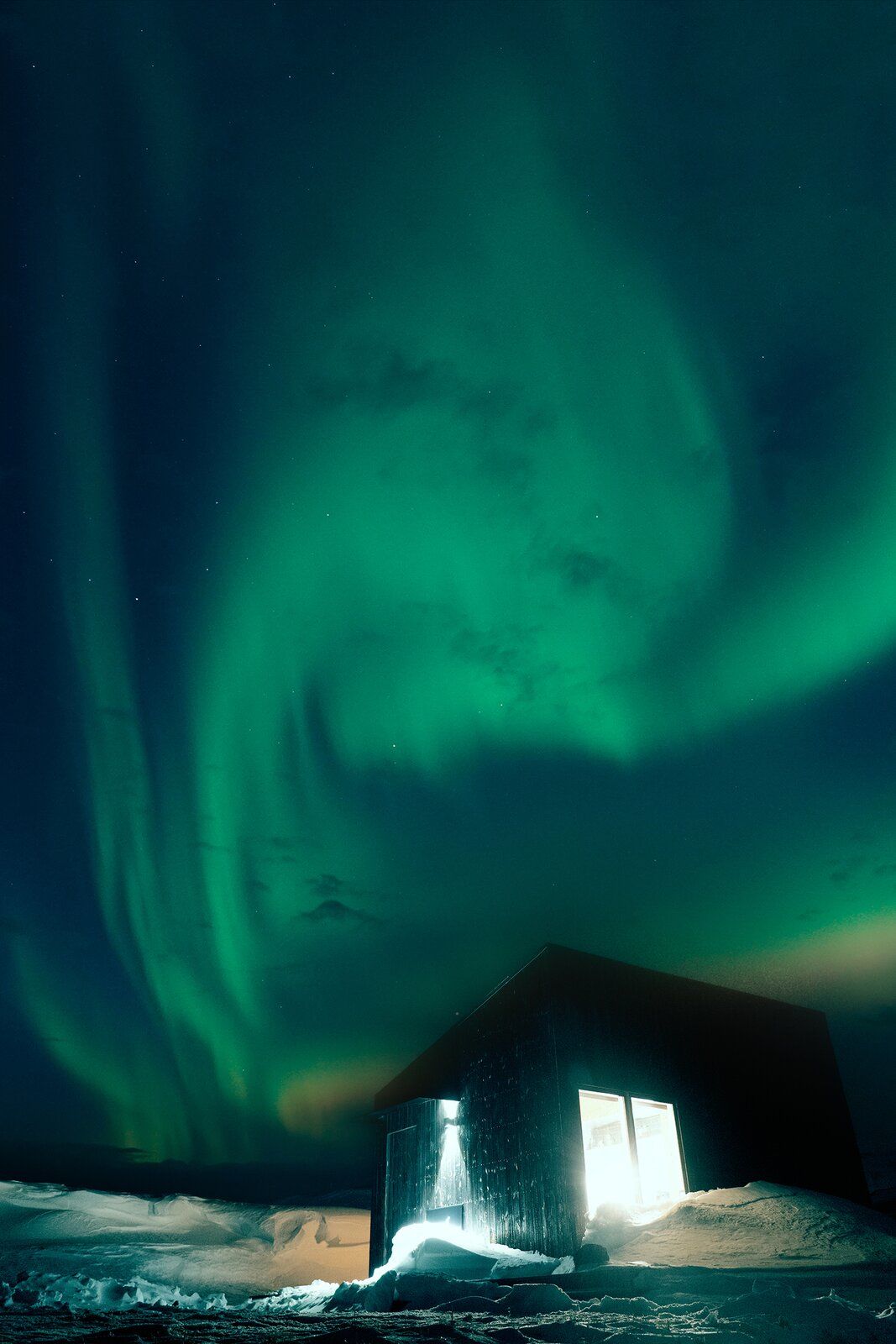 Depending on the time of year, the Aska Cabin can serve as an idyllic setting to enjoy the northern lights in Iceland.