While his contemporaries were still mostly stuck in neoclassicism, Frank Lloyd Wright was pioneering a clean-lined, "organic" style of architecture-characterized by simplicity of form, free-flowing interiors, and total affinity with setting-that ushered in modernism and remains as rapturously significant today as it was at the turn of the century.

Case in point: When fittings brand Brizo decided to expand its offerings with a new bath collection inspired by the natural world, the brand called upon who else but the Frank Lloyd Wright Foundation to collaborate. "Integrity of materials and harmony with nature are the core of Wright's design ethos," says Stuart Graff, president and CEO of the Frank Lloyd Wright Foundation.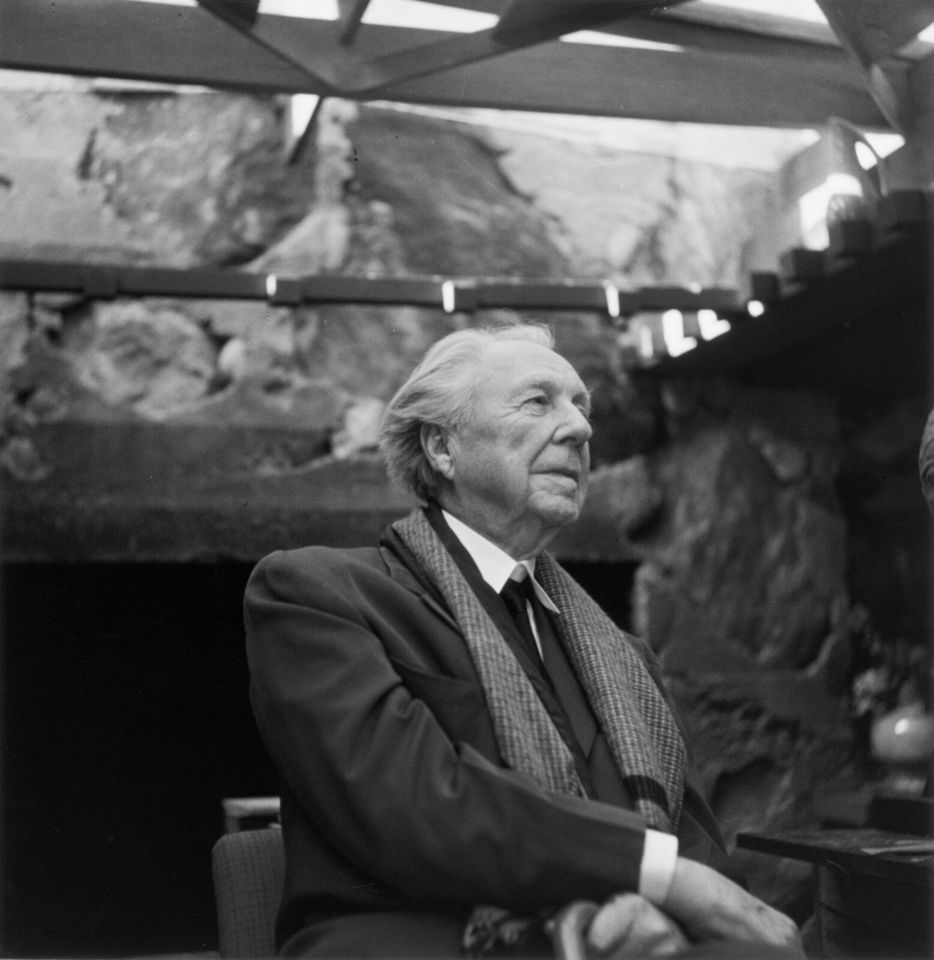 "Wright never rested on his past achievements," says Stuart Graff, President and CEO of the Frank Lloyd Wright Foundation. "He was always forward looking."

Brizo relied on the same philosophy to create its Wright-influenced faucets, tub fillers, shower components, and accessories, in which graceful lines and contrasting materials combine to make a statement by virtue of their simplicity. "Wright had a saying that went something like: 'One should strive for the elimination of the insignificant until only the significant remains,'" says Judd Lord, Senior Director of Industrial Design at Brizo. "We took the same approach."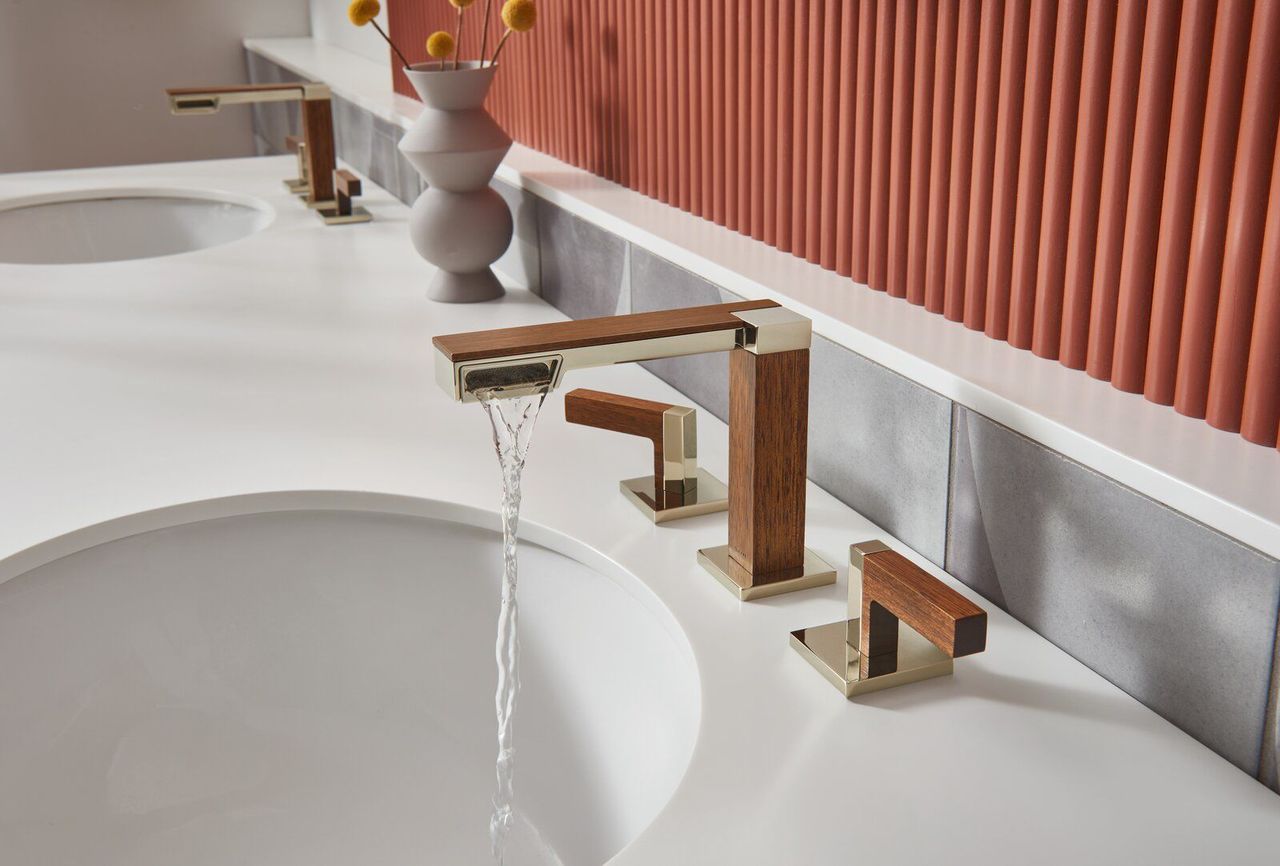 Judd Lord of Brizo says of the new collection, "Its clean lines and cantilevered cross sections make the pieces beautiful, even when not in use."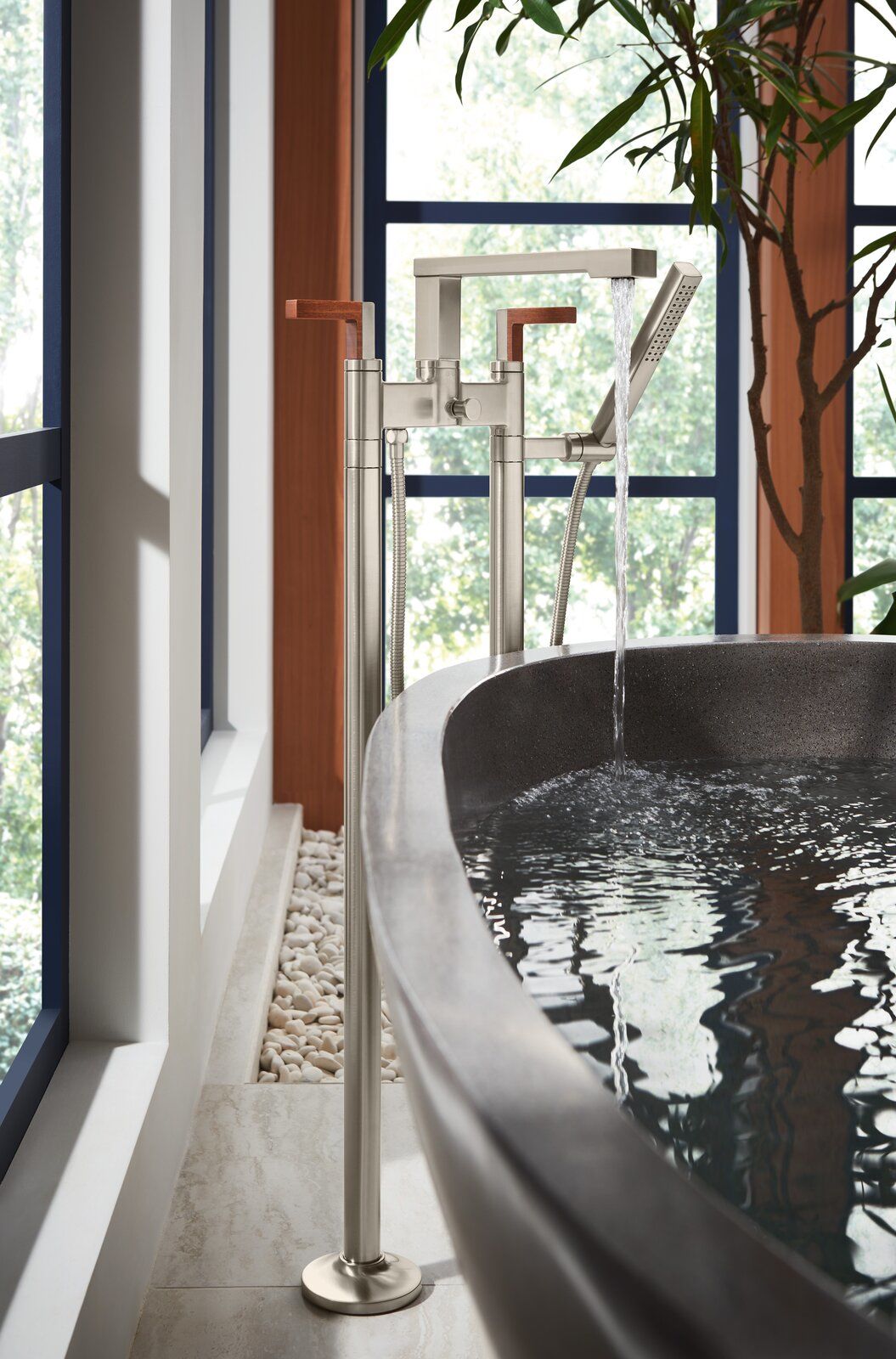 Wood details add warmth and texture to cool surfaces and "make for a welcoming, naturalistic palette," says Lord.

The Brizo team discovered in the Wright foundation a shared desire to distill the essence of the architect's aesthetic principles within a new medium and to reenvision the bath experience through that lens. The partners also connected over a mutual understanding that "achieving simplicity isn't always simple," says Lord. So, the creative team turned to Wright experts at the foundation's Taliesin West outpost in Scottsdale, Arizona, for inspiration.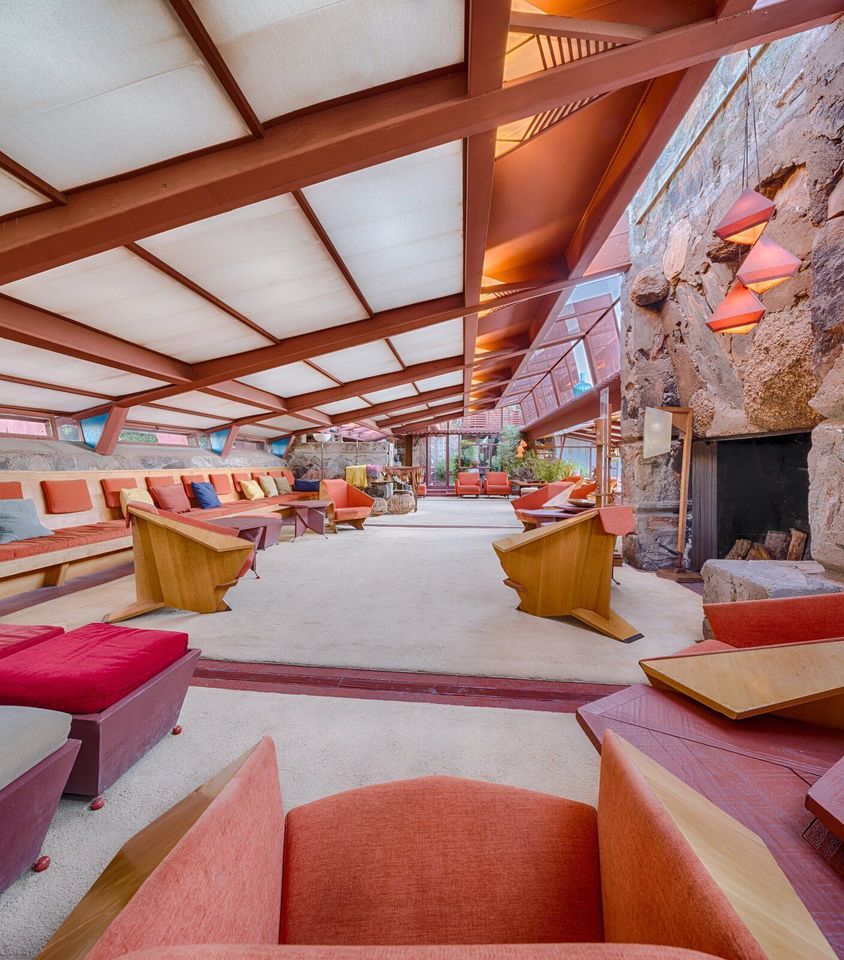 Taliesin West is a Frank Lloyd Wright masterpiece that showcases locally sourced materials, rich red hues, and thoughtful indoor/outdoor connections.

The architect's predilection for horizontal lines and natural materials helped focus everyone's thinking. This translated into the collection's emblematic faucet and tub spout-their descending, cantilevered shapes call to mind the graceful geometry of Wright's most recognized designs, such as the Sturges House in Los Angeles, which juts out from a hillside, or the low-pitched Fallingwater project, perched on a rocky ledge above river rapids in southwest Pennsylvania.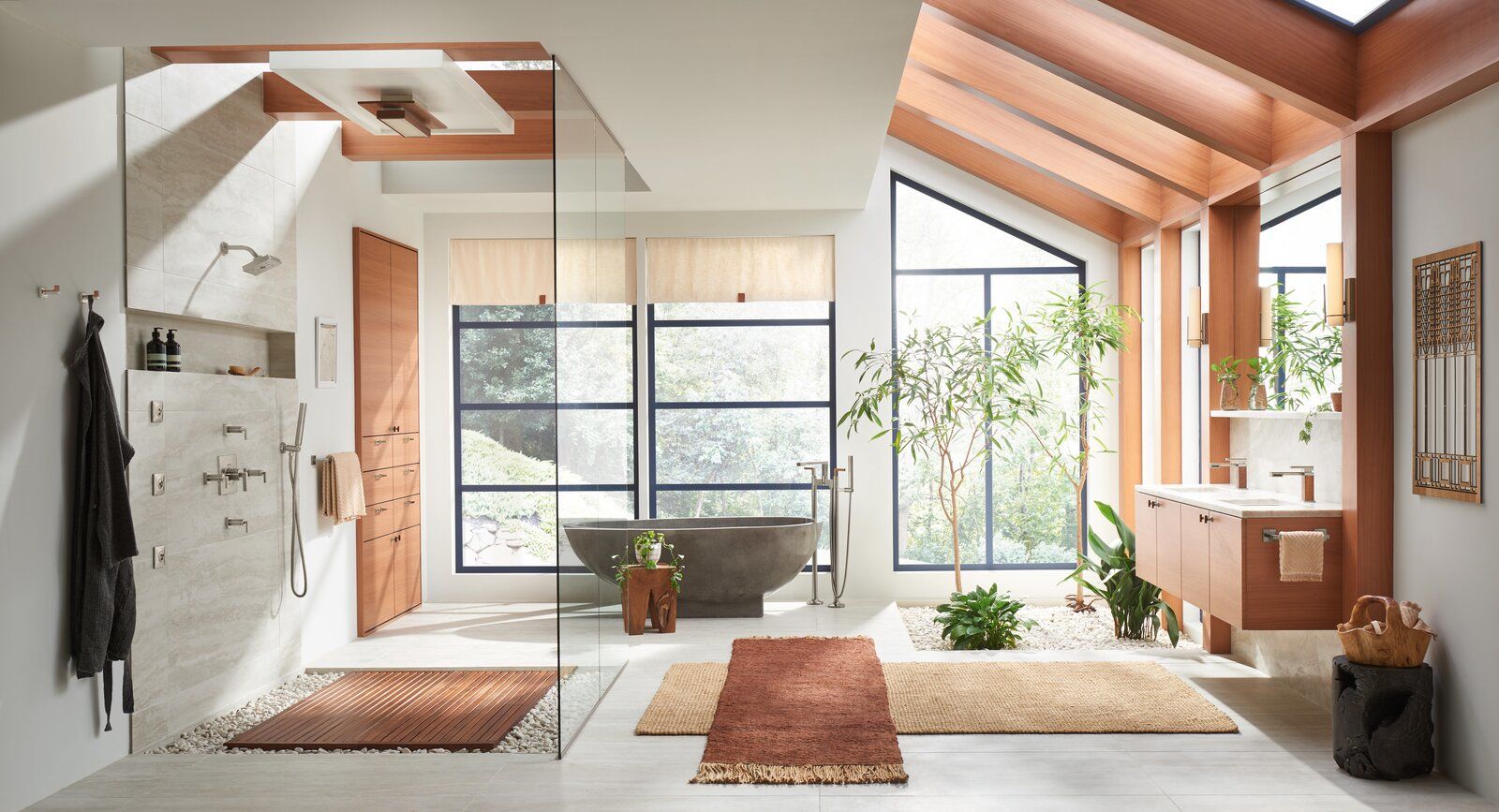 "Wright was a maverick, so we knew we didn't want to be anchored to the past," says Lord. "We asked ourselves how we might reenvision the future of the bath through his eyes."

"In nature, water rarely flows in a straight line," says Graff of what guided the Brizo team in engineering the uncommon flow pattern, which streams from the side of the faucet's asymmetrical spout. Another collection highlight is the pared-back, rainfall showerhead, which Graff says "looks like a Wright building all on its own."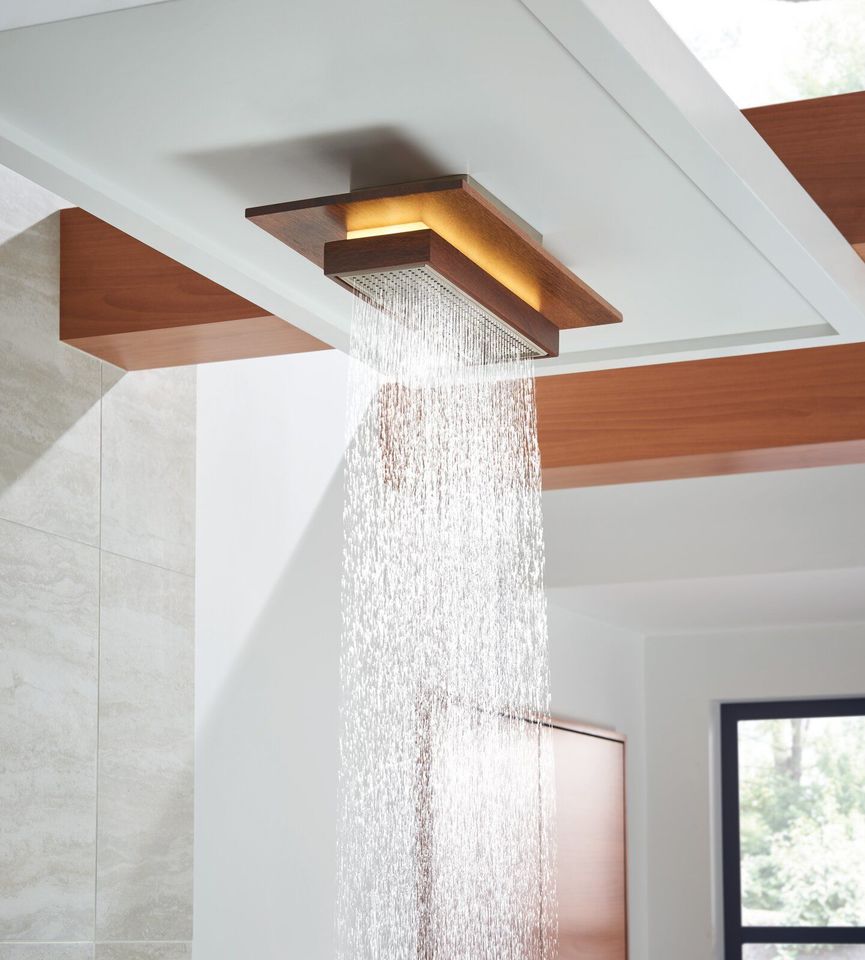 The collection's Raincan showerhead casts soft LED lighting.




The Brizo Frank Lloyd Wright collection is designed to enhance a nature-focused bath space with organic sensibility.

Allowing today's design professionals the opportunity to build on Wright's legacy, Graff notes, is a big focus at the foundation. "Wright saw in America an opportunity to throw off outdated thinking and respond to evolving lifestyles," he says, "so fostering new expressions of his philosophy today is much more important than merely replicating it."