They play around with different designs and different proportions and as with any DIY project, it's all customizable and adjustable.

DIY Rustic Farmhouse Style Coffee Table Projects
Chunky table with open storage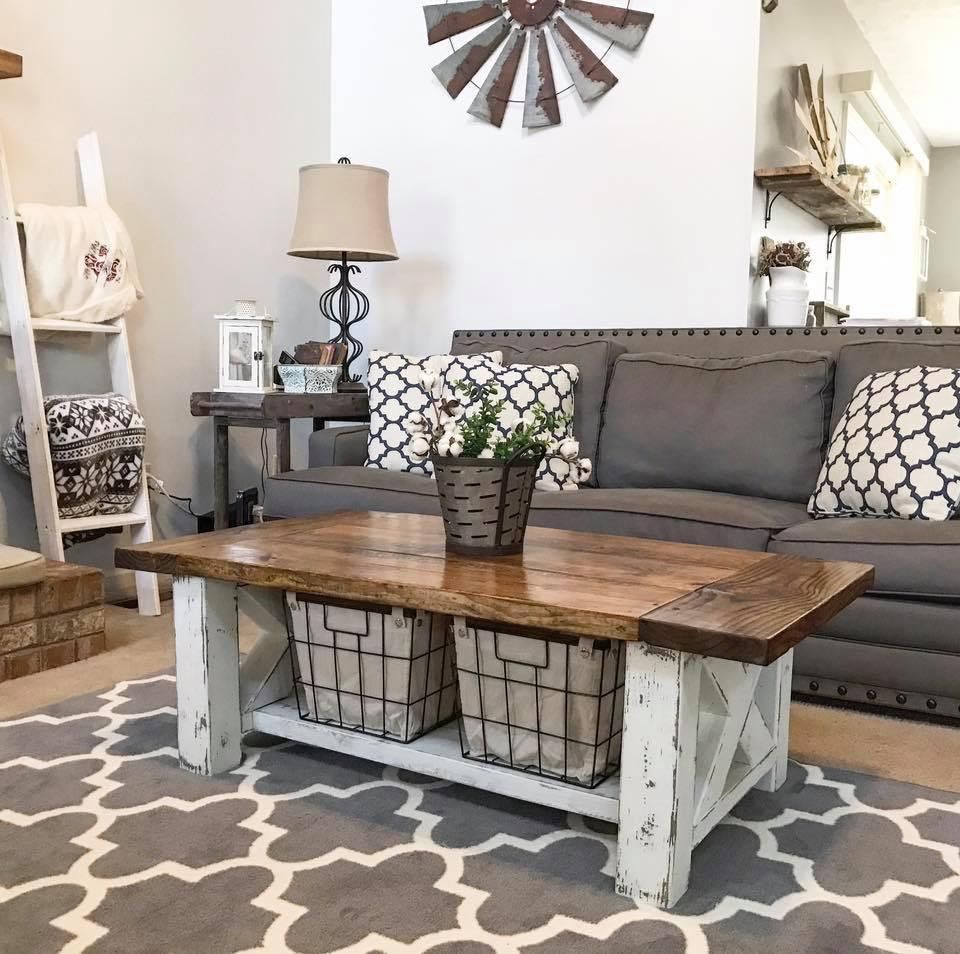 Farmhouse coffee tables are not really very sleek or slender. Instead they're rather chunky but that's definitely part of their charm and style. This particular design makes the most of it as you can see for yourself. The first step of the project is to build the sides of the base which include these decorative X boards that add detail to the whole piece.

Once the sides are done you can go ahead and connect them by adding the bottom shelf after which it's time to assemble and install the top, completing the structure of the table. At the very end you can work on that lovely distressed finish featured on handmade-haven.

A rustic sofa table with plenty of shelf storage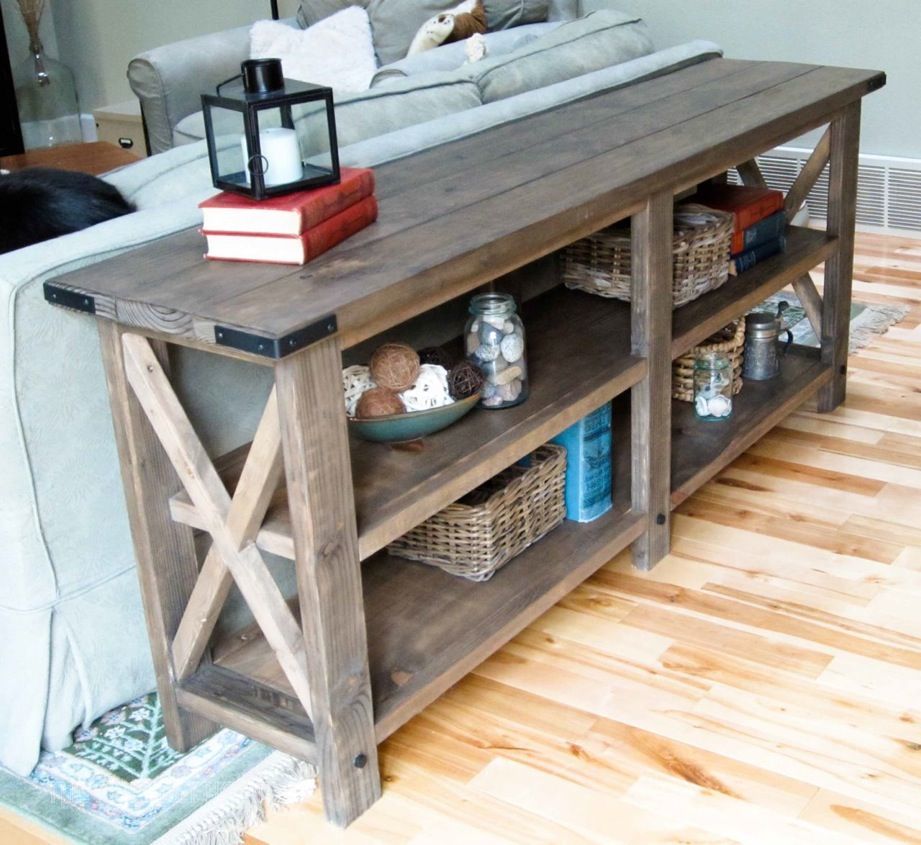 Something else that you can add to your living room is a sofa table. It's a separate piece different from the typical coffee table and it's designed to sit behind the sofa or the couch. They're a nice way to add some extra storage to the room or to break up the layout by creating a border and to add texture to the decor. At the same time, the table can act as a space divider. There are lots of nice farmhouse-style designs to choose from and quite a few that are both eye-catching and budget-friendly. You can find lots of inspiration in these examples from thecottagemarket.

A simple wooden table with charming imperfections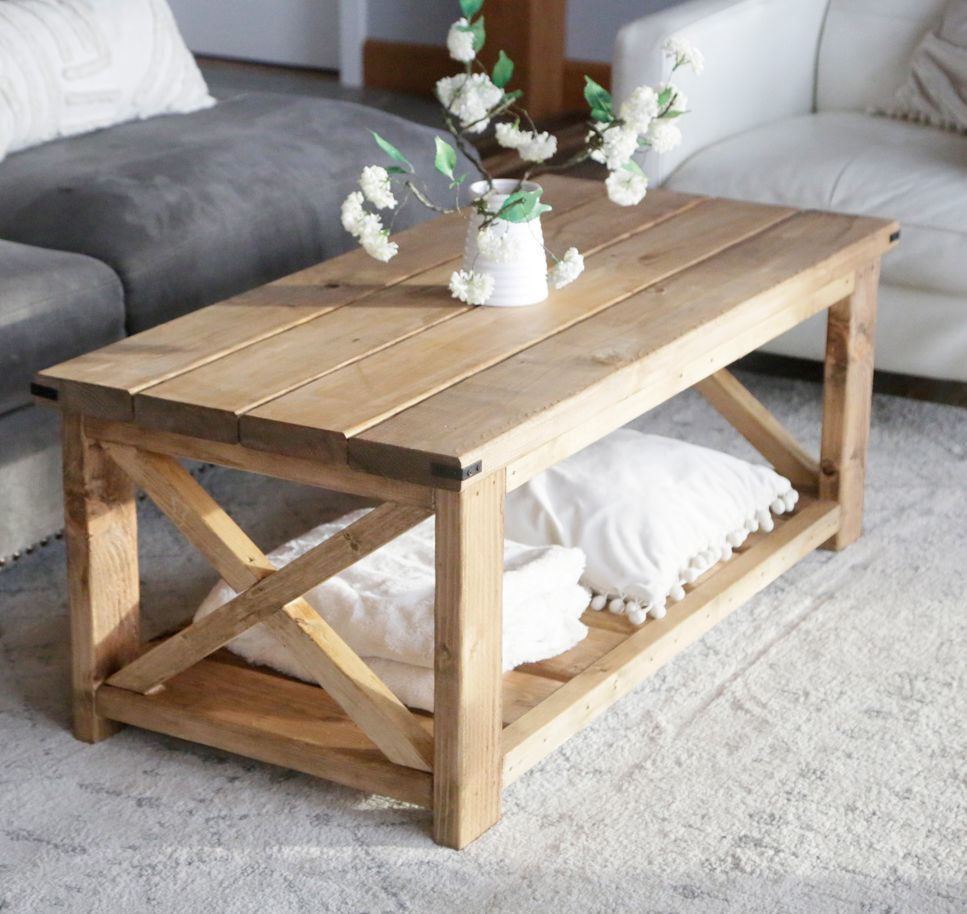 Farmhouse coffee tables don't have to look perfect. In fact, imperfections make it look authentic and add extra charm to the design. This particular project from ana-white is a really nice example. This is a solid wood table with a simple and rustic design and versatile proportions.

It has a very handy bottom shelf where you can store extra blankets, books, magazines and other things and a natural finish. At the same time, the table is easy and cheap to build which makes it a great DIY project even for a beginner.

Farmhouse table with a cozy rustic vibe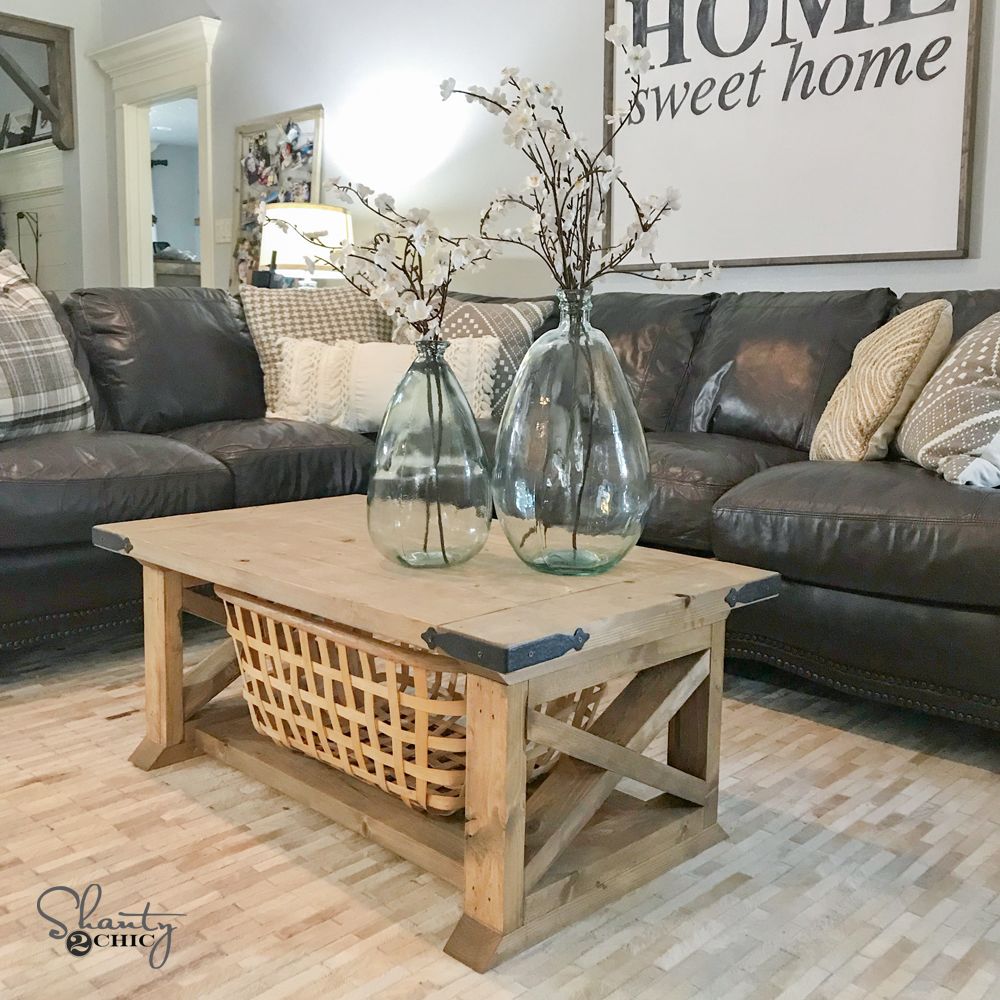 A lot of farmhouse tables have this X base design so you could consider this a defining feature for this particular style. On that note, there's another interesting project that we want to share with you and it's featured on shanty-2-chic. We really like the angles in this design and the fact that although it looks rustic the table also has clean lines usually associated with modern furniture.

Square coffee table with four pillar legs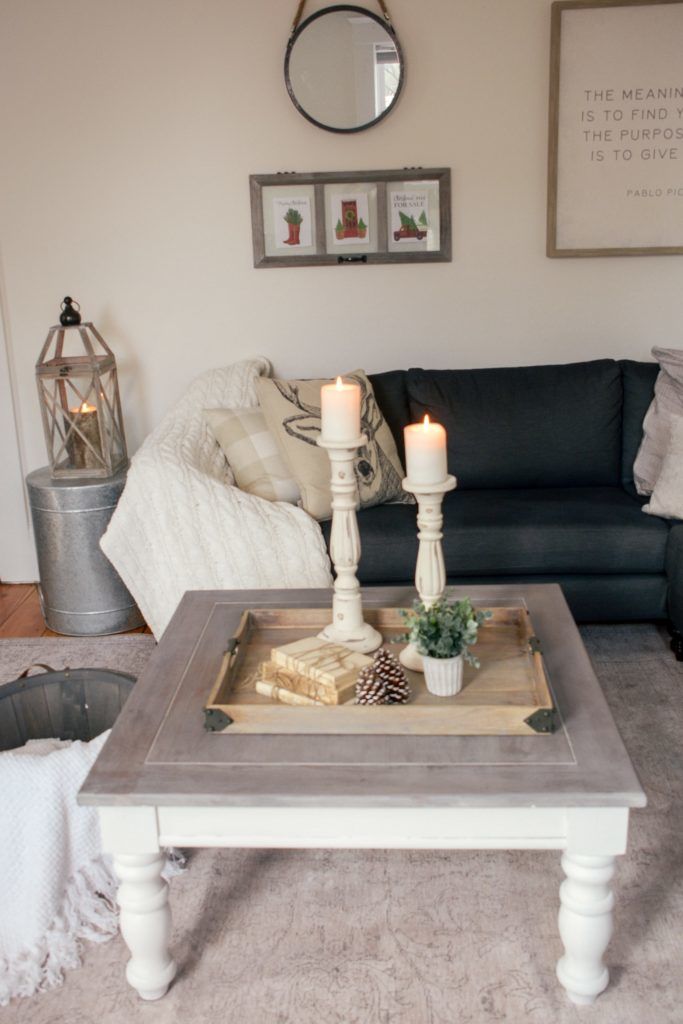 Instead of the X-board design, this farmhouse coffee table makes use of a different but just as lovely and charming look. The project featured on chasingdaisiesblog doesn't include a tutorial on how to build this table from scratch but is actually a makeover project showing the transformation of this used but otherwise beautiful piece of furniture. After some sanding and staining, it got a whole new look.

A stylish two-tone table design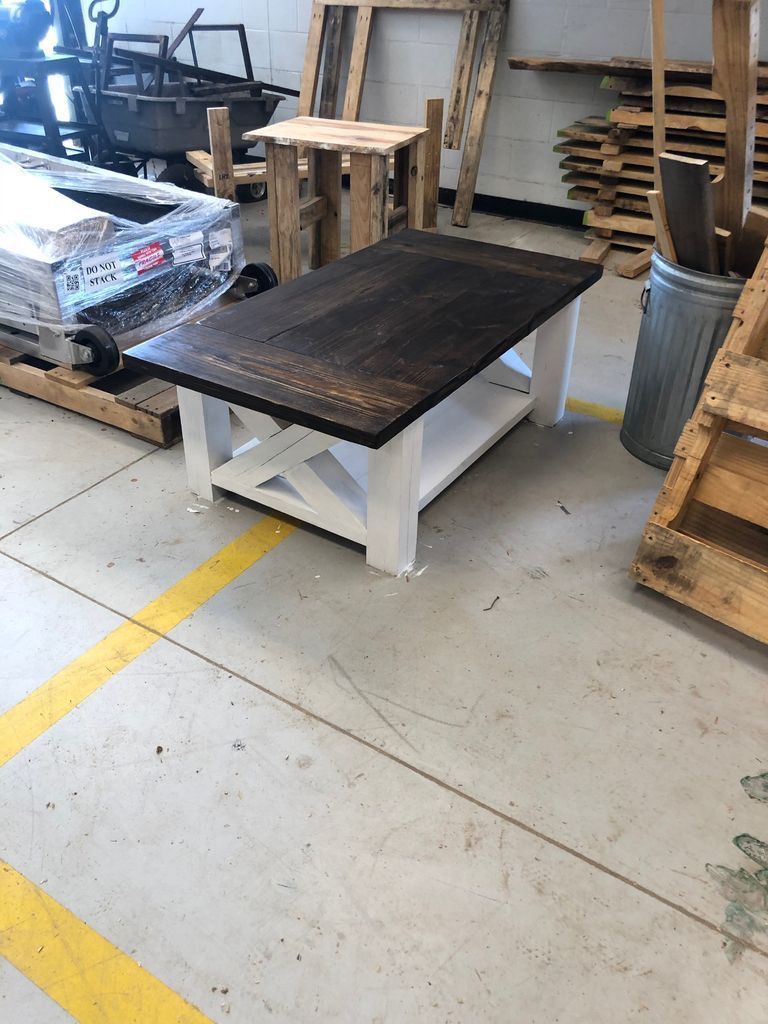 There's something about the solid and chunky designs of farmhouse coffee tables that makes them really enjoyable and easy to live with. That's actually typical of rustic furniture pieces in general. If you follow this tutorial from instructables you can see exactly how the entire building and designing process goes and how the table is assembled piece by piece until it's all done and ready to be stained and painted.

Decorative coffee table top with herringbone pattern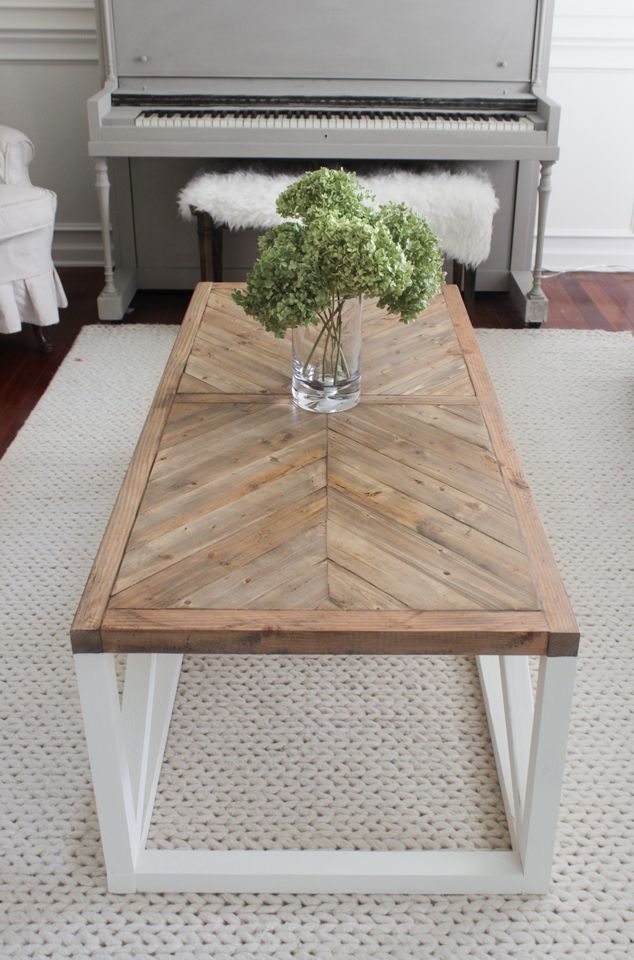 An interesting idea is to try and mix a few styles and create something eclectic. A perfect example in this sense is a project that we found on shadesofblueinteriors. It shows how you can make a modern farmhouse coffee table with a really nice herringbone pattern on the top. The design is, as you can see, less chunky than most of the other ones on this list. That allows the table to look more lightweight and more modern.

Small farmhouse table with X boards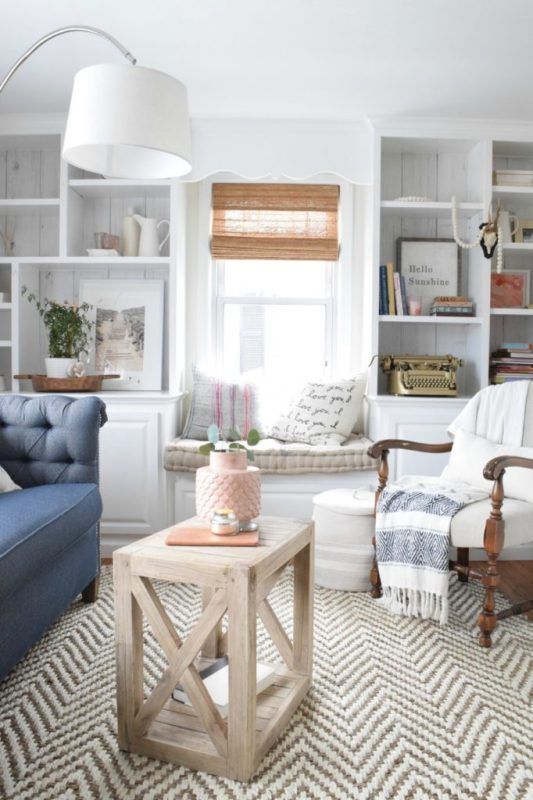 You can also make a really nice farmhouse coffee table that's smaller than your typical one, in case you're short on space or if you also want to use it as a side table or an accent piece. Like a lot of other designs, this one includes a storage shelf at the bottom which you can also use for display purposes.

It also has these X board details on the sides that give it more texture and more character. If you want to find out more details about this simple build you can check out remodelaholic.

Coffee table with wood pillars and an open bottom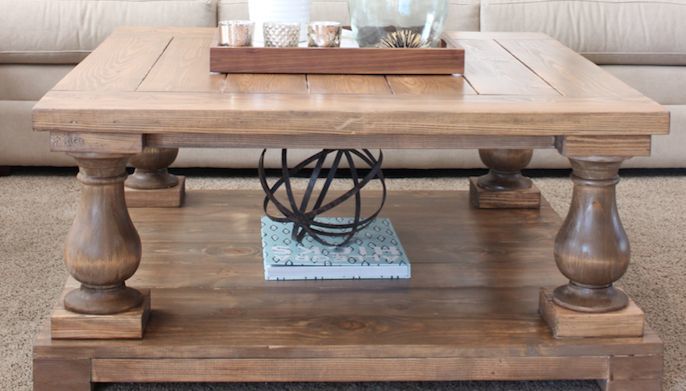 Wood pillars can make really cool legs for a farmhouse coffee table which is a nice design strategy if you don't want to go with any of the other more common or typical designs. You can still include the practical storage shelf at the bottom and it would actually connect the posts in a natural way. You can also raise the base just a tiny bit as shown on itsagrandvillelife just to make the table look a bit more lightweight.

Farmhouse-style bedside table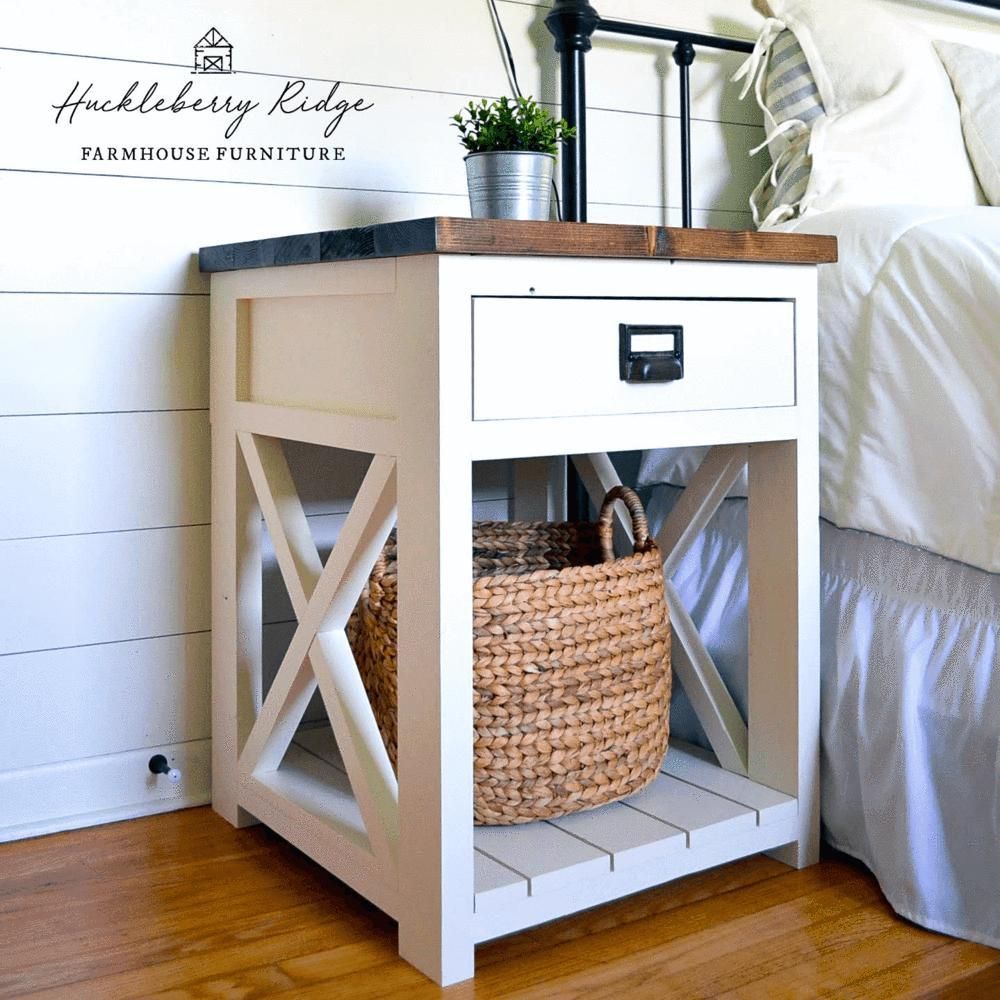 It's not just coffee tables that look extra cozy and charming in a farmhouse style but all sorts of other furniture pieces as well. For example, this is a lovely farmhouse side table which can also serve as a night stand. It's fairly easy to build and doesn't use a lot of resources plus it looks really chic and stylish and lots lots of details for such a small piece.

You can customize it with with cool-looking drawer pulls of knobs and you can also try a combination of painted and stained wood for a bit of contrast. Check out handmade-haven for more details.

10 Farmhouse Coffee Tables Available on The Market
Coffee table with small drawers and an open shelf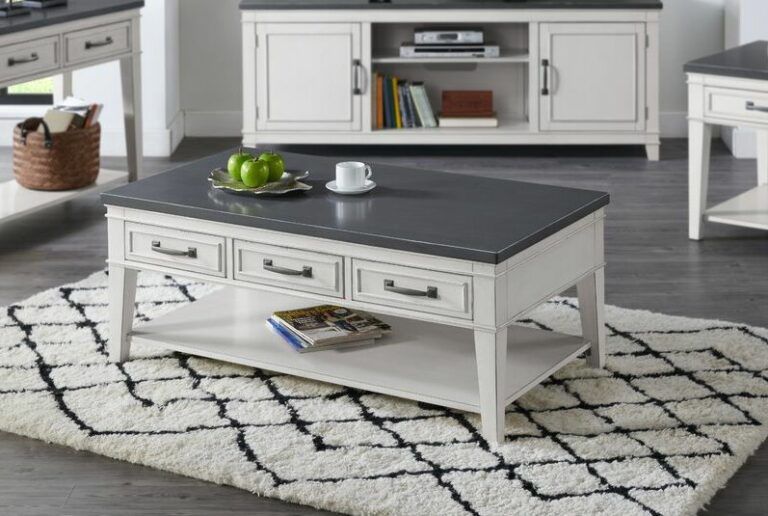 Having some sort of storage integrated into the coffee table is very convenient. The Carnes table offers two distinct options. It has a large open shelf at the bottom which can hold books, magazines and a variety of other items and it also has three small drawers at the top for various personal items and so on. As a whole, the table is simple and beautiful and has a farmhouse-inspired design with a casual coastal allure.

An elegant design made of solid wood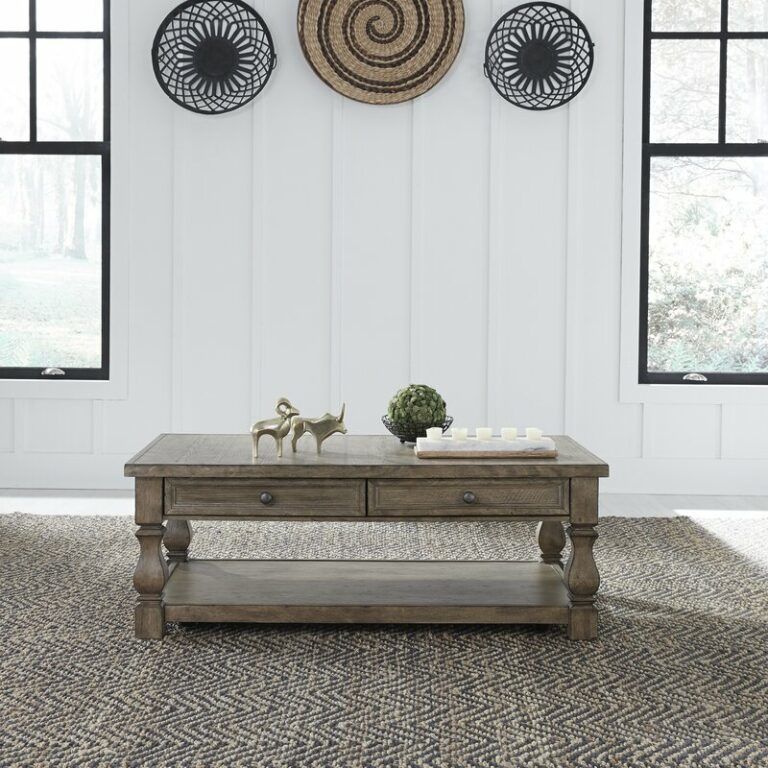 The design of the Kilinowski coffee table is both elegant and casual, featuring a mix of farmhouse and classic accents. It's made of solid and manufactured wood and has a beautiful and rich finish that gives it a very solid look. The legs are beautifully carved and have a graceful silhouette. The table also has two storage drawers which are excellent for hiding remotes and various other items and keeping them accessible yet out of the way.

Coffee table with tiny sliding barn doors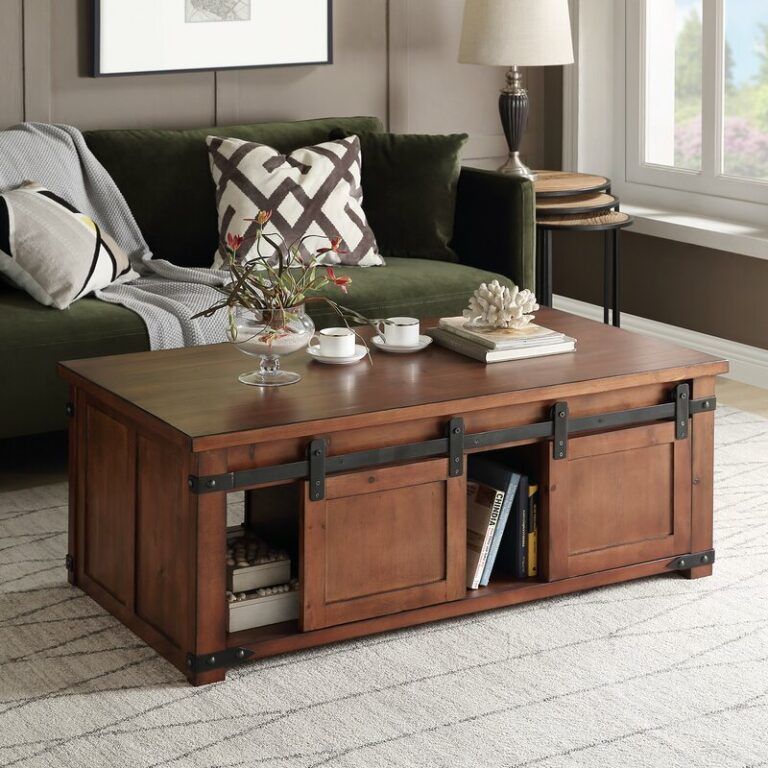 Seeing a table with sliding barn doors on it is quite uncommon. However, they do make a lot of sense in the context of a rustic or farmhouse-inspired design such as this one. The Rosa table is made of solid wood and has a rectangular shape. It provides generous storage space inside which can be easily accessed by sliding the doors open and positioning them in a way that is most convenient.

Oval table with a sculptural base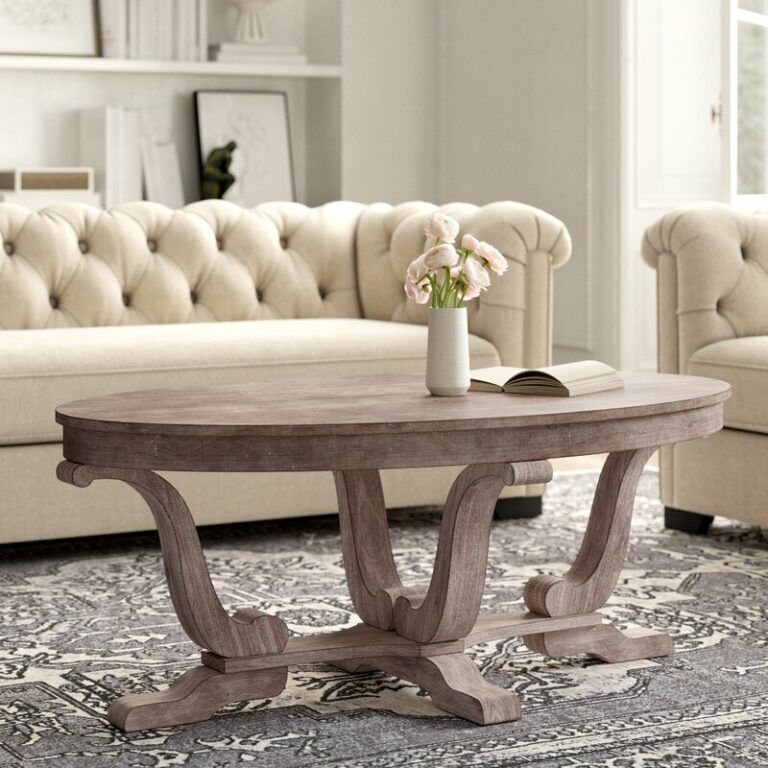 Oval tables, in general, are not very common which makes this one really special. On top of that, it also has a very beautiful and graceful design. The Adagio table is both a functional piece of furniture and a sculptural and beautiful focal point. It's crafted from solid pine wood and has an elegant whitewash finish with distressed accents for a retro look. The top is supported by a series of curved legs which connect at the center.

A mix of interesting geometric shapes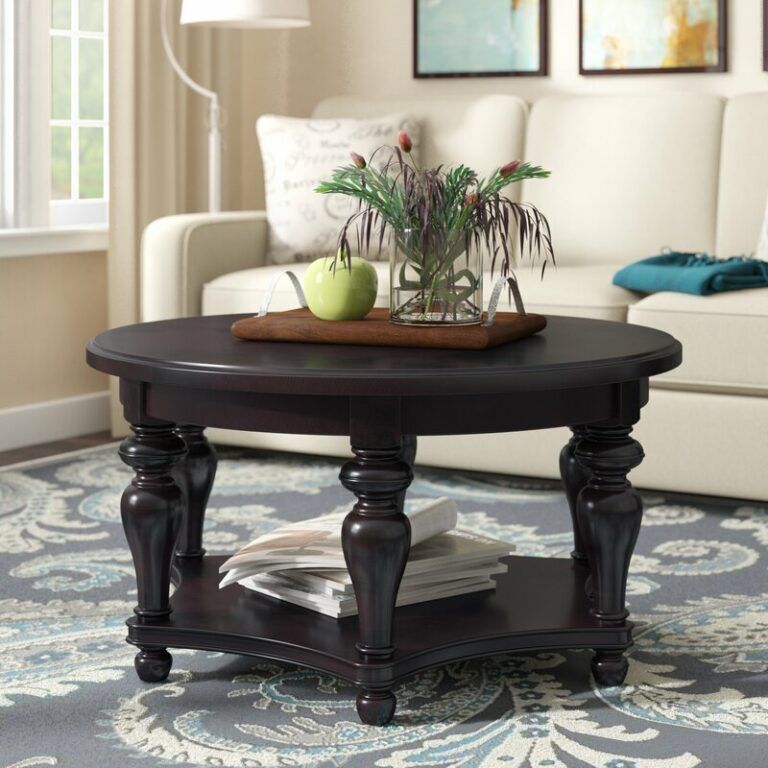 The Westerberg coffee table has an interesting geometry. It's made from a combination of solid and manufactured wood and has a round top supported by a total of six turned legs. There's also a shelf at the bottom which connects all the legs and offers storage for books, magazines, remotes and other similar things. You can expect this table to look great in a traditional living room but also in areas with a rustic or farmhouse décor.
A lightweight-looking farmhouse coffee table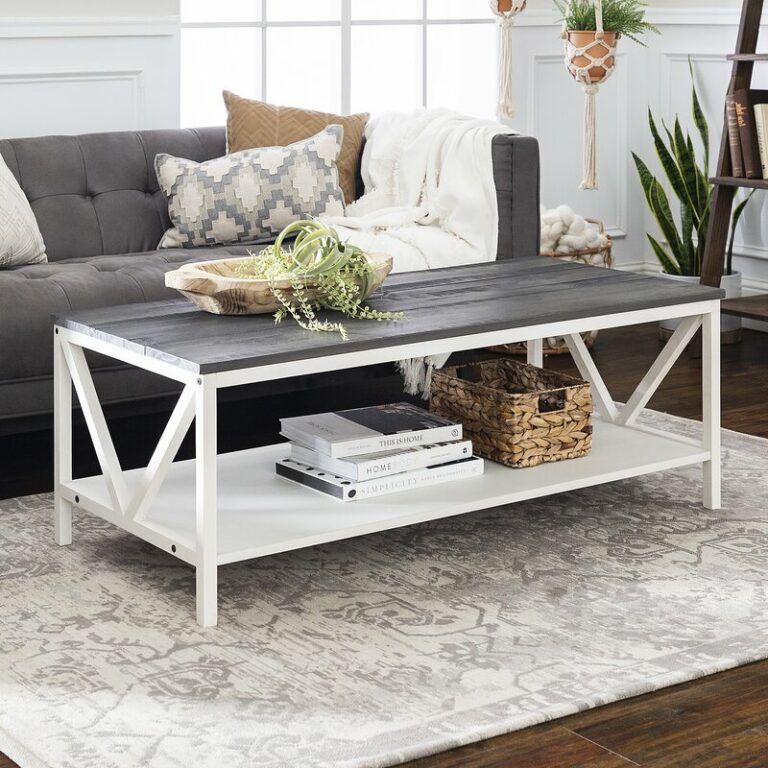 A lot of coffee tables are quite solid and bulky but that's not really the case here. The Nadell table has a slender look and a lightweight vibe even though it's not particularly small in size. It has a rectangular shape with a flat top and a generous bottom shelf for storage. The frame is slender and there's also a nice variation on the colors and finishes used for the top and the rest of the table.

Slender table with a distressed wood finish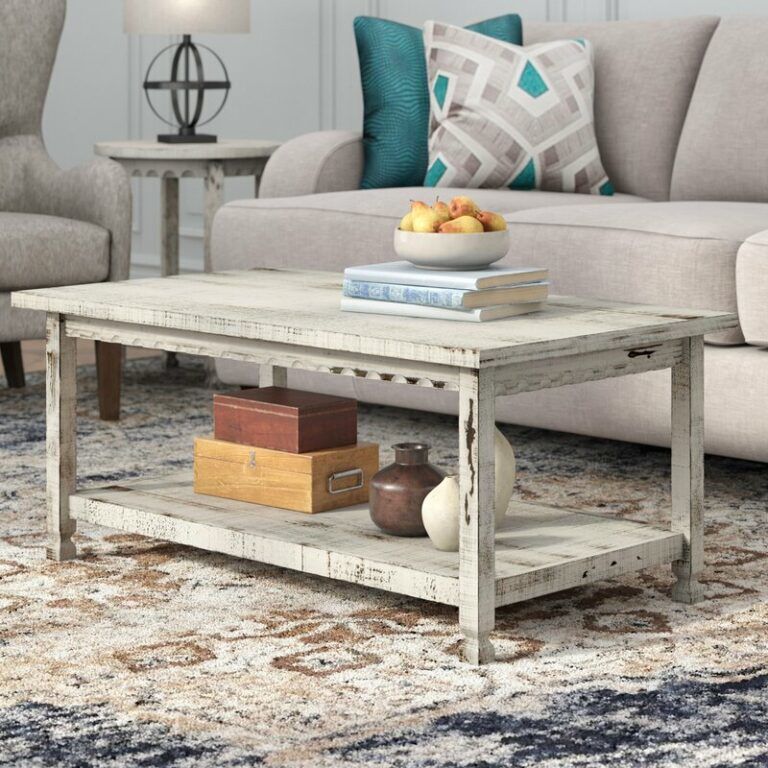 The Magnum table is also quite slender-looking. It has a simple design with a rectangular top and a large open shelf at the bottom and it's crafted from a blend of solid and manufactured wood. The distressed finish gives it a retro and farmhouse-inspired look which makes it stand out and gives it lots of character. Other finishes are also available.

Trunk-style table with generous storage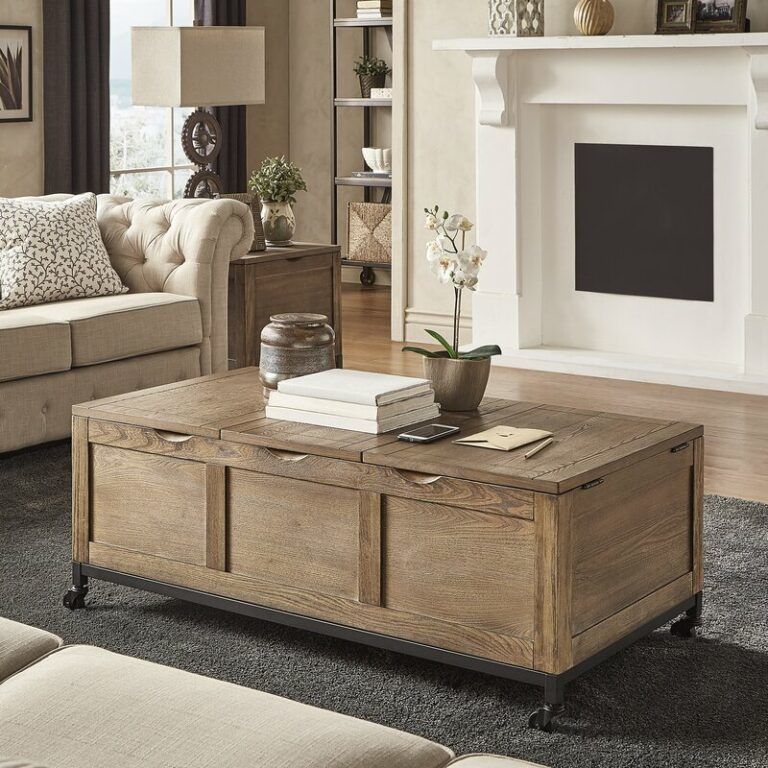 There are lots of different ways to add storage to a coffee table. As you've already seen, open shelves at the bottom of the table are quite common and drawers are also a good option. The Mikesell table proposes an entirely different idea. This is a trunk-style table with a series of generous storage compartments that can be accessed by lifting the three panels that make up the top.

Square table with an open frame and shelf storage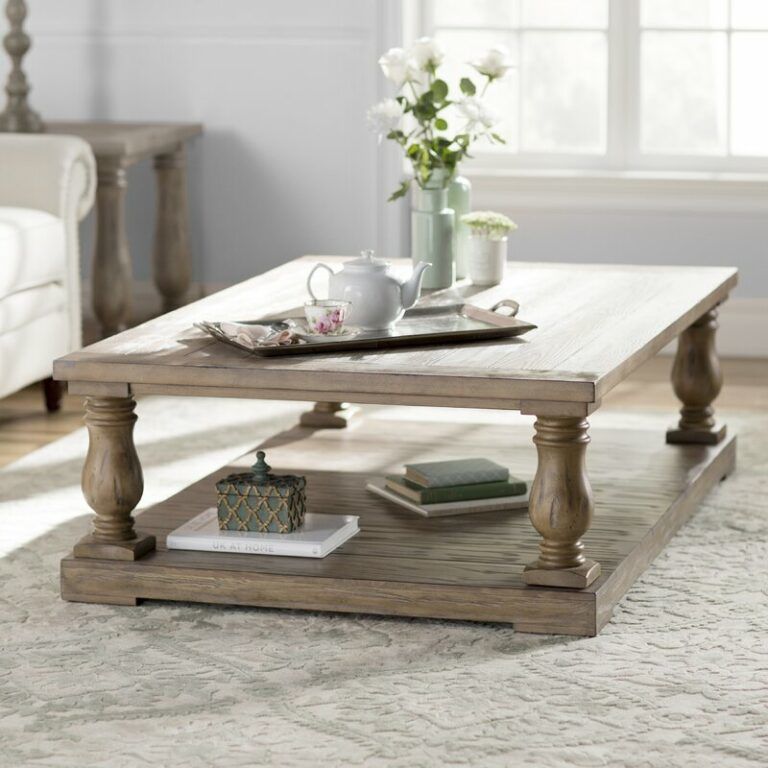 The weathered finish suits the Sannoise coffee table really well, giving it a farmhouse look and allowing it to easily fit into a variety of different decors. It's crafted from solid wood and the grain shows through and looks beautiful. The square-shaped top and the matching base are connected by four pedestal-style legs which add a traditional and elegant twist to the design. The base acts as a shelf for storage and display.

Casual coffee table with a round top and a floating shelf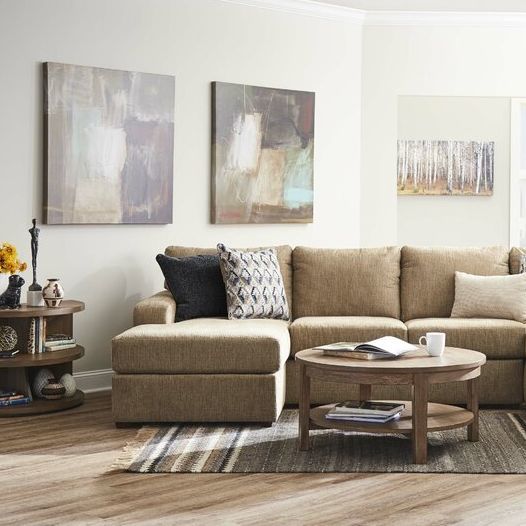 The Scoggins coffee table has a very simple design. It features a round top and a matching but more slender suspended shelf. It has four solid wood legs and a warm and beautiful mushroom oak finish. It's a casual-looking piece that's able to complement a variety of styles and a diversity of decors. Its overall dimensions are 18" H x 38" L x 38" W.

A few More Farmhouse table makeover projects:
Turning an expandable table into a farmhouse-style one

In a certain way, you could say that any old table can be transformed into a farmhouse-style one. It's a matter of changing the color palette, the finish and the overall aesthetic of the table but, of course, it helps to start with a good design. This round top expandable kitchen table featured on livinglowkey was just right for this type of transformation. The new color palette only helps to highlight its already beautiful design.

How to refinish a painted table

Repainting or re-staining a table is fairly simple and straightforward but things get a bit more complicated when you want to go from a painted table to a stained one. The transformation however can be worth the extra effort, as this inspiring project from thepalettemuse shows. Get ready to use a sander and a paint stripper to get rid of the old finish and once it's done the new and improved farmhouse design can start to take shape.

A refreshed pedestal table with matching chairs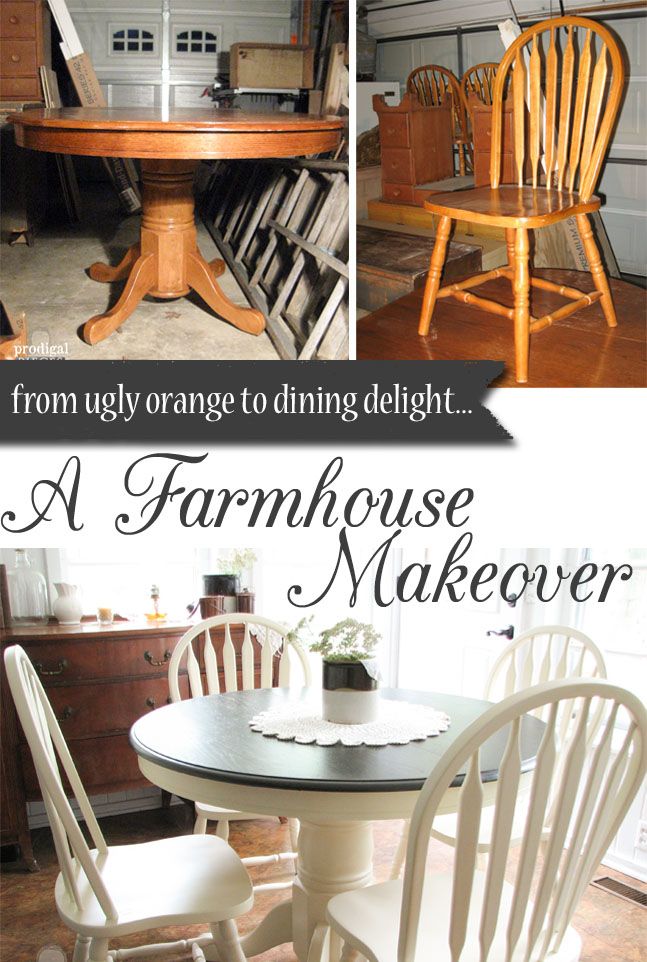 It's always worth keeping furniture that's structurally in good shape even if the overall style or aesthetic is not really what you're looking for. With a bit of time and passion you can transform an old table and a set of dining chairs and it can be just a matter of refinishing them. Sometimes a simple approach turns out to be the best one. Check out this farmhouse table makeover on prodigalpieces for more details.

Farmhouse dining table with a weathered finish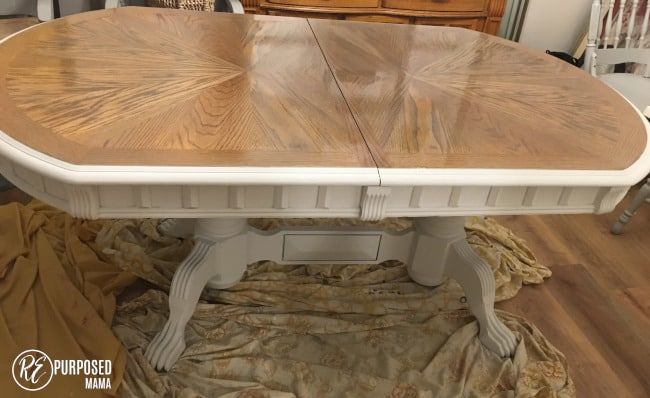 Even when the design of the table matches your preferred style, the finish might not. For instance, this beautiful farmhouse dining table had a great design with all sorts of beautiful and charming details. The initial orange stain however was less than suitable so instead a more toned down, distressed look was given to it instead. Check out the transformation on awellpurposedwoman to find out more about the process.

A super simple dining table makeover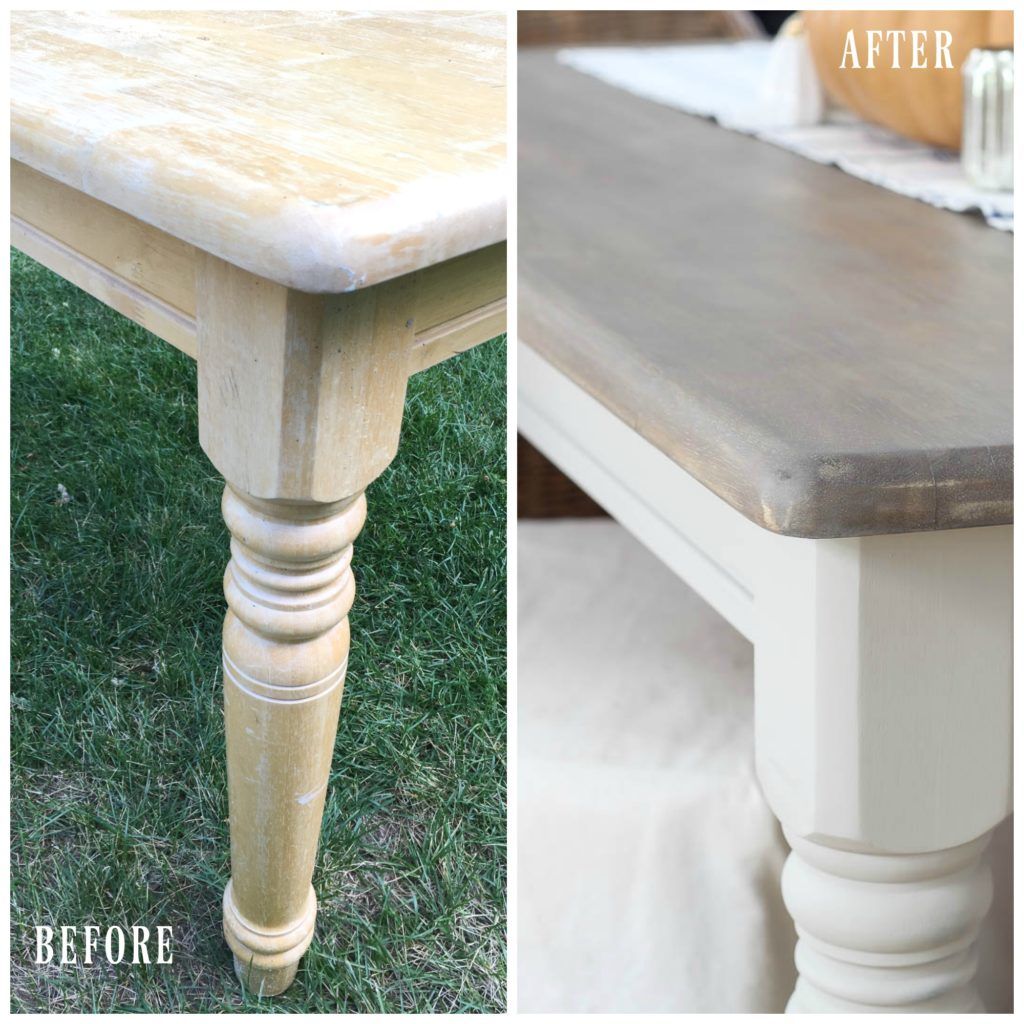 You don't necessarily need a very detailed table design or a specific type in order to give it this sort of cozy farmhouse-inspired look. A very simple and basic dining table like the one featured on roomsforrentblog would work just fine. Using grey chalk paint for the legs and frame and some antique wax for the top did the trick here.

Farmhouse table makeover that embraces imperfections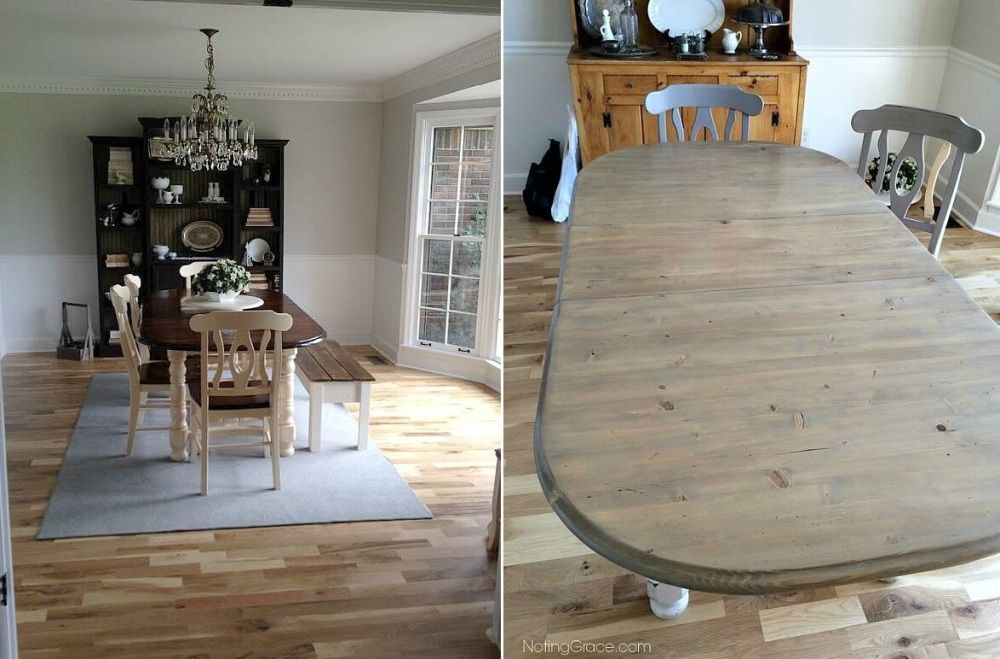 When it comes to rustic or farmhouse furniture there's really no imperfections to ruin the aesthetics because these are styles that make the most of these sort of irregularities. A great project that reflects this can be found on notinggrace. Here you can see this beautiful farmhouse dining table being stripped of its old paint and getting a more uniform finish that doesn't clash with the room as much.

A light dining set transformation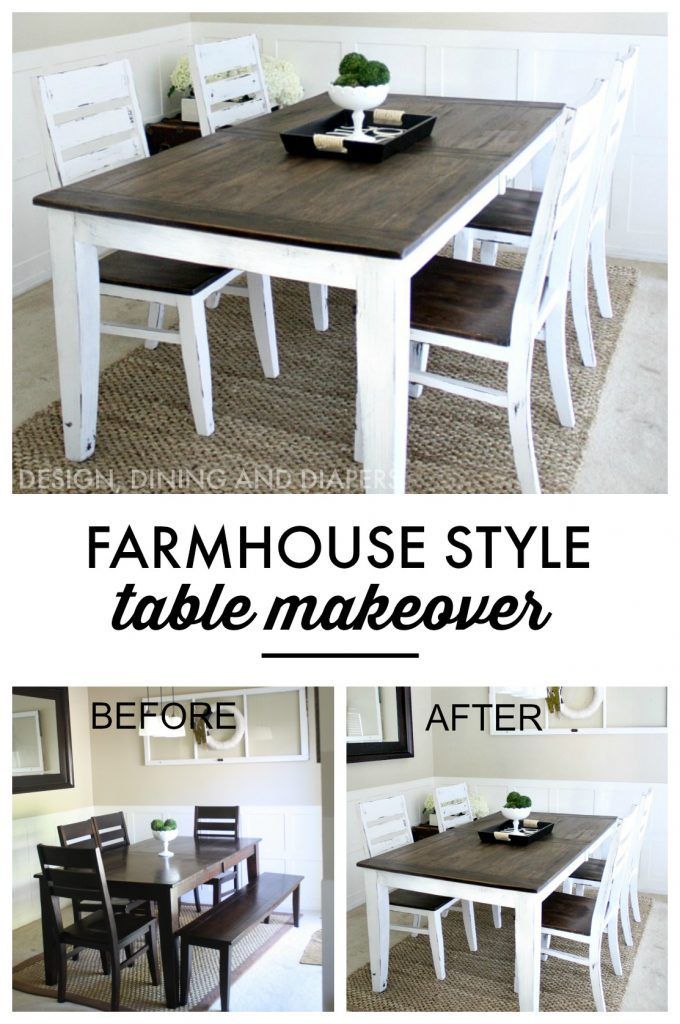 As you can probably tell, farmhouse furniture and light colors often go hand in hand. Just look how big of a difference color does in the case of this dining setup. The original dark stain was replaced with a more casual distressed white finish that's easier on the eyes and also helps the room look brighter and more inviting. Check out the full project on tarynwhiteaker for more details.
Building a farmhouse table from scratch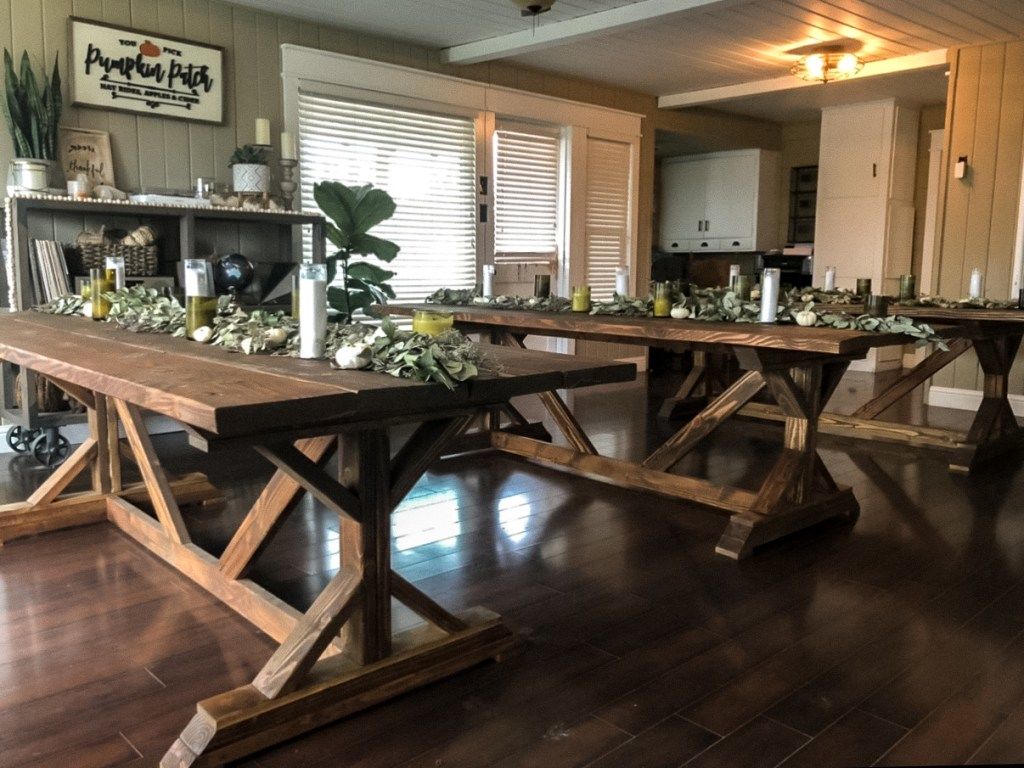 If you love this table design as much as we do, it would be worth spending the time and effort to build a brand new table from scratch. That way you can follow the tutorial offered on thisrusticsoul which shows you how to get this particular farmhouse design just right. We love how robust the table is but also how much is around it due to how the base is structured.

DIY farmhouse table with matching benches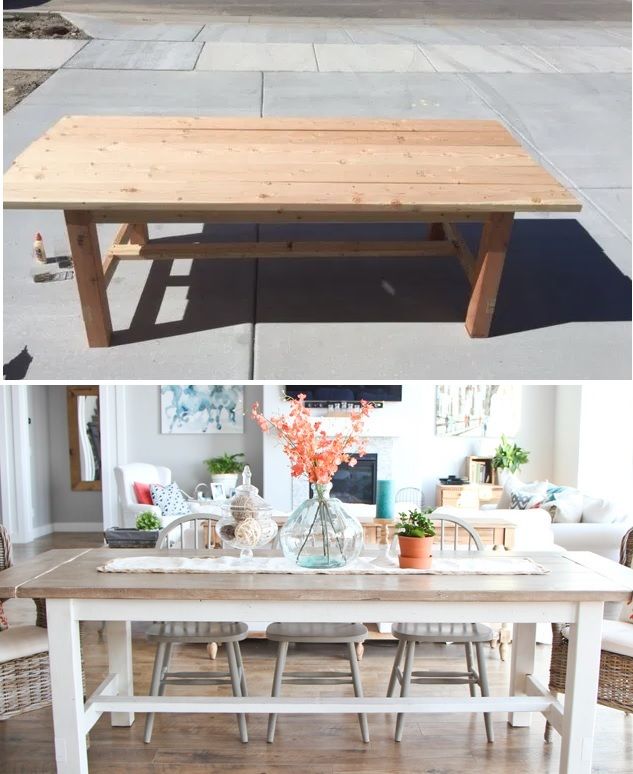 If you're set on getting a new dining set consider building it yourself. This farmhouse table is pretty simple and easy to put together and you can learn how to get this beautiful weathered finish from the tutorial featured on honeybearlane. Here you can also learn how to make matching benches for the table if you want something other than the typical dining chairs.