Let's see how others envisioned their dream forest house looking like and how architects and designers managed to make that vision become reality.


A collection of modern houses in the forest
Modern House Zilvar and its angular design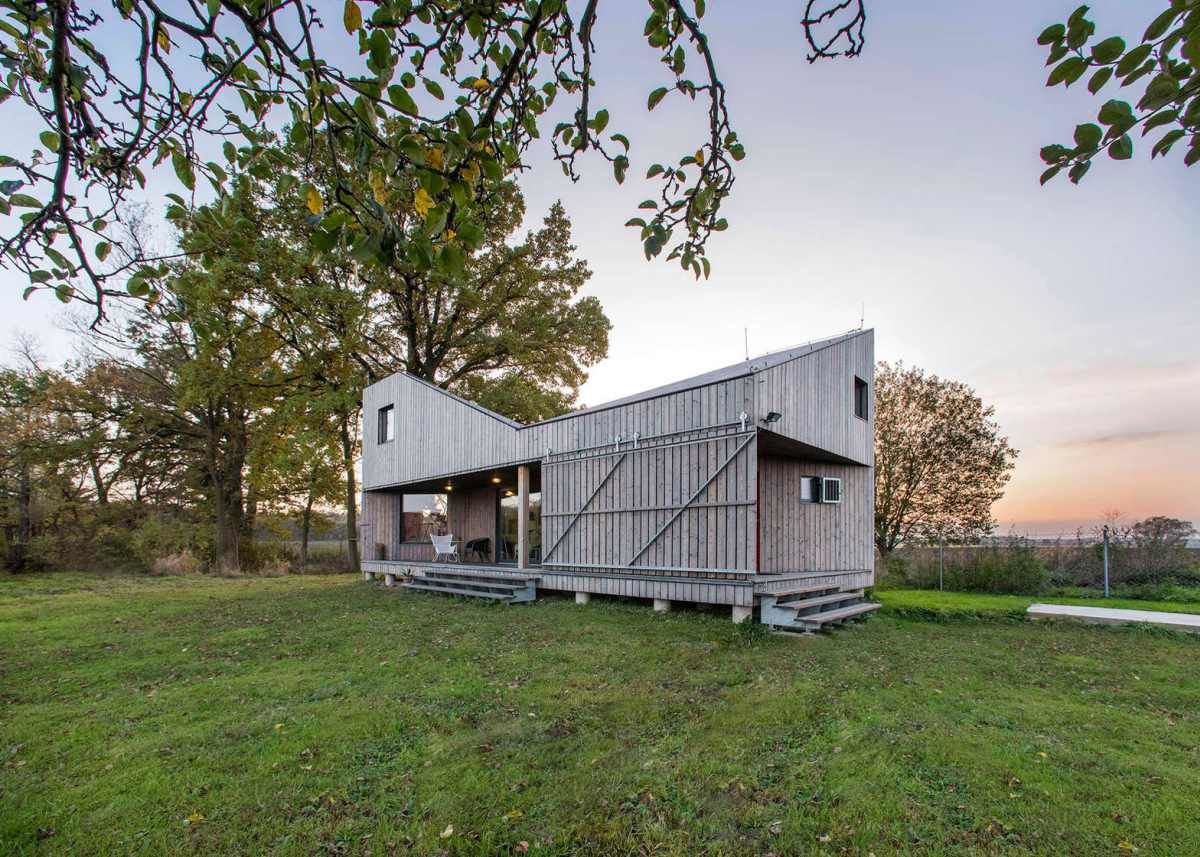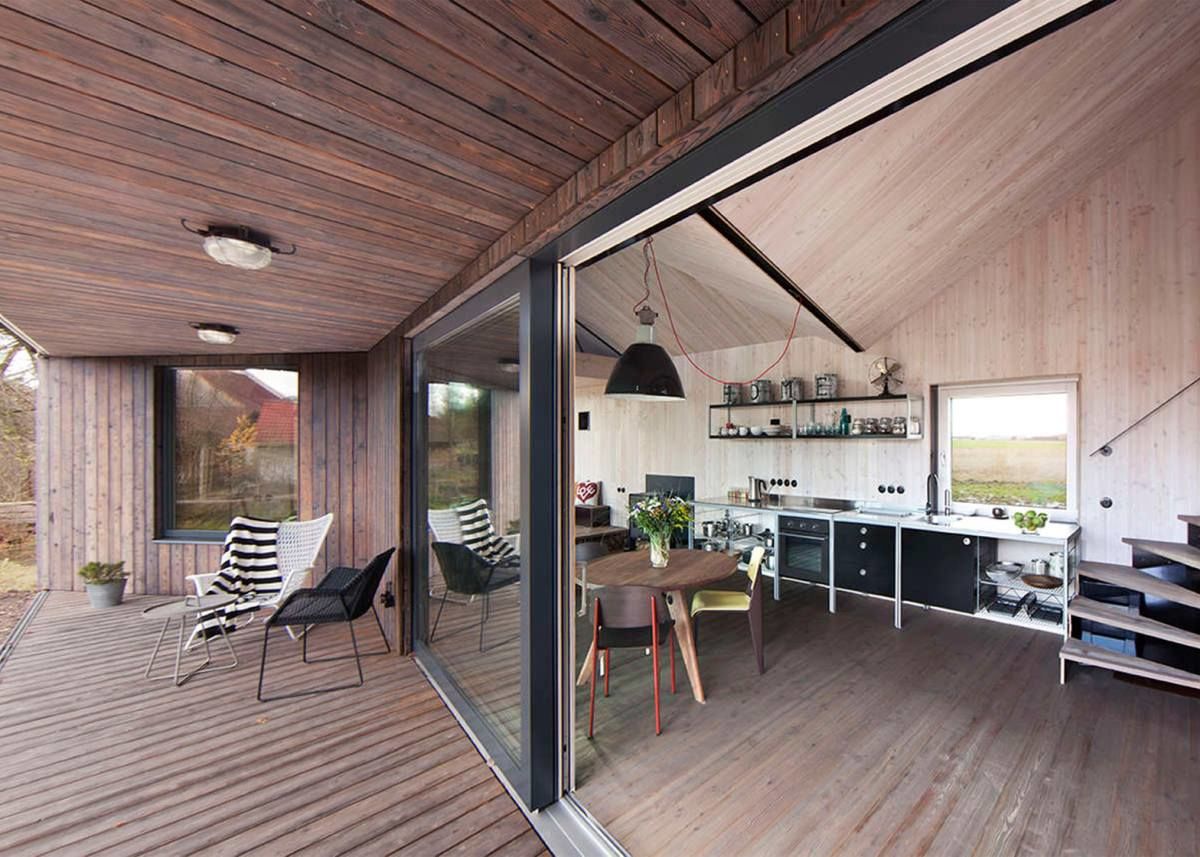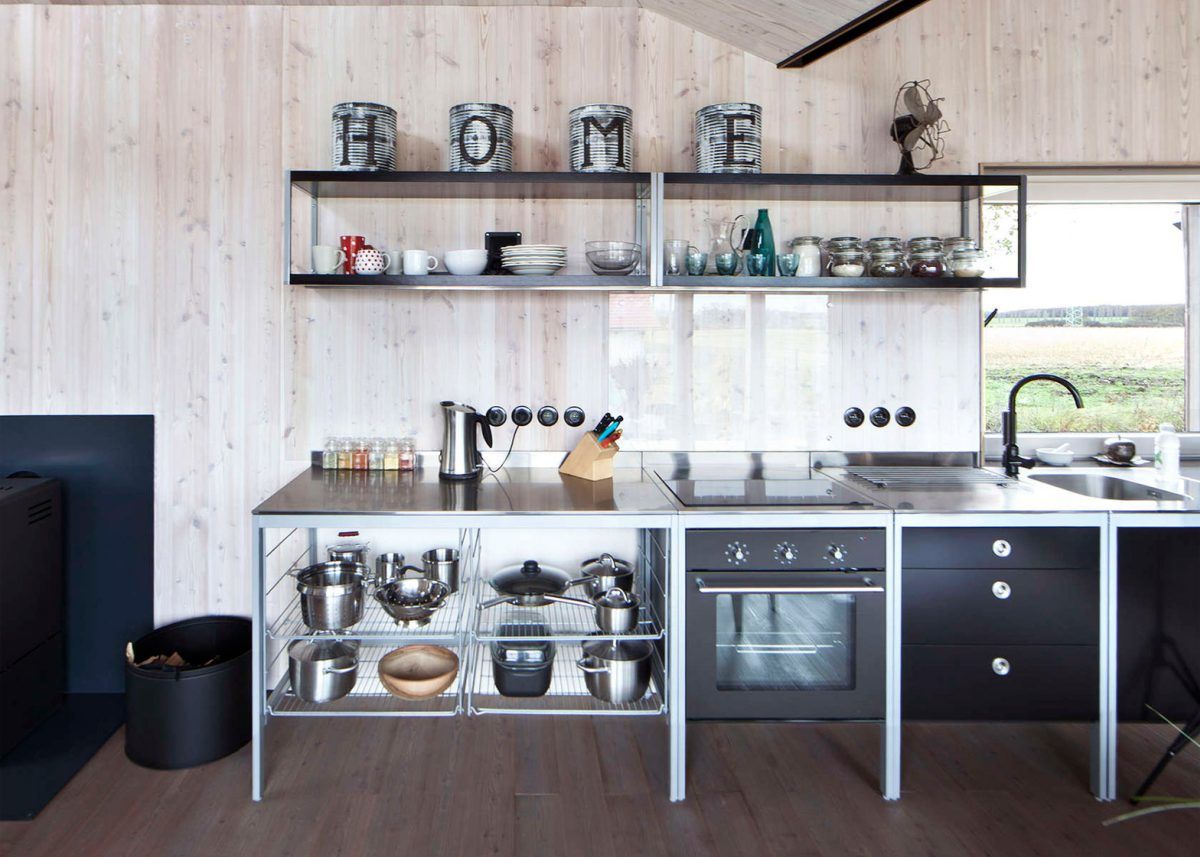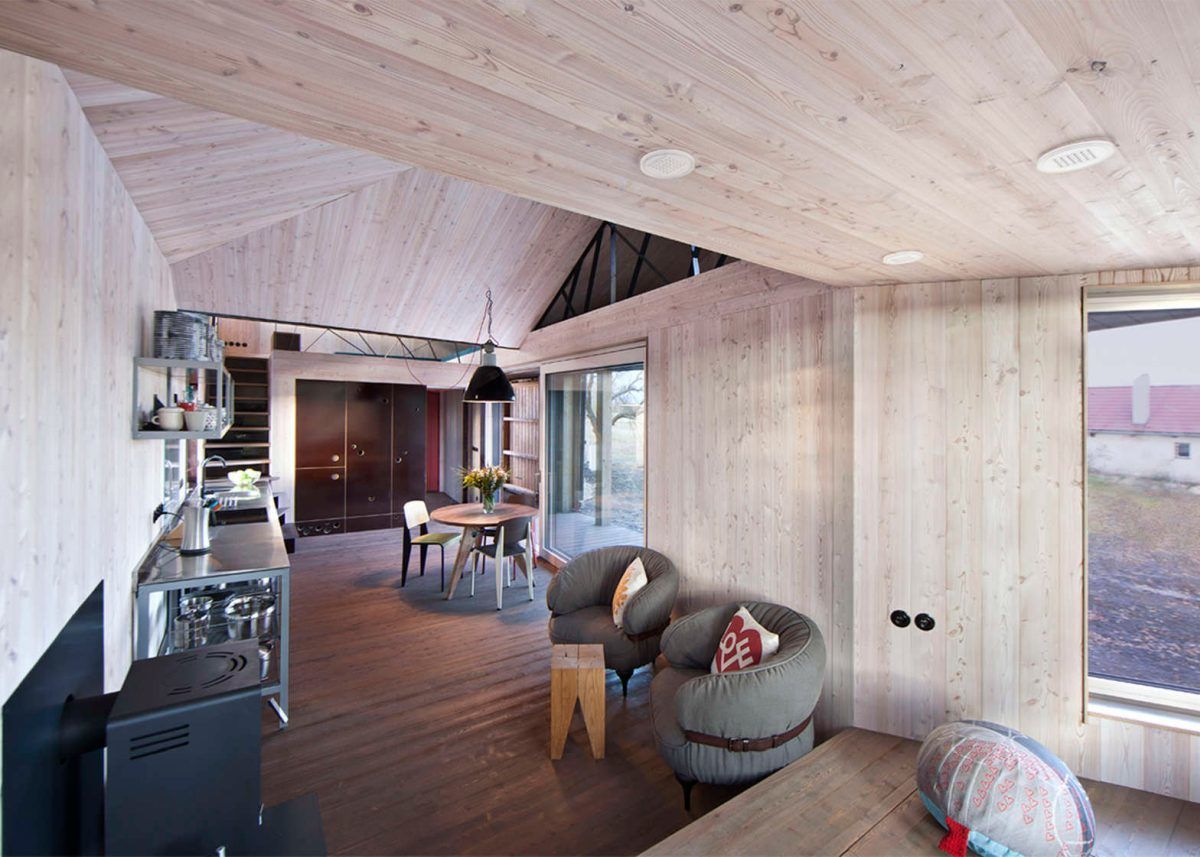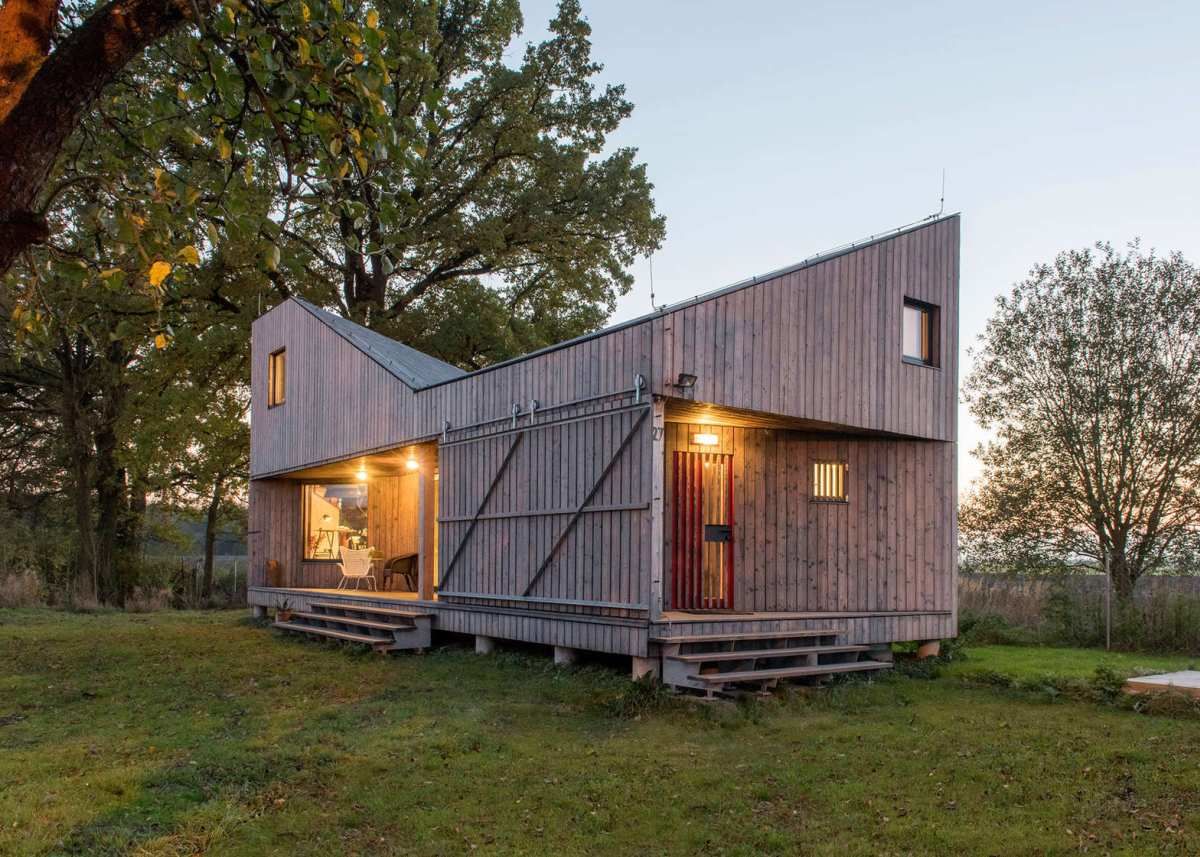 A house in the forest is almost always made out of wood in most people's imaginations. It makes perfect sense to use the materials around the house to build it even if a modern wood house wouldn't necessarily make us of the actual logs and trees in its vicinity. House Zilvar is a lovely example. It's a project by studio ASGK Design and it occupies a piece of land on the outskirts of a small village in the Czech Republic. It's not very big but it enjoys a beautiful relationship with its surroundings and it also has a rather unique shape.


Charred cedar house with a green roof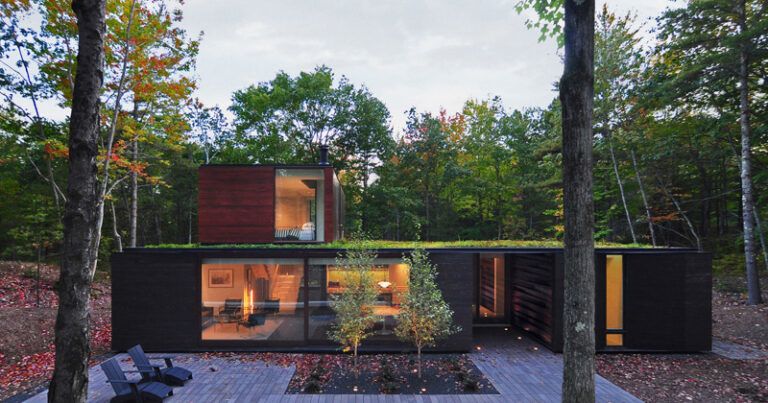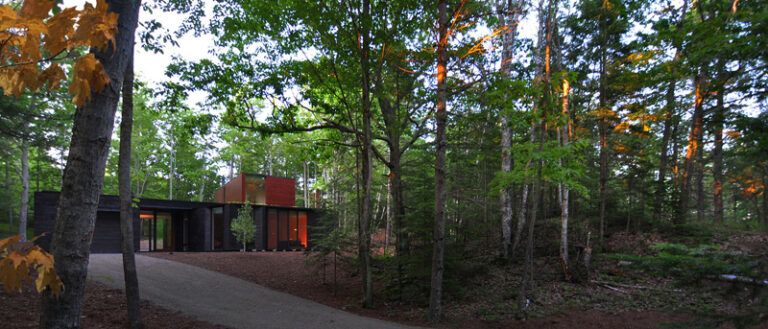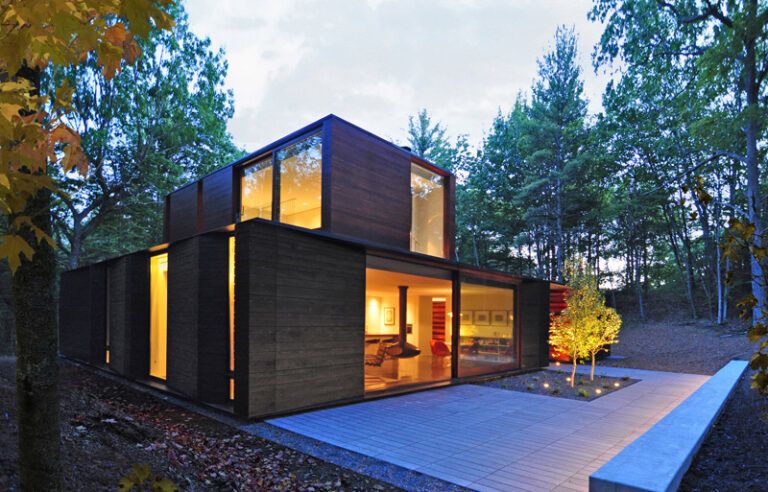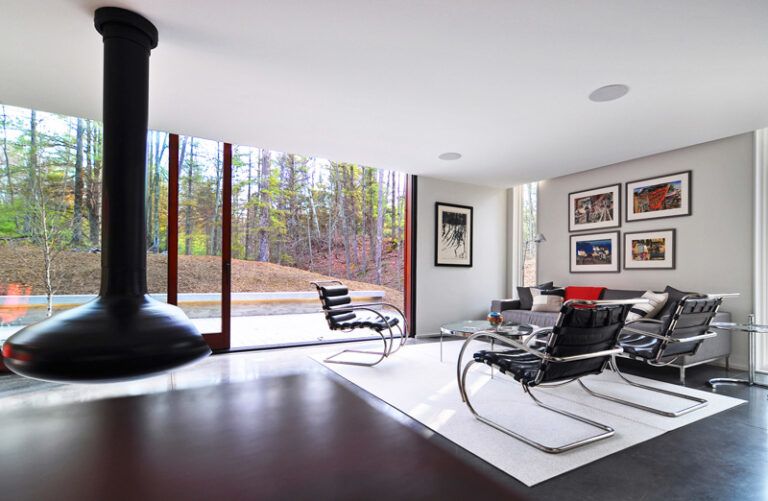 Located in a particularly dense forest region near Lake Michigan, this lovely modern house uses a rather unusual set of materials in its design. The exterior of the house is built using materials such as charred cedar and dark-anodized aluminum. This gives the house a particularly modern appearance but also helps it to more easily and naturally blend in with the landscape that surrounds it. Also, it has a green roof which reinforces this connection even more. This was a project done by Johnsen Schmaling Architects.


Lakeside retreat surrounded by forest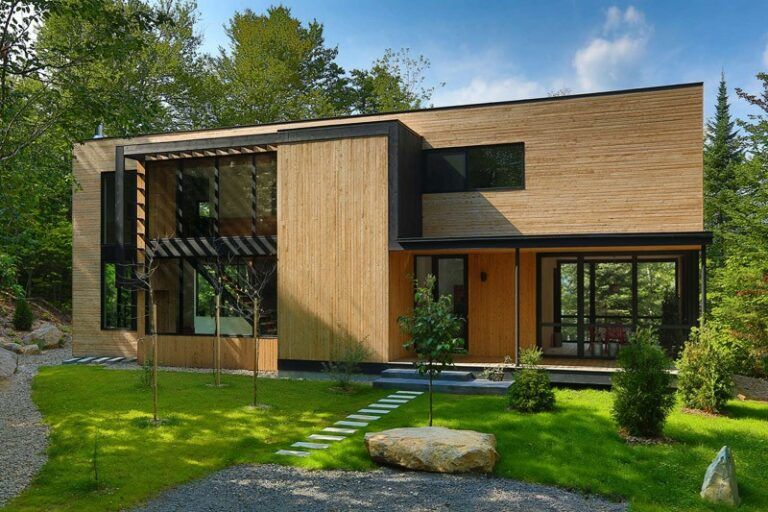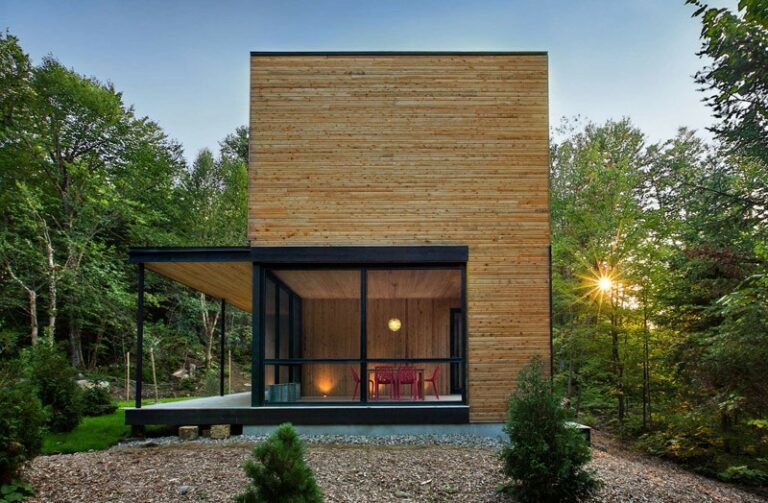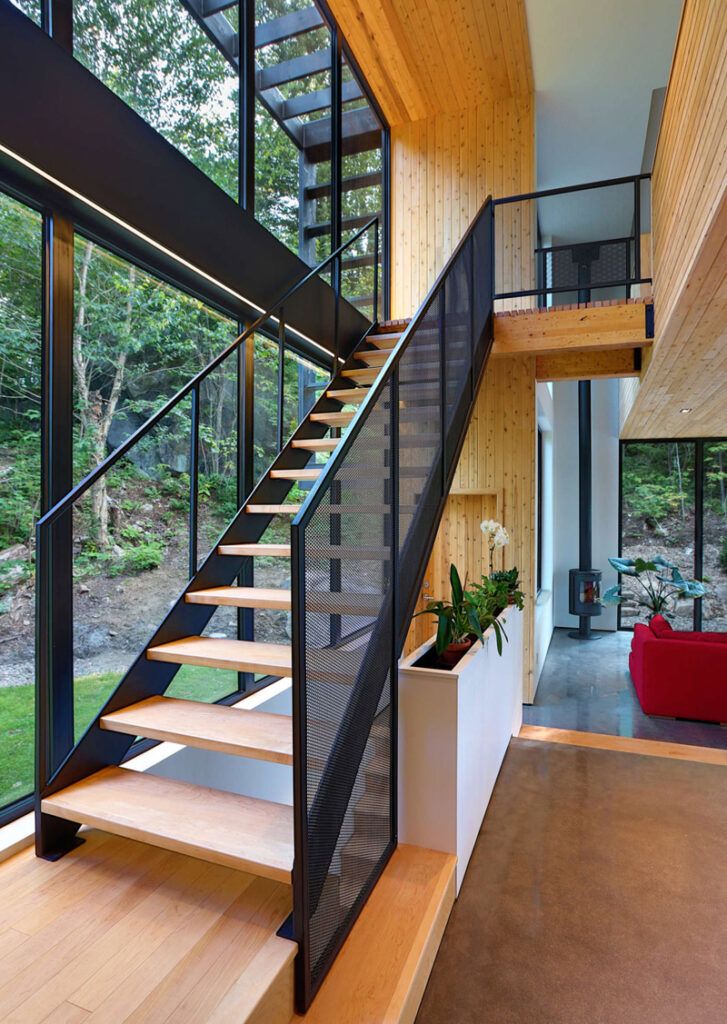 This house was a project done by Thellend Fortin Architects and is located near Montreal, Canada. It occupies a plateau close to a lake, with lots of trees and vegetation all around it. The geometry of the house is quite simple, featuring a modern aesthetic with clean and simple lines and large glazed areas that seamlessly connect the interior to the gorgeous views and the outdoor areas. The design is heavily inspired by this location, specifically the choice of materials and finishes throughout the house.


Simple forest house with cedar siding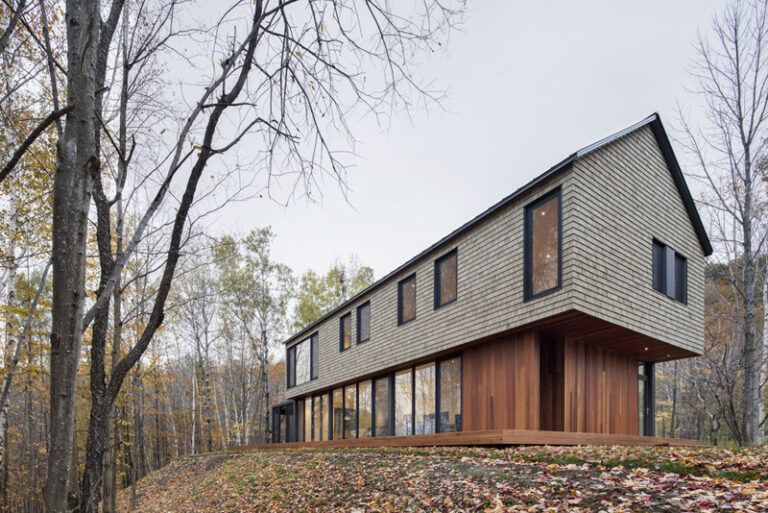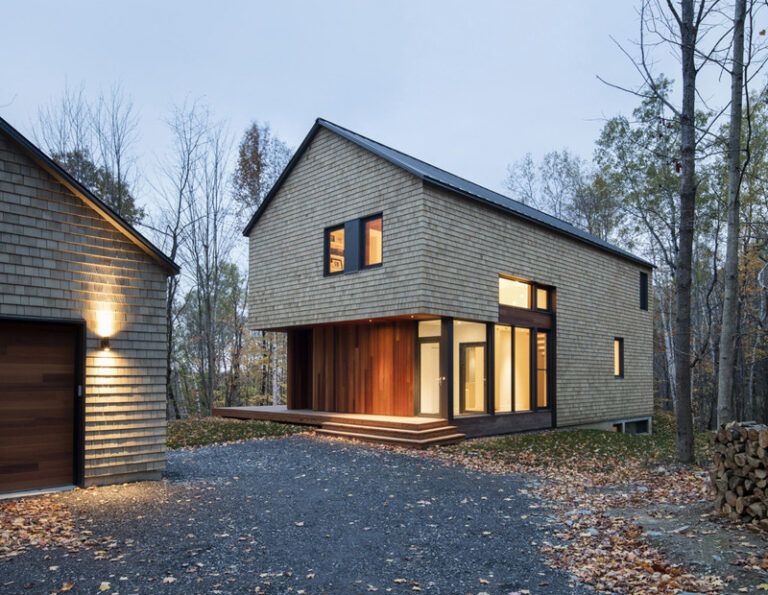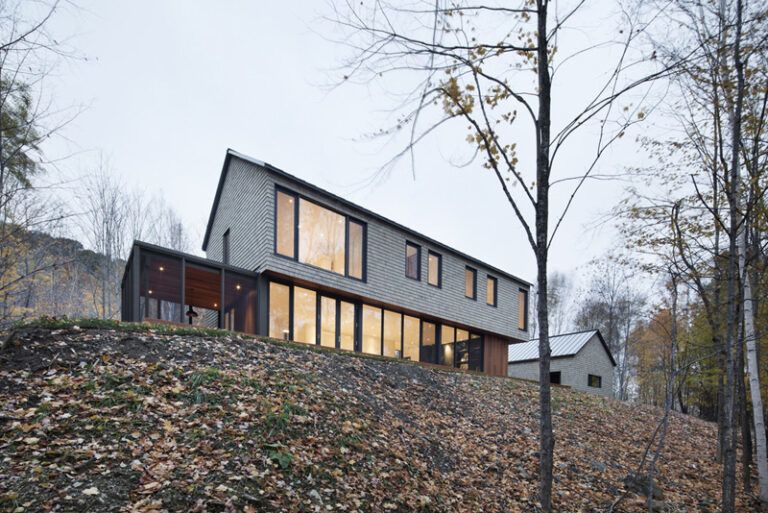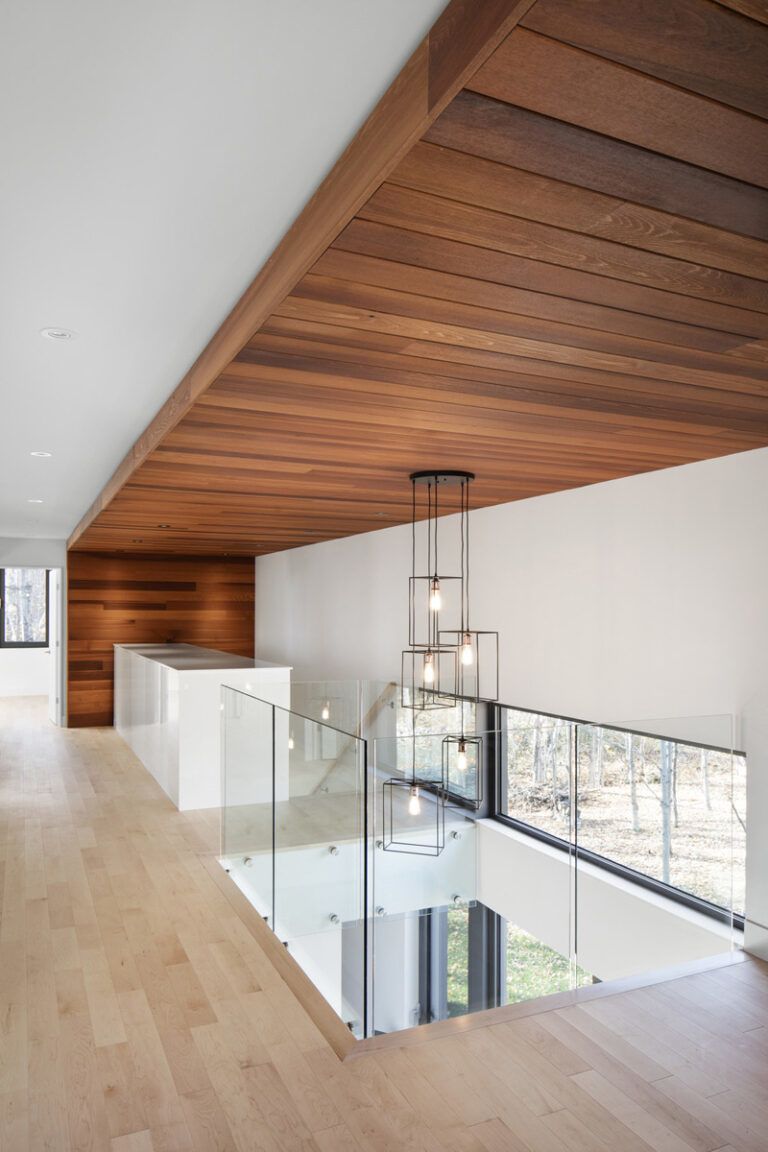 The KL House is located in a small village from Quebec, Canada. It was designed by studio Bourgeois / Lechasseur Architects who found inspiration in the beautiful forest surroundings and the tranquility which surrounds the house. There's also a stream going through the site which makes this location even more magnificent.

The exterior of the house is clad in natural cedar which gives it a simple and attractive look, with a slightly retro vibe reminiscent of traditional forest cabins. It does however also include a variety of modern design elements such as the large windows and glass doors which let in lots of natural light and open up the interior to the beautiful landscape around it.


A modern forest cabin with a black exterior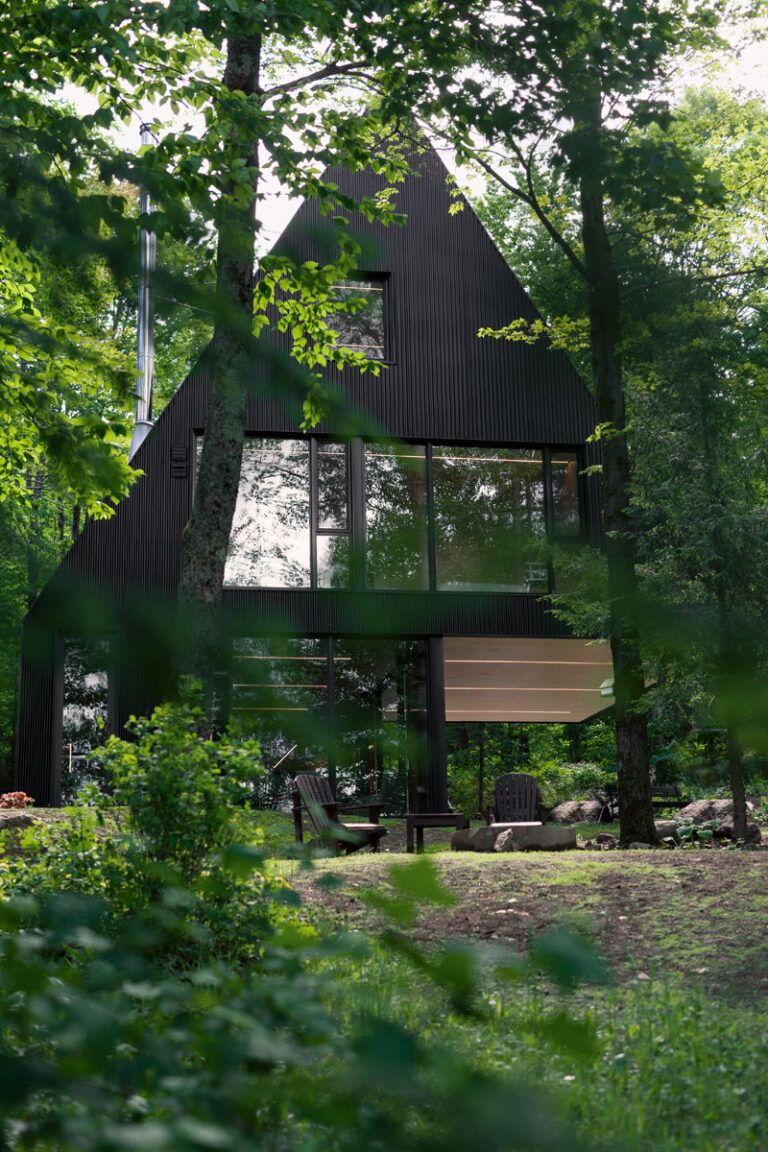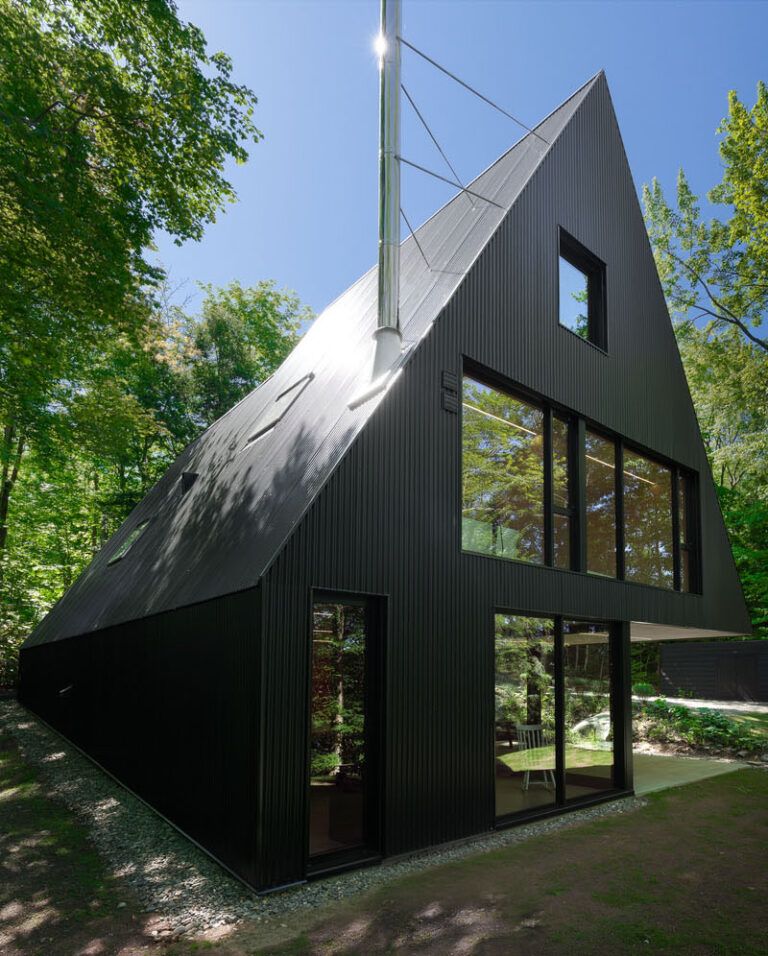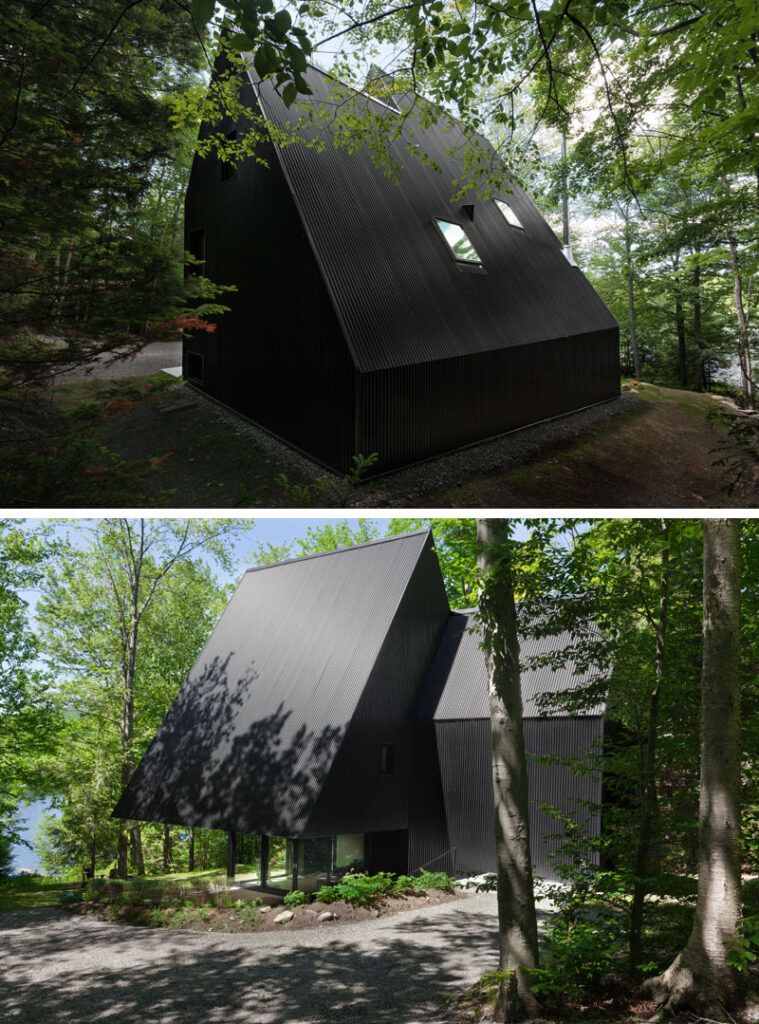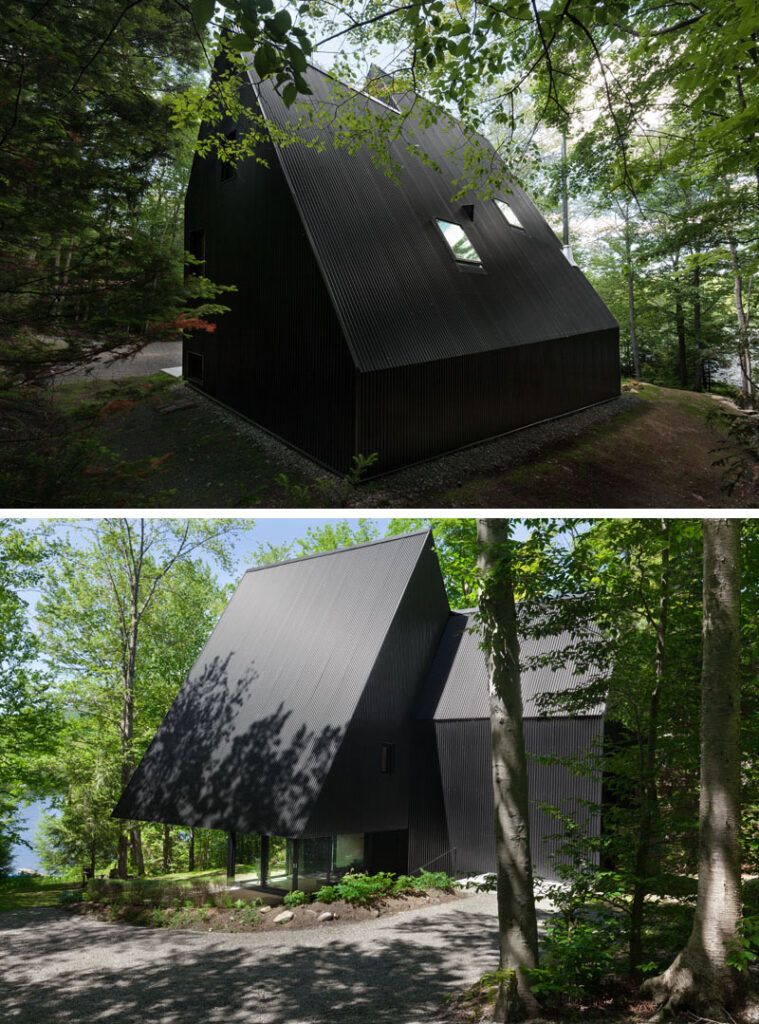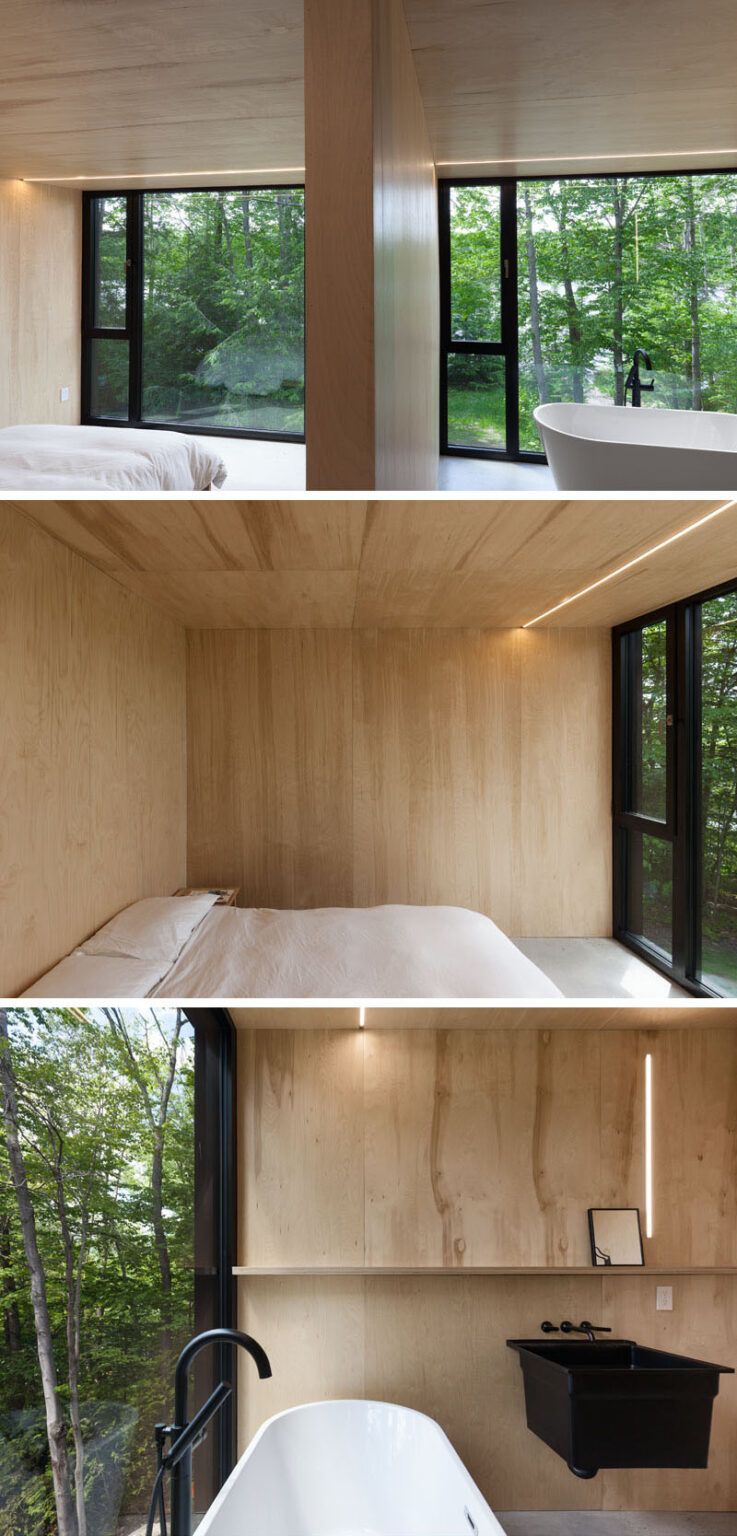 It's sitting on a small site surrounded by a dense forest and it pierces through the canopies with its pointy, A-frame design. This modern forest house has a ton of character even though it looks quite simple from the outside. Its black exterior and clean and simple geometry allow it to go almost unnoticed among all the trees and vegetation.

It was designed by architect Jean Verville and it takes full advantage of its location. In particular, it's designed to seamlessly mold around the sloping terrain and to welcome the light and the magnificent views inside without having a very open design.


A woodland cottage on the edge of a cliff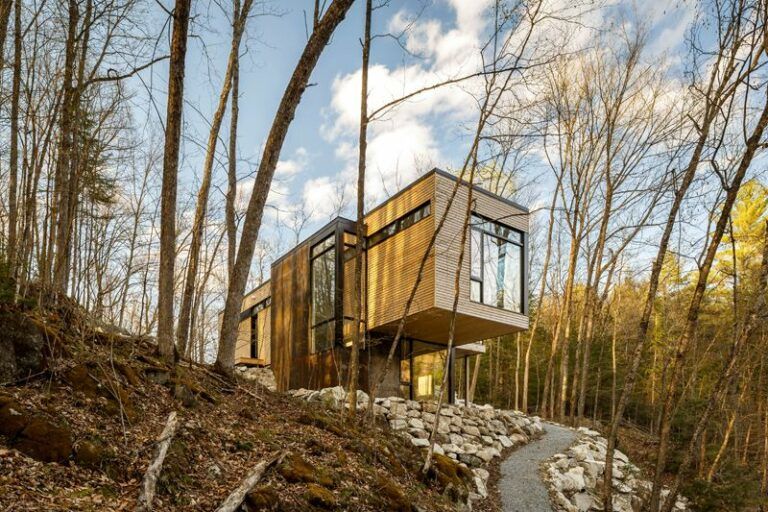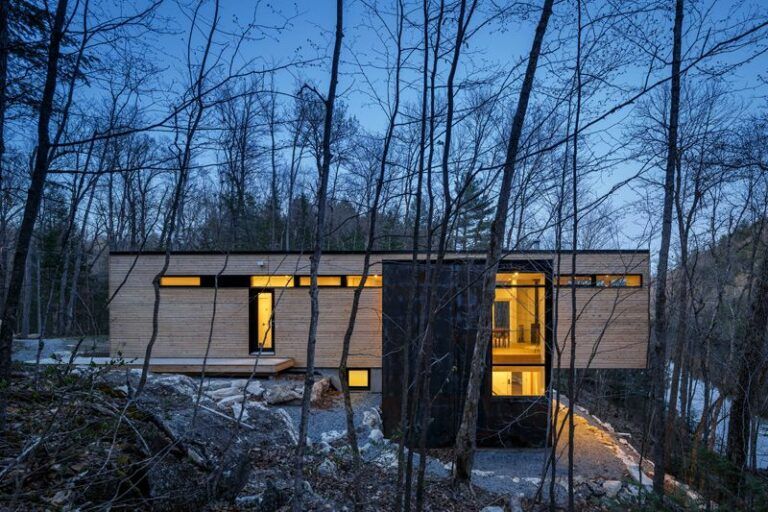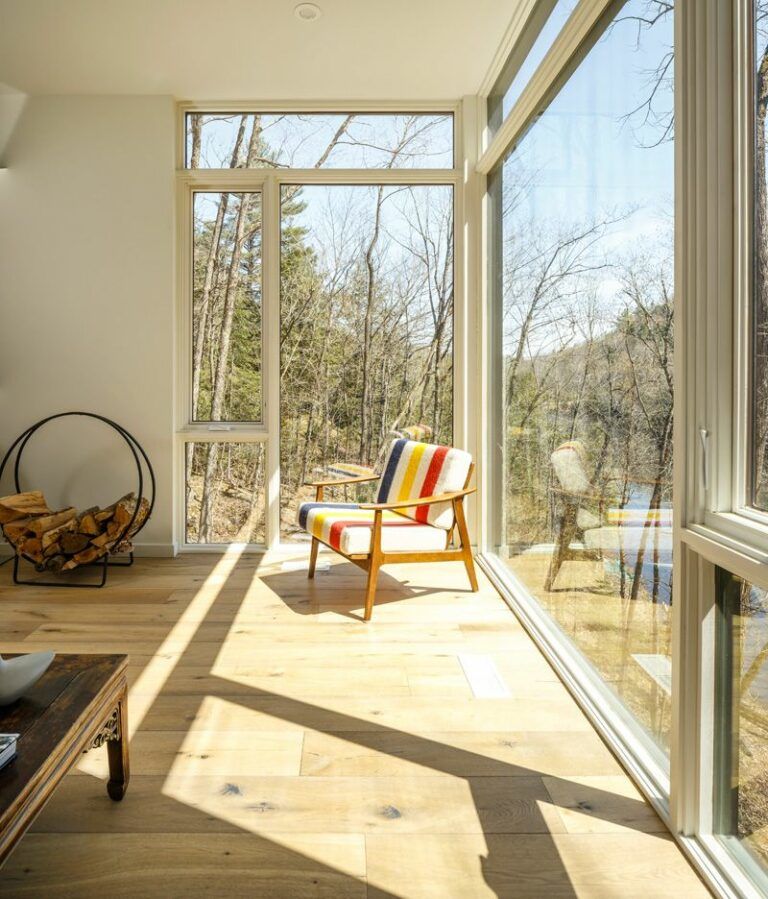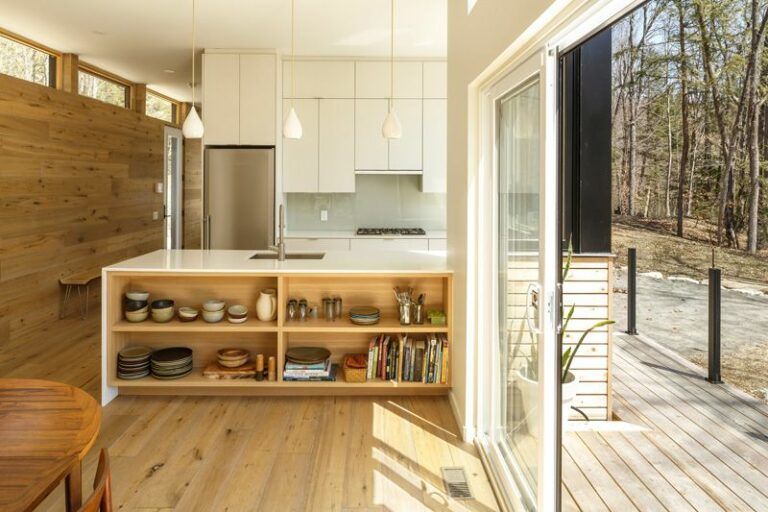 This unusual forest house is located in Val-des-Monts, Quebec and as you can see it's partially hanging over the edge of a cliff. This gives it a really beautiful view towards the valley but it also meant that this was a very challenging project.

The house was designed by studio Christopher Simmonds Architect and it features a solid stone base that grounds it into the land and helps it to stand proudly among the trees, overlooking the lake at the bottom of the cliff. It's sleek, modern, inviting and it has a very sunny and tranquil interior which makes the most of the views.


A summer house made out of concrete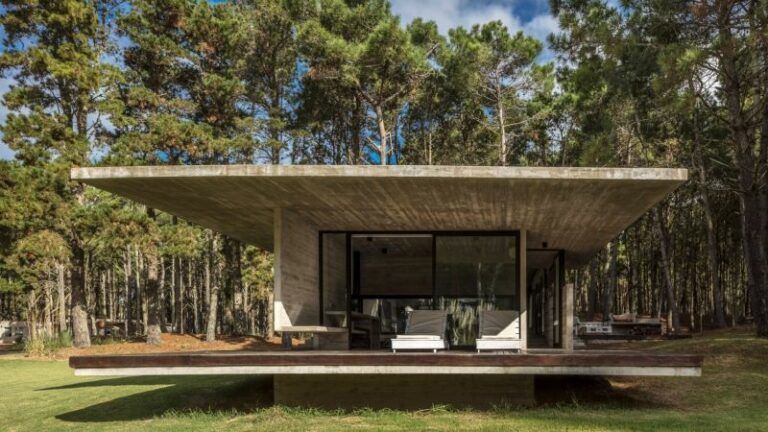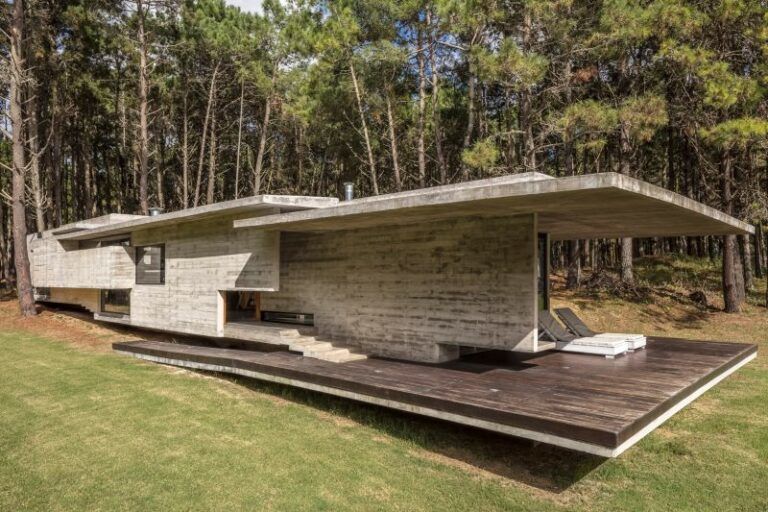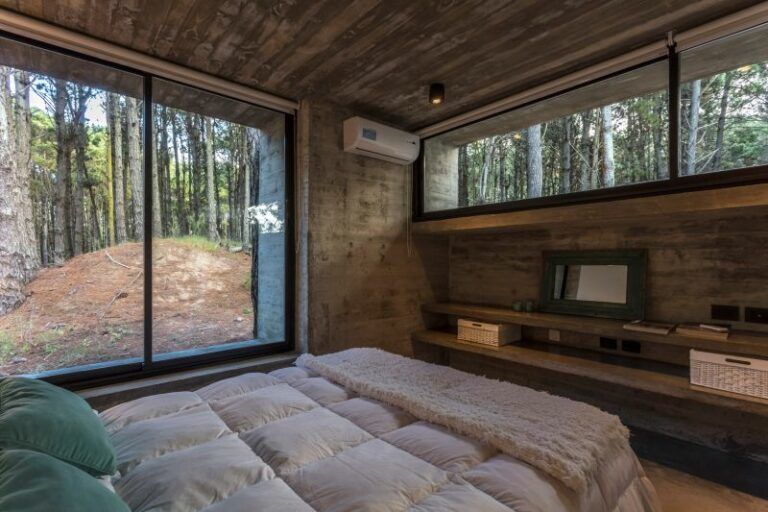 This forest house was built by Besonías Almeida Arquitectos on a lovely piece of land in Argentina, with tall trees growing all around it and a gentle slope beneath. It's situated in a coastal area with pine and acacia trees which the architects had to take into consideration in order to preserve the land as best as possible.

They built the house out of concrete and with big flat roofs that form large overhangs. That allows the interior areas to be extended outside onto big patios and terraces that expose them to the beautiful surroundings and help to bring the outdoors closer to the indoor spaces.


A modern chalet among the tree canopies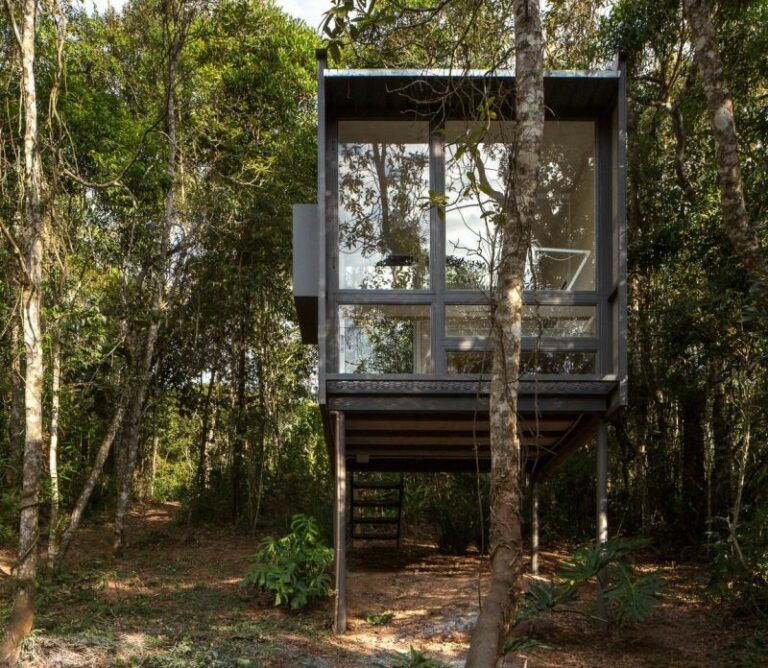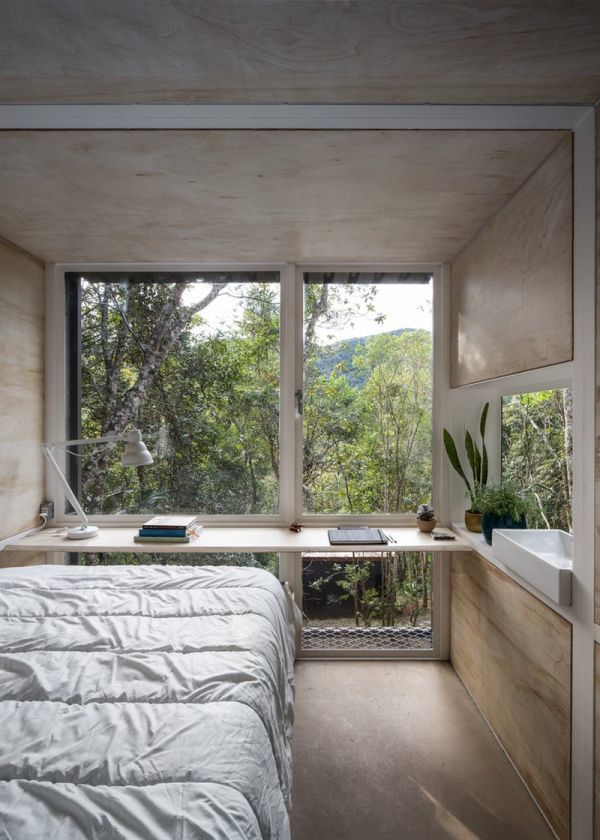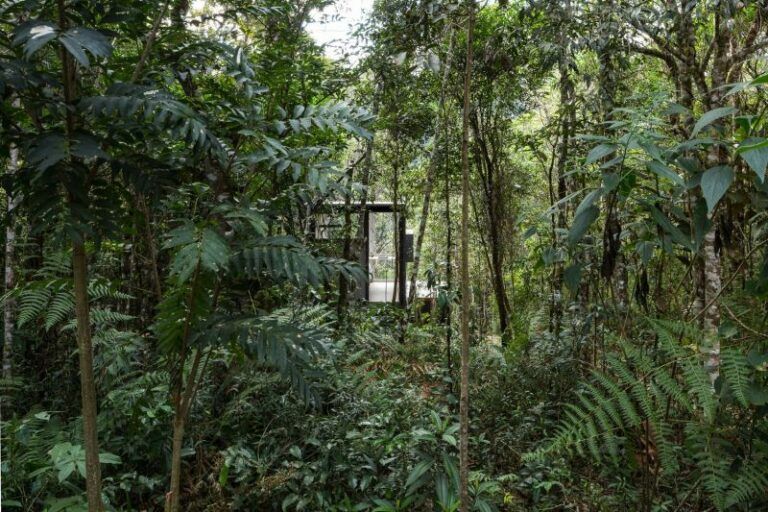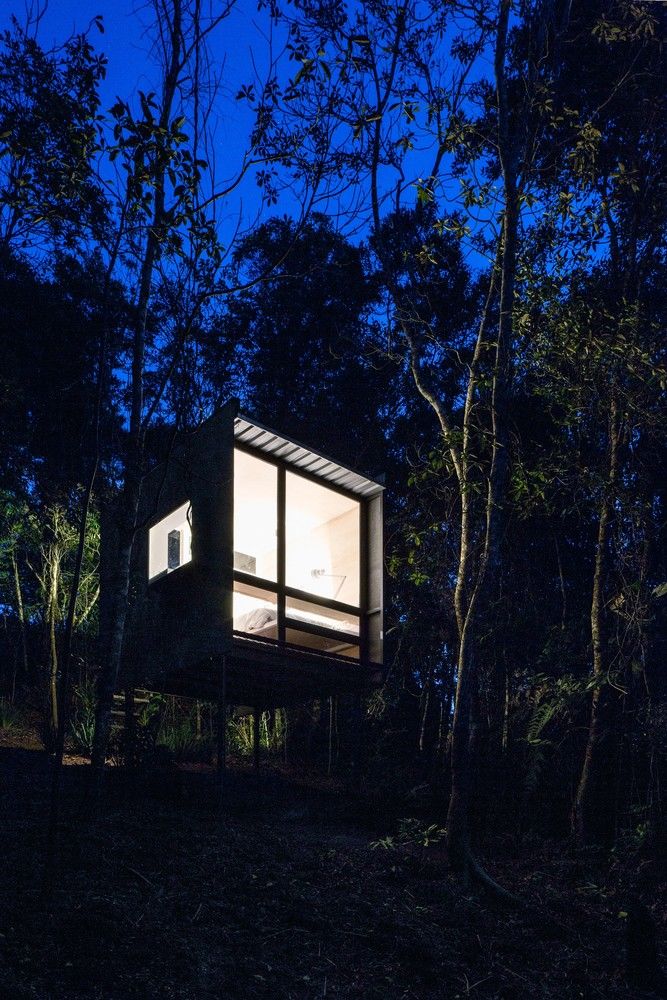 This is Chalet L, a small forest house hidden among the treetops and the lush vegetation of Brazil. It was designed by studio Silvia Acar Arquitetura and what immediately stands out is the fact that it's not actually built on the ground. Instead, it was raised above the soil, among the trees and with a better view of the wonderful surroundings. That also allows it to make the most of all the natural light and to be surrounded by greenery rather than tree trunks. In addition, this also creates a space underneath which can be used for various activities.


A contemporary retreat in a lovely rural setting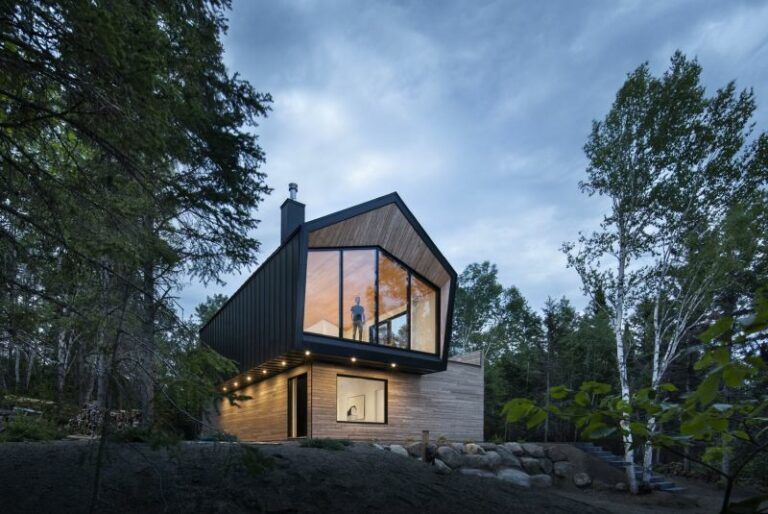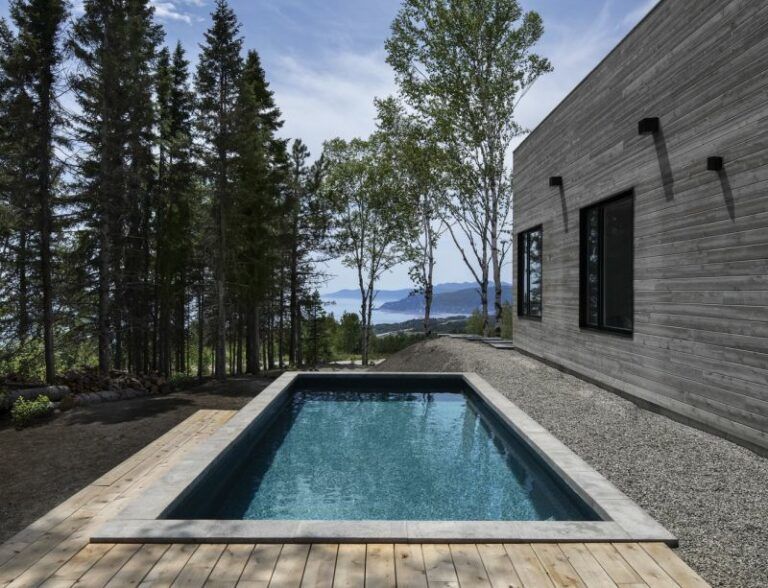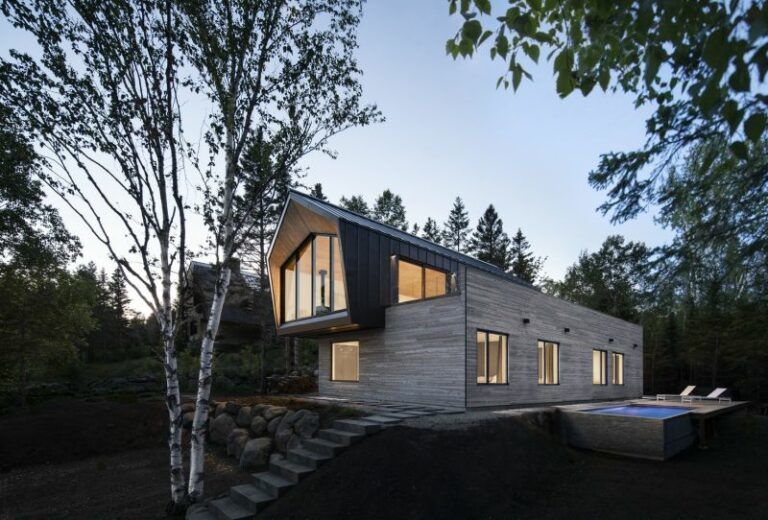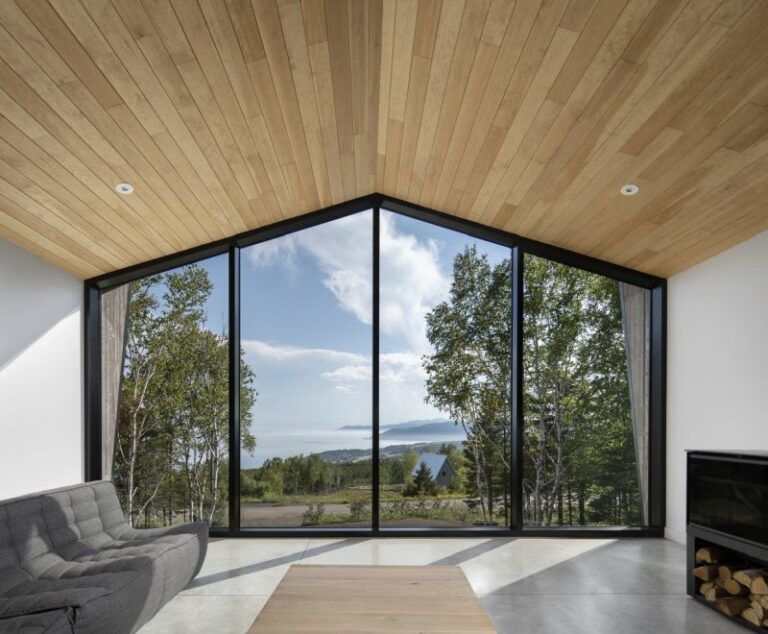 There's something very peaceful and charming about a rural setting with trees and vegetation growing all around it and houses that are far apart and tell their own unique stories. One of those houses is located in La Malbaie, Canada and designed by studio Architecture49.

Its design is inspired by the beautiful natural surroundings but maintains a contemporary and simplistic aesthetic. It features a wood-clad exterior for a cozy touch, Large windows and sliding glass doors which lead to open patios and magnificent views that can be enjoyed from all the different parts of the house.


Wooden cabin on a remote site in the woods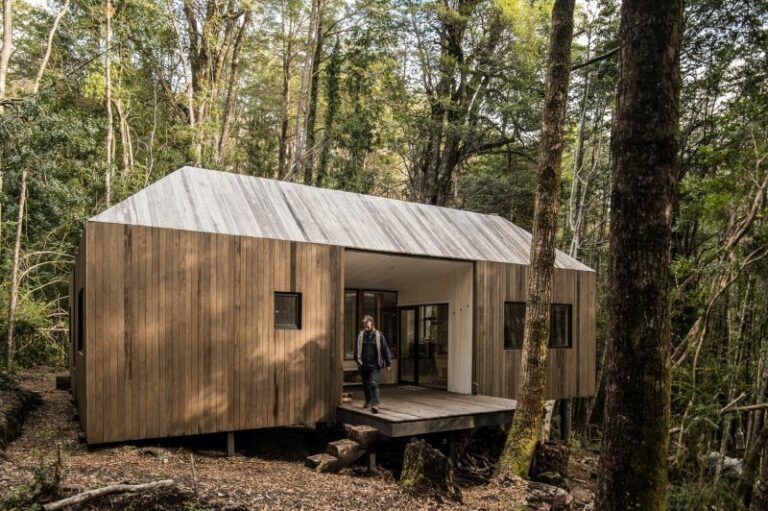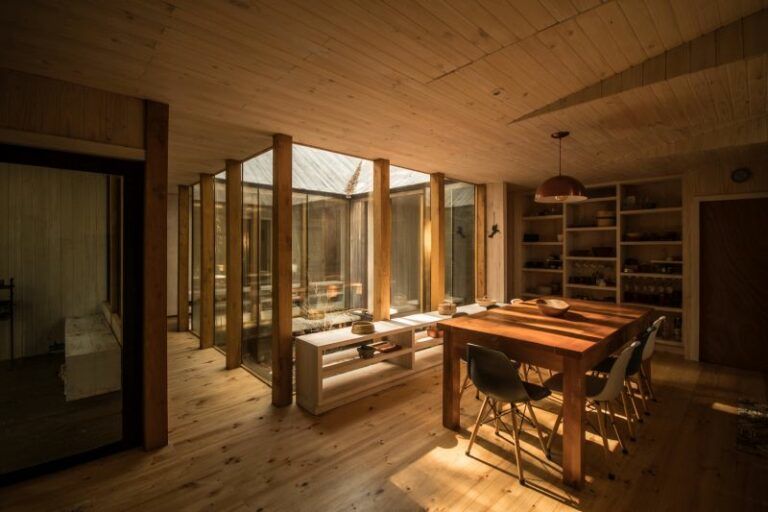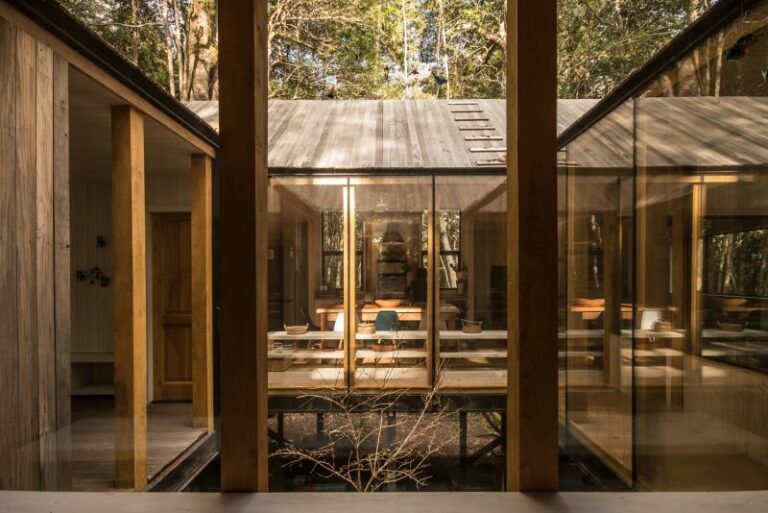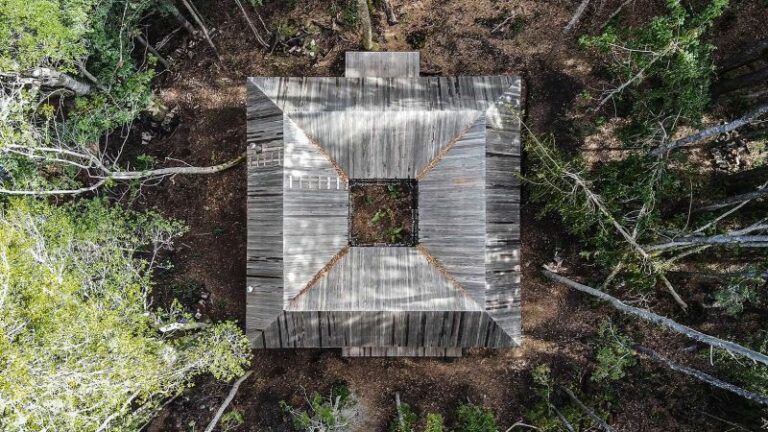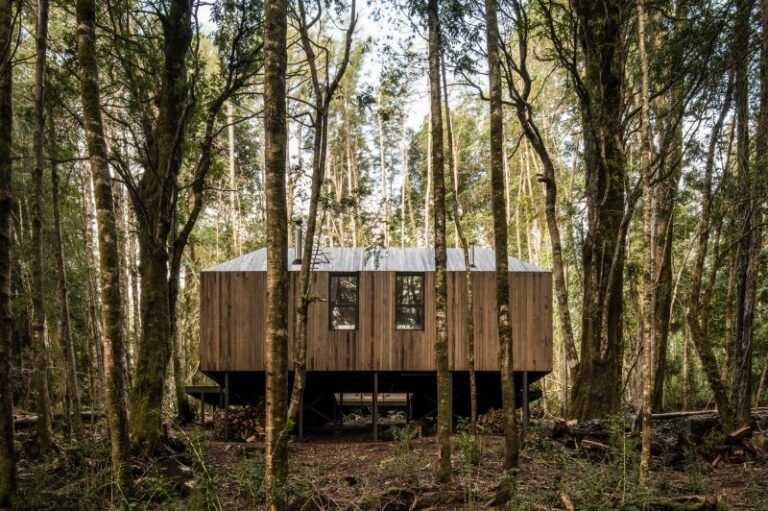 The Impluvium Cabin is a small retreat found in the southern regions of Chile. It had to be small in order to fit among the tall trees that have grown on the site. These were preserved and they now form a natural shield around the cabin, giving it privacy and creating a mystical atmosphere around it.

The cabin was designed by studio SAA Arquitectura + Territorio and has a minimalist aesthetic, with an angled roof that continues straight down and transitions into walls giving the structure a uniform look.


Off-the-grid retreat perched over a valley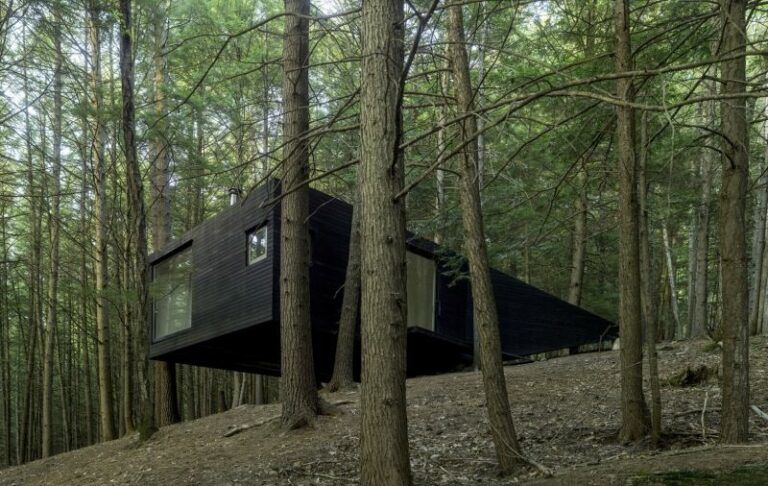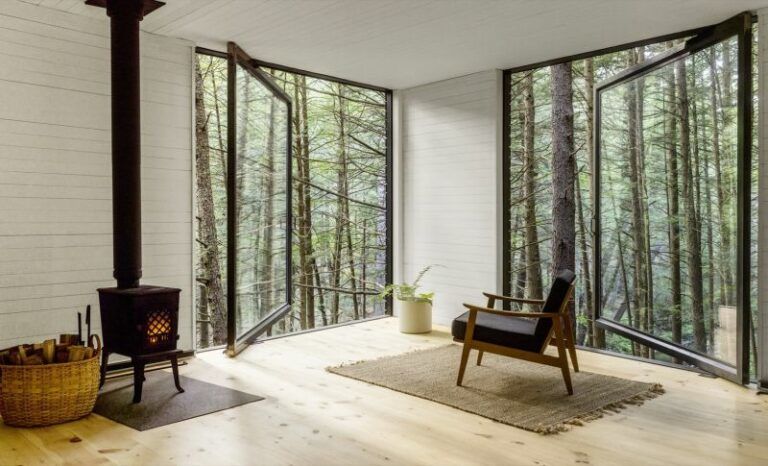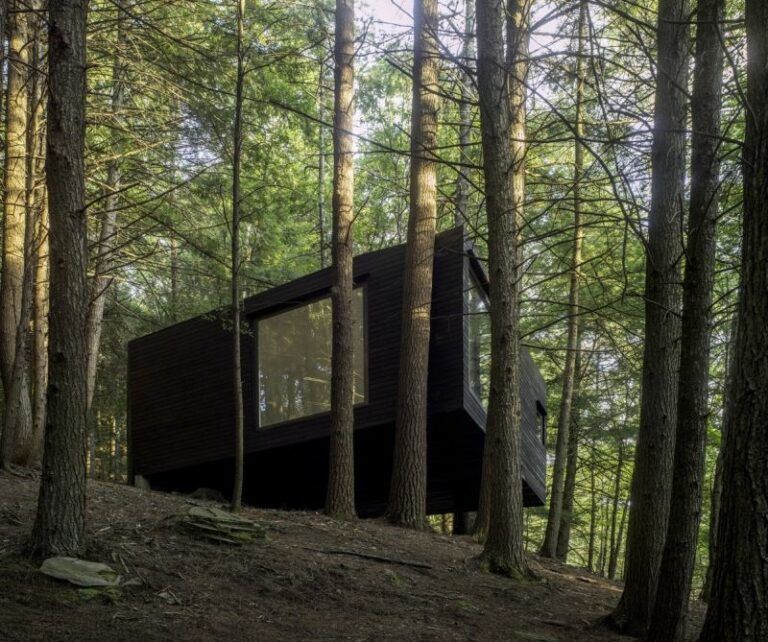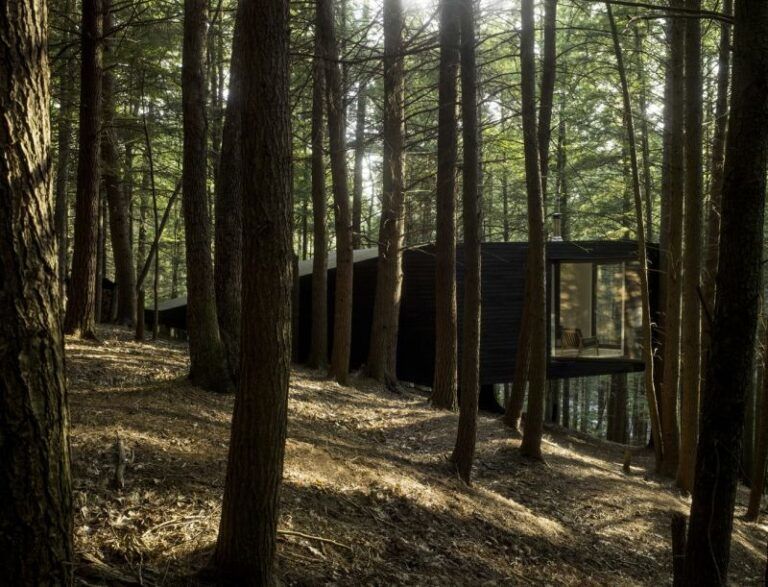 This forest is intriguing for a variety of reasons. One of them has to do with the location. This is a place in the middle of a beautiful forest with a steep slope and no road access, no water or electricity. It was up to studio Jacobschang Architecture to come up with a plan to create a house that turns these elements into advantages, all done on a small budget. The result is this splendid house with huge pivot glass doors, a black exterior that helps it camouflage among the trees and a perfect view over the valley.


A cozy wood house with an eclectic design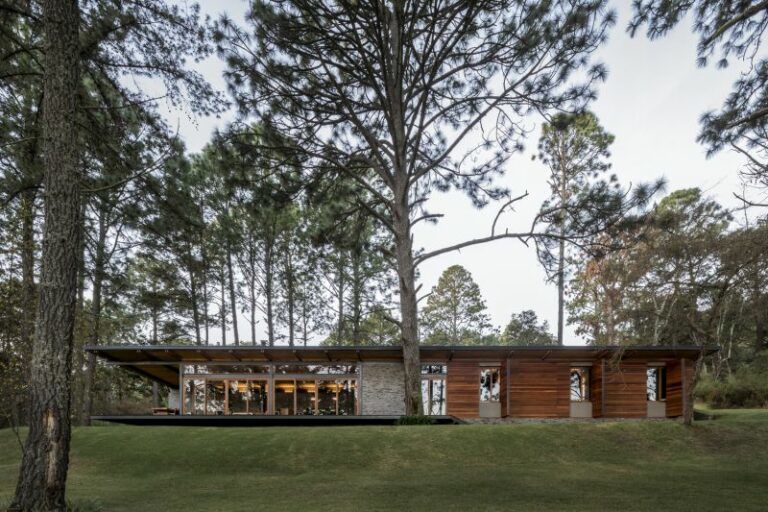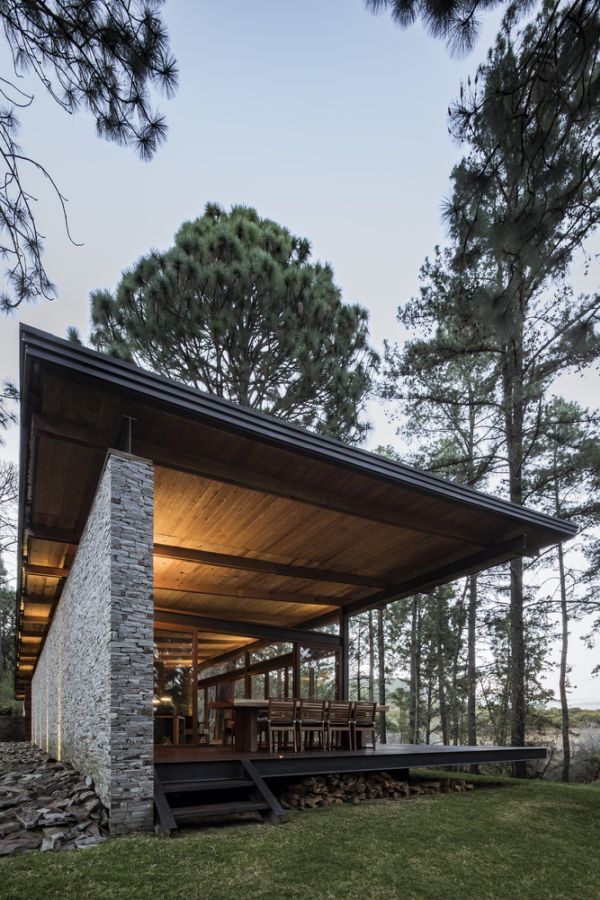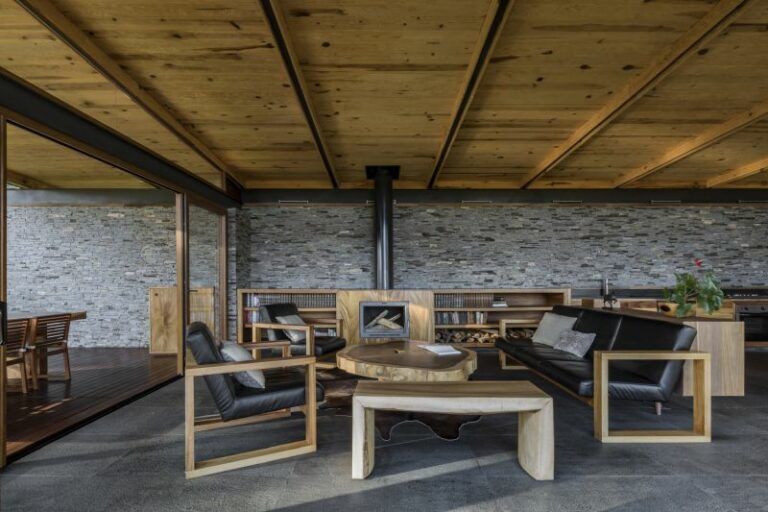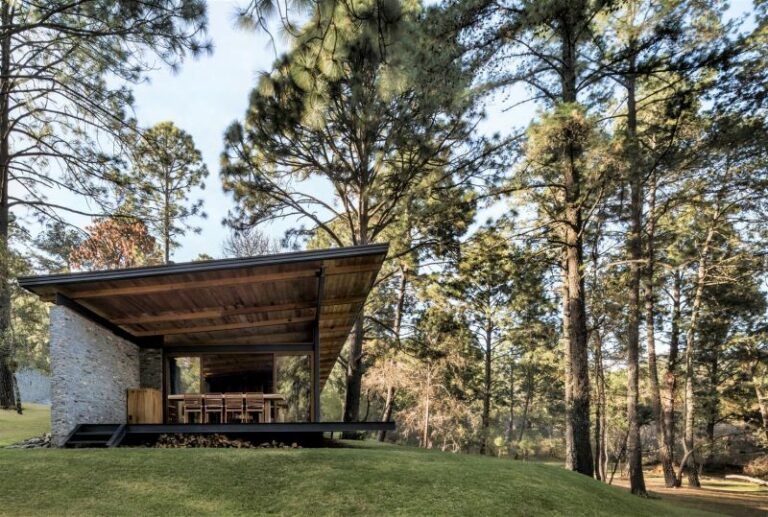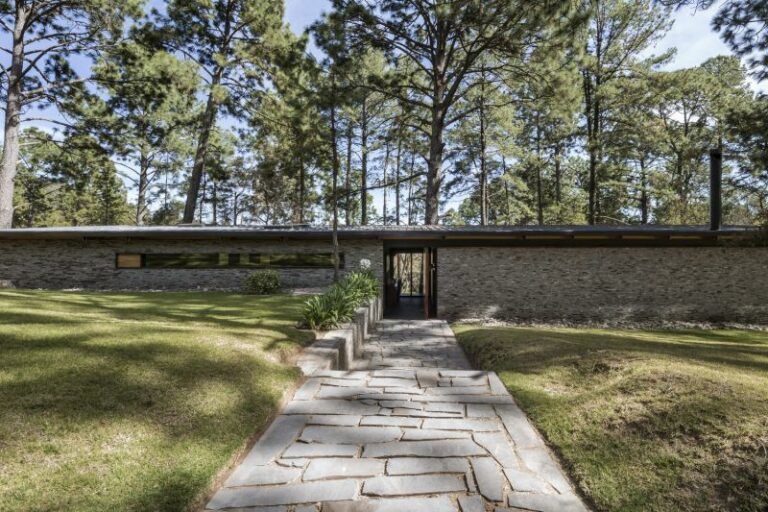 When seen from a distance, this house has a low profile in relation to the tall trees sprinkled all around it. What also stands out is its eclectic design which blends together modern and traditional elements.

The wood used on the outside helps the house to blend in with the landscape around it and goes really well with the other materials used including all the glass. This was a design by RAVSTUDIO in the Tapalta region of Mexico. The floor plan is linear and organized on a single floor. It was important to include both large and open areas for social activities as well as a series of more private spaces and this design is perfect for that.


The Monkey House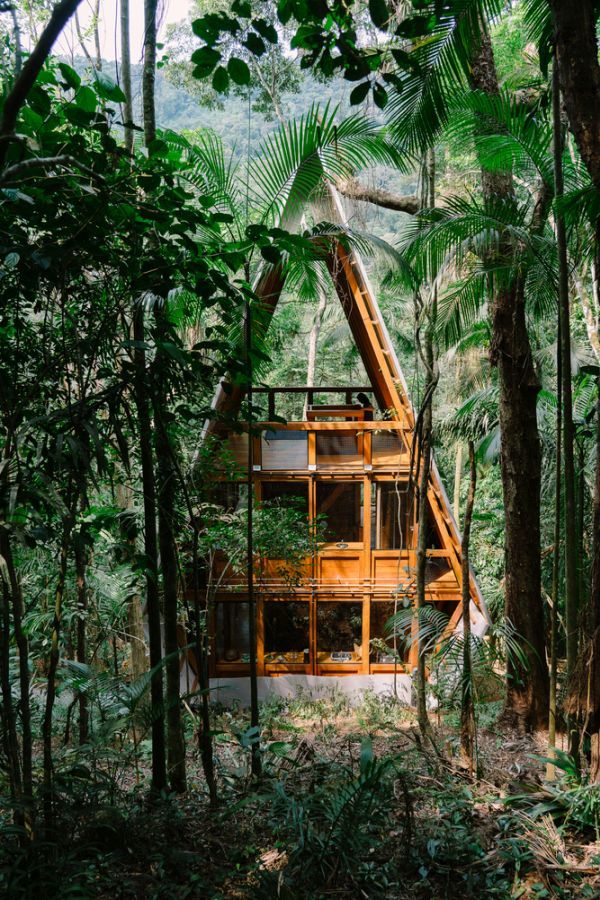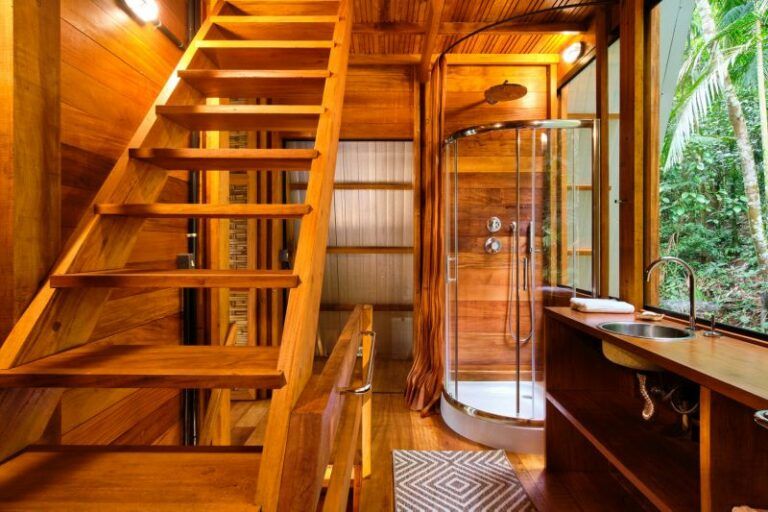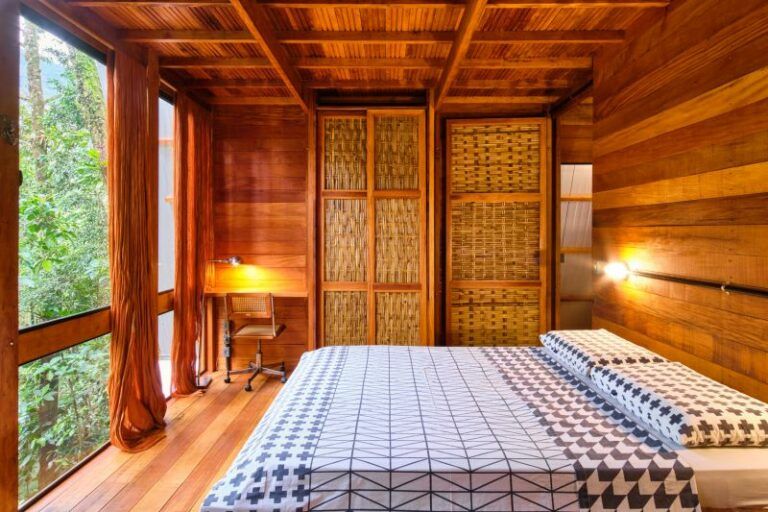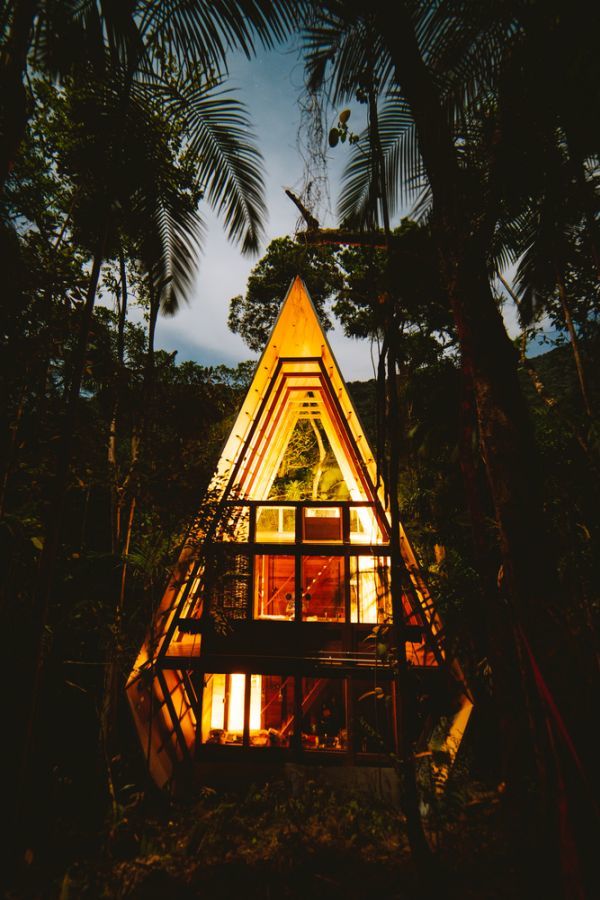 The Monkey House occupies a piece of land of only 5m x 6m. It's located in Brazil and the small footprint was dictated by the placement of the trees present on the site. No trees were removed as part of this project and the house was designed to match their height and proportions.

In other words, it has a small footprint but it's tall, enough so that its pointy roof is visible among the canopies, Big windows connect the cozy interior to the lovely surroundings and create a synergistic relationship between nature and the building. It's almost as if the house has grown among the trees and went in search of sunlight until it finally found it. This wonderful project was done by Atelier Marko Brajovic.


A treehouse with a unique design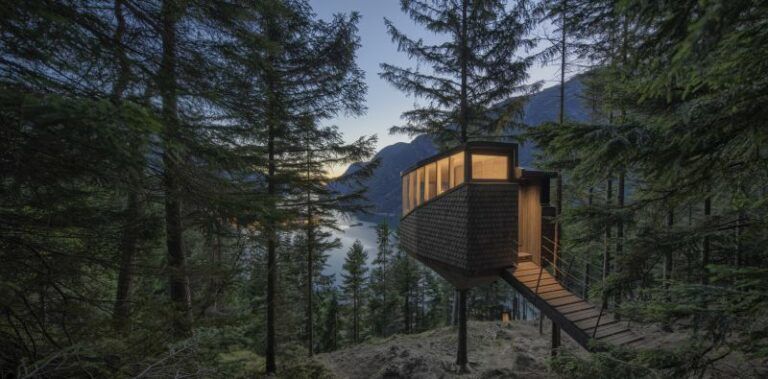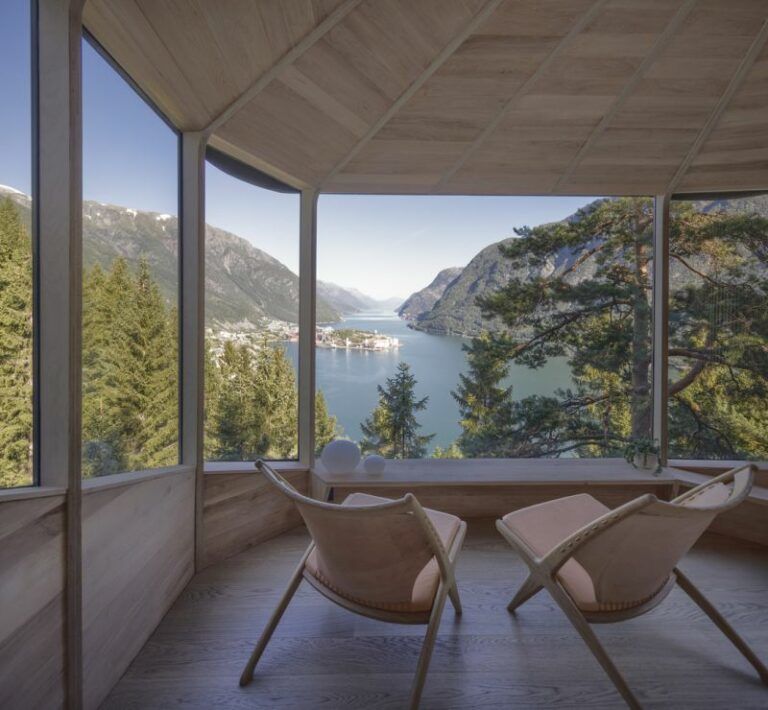 The Woodnest Cabin is located in Odda, Norway. It was designed by studio Helen & Hard and it's small but, more importantly, it has a really cool and unique look. It's a treehouse supported only by a single tree with a pretty narrow trunk.

There are no additional support columns which really makes this cabin stand out, as if it's not supposed to be standing there and yet it is. In case you're wondering how that is possible, the whole cabin is built around a steel pipe and attached around the tree using 4 bolts. Another really cool detail about its design is the layer of wooden shingles around the outside which weather over time and blend in with the trees.


Waterfront cabin with a forest backdrop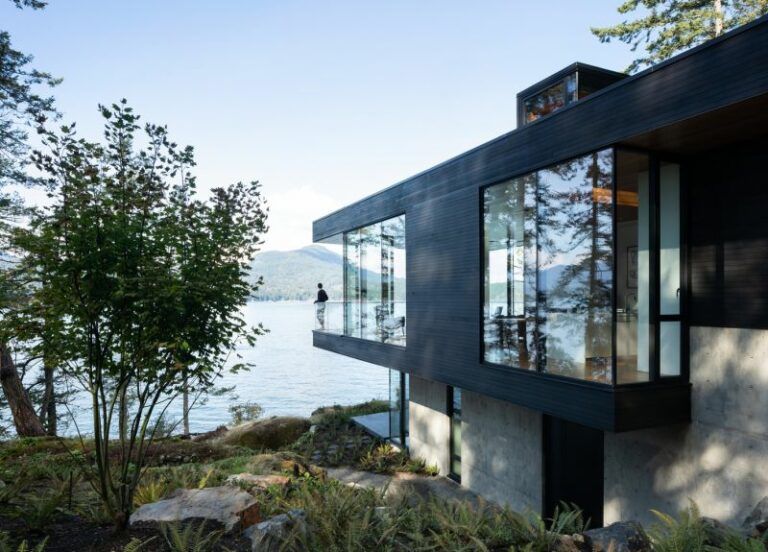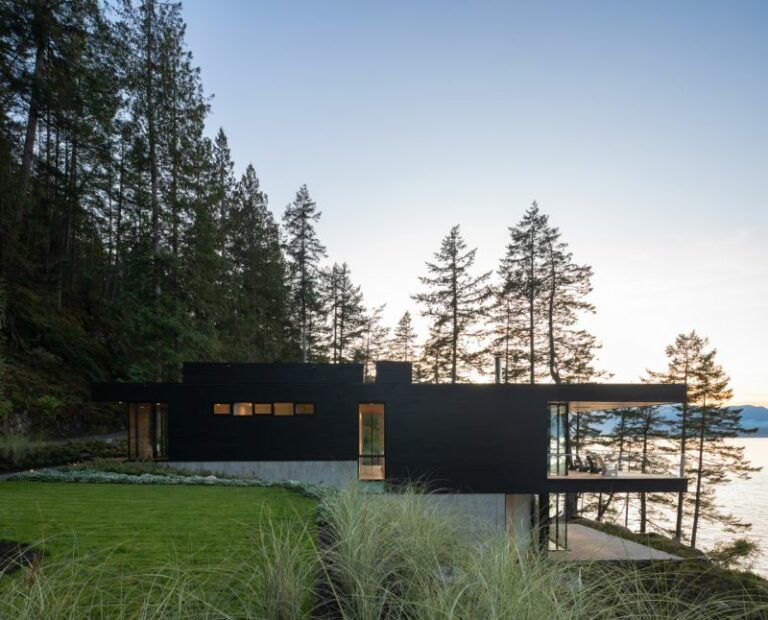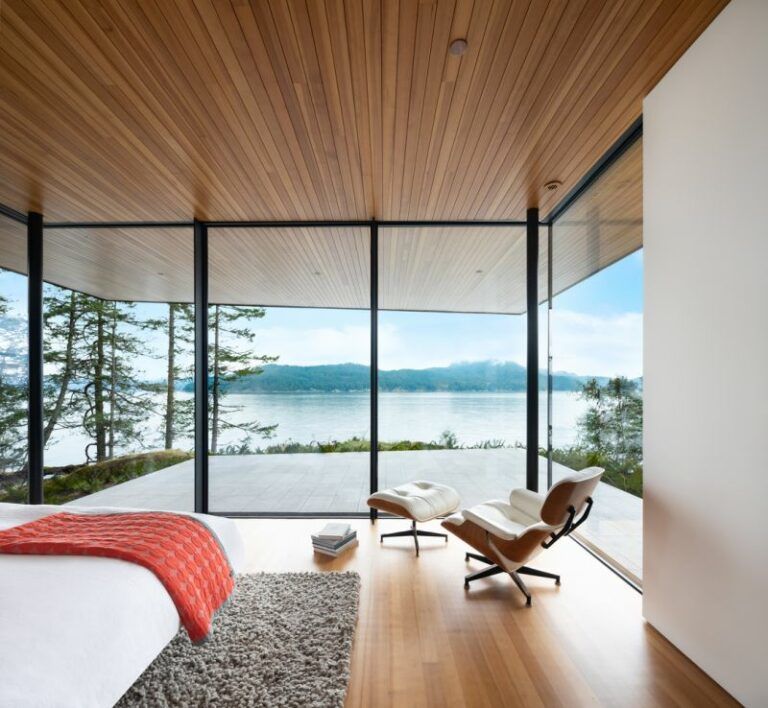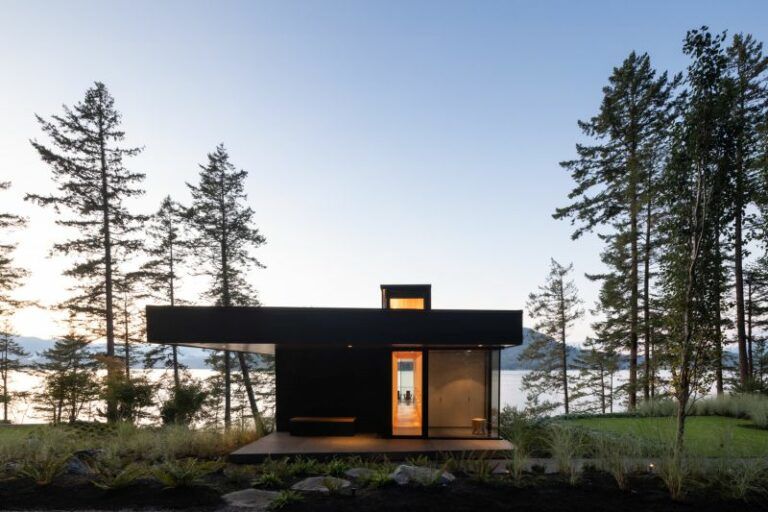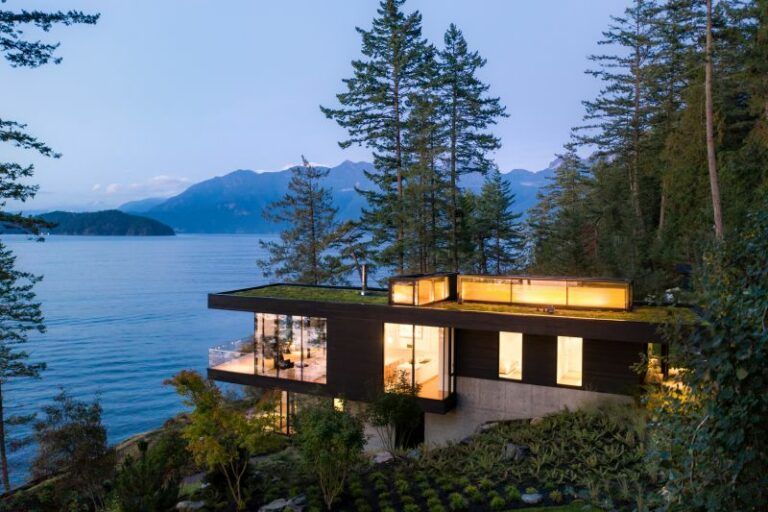 This beautiful contemporary retreat is situated on the shore of Bowen Island in Canada. It has a beautiful and dense forest on one side and the sea on the other, a perfect setting for a peaceful and tranquil retreat. It was designed by studio Office of Mcfarlane Biggar Architects + Designers Inc. who made sure to maximize the gorgeous views and to take full advantage of the unique topography of the site. The minimalist and modern design allow the focus to be on the magnificent surroundings rather than the building itself.


A mountain house on a steep slope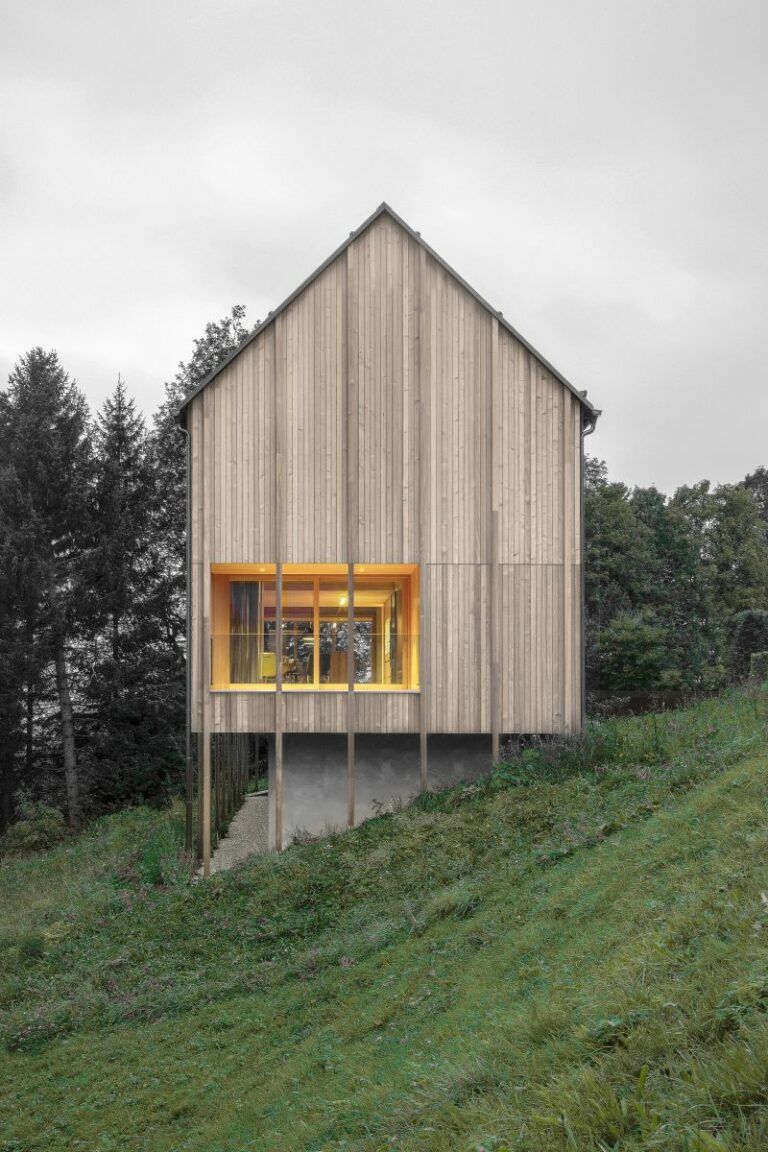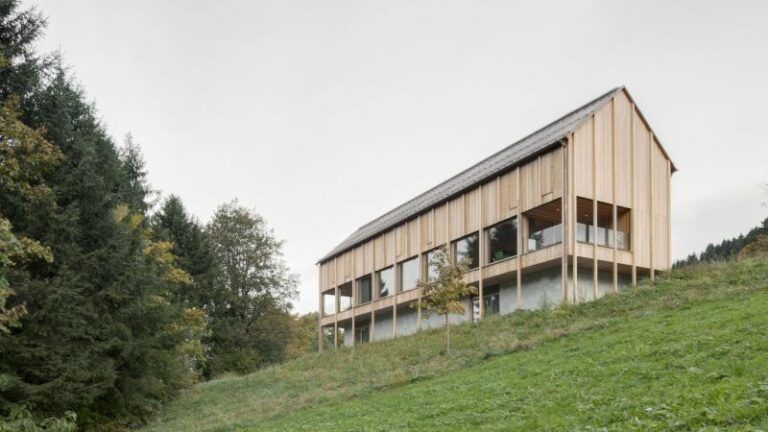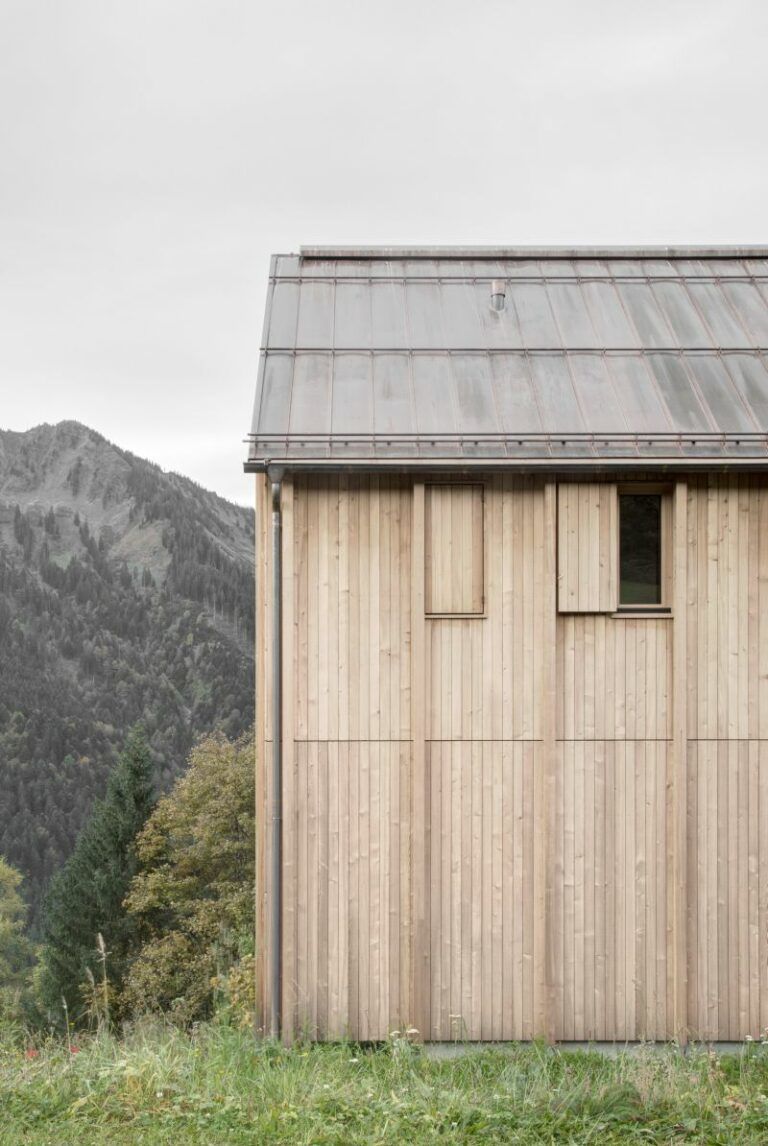 Located in Vorarlberg, a mountainous region in Austria, this house was designed to resemble local farmhouses but ultimately to be unique and different. In that sense, studio Bernardo Bader Architects gave it a solid concrete foundation and built a barn-inspired structure on top of that. From certain angles it appears as if the house is suspended on stilts and floats above the ground. However, it's embedded into the steep slope and this look is deceptive which makes it even more interesting.


Small cabin in the woods with a rooftop extension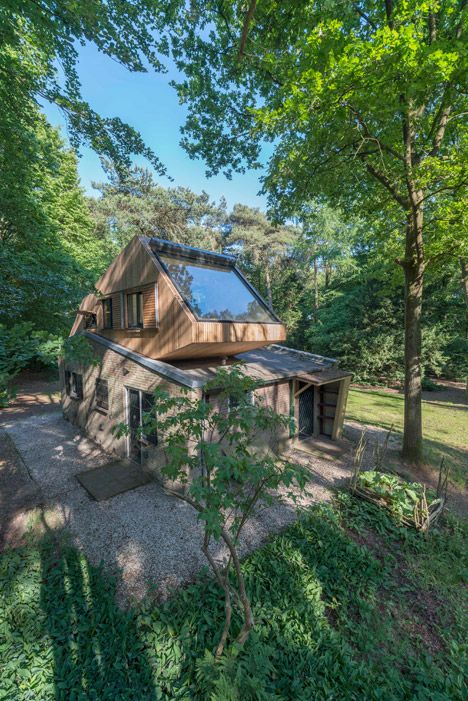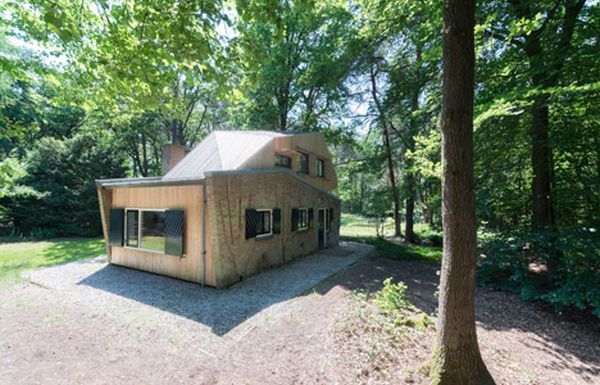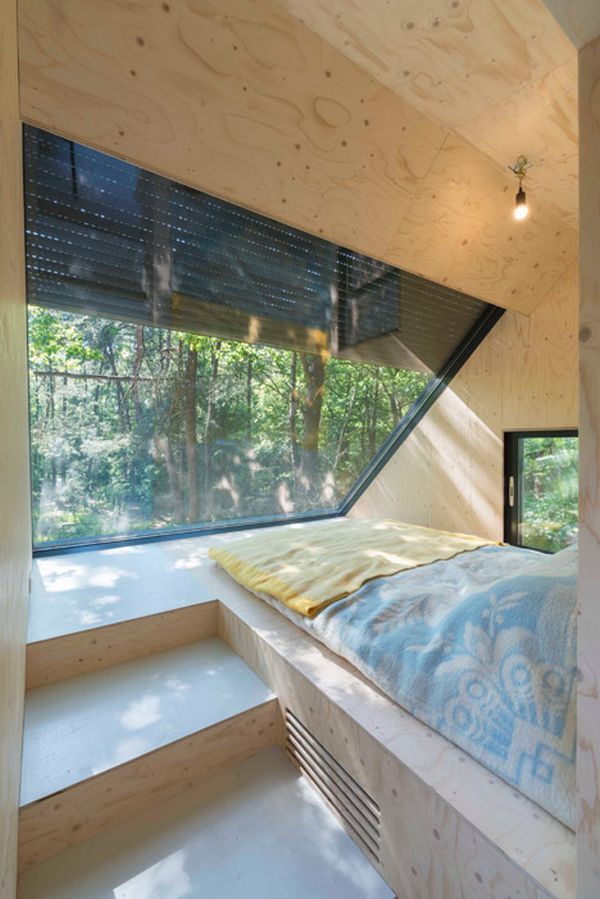 This cute little forest house was originally built in the 1950s and a few years ago it got an update. It was studio Bloot Architecture who revisited this lovely summer retreat and built a rooftop extension for it. They managed to make the new section blend in with the original structure in a remarkably natural way.

The angled roof is partially made of glass and the large skylight brings lots of light inside and acts as a huge screen which frames the gorgeous views and the sky. The effect is even more dramatic and extraordinary at night.


Lakeside cottage with a fresh design perspective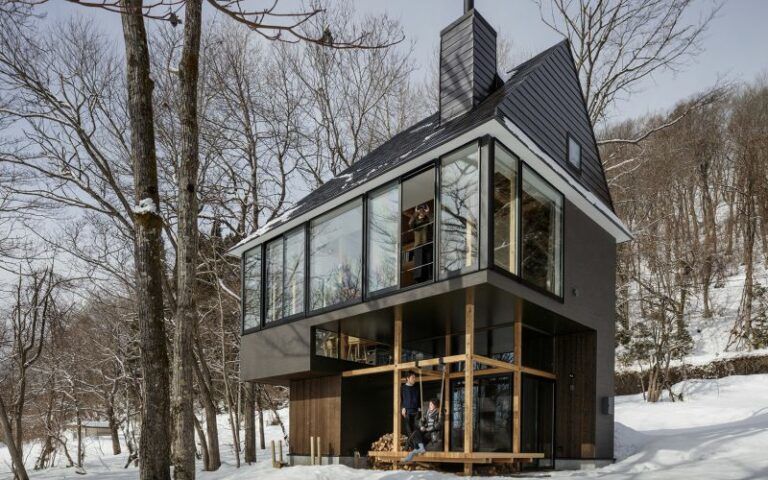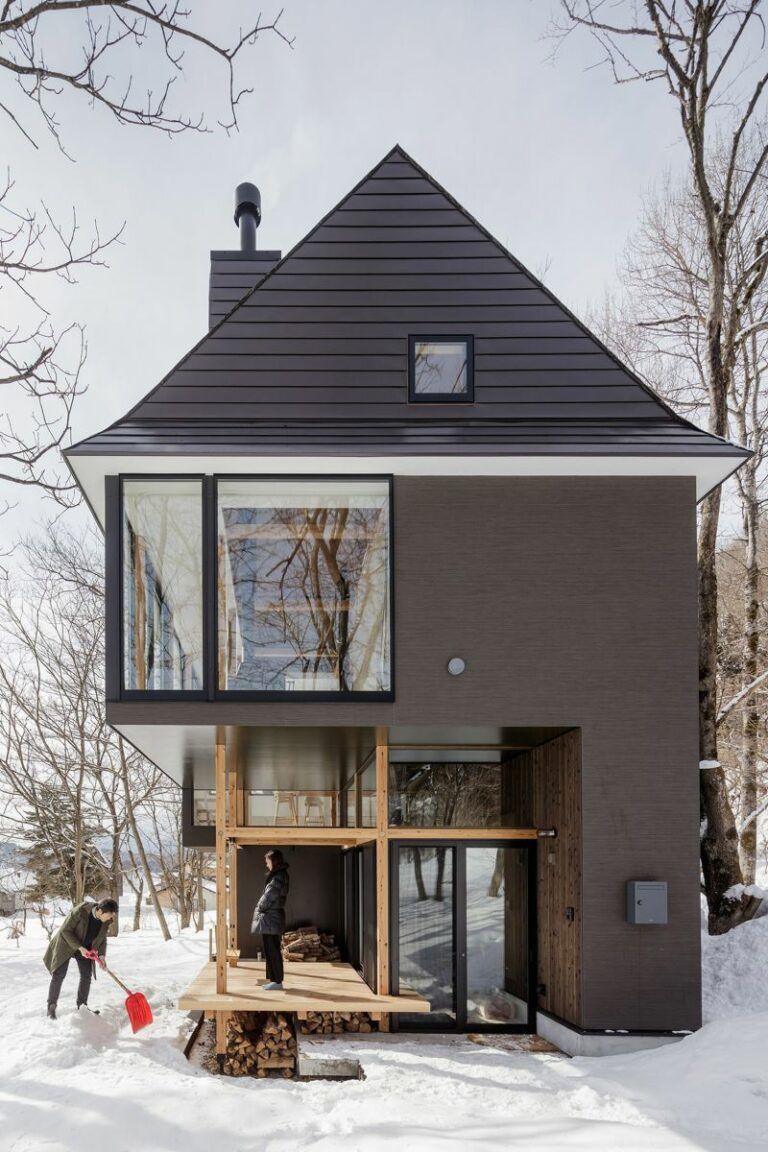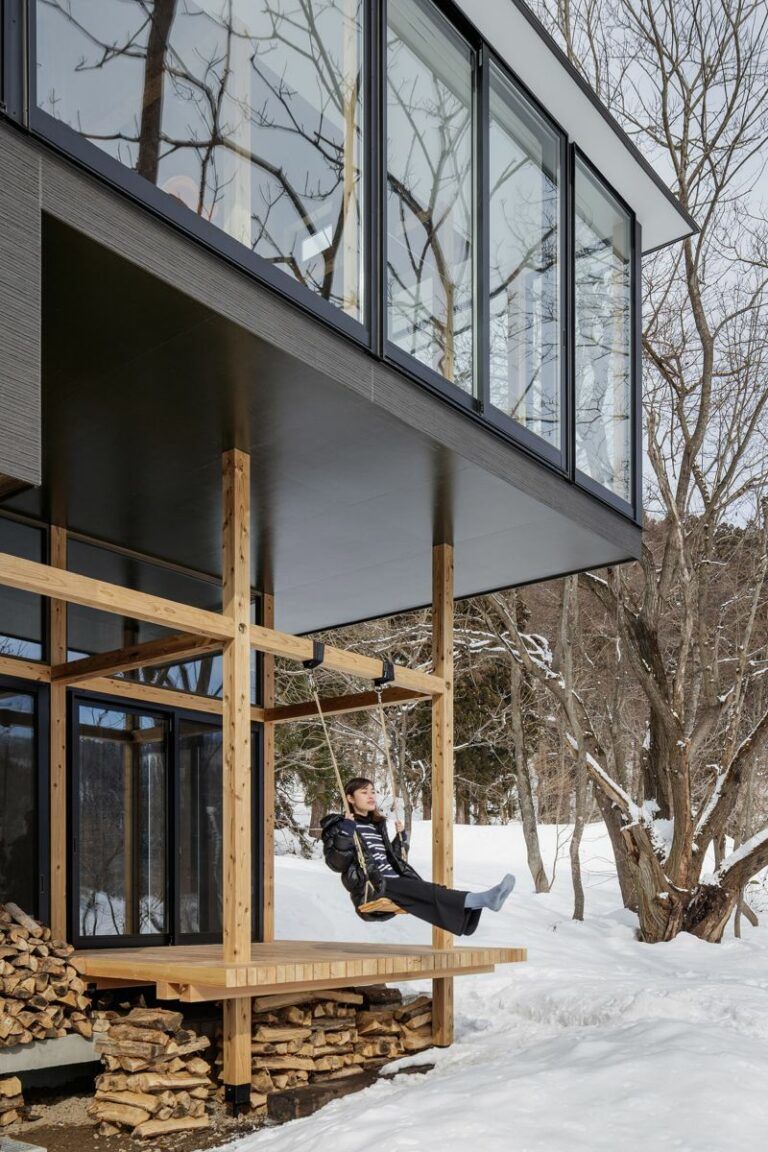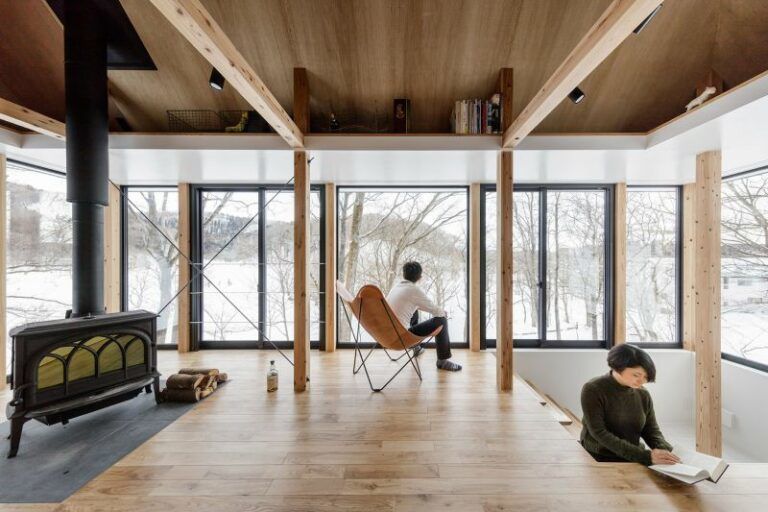 You can come across this beautiful lakeside house near Lake Noriji in Japan. It was designed by studio Sugawaradaisuke and the idea behind its unconventional design was to create multiple levels which can interlock and interconnect in a way that maximizes the relationship between the house and
the surrounding landscape and views.

There are five levels in total set at different heights, with floors that are multifunctional and can double as shelves, beds or benches. It's a very interesting design approach with a new and fresh way of looking at the basic elements of a house we often take for granted.