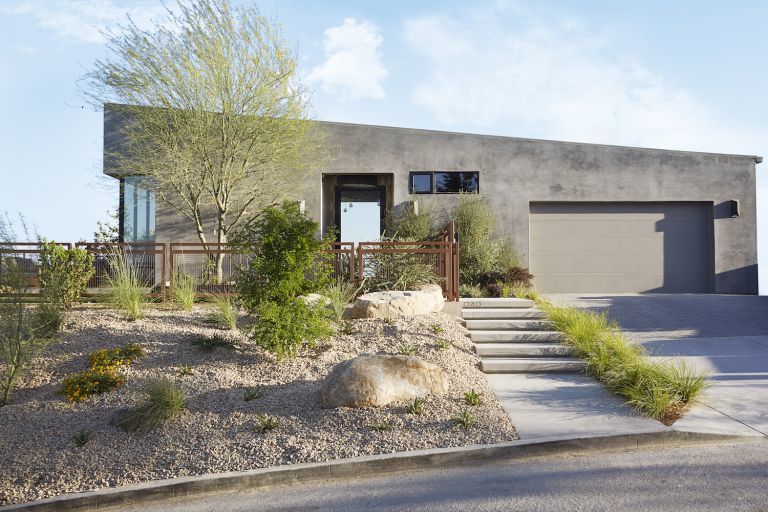 THE PROPERTY

This modern house in LA, in California's Silver Lake area, is filled with pattern and bold ideas, from Kelly Wearstler's Channels wallpaper that stretches up the stairwell to the bunny-print design covering the daughter's bedroom walls, and a cool, custom-made floating bed in the son's bedroom.

Measuring a little over 3,500 square feet, the modern home features a modern kitchen with striking dining area, an elegant living room, a modern master suite and five different outdoor terrace areas.

The homeowner was visiting friends on the adjacent hill when she spotted the foundation being built on this property. She tracked down the developer and bought it early in the construction process, and took over the build. The plans for the property didn't reflect the owner's style, so she brought on Michael Rasky from Modern Nest to help with the redesign.

It was a modern box without much detail – but it did have high ceilings, a generous floor plan and amazing views of the skyline and the reservoir. Michael and the home owner wanted to make this 'box' feel more human, so they created a more personalised scheme, giving the home soul.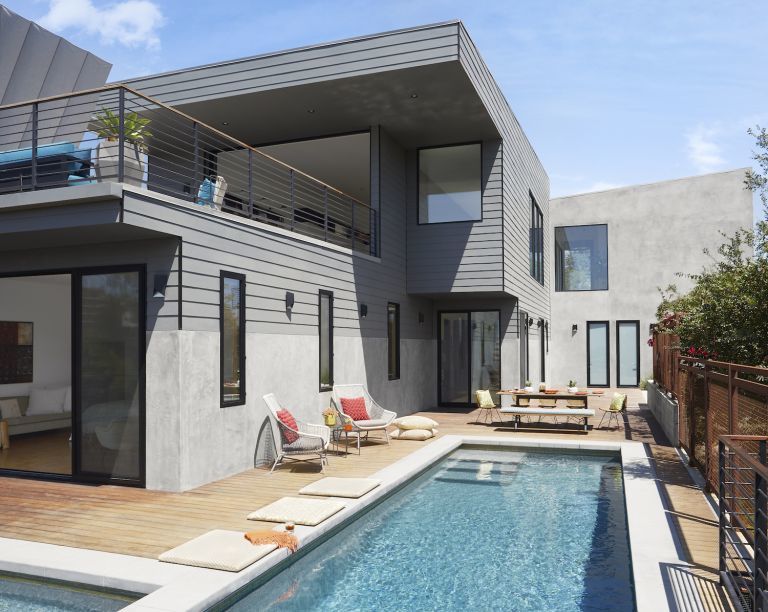 ENTRANCE

The entrance vestibule features Anne Sacks' geometric tiles on the walls, a spider pendant and sweeping LA views.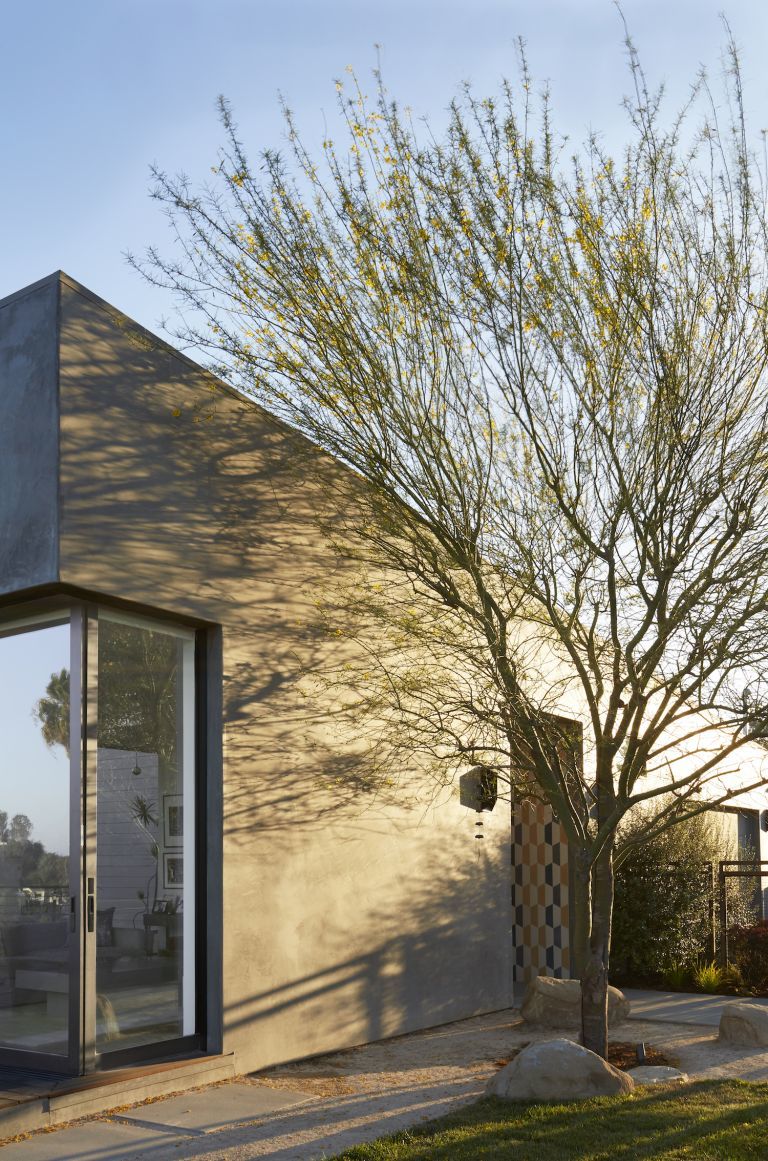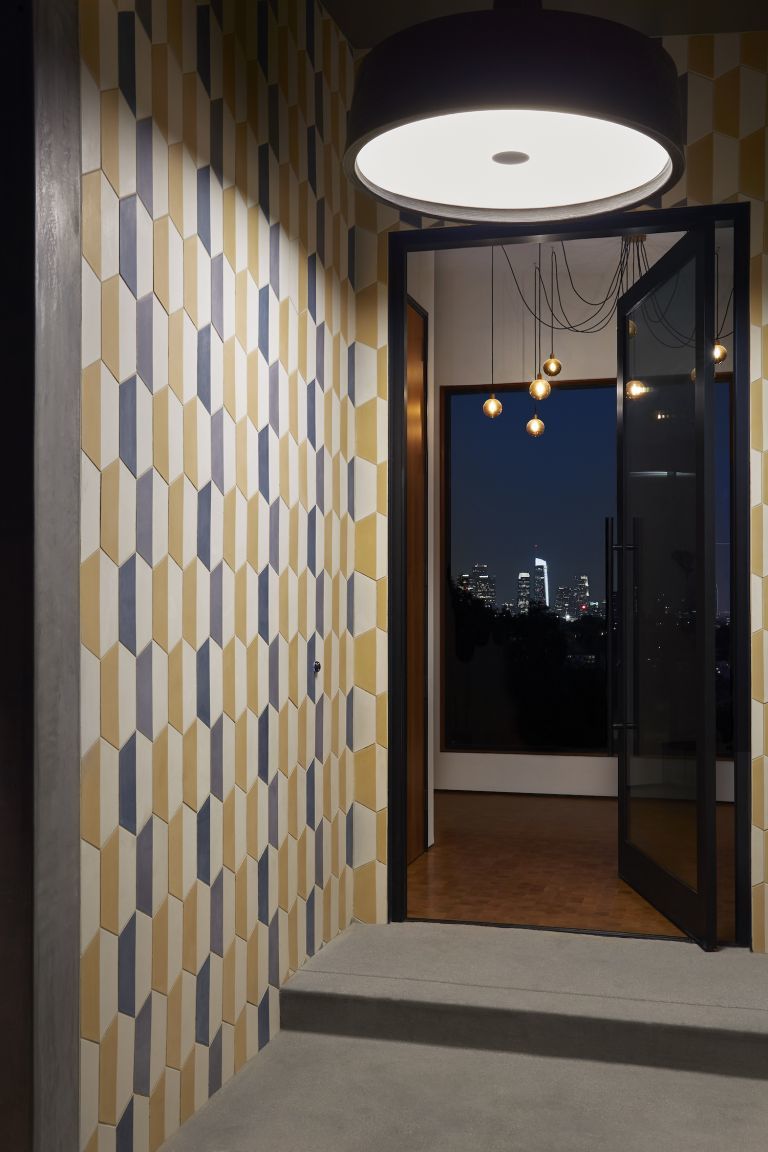 KITCHEN

The entrance vestibule opens straight into the open-plan kitchen and dining area.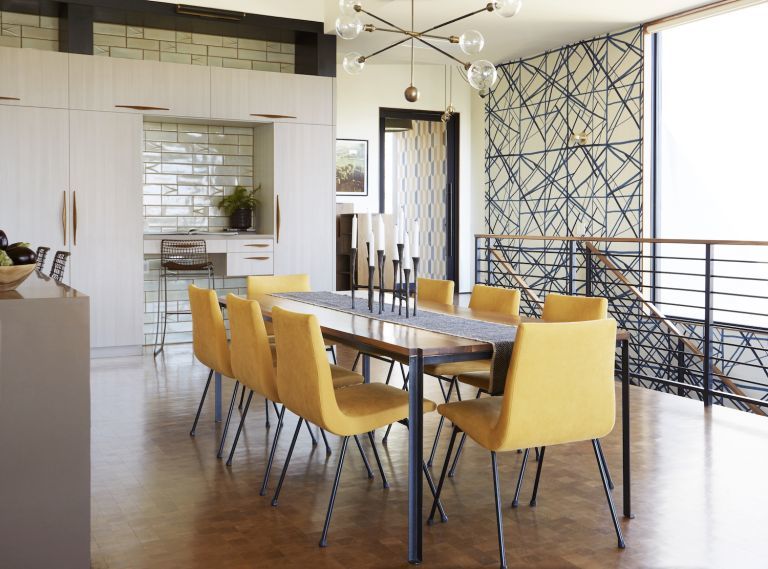 Ann Sacks' tiles feature again in the kitchen for the pistachio splash-back.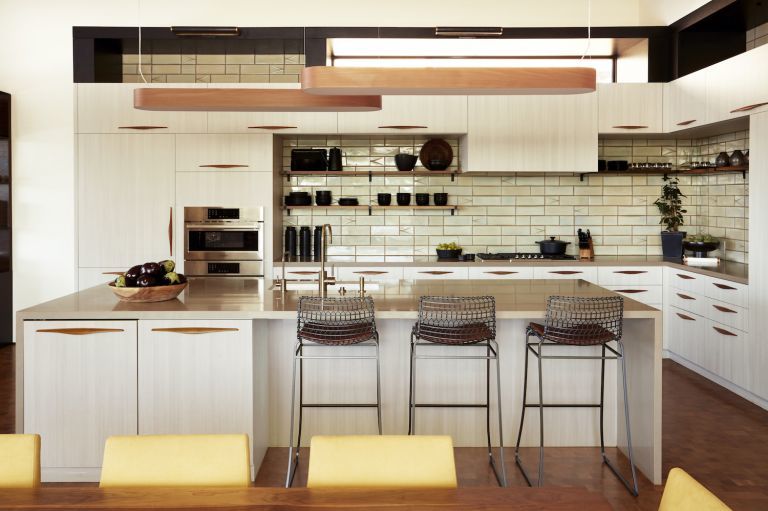 The modern kitchen island incorporates a sink, plenty of storage and a breakfast bar.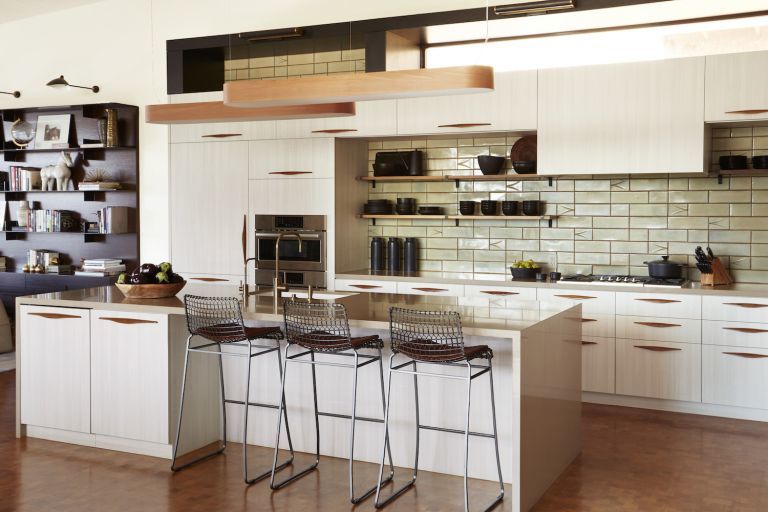 Kelly Wearstler's Channels wallpaper runs alongside the kitchen and dining area, and down the stairwell to the lower ground floor.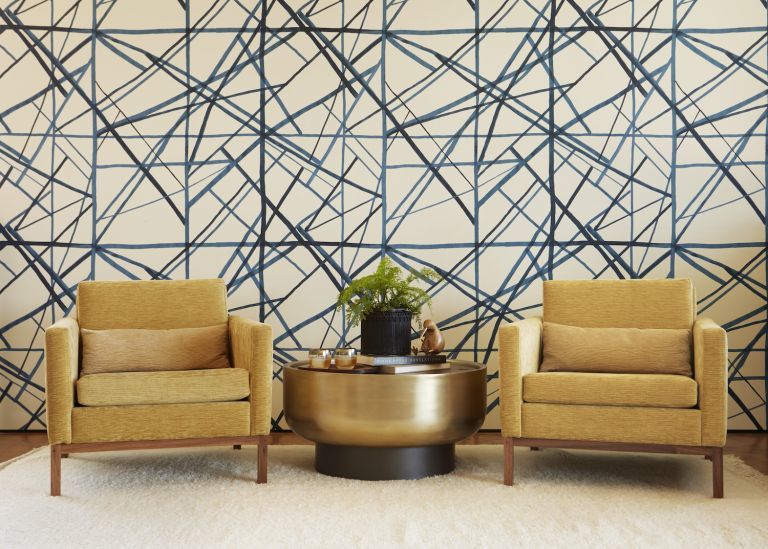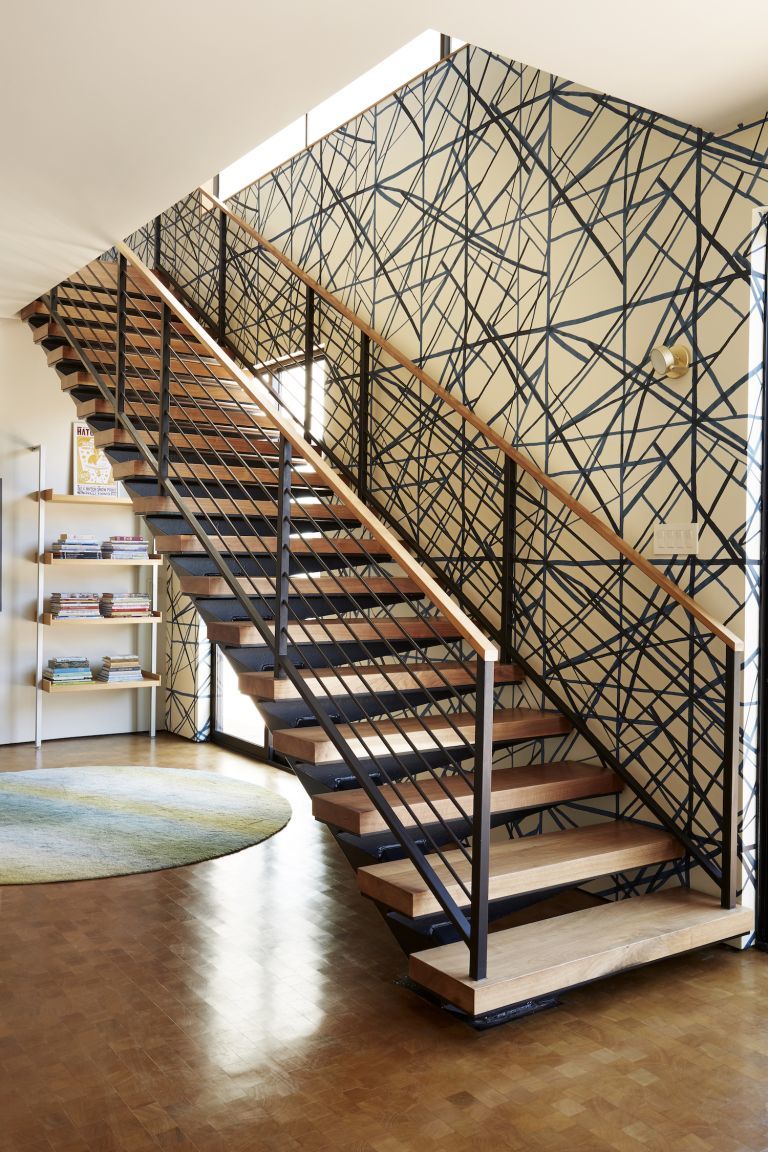 LIVING ROOM

The open-plan kitchen flows into an elegant living room space with built-in bookshelves designed by Michael Rasky. The organic shaped sofa is by Patricia Urquiola.


GIRLS' ROOM

The downstairs bedrooms feature more colour and funk, particularly in the kids' rooms. As the daughter loves bunnies, Michael found this Hunt Slonem wallpaper to pull the room together.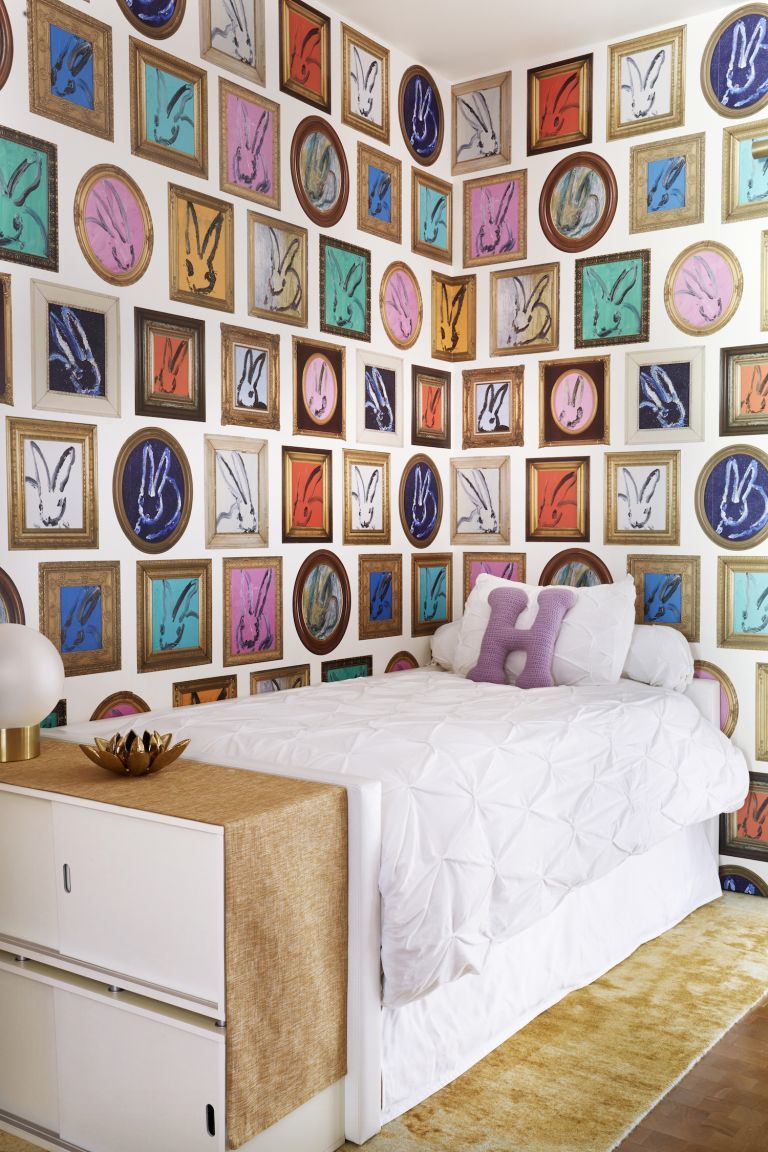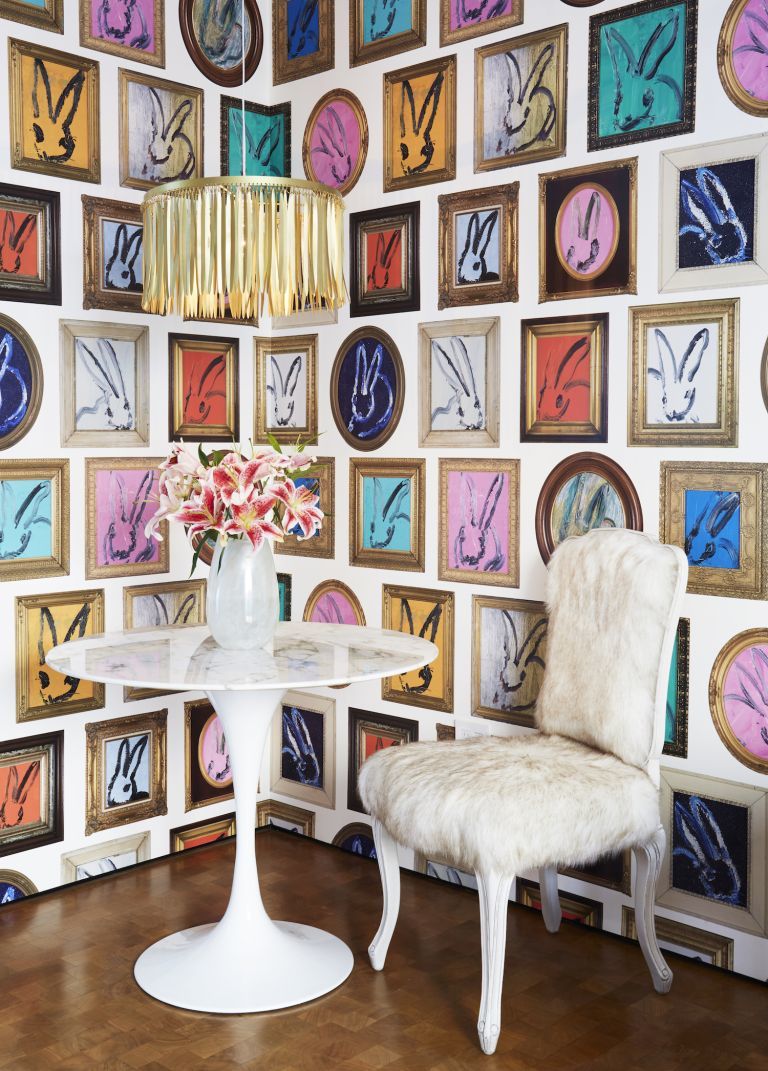 BOYS' ROOM

The owner's son wanted ropes to climb and that was the starting off point for this playful bedroom.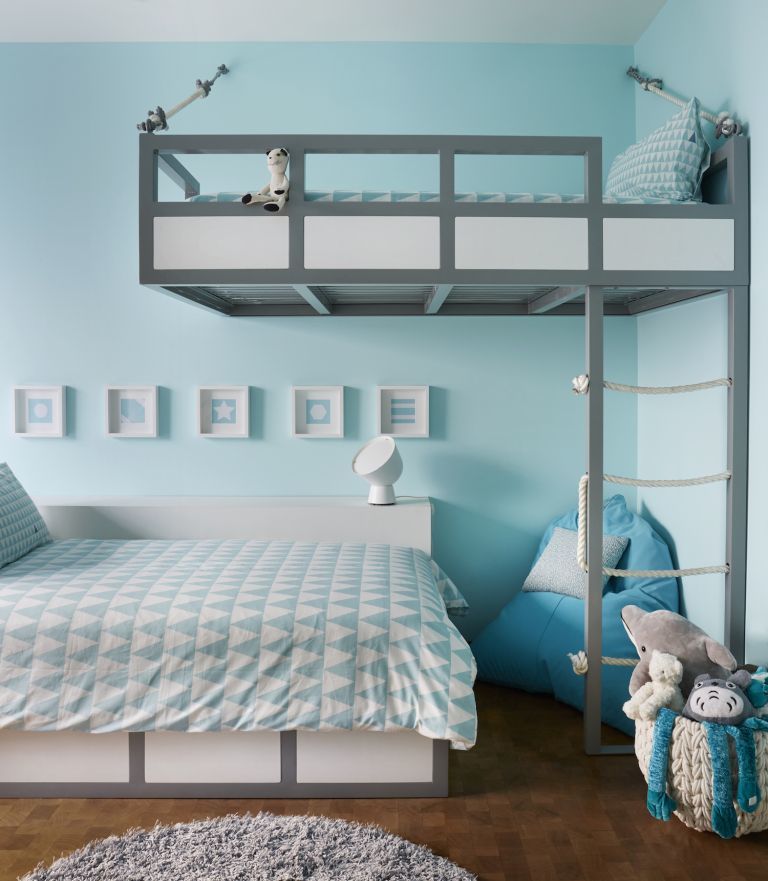 It was an engineering feat to get the upper bunk to float without any support.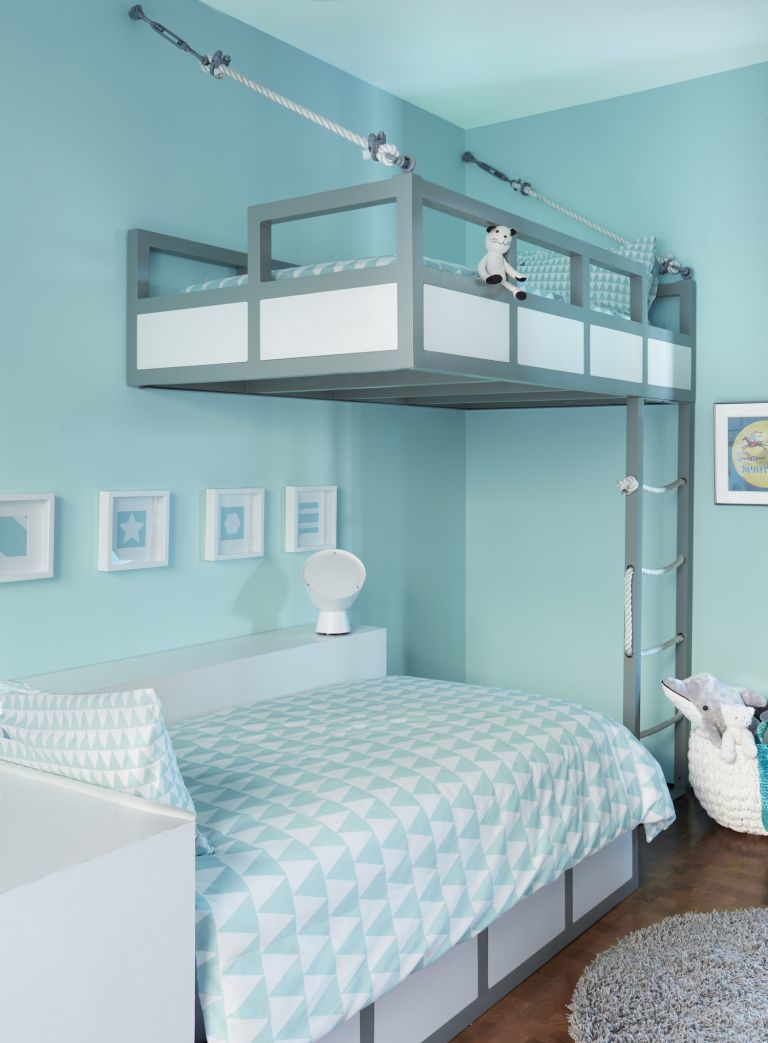 MASTER BATHROOM

Meanwhile the master suite features a more muted, natural palette.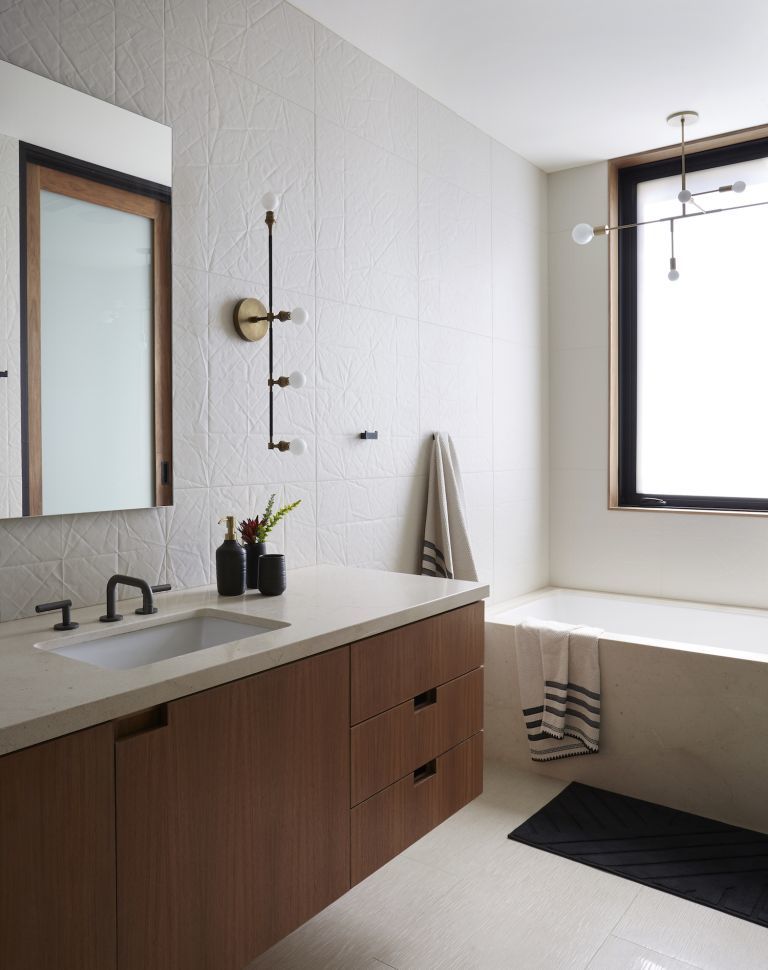 The tiles – from Stone Source – look like folded paper, adding texture to this serene space.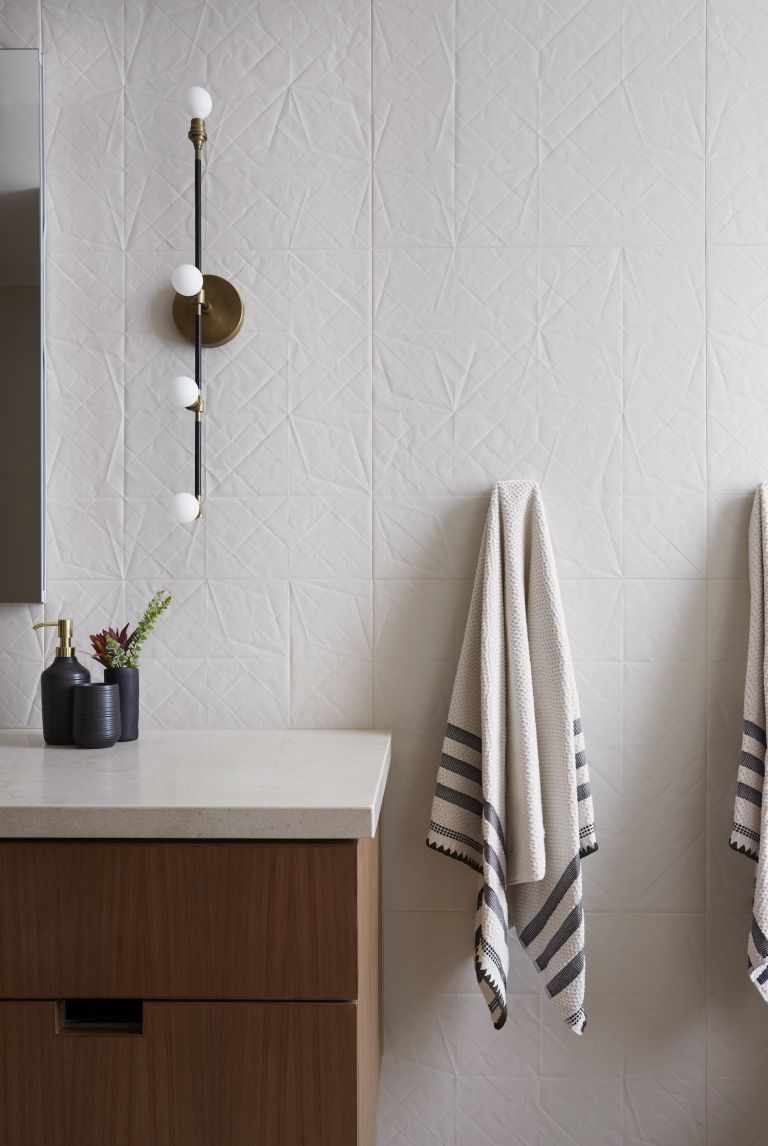 TERRACES

The house came with lots of different terraces and balcony spaces that offer views from every height and angle.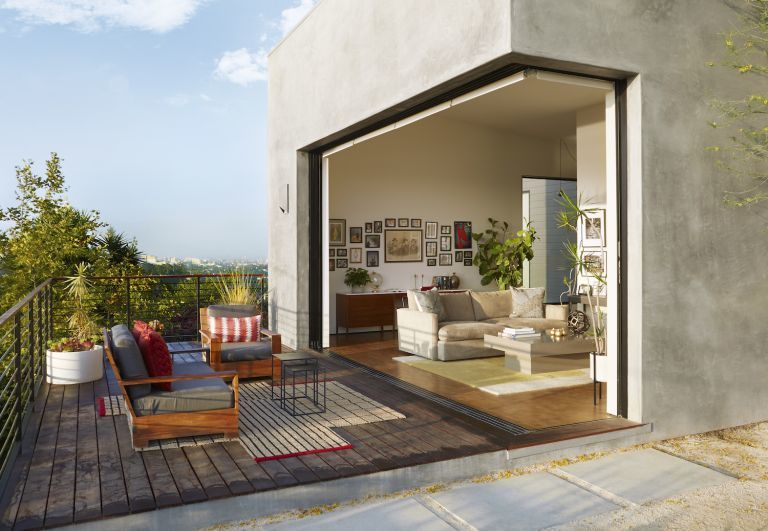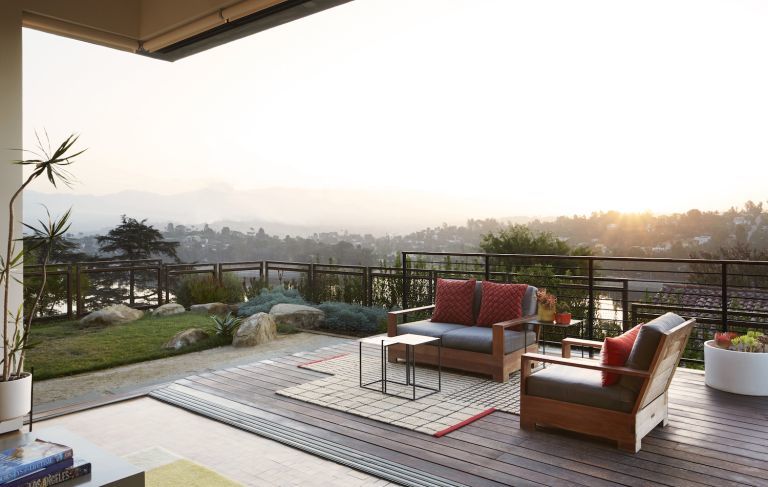 Silver Lake is a hip enclave in Los Angeles and is a hub for fitness, parks and recreation. The 'lake' in Silver Lake is actually a reservoir that looks like a lake.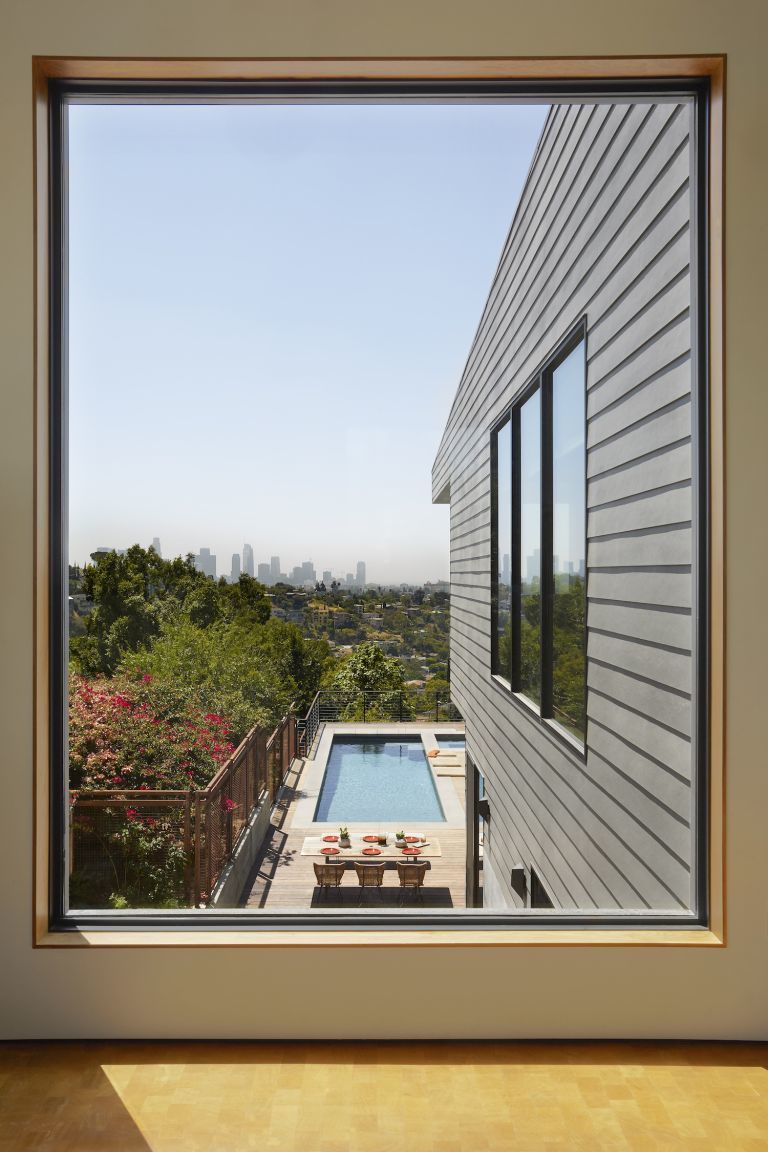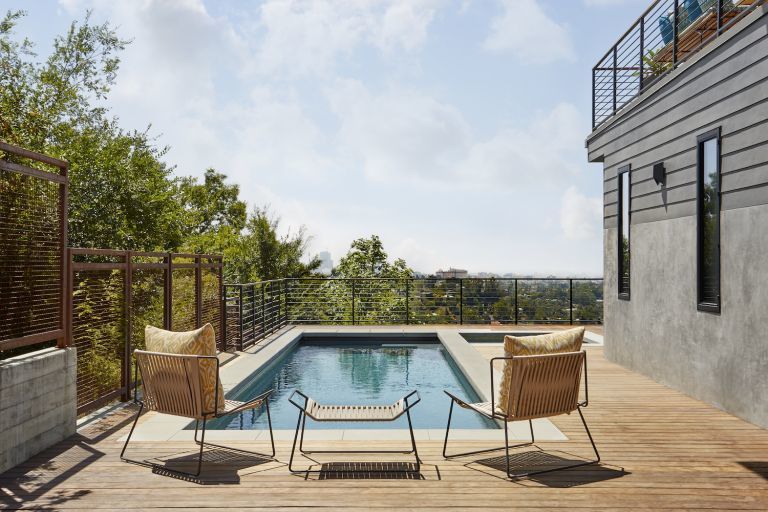 There are balcony spaces, an outdoor dining area, two swimming pools, and there's even a patio with fire pit. Dreamy.