Of course, everyone has their own idea of how the perfect living room would look like. The design and decor of a living room are influenced by a variety of factors such as lifestyle, location, culture, favorite activities, colors and so on. Let's see what these interesting designs have to offer.


How to Decorate a Living room – 25 Inspirational Ideas
Chic Parisian beauty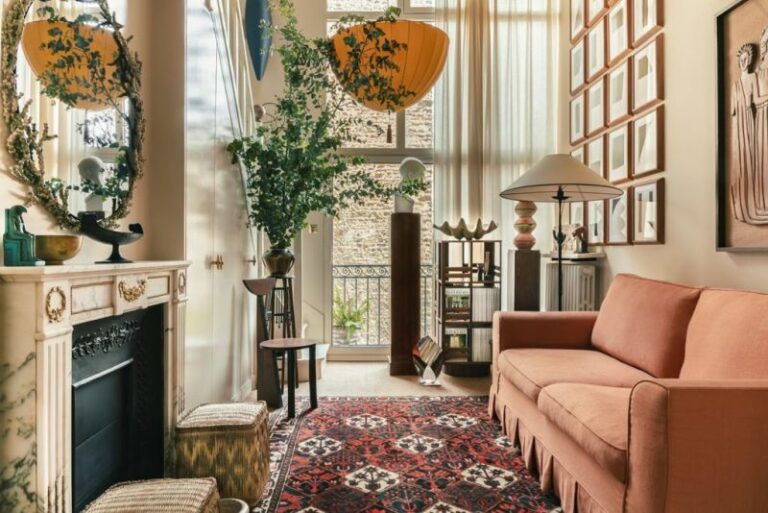 Even without knowing where this beautiful apartment is located you can immediately tell it has a very chic vibe and a French charm. It's an eclectic style often seen in Parisian interiors such as this one created by designer Fabrizio Casiraghi. The key here is a blend of modern and rustic details with a palette of neutrals complemented by soft warm tones.


Small but very bright and airy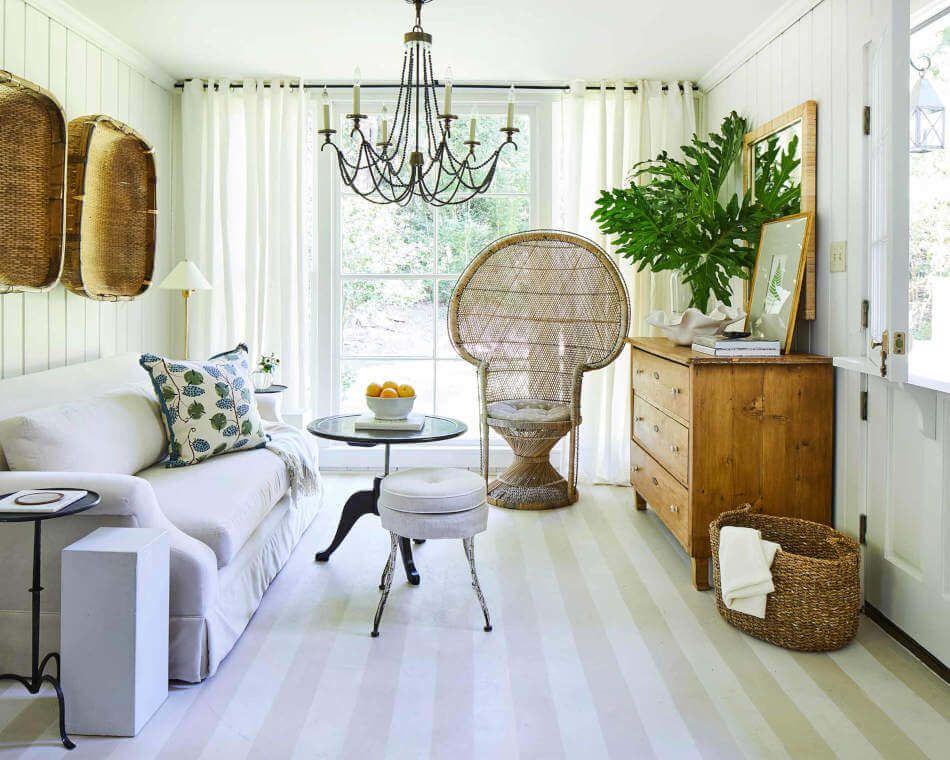 Just because a room is small doesn't mean it can't look amazing. There are many clever ways to make a small area seem larger and to make as inviting as possible. In this case, interior designer Ashley Gilbreath relied on a palette of light and warm neutrals to give this room an extremely welcoming appearance. The living room curtains frame a floor-t0-ceiling window, the detail which perhaps has the biggest impact on this beautiful decor.


Splashes of color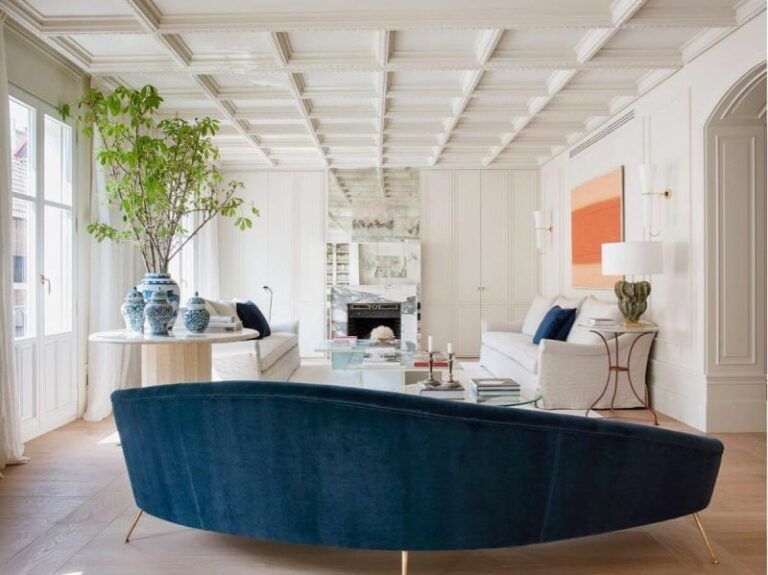 This living room has a very bright and airy interior. It features big windows that let in natural light but it also has white walls and a matching ceiling, as well as a multitude of furniture pieces and accessories which follow the same color palette. Interior designer Estudio Maria Santos also made sure to sprinkle in accent colors like this beautiful dark blue which stands out and adds elegance to the space.


A traditional approach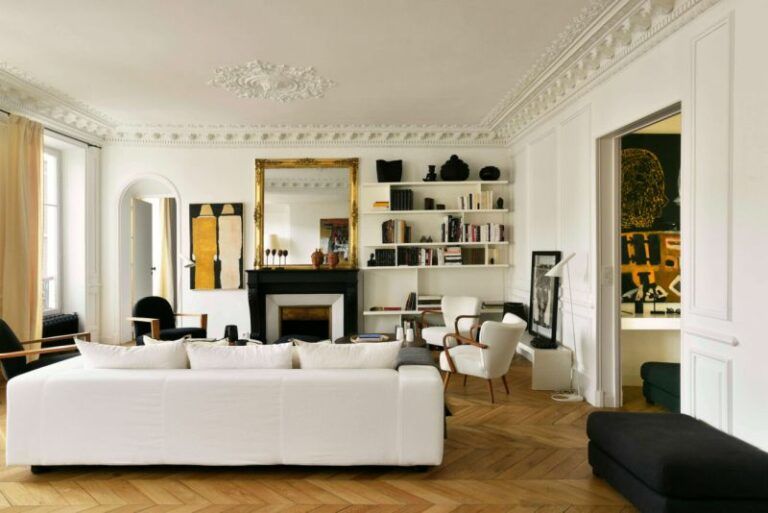 Here's another gorgeous interior of a Parisian apartment, this time with a spacious living room that features a lot of interesting little design details. The parquet floor looks wonderful and the decorative molding on the walls and the ceiling add a lot of charm to the room. Modern simplicity is beautifully combined here with classic and traditional ornamentation, resulting in a very stylish interior created by studio Gaspard Ronjat Interiors and Design.


Minimalism with a charming twist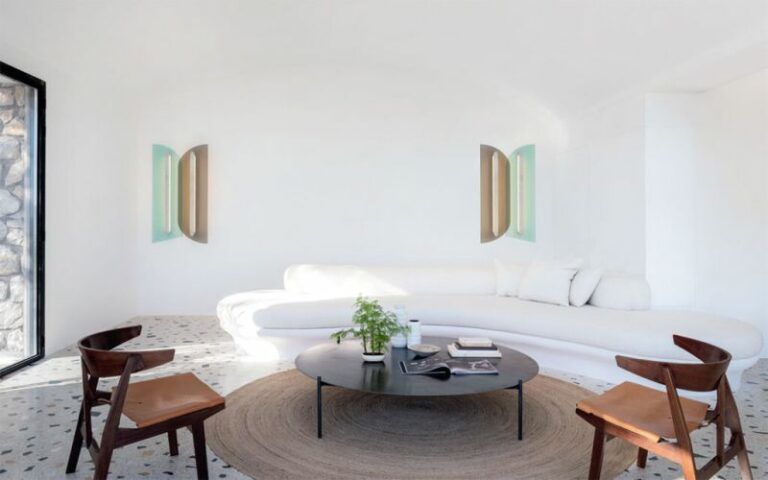 A modern living room can take many different forms. Some prefer minimalism which usually means very little furniture and a lack of ornamentation unless it's to make a statement. Something like this however gives simplicity a rather different meaning. The living designed by Giuliano Andrea dell'Uva has a lot of charm even though there aren't many elements to focus on.


Tropical charm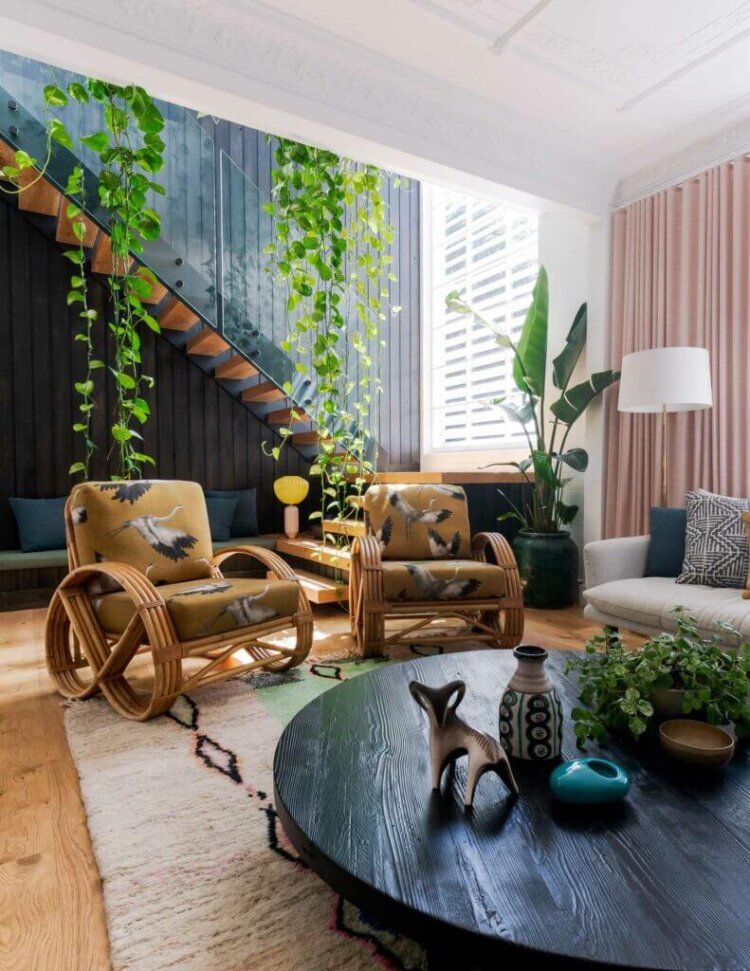 The interior design of a space can also be closely linked to a type of location. For example, this beach house designed by Jase Sullivan features a very fresh and tropical vibe. The living room is also infused with various vintage Moroccan elements like the area rug for example. It also features plenty of dark color accents which go really well with all the greenery.


Contemporary meets retro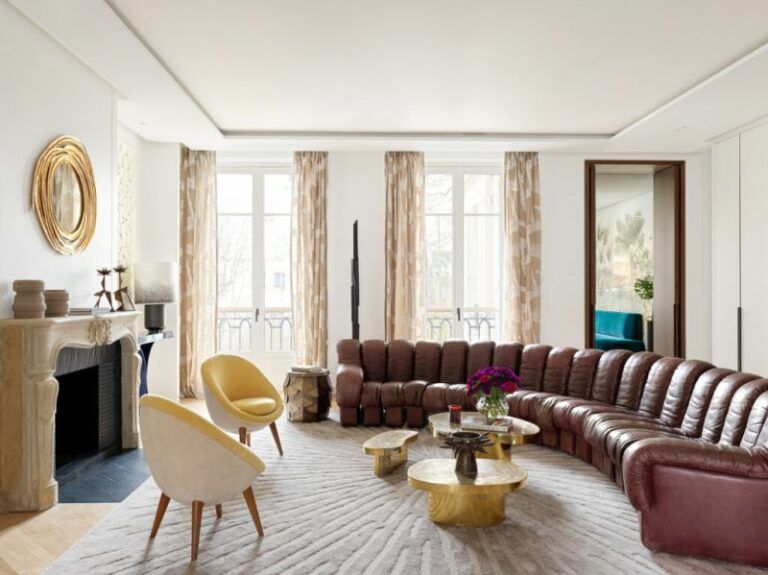 Although it's quite simple overall, this beautiful living room designed by Le Berre Vevaud has plenty of details that stand out, starting with this large curved sectional sofa. This is one of the elements that give it a retro-inspired look, together with this lovely fireplace. These elements are complemented by a clean and modern aesthetic and the combination is very suiting for a Parisian home such as this one.


Rich colors and textures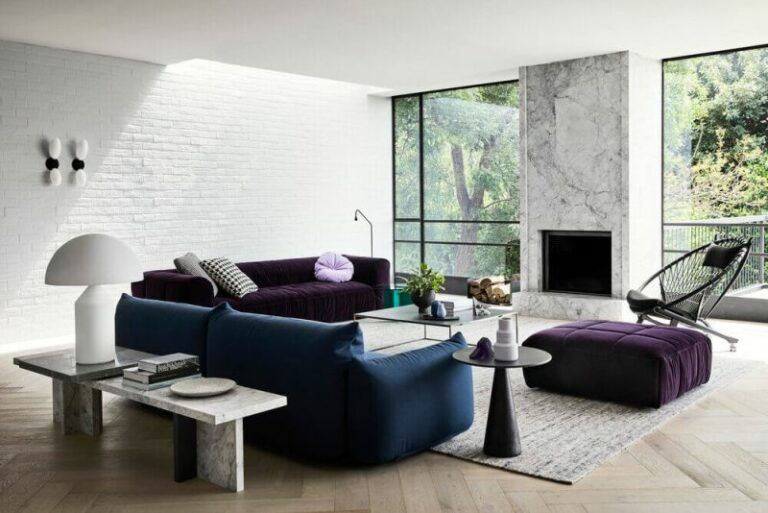 Minimalism can also mean a clever use of bold shapes and vivid colors, patterns and textures. A wonderful example is offered here by Lucy Bock Design Studio. This stylish living room features many gorgeous features such as the white brick wall beautifully highlighted by the skylight, the warm wood floor, the use of marble for the fireplace and of course the integration of strong and rich colors to complement the neutral setup.


Classic and refined simplicity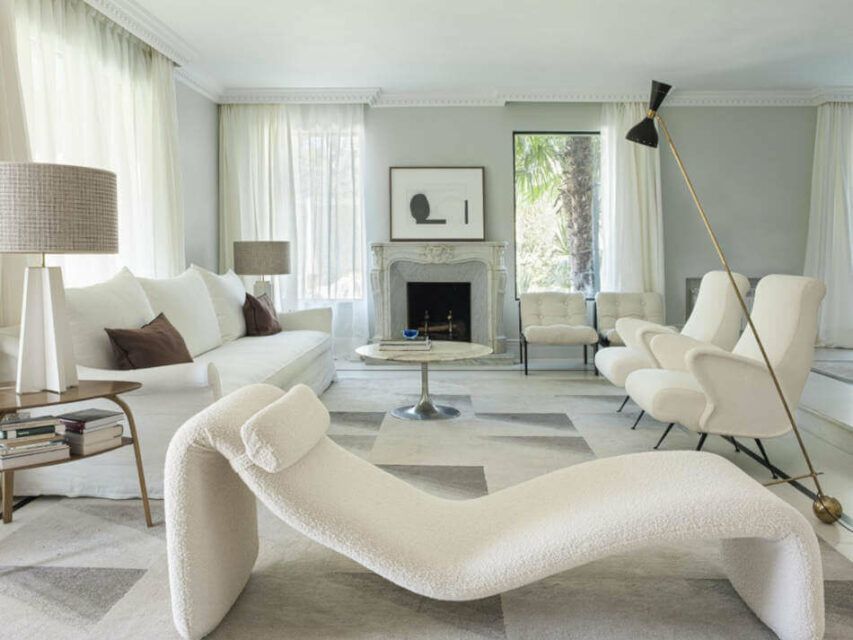 This living room designed by Espejo & Goyanes features a monochrome look based on light neutrals an occasional variations of the base colors. The space also certainly has a very refined feel, a sort of design that prioritizes the aesthetics but also aims to be very welcoming at the same time. Certain elements such as the traditional fireplace of this curved chaise stand out but in a subtle and elegant way. Their role is not to make a statement but to enrich the rest of the decor.


Exposed brick and modern flair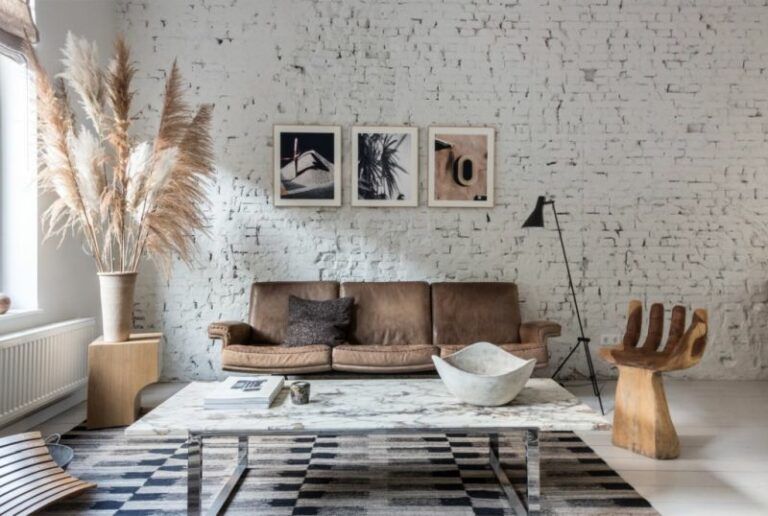 On one hand, features like the brick accent wall or the polished concrete floor give this living room an urban and industrial look but on the other hand the leather sofa and accent chairs add a vintage vibe to its design. The interior was done by Avenue Design Studio and it definitely has a lot of charm. Ultimately this is a modern living room but it doesn't have a predictable or common design in any way.


Inspired by nature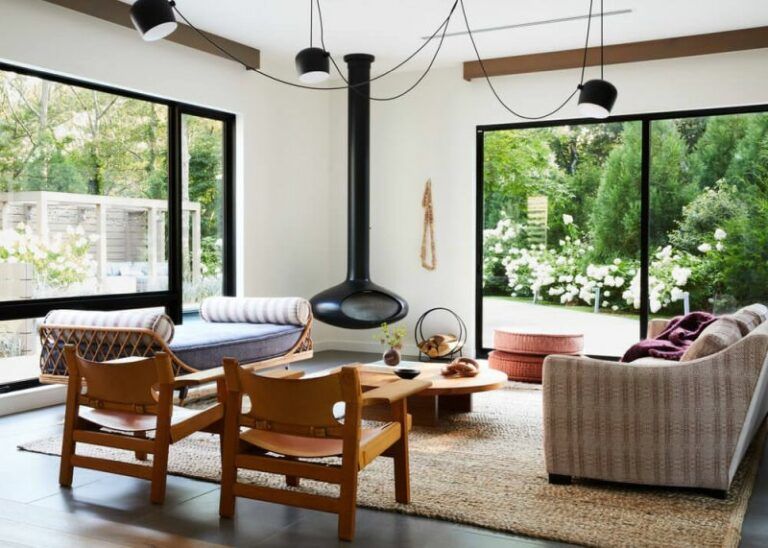 A strong connection to nature and to the outdoors are often the key to wonderful interior designs such as this one. This modern living room has big panorama windows that open it up towards the beautiful garden and let the fresh colors become a part of its decor. It also has a boho-chic kind of vibe with a relaxed and inviting look. The fireplace placed in the corner and the greenery outside the window are also reminiscent of feng shui interiors which are also very harmonious. This is a design by Jesse Parris-Lamb.


Contemporary and playful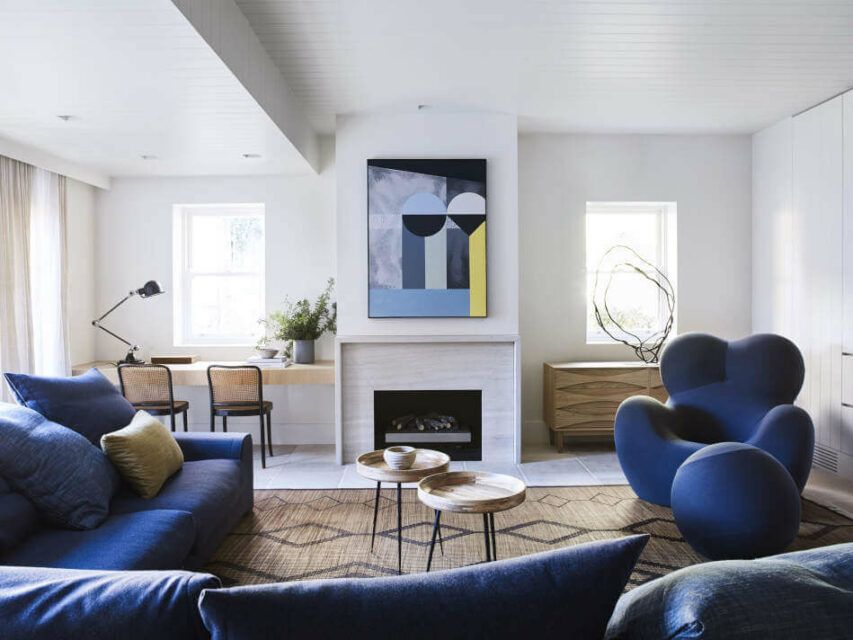 This living room designed by Hugh-Jones Mackintosh follows a contemporary aesthetic. It's simple, with white walls and ceilings and clean and bold forms. The color palette is an elegant blend of warm neutrals and dark blue accents, beautifully emphasized by the finishes and textures used throughout. The design also has a fresh and artistic vibe thanks to elements such as this eye-catching armchair.


Inviting and colorful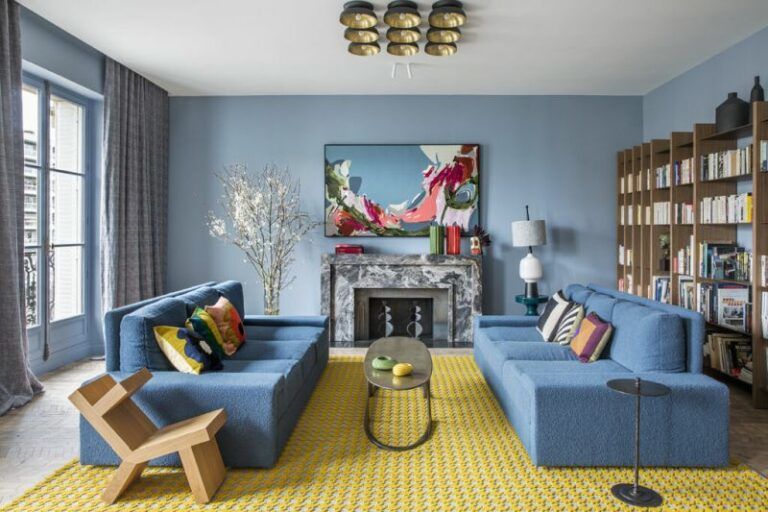 This living room is quite chic as well but in its own unique way. What immediately stands out, in this case, is the color palette. This is a very colorful interior, with blue walls, a bright yellow rug and a multitude of patterns and accent nuances. Still, this doesn't make it look disorganized. The room has a very relaxed and welcoming ambiance. Its eclectic design gives it a lot of personality which is what a home is all about. This is a design by Studio ALM .


Sophisticated with a neutral base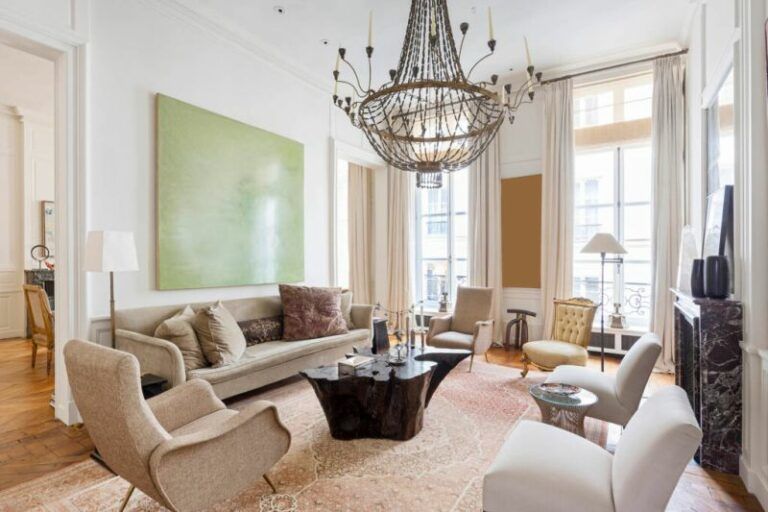 There's no doubt that neutral colors make a great base for an elegant and sophisticated interior, regardless of the style you're going for. This living room is a stylish mix of modern and classical details and a French vibe which we've seen in various other contexts and forms. The subdued colors place emphasis on the overall style and architectural elements such as the tall windows for example.


A stunning view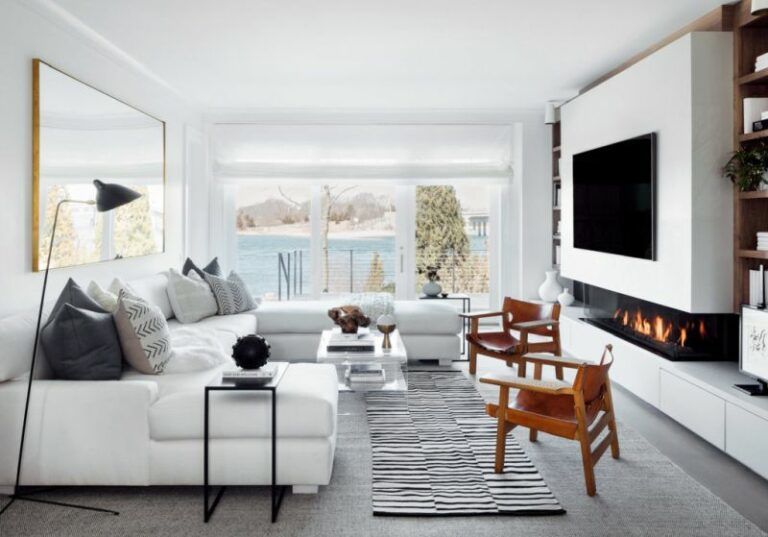 A beautiful view can quite easily transform and dominate a room. Quite often the interior design in such cases is kept simple in order to bring more attention to the beautiful scenery. Of course, that doesn't mean it lacks character, as studio Winter McDermott Design shows us through this gorgeous living room. Its monochrome design includes layered textures and beautiful patterns which create secondary focal points throughout the space.


Form and function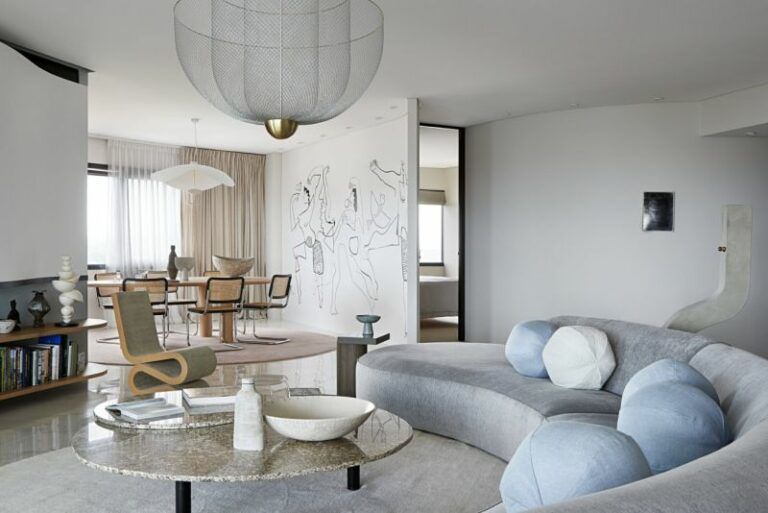 This stylish living room designed by Alicia Holgar doesn't use bold or vivid colors but instead features interesting forms and proportions. The curved sectional sofa is the biggest and most eye-catching piece in this design, complemented by features such as this sinuous accent chair or the oversized pendant lamp. These cool geometries add visual interest to the space while allowing it to remain simple to the core.


A bohemian approach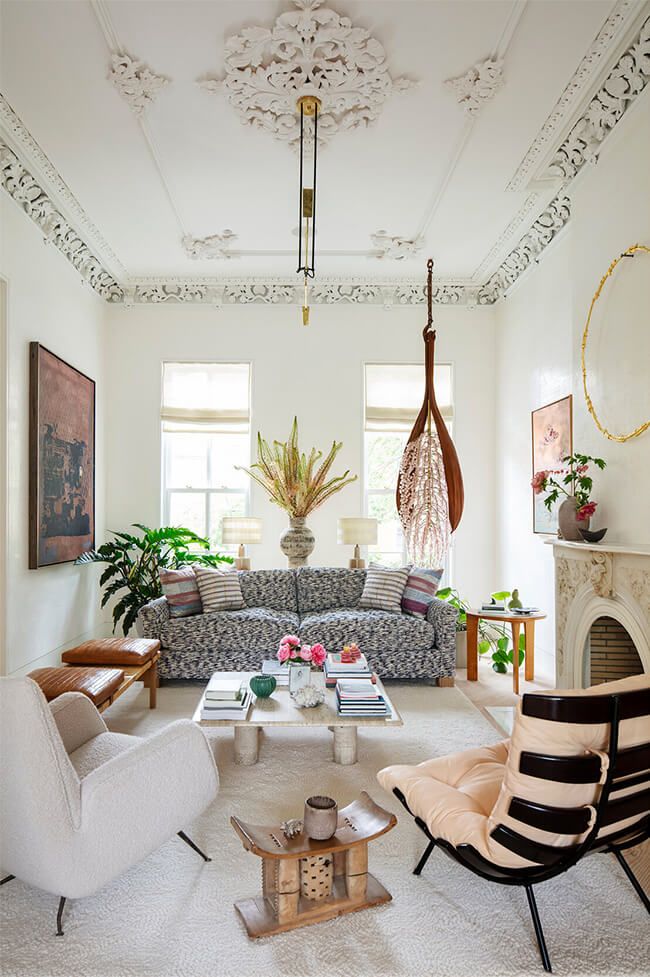 Can you believe this gorgeous interior is part of an 1850s home? It definitely has a certain retro vibe but it's very fresh and airy as well. The living room is small but very welcoming, with a traditional fireplace and beautiful molding on the walls and the ceiling. Interior designer Elizabeth Roberts also gave it a bohemian look using cleverly placed decorations and accent pieces.


Modern with a Victorian allure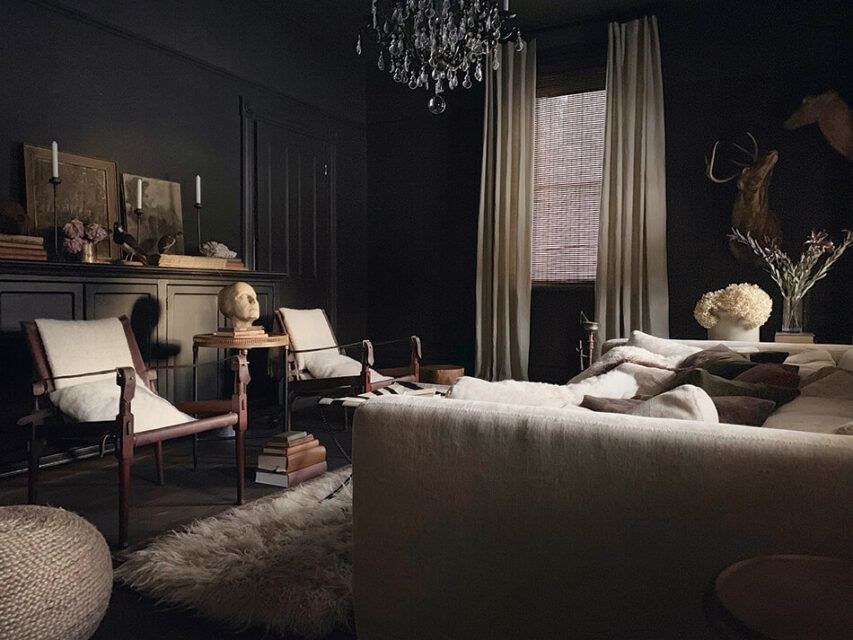 Dark colors and black in particular are quite intimidating and not many designers dare to use them in their projects. Still, a dark color palette can have wonderful potential, especially if the goal is to create something different and sophisticated. The matte black walls and ceiling of this living room designed by Elle Patille are complemented by a dark wooden floor which adds a Victorian vibe to the design. There are also lots of light neutral additions to the design which also introduce a series of soft textures into the room.


Mid-century modern accents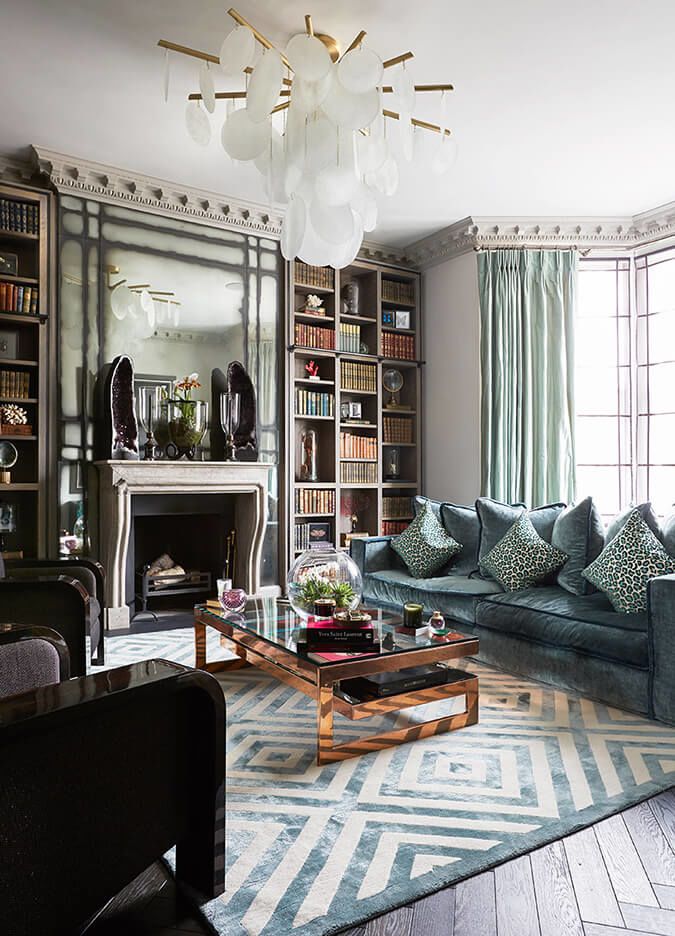 There's a lot going on here, with many elements that catch the eye like the fireplace, the bookshelves that frame it on either side, the coffee table, the patterned area rug or this gorgeous chandelier. This eclectic design brings together elements from several different styles with an emphasis on mid-century modern. Interior designer Trilbey Gordon has a wonderful way of combining all these details and creating a harmonious composition based on that.


Organic charm inspired by nature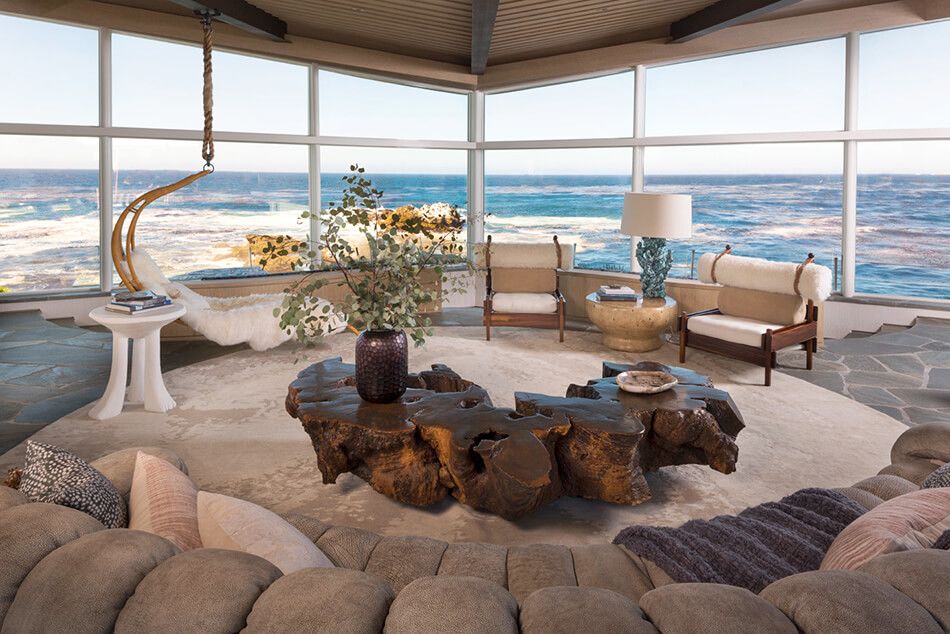 What better way to take advantage of such a wonderful ocean view than by seeking inspiration in nature and creating an organic interior design such as this one…Interior designer Jamie Bush revived this space with natural materials and finishes and gave it the type of cozy look that sunken living rooms usually have. The centerpiece is a unique and sculptural live edge coffee table and the ambiance in here is very relax and airy, suggesting an outdoor-oriented design.


Traditional influences
A traditional fireplace serves as a main focal point for this beautiful living room, a detail which gives it a warm and inviting look. The colors are subdued and simple, the ceiling is high and the windows are big which creates a very airy and relaxed ambiance inside. Interior design studio Haus Love Interiors adopted a traditional approach but also included a series of modern details, giving this space a timeless look.


A symphony of colors and patterns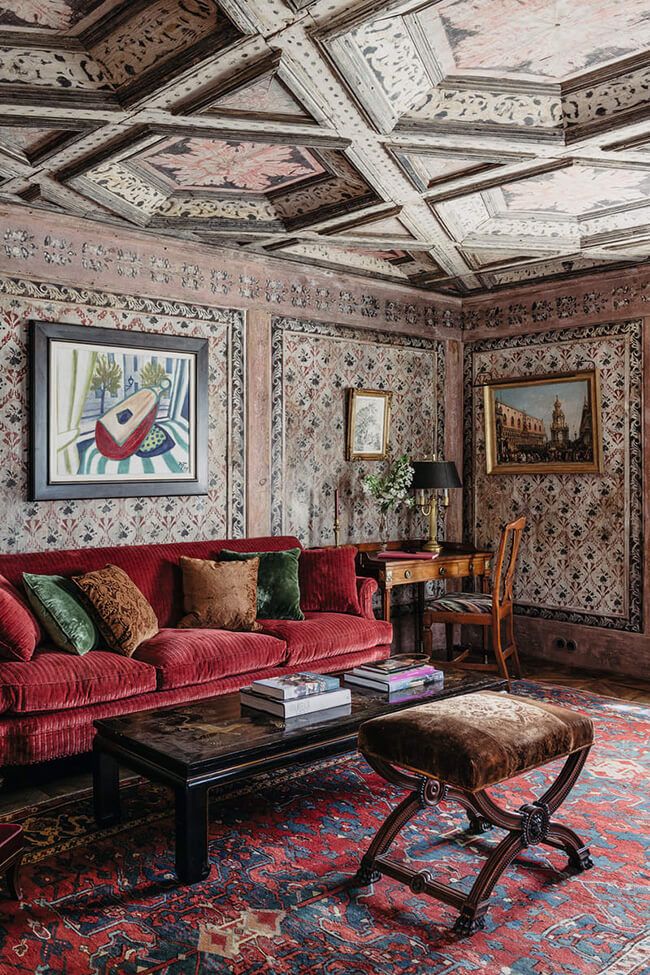 It's quite difficult to categorize designs like this one because they're quite unique. We could quite safely call this a rustic living room although it wouldn't necessarily be accurate. It has a very busy design, with lots of bold colors, textures and patterns all over the walls, the floor and even the ceiling. There's so much to take in and yet it all seems to work together somehow. This is a design by Studio Peregalli.


A timeless look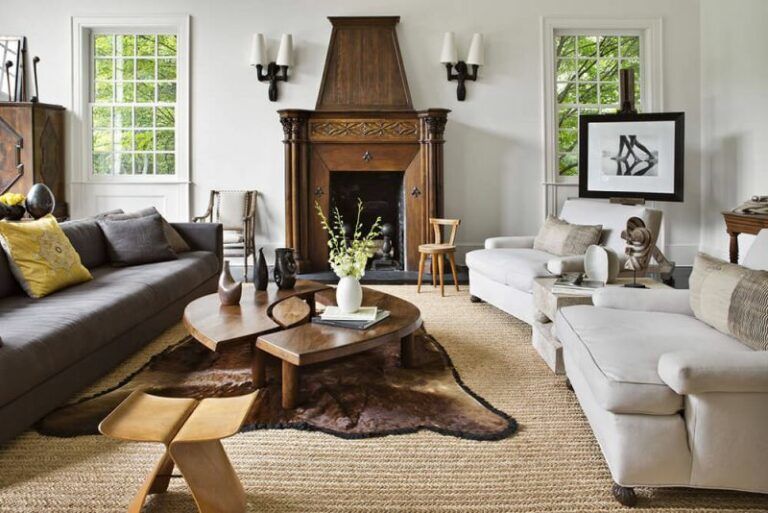 Trends come and go and styles are perceived differently as time goes by. Creating an interior design which transcends that is a tough challenge which makes successful results that much more extraordinary and inspiring. This living room designed by Julie Hillman is a nice example of what timeless design can look like. Elements borrowed from different periods and style are put together to create a unique and very pure design.


Green accents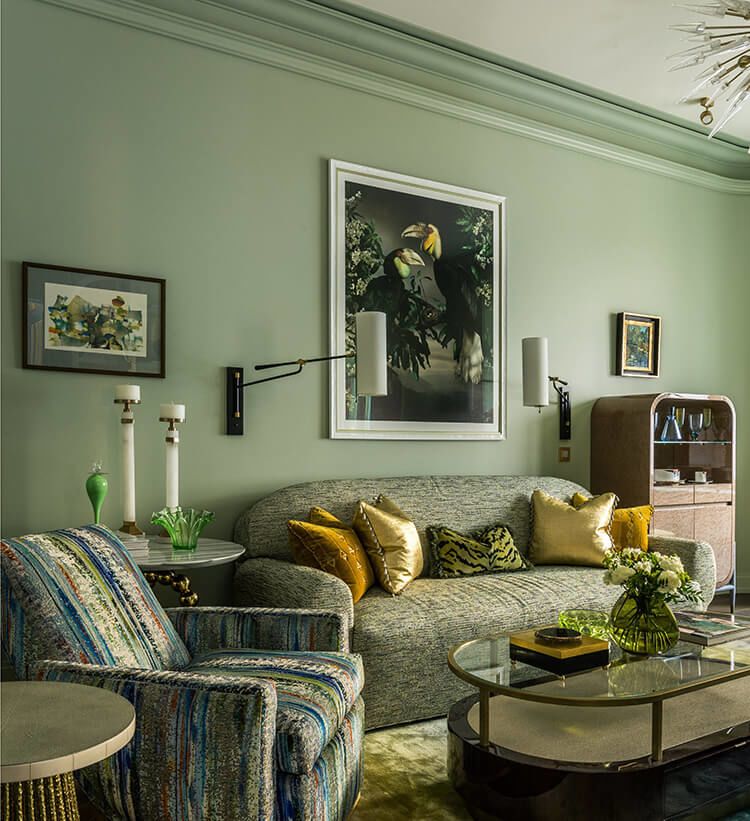 Green is a color that can easily adapt to a variety of different styles. This sort of faded green can look lovely in a retro or traditional setting. Designer Boris Dmitriev also added a few accent colors when putting together with inviting living room, playing with different finishes, textures and patterns and managing to find harmony among all these elements. The decor is dominated by a preference for green and dark accent colors.


Serene and simple with bold accents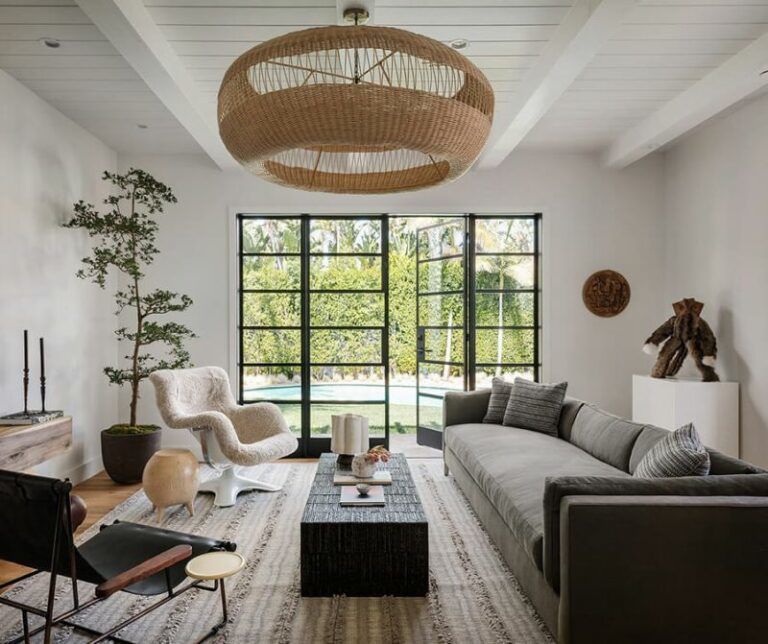 As you've gathered from a lot of the previously mentioned designs, a preference for simple and neutral colors doesn't necessarily translate into a bland and boring decor. In fact, they can be used to create outstanding designs rich in details and full of character, like this living room designed by studio Transition State. The oversized chandelier is a wonderful focal point and the large windows and glass doors welcome the outdoors in and the freshness associated with that.