These four poster bed ideas are modern and chic. Because while they might be Medieval in origin, four poster beds are very much of the moment.

The four poster bed is seeing a serious revival in modern bedrooms; gone are traditional overtones and classically curvaceous lines – the modern makeover comes in the form of unusual materials and stylish shapes.

The below 23 four poster bed ideas range from dramatic wood structures and glitzy disco beds to sleek, simple, minimalist designs. We love the whimsical, dream-like beds too; like the canopy bed draped in mesh fabric, and the steel bed frame that twists like branches, crowned with steel flowers at the top.

Metals have really come to the fore, including brass and moulded steel.

Originally designed as a practical way to maintain warmth and privacy, four poster beds – or canopy beds – are hands down the grandest style of bedroom furniture.

As well as the intricate, carved style you're used to seeing in stately homes, in recent times the design has been given a creative makeover to suit chic, modern bedroom ideas.

Many are designed drape-free, the simplicity of wood poles drawing the eyes upward to enhance the ceiling height.

However, the addition of drapes absorbs external sounds and lends insulating, cosseting qualities, meaning you can cut back on the heating. So it's practically saving you money.

Ensure your room is large enough to take a sizeable bed and keep the rest of your furniture to a minimum for a look that's simple, striking and oh-so chic.

These styles prove that four poster beds aren't just for fairy-tales. And once you try four poster, you'll never go back.

Explore 23 of our favourite four poster bed ideas below...


1. Drape fabric for an eclectic edge

Don't let walls have all the fun; an expertly executed four-poster bed will transform any bedroom. Here, a bold Navajo-inspired upholstery fabric brings an eclectic edge, while soft drapes channel hotel style.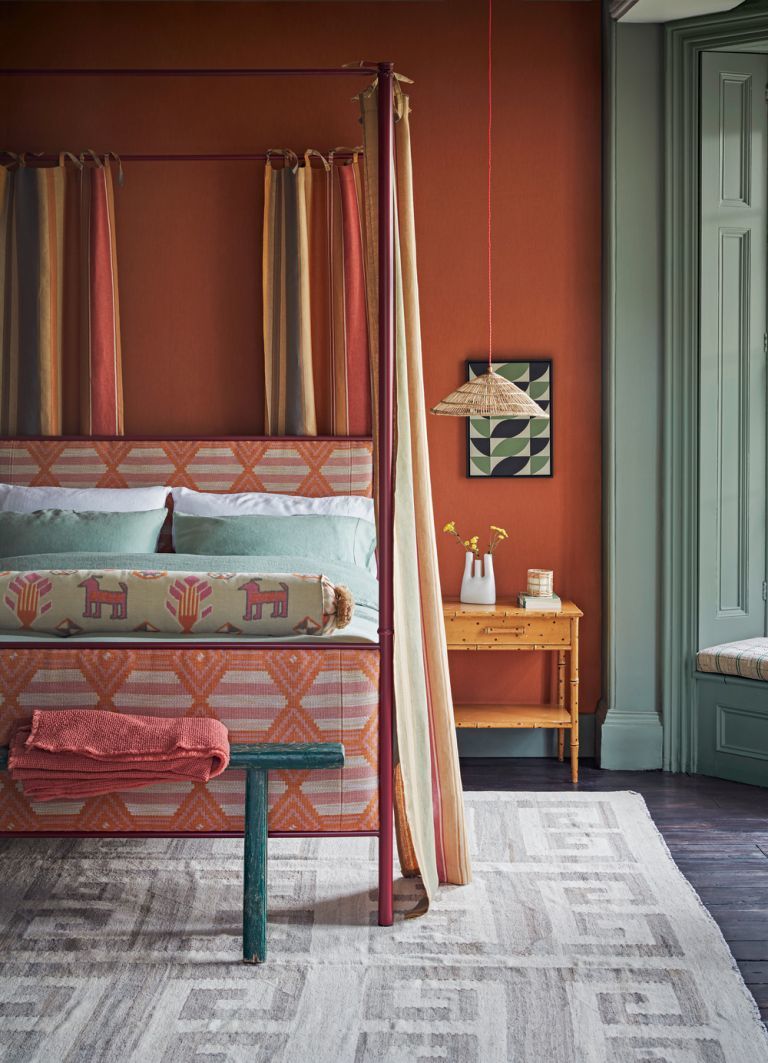 2. Choose a modern metal frame

A classic Serge Mouille wall light punctuates the calm palette and complements the metal framed four poster.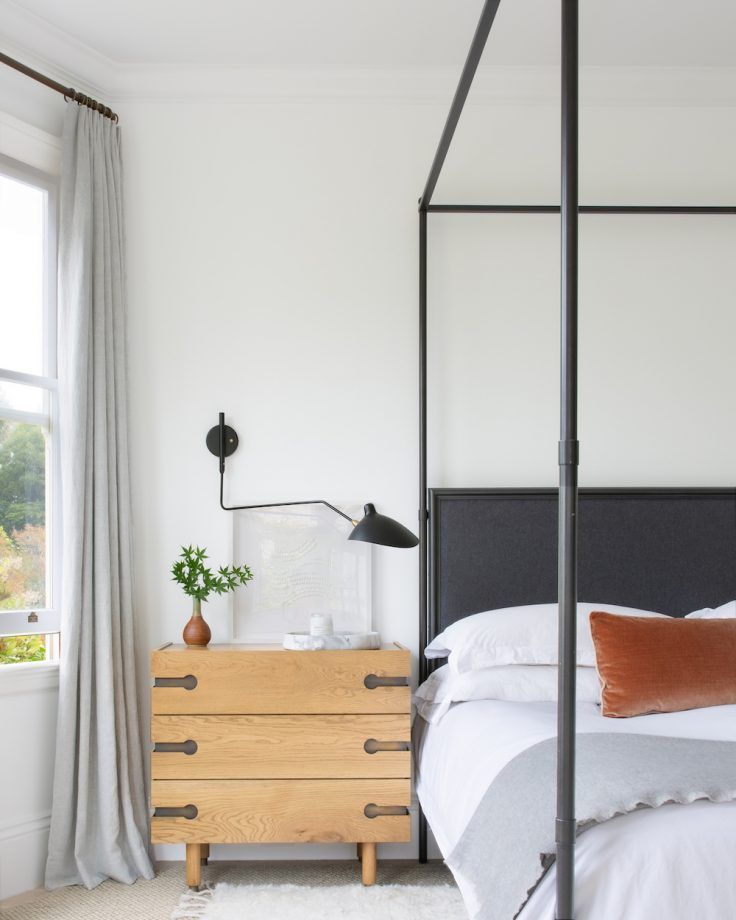 3. Under canopy

The four poster bed helps draw the eye up, emphasising the ceiling height. Any other bed might have been dwarfed by the space.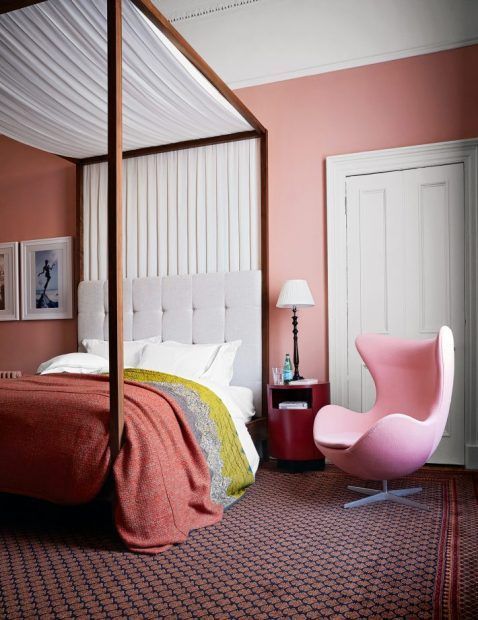 4. Simply the best

This room is quite big, so a four poster bed was chosen to help draw the eye up and make the most of the ceiling height.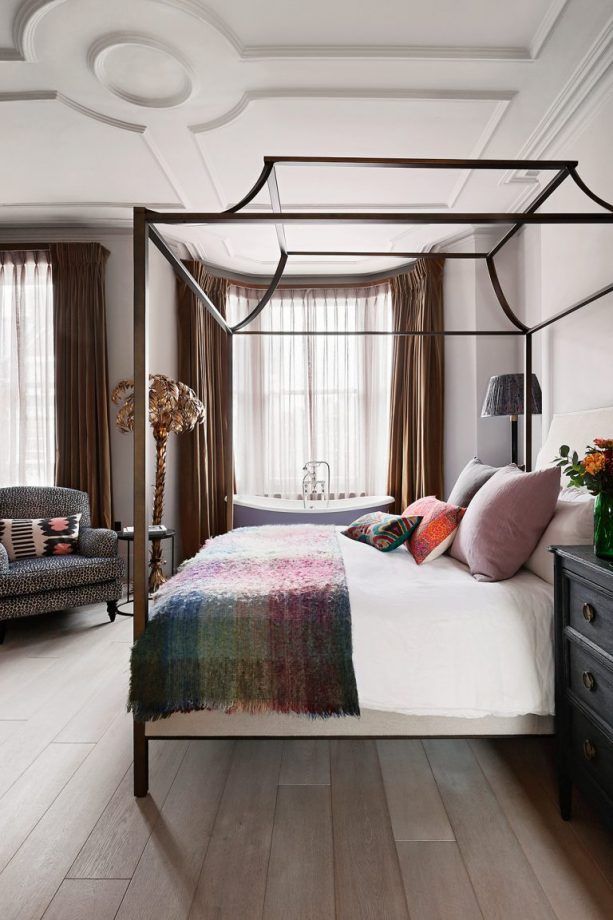 5. Dreamy draping

Soften a simple white metal four-poster by wrapping it with layers of fabric.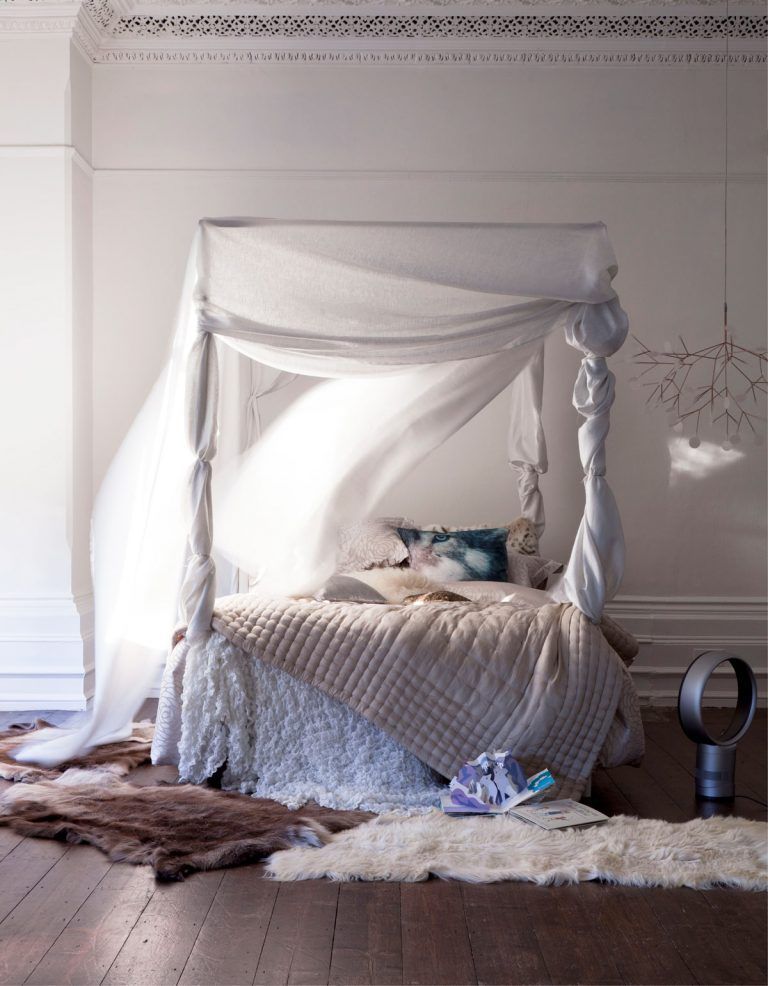 6. RusticUpdate

We love the way modern furniture contrasts against the rustic, traditional floors and walls, giving it a fresh look.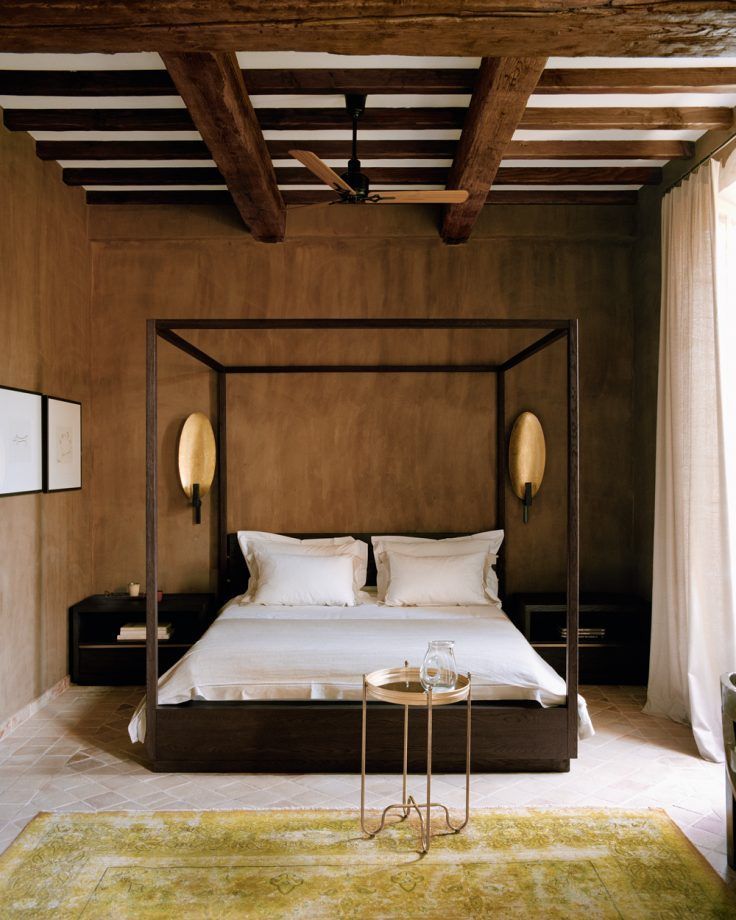 7. Whimsical Woodland

A neutral bedroom is jazzed up with an unusual steel Roses and Ivy four-poster bed by metal designer Jaz Asbury, from £1,500.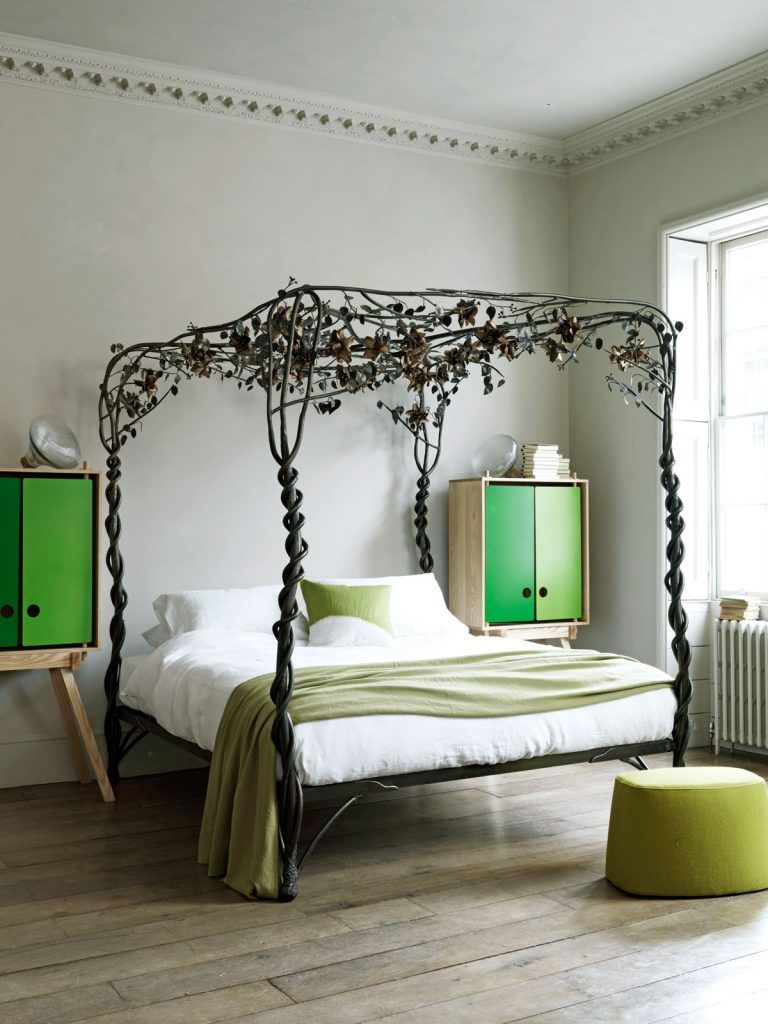 8. Up The Drama

This master bedroom designed by the Novogratz is full of drama; from the modern four poster bed to the statement lighting and art. Explore the rest of this home here...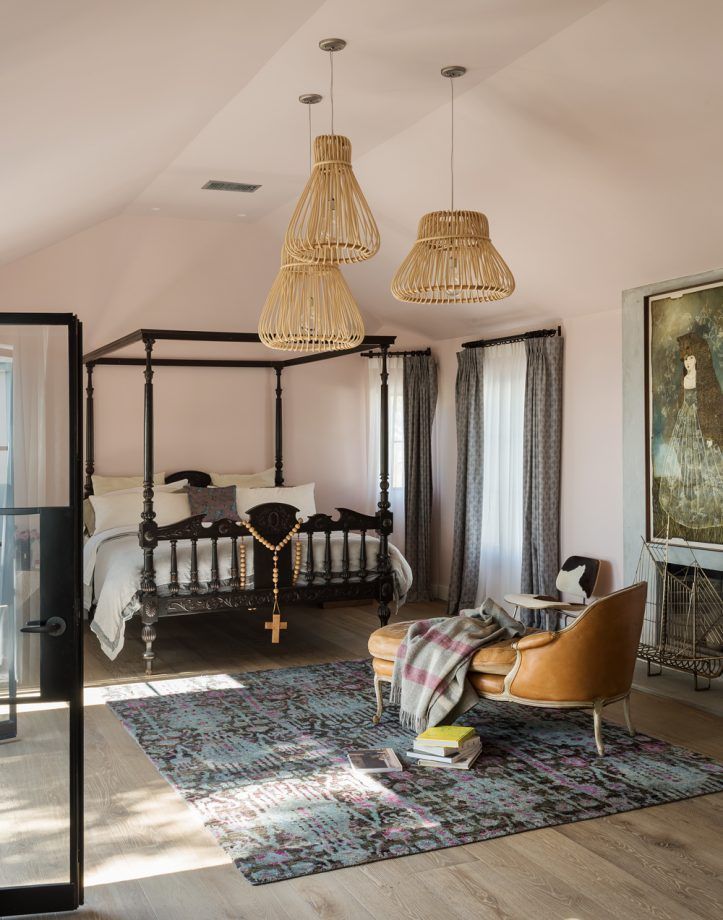 9. Extra Tall

With 10 foot ceilings design firm Alice Lane knew that they could get away with a tall canopy bed that would anchor this master bedroom and add a sense of grandeur. The designers added the Garlon bone inlayed desk from Made Goods at the end of the bed to create a functional work space in the bedroom.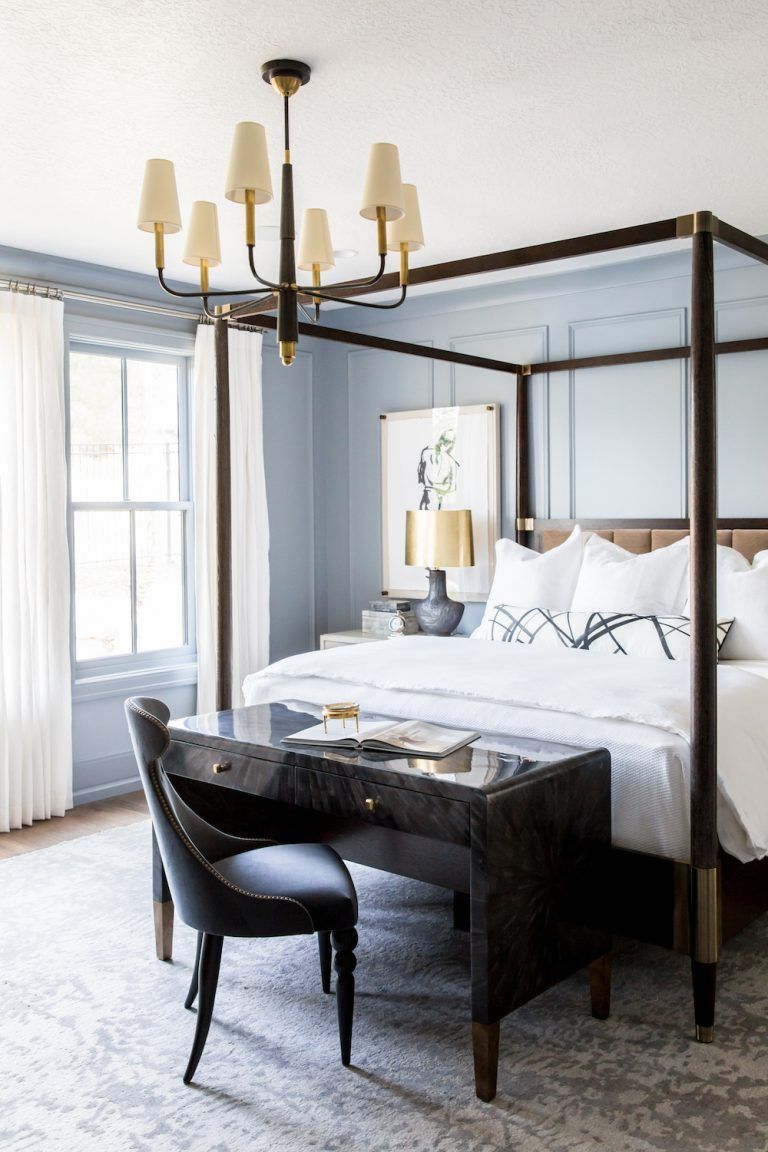 10. Stylishly simple

A lot of the pieces for this home – including this bed – were sourced at rock down prices, either online or in clearance sales.