There's a ton of gorgeous builds out there and today we're going to have a look at some of them. These modern mountain homes sure know how to stand out.


Beautiful modern mountain homes
Aspen modern mountain house with a view of the golf course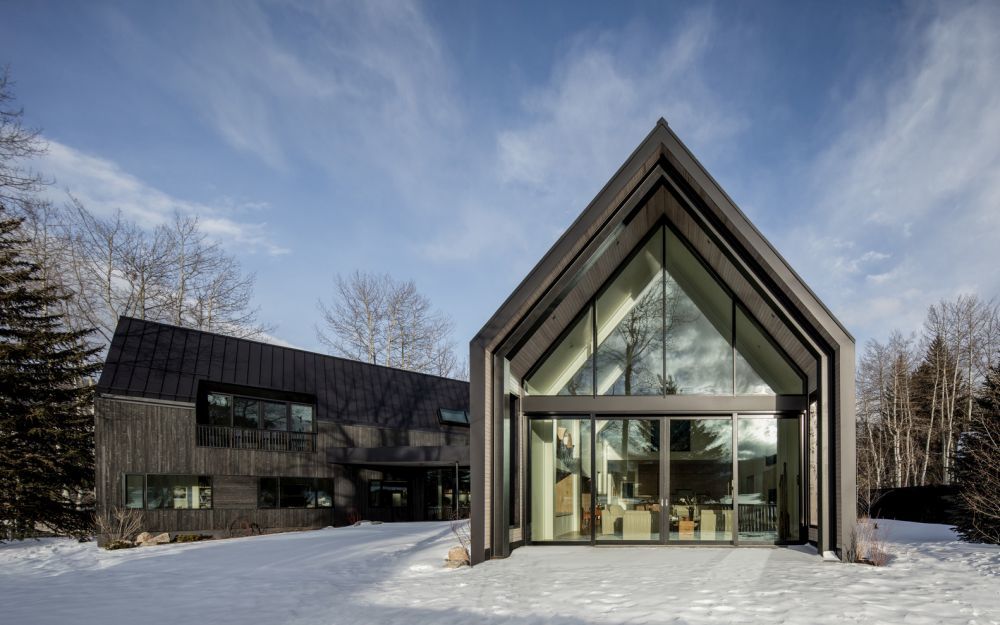 The V-Plan residence is located in Aspen, US and was designed and built by Studio B Architects. Its design reflects the owner's preference towards privacy but also a desire to take advantage of the location and its exposure to the Aspen golf course.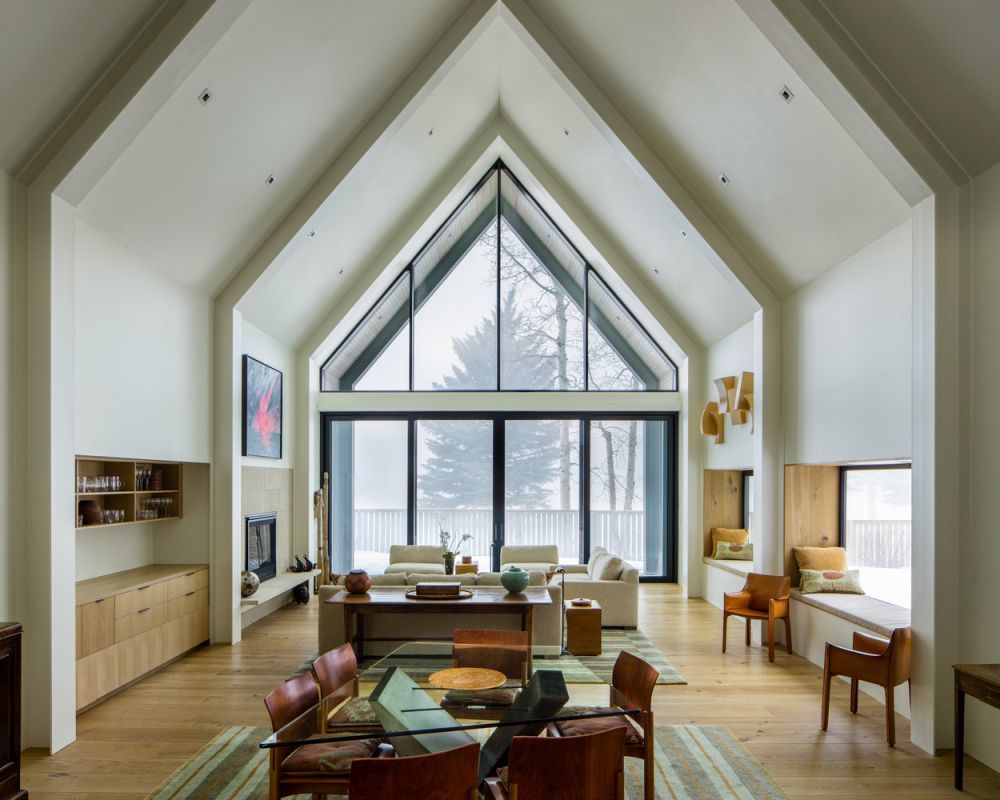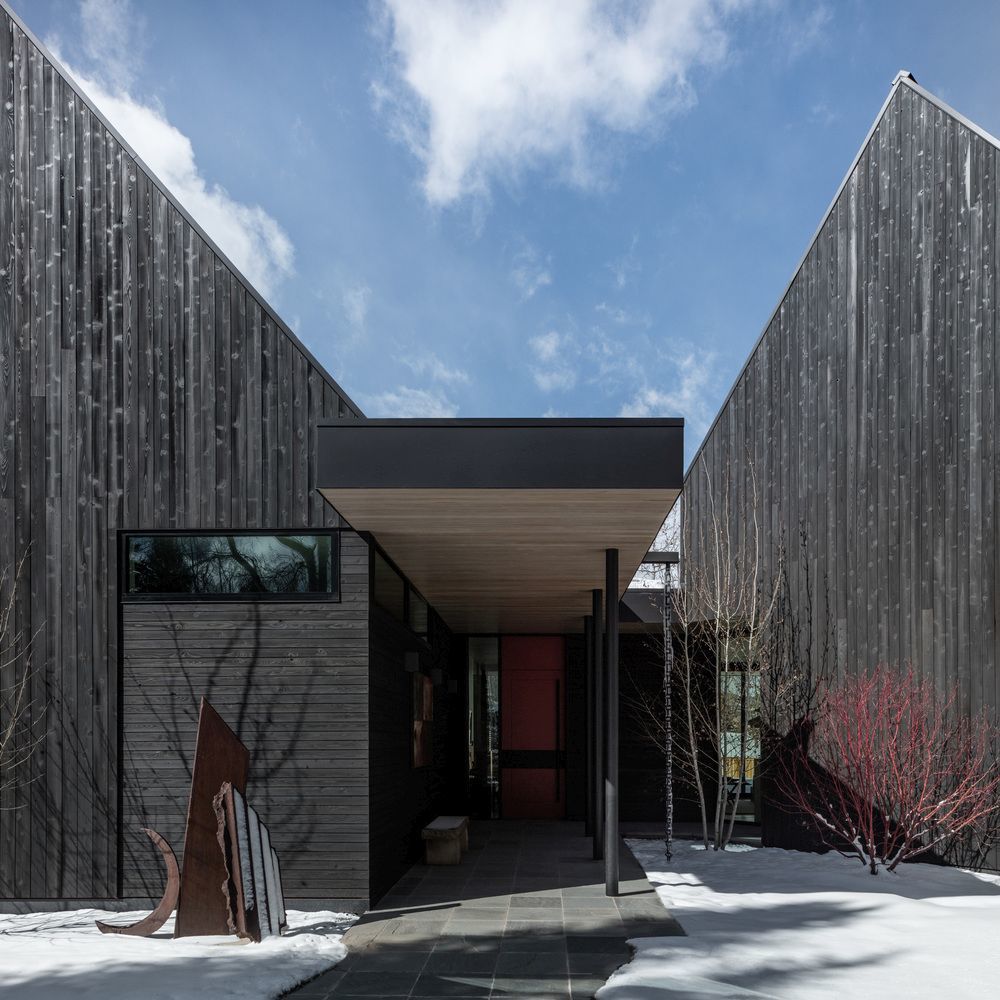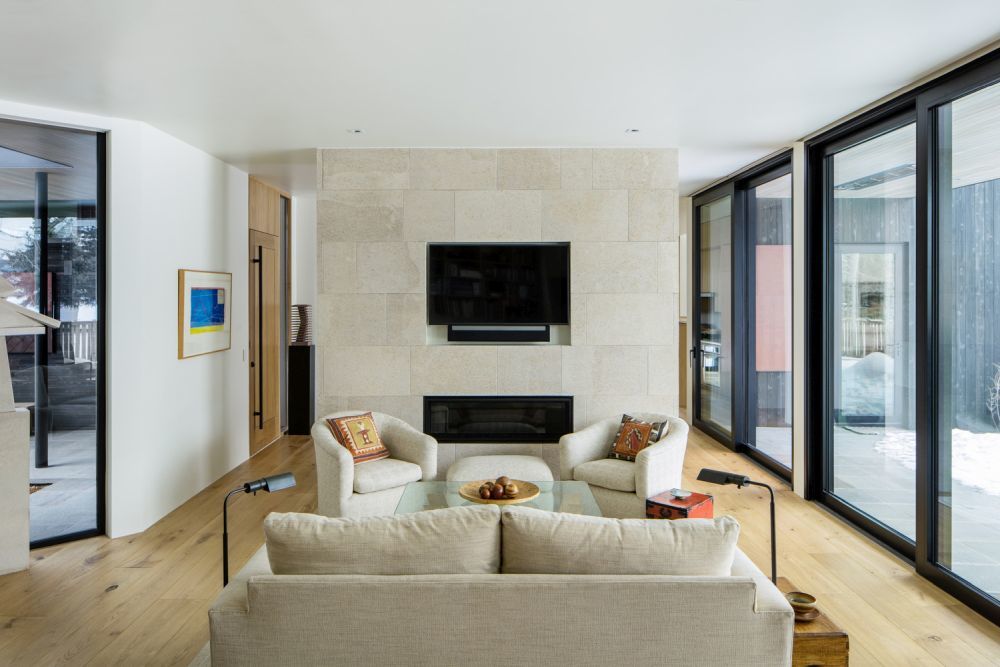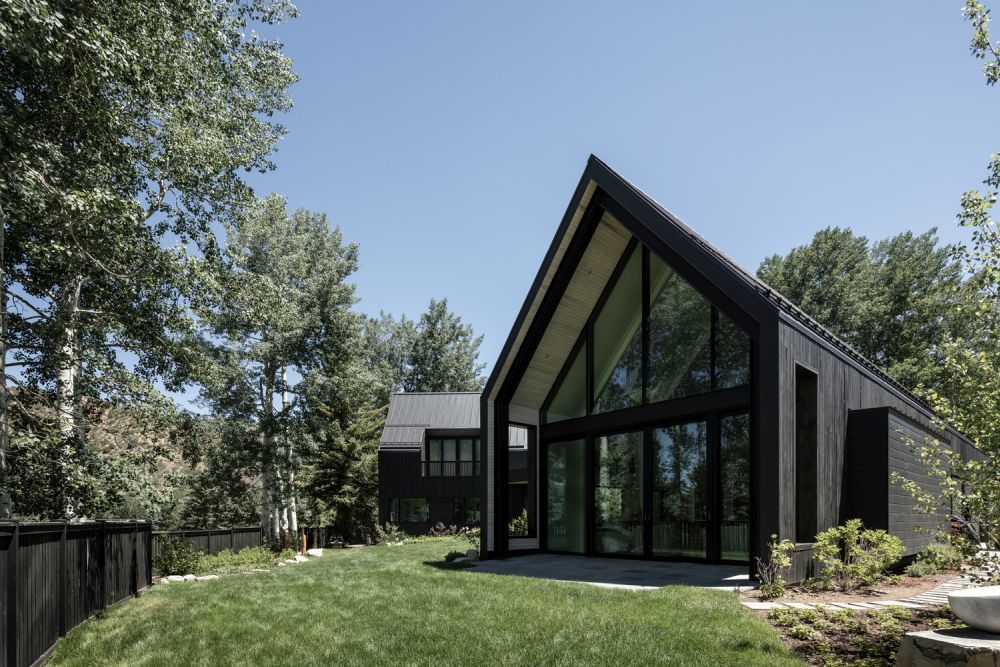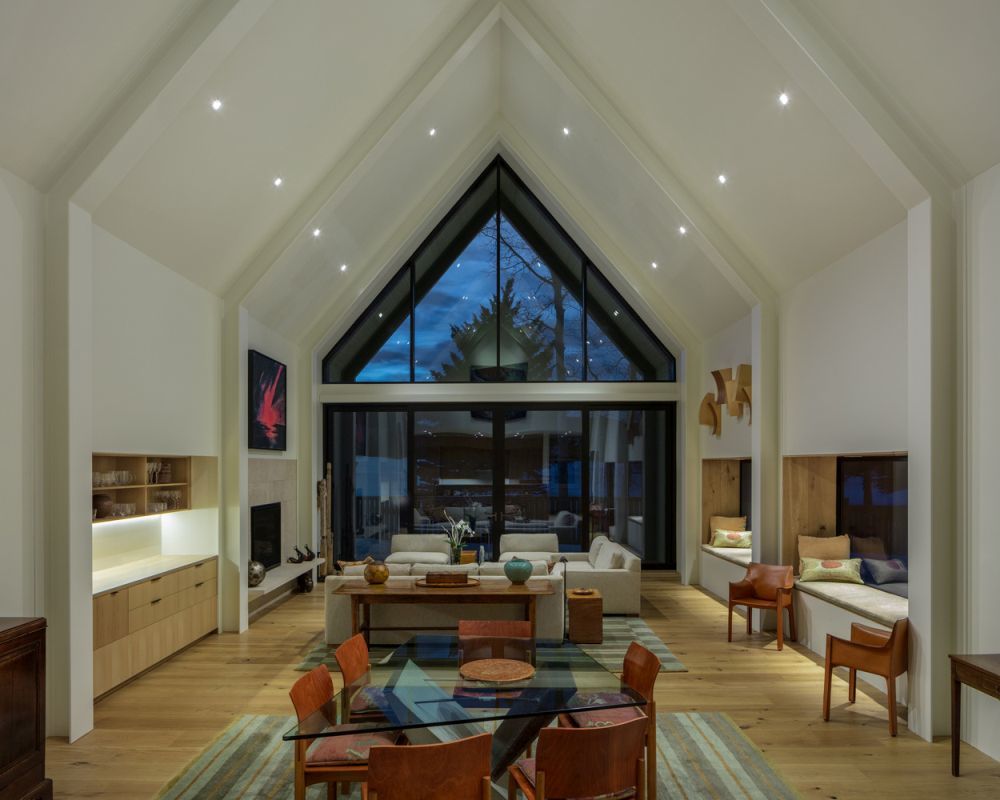 It has a big courtyard which acts as a buffer zone between it and the neighbors and inside it's airy and open. The pitched roof creates these big double-height spaces inside and helps to bring in more natural light as well as to emphasize the gorgeous views.


The riverside Piampiano Residence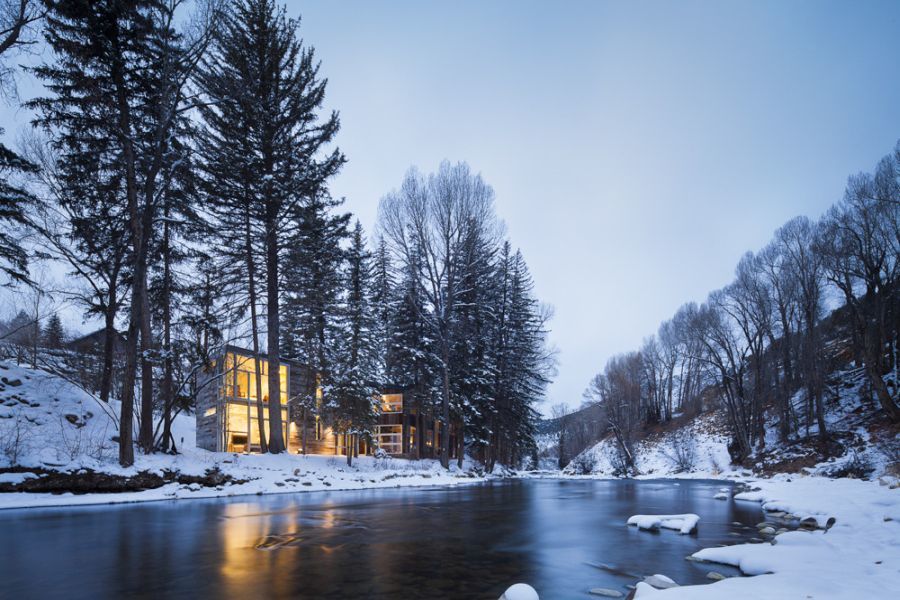 What could be more beautiful and relaxing than a house at the heart of a mountain with a river through in its close proximity? That's exactly what this beautiful house represents. The Piampiano residence is located in Woody Creek, US and was designed by Studio B Architects.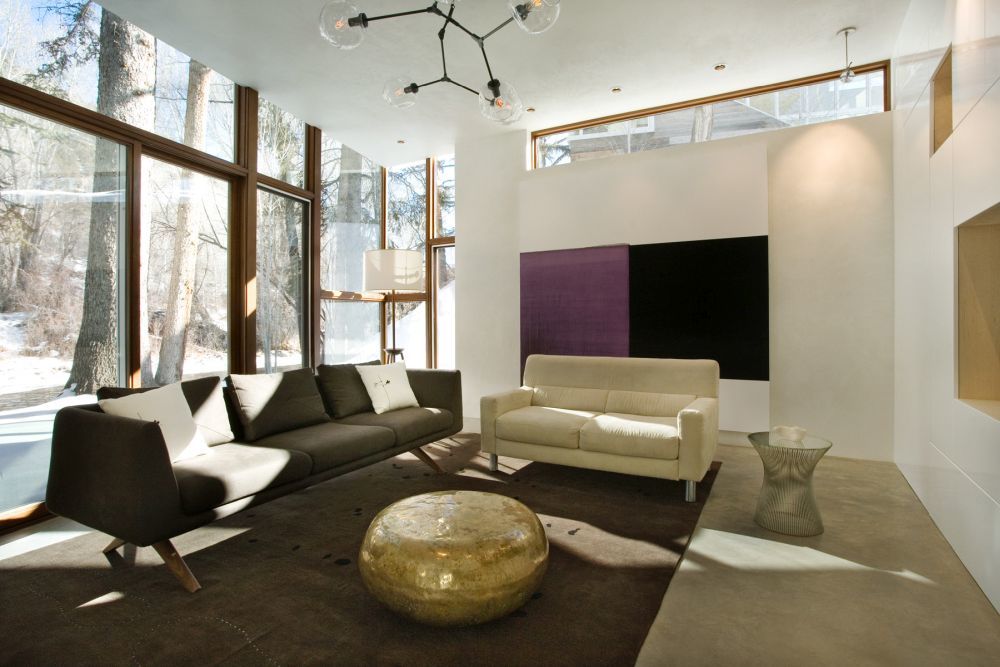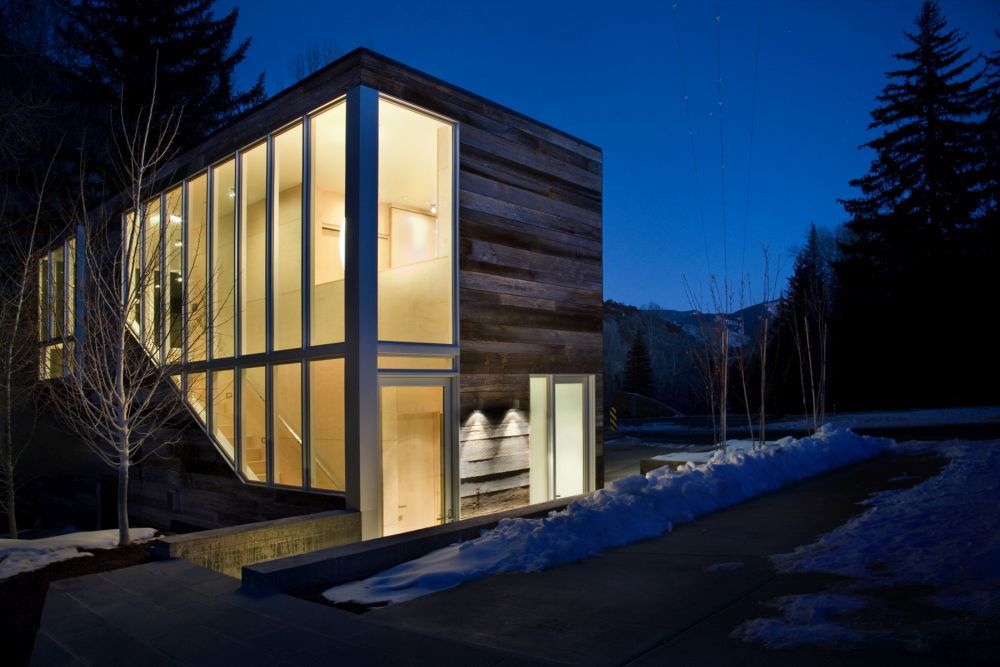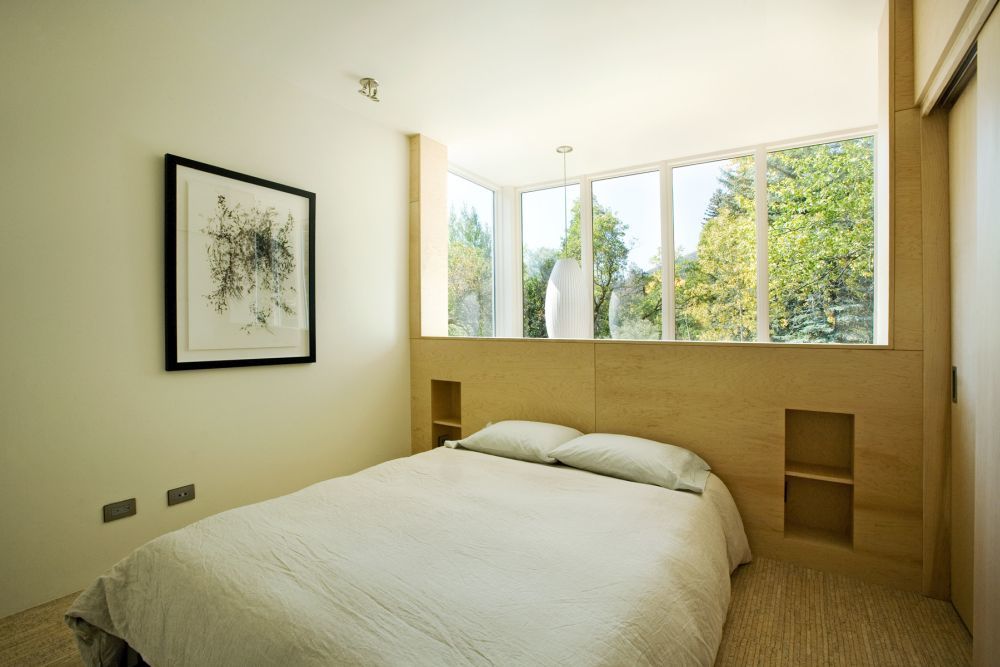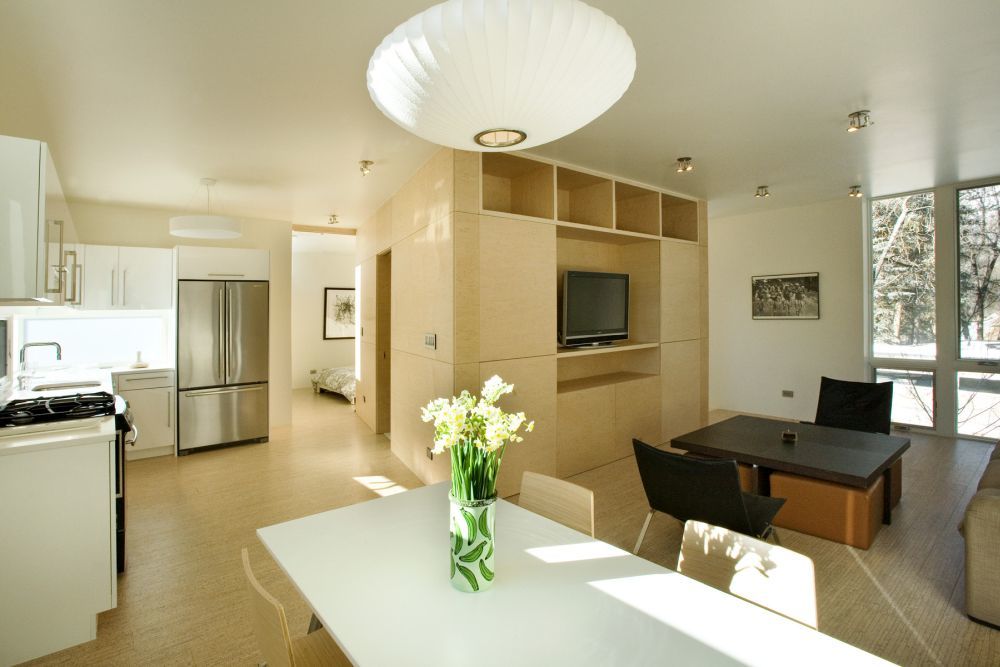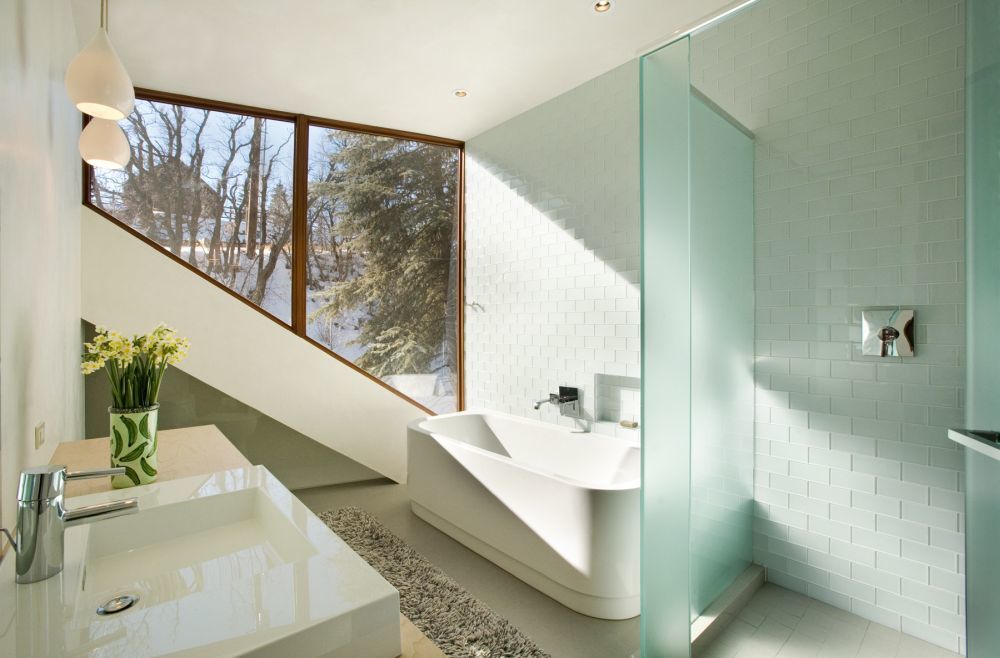 The team faced an interesting challenge here because they had to work with a series of existing structures on a narrow site and close to the river's edge. They were prevented from taking them down and creating something completely new in their place so the strategy here was to transform them and to create additions and new elements in between and around them. This ended up being a wonderful melange of old and new.


The Chickadee house at the base of the Rocky Mountains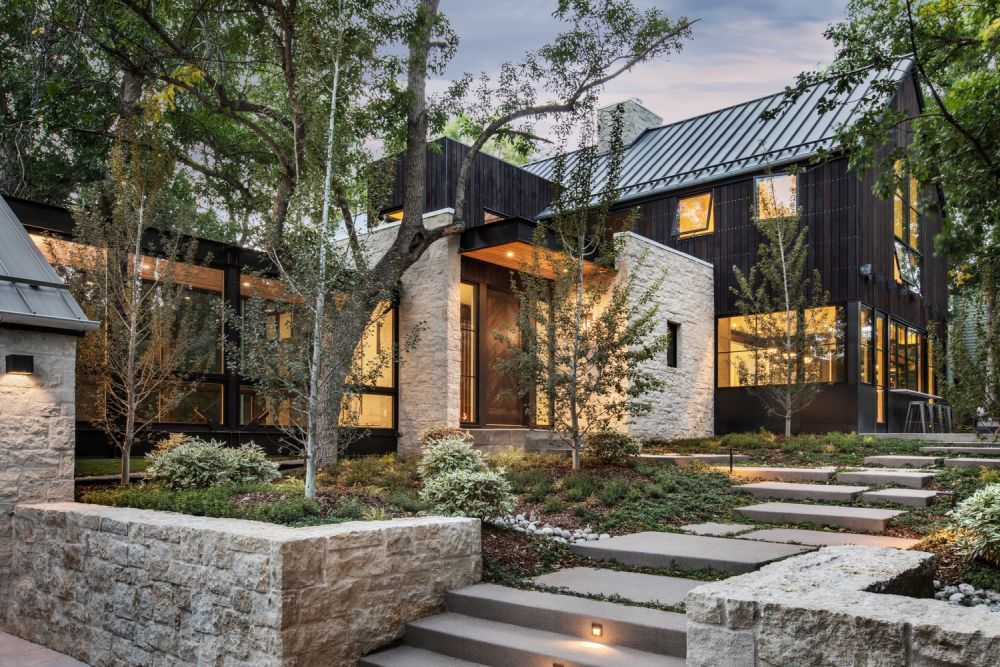 Situated in Boulder, at the base of the beautiful Rocky Mountains, this house designed by studio Surround Architecture fully embraces its surroundings.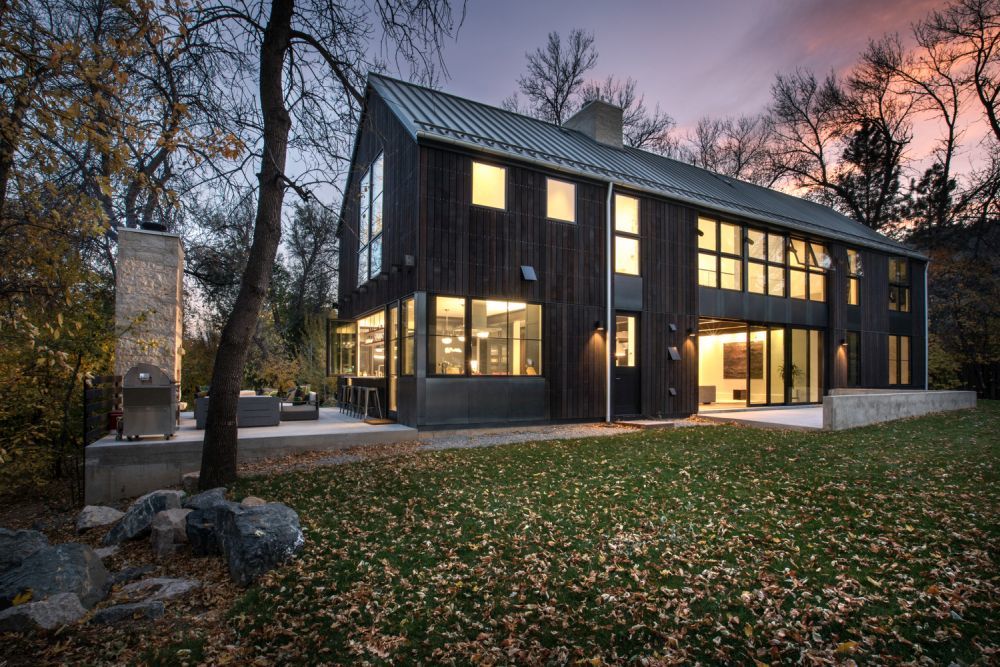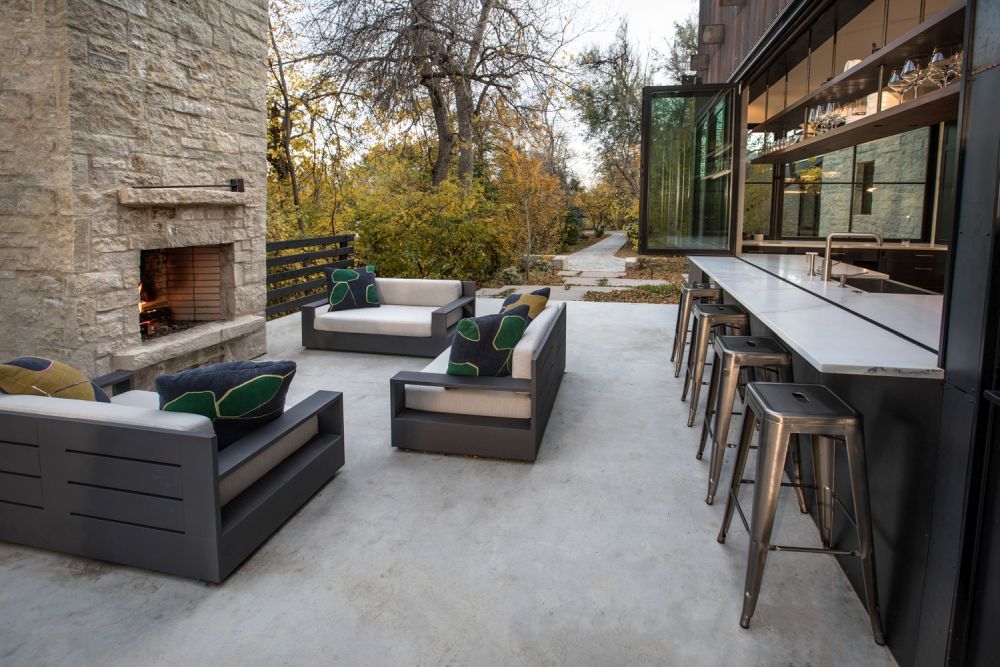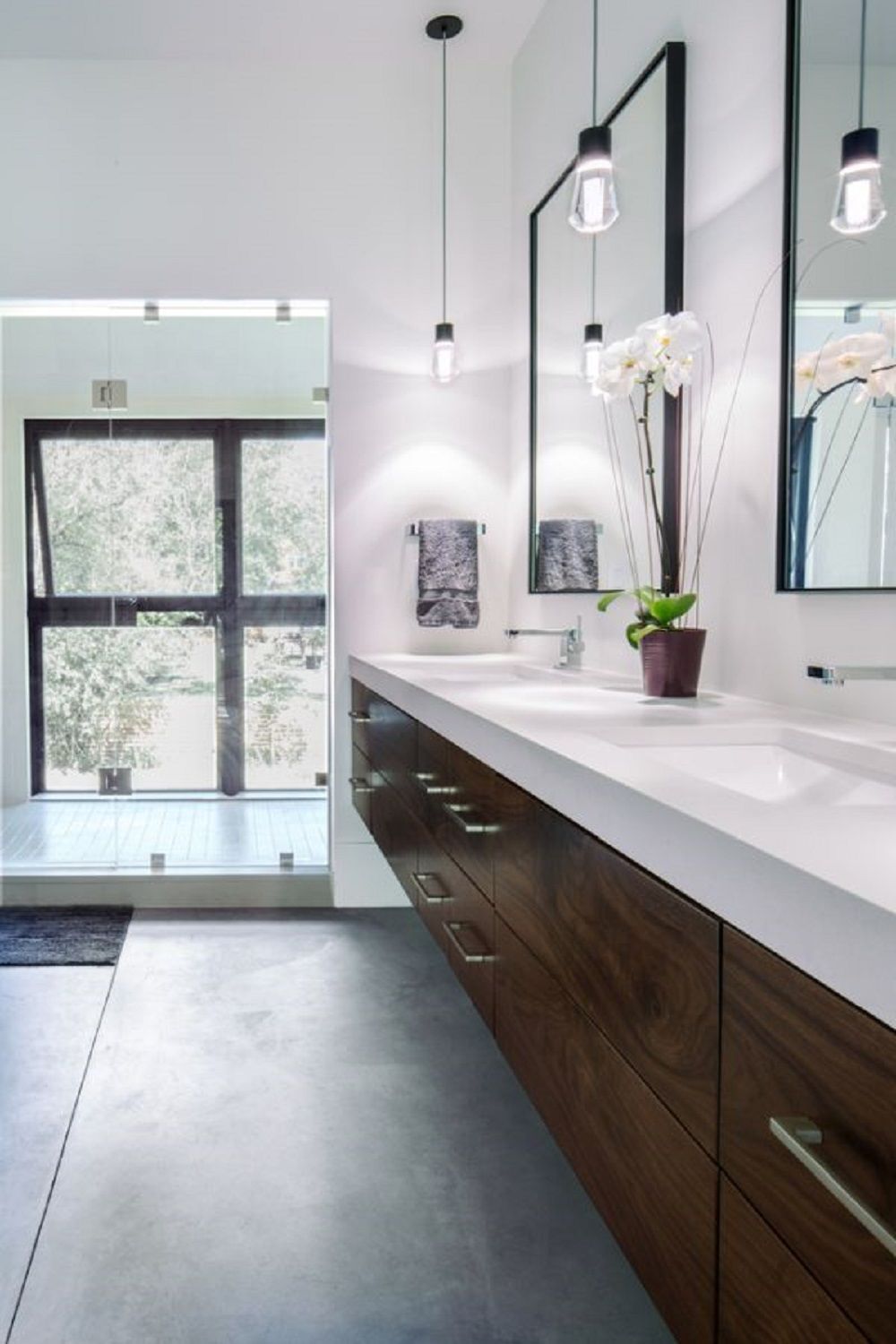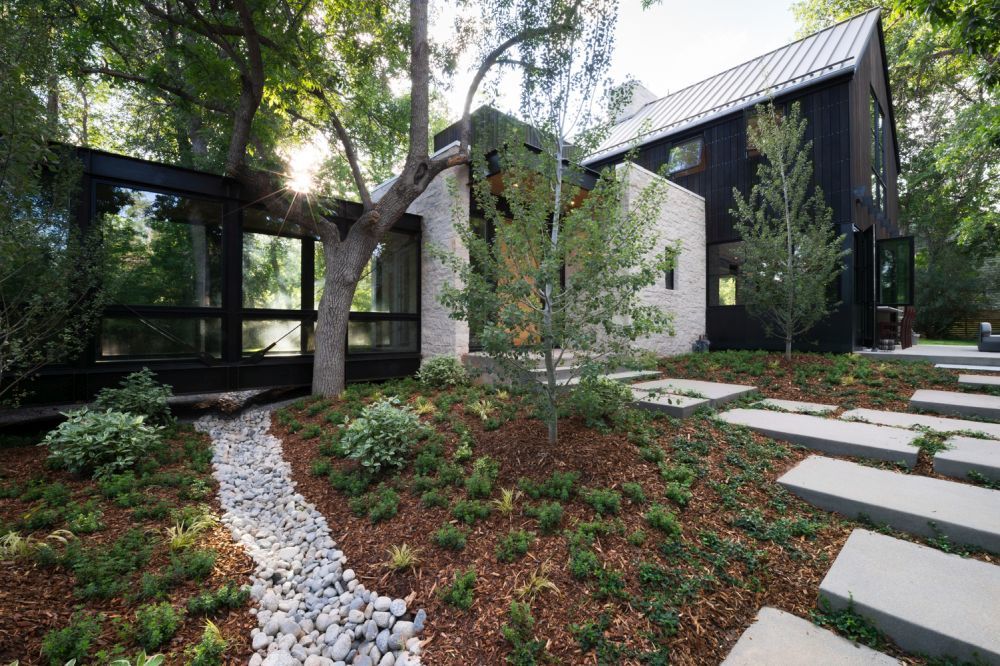 Its surrounded by dense vegetation with lots of big trees and local wildlife and this really makes one feel like a part of nature when being here. The design is simple, with a clean and modern geometry and not many ornamental features throughout. big outdoor spaces link the house to its wild natural surroundings in a seamless and organic way.

The beautiful lakeside Cliff House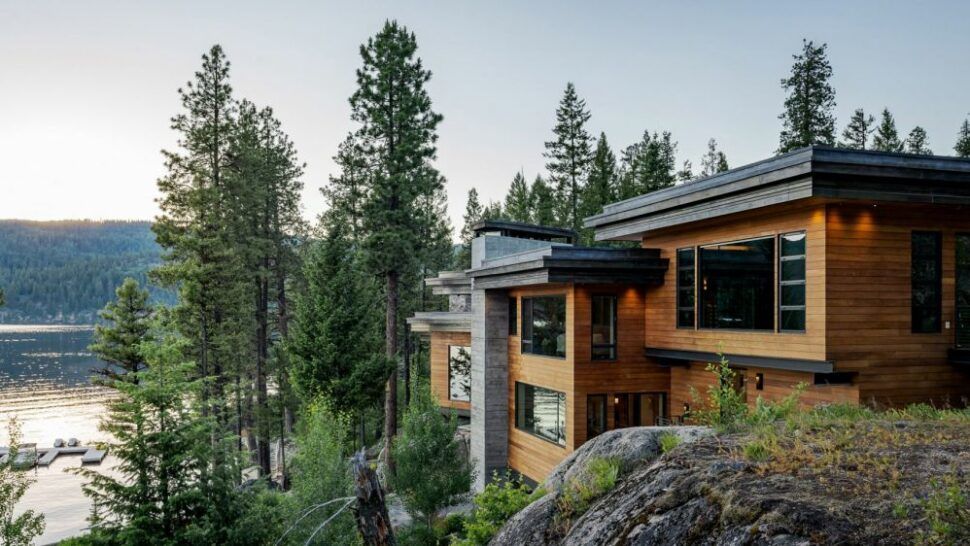 The rugged landscape of the mountains makes building here difficult and challenging but is also the reason why we seek such locations in the first place. The Cliff House is a good example of that.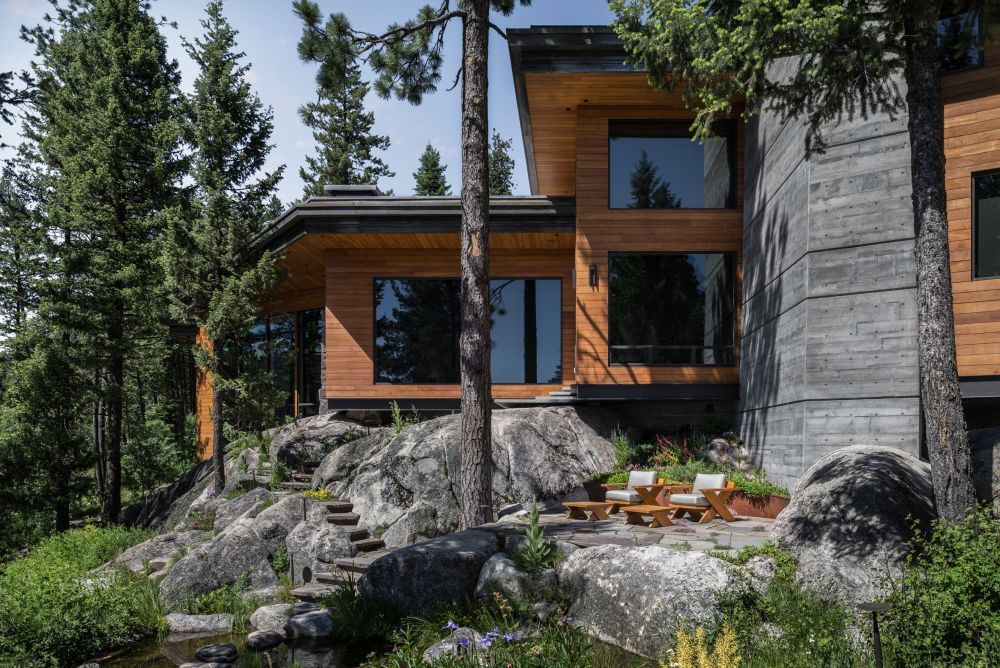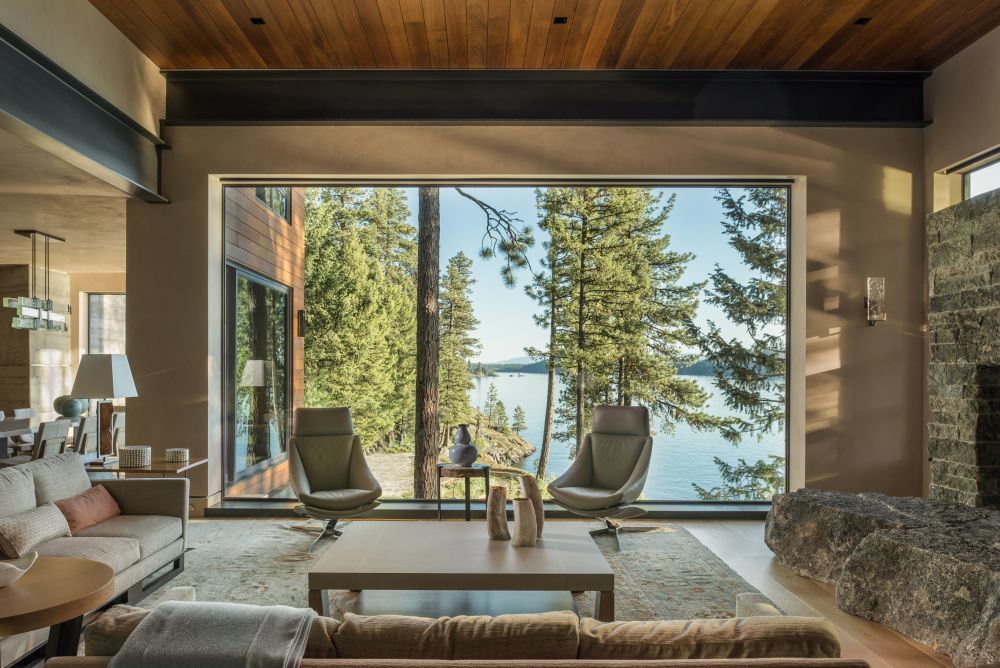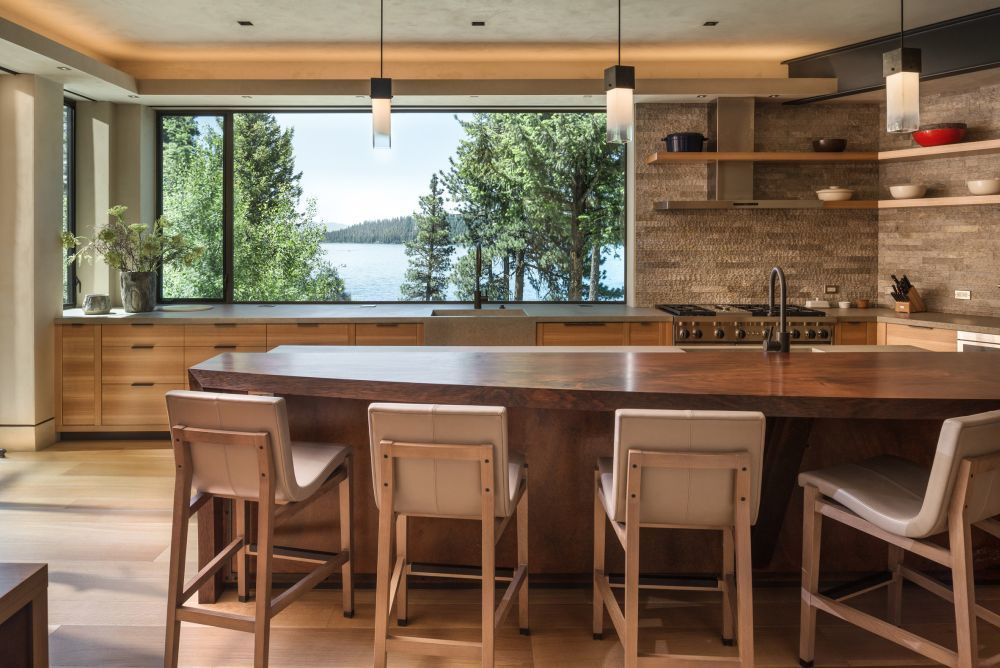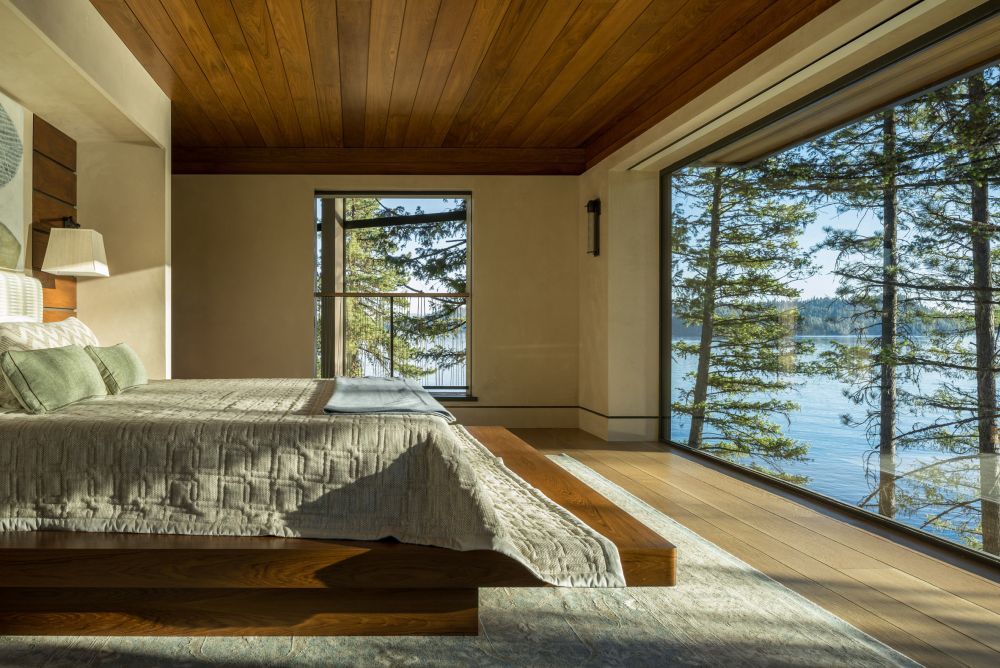 It's a beautiful residence close to Payette Lake in Idaho and it sits high up on a set of rugged granite boulders. The steep slope gives it a great view and the team at McCall Design and Planning managed to incorporate it into their design in a very natural and beautiful way.


A vacation home at the foot of Teton Mountains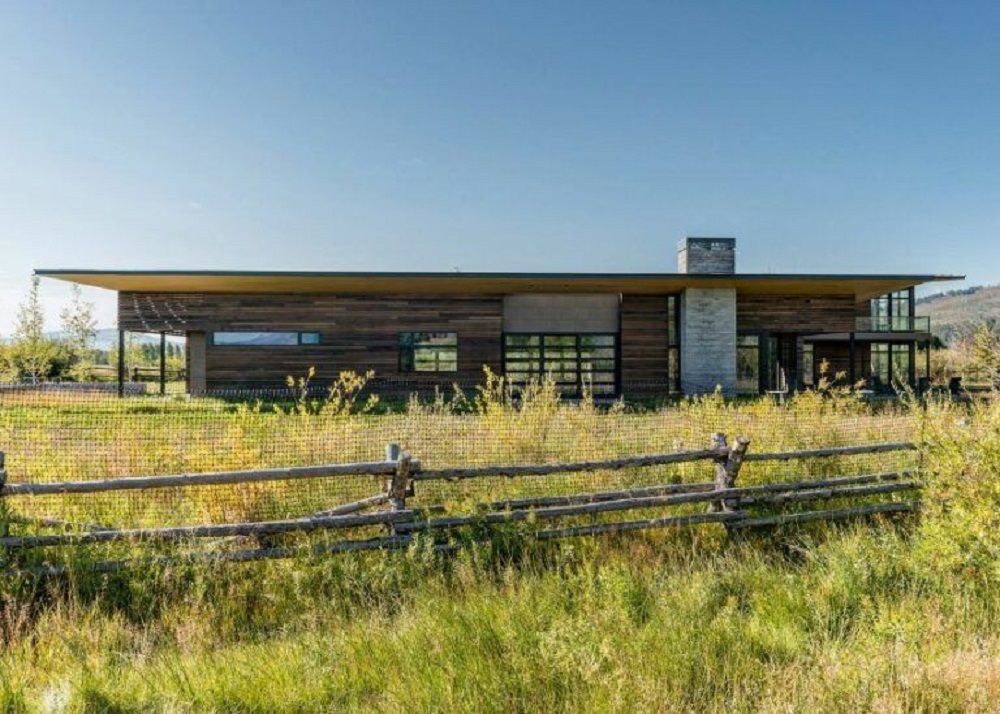 This lovely vacation retreat was designed and built by studio Carney Logan Burke and sits below Teton Mountains in Wyoming. It has a perfect view of the mountain range as a backdrop and the area around it is nice and flat and open.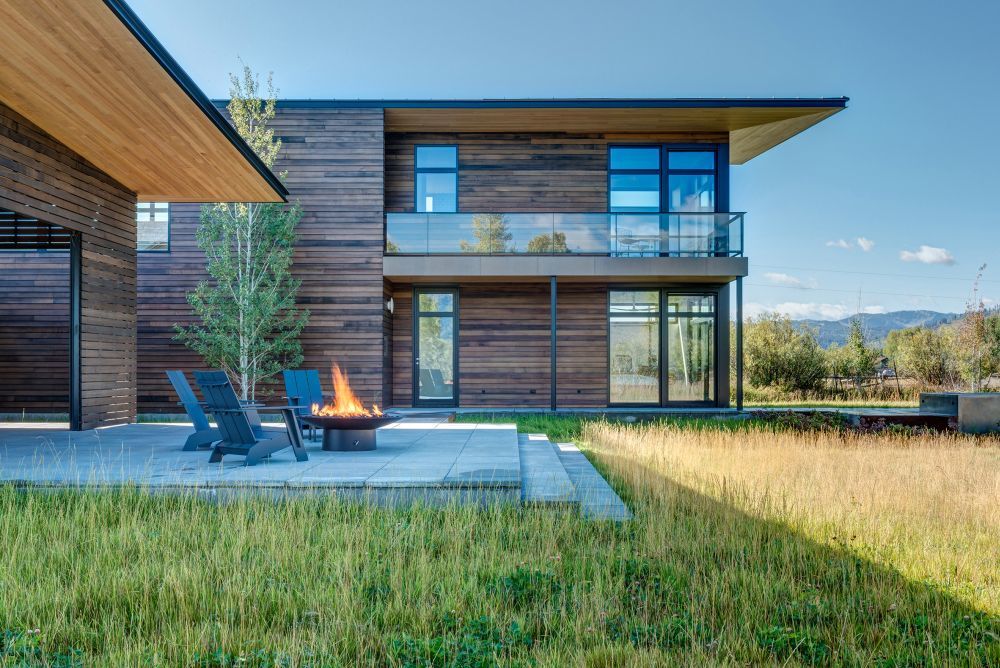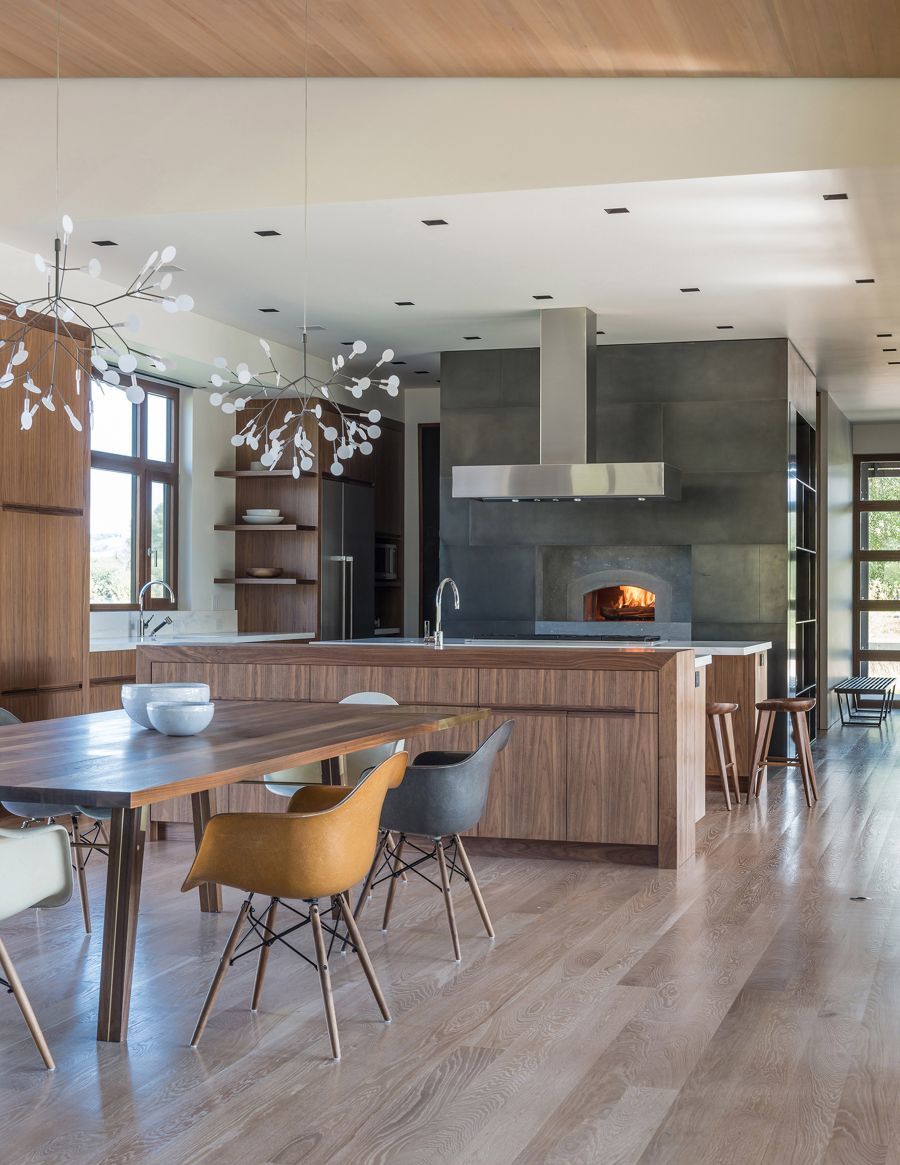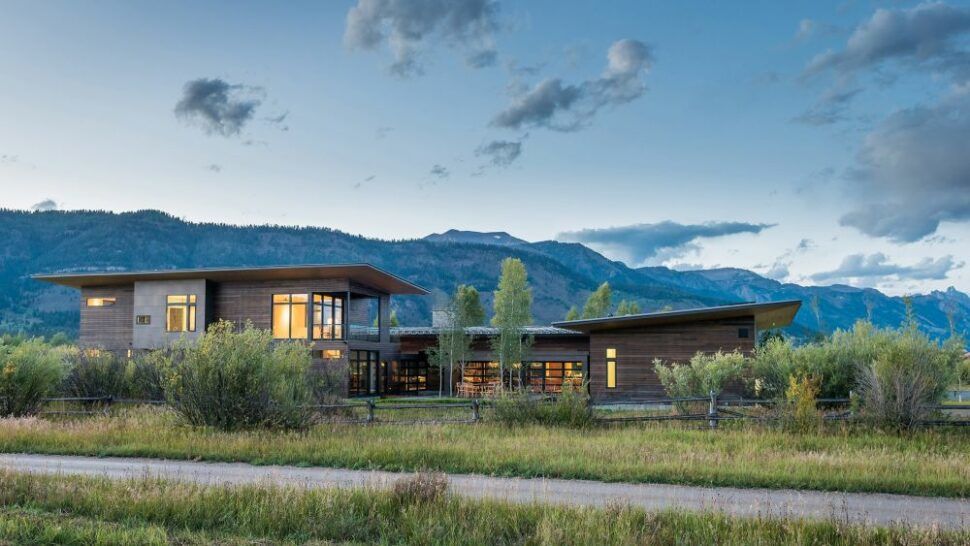 The remote location means it doesn't have any neighbors. The design is contemporary with a stylish and simple architecture, a flat roof and expansive outdoor areas. The public and the private spaces inside are separated which makes everything easy and convenient. All the common areas are organized in an L-shaped volume which opens onto the outdoors and welcomes the beautiful views inside.


An eclectic mountain retreat in the French Alps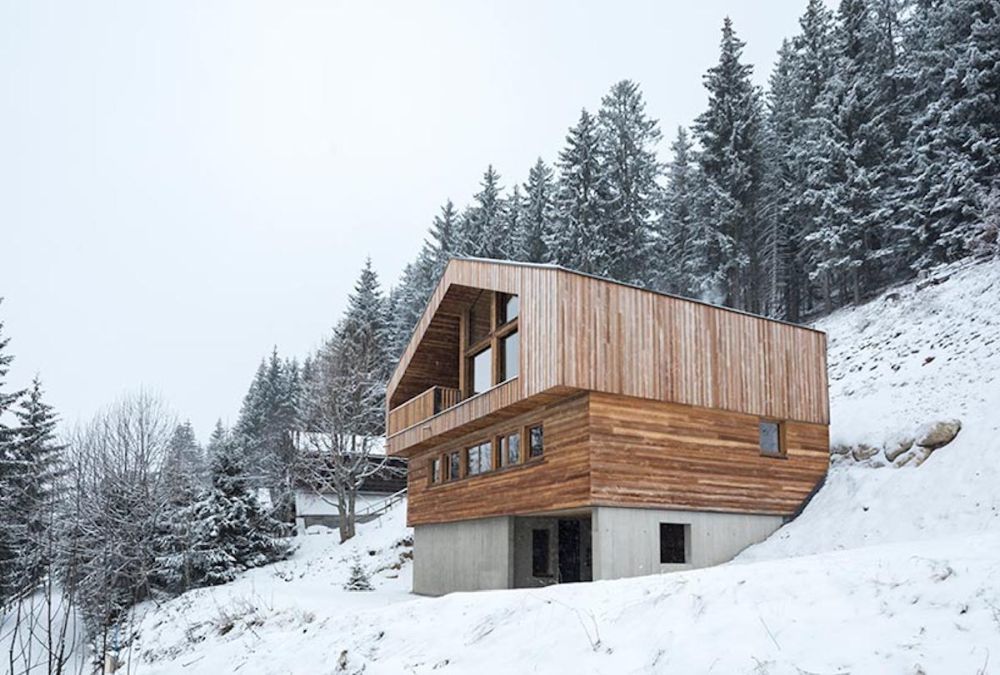 The design of this lovely mountain home was shaped by its location and cultural surroundings. It sits in the beautiful French alps and it has an eclectic design that respects the guidelines in this region but has its own modern twist.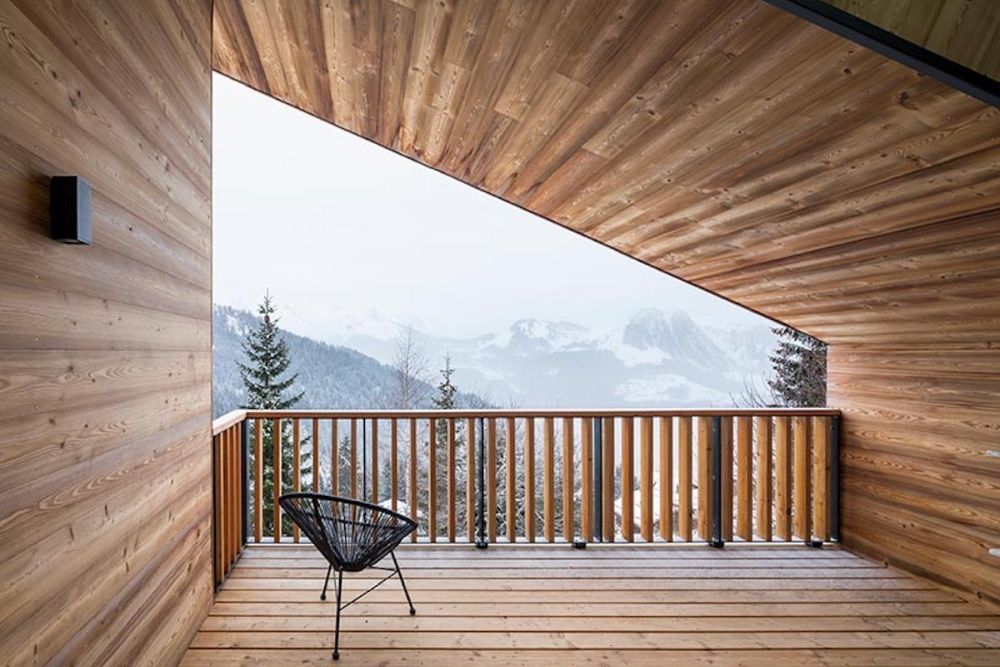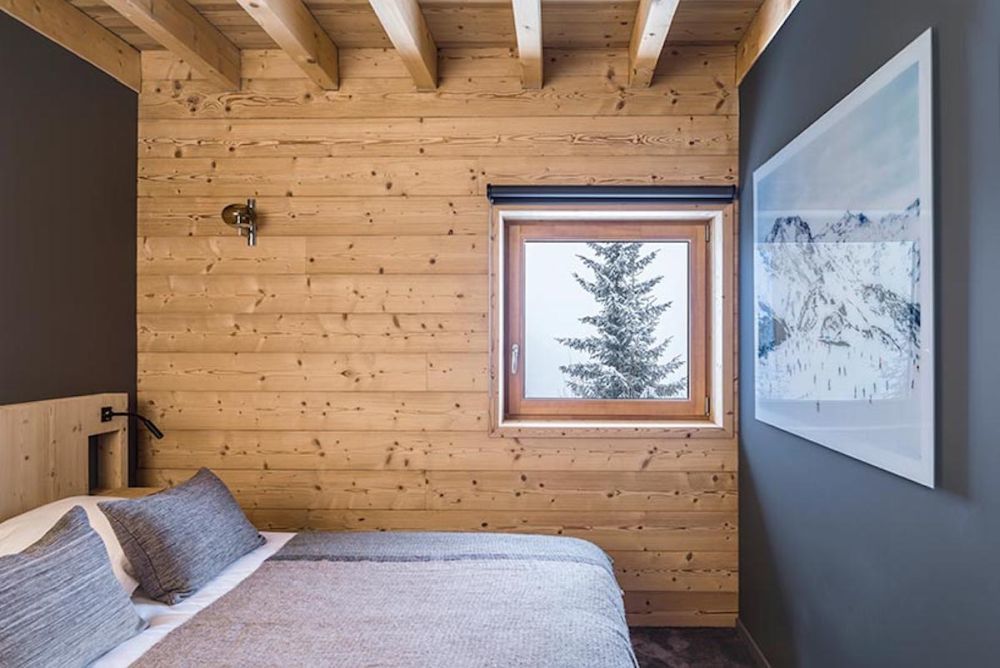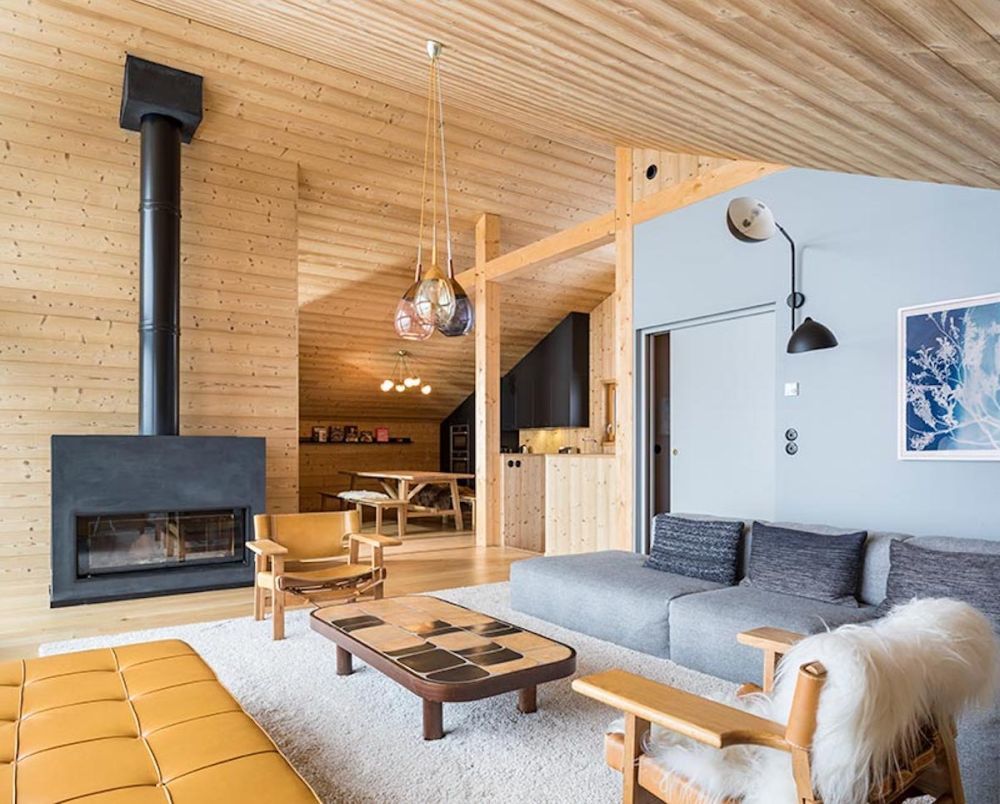 This was a project by Studio Razavi. You can distinguish a somewhat traditional overall shape from a distance but as you get closer the modern details become more and more prominent. Wood and concrete were the two main materials used for this project and they help to emphasize this perspective.


All-season retreat on Reynolds Mountain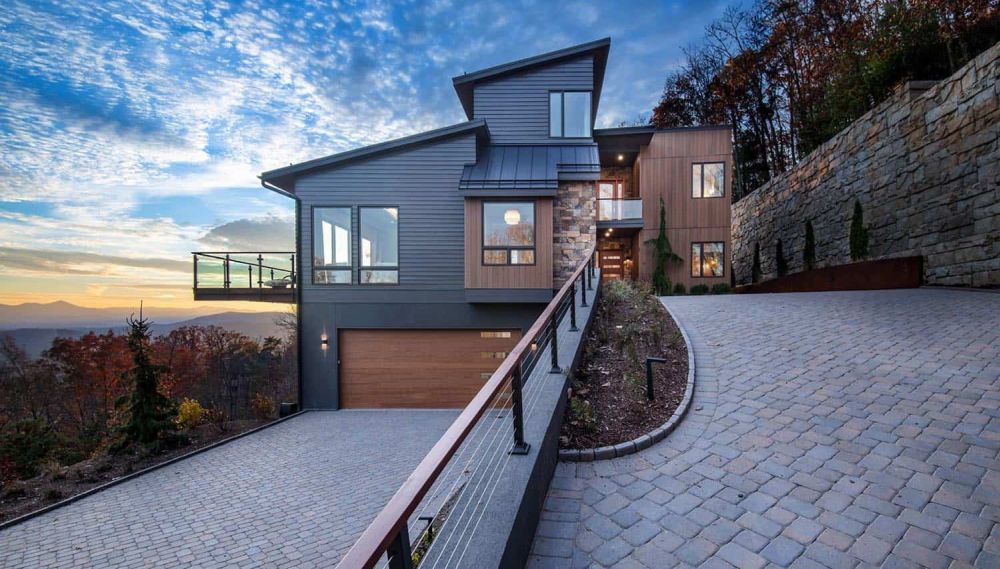 There's no doubt about it, the views from high up in the mountains are spectacular no matter what season it is. With that in mind, studios Living Stone Design + Build and Retro + Fit Design worked together to create an all-season retreat, a beautiful contemporary structure that makes the most of its location on Reynold Mountain in North Carolina.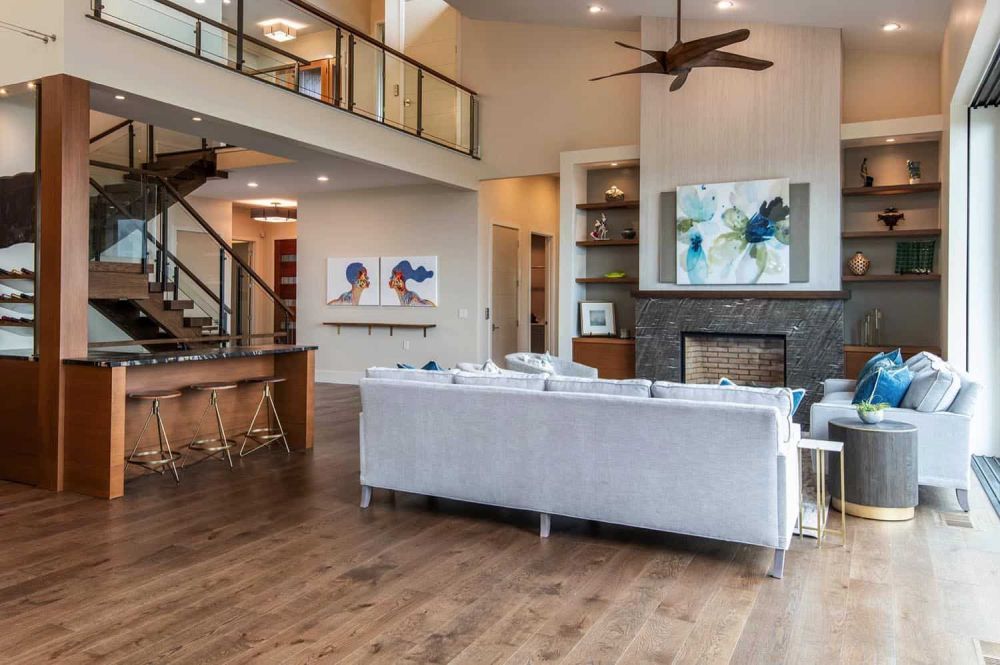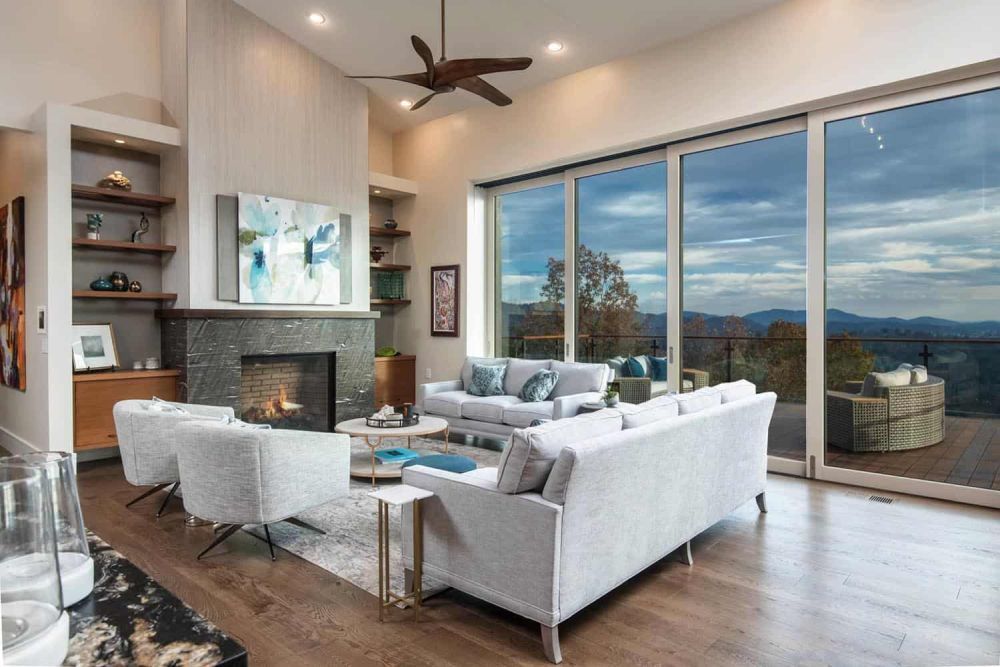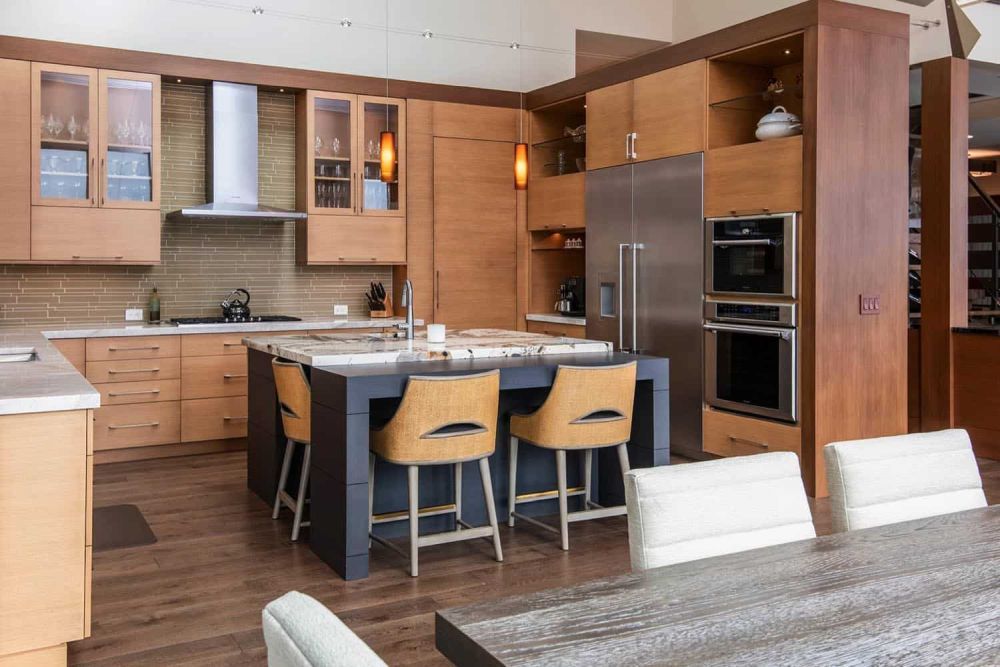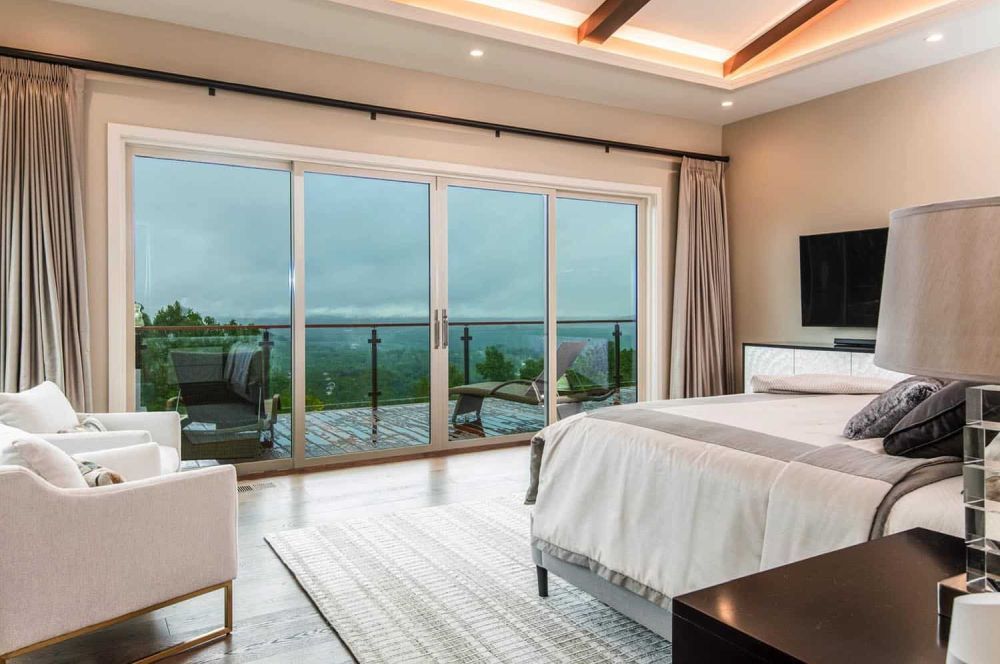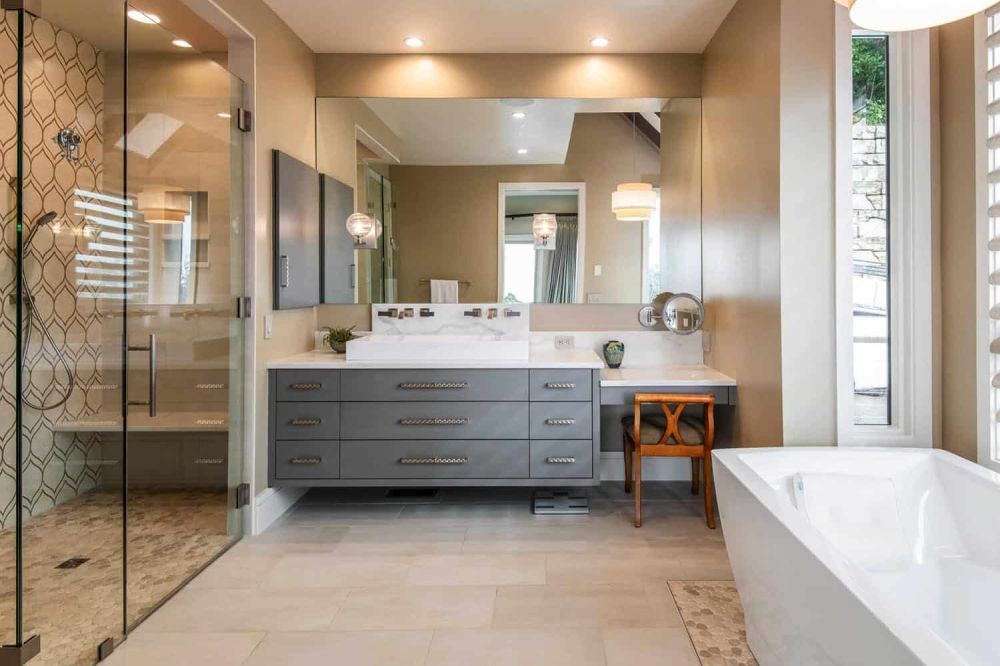 They used a selection of natural materials including stone and wood to allow the structure to integrate into its surroundings and to look at home in this pristine and beautiful location. Large windows and numerous terraces bring the outdoors in and put an emphasis on the panoramic views from every part of the house.


A mountain chalet in the Czech Republic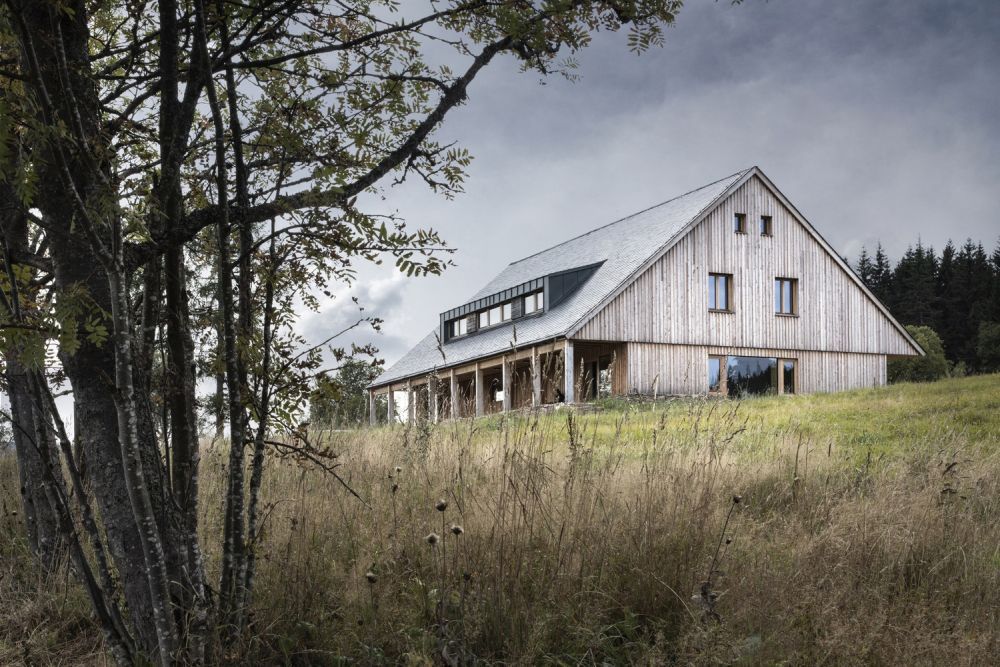 This mountain chalet from The V-Plan residence is located in Aspen, US and was designed and built by Studio B Architects. Its design reflects the owner's preference towards privacy but also a desire to take advantage of the location and its exposure to the Aspen golf course. is quite massive. It was designed and built here by studio triarkitekti and it's actually not one but two residences under the same roof.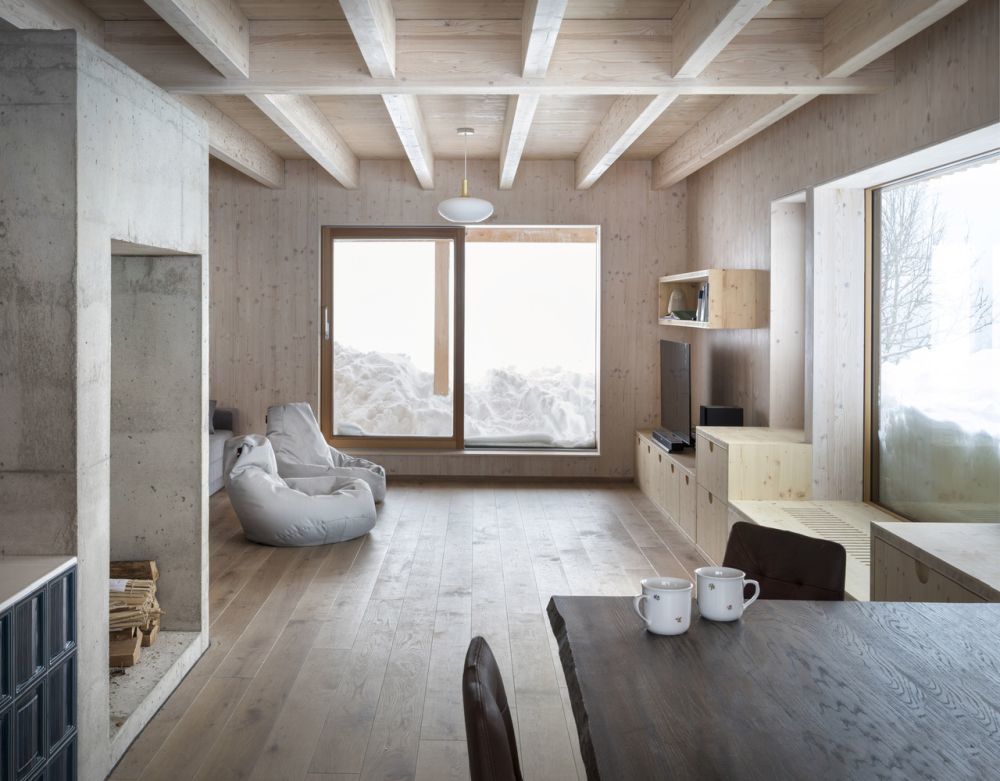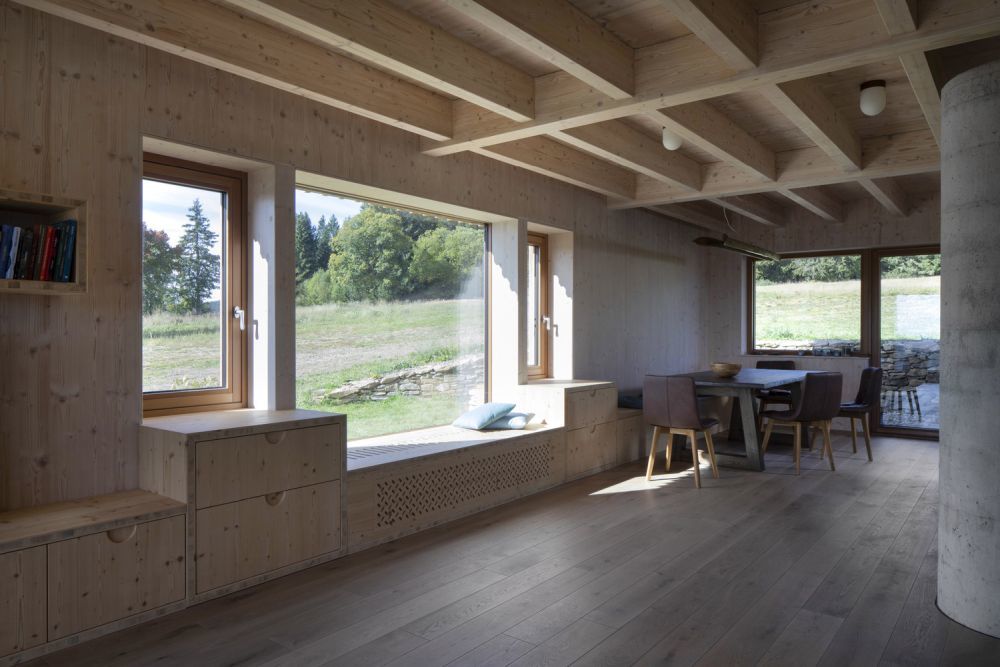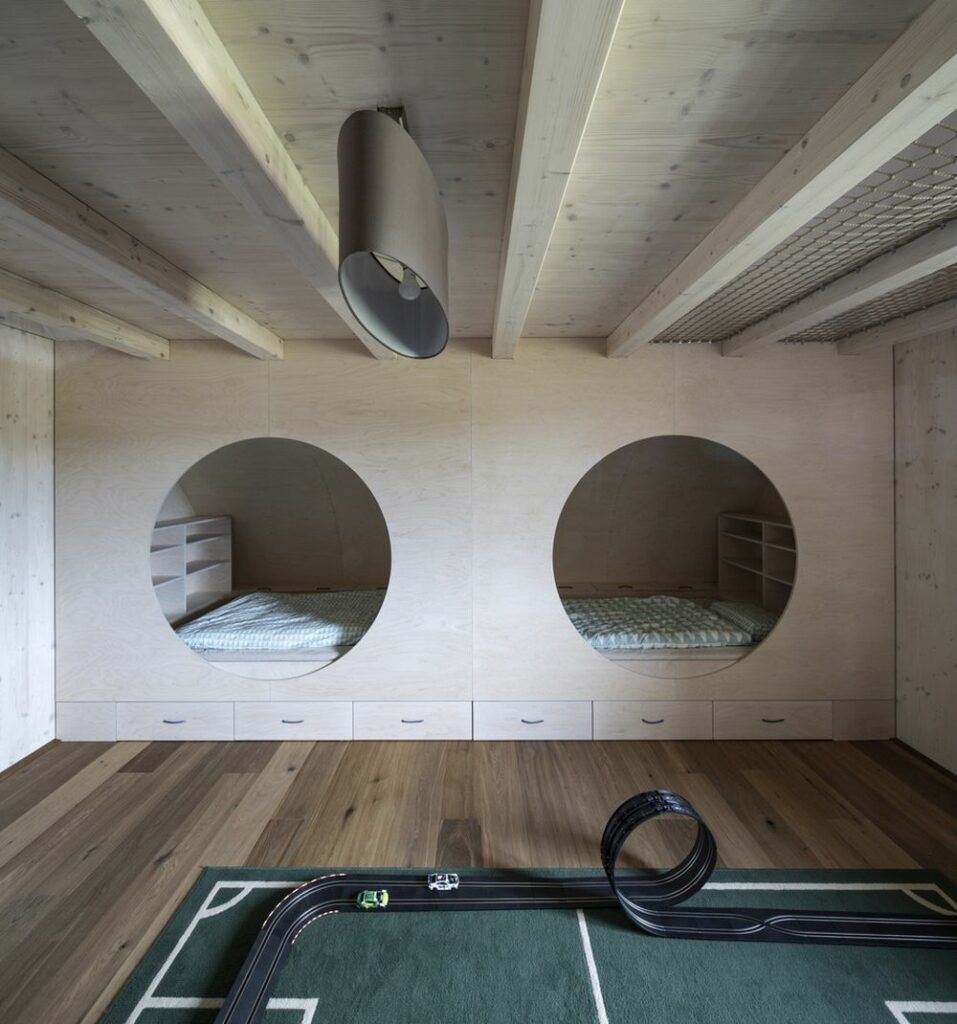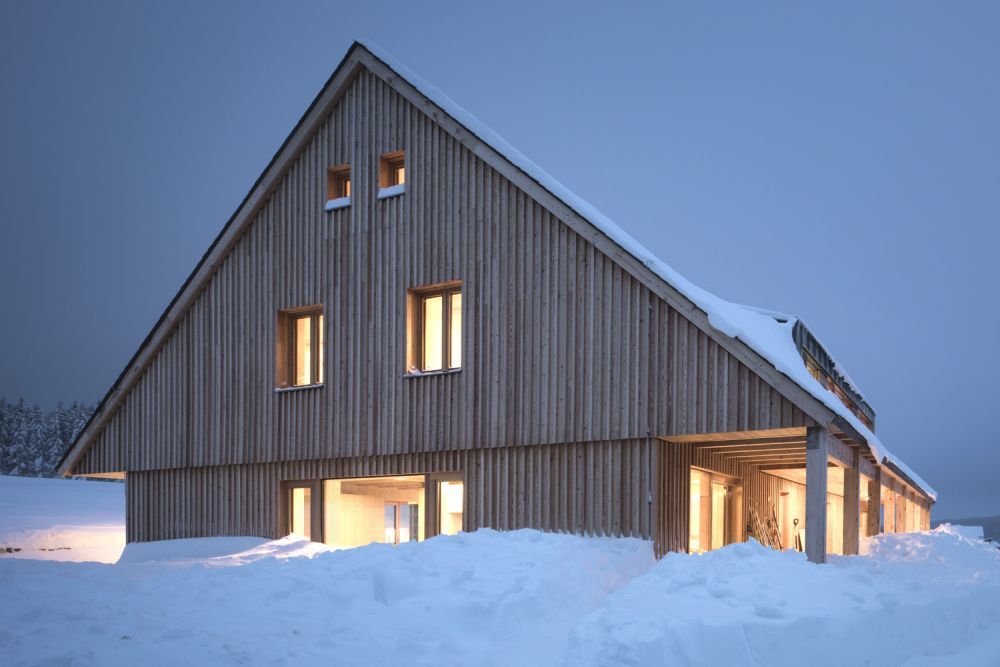 The interior is divided evenly in two and they each have their own separate entrances at the front at well as at the back. They're basically two mirrored homes. They each have a basement level, a ground floor where the common area are situated and an upstairs area for the private rooms.


A mountain home with a barn-inspired design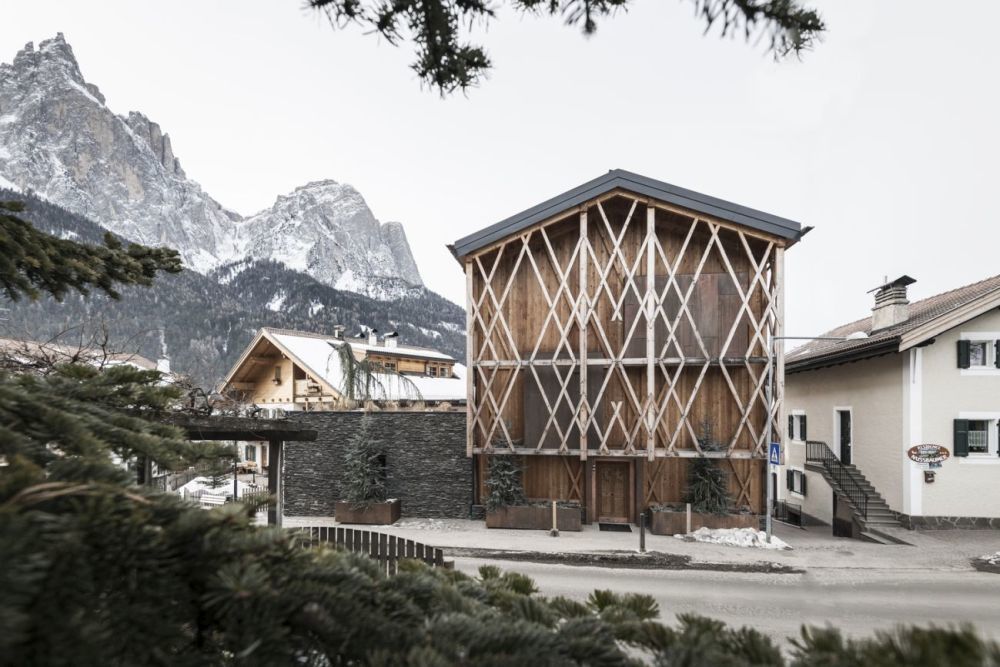 This mountain home is quite unusual. It's located at the foot of the Sciliar Mountain in Tyrol and in its place there once used to be an old barn originally constructed in the 1850s.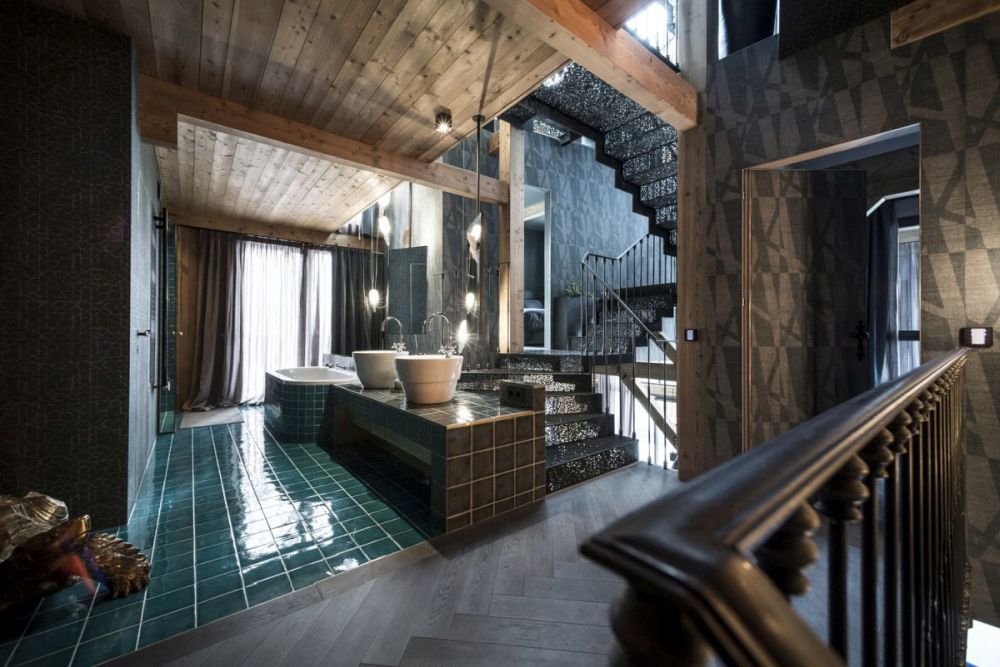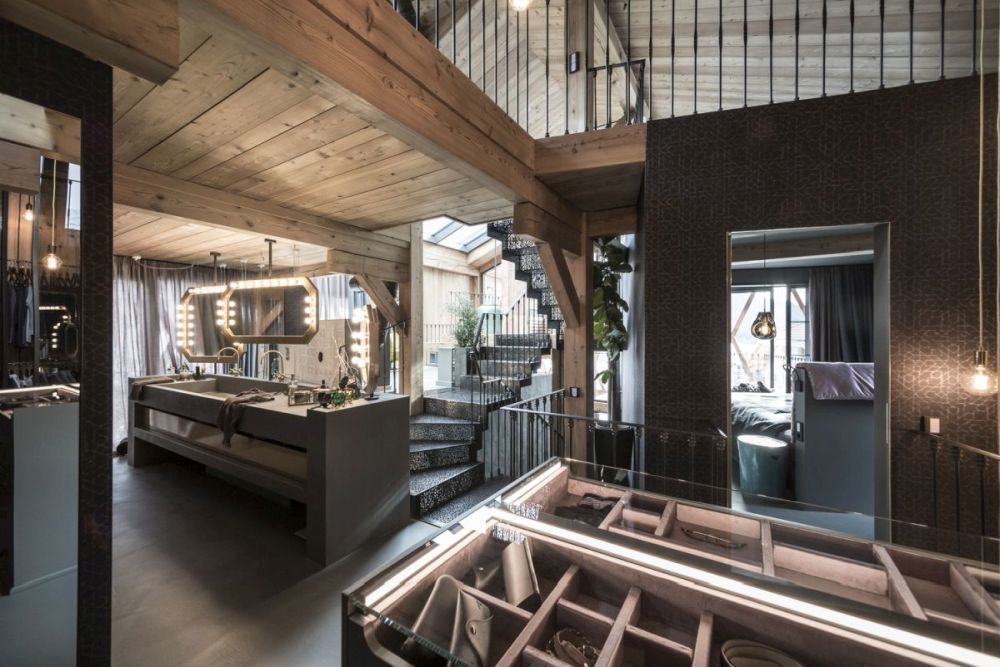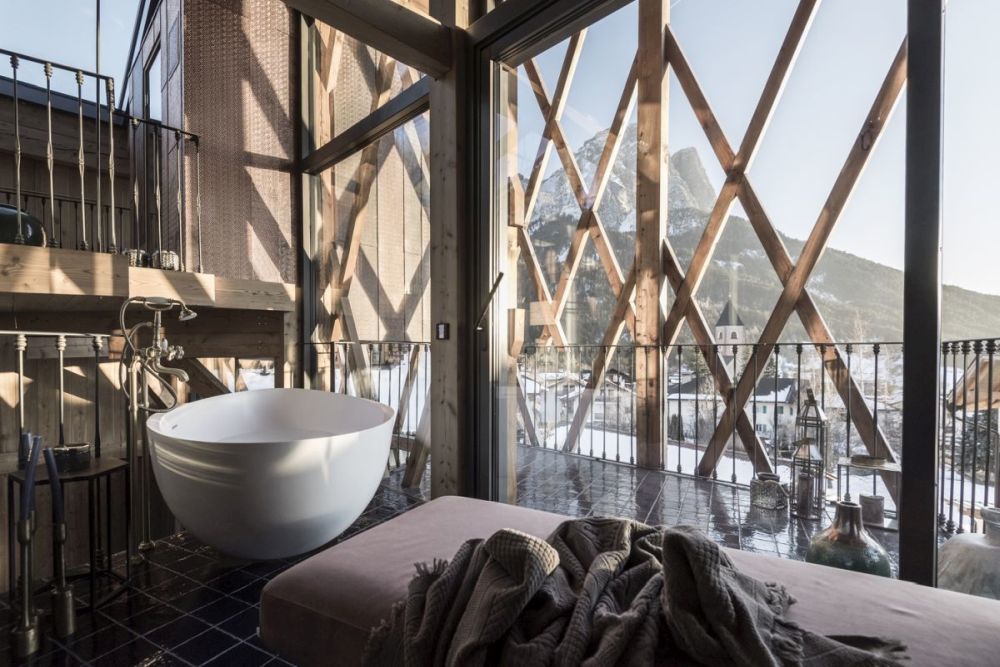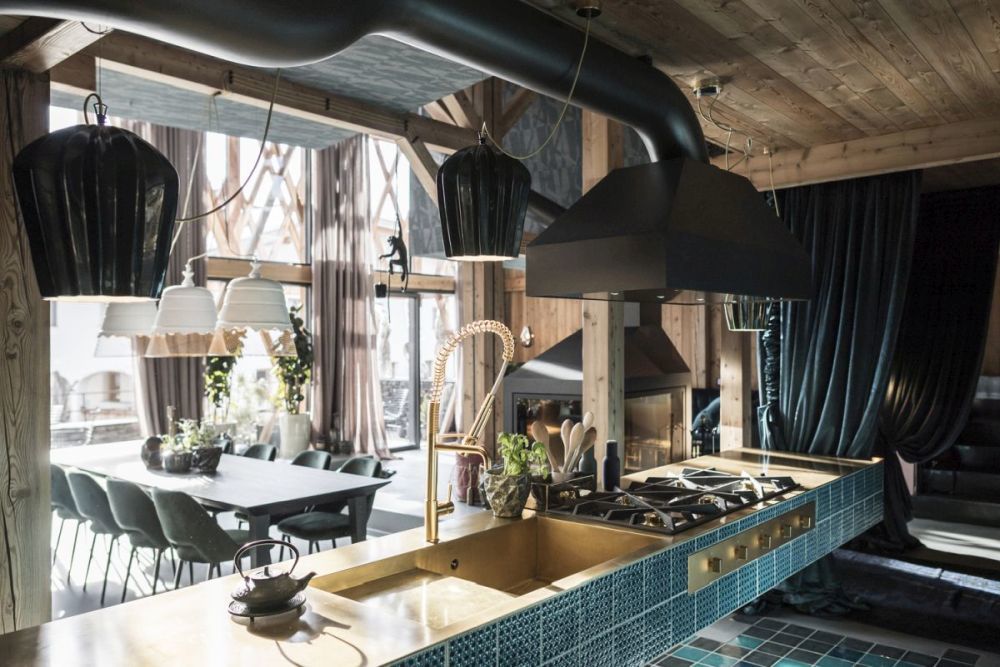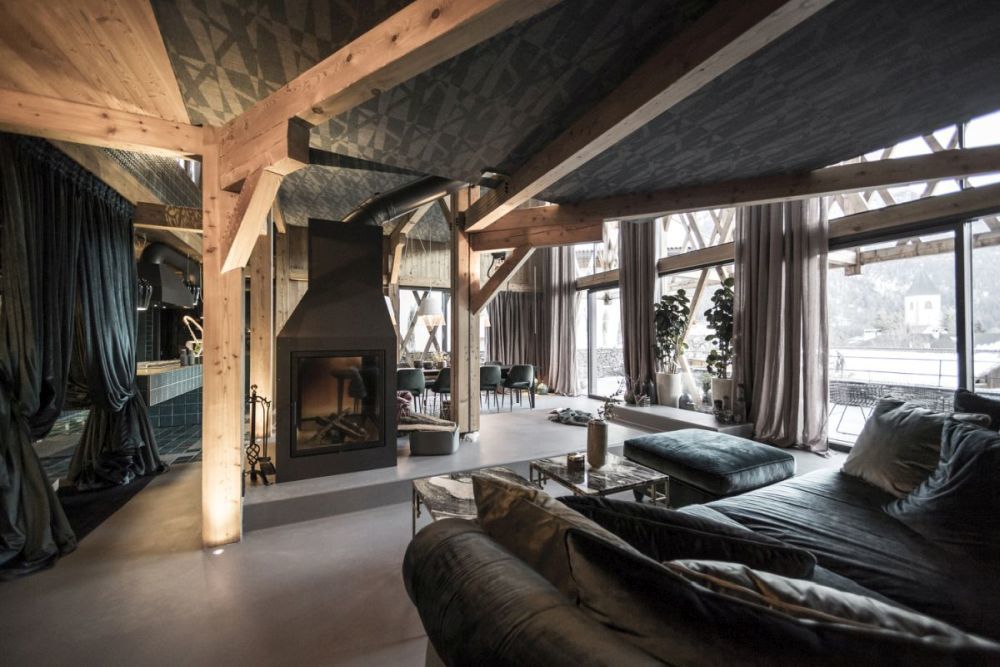 The new structures pay homage to its history and the design is barn-inspired. The project was done by studio noa* and the design is not surprisingly an eclectic one. It features a combination of traditional and modern elements which are blended together to make this place quite special. The house definitely has a lot of character.


A trio of cozy houses in Bigfork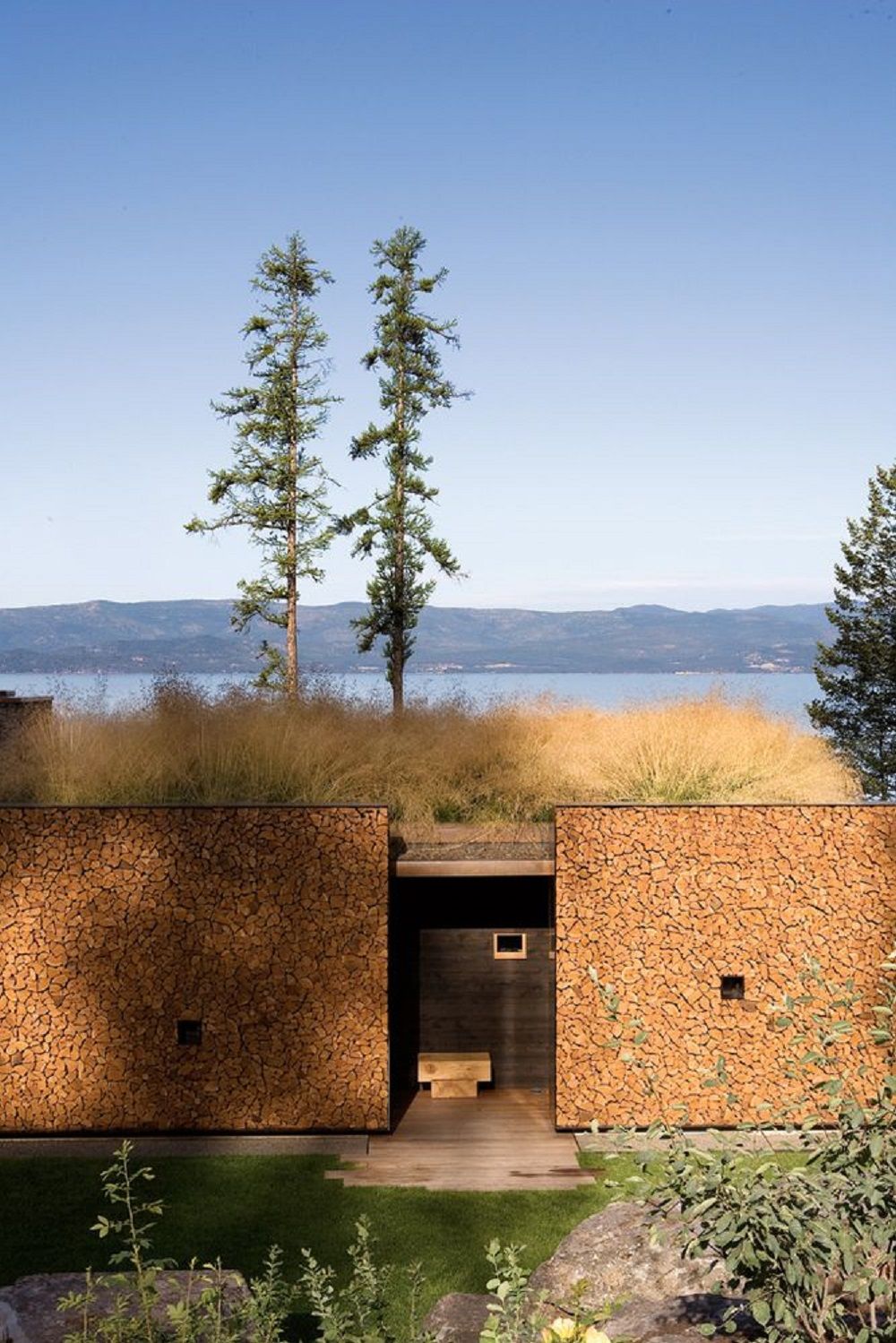 Somewhere in Bigfork, US there's a lovely spot in a remote location where you can find three cozy structures along a sloping hill. They blend in quite nicely with the surrounding landscape and have an almost cave-like character.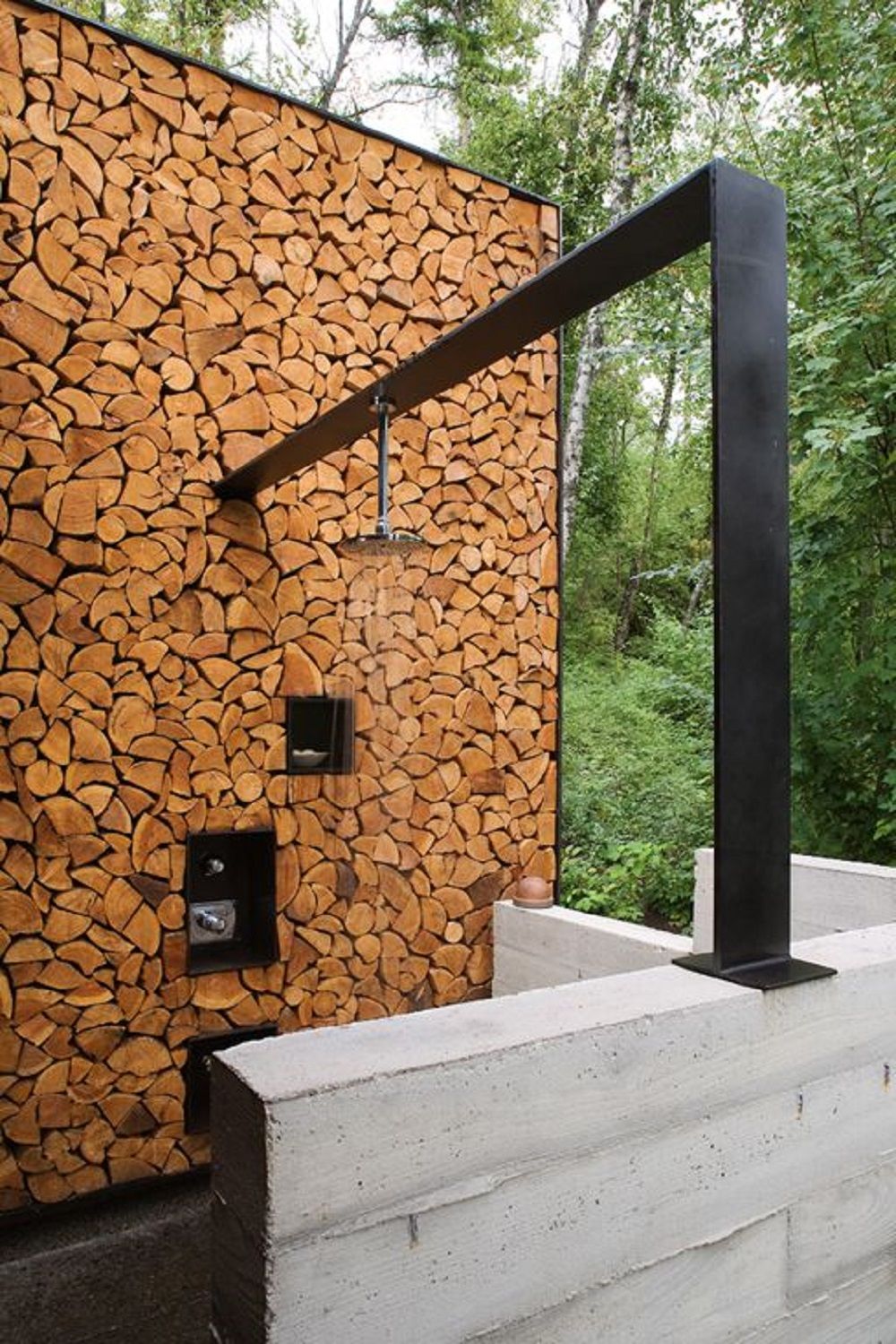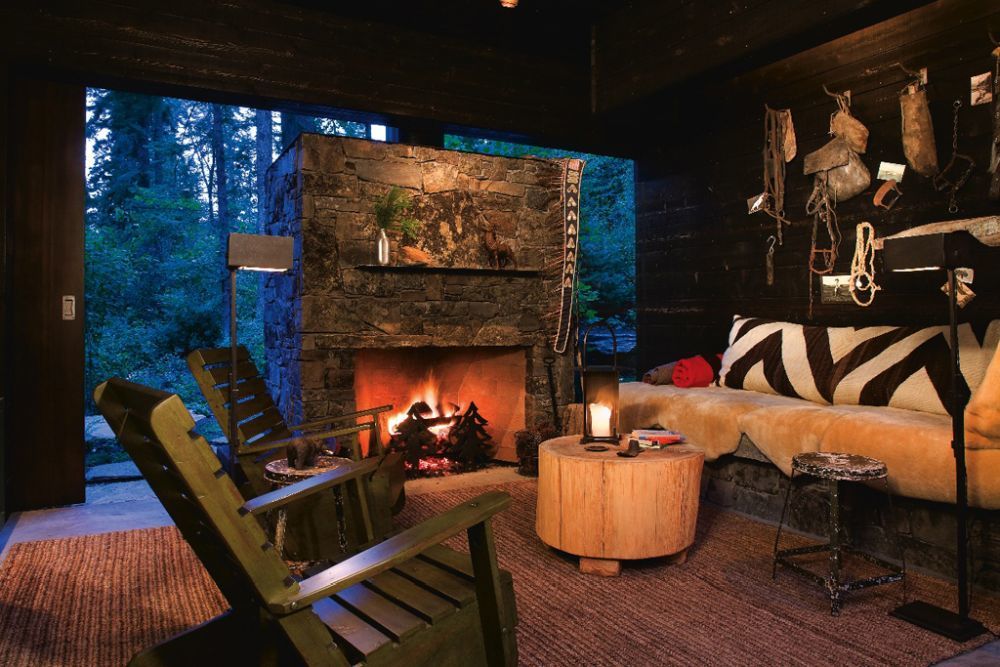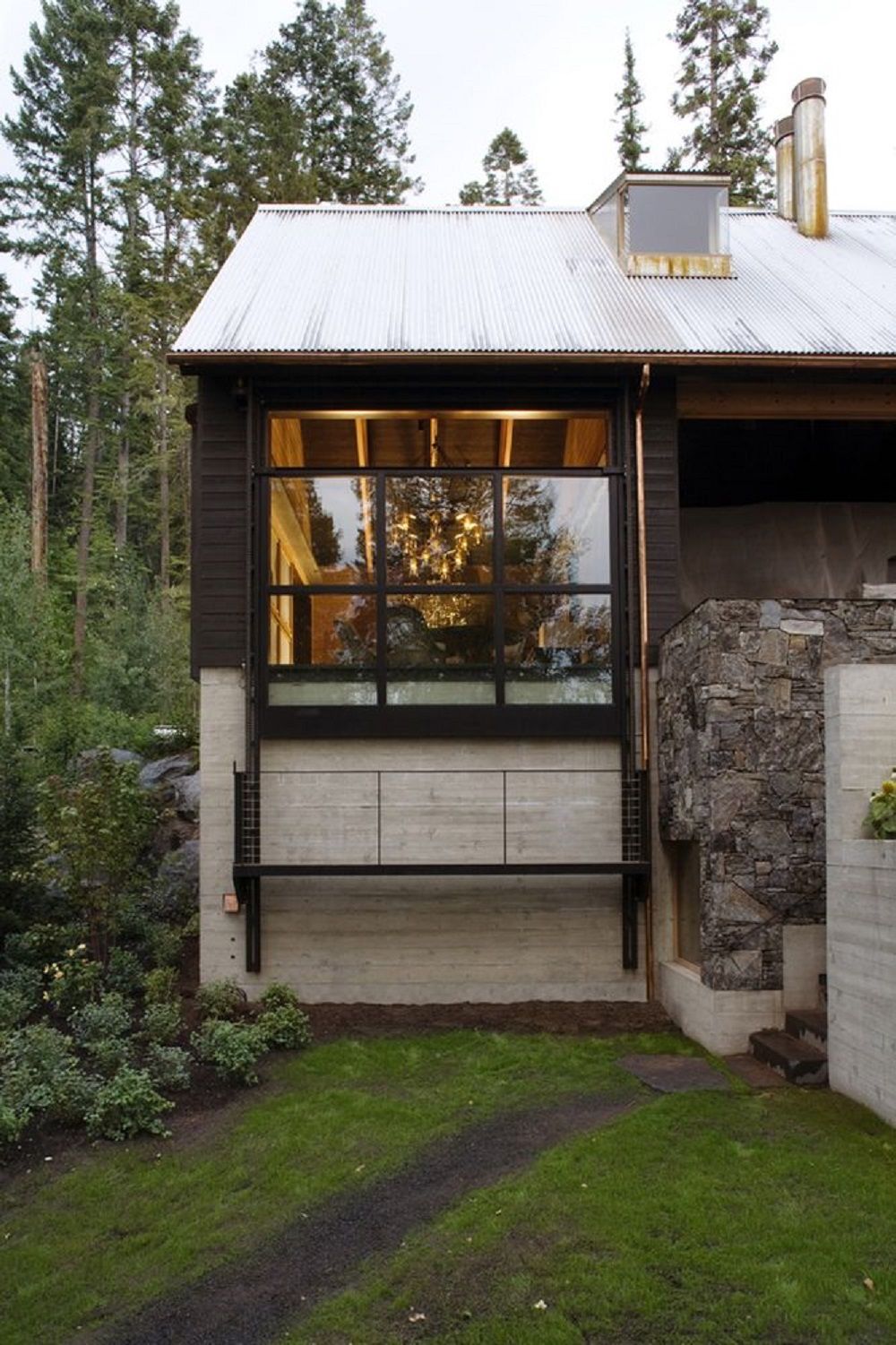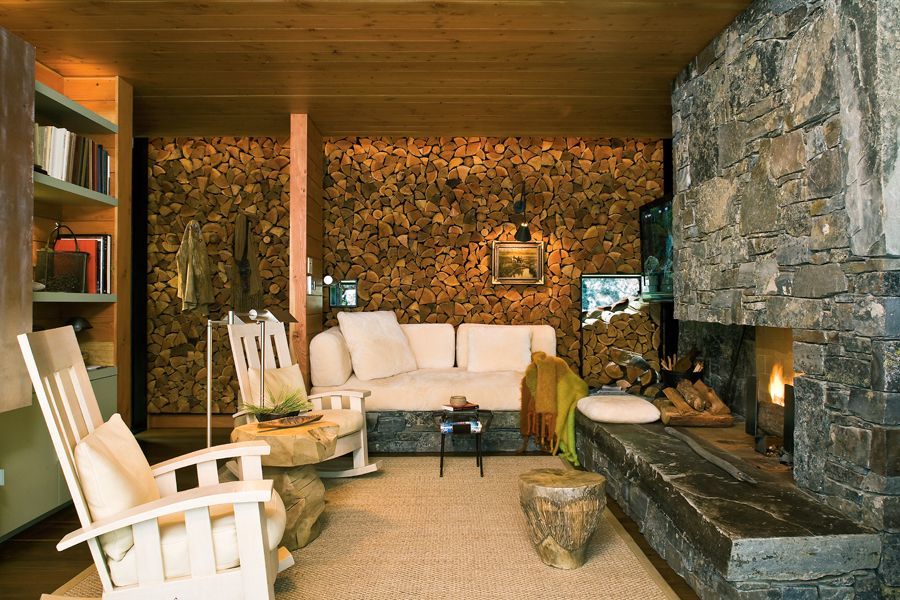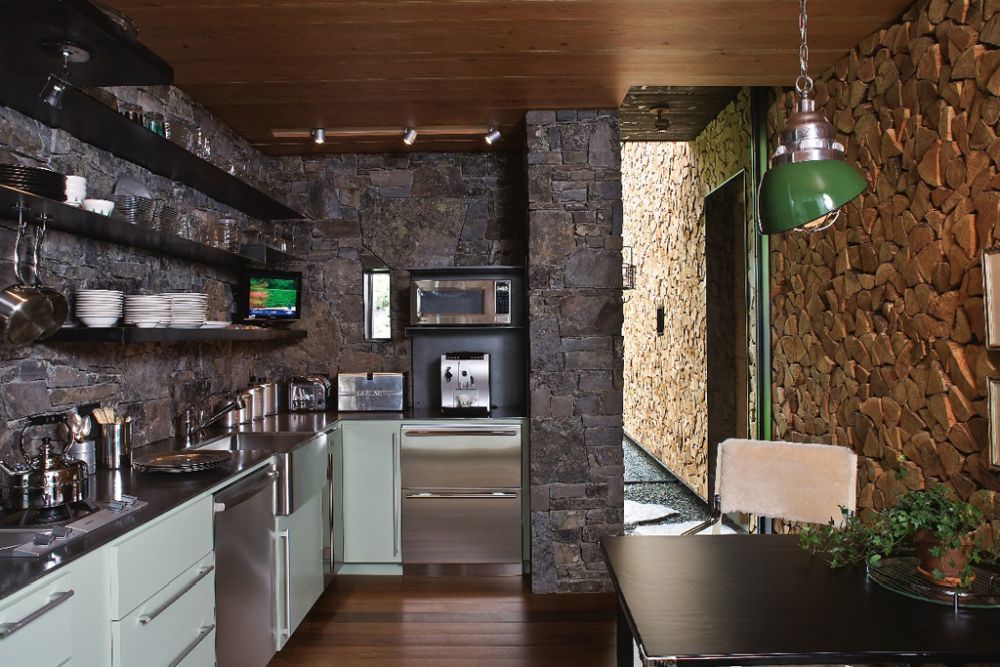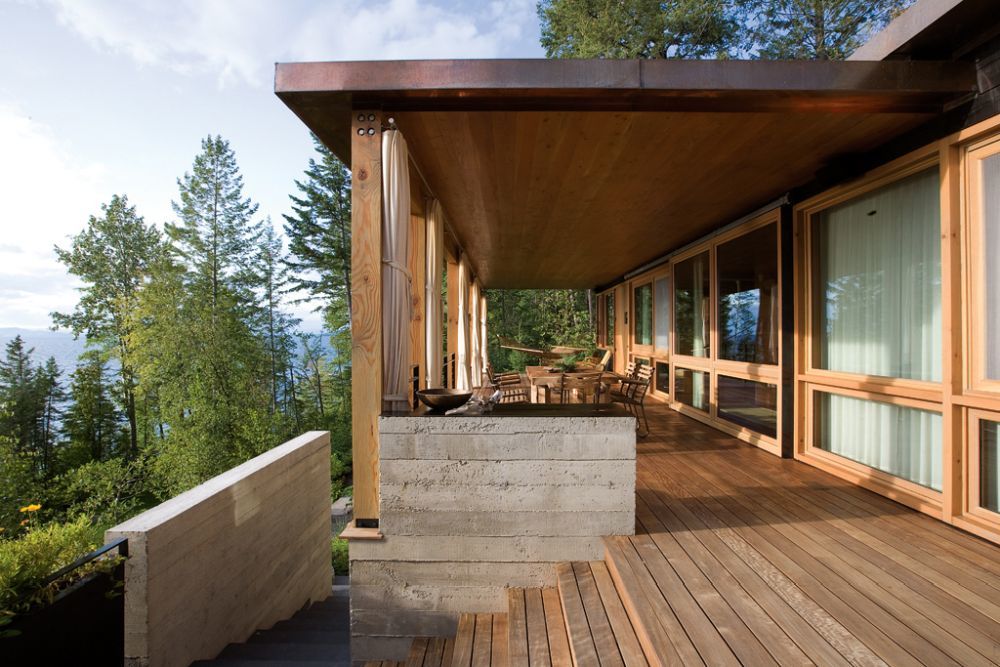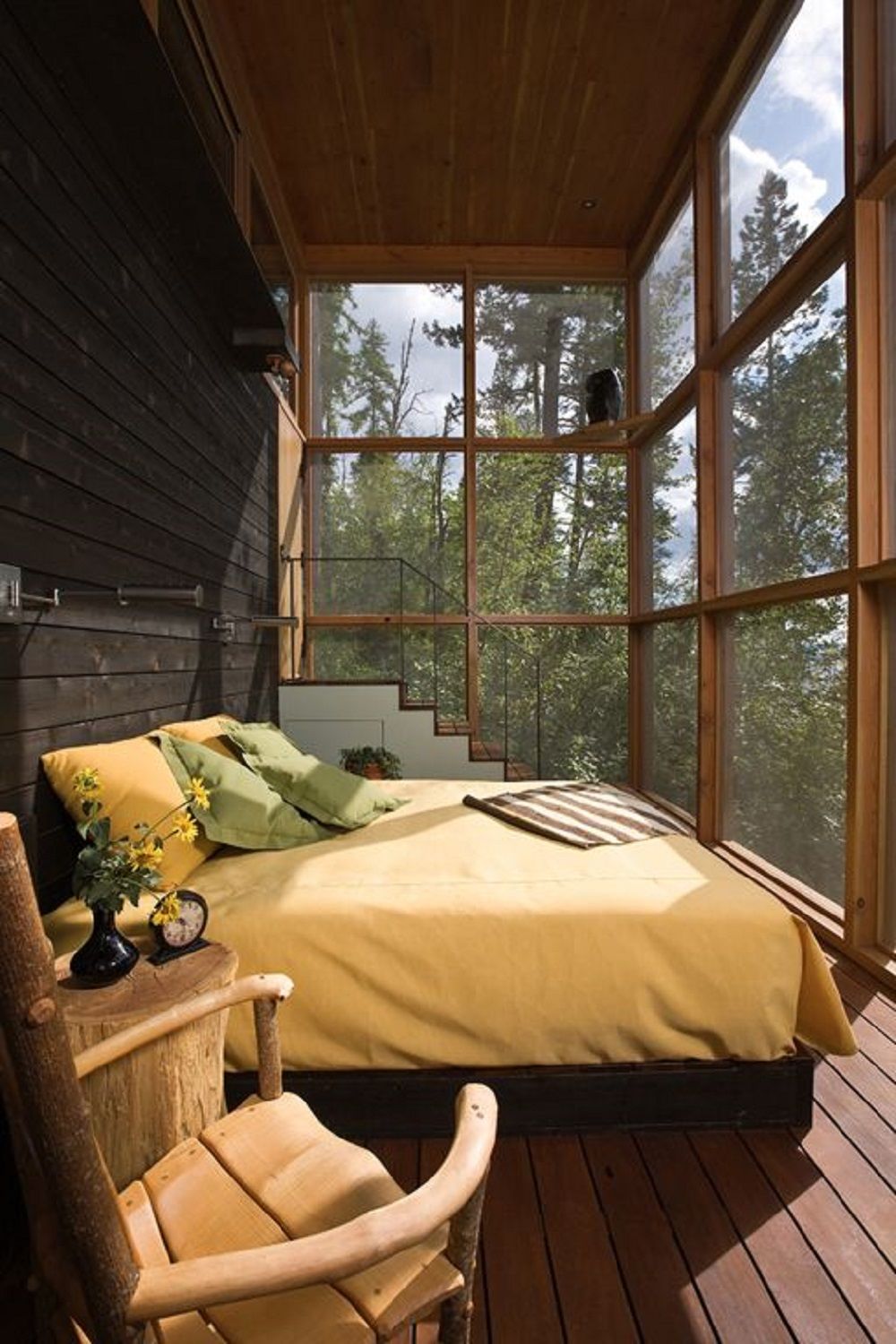 They sit by a beautiful lake so they also have expansive outdoor areas that take advantage of that. What's really cool about this project by Andersson Wise Architects is that a lot of the spaces have sliding panels instead of the typical solid walls. This allows them to be opened up to the exterior so the inhabitants can be both indoor and outdoor at the same time.


A weathered steel retreat in Montana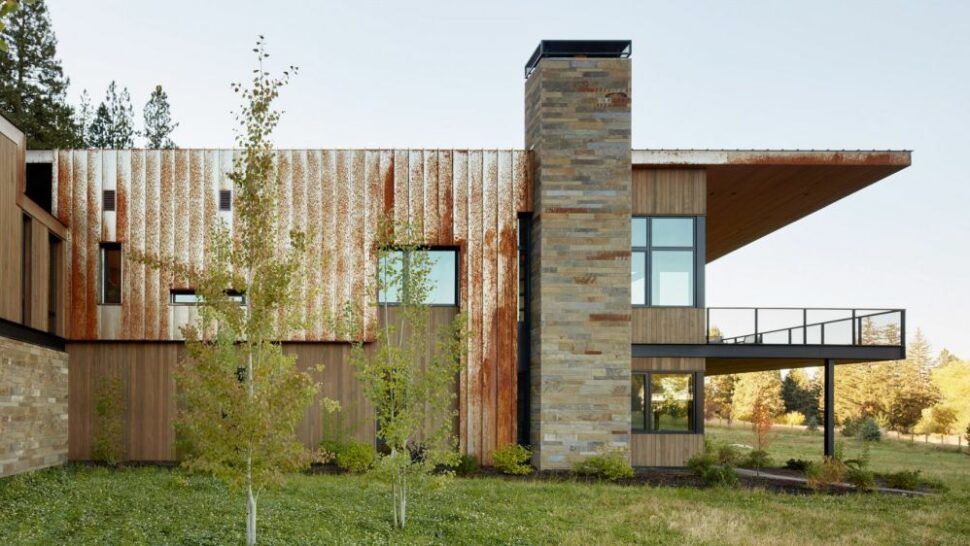 When designing this house in Montana, studio Carney Logan Burke Architects chose to use a rather unusual set of materials.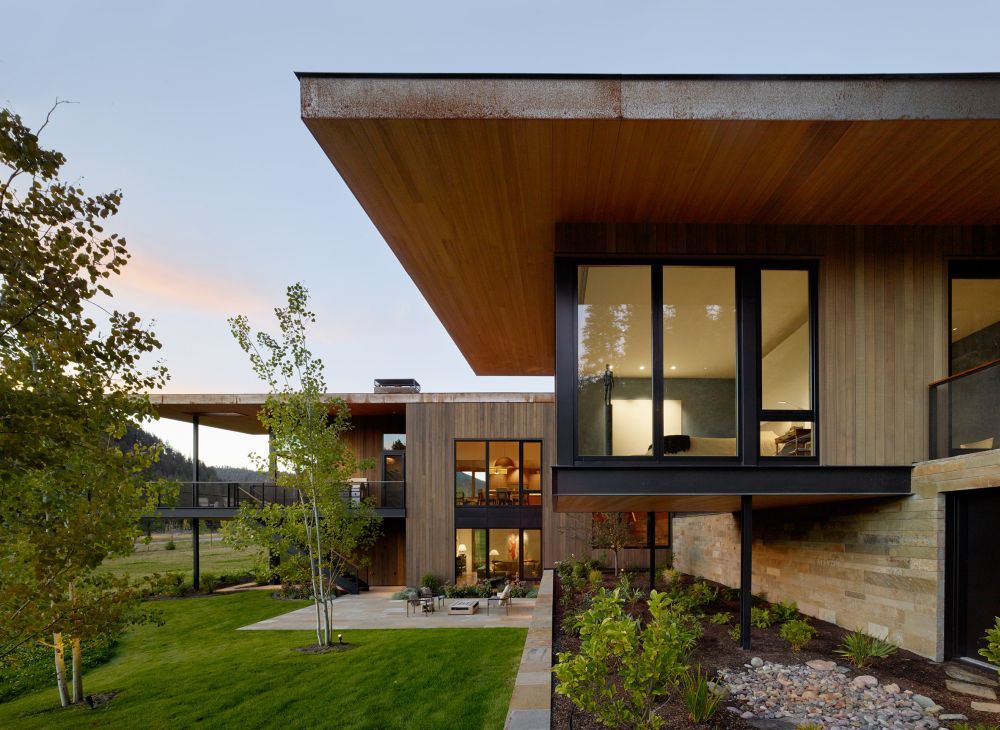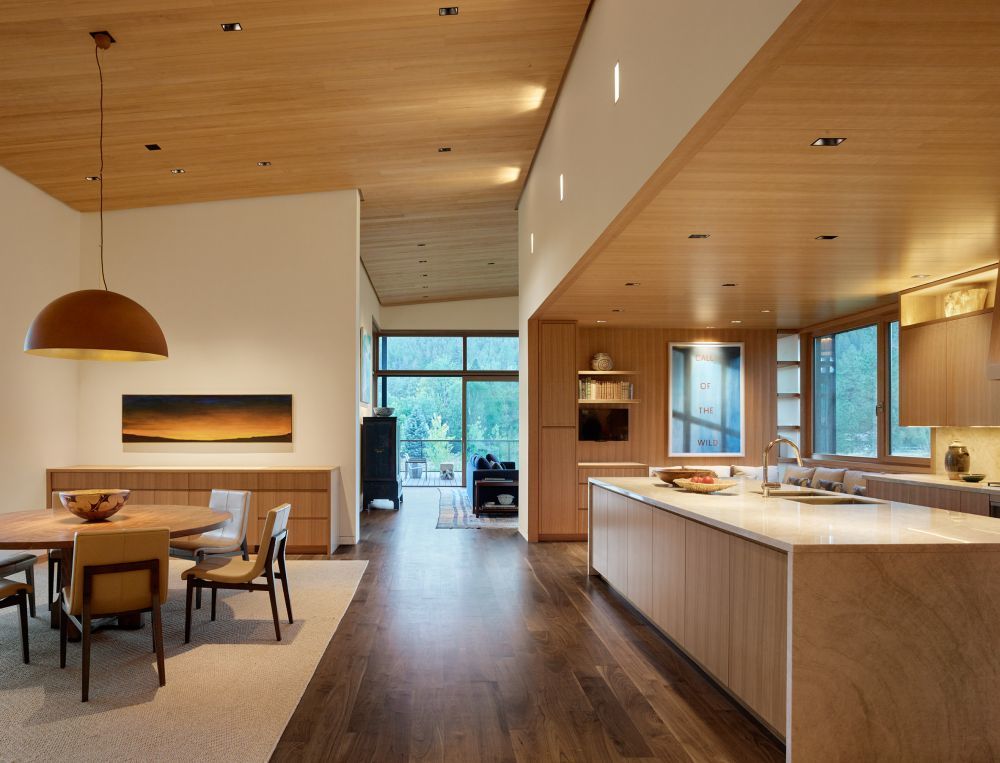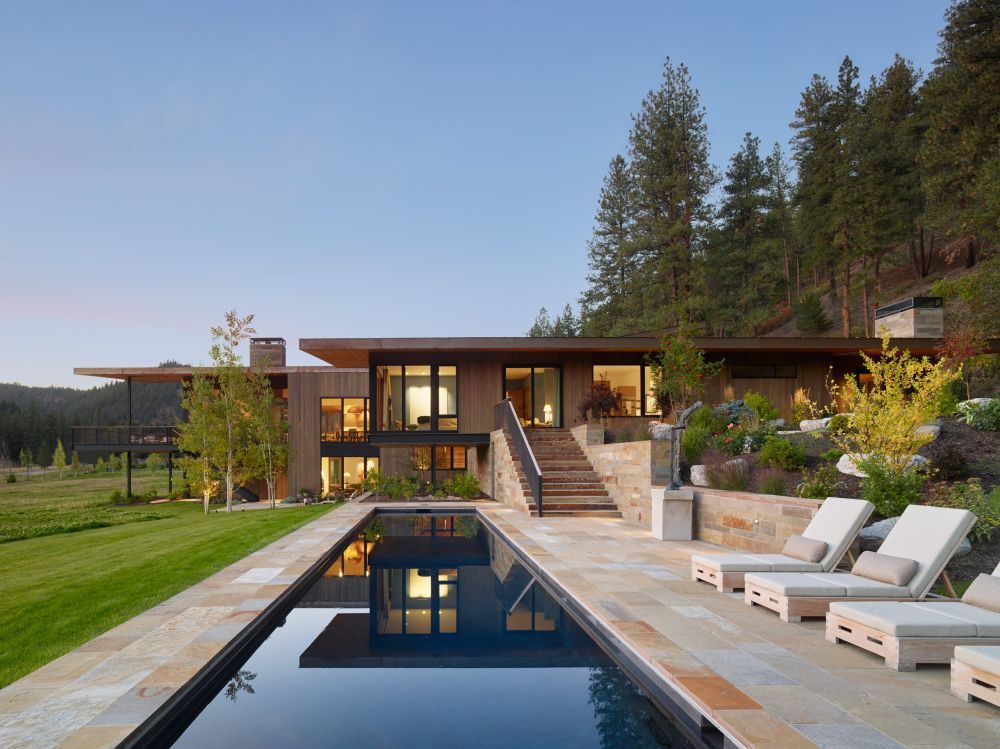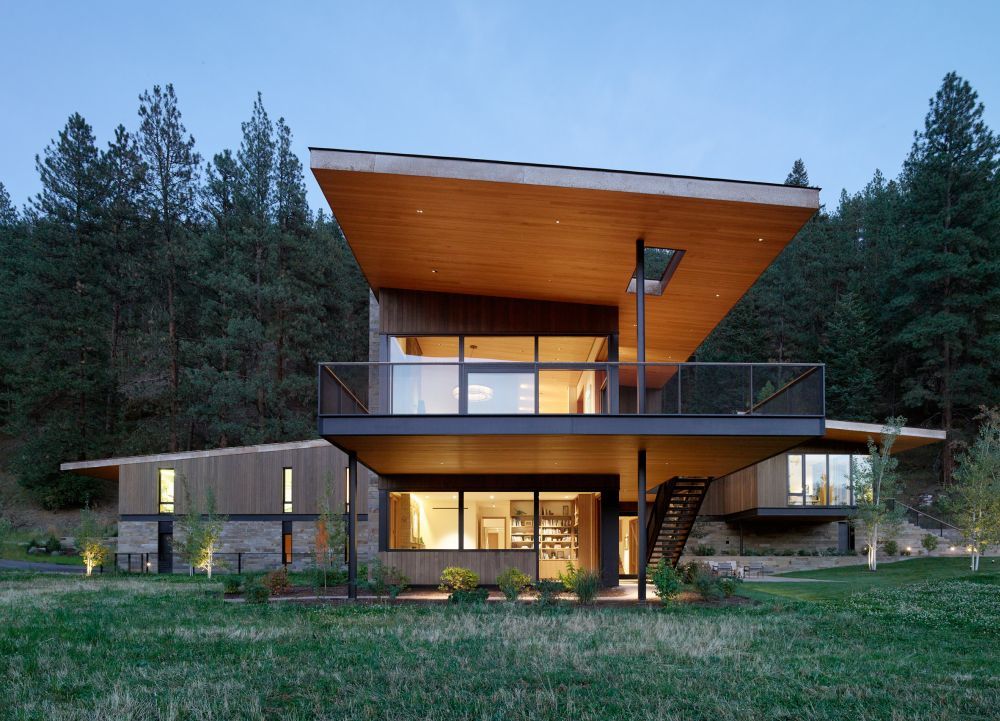 They built it out of stone and weathered steel and the reasoning behind that was that in this way the building would blend into its surroundings more naturally. The inspiration came from the natural colors of the landscape. Of course, this also gives the house a rather distinctive and unusual look and helps it to stand out.


The Canyon House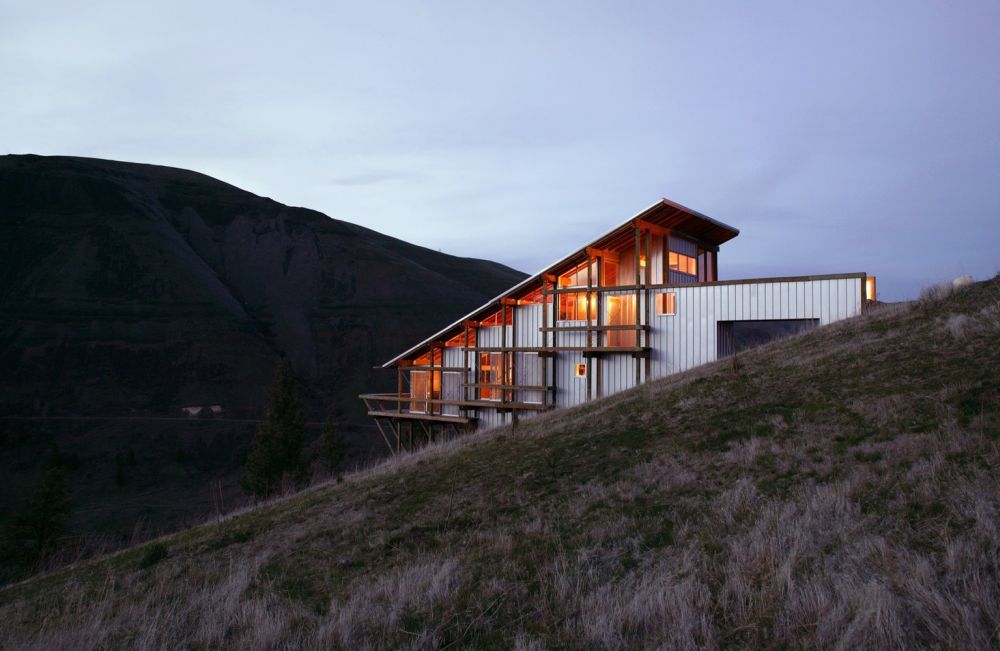 This was constructed as a remote retreat, a place for the owners and their visitors to get away from their daily lives, to embrace the wilderness and to relax and enjoy the simple things in life. It was a project done by architect Paul Hirzel back in 2003.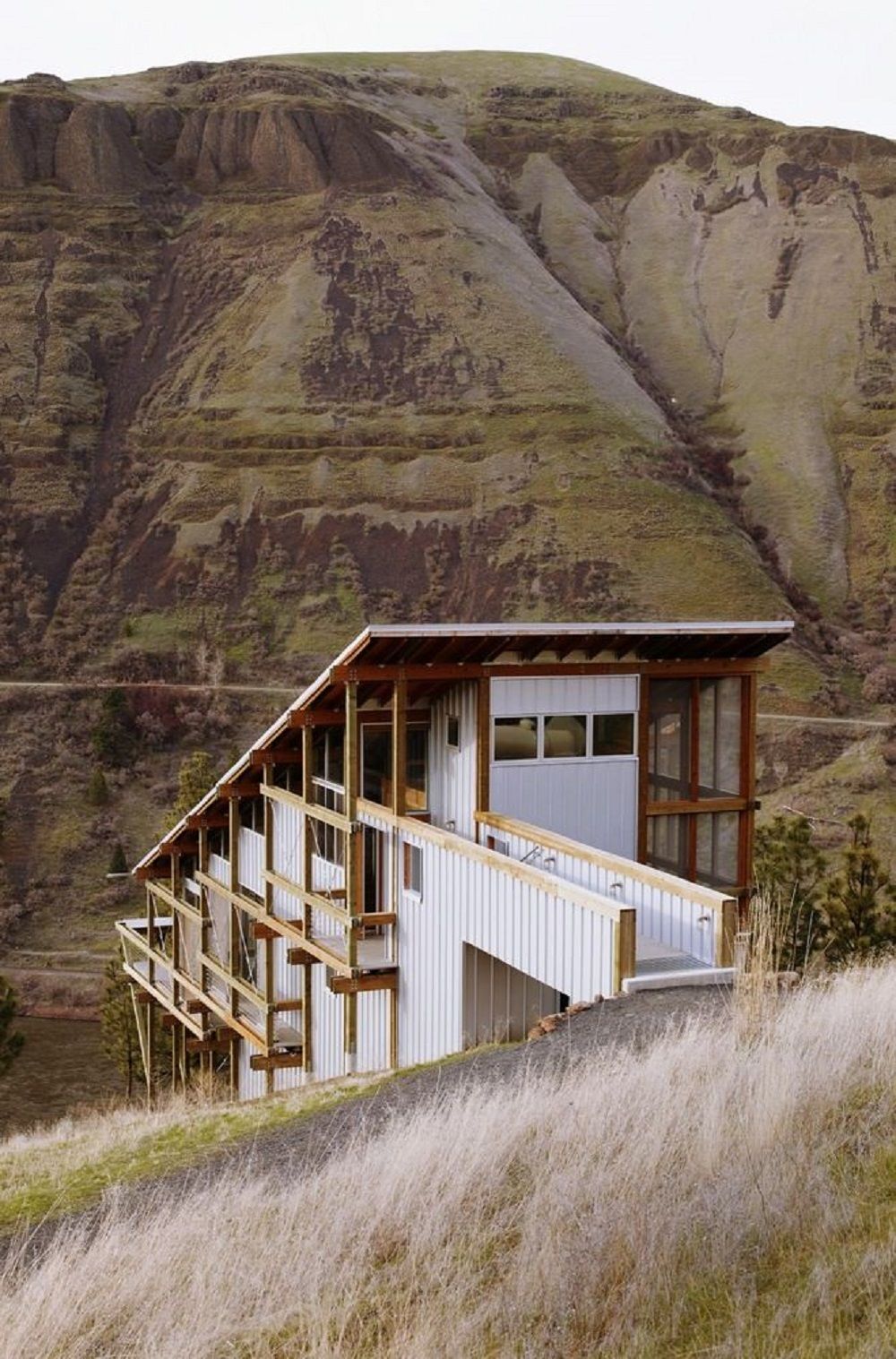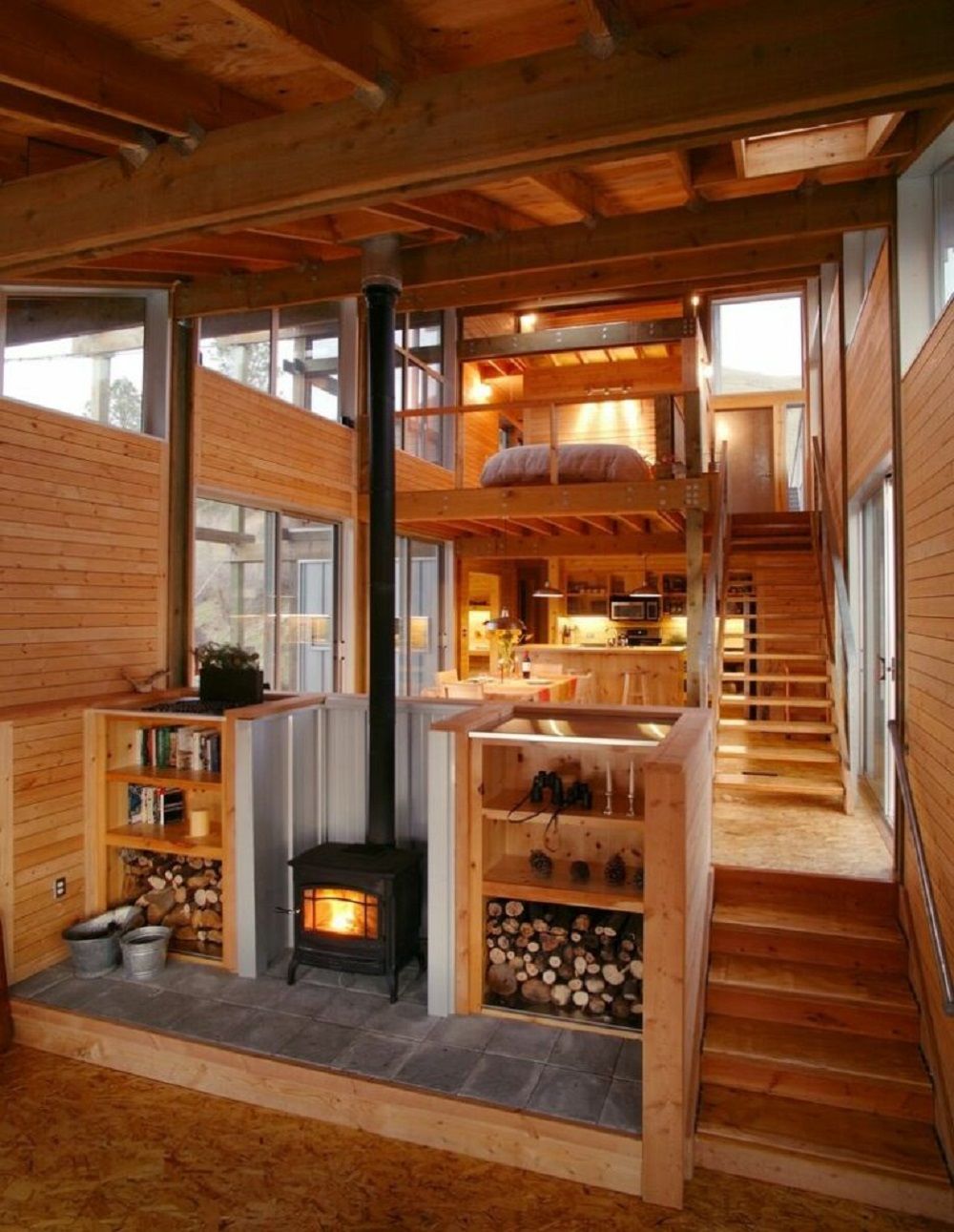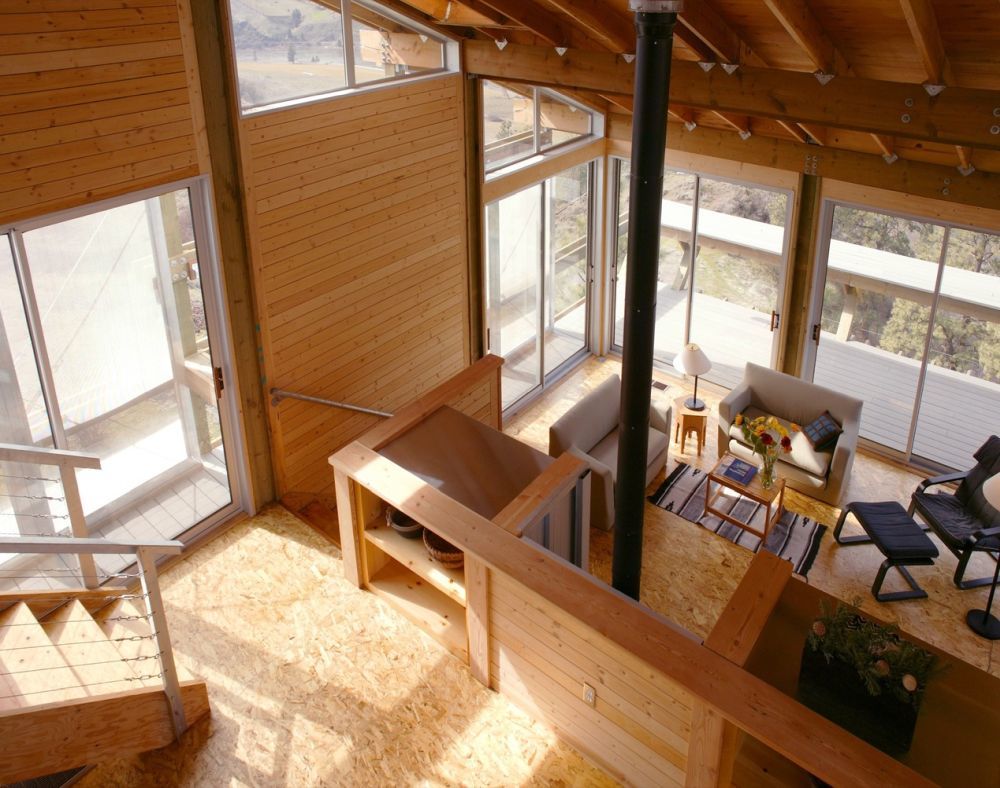 The surroundings are spectacular and the house does them justice by framing all the wonderful views and making them a part of the interior decor. There are actually two structures on this property as the owners wanted to separate certain activities. One is the main house and the other is a studio.


A floating house in the woods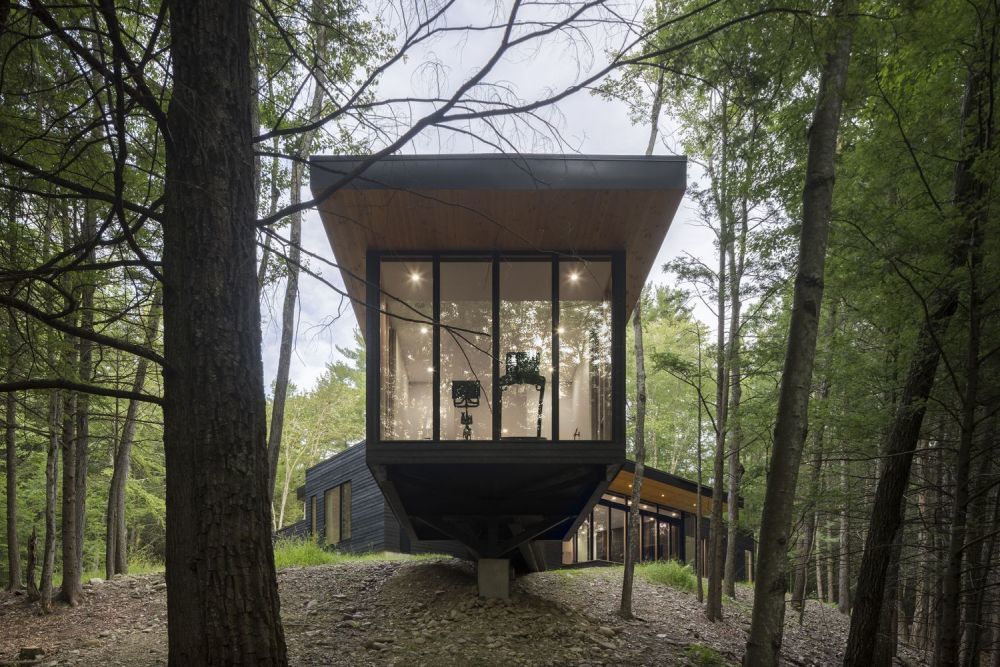 The first thing you'll notice about this building is the fact that it's basically floating over a steep valley. This allows it to maximize the beautiful view in a really cool way and this challenging design was created by Studio MM.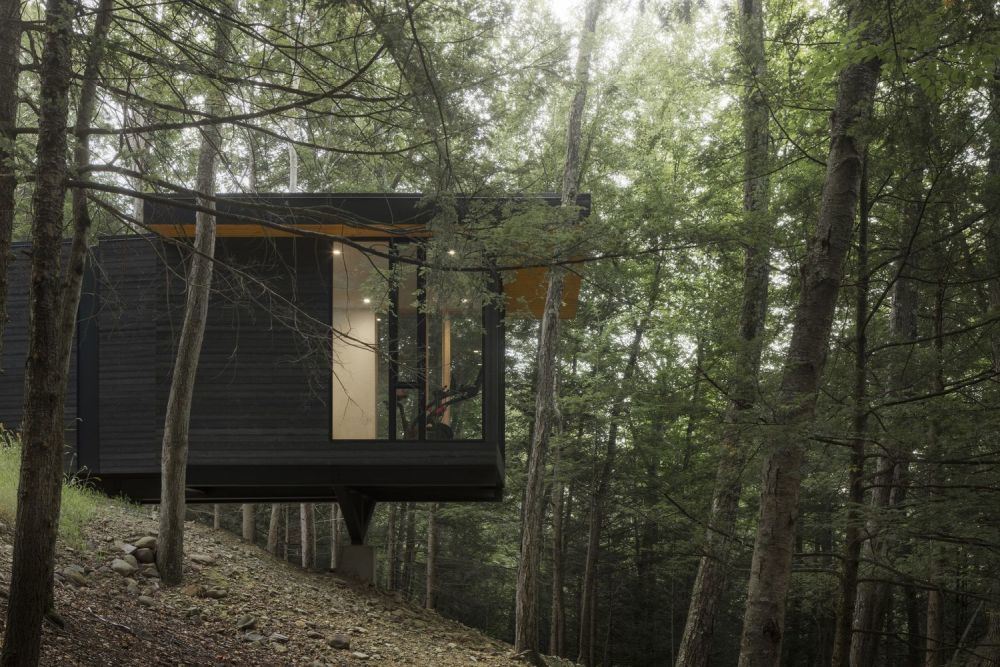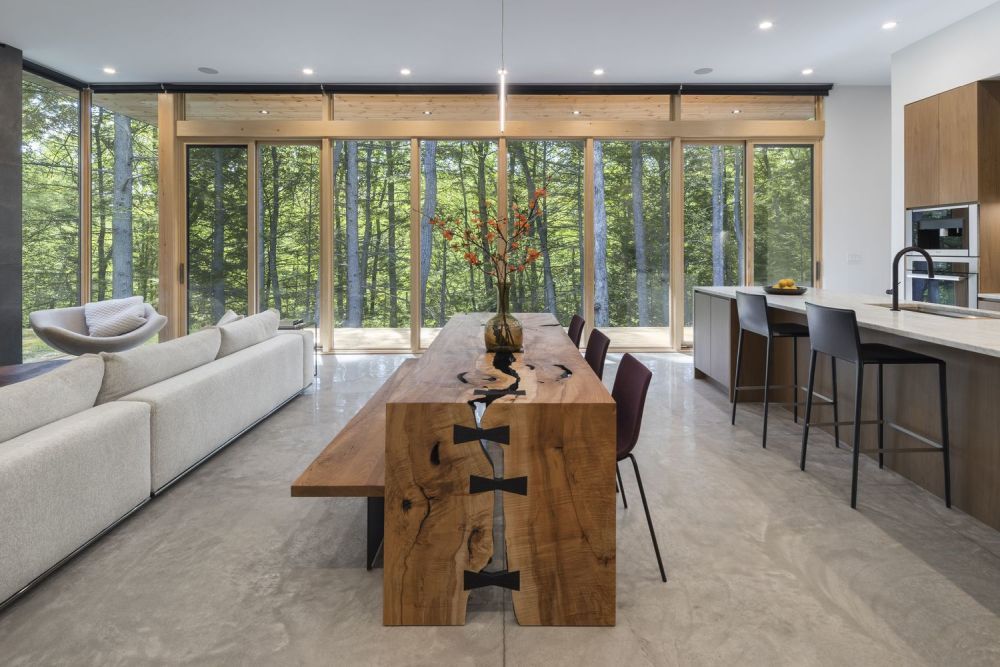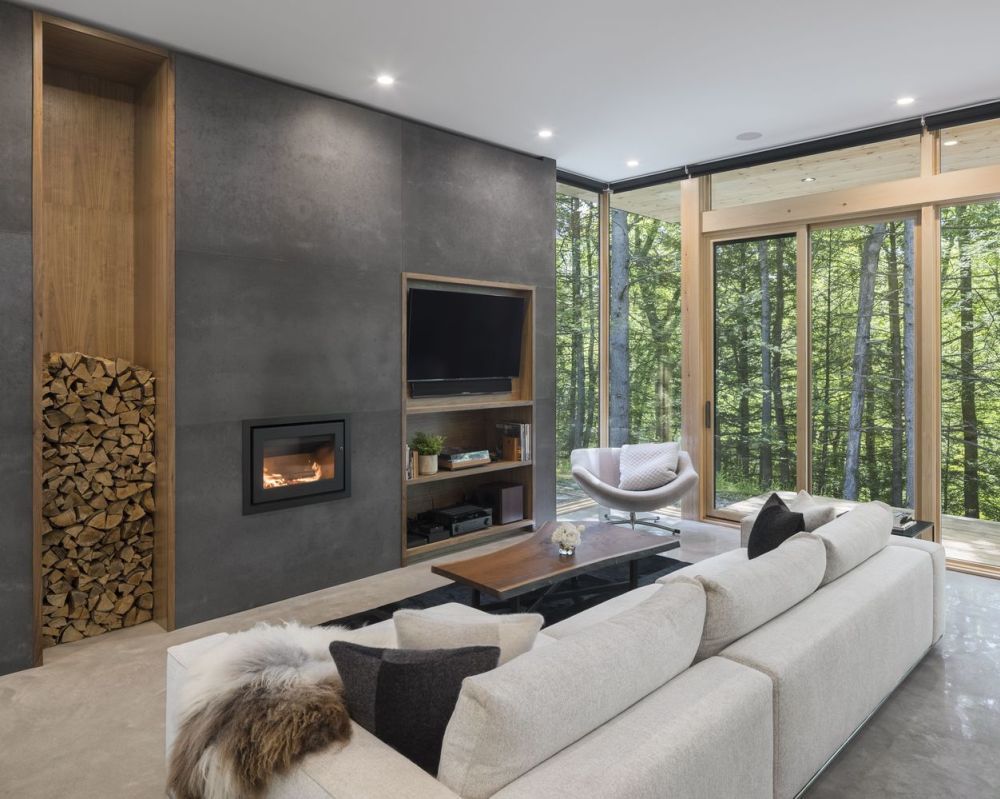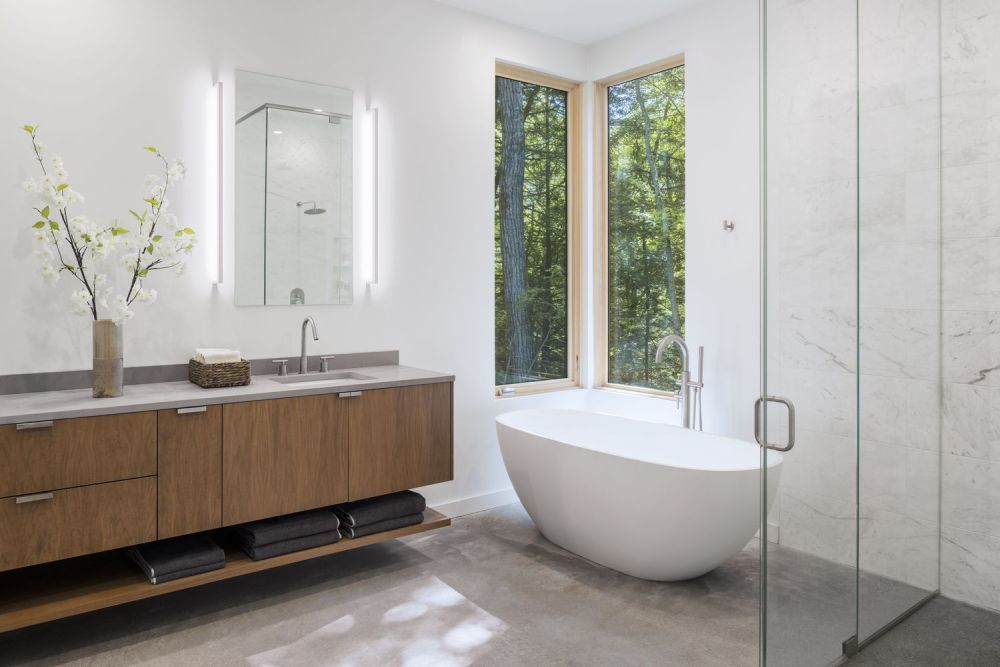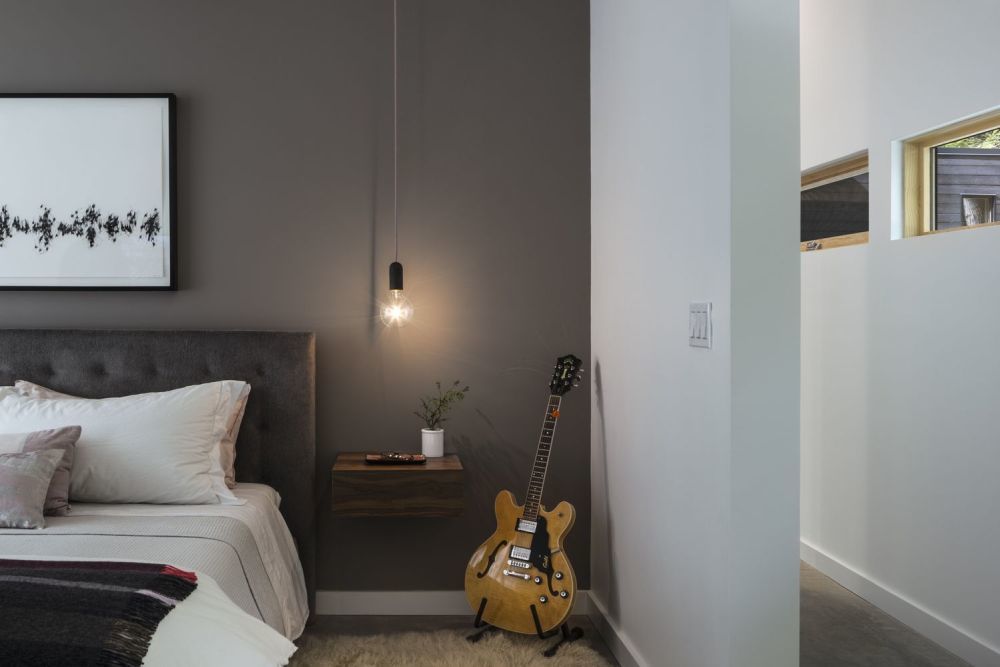 It's situated at the foot of the Catskill Mountains in New York and it's surrounded by a very dense forest. Although you can't really see very far, the views are still wonderful and the full-height windows make sure to do them justice. The house includes a fitness studio which is actually the section that's extended over the ridge.