When you move into a new home, there's always that moment when you stare at your blank walls, wondering how you'll fill them and give them personality. And as fun as it is to track down wall art from retail stores, we'll suggest another way to dress up your living room or bedroom walls: DIY artwork you can create yourself.

It might sound kind of intimidating, but we're here to tell you that lots of DIY paintings, embroidery pieces, and abstract artwork isn't as hard to make as you think and can create a striking accent wall in your home. Actually, many of the projects we're sharing here from some of our favorite DIY bloggers around can be made in a weekend, an afternoon, or even an hour! Handmade ideas are also the perfect solution for adding interest to a gallery wall.

Making DIY wall art can also be a lot easier on your wallet too. Instead of springing for that expensive piece you spied in a catalog, you can create an oh-so-similar version for a fraction of the price, and you'll have the satisfaction of knowing you made it yourself. So block off some quality alone time, gather up your friends, or ask your little ones to join in on the fun, because it's time to make some DIY wall art.



Oversize Quilt Square Artwork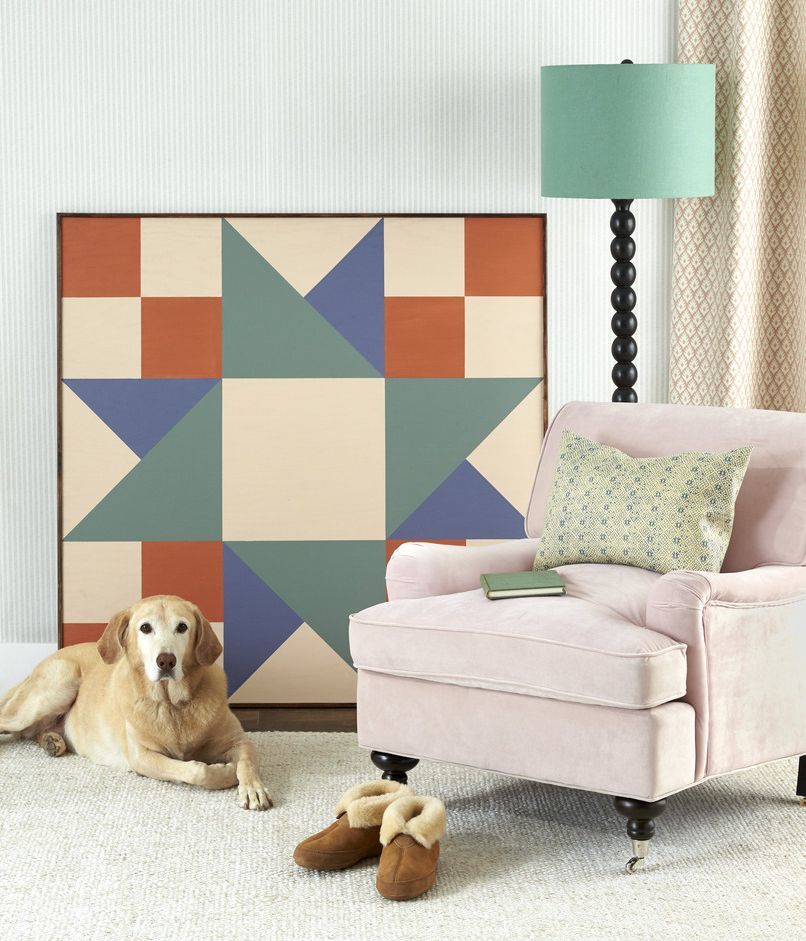 A large-scale piece of painted plywood lends graphic punch to any space. First, cut a piece of plywood to desired size (ours is four feet square). Draw a quilt block (here, Twin Star–style) on the wood with pencil, using a ruler or painter's tape for straight lines, then paint with acrylic paint. Nail strips of 1/2-inch trim along the edges to finish. Lean or hang on the wall.



Basket Wall Art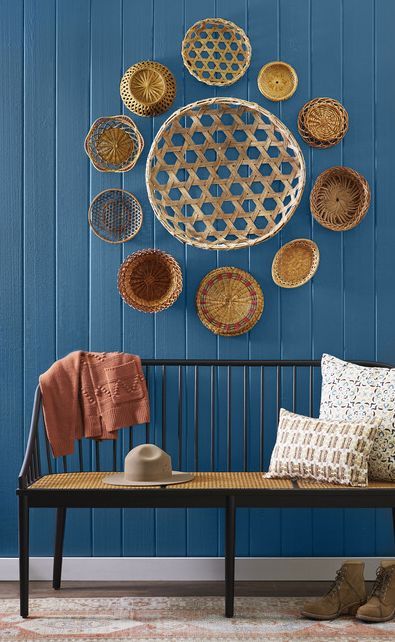 A bevy of baskets brings ample texture to a room. Using nails, hang a larger basket in the middle, then surround with smaller baskets in a circular or starburst pattern.



Kitchen Wall Spoon Display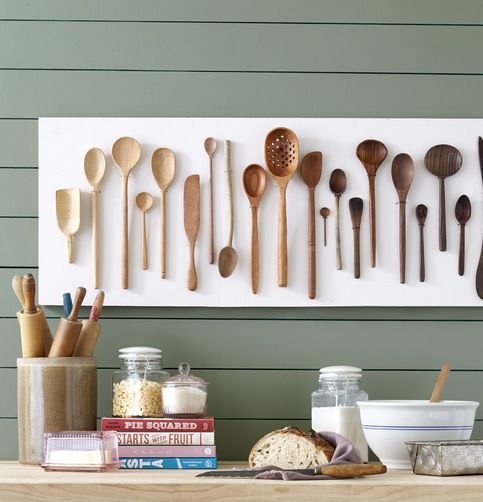 Wooden spoons come in many sizes, shapes, and colors, making them the perfect ombre kitchen art. To assemble, cut a piece of plywood to the desired size and paint. Lay spoons in a light-to-dark pattern on the wood, and use a pencil to mark a spot on both sides of each spoon, typically just below the bowl. Remove spoons, and drill holes at markings. Working with one spoon at a time, loop fine-gauge wire over the handle and through the holes; twist together wire ends behind the wood to secure. Repeat until complete, then hang.



Grid of Clipboard Frames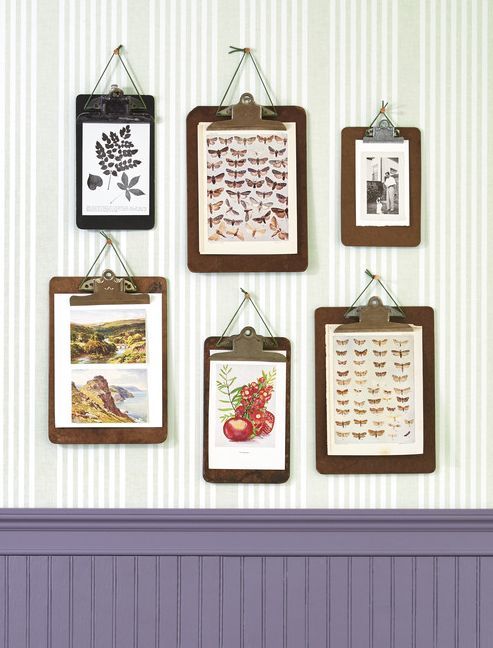 When it comes to gallery walls, frames can get expensive. For this arrangement, simply clip prints to vintage clipboards. Thread a piece of leather jewelry cord under the clip, knot it at the top, and hang with a pushpin.



Trip Memento Maps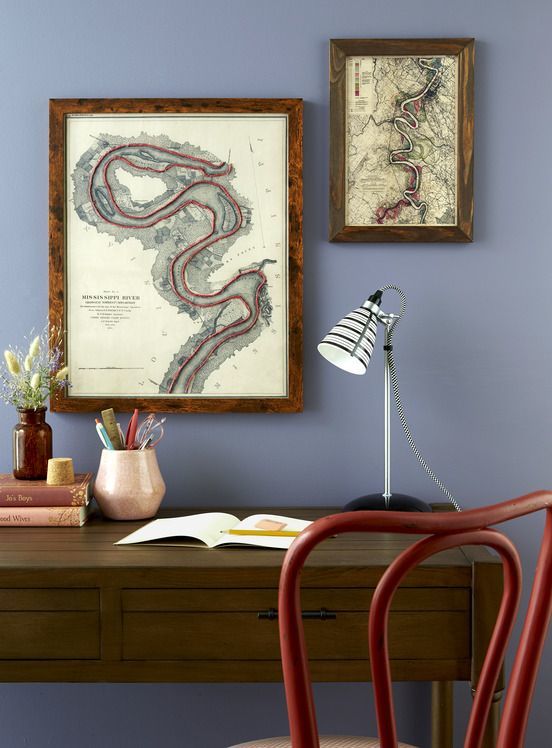 Memorialize a vacation, hiking excursion, rowing adventure, or road trip by outlining the route traversed with ribbon or twine on a new or vintage map. Hold both options in place on the map with hot-glue.



Grid of Nature Silhouettes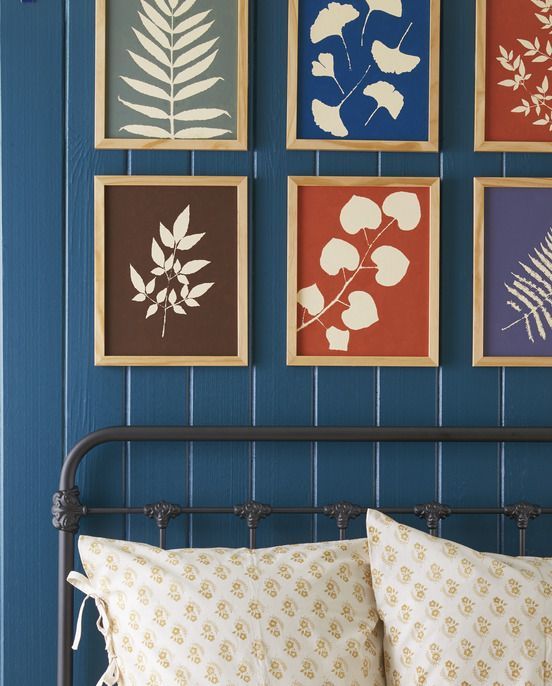 Start by collecting leaves and thin-stemmed branches. Lay them on 11-by-14-inch canvas boards. Use a round foam stencil brush to paint around the leaves with acrylic paint, covering the canvas. Remove leaves, and allow boards to dry. Use white paint for any touch-ups. Frame as desired.



Chalk Paint Wall Calendar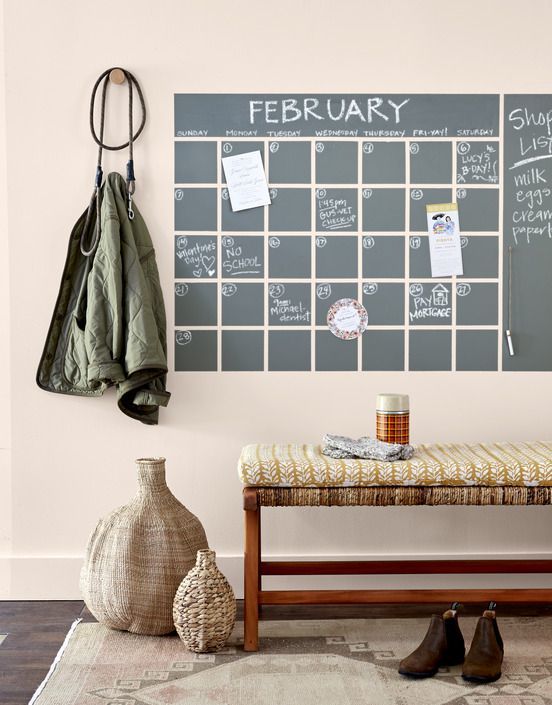 Keep everyone in the loop with an entryway wall calendar. Use painter's tape (we used a 1/2-inch-wide roll) to tape off a 35-square grid to desired size, as well as two rectangles, as shown. Paint with acrylic chalkboard paint (we used Behr's Interior Chalk Decorative Paint). Once dry, remove tape, and touch up any rough edges. Tie a length of twine around a piece of chalk, knot end, and hang on wall with a pushpin.



String Art Wall Art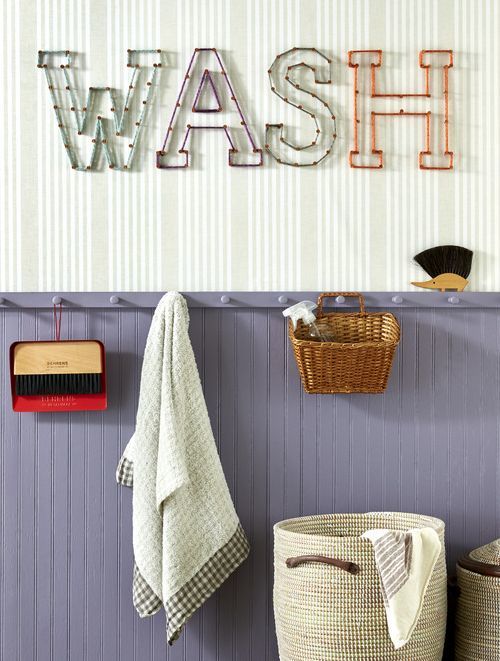 String art is not just for summer camp! Gussy up the laundry room or a kids' bath with appropriate words like "wash" or "splash." Start by cutting out letters from craft paper. Mark nail holes with a pencil on the wall using the letters as a guide. Hammer copper nails into the wall, and wrap nails with lengths of assorted-colored thick yarn.



Wallpaper Flower Wall Art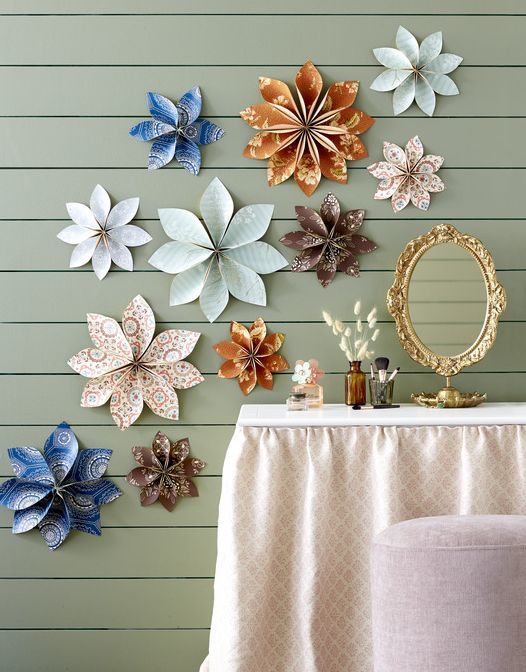 Transform wallpaper remnants into floating flowers. Trace and cut out 8 to 12 (depending on sizes) petals on backs of wallpaper remnants. Pinch together one end of each petal, and secure with hot-glue. Once dry, glue petals together in a circle. Secure to wall with pushpins.



Bundt Pan Kitchen Wall Display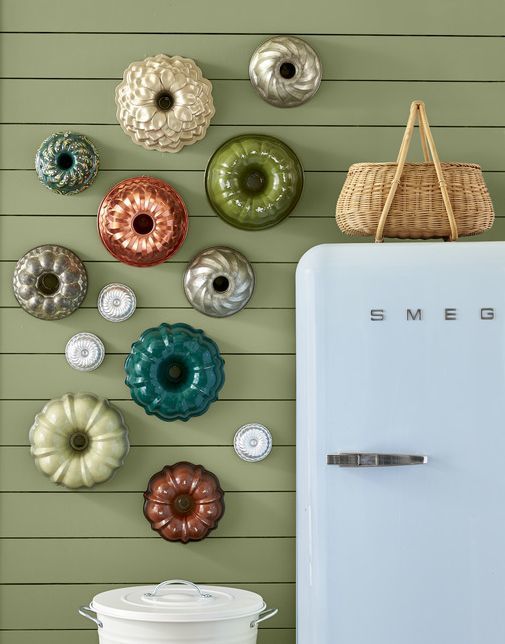 A collection of colorful vintage Bundt pans in assorted shapes lends retro flair to a kitchen or pantry wall. Bonus: You can take 'em down and use them as needed. For another take on this graphic idea, try it with a tray or plate collection.



Tic-Tac-Toe Wall Game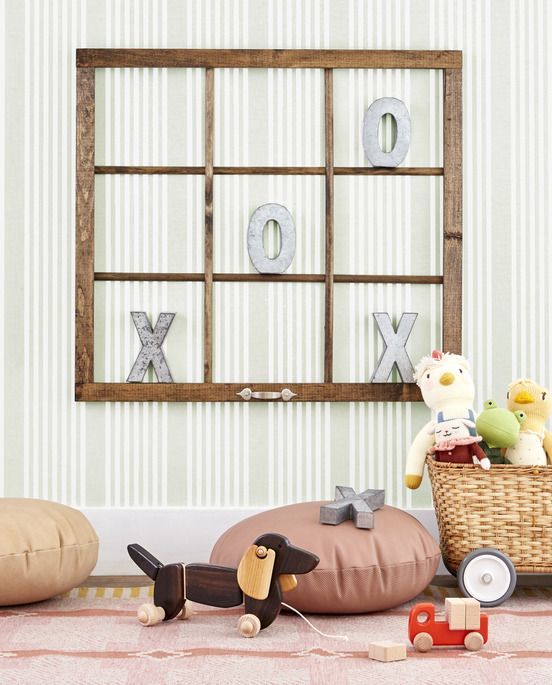 Make wall art interactive in a play room by hanging a vintage or new nine-pane window frame. Add galvanized X's and O's, and let the games begin.



Old Book Wall Display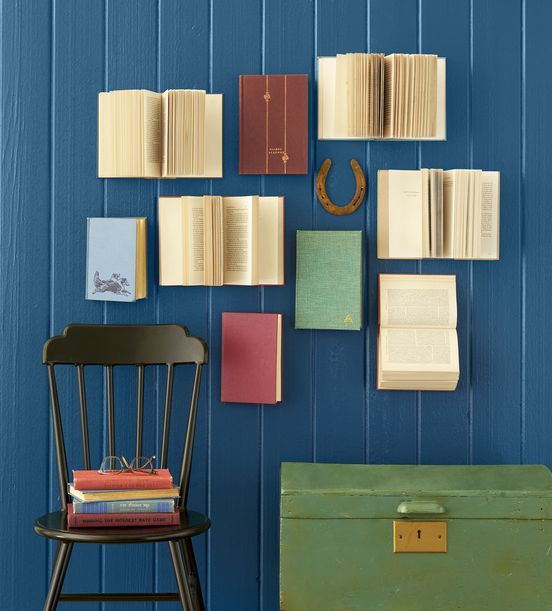 Arrange books in a fun, slightly haphazard pattern, putting heavy-duty nails or staples through the back covers to secure. For extra texture, hold some pages open with string or fishing line.



DIY Color Block Rainbow Wall Art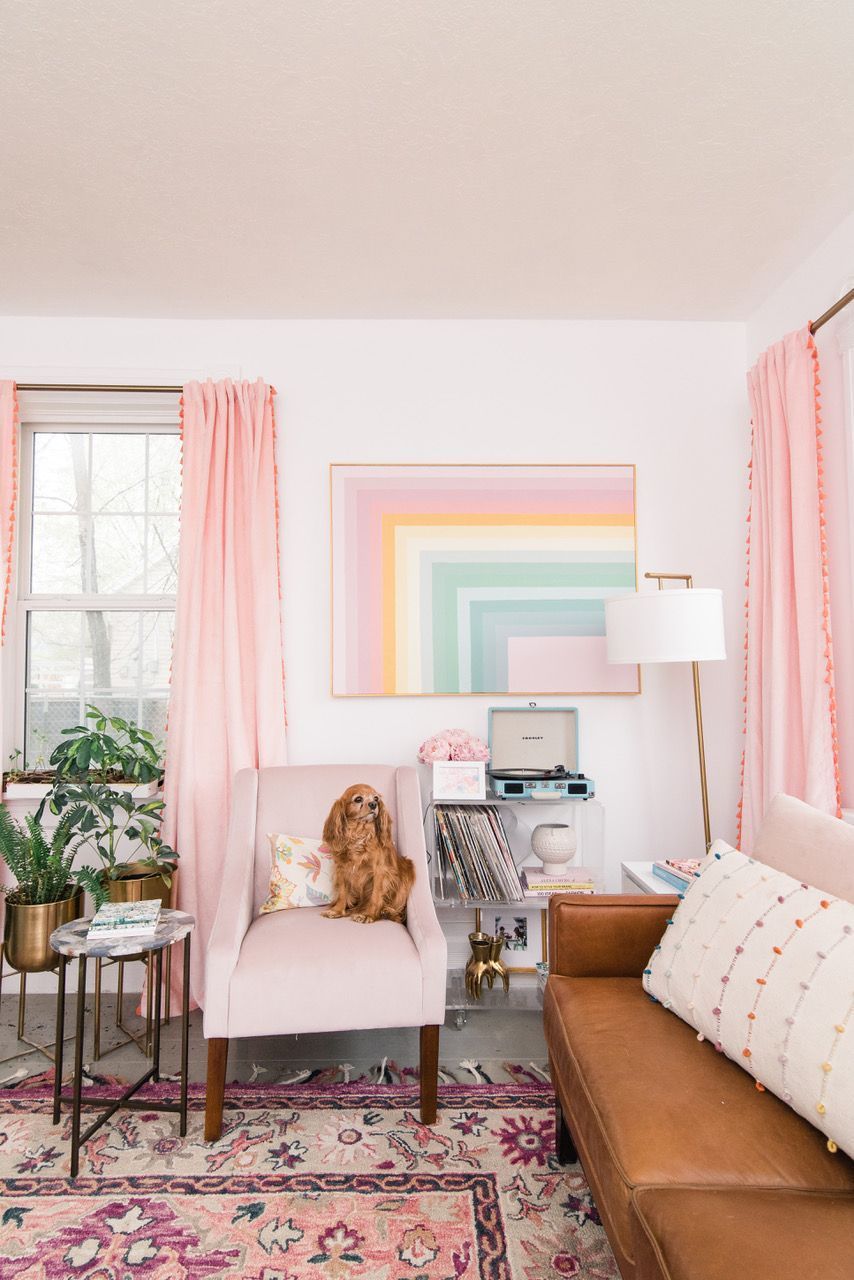 Looking as if it's jumped right out of the 1970s, this incredibly cheerful rainbow wall art is guaranteed to make you smile. All it requires is a canvas, some painter's tape, and a kaleidoscope of paint colors.



DIY Large Scaled Art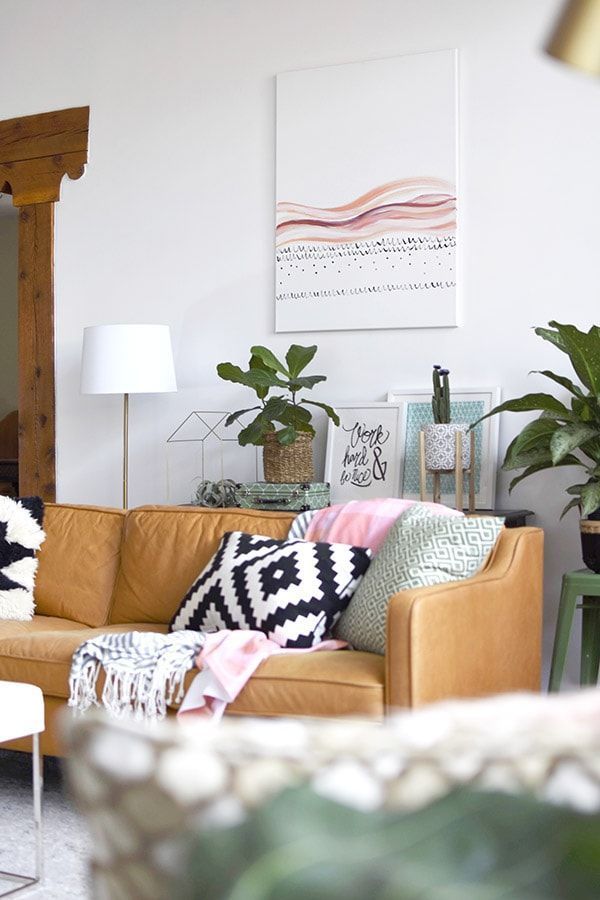 With a tutorial like this one, you really can whip up your own abstract art to display in your home, no previous painting experience required. It's sure to be a conversation starter as soon as your guests walk in the door.



DIY Framed Silhouette Art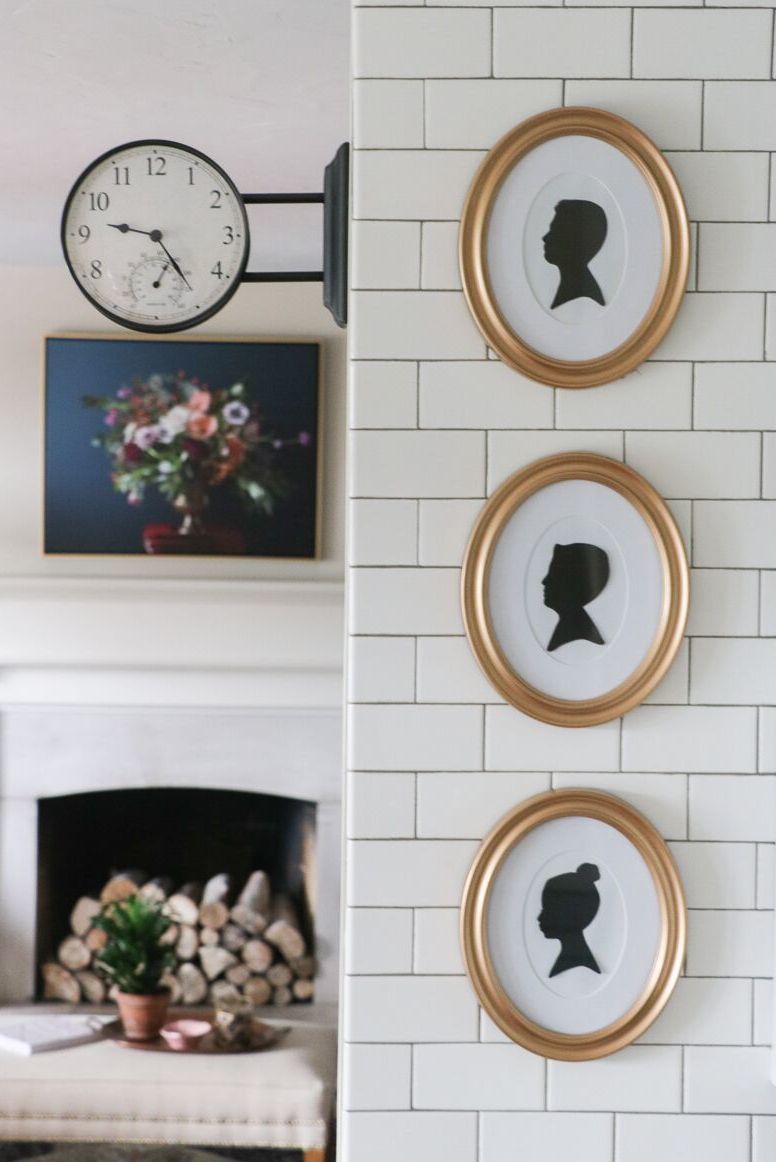 We're fully aware of the silhouette trend sweeping the flea markets nowadays. Beloved for their old-school flair, you can make silhouettes of your very own family members with this beginner how-to.



DIY No-Sew Embroidery Wall Art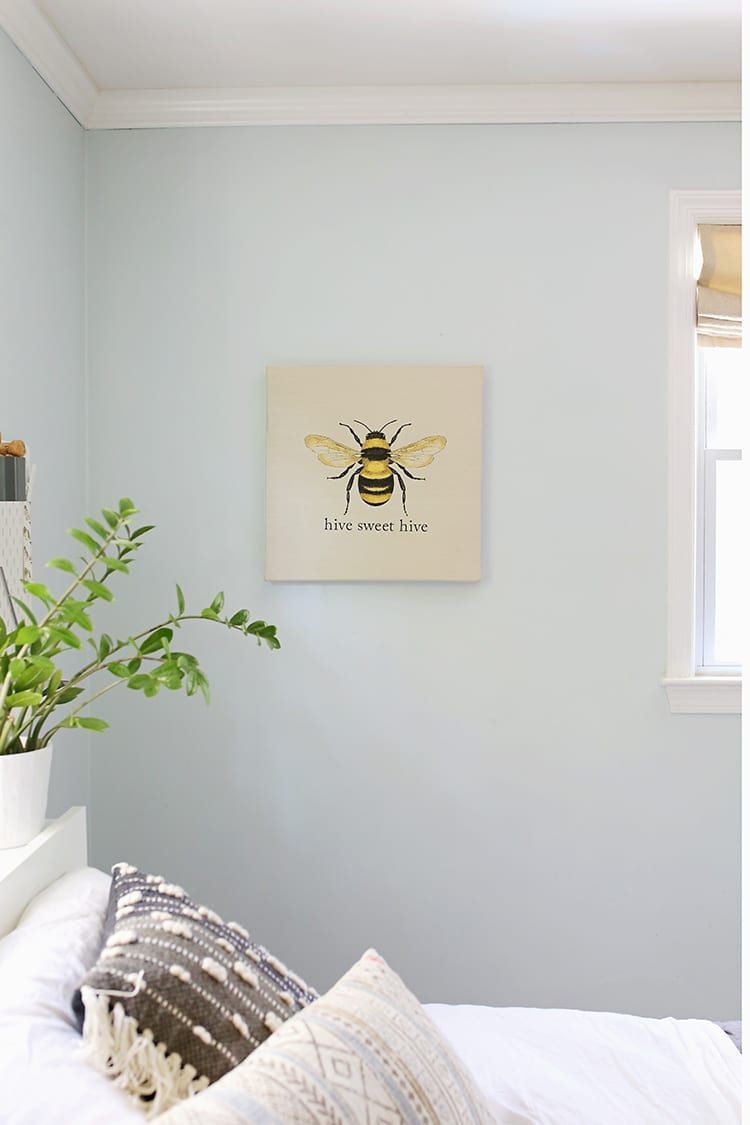 Using a woven panel and a frame you make yourself, there are no embroidery skills needed to craft this bee-utiful wall art.



DIY Floral Wall Art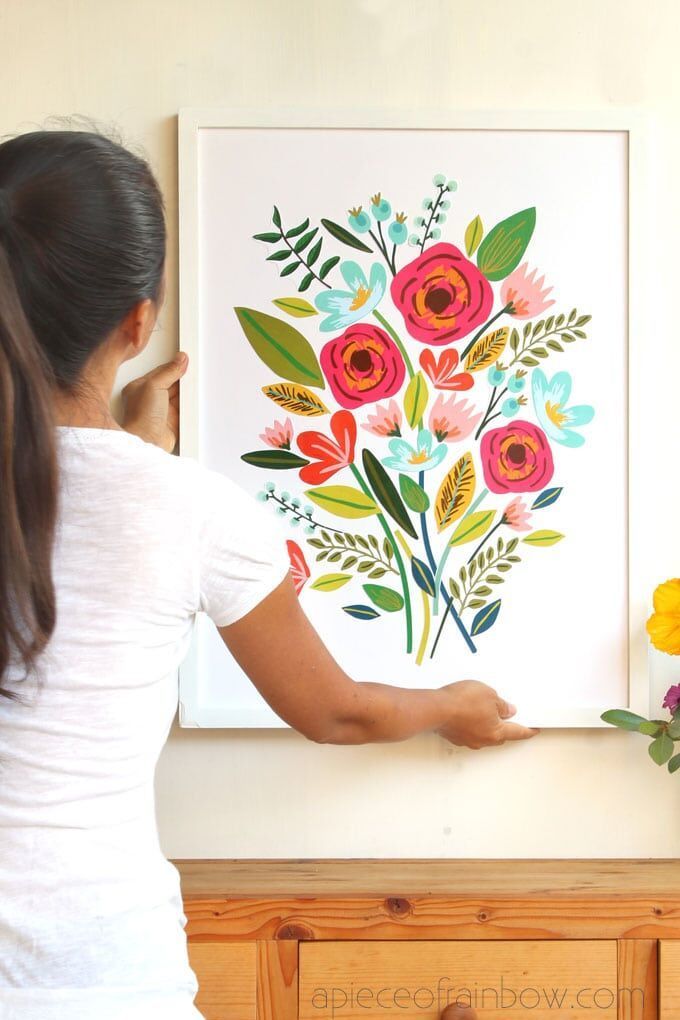 Starting with free printable flowers, card stock, a large poster board, and frame, this colorful floral wall art will cost you only $5—and only an hour of time!—to make.



DIY Metal Leaf Wall Art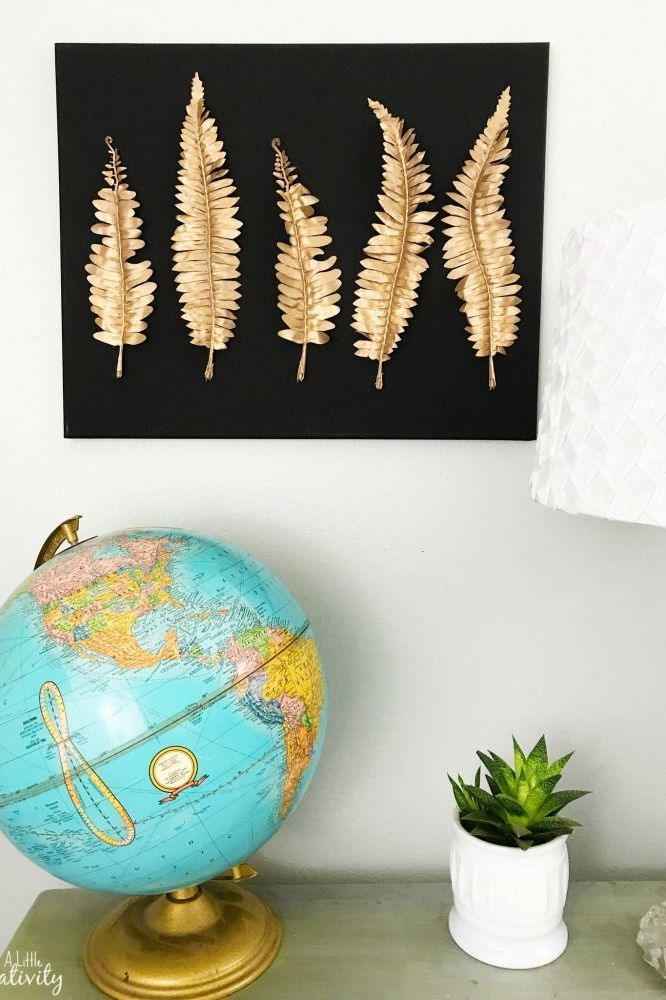 While we love the vibrant green hues of ferns, we can't help but gravitate toward these faux fern fronds covered in a layer of glam gold. They particularly pop against a black canvas.



DIY Wall Art with Framed Fabric
So, maybe you don't fancy yourself a painter. That's okay! Instead, follow this tutorial to frame a piece of artful fabric that looks just as creative.



DIY Modern Painting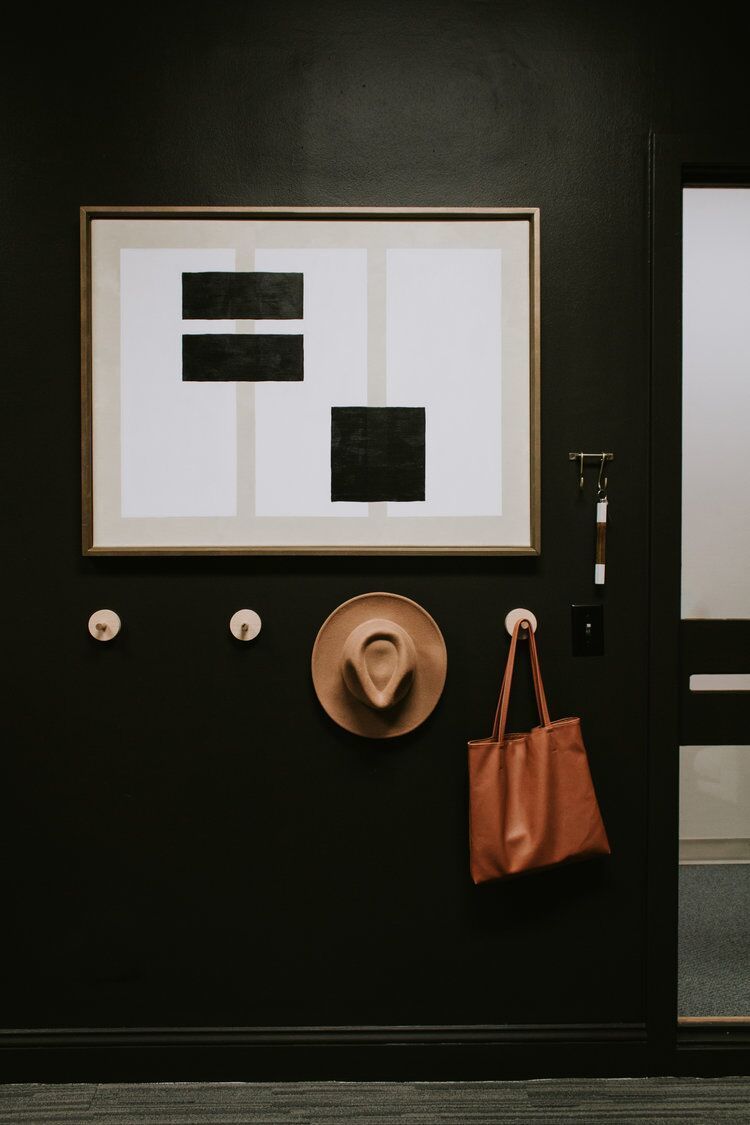 For something on the modern side, paint simple black and white blocks onto a cream background, frame, and admire on your wall.




DIY Lavender Painting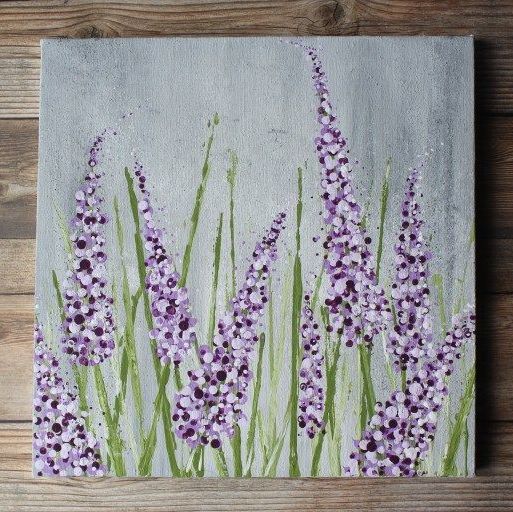 You love the scent of lavender—so why not paint some lovely lavender flowers for your wall? Although it looks complicated, this tutorial will have you feeling like a flower-painting Picasso in a flash.



DIY Wood Shim Wall Art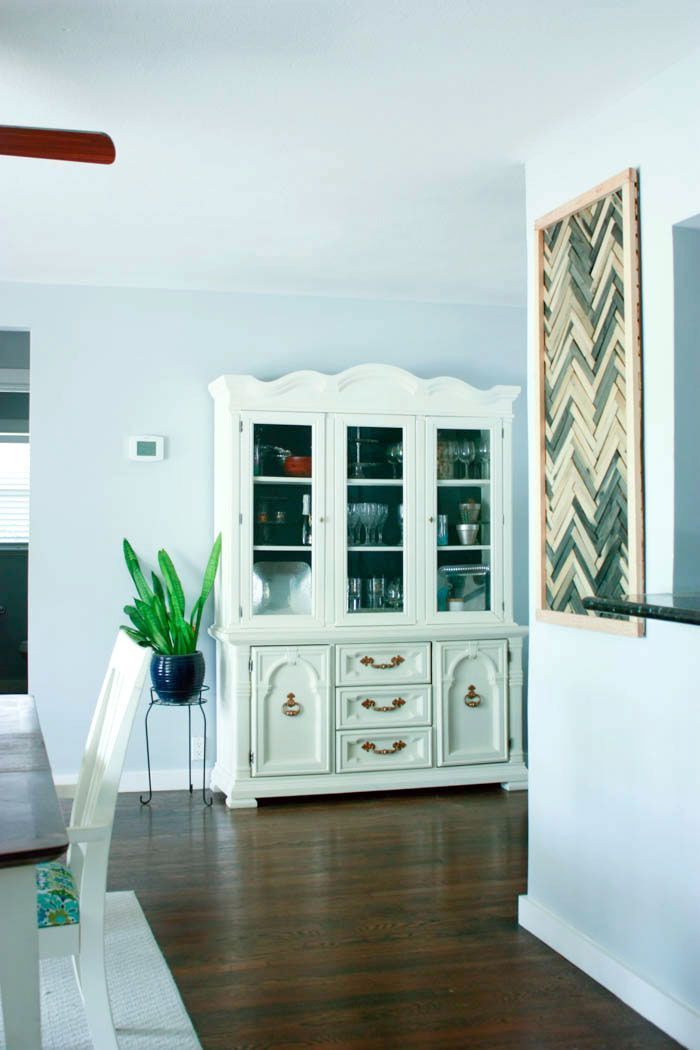 We're loving all the stunning bohemian wall art we're seeing on Etsy these days. And guess what? You can make one of those masterpieces yourself, using wallet-friendly wood shims and your favorite power tools.



DIY Thrifted Canvas Wall Art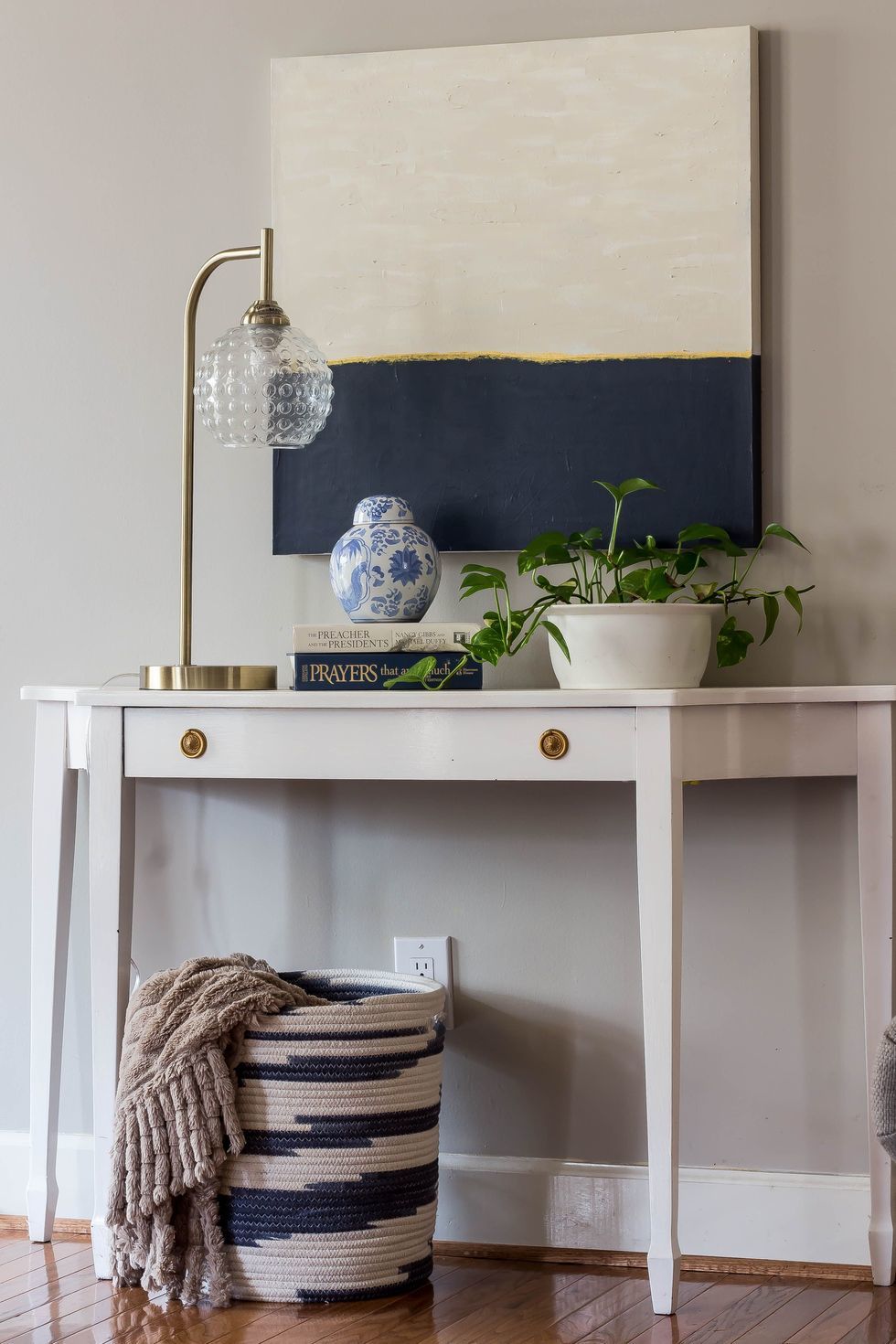 Let's say that you've spotted a canvas at the thrift store, but you're not exactly over the moon about the artwork on it. If the size is perfect for your wall, transform it into an abstract treasure you'll adore.



DIY Color Engineer Prints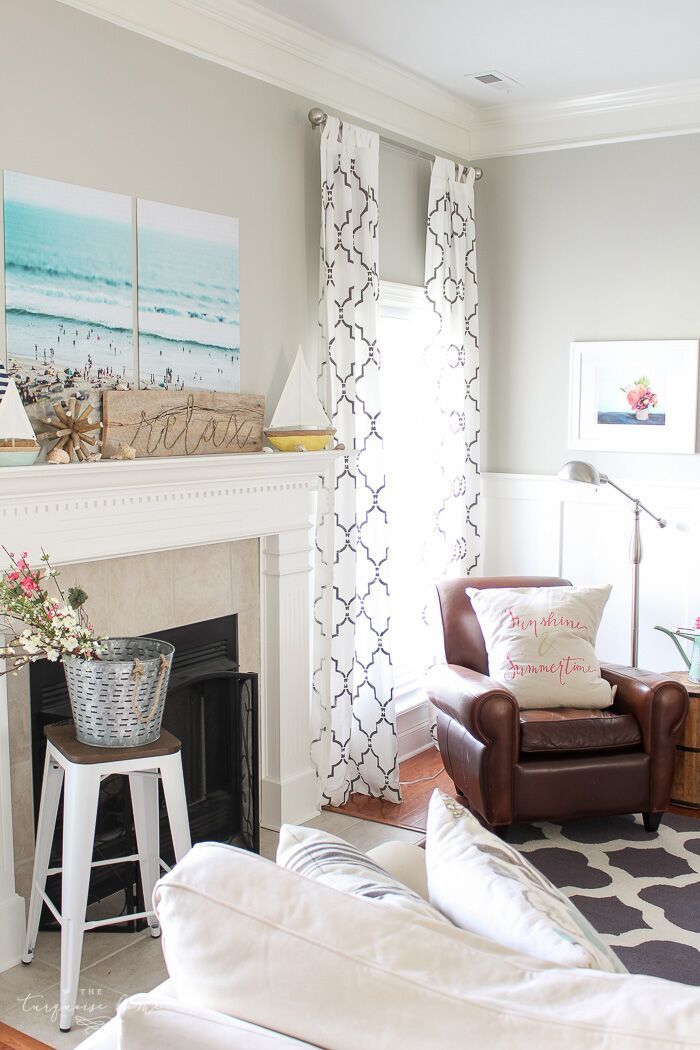 Believe it or not, you can take your fave vacation pictures and turn them into full-color, large-scale engineer prints, which we guarantee will look perfect on your mantel.



DIY Abstract Art Using Paint Samples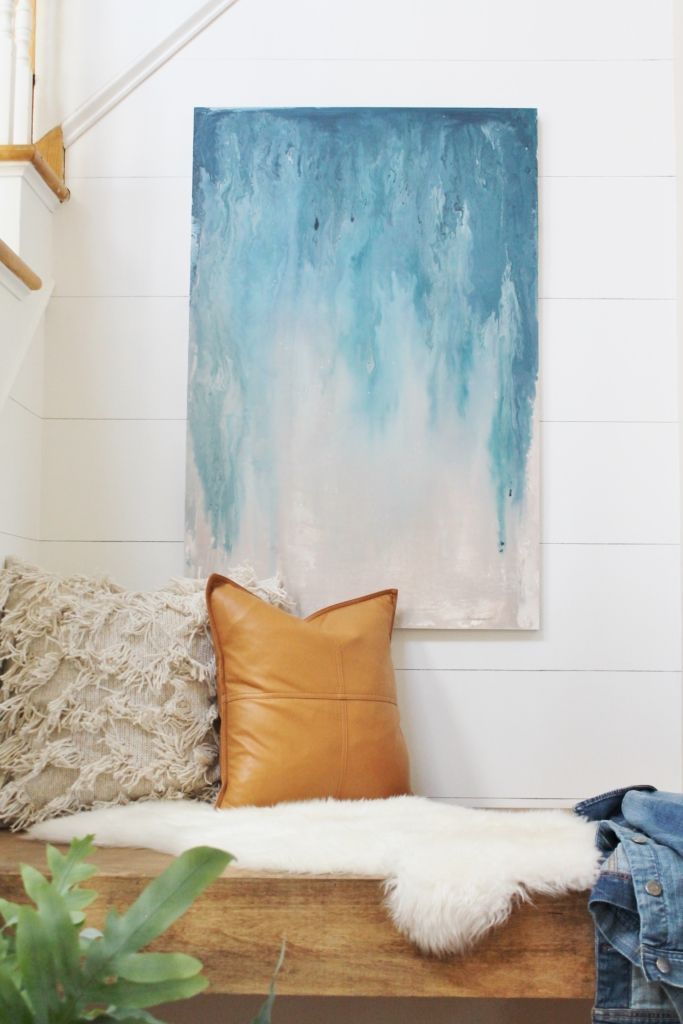 Layering a mix of navy blues, creams, and grays, you can turn some of your top paint colors and into a dreamy piece to proudly display in your home.



DIY Large Scale Stenciled Art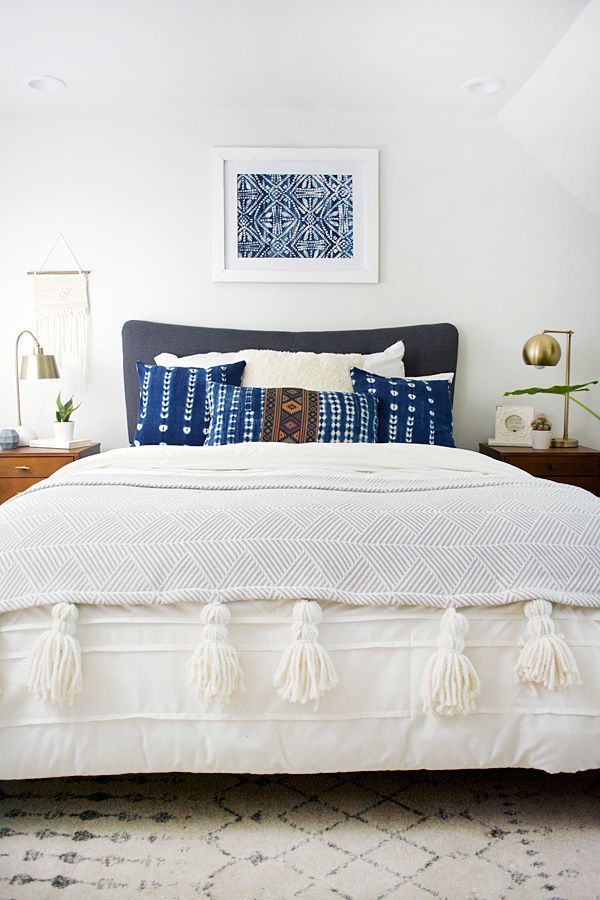 For a touch of global flair, you can make this stenciled wall art which looks a lot like batik patterning. The blue and white hues make it look fresh and distinctive for any space.



DIY Abstract Art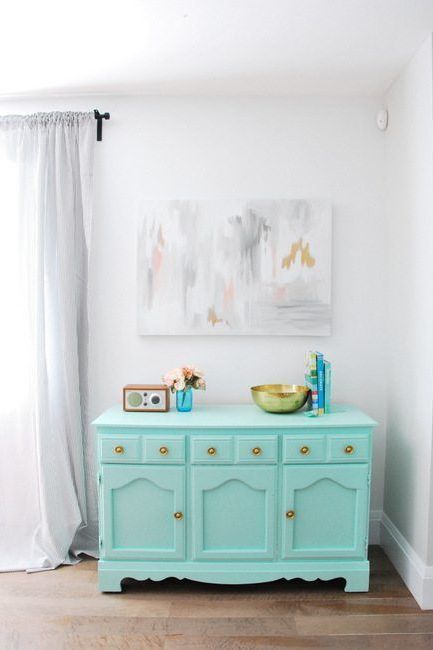 If you can't get enough of gold, we highly suggest that you make this abstract wall art that incorporates pinks, grays, and mesmerizing liquid gold foil.



DIY Farmhouse Laundry Room Signs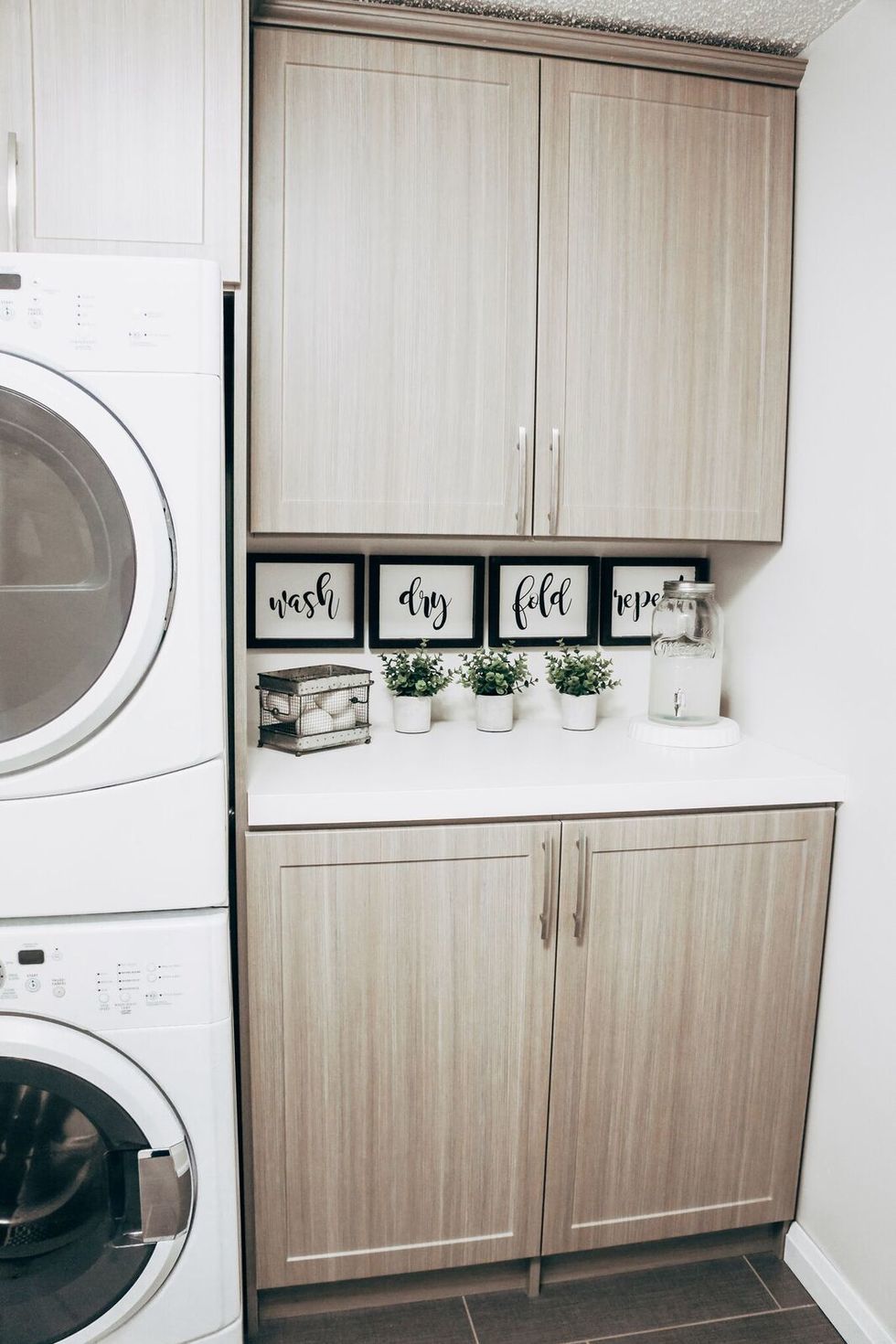 You'll be pleased to know that you can make these absolutely adorable farmhouse signs for your laundry room with artist panels scored at the dollar store.



DIY Paint Dipped Artwork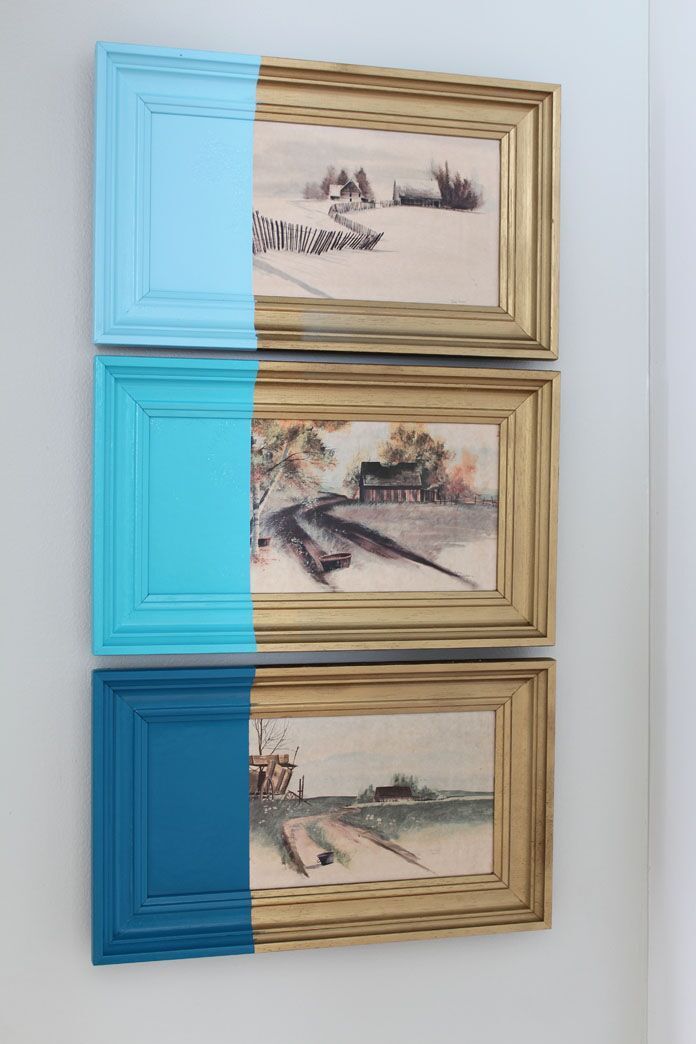 We all have them—those vintage paintings gathering dust in our basements that haven't seen the light of day in years. Whether they've been passed down in your family or you changed your mind about them after buying them at a flea market, you can give them a modern look by dipping them in paint.



DIY Marble Wall Art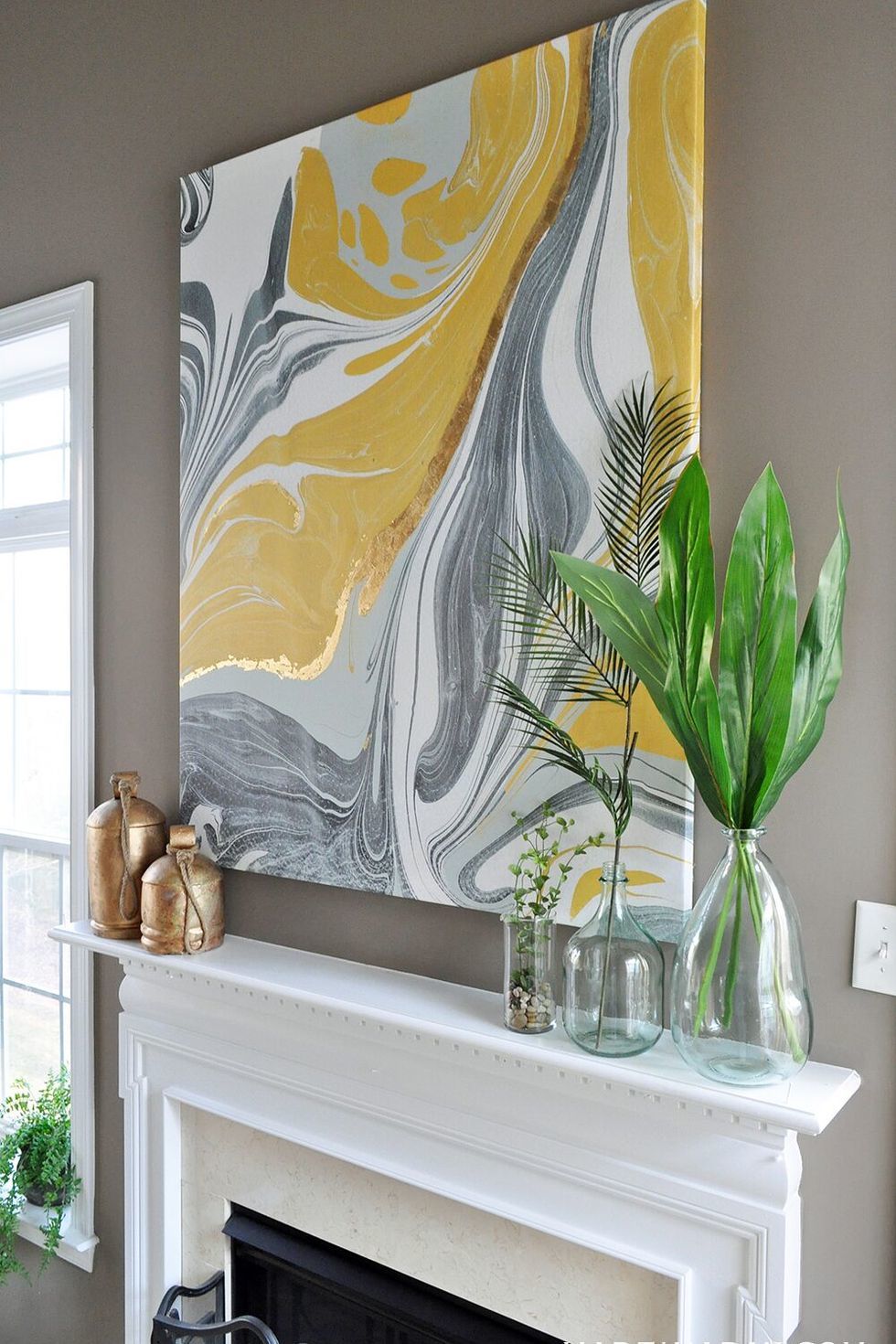 Marbled-anything can be hypnotic, from countertops to cake to those pages inside antique books, but a marbled piece of wall art? Sign us up, especially when it showcases touches of gold.



DIY Oversized Geometric Wall Art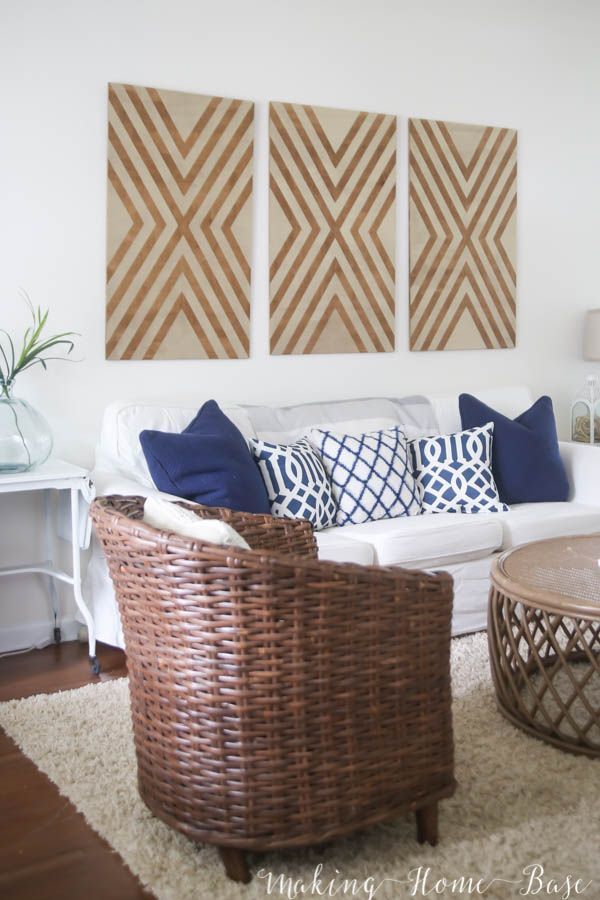 Oversized and ideal to hang over a couch, this geometric wall art can be made using plywood and spray paint. It's just the contemporary accent a living room needs.



DIY Sea Glass Wall Art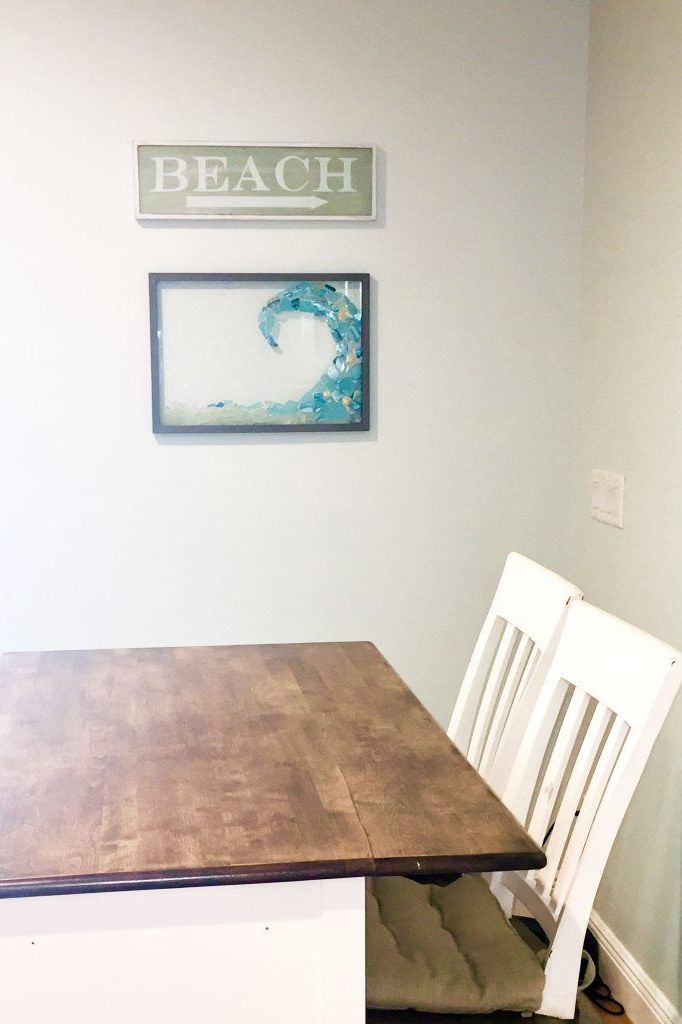 Whether you collect sea glass or if you've picked up a bag or two at the craft store, you can make this coastal creation. Spotlighted in a float frame and forming the shape of a wave, you'll be instantly transported to the ocean every time you look at it.



DIY Birch Tree Stenciled Art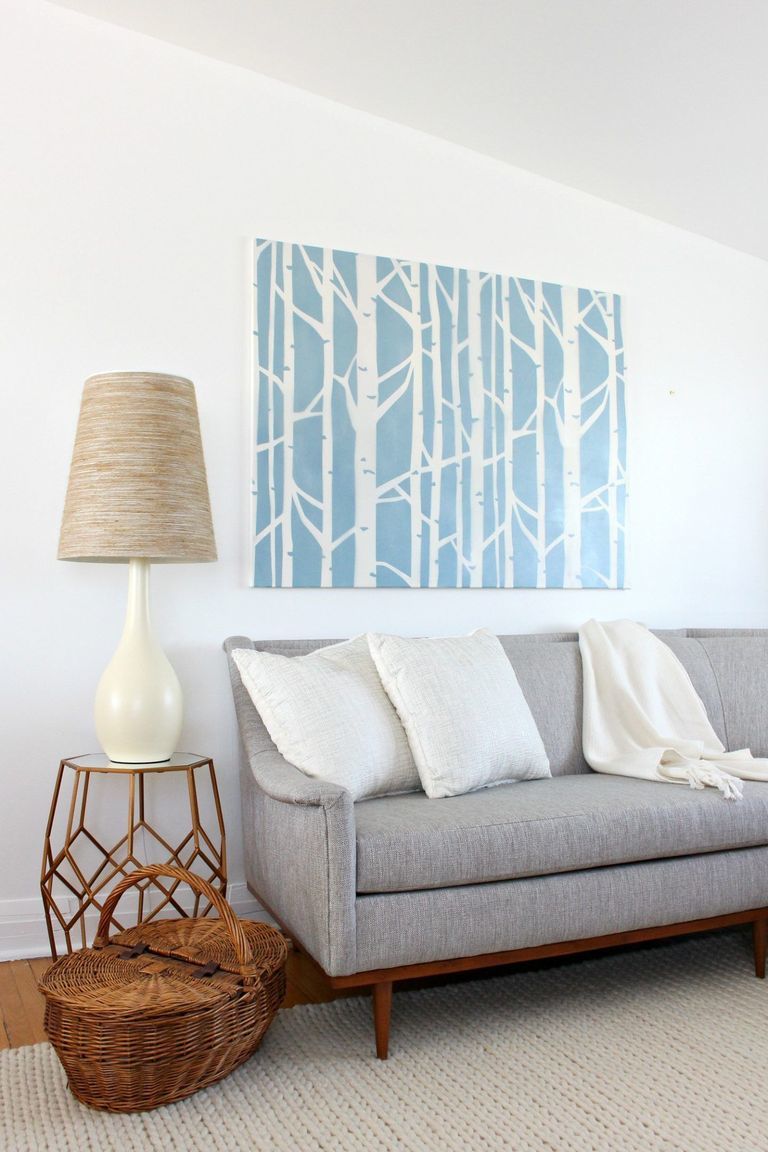 With a stencil and spray paint in hand, you can create this beautiful wall art showing off a grove of birch trees. We think it's an incredibly soothing, nature-inspired addition to any home.