This unusual destination offers visitors the opportunity to enjoy a peaceful and relaxing getaway in a lush area full of trees and vegetation while still feeling adventurous. The cabin is small and has a total footprint of only 488 square feet (45.3 square meters). It was designed by studio Koa Architects LLC with a classic gable roof and a simple and bright interior with white walls and large windows.

There's only one large interior volume where all the living and sleeping areas are connected. A comfortable modern sofa occupies one section of the room together with a coffee table and a wall-mounted TV. In here there's also a small corner space with an accent table and a couple of chairs.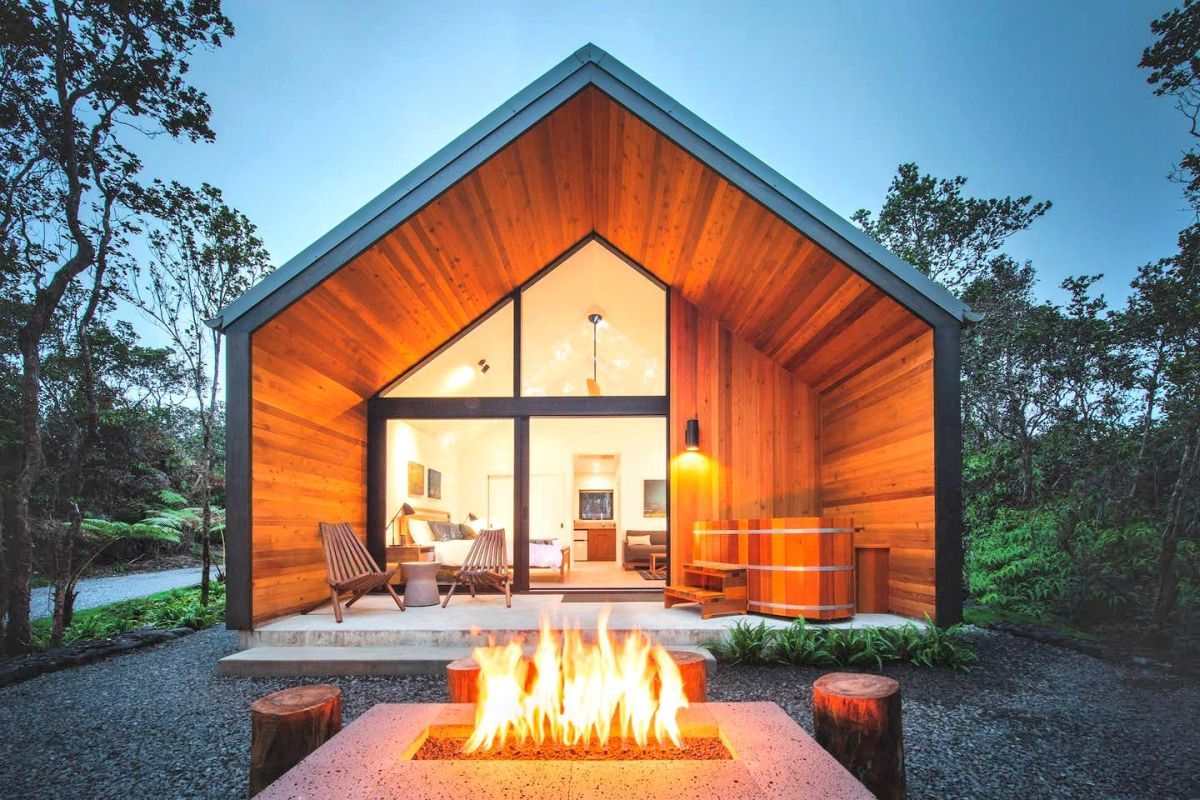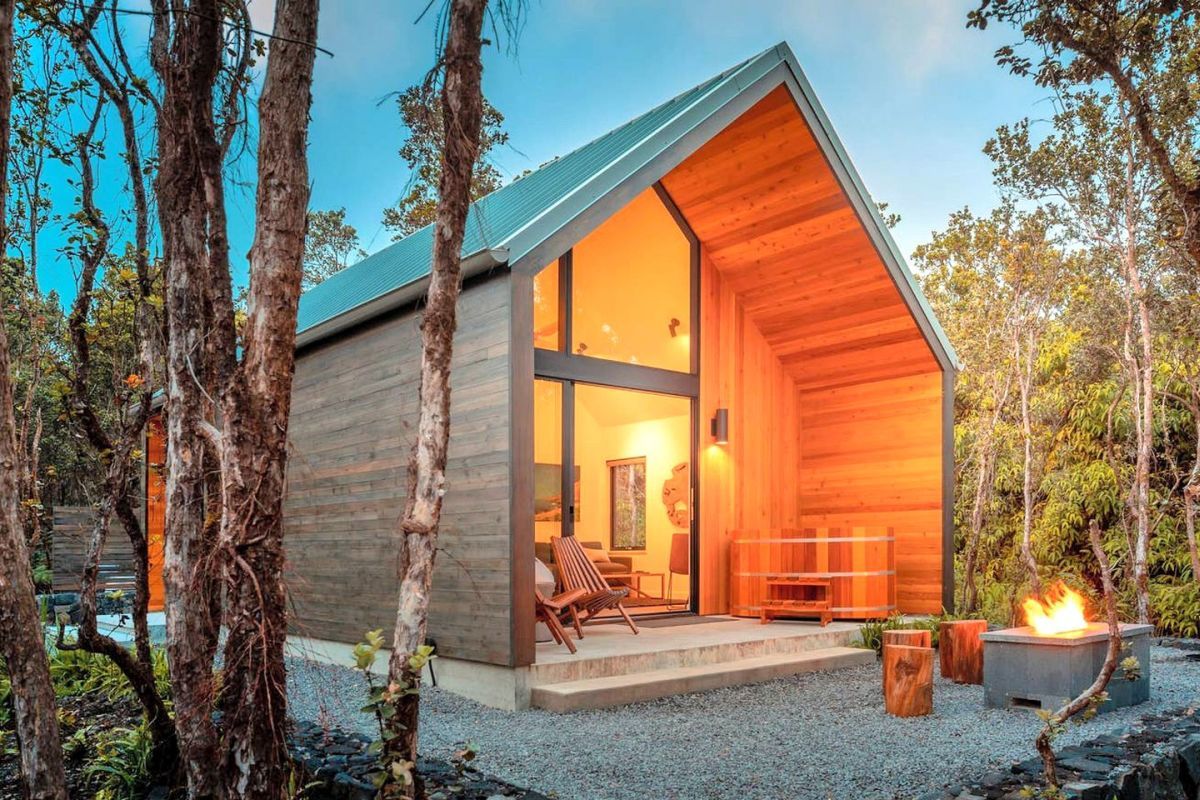 The sleeping area occupies the remaining floor space, with the bed being placed parallel to the patio. There's also a kitchen equipped with all the basic appliances and generous storage space as well as a bathroom with a walk-in shower, a laundry nook and a bright and stylish decor overall.
The roof and the exterior walls extend beyond these volumes to form a sheltered patio accessible via a large sliding glass door. Out here there's room for a cozy sitting area as well as for a cedar soaking tub.
A few meters away there's a modern fire pit with wood log seating around it and beyond that is the forest. The view is lovely during the day and mysterious at night as the fire pit lights up the nearest trees and the deep darkness spreads all around it.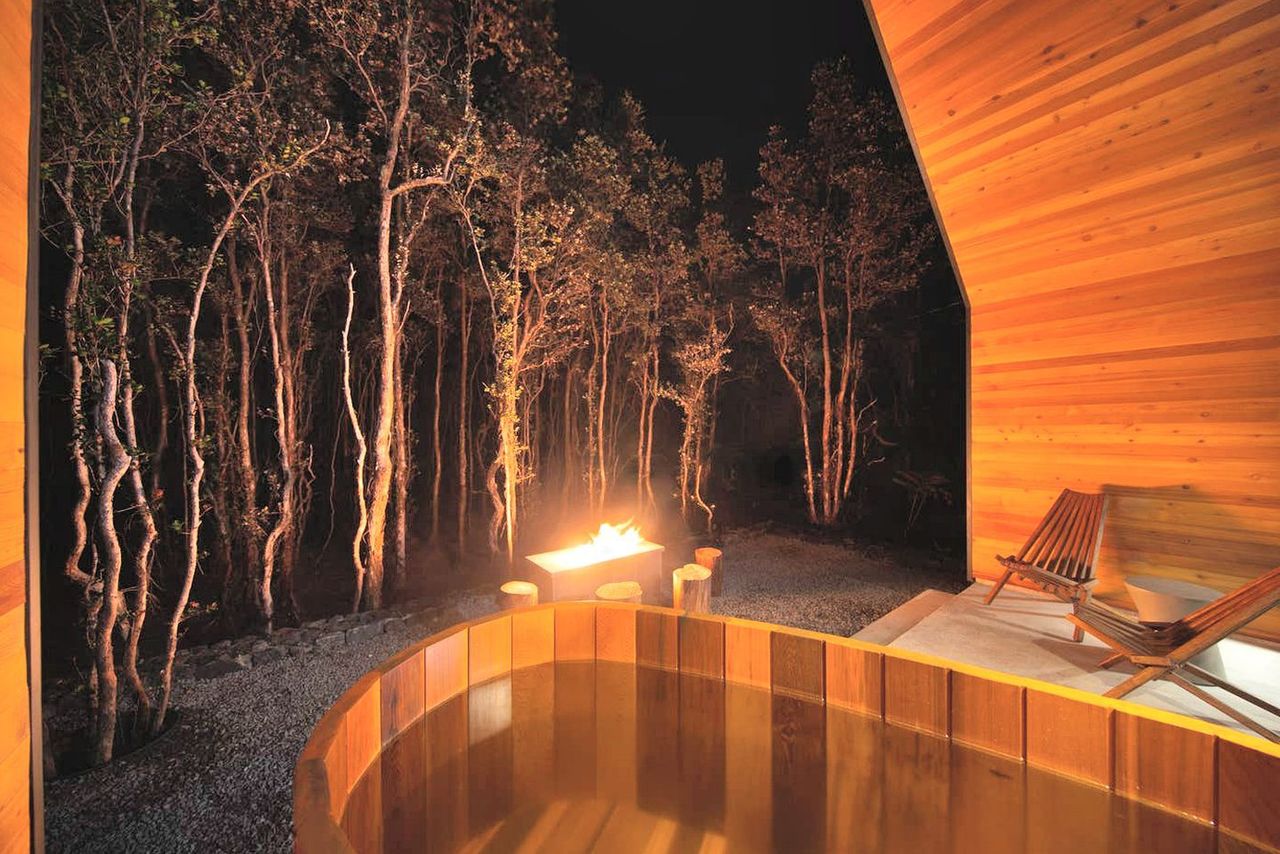 The cabin is surrounded by lush vegetation and by a forest which provide beautiful views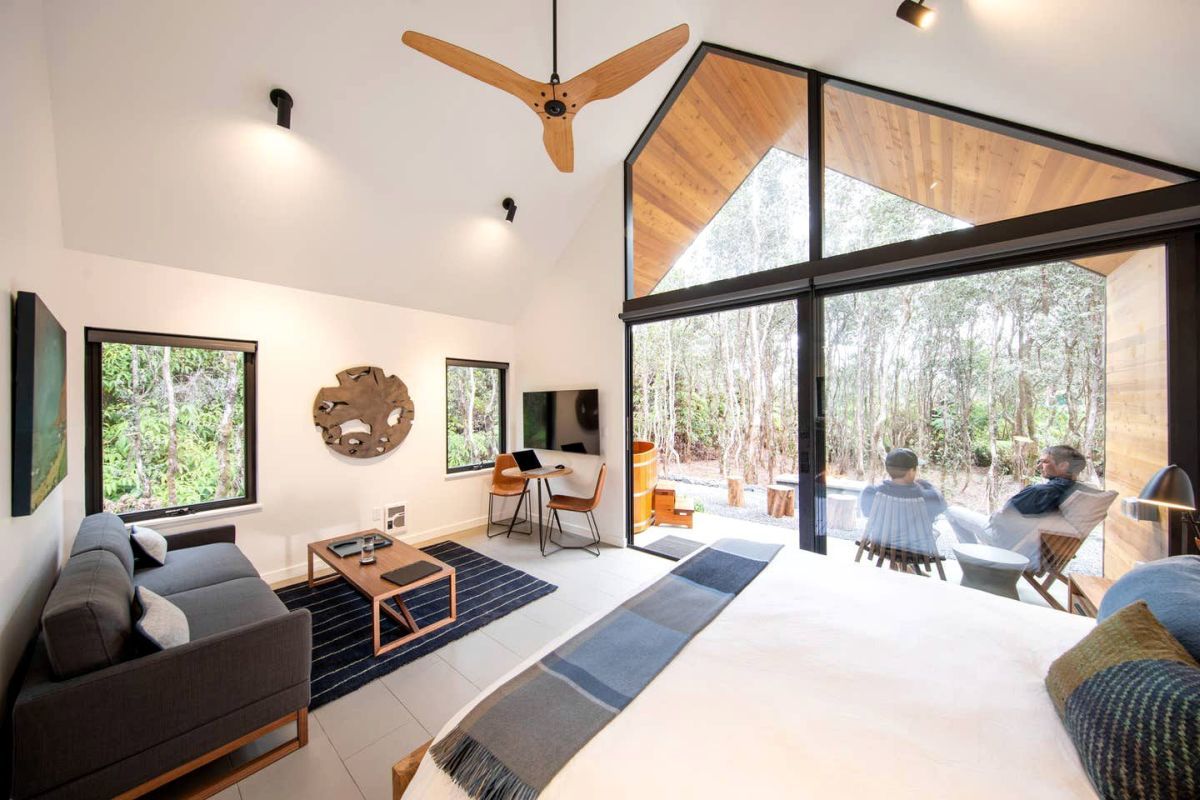 Inside all the living and sleeping areas are part of the same open space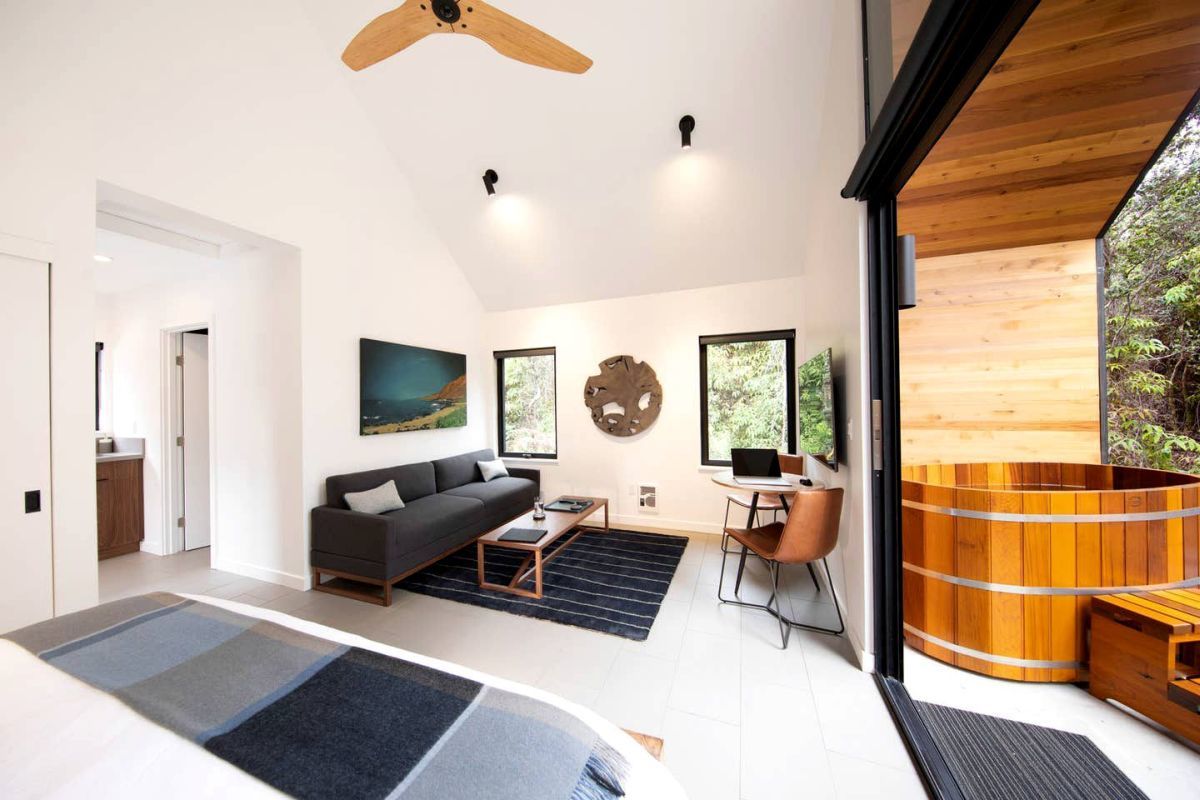 The sitting and lounge area is positioned on one side of the room and the sleeping area on the other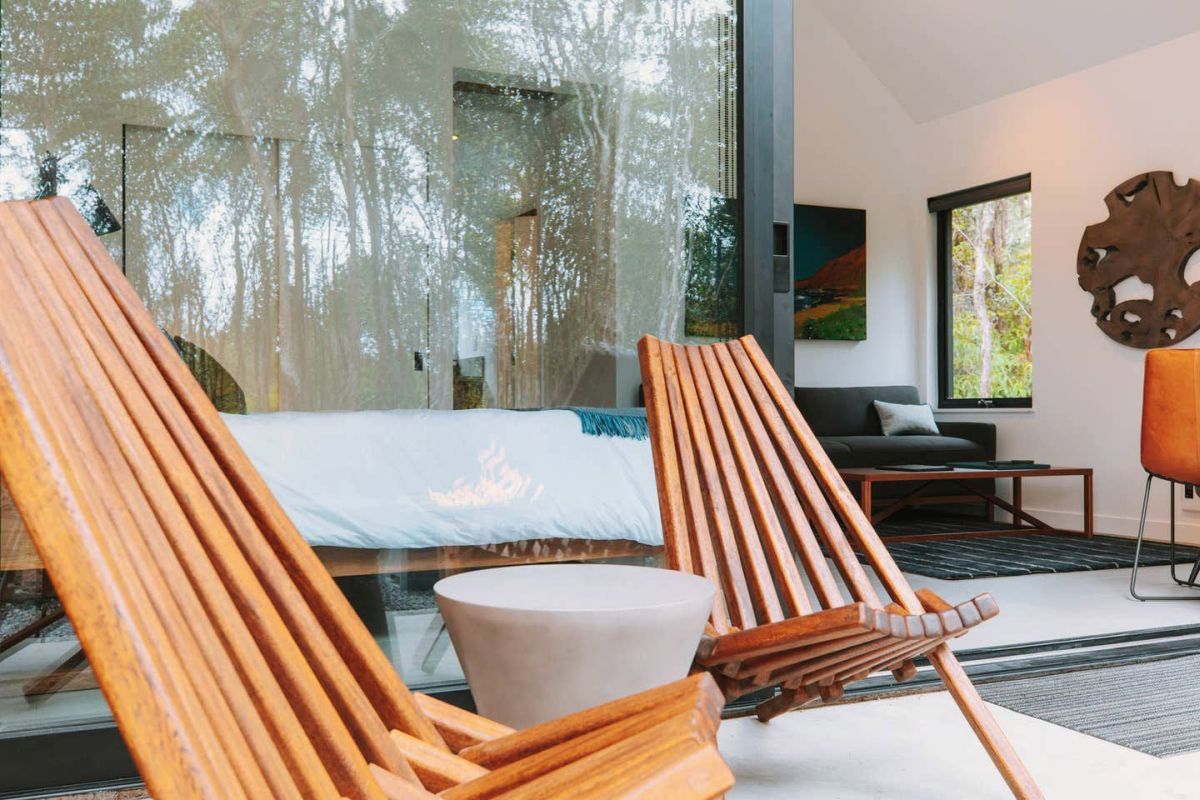 The bed is placed parallel to the patio and has a panoramic view of the outdoor areas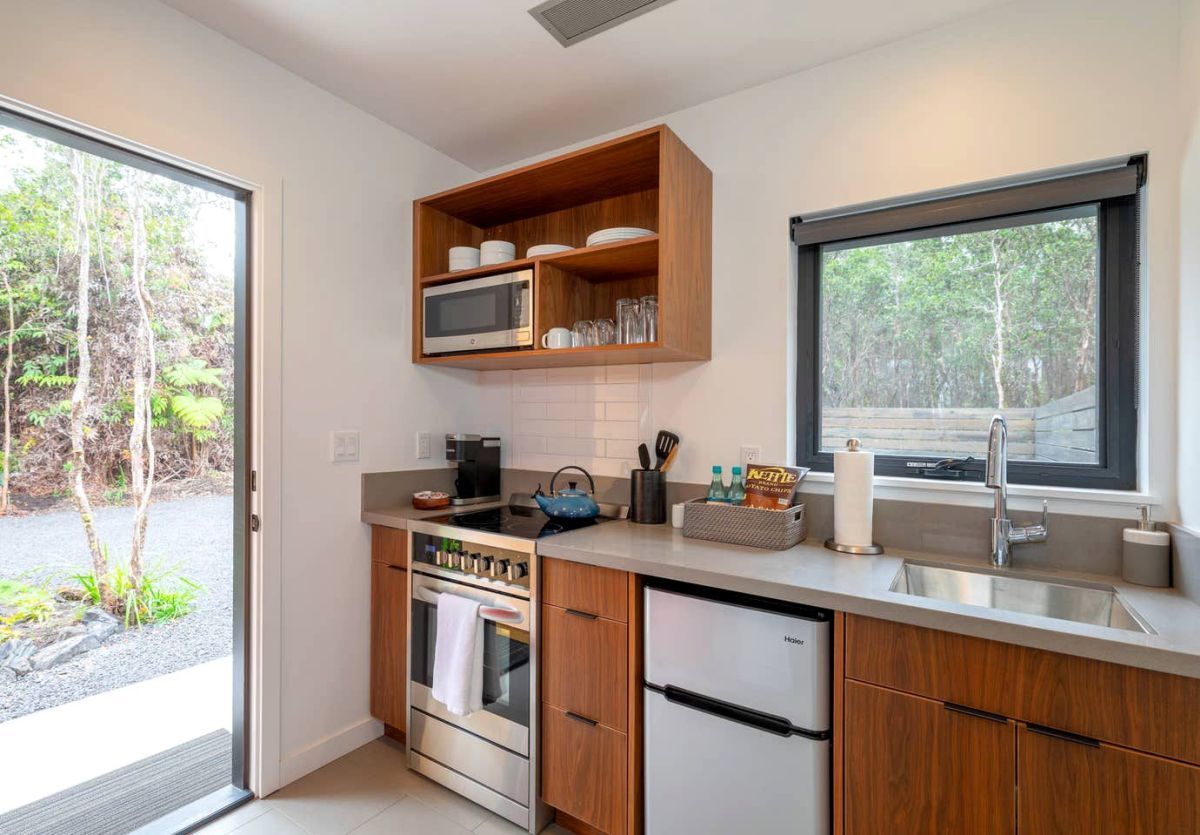 The kitchen is equipped with basic appliances and sufficient storage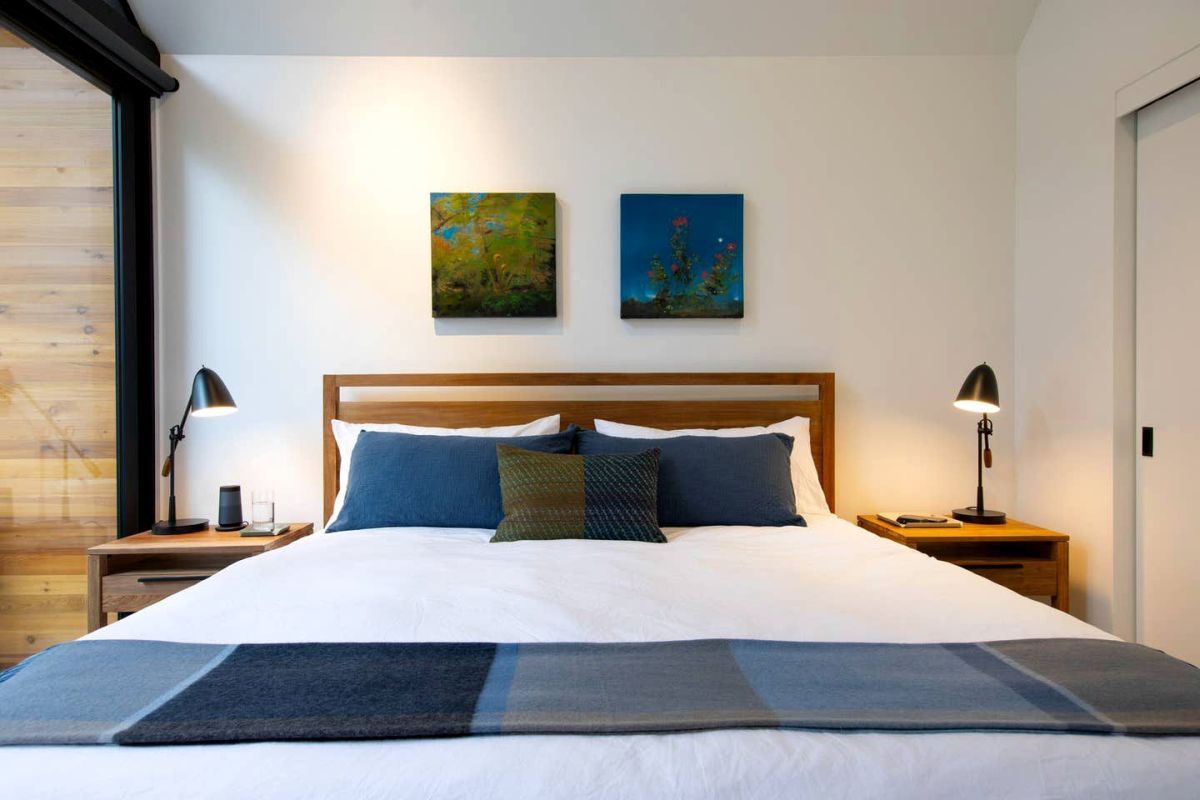 The simple white walls of the cabin are decorated with local artwork which adds a dash of color to the decor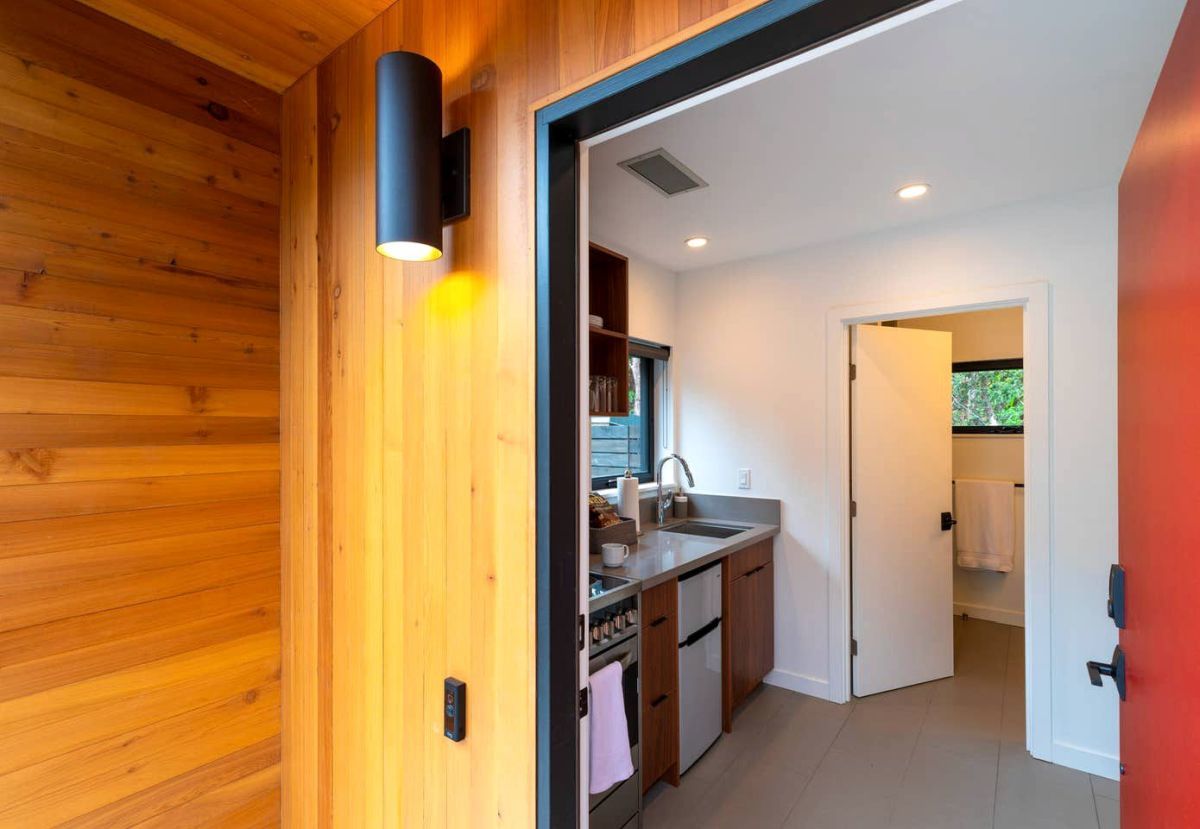 The cabin has a red front door which adds a bold touch to its design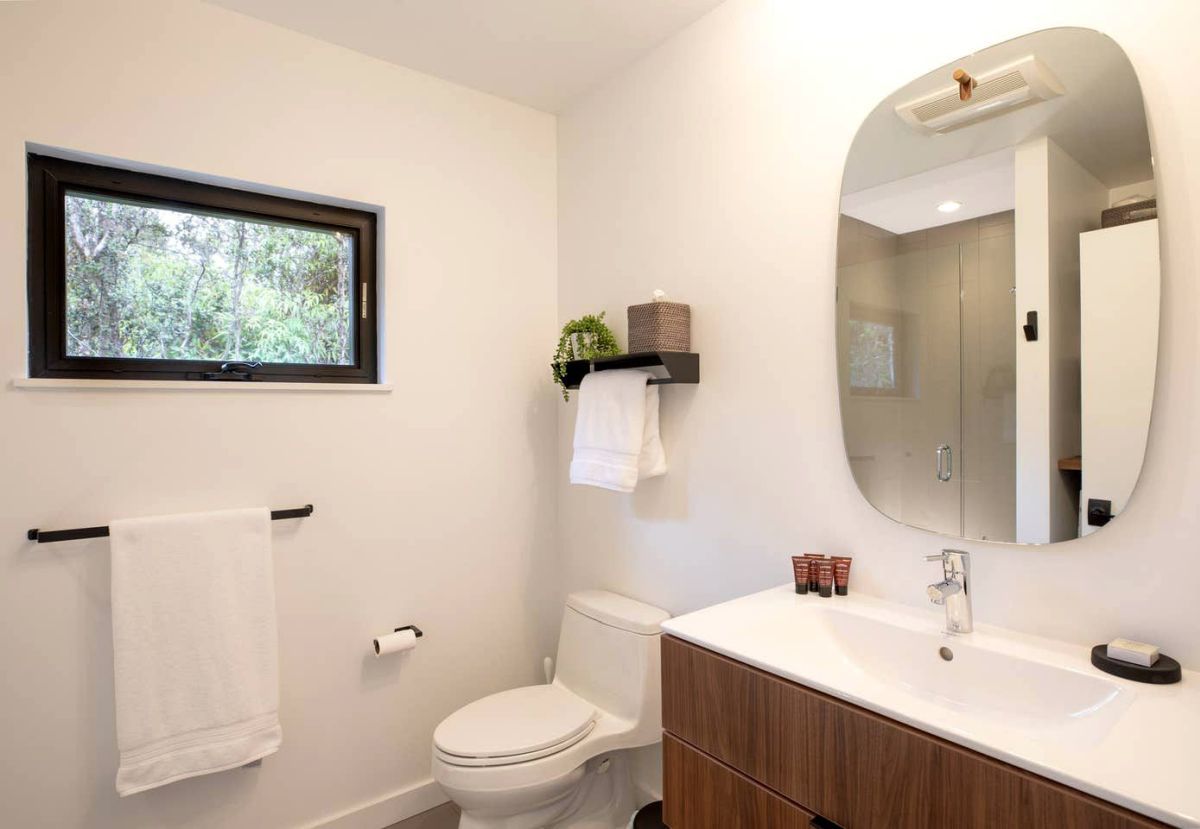 The bathroom is bright and airy, with adequate lighting, a small window for ventilation and white amenities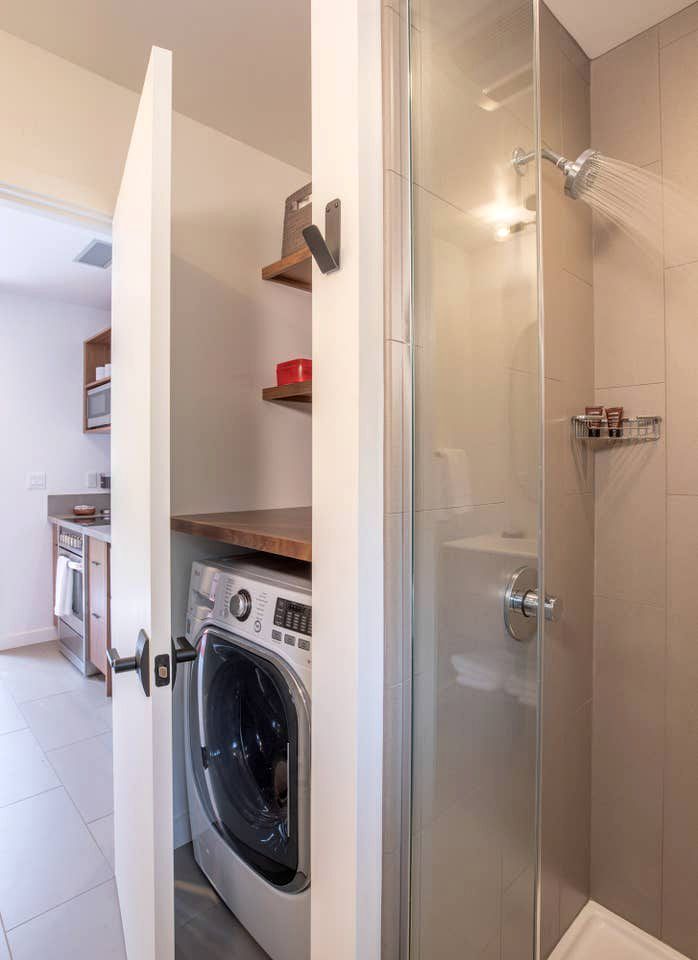 There's also a separate nook inside the bathroom where the laundry area is situated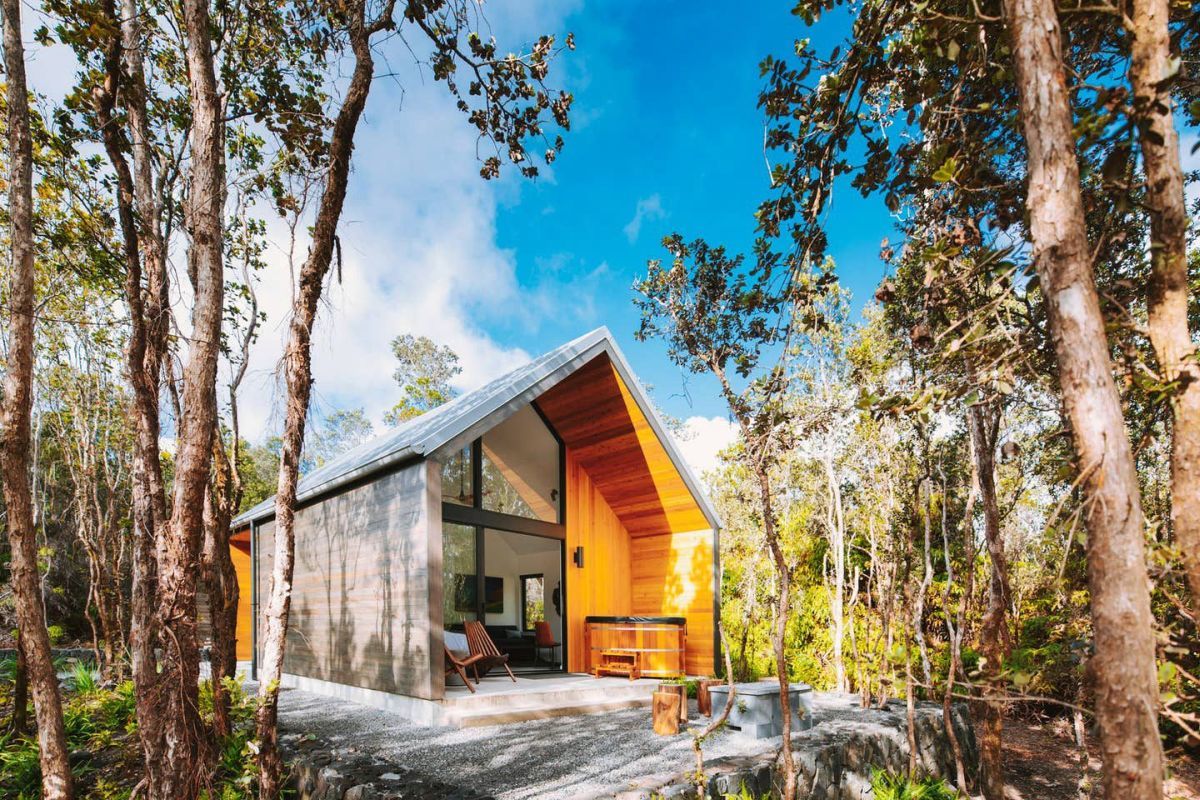 The cabin as a whole is modern, simple and beautifully integrated into its natural surroundings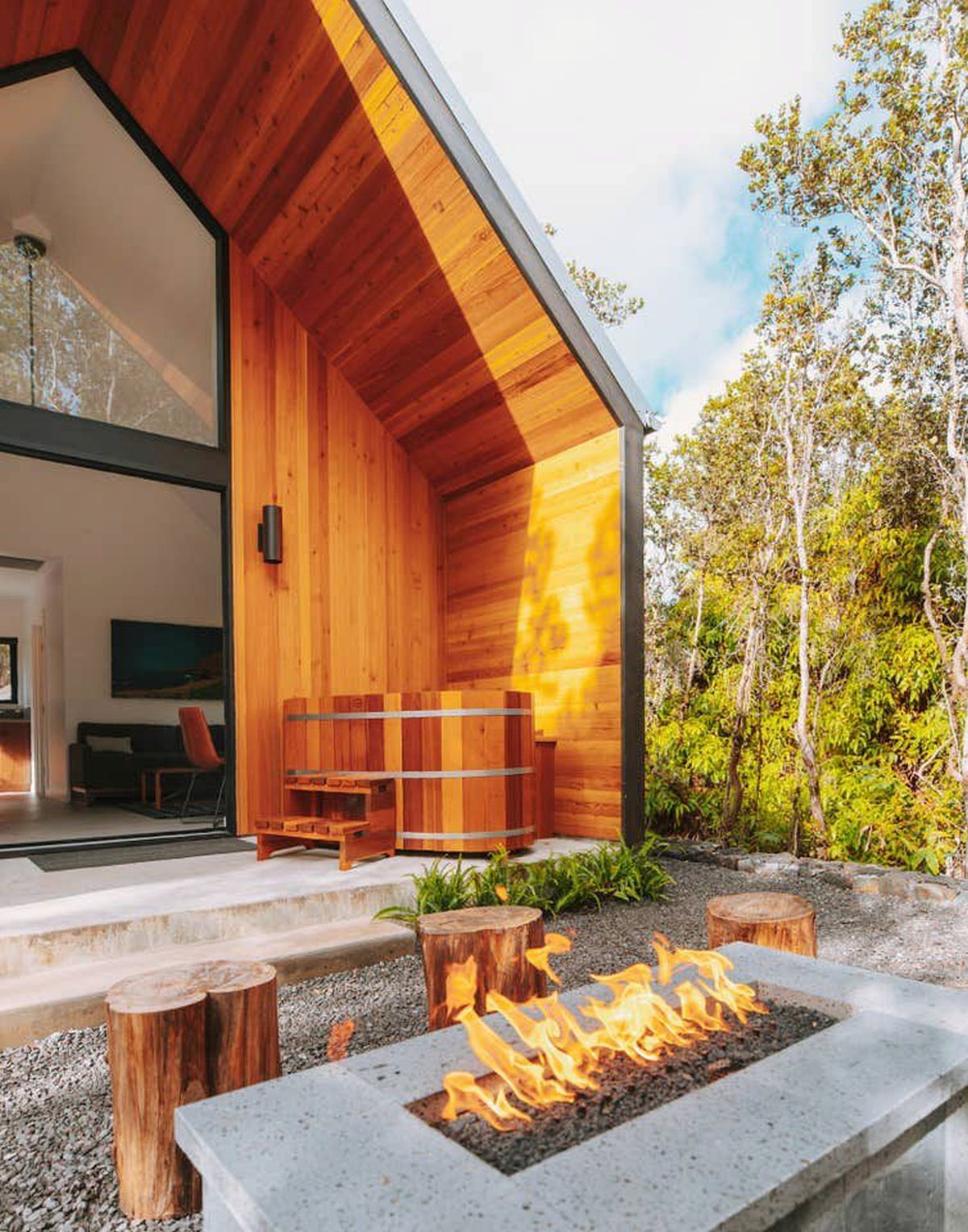 Out on the patio there's a deep soaking tub made of cedar wood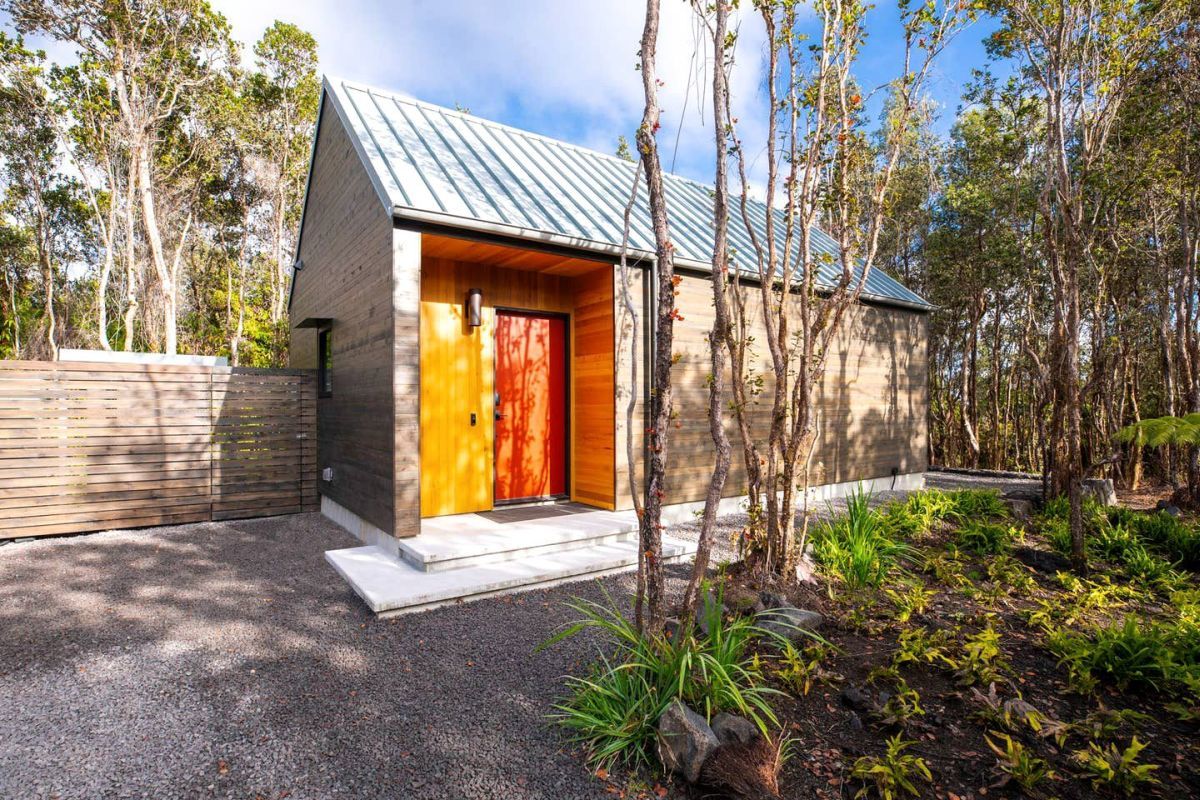 The entrance is through the side, marked by a bright red door