While producing an annual music festival for five years, Keely Montgomery found that she often missed her two young children. She and her husband Josh watched accessory dwelling units (ADUs) pop up in Portland over the course of the decade, and in 2018 they decided to take the plunge. They commissioned an ADU in their backyard with short-term Airbnb rentals in mind, and Keely quit her job.

"It wasn't an even trade in money," Josh says, "but when you factor in what we saved in child care, plus the pricelessness of being able to be with your kids, it didn't have a huge impact on our bottom line."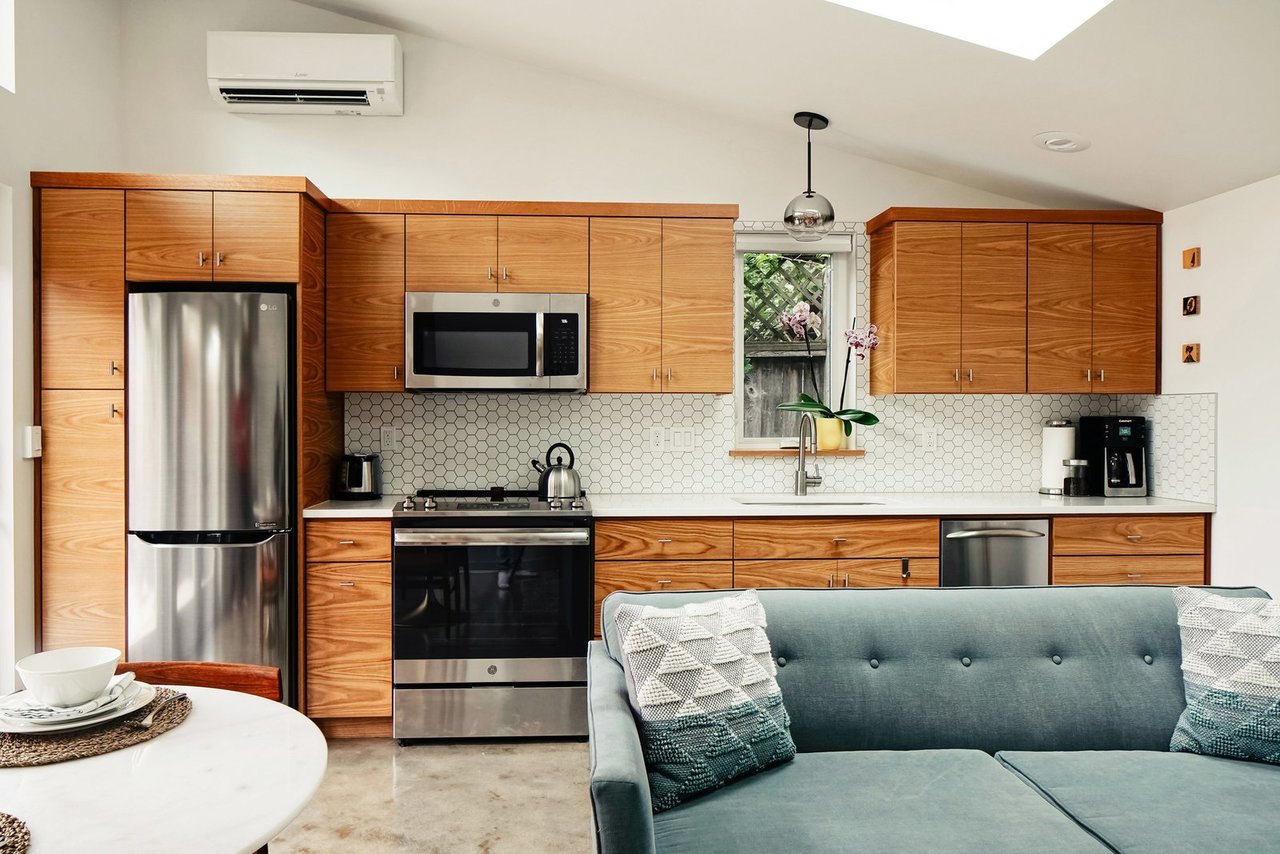 Propel Studio's Wedge ADU is a luminous respite, with built-in wood cabinetry and a massive skylight.

They don't mind that these days, with COVID-19 still keeping many at home, there are no bookings. "The silver lining is Josh has an office for his work," Keely explains. And because Josh works as a nurse at a local hospital, where his risk of COVID-19 exposure is higher, she says "he also has a space for quarantine if it gets dicey."

The ADU's 490 square feet were designed for efficiency by local firm Propel Studio. "We've kind of learned what's the most efficient layout," explains principal Nick Mira. "It's three-fifths and two-fifths-three-fifths are the living area, and two-fifths are the bedroom and bathroom. The bathroom is a natural separator to provide some distance from the living area. We prefer to push kitchens to the perimeter-preferably just one wall." Although the back wall (which faces a tall fence and busy thoroughfare beyond) is windowless, clerestories fill the unit with natural light.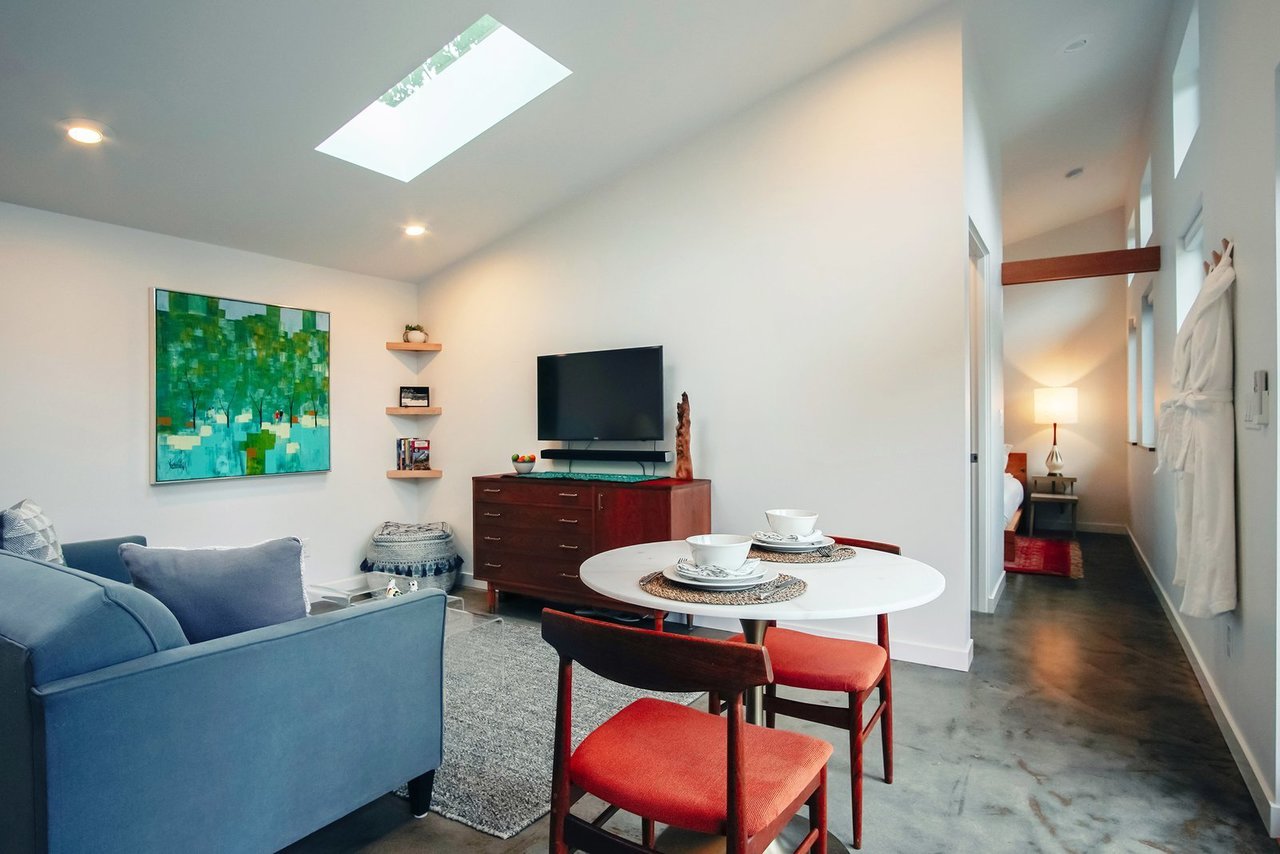 A simple layout gives Propel's Wedge ADU a sizable living room and two bedrooms.

Over the past decade, the city has seen a wave of ADUs constructed-from detached backyard structures to dedicated basements dwellings and above-garage apartments that are part of an existing house. Portland isn't the only city committed to ADUs, but in most places, regulations make them difficult. As of last year, there were only four American cities-Portland, Los Angeles, Seattle, and Austin-that had built more than 1,000 units.

And even in Portland, such growth is recent. Before 2010, when Portland first began to waive system development charges (SDCs) for ADUs, there was an average of 29 constructed per year. By 2016 and 2017, that number rose to well over 500 per year.

In 2018, to encourage more long-term rentals and discourage short-term stays, the City of Portland changed the rules, requiring new ADU owners to wait ten years to go the Airbnb route-or pay the original SDC (costs range from $14,000 to $19,000). That brought numbers down, but 2019 still brought another 315 permits. A Portland State University study found that about one-third of ADUs were used for short-term rentals, and slightly more were used for either long-term rentals or to house a family member. "It's always been one of the long-range planning goals for the city," says Tyler Mann, a city planner with the City of Portland's development bureau.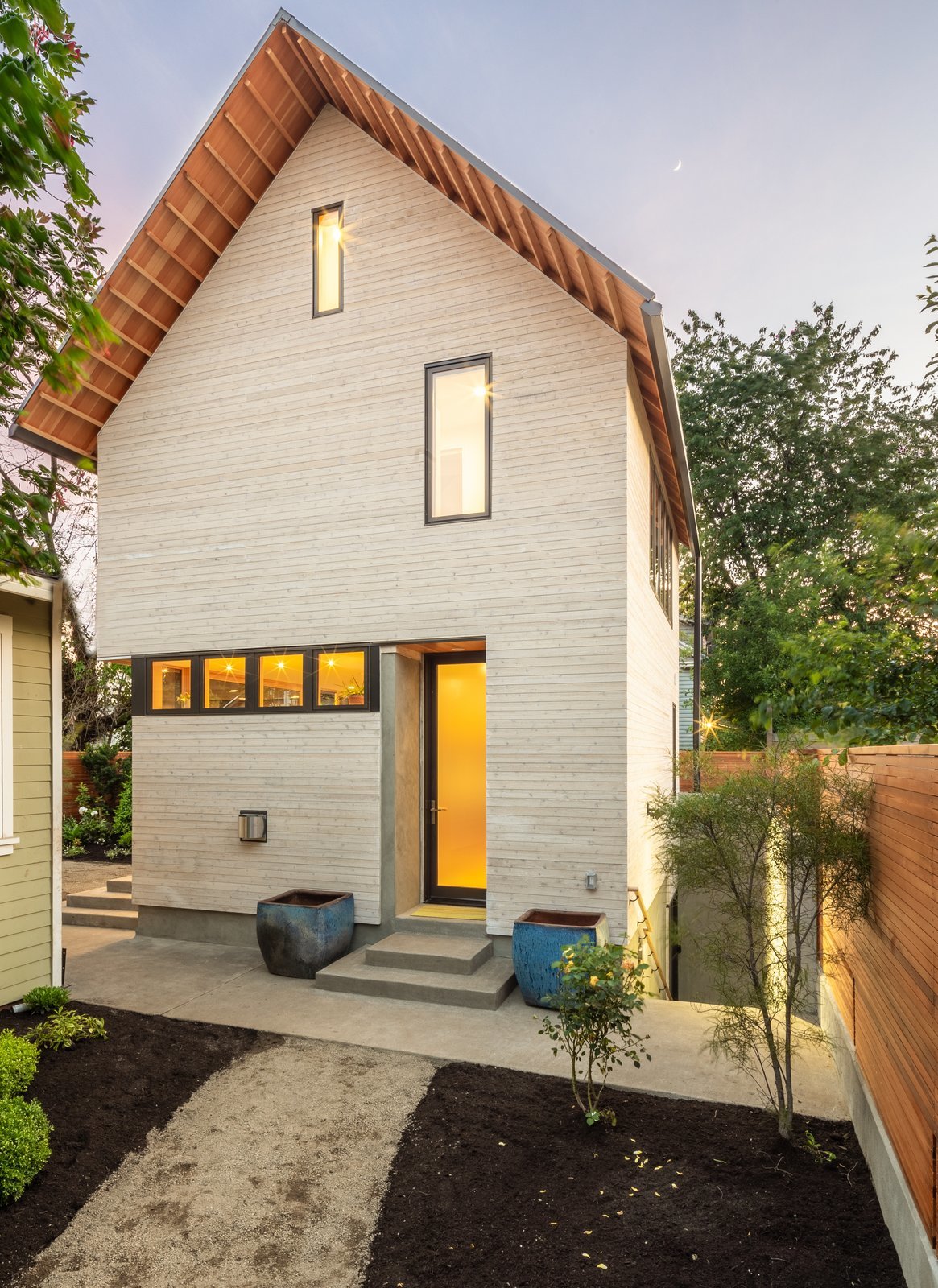 The Rodney ADU by architect Webster Wilson gives its retired client the chance to live near her daughter and grandchildren.

Mann also notes the city's new Residential Infill Project, which was passed by City Council in August, will change zoning to make ADUs "even more important in the city's housing mix," he adds. "It accomplishes two goals. It's a way to retain existing housing stocks, while still having the flexibility to increase density and housing options."

Portland architect Webster Wilson, who has designed several ADUs, says his clients are looking for flexibility. "I think people are interested in outbuildings that can be rented out or set up for personal use-or both. That's what's interesting. It's not one or the other-it's 'We may want to Airbnb it for a while, but then we'll retire, move in there, and rent the main house.' Or it's 'Our daughter will live there during college, and then we'll rent it out.'"

Last year, a new state law cleared the way for many more ADUs to be built. HB 2001 effectively eliminated single-family zoning across Oregon. "Now it's going to allow for duplexes and multiple ADUs in all areas of the city, unless there's an environmental constraint or flood zone," Mann adds.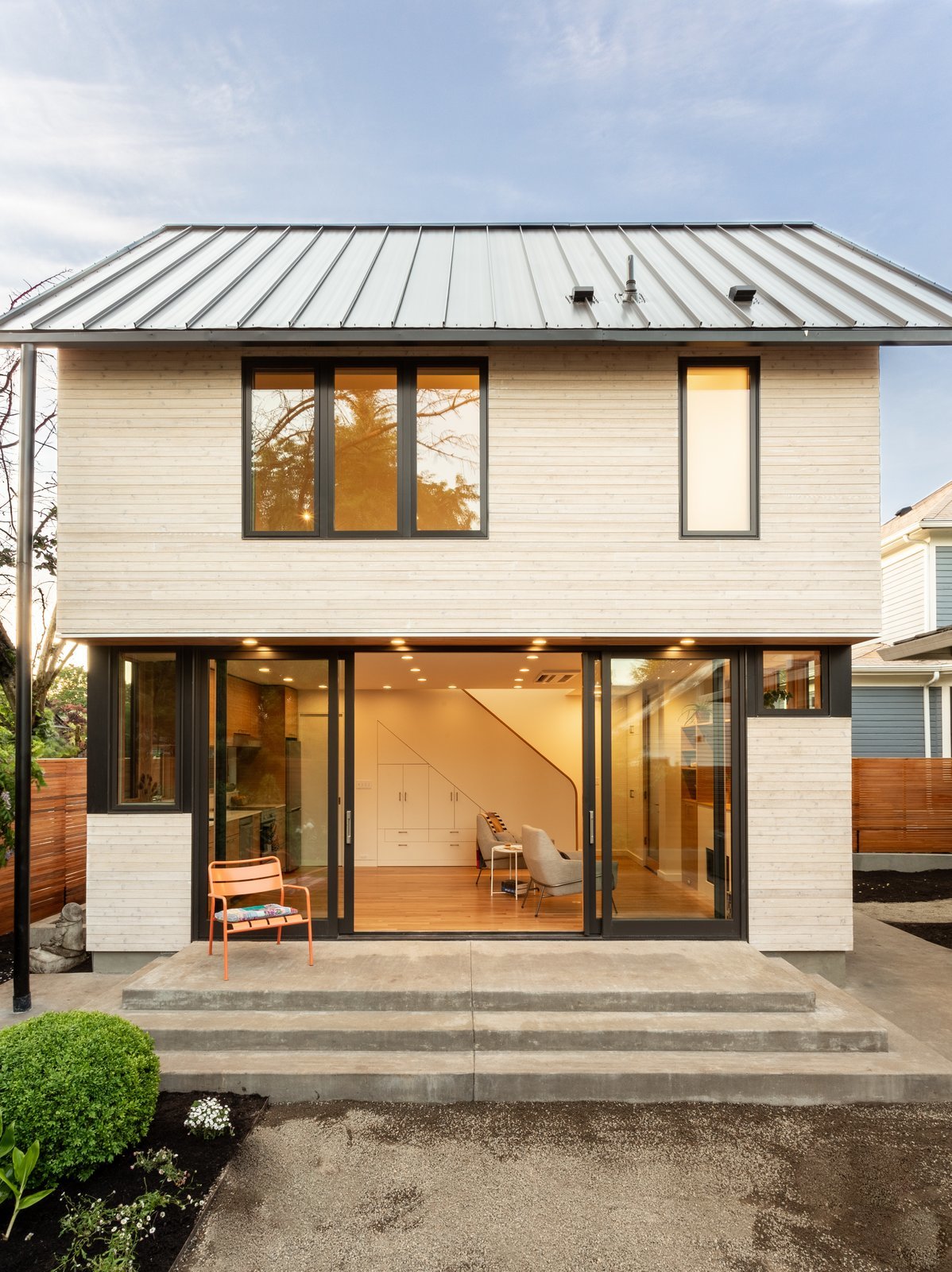 The Webster Wilson–designed Rodney ADU opens on two sides, with the ground floor devoted to its living room and bedrooms above.

Detached ADUs tend to get more attention because they're more visible standalone structures, explains Terry Whitehill, also of the City of Portland's development bureau. "A common mistake-especially if they're putting it in a part of the house like the garage or the basement-is they'll have a common space with a furnace and electrical panels, and they don't realize they have to separate that," he explains. "Separation is often the big issue on the life safety side. If it's freestanding, it basically just has to meet the building code. It's just a smaller house."

Development charges are not the only consideration. Detached ADUs that are more than 15 feet tall must mirror the roofline pitch of the existing house, and in some city zones-particularly those designated historic-they must also follow the original architecture of the house. But Mann says the city is looking to update those requirements "to be less prescriptive and more about quality of materials."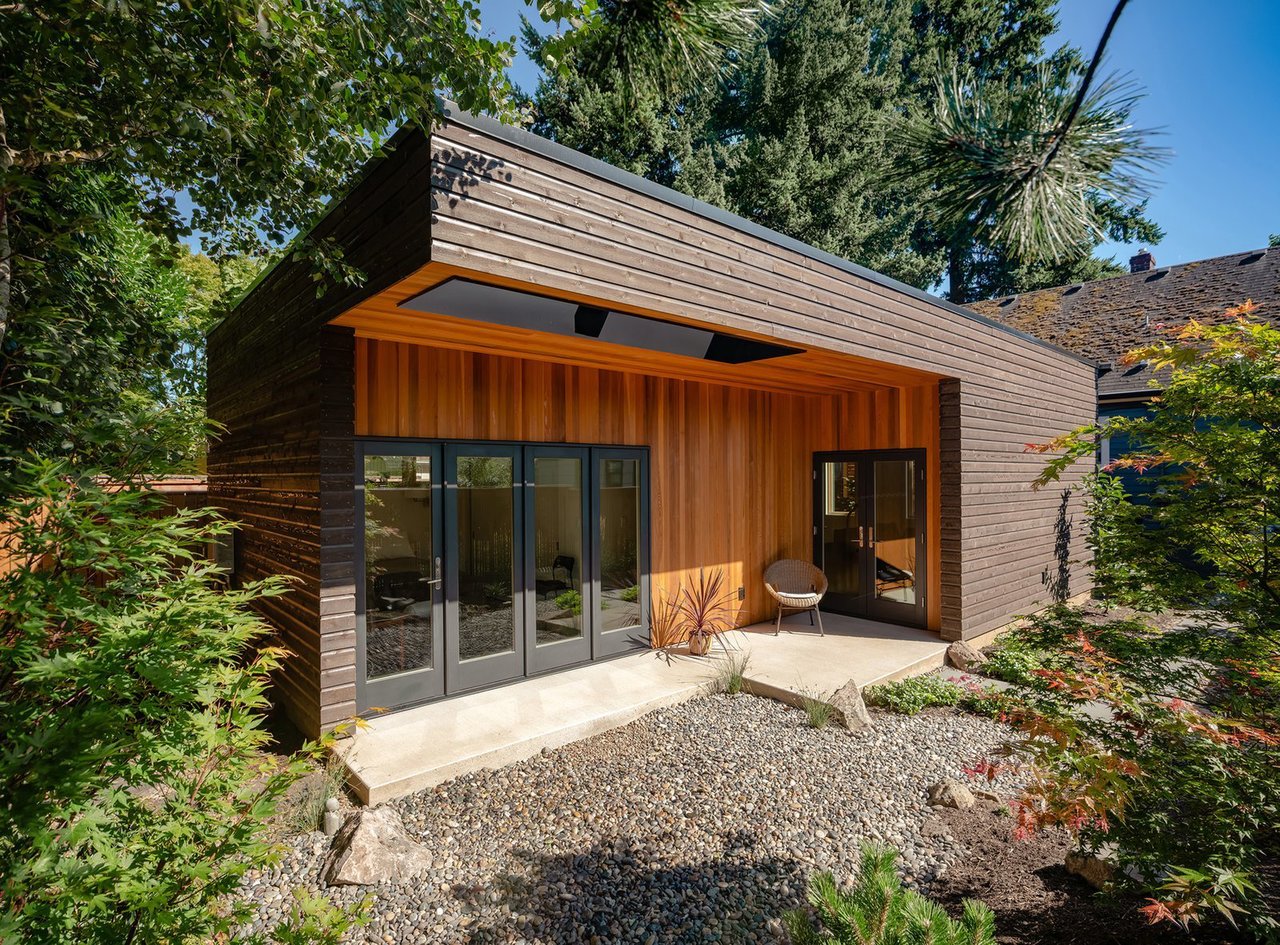 The Namaste, an ADU by Propel Studio, takes its cues from Japanese architecture.

Propel Studio's Namaste ADU, completed in 2019, wasn't impacted by any of those restrictions. It's designed for a retiree who wanted to live with-but independently of-her daughter, so its eligibility for short-term rental was not a concern-and its Japanese-inspired contemporary design was small enough to allow more stylistic freedom.

Even so, the homeowner, Lisa Bosca, admits that sometimes the process "felt a little overwhelming." She filed for a permit along with a flurry of other applicants trying to beat the deadline for the SDC waiver change, and it took longer than expected. And because the design was so customized-her mom's diminutive stature called for shorter-than-standard kitchen countertops-it required a lot of small decisions to be made.

Lisa emphasizes the importance of having an experienced, personable contractor-as she found in Billy Spear of Portland firm Evergreen Craftsmen. "That is the guy who really made this whole process a great experience," she says. "The architects did a wonderful design, but the contractor is the one coordinating and communicating everything."