As a kid growing up in Maine, Jen Curtis rearranged the furniture in her bedroom on a regular basis. Then, as an adult, a move to San Francisco introduced her to Alameda's famed flea market, sparking a love for old linens and vintage furniture. Her flair for space planning and her love of antiques had a meet-cute in 2015 when she purchased a 1927 cottage in Los Alamos on California's Central Coast. The 1,300-square-foot house sat on a generous half-acre parcel. There was just one problem: It was a run-down mess with a yard of mostly dirt. "But it was a nice piece of property that I could make my own," she says. With help from architect Tom Newman, the hopeful homeowner devised a plan.

Take a peek at the dramatic transformation. (And don't miss our tour of her amazing backyard makeover.)


Before: Exterior
After: Brake-Worthy Curb Appeal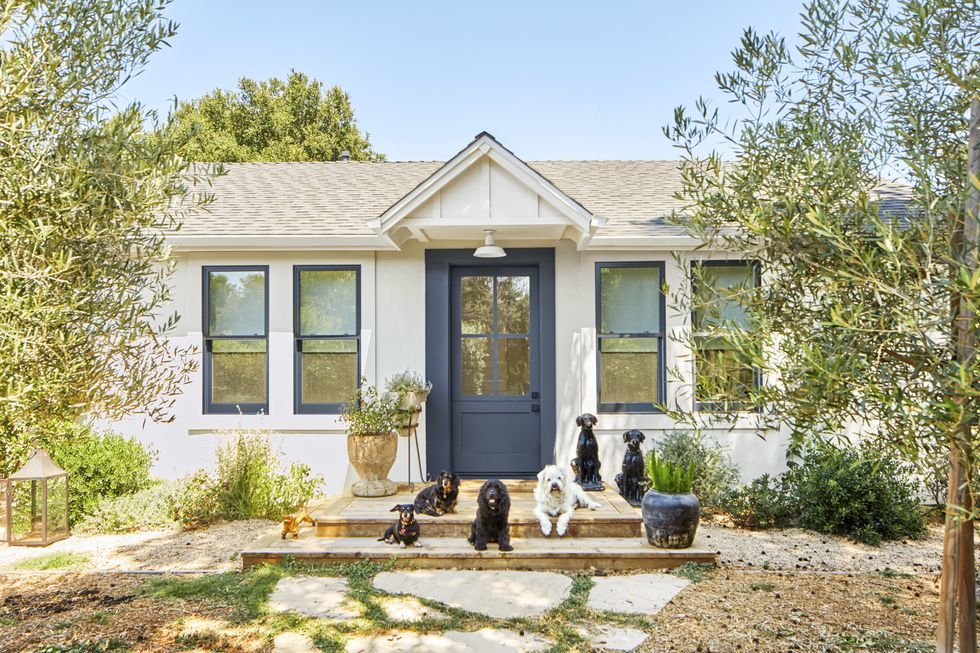 In addition to turning the desolate grounds into a lush garden, Jen gave the home's plain-Jane exterior a much needed face-life with board-and-batten, a wider doorframe, and a new stoop. Dogs (from left) Greta, Benson, Harper, and Hudson also boost its curb appeal.


Before: Living Room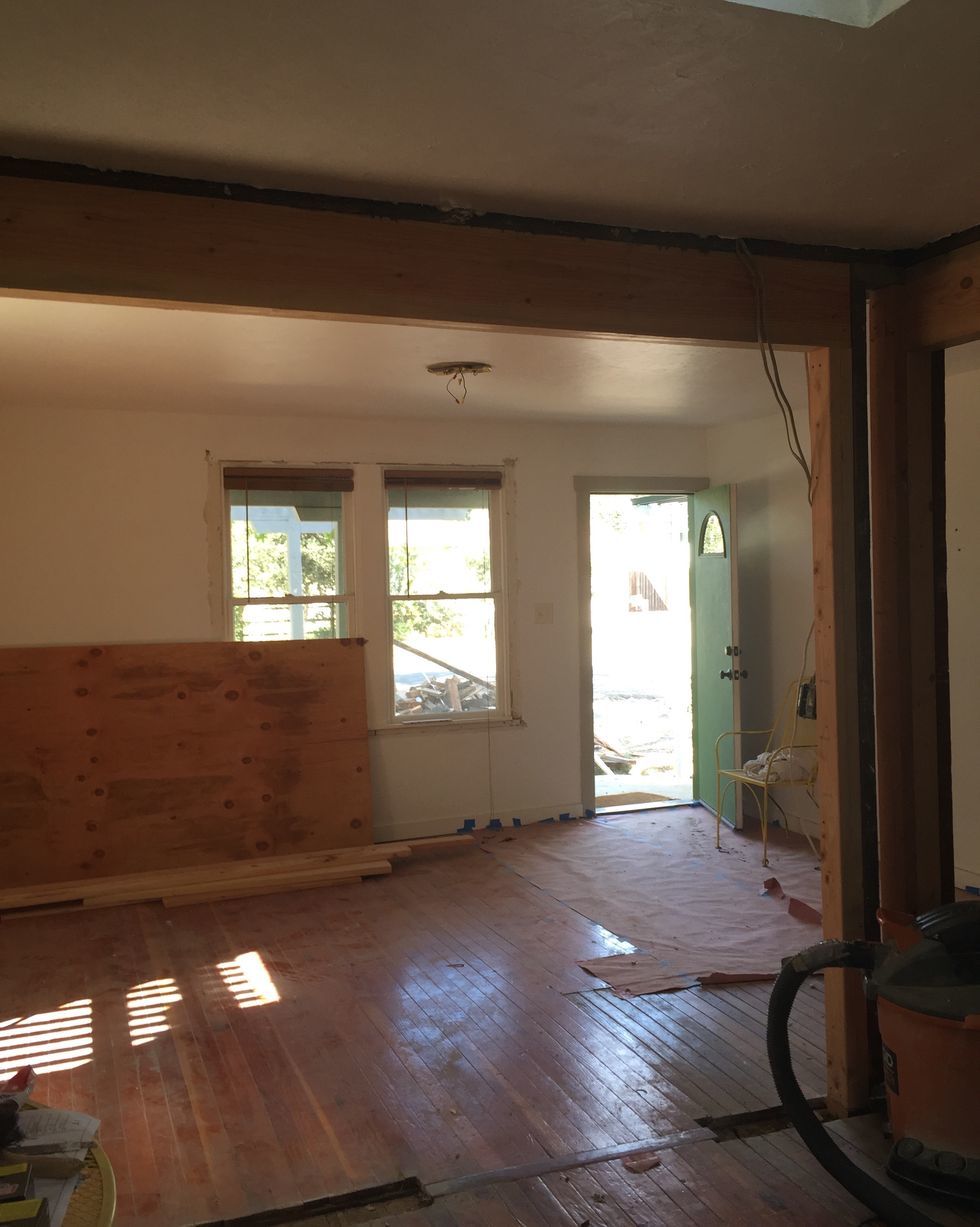 After: Head-to-Toe Shiplap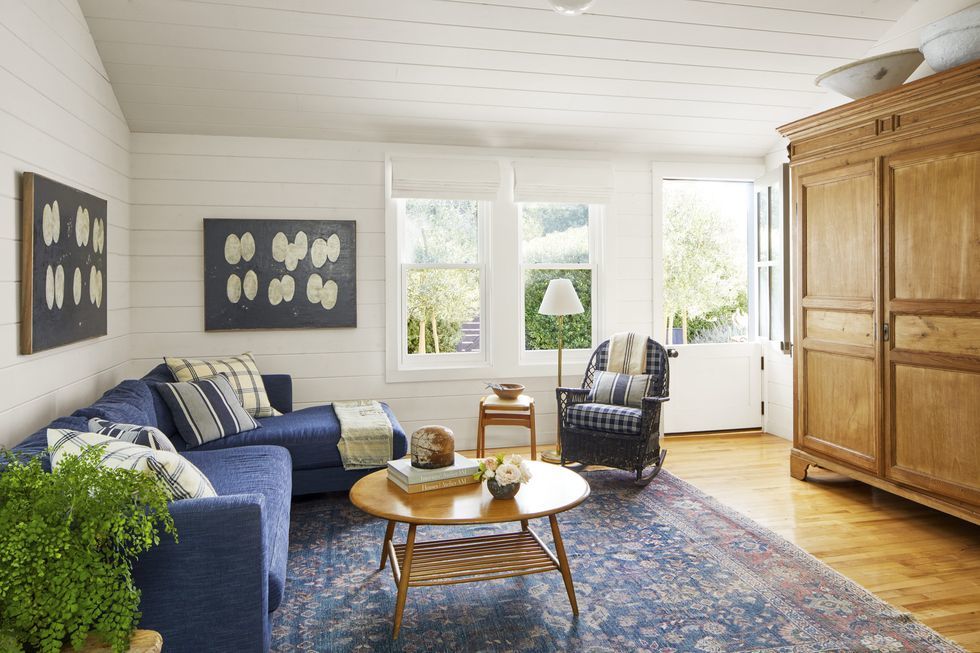 Jen covered the 13-by- 16-foot living room, ceiling included, in white seven-inch-wide shiplap, helping the space feel wider and adding character without eating into the footprint. The blue sofa was chosen to accommodate her four rambunctious dogs. "As much as I'd like a white couch, I can't do it," she says. "So I have white walls." The collector also incorporated pops of patina that added character without visual clutter (think clear glass bottles, creamy white ironstone, and weathered case goods for storage with a backstory).


After: Vaulted Ceiling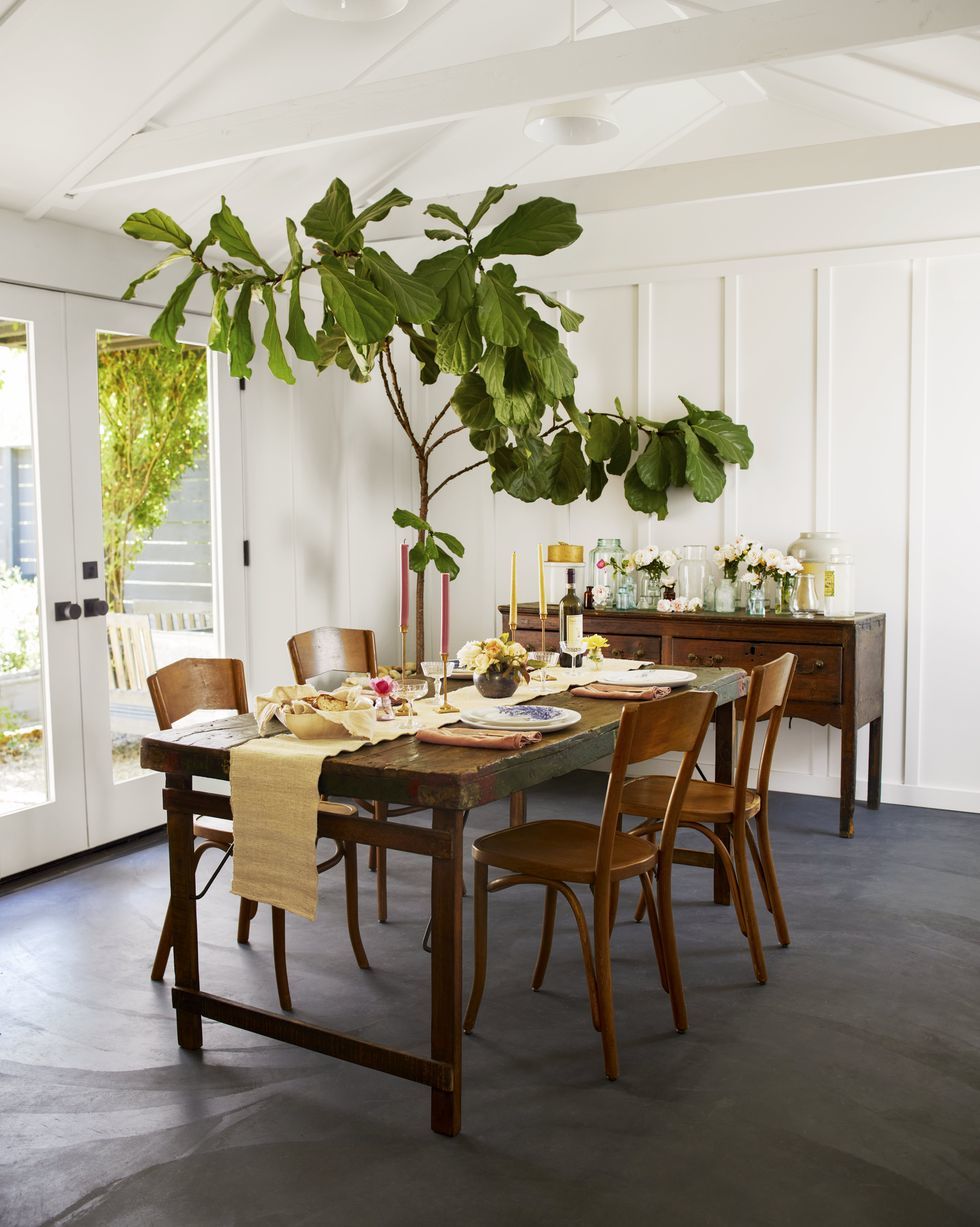 Besides having grubby particleboard floors and walls, the original dining room had low, flat ceilings and one tiny window. Vaulting the ceiling to 16 feet made the room feel more open, and new board-and-batten walls added depth. French doors allow for more sunlight and lead out to the rose garden. A primitive wooden folding table (which occasionally doubles as a desk) and black-stained cement floors add contrast to the all-white architecture.


Before: Kitchen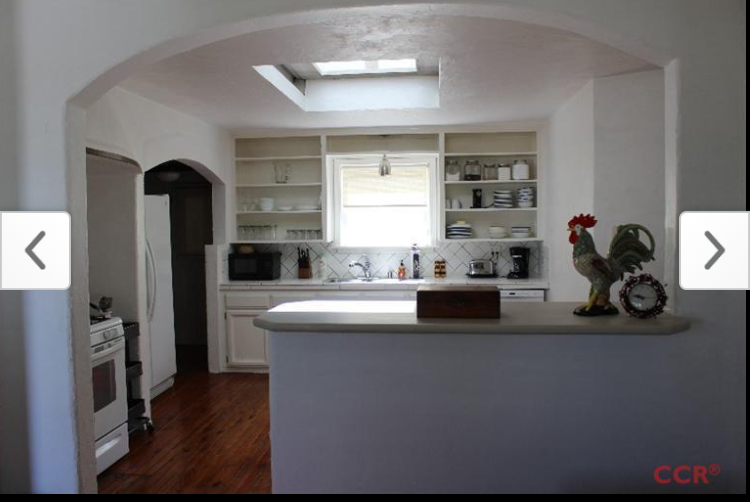 After: Clean-Lined Cabinetry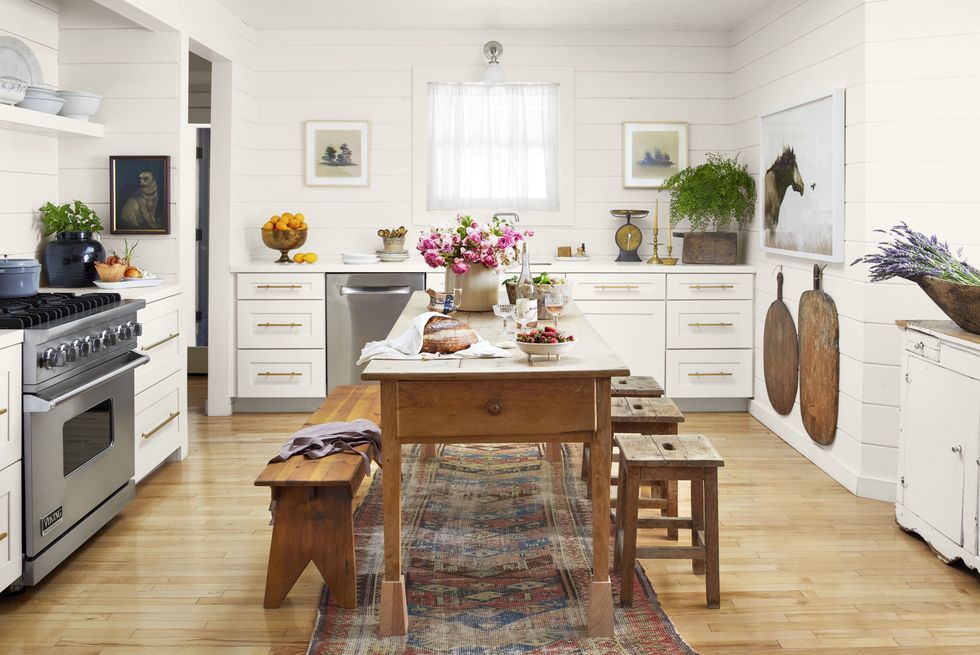 Throughout, Jen gutted the interior, replacing floors and windows and streamlining the home's curved archways ("they were weird ones, not good ones," she says). To add air to the 11-by-13-foot kitchen, Jen chose to omit upper cabinets. To maximize functionality from the new base cabinetry, which features Shaker-style fronts and 10- and 18-inch-long brass pulls, she had them outfitted with a peg system for storing plates and other kitchen gear. An antique French farm table acts as both a handy work island and a welcoming eat-in setup, thanks to a long bench and trio of rustic stools.


After: Treasures on Display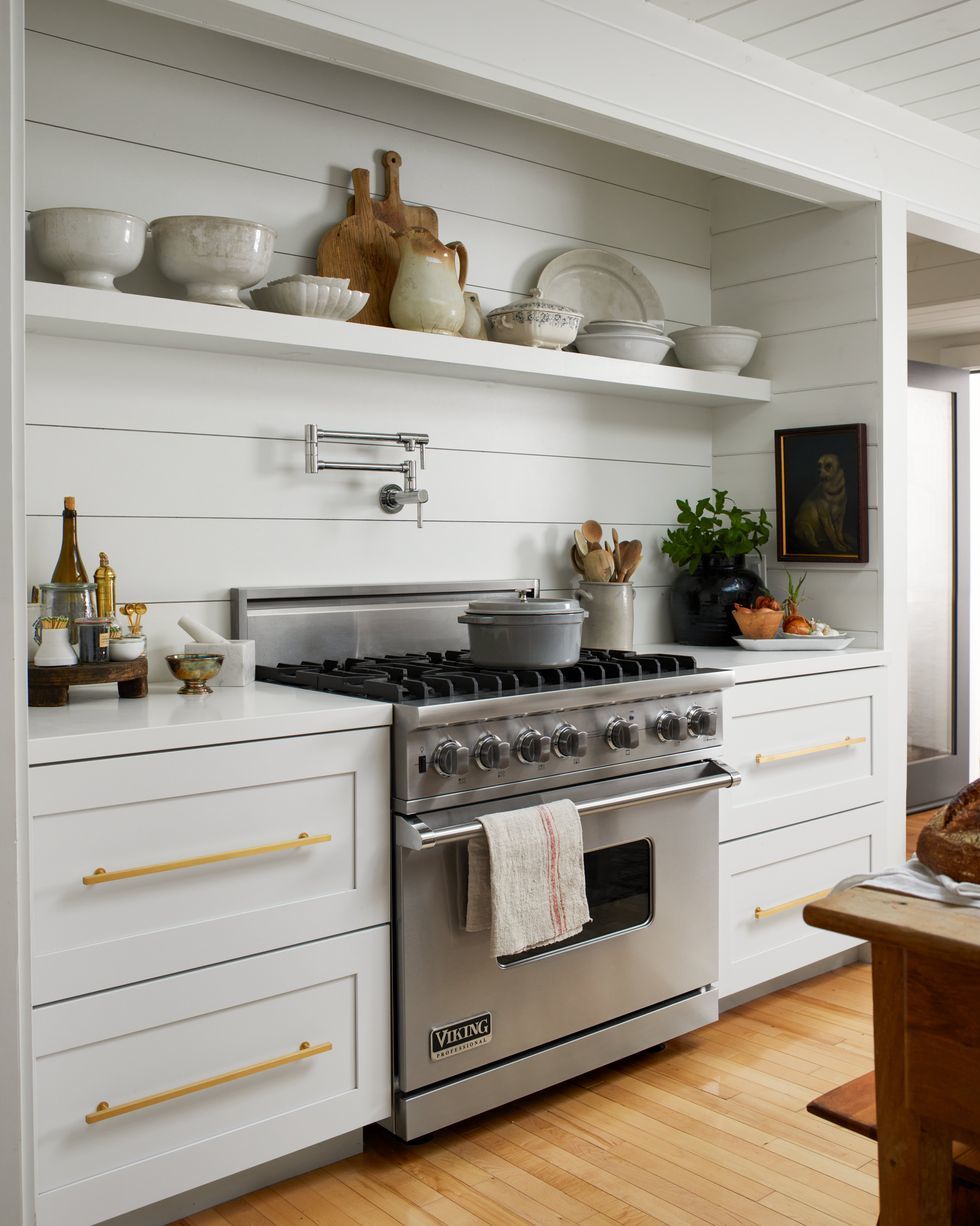 By creating a nook along the range wall, Jen was able to conceal the vent hood and install a long shelf to display antique English ironstone. "I like things that have a history," she says. "I think if you can buy something that has a story, it's much more compelling."


After: Built-In Bar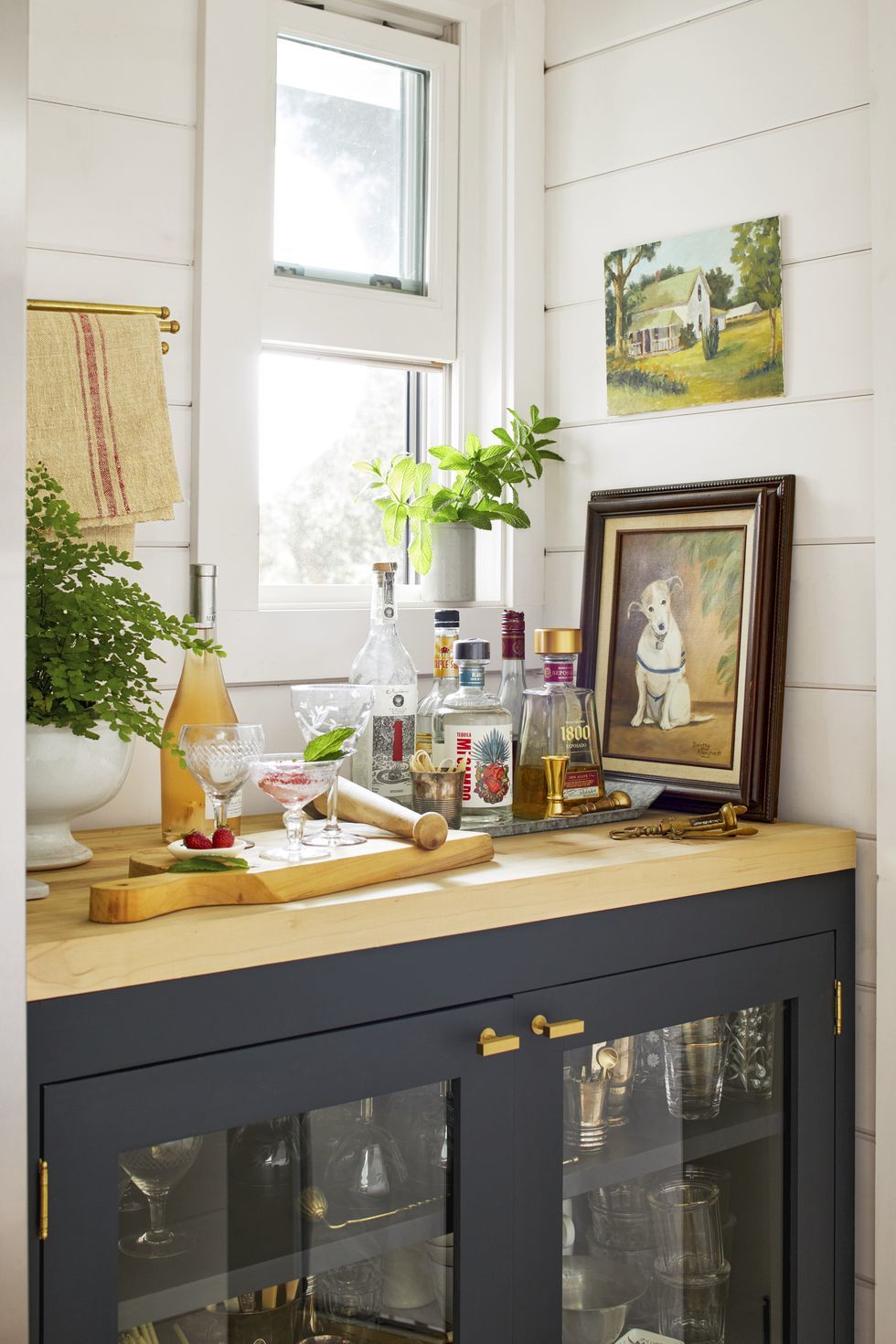 Just off the kitchen, a new butcher-block-topped cabinet creates valuable cocktail-hour prep space. (Jen's favorite: raspberry mojitos with mint courtesy of her backyard herb garden.) A pair of vintage paintings adds the requisite patina. "I'm very much into advocating for rescue dogs," says Jen. "Any time I see a cute dog painting at an antiques store, I buy it."


After: Light Layers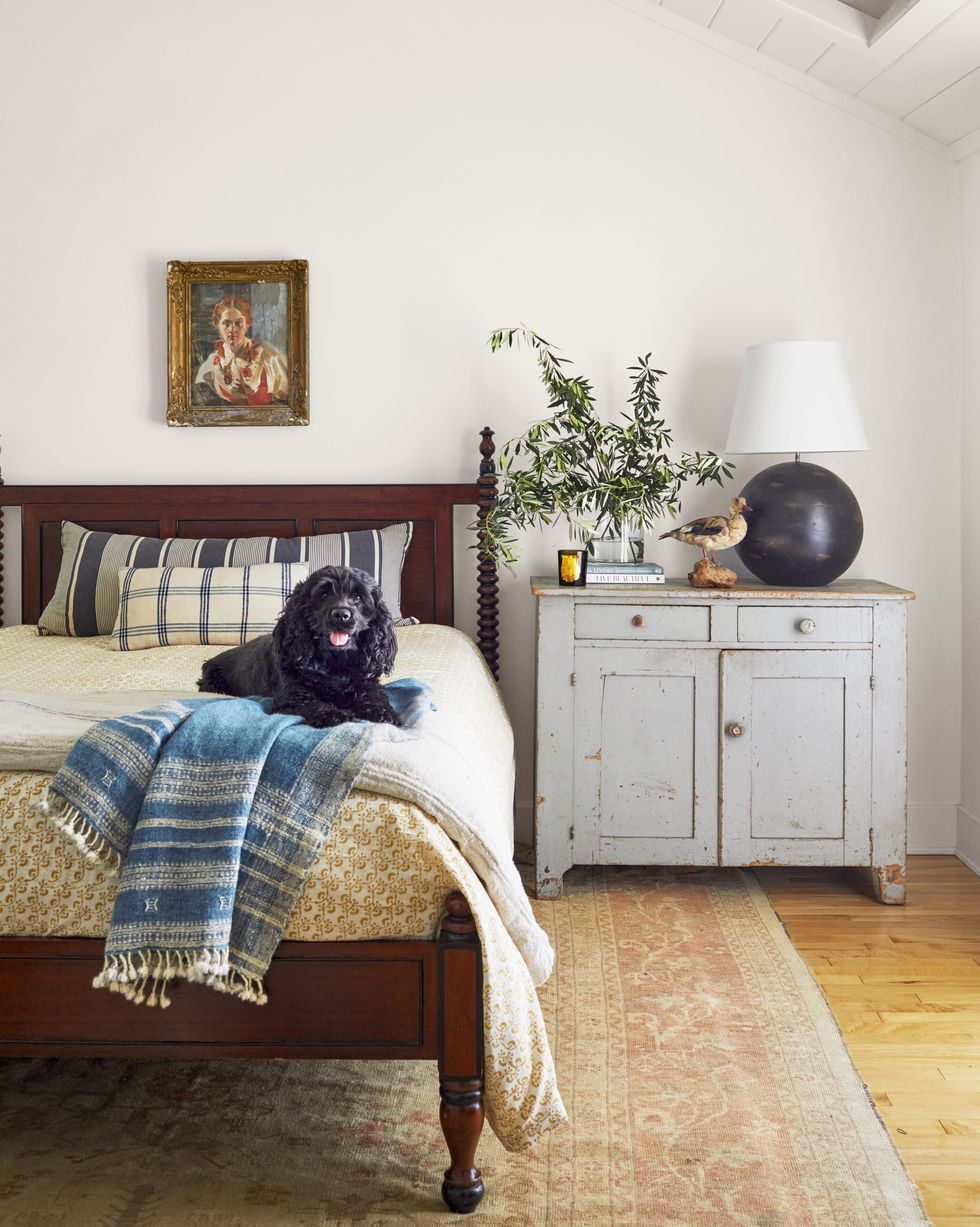 What was once an attached garage is now Jen's light and bright bedroom. In addition to vaulting the ceiling, she installed a skylight and put in new wood floors. Her knack for mixing new and old is evident in her pairing of vintage plaid and ticking-striped pillows with an Indian block print duvet atop a new spool bed. "This house plays on a love for cottage style with modern and old touches," says Jen.


After: Creative Reuse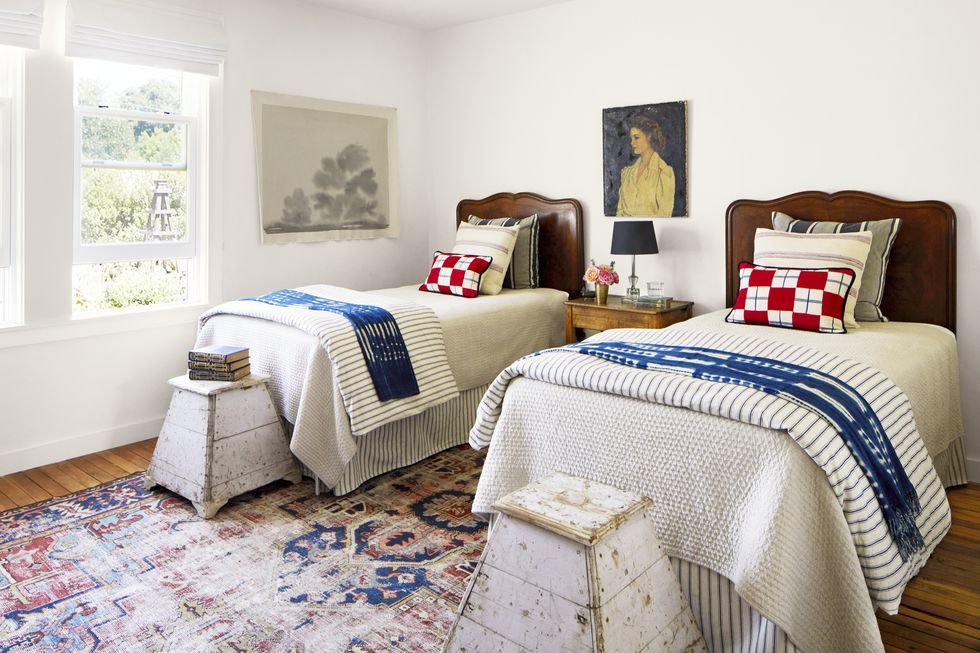 In the guest room, the antique headboards were originally part of one bed that Jen separated and hung on French cleats, making more room for house guests. The footstools, which she muses may have once been antique planters, are equally clever. Jen topped the refinished wood floors with a 100-year-old Mahal rug (a type of hardworking Persian carpet known for its looser weave and casual style) purchased at the Rose Bowl Flea Market. "These rugs last forever!" she says.


After: Free-Standing Storage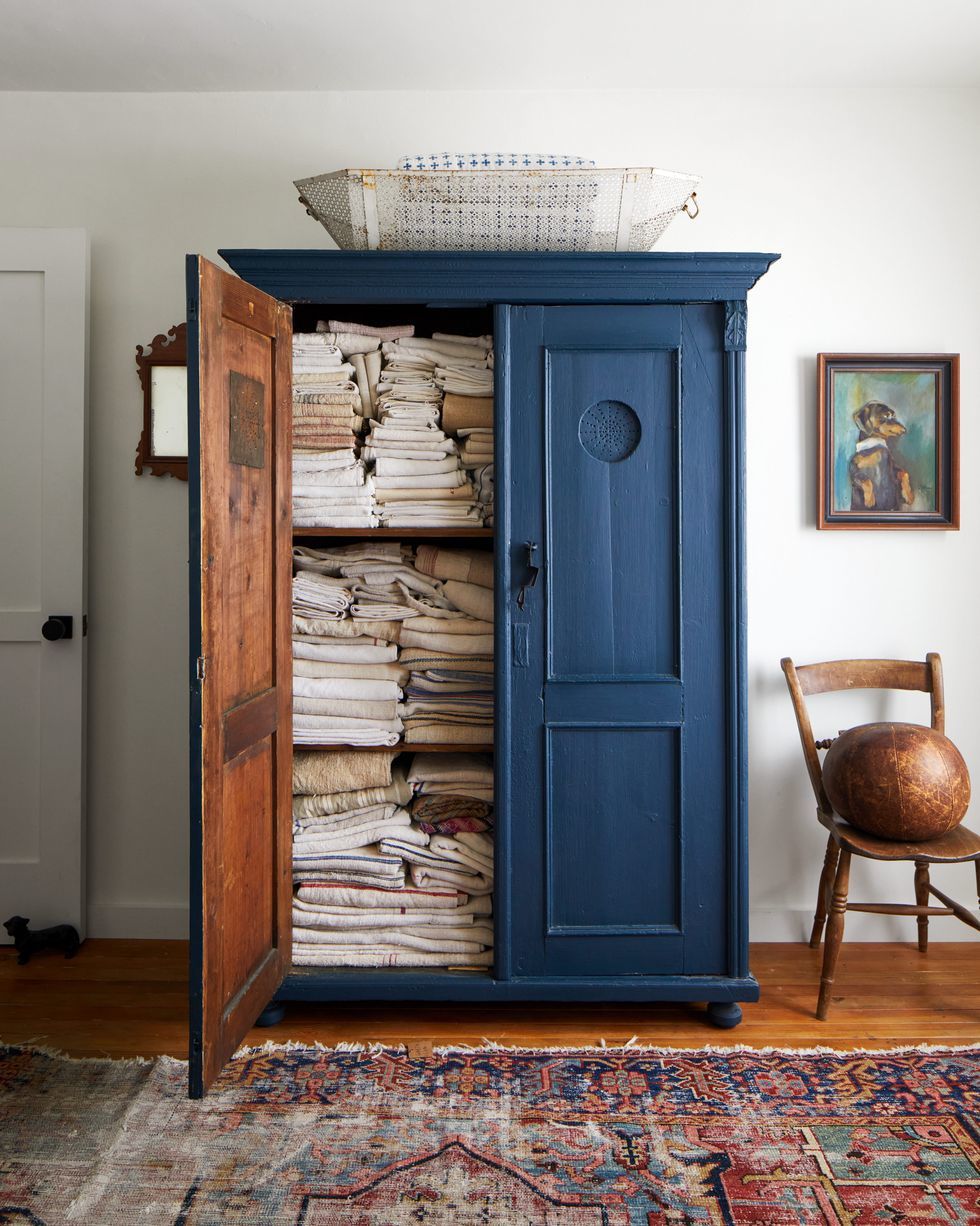 A striking blue antique armoire holds Jen's accumulation of vintage linens and grain sacks (roughly 1,200!) from Belgium and France. On top, an antique French metal floral basket holds bulkier linens. A dachshund painting from Etsy (that reminded Jen of her own dachshund, Greta) hangs above a sculptural medicine ball scored at the Alameda Point Antiques Faire.


Before: Backyard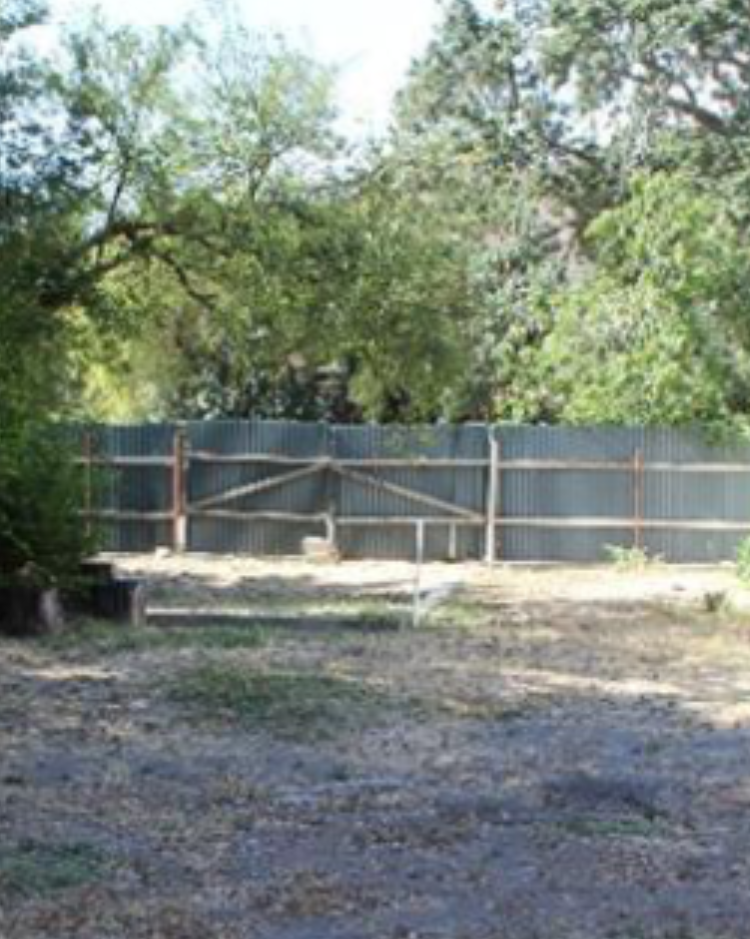 After: Outdoor "Rooms"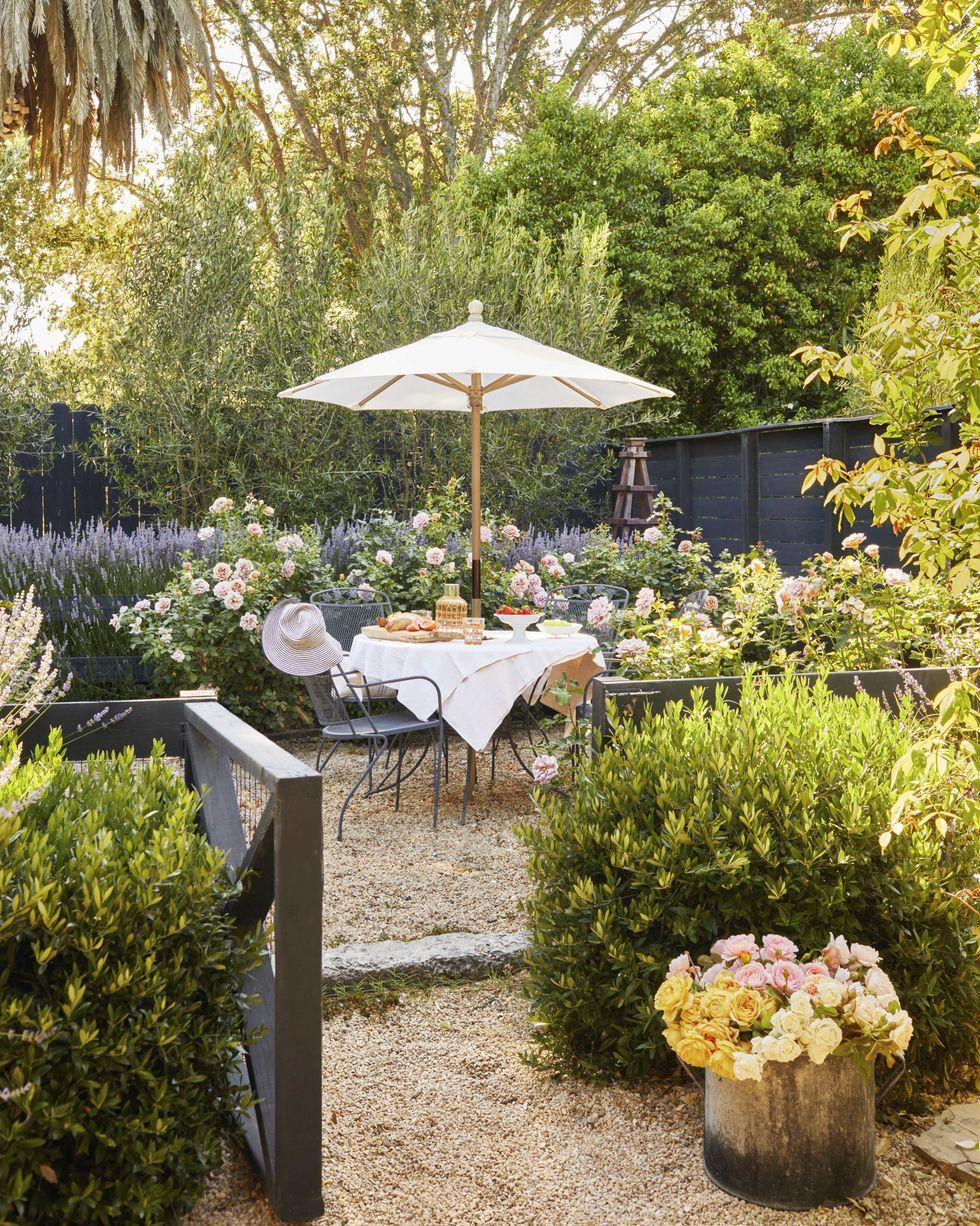 It's hard to imagine this lush yard was once only a spread of dry dirt. To make the most of the space, Jen broke it up into zones—some for living and some for growing. A bed of pea gravel unites it all. "When I was remodeling, California was in the middle of a 10-year drought, so adding a lawn was not smart or kind to the environment. I also wanted a Mediterranean feel, and gravel was the best look for that," she says.