For years, Odessa, Texas, has been known as the setting of the hit book and film Friday Night Lights, but it's time to also recognize the unique buffet of midcentury architecture that the western city houses. Case in point: this reimagined 1950s dwelling that is now up for grabs.




The 1955 residence is centrally located in the small city of Odessa, Texas. While it appears to be modest in size when viewed from the street, the home offers 4,055 square feet of interior space.

Nestled on a nearly half-acre lot, the single-level home was originally built in 1955 and has been tenderly cared for throughout the decades. Apparent immediately upon arrival are its striking details: A large attached carport extends over the right-hand side of the lot, while steel beams resembling the legs of a spider elegantly span across the exterior and into the home's front courtyard.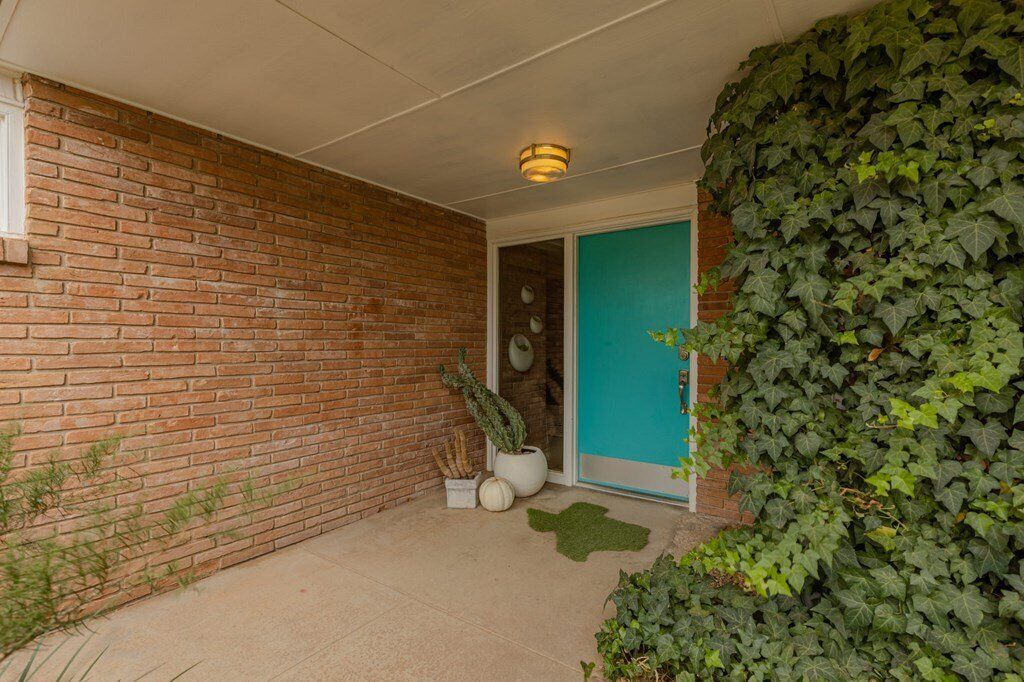 A teal blue door at the main entrance adds a fun splash of color against the brick exterior.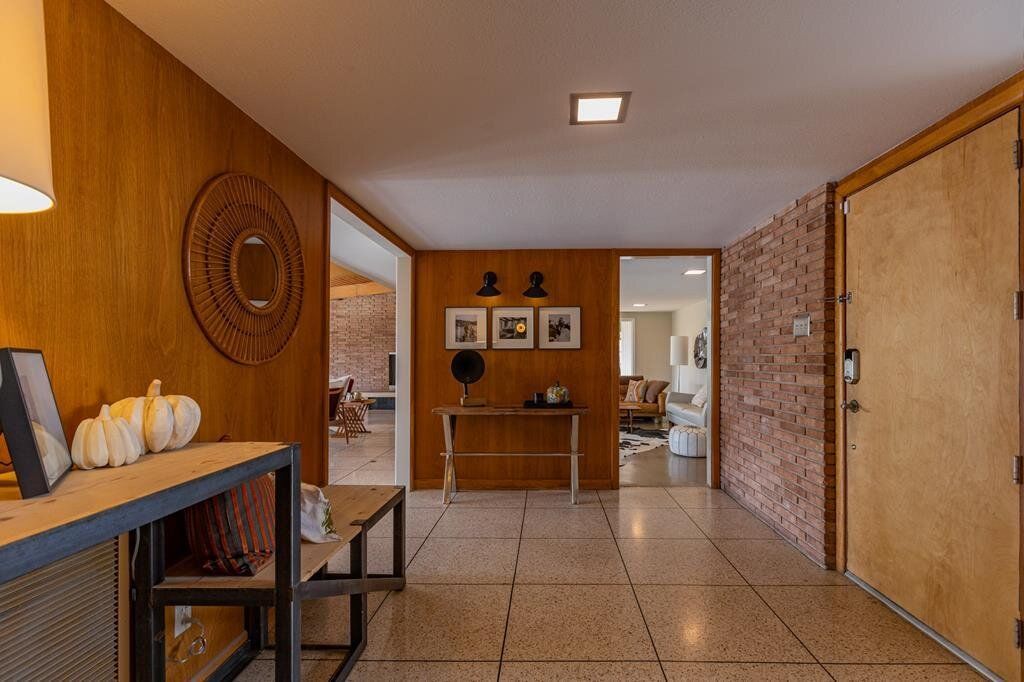 Red brick continues inside, uniting with wood and tile to offer a calm, neutral color palette.

Inside, the residence offers more than 4,000 square feet of living space. A generous entryway opens up to the primary gathering areas, where vaulted ceilings enhance the home's grand proportions. Large, wood-trimmed windows invite plenty of natural light inside, while also framing views of the landscaped backyard.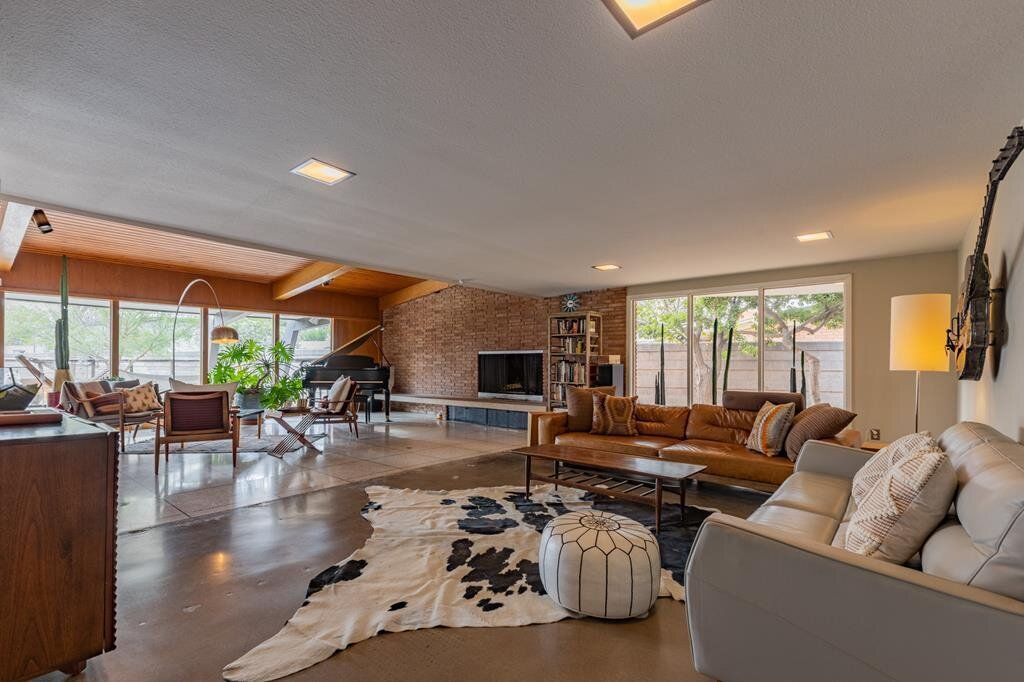 One of the home's main living areas features polished concrete floors.

Nearly every room of the house boasts original character, whether it be exposed brick, tongue-and-groove paneling, or refinished hardwoods. Sliding glass doors allow for seamless indoor/outdoor connection.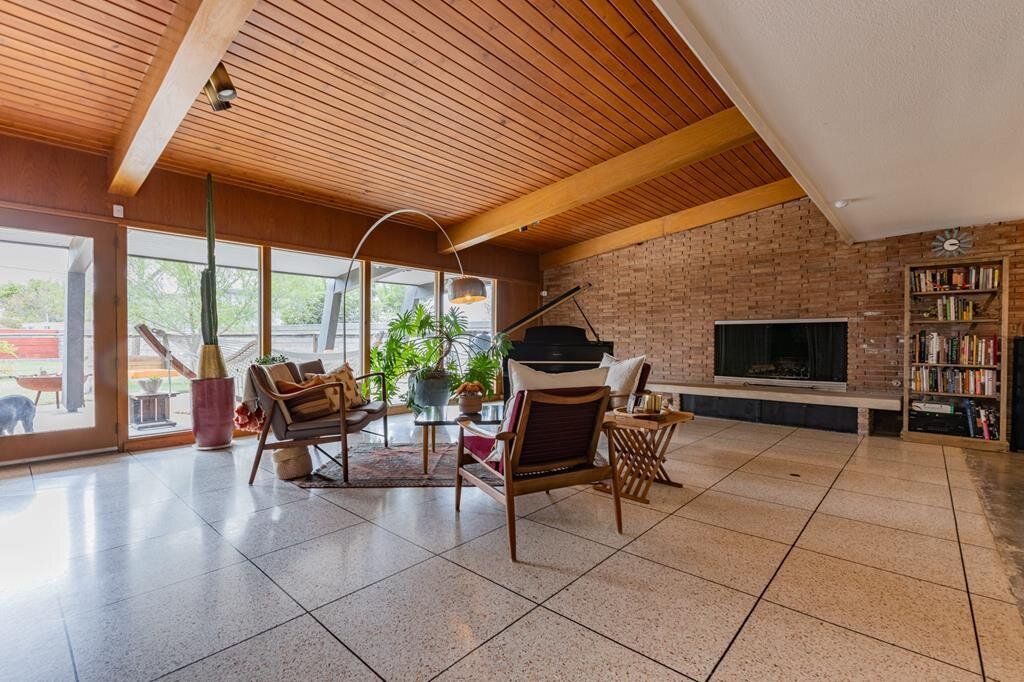 Expansive glass doors extend the living room to the gathering area in the backyard. The wood-clad ceiling and exposed beams are original to the home.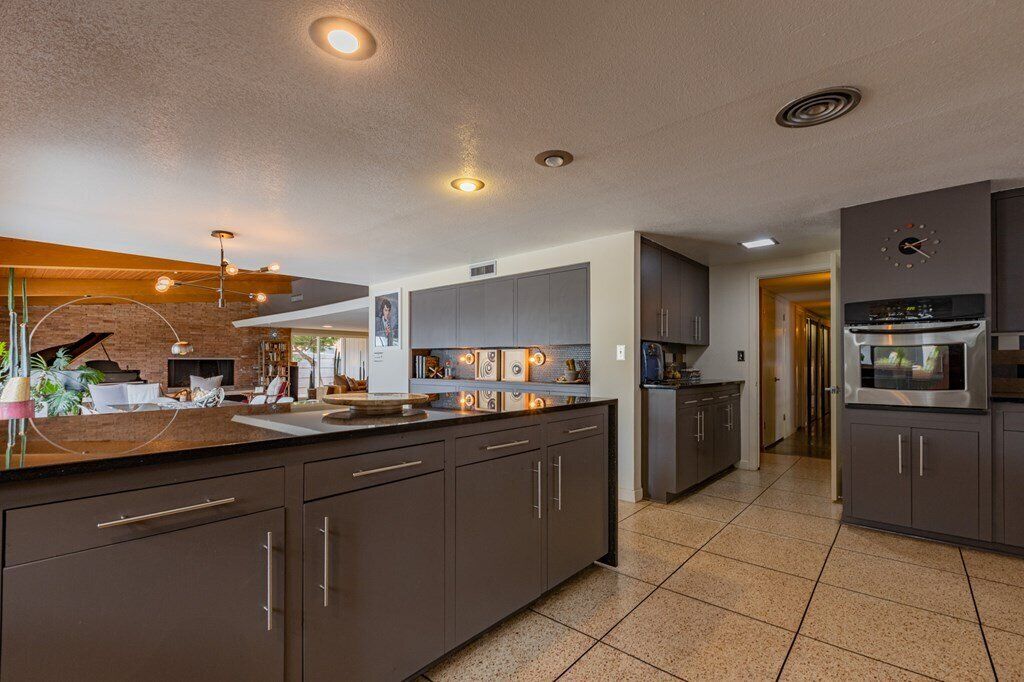 The open-concept kitchen is fitted with custom cabinetry, as well as all new countertops and stainless steel appliances.

Toward the back of the home sits a spacious music studio and lounge, complete with direct outdoor access. The residence also features an airy corner office, as well as a bonus room that currently serves as a gym. The backyard is fenced in, creating a private suburban retreat. Keep scrolling to see more of the property, now listed for $380,000.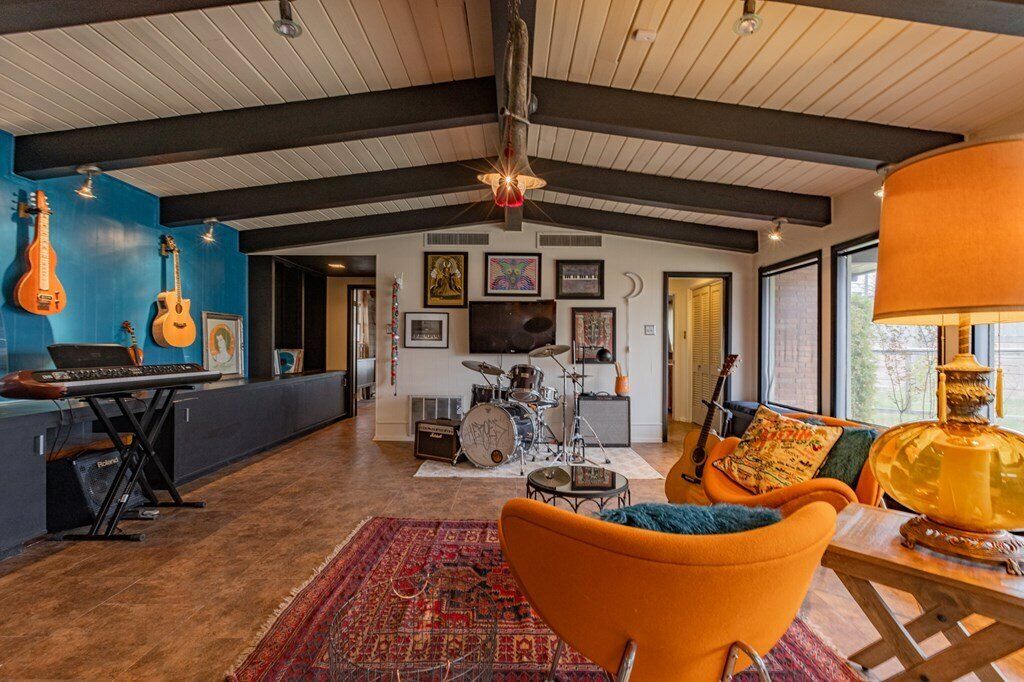 Midcentury style mingles with bohemian details in the music studio/lounge area.




Another view of the lounge space highlights the room's impressive sense of space.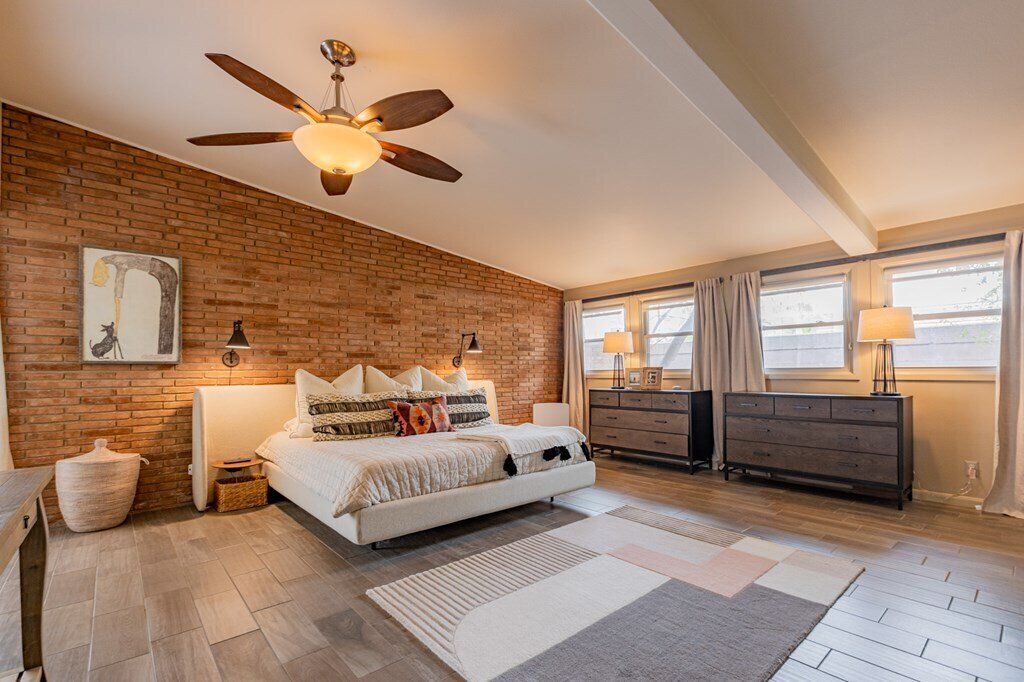 In total, the home offers five bedrooms, including a spacious primary suite.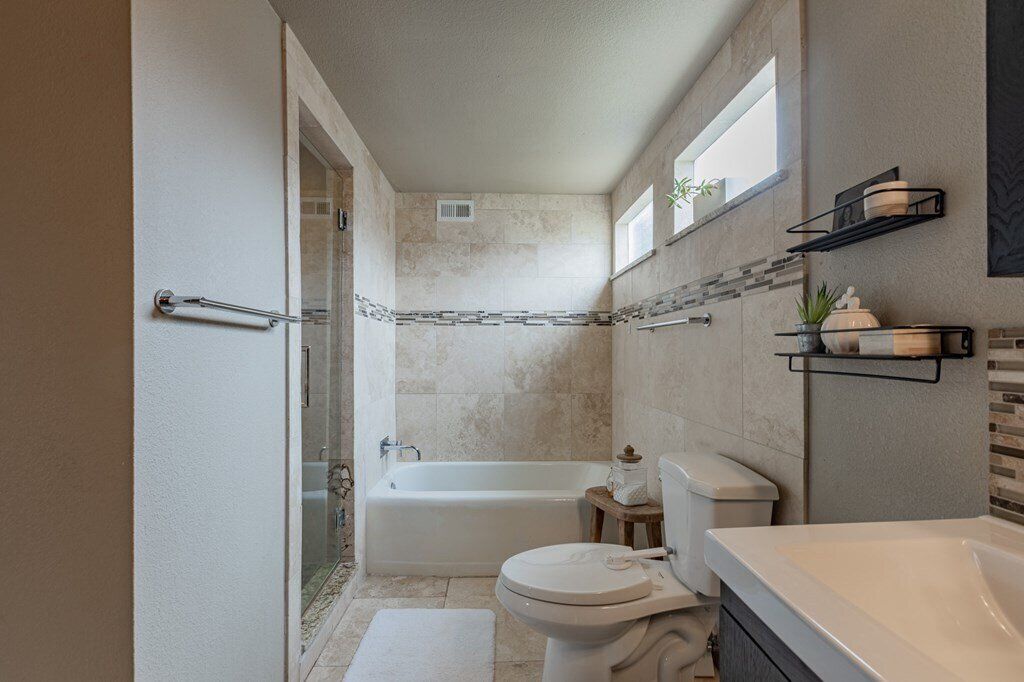 All of the three bathrooms have been fully remodeled.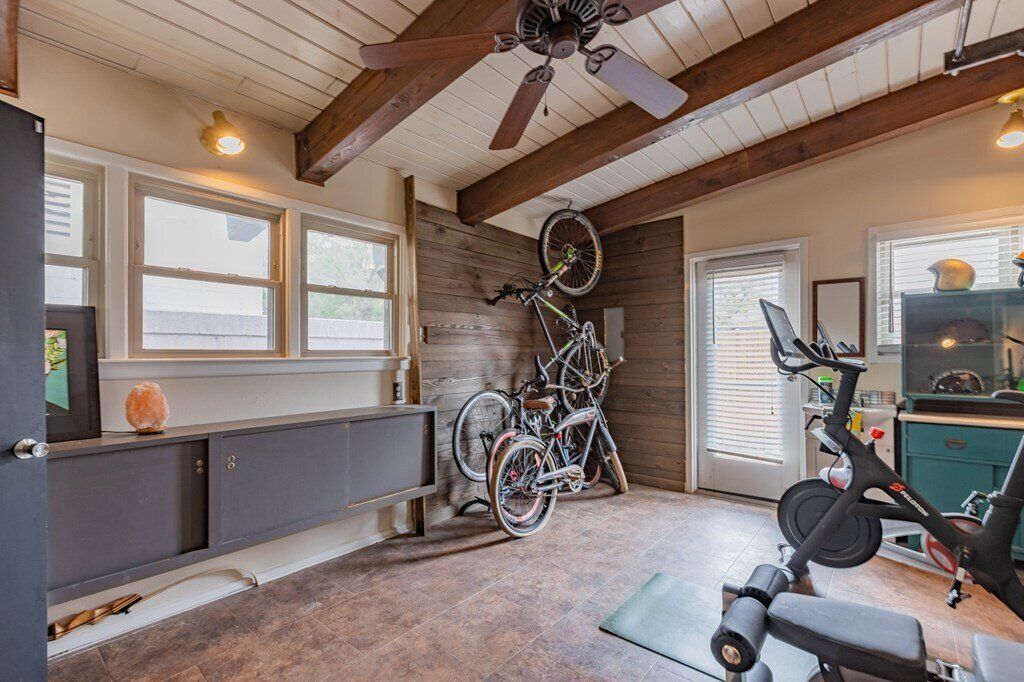 While currently being used as a gym, the bonus room can also be converted into a guest suite, complete with a separate entrance.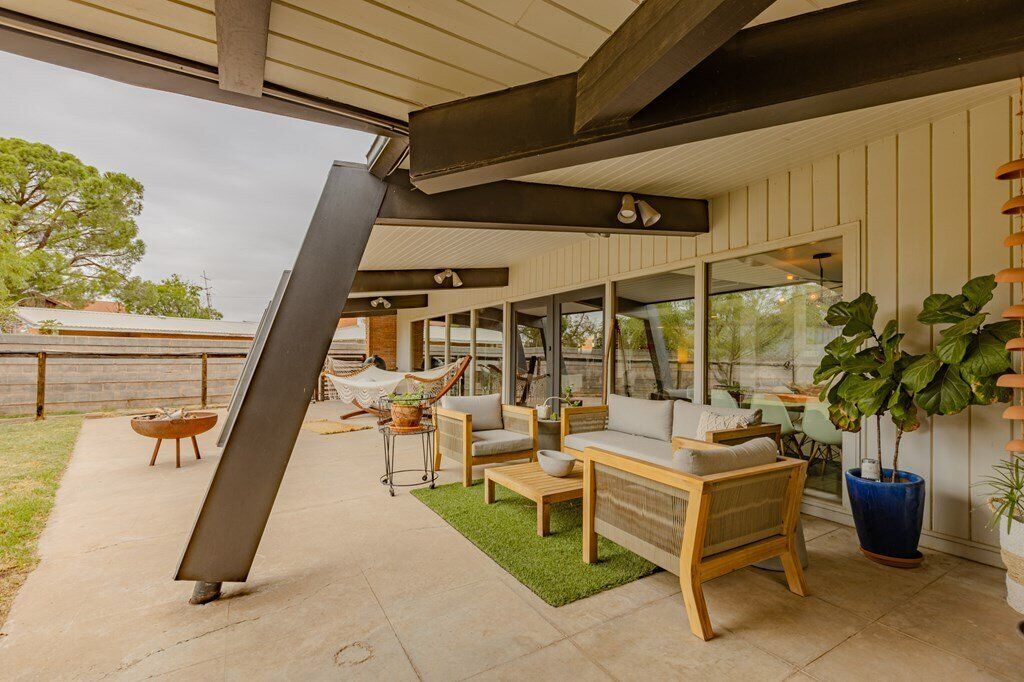 In addition to serving as a captivating focal point, the exterior steel beams also help to create a partially covered lounge area in the backyard.