Walls


Paint the walls a vibrant ochre beige colour. On the main wall, create a textured effect with a special relief paste. This will create the look of rough plaster and add to the ethnic feel of the room.


Fireplace



Update an old fireplace with a fire proof MDF box surround. Decorate with glazed blue tiles which contrast with the yellow tiles.


Shelving



Cut up a 2x8 timber plank to make six floating shelves. Hang these on the rough plaster panels. Display a large ethnic pot on each shelf.


Dining table



Add a 1" MDF top to an existing table. Fix a panel of timber to the middle of the table. Decorate the edge with tightly arranged small slate pebbles set in concrete.



Table and chairs

Position ornate chairs around the table. Dress the table with orange lilies and a bowl of oranges.



Artwork

Paint three panels with gold, yellow and vibrant blue paint. Fade these colours into each other. Hang one on top of the other.



Table lamps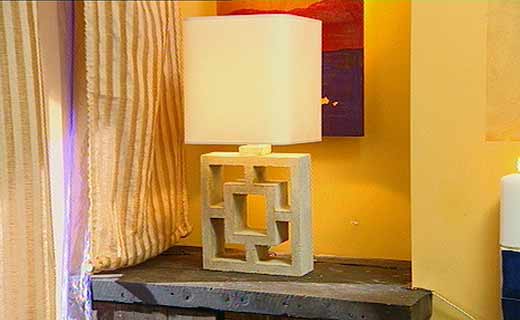 Make two table lamps out of fretwork concrete blocks. Drill out the tops and insert a piece of plumbing pipe in the hole. Fit a bottle top adapter into this.