Elegant living room ideas can encompass so many styles. What exactly doe elegant mean? What first comes to mind for us is lofty ceilings, chandeliers, antique mirrors, ornate pieces, lots of metallics, brave patterns and bold deep hues. But elegance comes in many forms and no matter what your style or size of living room you can blend in some classic elegant vibes.

From quick switches like hanging an eclectic gallery wall, to updating your space with a new elegant color palette and brave patterns, we have pulled together all our favorite classic living room ideas to get you inspired to give your space a stylish update...


1. Blend old and new in an elegant living room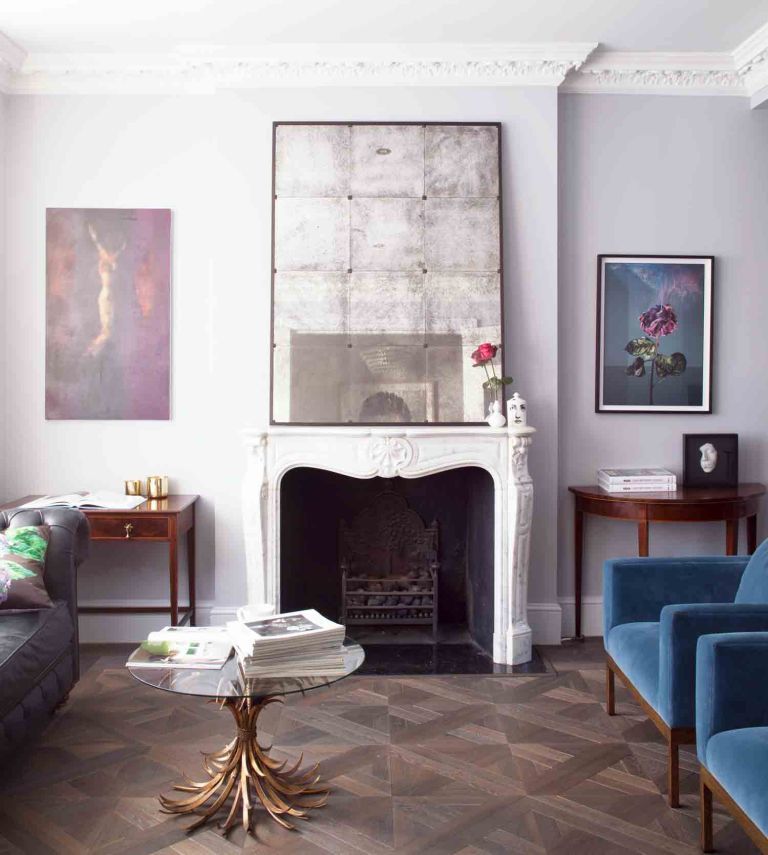 An elegant palette of soft greys and chalky blues unites the elegant living room of this Victorian home, with unexpected pops of industrial lighting and edgy art. The style may look upmarket, but there's plenty of high street mixed in with high-end. The French Regency-style fireplace, which was in the house when it was bought, goes nicely with the new, more contemporary parquet flooring, while the 'aged' mirror and glamorous gold coffee table adds a vintage twist to the Mid-century style seating.


2. Pick sculptural pieces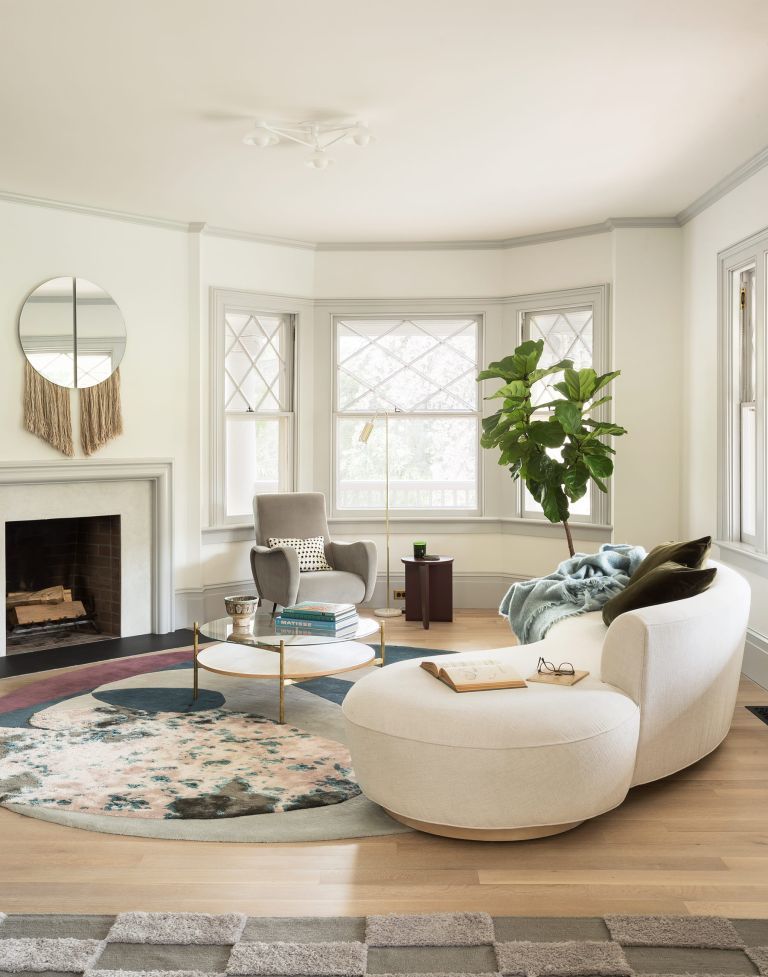 Here a simple white living room is given an interesting, elegant twist through sculptural, rounded furniture and accessories that echo the curves of the space. The sinuous pieces of mid-century designer Vladimir Kagan inspired the shape of the bespoke curved sofa.

'Popular in the '60s, curves are having a resurgence and they're here to stay.' explain Jen and Marr, founders of interior design studio, Interior Fox. 'We are moving away from harsh lines in favor of soft, sumptuous curves as a way of embracing a more relaxed feel. Seen across furniture, rugs and lighting, rounded curves work well contrasted against materials such as brass or even concrete. Adding curves into your living room whether big or small helps soften the feel of the place and it doesn't just stop at décor. Using arches in the doors, windows, or even the ceiling can elevate a room's architectural impact.'


3. Enhance heigh ceilings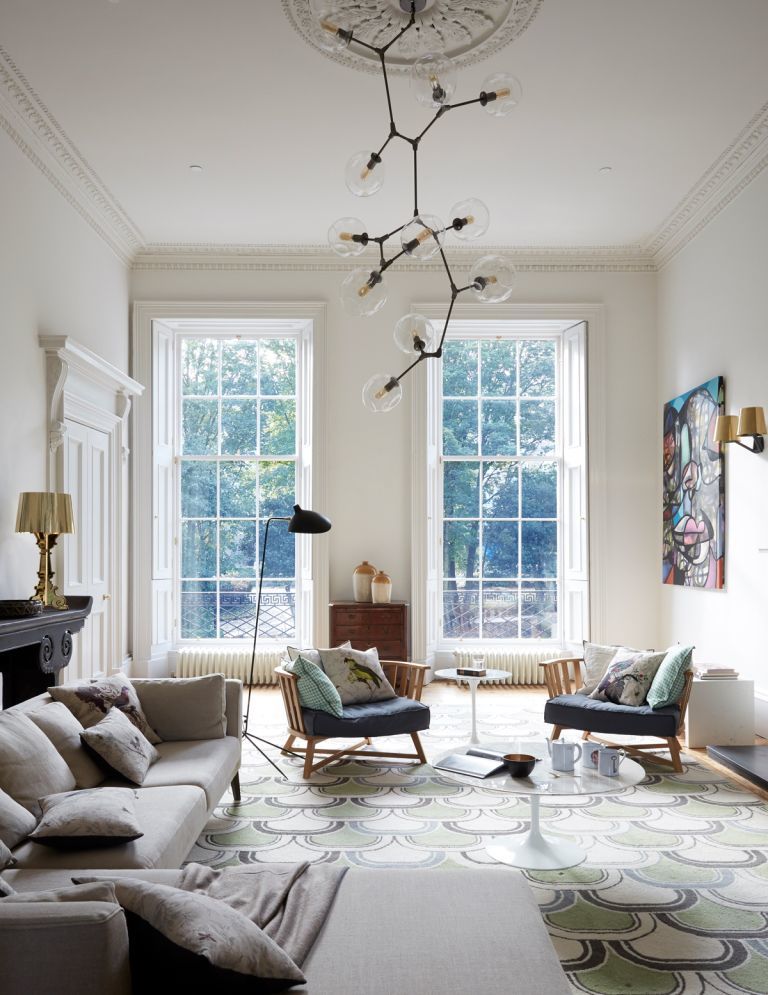 Soaring ceilings and vast windows are just a few of the grandiose features of the living room in this classic Georgian house. A carefully curated mix of antique and modern gives the home a unique style and sense of personality.

Many of the furniture, lighting and artworks were sourced in Scotland, but with Tom Dixon and Matthew Hilton also mixed in – plus furniture picked up in Thailand, the Philippines and China, as well as some classic mid-century pieces.


4. Don't shy away from bold color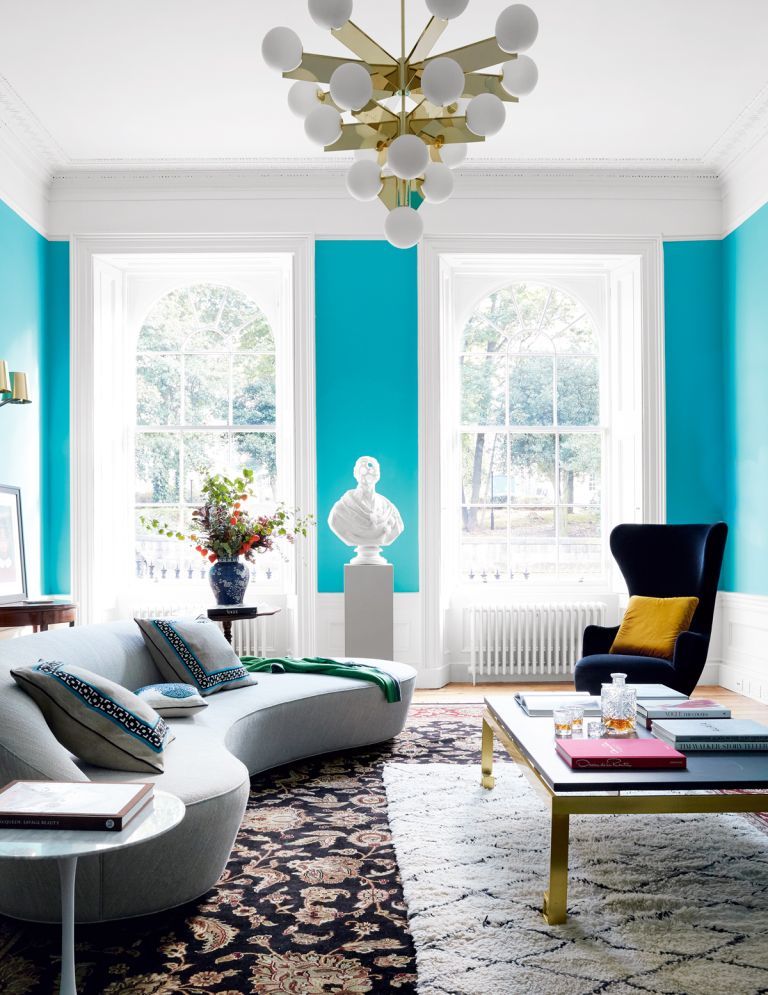 Elegant living room ideas aren't all about neutral color palettes, as this bold blue living room proves. This space is a more playful take on elegance, where modern Tom Dixon pieces are mixed with classic Seventies furniture, and then those Georgian antiques nod towards the origins of the house and give that all-over elegant vibe.


5. Make an elegant living room cozy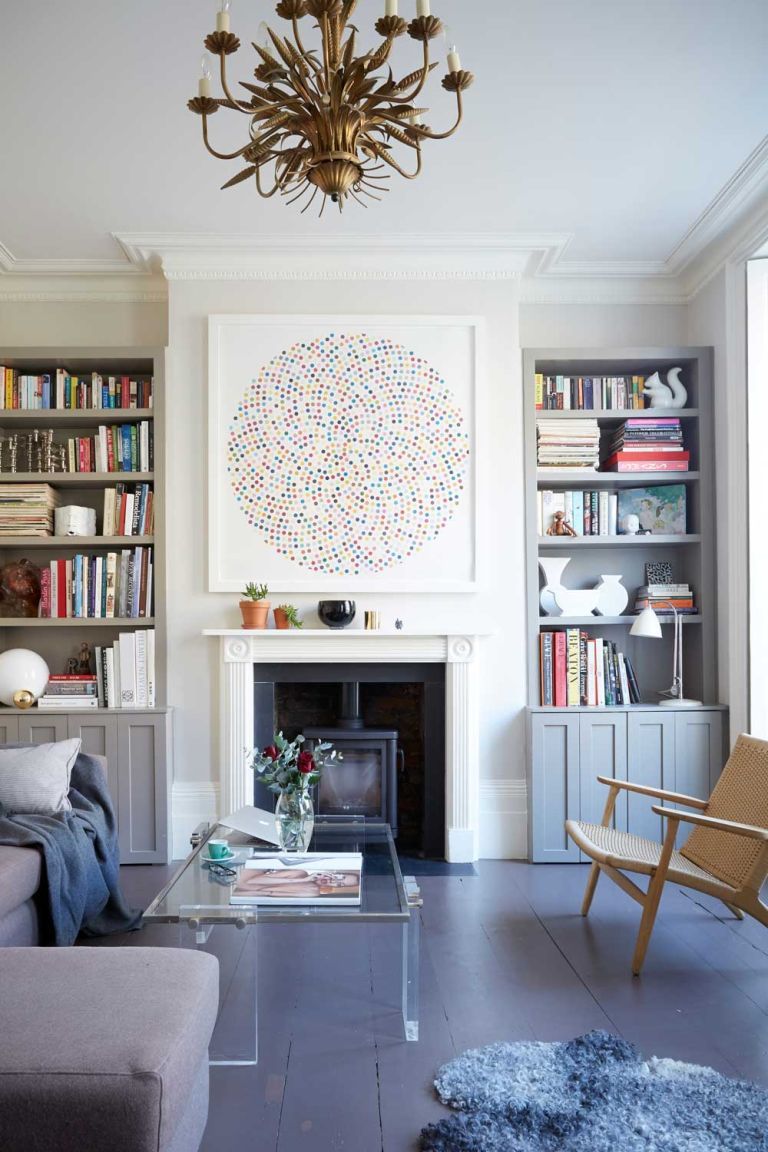 Elegant spaces do risk feeling a bit... stark and while there's nothing wrong with a lofty room, you can inject some coziness and still keep the class. As this living room proves. The painted floorboards, log burner, bookcase and layers of soft textures make the space feel warm and welcoming, and yet this room is clearly not lacking in elegance.


6. Choose a soft color palette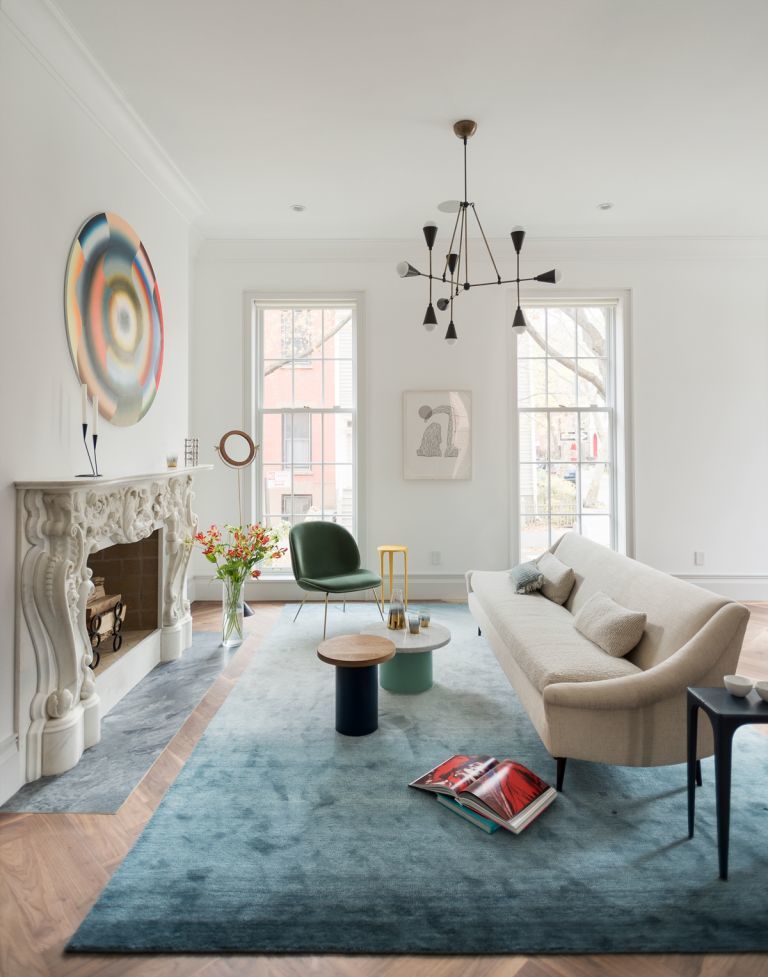 The genteel peach-soft spectrum of pastels in this elegant living room took their cue from its key artwork, an oscillating orb of colors by Charlotte Hallberg. With the shafts of natural sunlight that flow in through the tall windows, this space feels both sophisticated and dazzlingly simple.


7. Pair pale sky blue with crisp white for instant elegance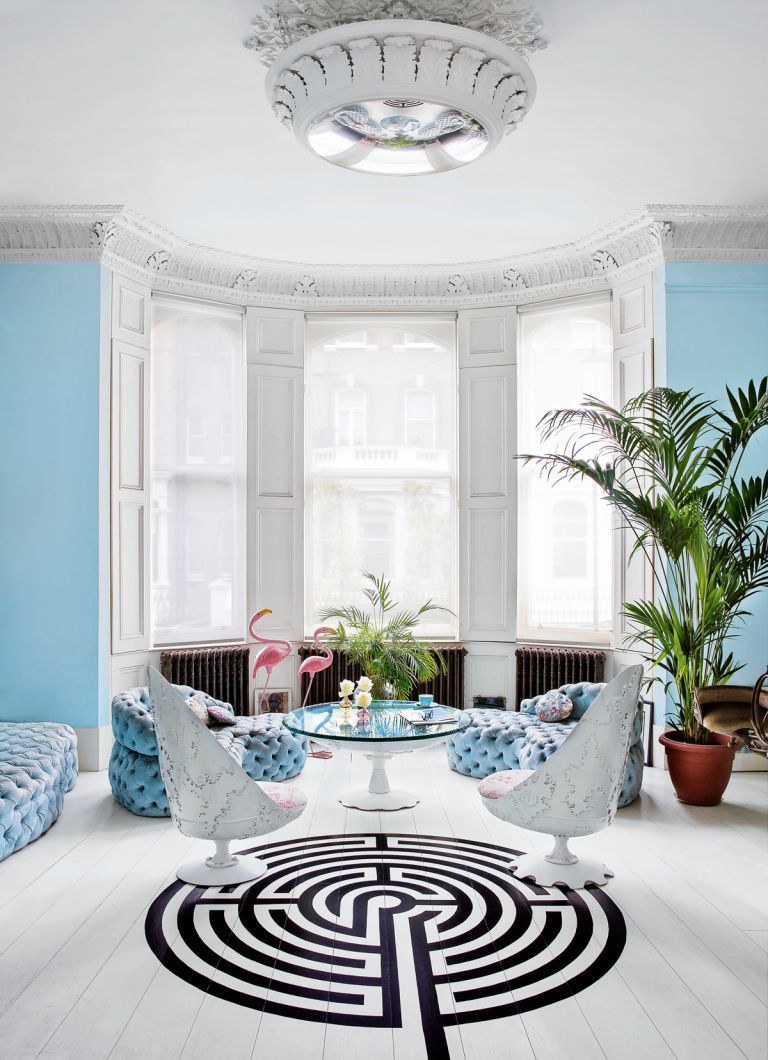 An obsession with Dulux's Blue Poppy shade was the starting point for the aquamarine living room in this Victorian apartment. The swathes of blue envelope the space, like that blissful feeling of being submerged in water. If the aquamarine expanses conjure up the joy of swimming in breakers, the white twists and turns of the moldings that frame all doorways and ceilings are their frothy crowns.


8. Embrace the grand-millennial trend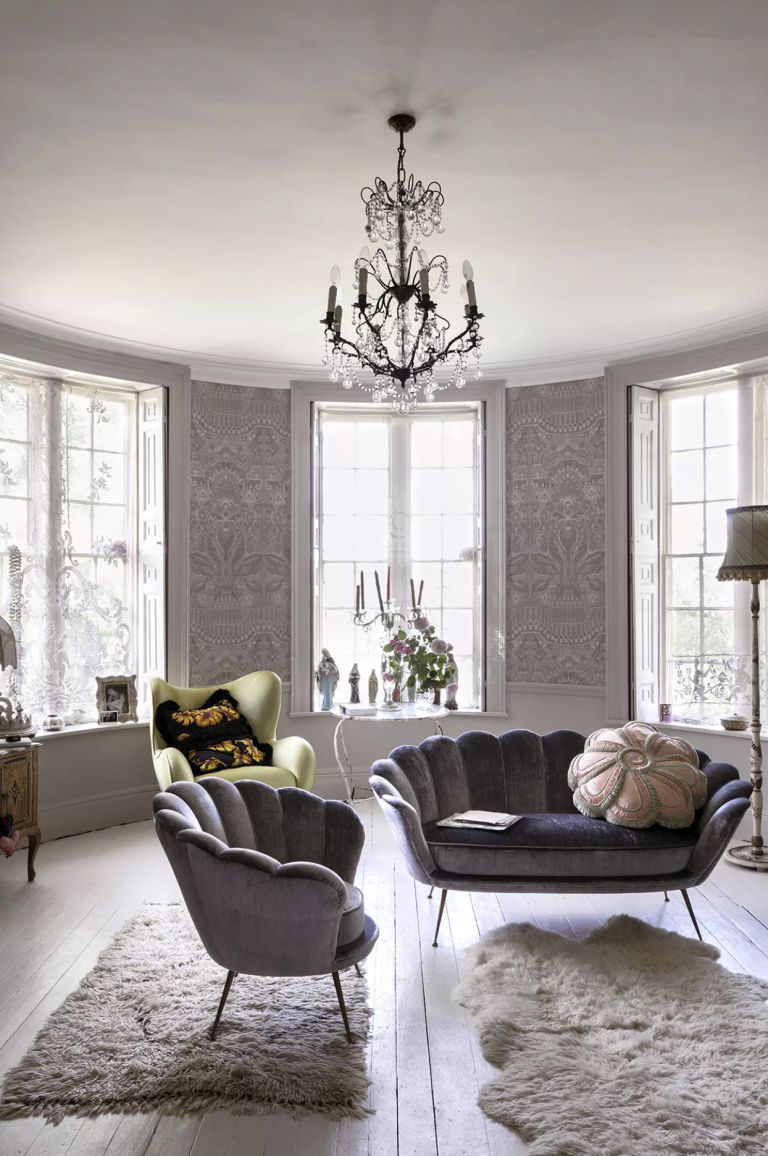 There's an elegant formality to the living room wallpaper that's used here, subverted with tiger print and granny lamps, neon artwork and shaggy sheepskins, chandeliers and chintz, while shell-shaped seating brings a retro vibe to the space. It's an eclectic vintage look that's taken to a new, more elegant level.


9. Create an elegant display with book and curiosities


In this grey living room, a huge disc chandelier injects a bit of Seventies rock 'n' roll to the mix of vintage and modern pieces, creating a gentleman's club vibe. The bookshelves heave with a carefully considered collection of antique leather and hand-painted clothbound books; tucked in between are pieces of vintage coral, framed butterflies, and insects, and old magnifying glasses. Two pieces of raw amethyst on the mantelpiece bring calm. It has a rich mix of tactile materials – velvets, silks, lacquered raffia and gold-flecked cork, plus big sofas and cozy rugs.


10. Mix in Scandi shapes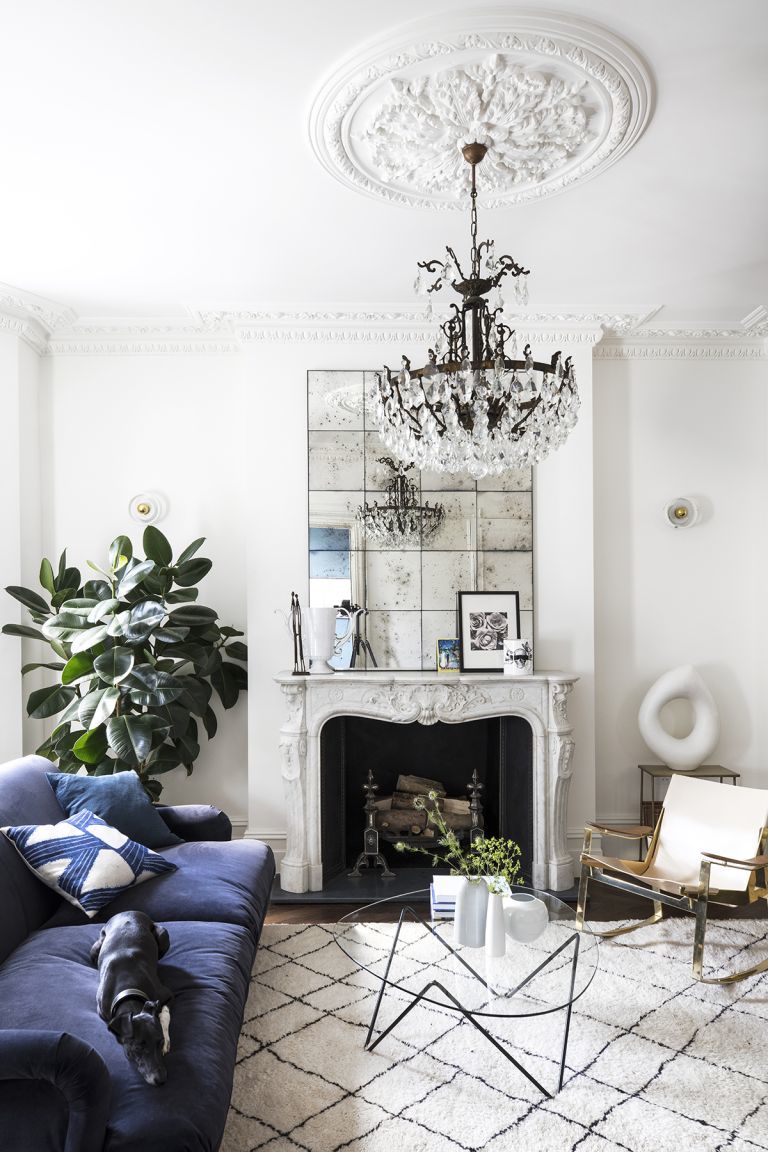 What makes a living room feel full of interest in personality is a mixing of styles, and while elegant living rooms are often associated with vintage pieces, adding in an unexpected piece of Scandi inspired furniture can give the space a modern edge. See how the clean lines of the coffee table and the striking shape of the rocking table both contrast and compliment the opulent original features of the room.