Roderick Vos is one of the talented Dutch designers Linteloo regularly works with. The current collection counts several pieces designed by Roderick, like the circular Nureyev bookcase, the Tulipani chair and the Vanity reading table. For his Downtown 'show case' the designer used the same square metal tube as in Vanity to construct a sky high creation.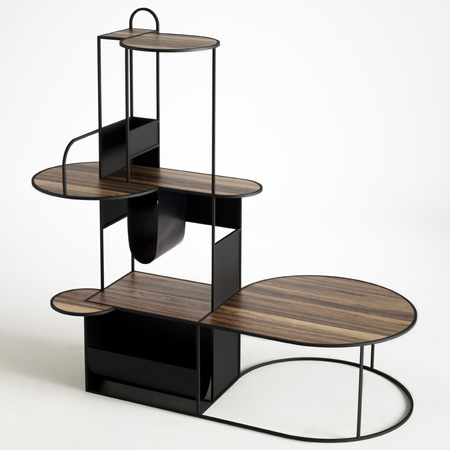 Squaring the circle
The structure of Downtown is made of square tube that partly has been lasercut in several circular shapes. Vos thus created a three dimensional frame with round as well as rectangular surfaces. The horizontal ones are covered with a wood veneer of Ebony or Black Frake; the vertical panels are coated matt black like the rest of the frame. Downtown is available with and without integrated illumination.
Vos about Downtown
"The object is an original and functional interpretation of 'how to store' in this new century. Nowadays we use our living room from floor to ceiling. Downtown lightens up our space as a temple or tower to honor our memories, putting little statues, souvenirs and books. In a way Downtown reminds me of American 'Art Deco' buildings, like the famous Victor Hotel in Miami.