"Dorm rooms aren't just a place where you plop your stuff while you study," explains Jeff Gawronski, product development manager for dormbuys.com, a Louisville-Kentucky-based online dorm furnishings website that launched in March 2006 and currently offers almost 3,500 different products for the dorm lifestyle. "We promote dorm life and products year-round because students are moving into dorm rooms and apartments at colleges all year and need things that traditional retail outlets only carry in July and August."
When it comes to making the dorm bed, he says there's a big difference in what the sexes prefer. "What separates the guys from the girls is their approach to outfitting," explains Gawronski. "Sure, there are still guys who will take any old comforter and sheet set, but our findings would argue that this is less common than it used to be. Guys do care, but not about the same aspect of bedding as the girls do. Where girls care more about color, style and matching it to their dorm decor, guys care about being simple, not corny, and, most importantly, comfortable. They care that it is not too styled or patterned and there are one to three colors max. One mother I spoke with told me, 'My son is more particular than a girl. The comforter needs to be all navy—not navy on one side, but all navy!'"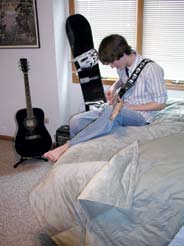 Why shouldn't college students sleep on the same quality (or better) as they do at home?
Something that today's college-bound guys and their mothers agree on is that just like in their room at home, quality is important. Thus, the bar has been raised on the twin extra-long sheet for dorm beds. "College isn't cheap, why should the bedding be?" asks Peggy Allen, who with another mom, Ronda Pierson, founded the online retailer campusbedding.com three years ago. Discouraged by the sheets they found when shopping for their own college-bound kids, Peggy decided to provide students with a great night's sleep while easing parents' minds with high quality, extra long twin sheet sets that fit most of the college dorm beds in the U.S., as well as other bedding essentials. "Our twin extra long 300 thread-count cotton sateen sheets are luxurious yet durable," Allen points out. "Why shouldn't college students sleep on the same quality (or better) as home?"
Allen adds, "Because a lot of guys don't use top sheets, we offer a sheet set that includes two fitted bottom sheets and two pillowcases—one for the bed and one for the wash." What colors do the guys prefer? "Dark colors like navy, crimson, mocha and dark sage do very well."
Dormbuys.com started offering soft 220 thread-count cotton twin extra-long sheets "because we believed that students were not happy with what was available in that size," echoes Gawronski. "Our best-selling colors are denim and white. Guys also prefer down comforters with cotton duvet covers, which are easy to wash, and which make their bed a comfortable place to sleep in or relax on."
Cotton Incorporated's Lifestyle Monitor™ data reveal that in early 2007, 33.6% of male consumers said they shopped for towels, sheets and comforters at specialty stores (such as Bed Bath and Beyond), up 11.5 percent over the same time period last year. Internet shopping, however, is certainly on the rise among men (and women) of all ages. Not surprisingly, college-bound guys, in particular, along with their moms, are researching and buying dorm accoutrements online. "The number of sons and their moms going online to research products and shop continues to grow," confirms Gawronski, who points to a 270% increase in sales over the same period last year. "In many cases the mother does the legwork but consults with the son, and they will often look online together. She'll make the purchase after she knows what he wants."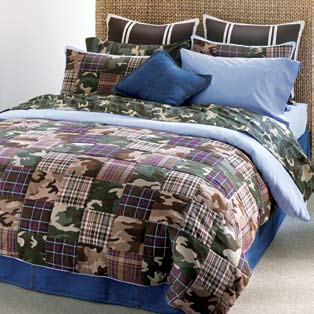 "This year our website is getting seven times more unique visits than last year, and sales are way, way up," comments Allen. "Moms are placing the orders and having the bedding sent home because they want to touch and feel it before their son heads off to school."
The proliferation of dedicated dorm shops in stores and on retailers' websites is understandable. The dorm lifestyle is big business. Last year parents not only emptied their wallets for college tuition and room and board, but also forked over $37 billion in back-to-college purchases, according to the National Retail Federation. The average first-year college student spent nearly $1,200, largely on electronics and dorm furnishings, and the numbers are expected to escalate this year.
JCpenney.com's Dorm Solutions Shop offers Home Expression 250 thread-count cotton print sheets and coordinating cotton comforters in twelve solid colors, and 300 thread-count Splash sheet sets touted as "cool, comfortable and colorful." Thecompanystore. com is offering 100 % cotton Stone Washed Denim Bedding with coordinating cotton sheets that looks very guy-friendly.
At Macys.com's Dorm HQ Outpost, Tommy Hilfiger is a featured brand for the guys and girls. "The school market is half of our business," relates Jared Clark, vice president of creative services at Tommy Hilfiger Home. "We identify with what the male shopper wants, and we've always had great success with dorm bedding by offering quite a few guy-friendly styles in our mix-and-match program for the top of bed that includes coordinating 200 thread-count cotton sheets. We were the first company to offer preppy, youthful-inspired printed sheet sets on T200. Tommy H is very generic, more conservative and above all comfortable. Guys like simple plaids and stripes, colors like navy and red are big sellers, along with khaki and a red, white and blue combo."
Clark adds that the company recently reintroduced its "Campus Kit" from five years ago comprised of comforter, 200 threadcount cotton sheets and pillowcases. "Because madras is hot, we've also reintroduced our pieced madras pattern for top of bed, in more moody colors, featuring a pieced camouflage pattern because there isn't a lot of camo out there. Solid 200 thread-count sheets in a range of colors coordinate. We also recently shipped an oxford program with ten novelty print sheets in T200."
"Before I started college, I did some research online and went shopping with my mother for my dorm bedding in one of the big specialty stores where there weren't a lot of choices," recalls Jason W., now a senior at Tufts University in Boston. "Today's freshman class is really lucky."

This story is one in a series of articles based on findings from Cotton Incorporated's Lifestyle Monitor™ tracking research. Each story will focus on a specific topic as it relates to American consumers' attitudes and behavior regarding home fabrics, decorating, fiber selection and many other timely, relevant subjects.