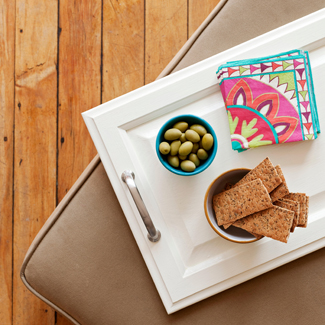 Tray Chic
Old cabinet door destined for the landfill? Don't be so closed-minded! With paint and a pair of drawer pulls, a salvaged cabinet door makes a great tray for entertaining. Fill any holes in the board with wood filler from a hardware store; let dry at least two hours. Sand and paint the surface; pre-drill holes and screw in handles of about four inches, as shown.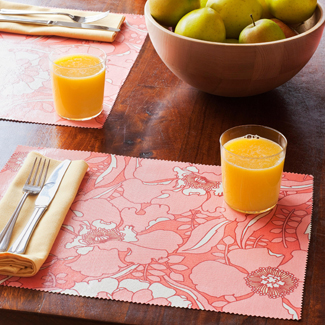 Pretty Practical
Give your dining table a cheery face-lift for fall by making these custom, easy-care place mats. To start, gather fabric (heavier, "home decorating" weight, like the Amy Butler design shown here from amybutlerdesign.com, works best), pinking shears, and iron-on vinyl topping, which is available at most fabric stores. Cut fabric into 12"-by-17" rectangles; iron. For each mat, cut two rectangles of the same size from the vinyl. Following package directions, iron a piece of vinyl onto each side of the place mat; use pinking shears to trim the edges of your mats. You'll be able to sponge away any spills.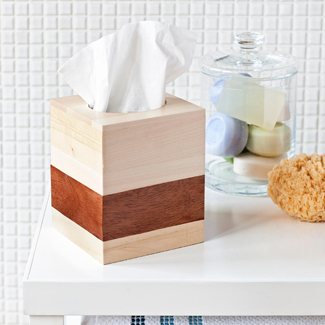 Clever Cover
Disposable tissue box designs tend to (pardon the pun) blow. Here's how to DIY an attractive topper that'll last: Pick up an unfinished wooden tissue box, X-acto knife, wood veneer, decoupage glue (like Mod Podge), and polyurethane from a crafts store. Coat the box with polyurethane three times (follow product instructions). Cut four two-inch-wide strips of veneer, one to fit each side of the box. Glue on strips (ours are an inch from the bottom), coating both sides of each strip with glue, as well as the entire box; let dry. For a smooth finish, add a last polyurethane coat.