If you're anything like us, you love to eat and spend time with your friends and family, preferably against a stylish backdrop. Translation: Your happy place is probably the dining room. To make sure it's in tip-top shape for dinner parties and everyday use, we scoured the archives and rounded up over 65 of the chicest dining room decor examples in a variety of styles, from modern to industrial, traditional to eclectic, shabby chic, and more. Whether you want to redecorate or you simply need a little inspiration, we've got a designer-approved blueprint for you to recreate at home. Get ready to take notes on the stunning dining room decorating ideas that are sure to impress both you and your dinner guests (no matter how inedible the pot roast is-kidding!).


Use Durable Fabric

Interior designer Welsey Moon clustered some lucite tulip chairs with upholstered seats around a casual Corian-topped table base. These pieces lighten the more formal mood of the deep blue velvet banquette, parquet floors, and antique mirror. And while that blue velvet may look fancy-schmancy, it's actually upholstered in outdoor-friendly fabric so it's super durable.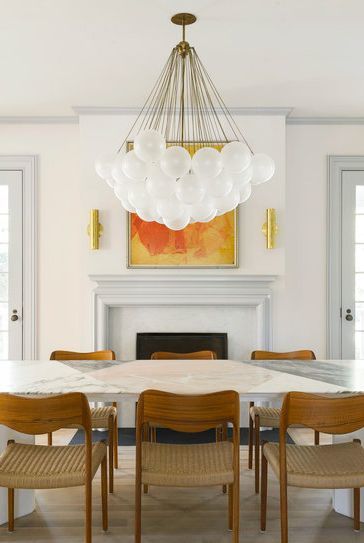 Spotlight a Fireplace

Designed by Studio DB, this dinning room is such a nice blend of warm and cool tones. The pale blue-gray and crisp white walls and light fixture as well as the color-block marble table are energizing while the artwork, chairs, and sconces bring in warmth. The fireplace itself also delivers, creating a cozier environment.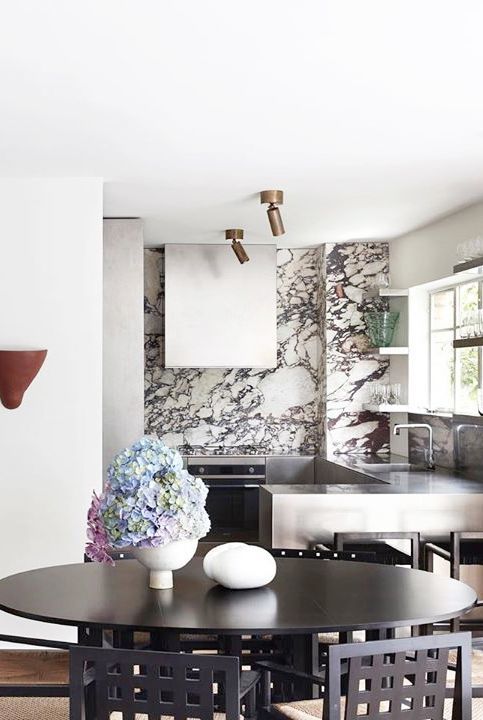 Create an Eat-In Kitchen

Tamsin Johnson used sleek stainless steel and striking marble in this kitchen, giving the eating area a glamorous and modern backdrop to compliment the dining room decor. It feels more formal than a typical kitchen nook, allowing the homeowners to use it as a proper place to entertain.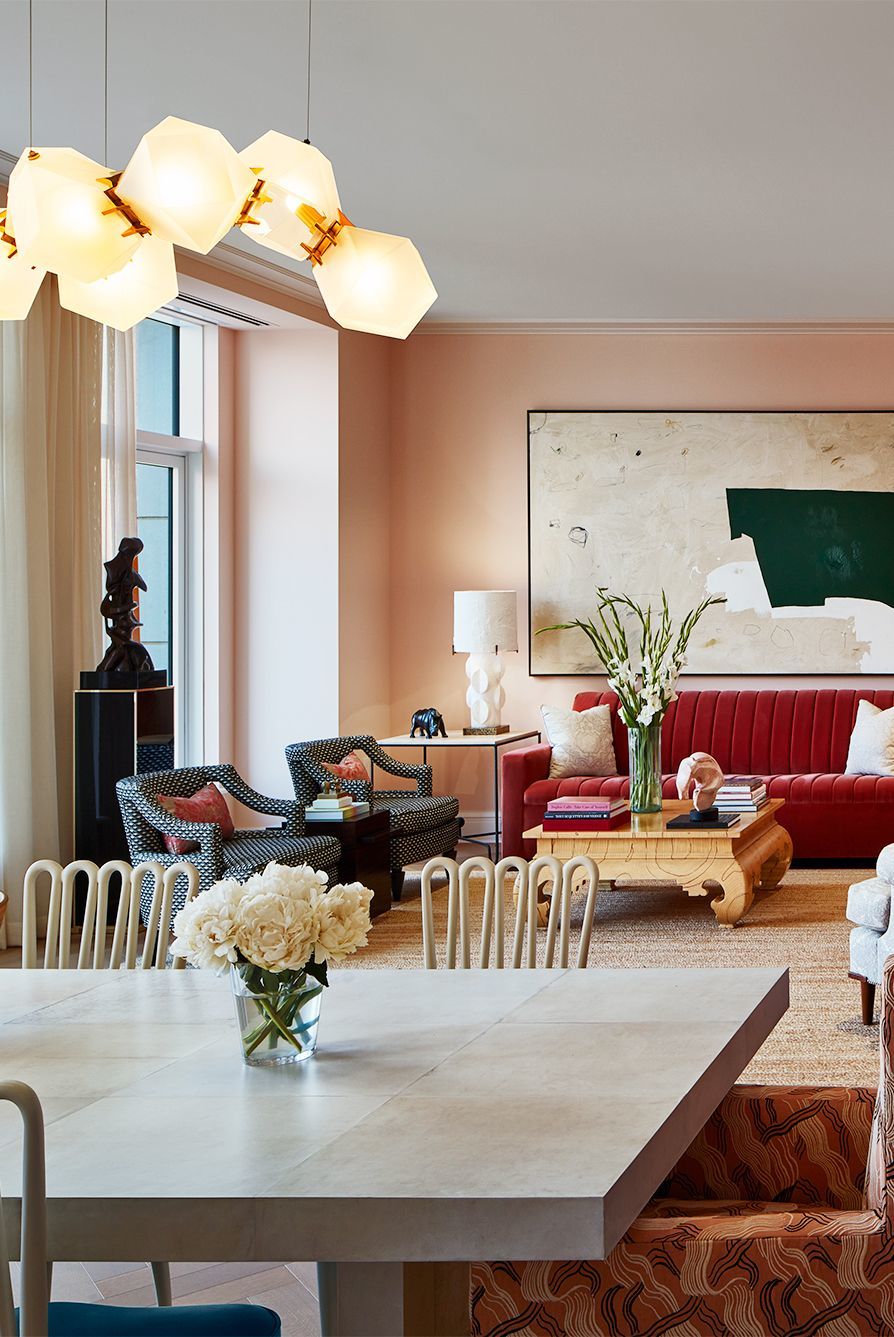 Create Flow Between Spaces

The open floor plan in this Chicago family apartment designed by Bruce Fox called for cohesion between the dining and living room areas. That soft peachy paint and deep pink sofa are reflected in the printed armchair at the head of the dining table and also mimic the rosy glow of the pendant light.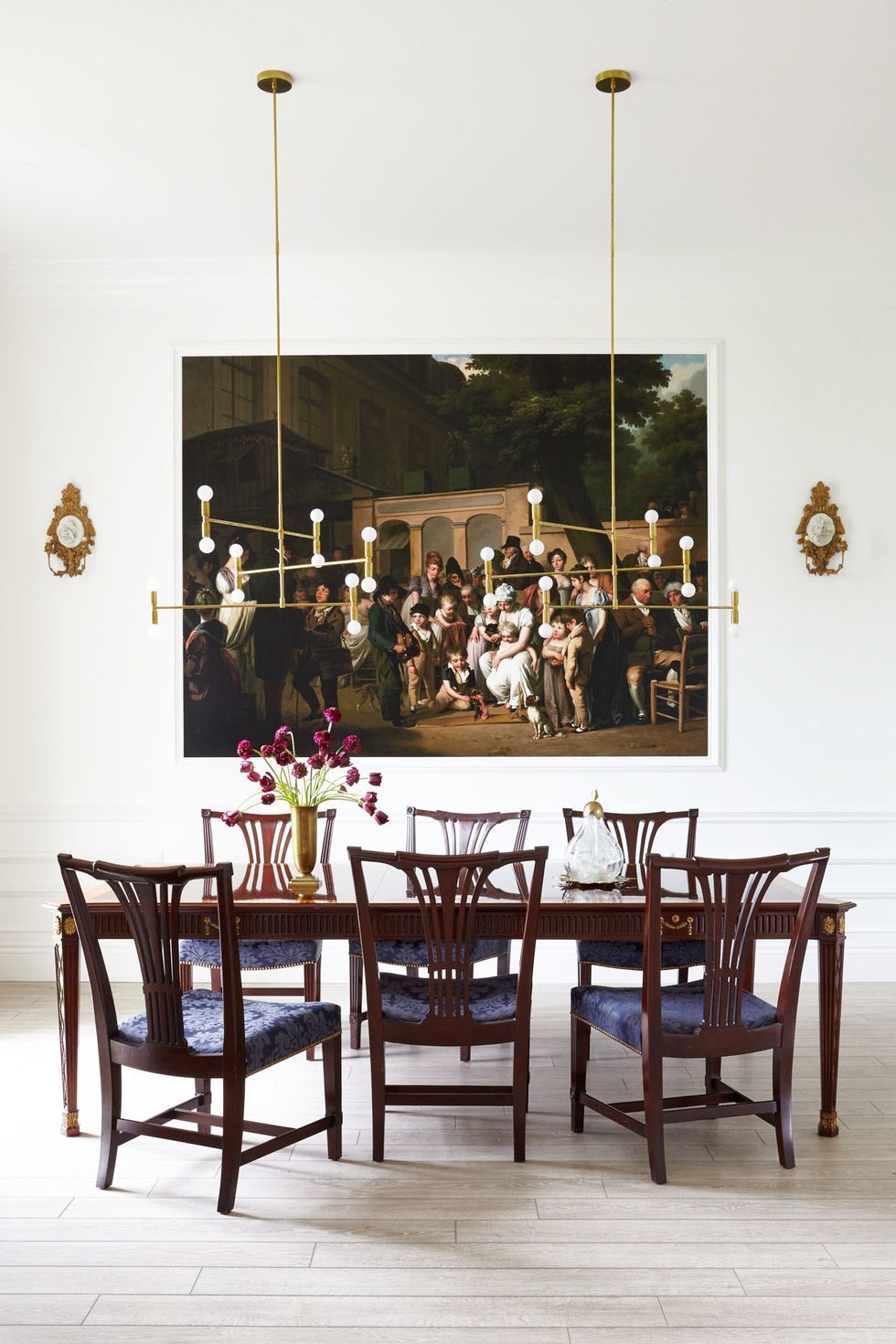 Create High Contrast

In this dining room by Raji RM, the large-scale mural anchors the room and sets the tone. While it speaks to the classic dining set and sconces, it feels fresh against the crisp white coat of paint, blond wood flooring, and pair of contemporary pendants.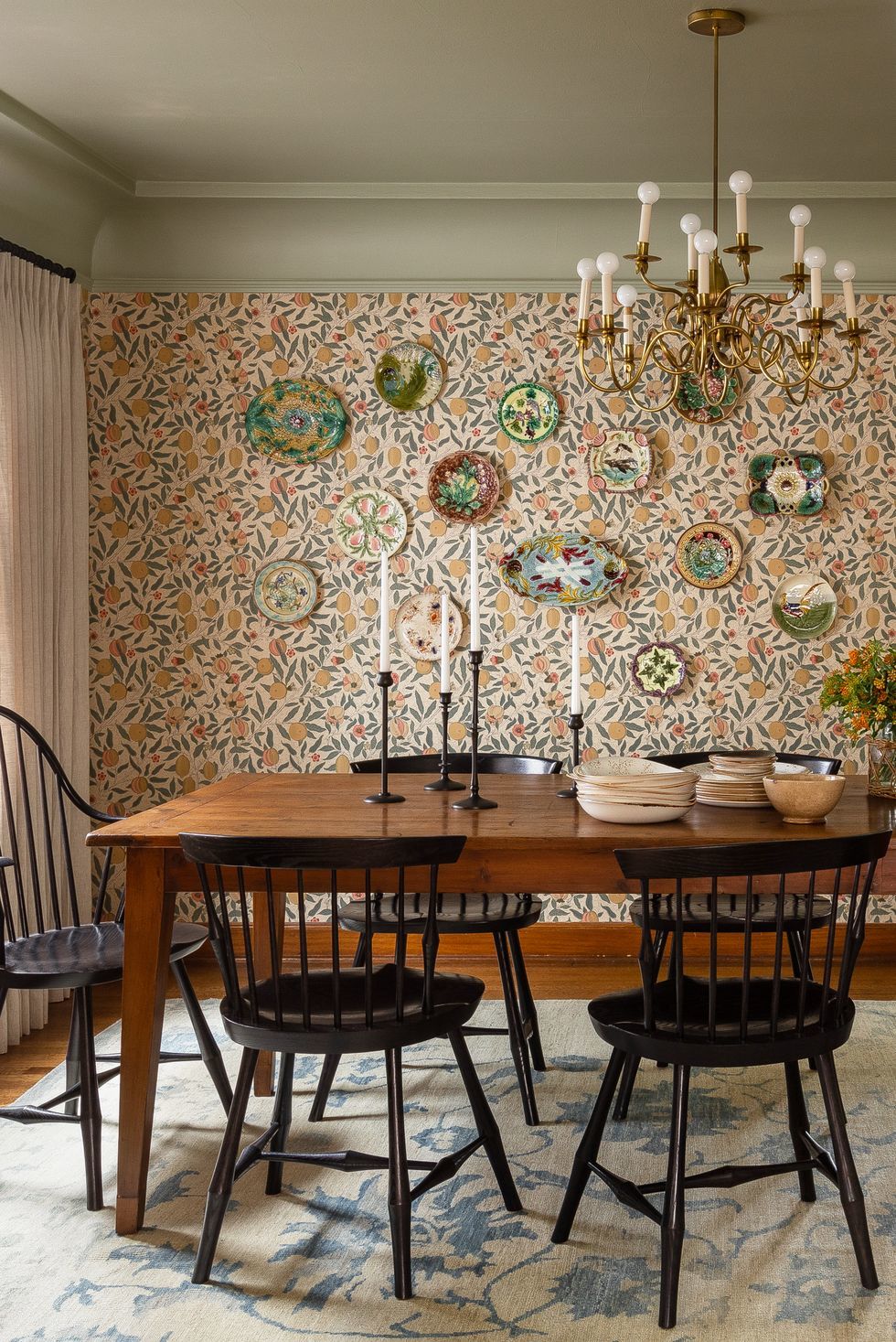 Rework Vintage Items

Though contemporary in look and feel, this dining room designed by Heidi Caillier also boasts a lived-in, historied character. That's thanks to the vintage pieces, from the carpet to the light fixture, as well as the nods to farmhouse style, like the display of decorative plates and wooden table.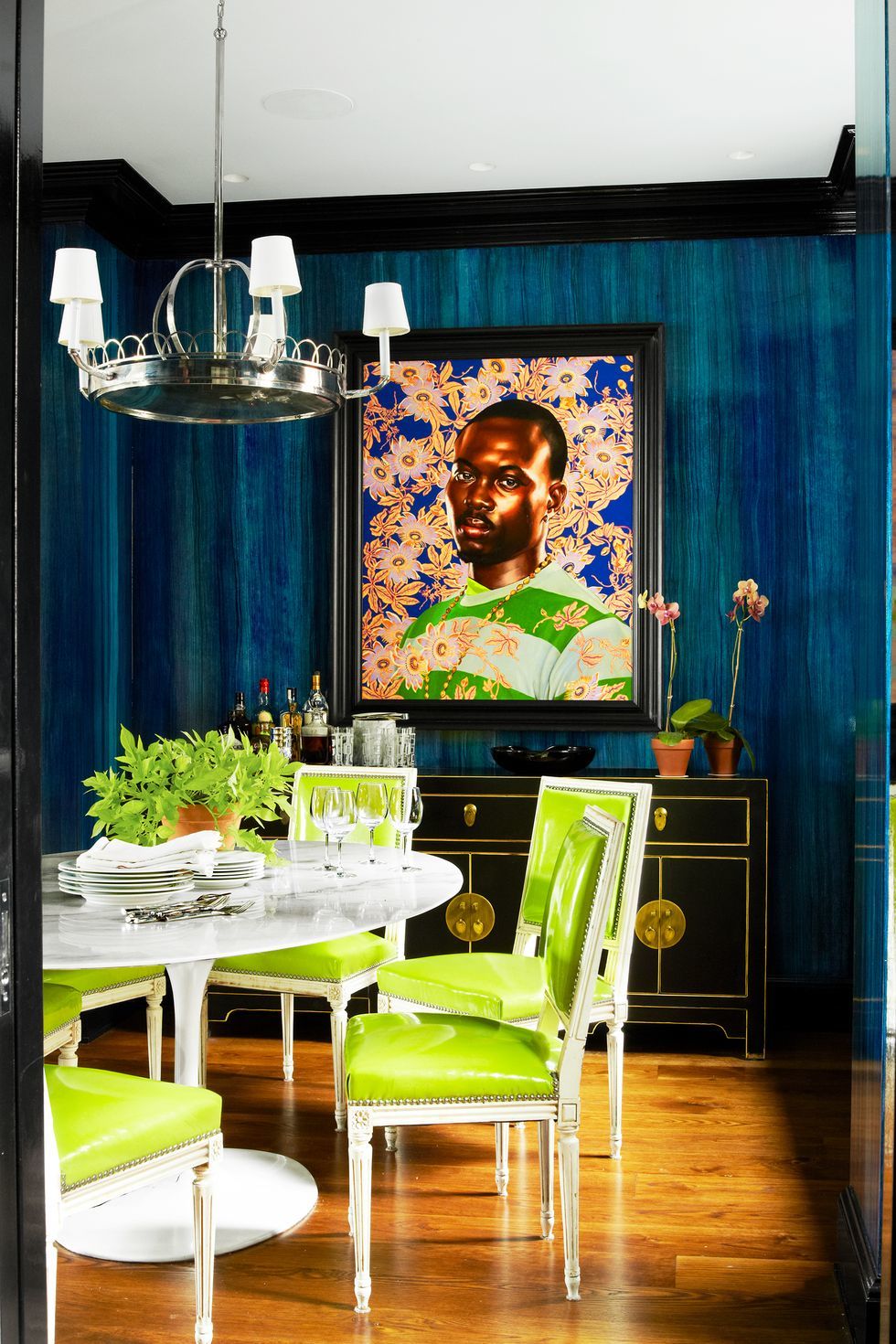 Put Your Best Work On Display

If you throw a lot of dinner parties, your dining room is the perfect place to put your best artwork on display. The striking Kehinde Wiley painting defines the color scheme in this dining room designed by Miles Redd, from the reupholstered lime green chairs to the wallpaper and moldings.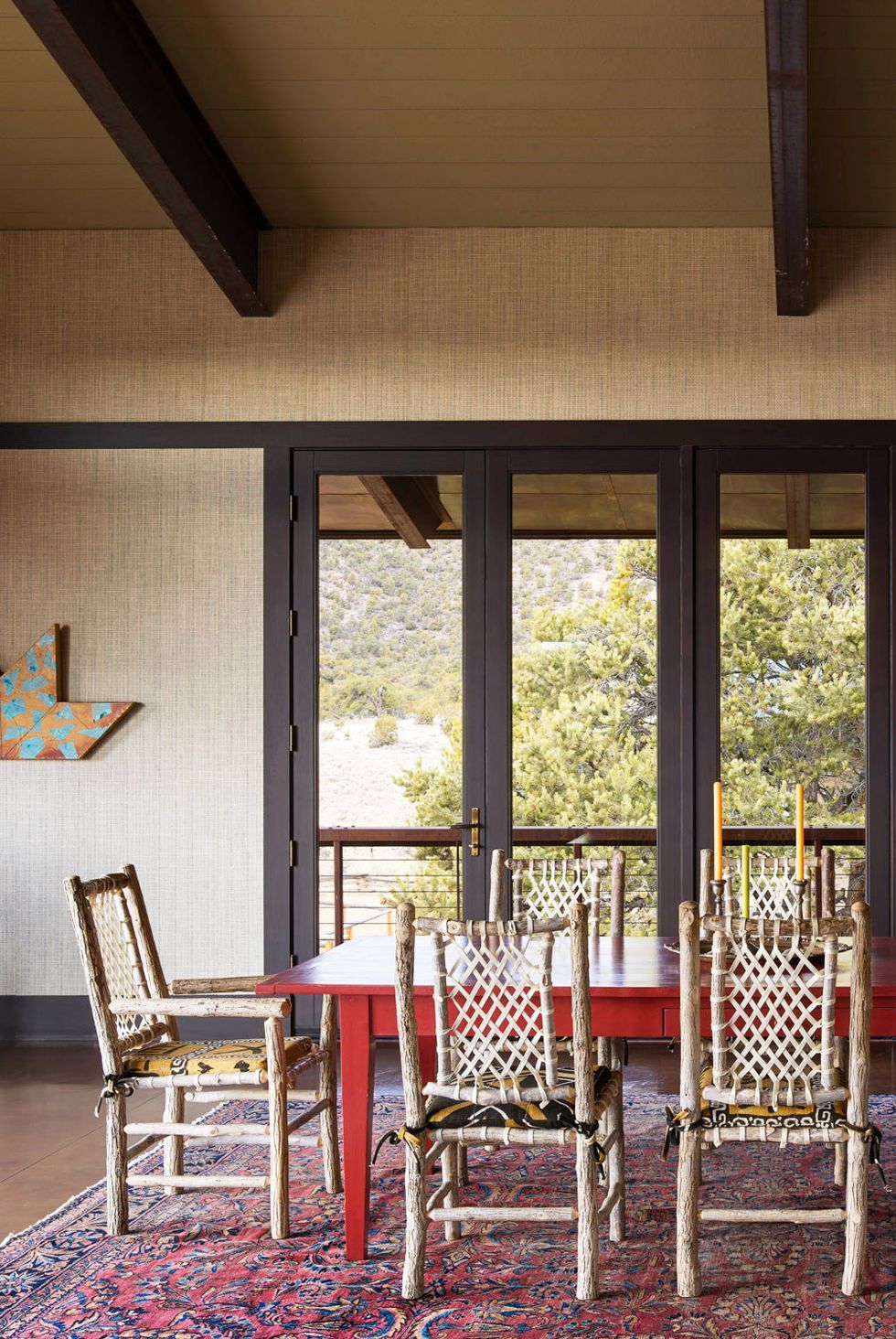 Don't Be Too Precious s

New York City-based architect and designer Anik Pearson gave this remote Utah dining room a perfectly balanced personality. The polished details and fine craftsmanship along with bold pops of color, and beautiful artwork elevate the more rustic qualities without looking out of place or too precious. The end result is a refined ranch style.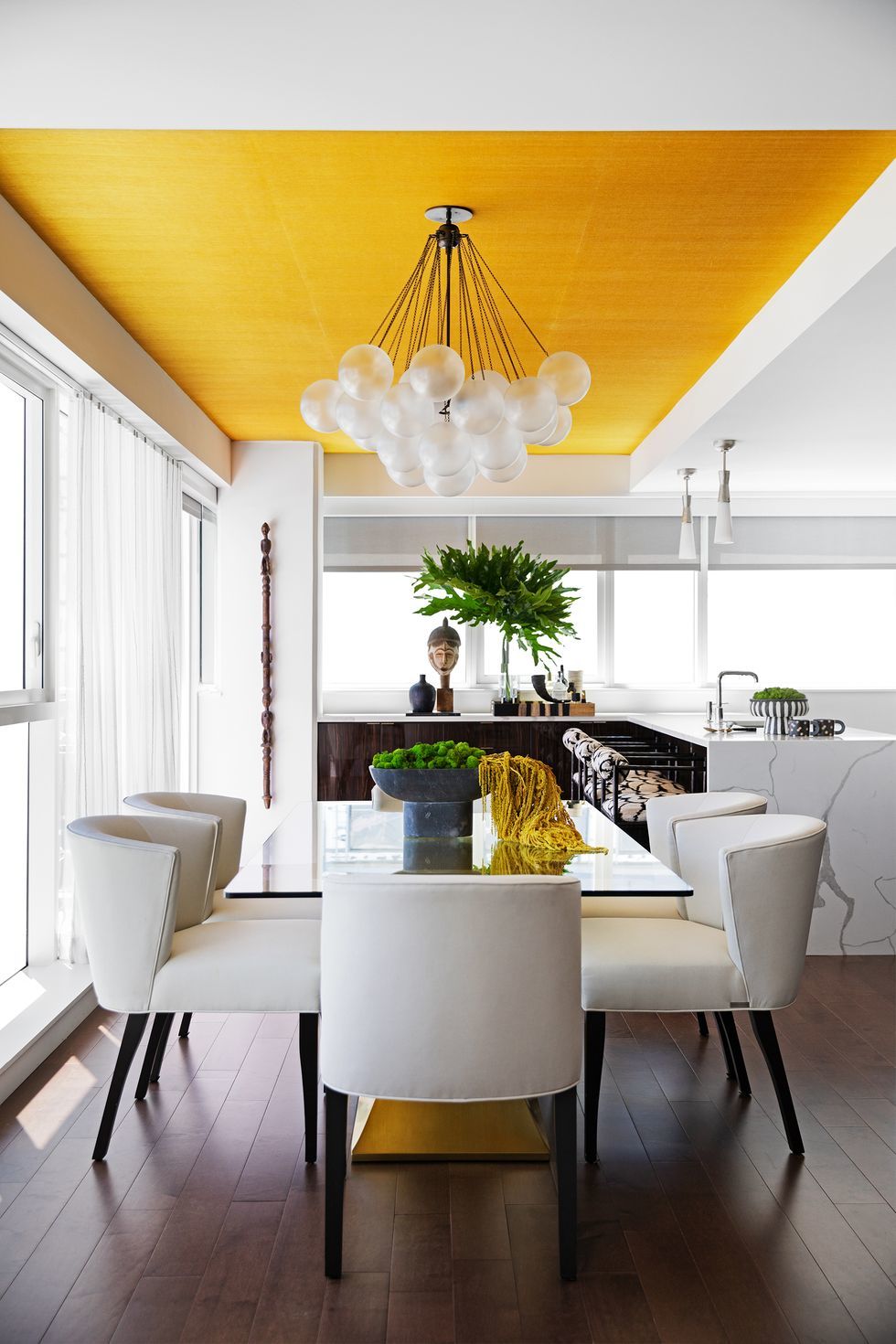 Set a Mood

Designer Keesha Franklin of Halden Interiors was tasked with redecorating this home of a recent widow, so she took advantage of every opportunity possible to brighten up and make a place that inspired healing and hope. "She needed it to be a happy place," says the designer. This included the dining room, where a yellow ceiling energizes and lights up the room like sunshine.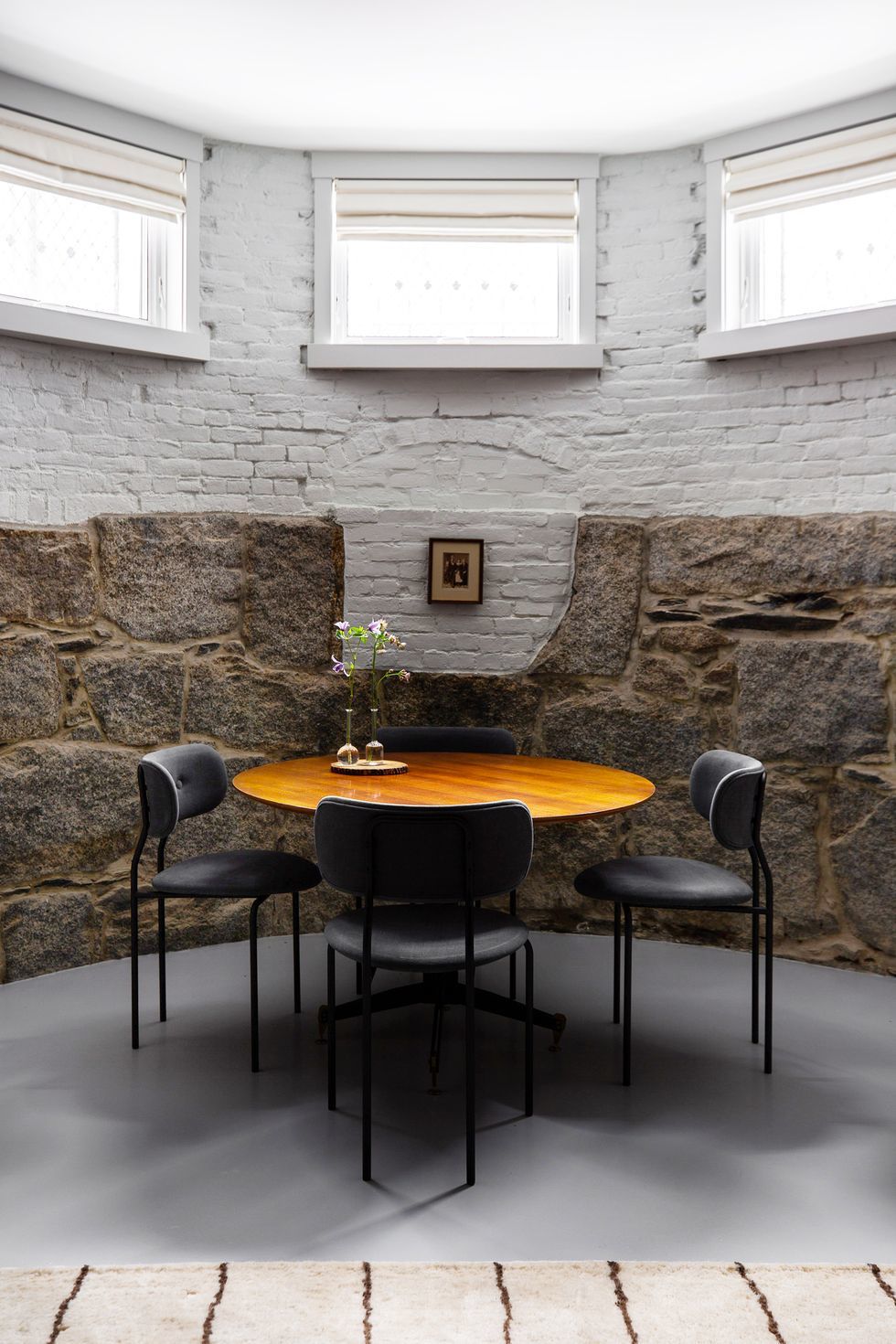 Rehab Your Basement

Designer Jae Joo gave this cellar in a Boston rowhouse a sleek upgrade with polished dark gray and black dining chairs and floral vases atop a nondescript table. She also painted the exposed brick and concrete floors a light gray and added a laid-back, neutral-hued striped rug. Rather than fighting with the bones, like the exposed stone, the new pieces complement them.