Those of us working from home during this pandemic know that it can be a challenge, to put it lightly. Now, try being in third grade.

As schools around the world integrate or mandate at-home learning, millions of families are adapting-for better or for worse-to the new reality of distance learning.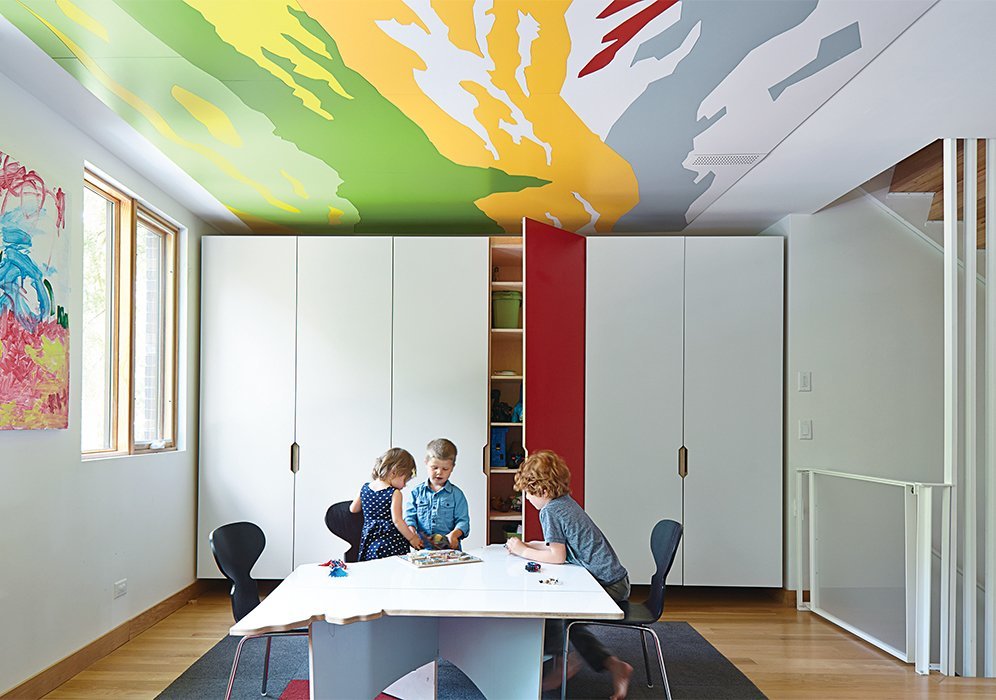 Hufft Projects designed this marker-board table, which was cut in the shape of the state of Missouri.

For most, maintaining life, work, and school under the same roof is less than ideal. But just as our home offices can benefit from good design to make the best of a bad situation, so too can kids' workspaces.

So we reached out to a roster of interior designers-all with children of their own-for their study-space wisdom. Here's how to design for your little learner's productivity and focus, and build a positive homework/life balance for the whole family in the process.


Designate a Consistent Workspace (It Might Involve Getting Creative)


Whether you've got a spacious home or a studio, it's essential to carve out a space just for learning. Consistency is key, says Sara Barney of Bandd Design in Austin.

"Be sure that the space that you are turning into a workspace is a designated spot that won't change from day to day, so that your child knows that it's time to work when they are there," says Beth Dotolo, co-principal of Seattle- and Dallas-based Pulp Design Studios. Dotolo has her kids roll over their own IKEA carts of school supplies to the dining table at the beginning of each day to set up and start learning time. When the school day ends, everything goes back in the cart and rolls out of sight.


Find Kid-Friendly, Flexible Furniture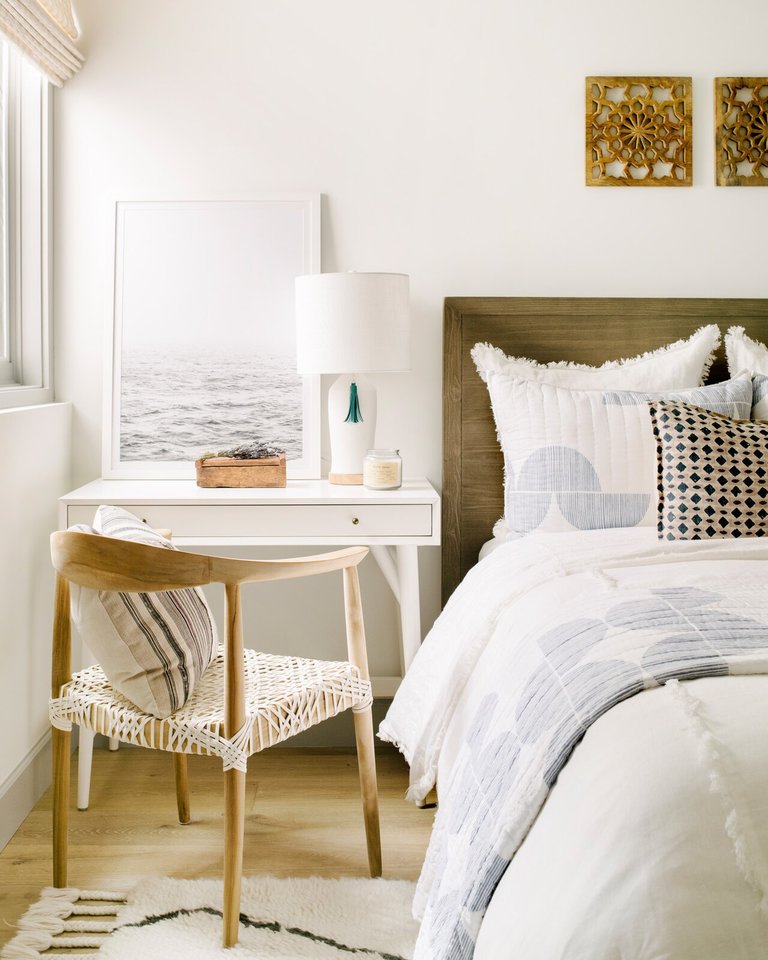 Sourcing ergonomic furniture for a kid who's not done growing can be tricky, so seek out adjustable furniture that keep up with growth spurts. For non-adjustable pieces, work out conversions to help them sit comfortably: Learning cushions can double as a booster for smaller bodies and a way for them to, as Dotolo puts it, "get their wiggles out."

If you're struggling to find a place to put a standard desk, a wall-mounted option is a great alternative. A small desk could replace a nightstand in the bedroom (where you can still put a drink or lamp for bedtime). Or, for younger kids, a play table can do double-duty as a desk and a surface for games, crafts, or snack time. "Monday to Friday, my daughter 'goes to school' at this Willy table from Crate and Barrel," says L.A. interior designer Kate Lester. "On the weekends, we can clear it off and do crafts and play games."


Design Against Distraction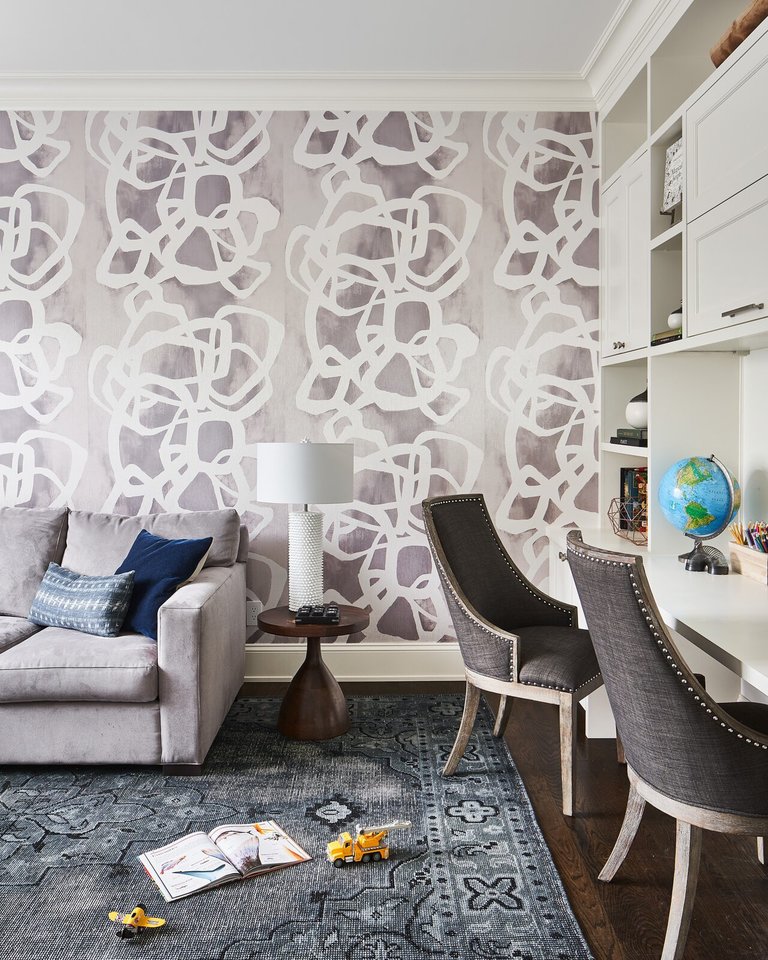 Take distractions into account right from the start. A workspace in a room full of toys and games, like a bedroom or a playroom, is going to be a tough place to concentrate. Instead, if possible, set up a desk in an under-utilized space-a mezzanine, a reading nook, or even a large stairway landing.

Gentry and Dotolo swear by noise-cancelling headphones for the whole family to block out each others' Zoom calls. Visual distraction can be eliminated by simply orienting the desk away from the action, toward a window, a corner, or a wall. (This also allows parents to keep an eye on the screen.) And the simple act of keeping things out of the sight line can work wonders. "Putting too many things out can be easily distracting, so we keep the storage and display minimal right at eye level," says Lester.


Create Opportunities for Personalization


A magnetic board or bulletin board is a great place to display information (assignments, the agenda for the day, et cetera), but it's also an opportunity for kids to express their creativity and make their work space their own.

"Kids love to participate in the design of the room," says Nataly Bolshakova of Ukraine's Bolshakova Interiors. "Magnetic or bulletin boards allow them to change up the look by themselves easily and create a custom space."


Convert Underused Spaces Into Activity Areas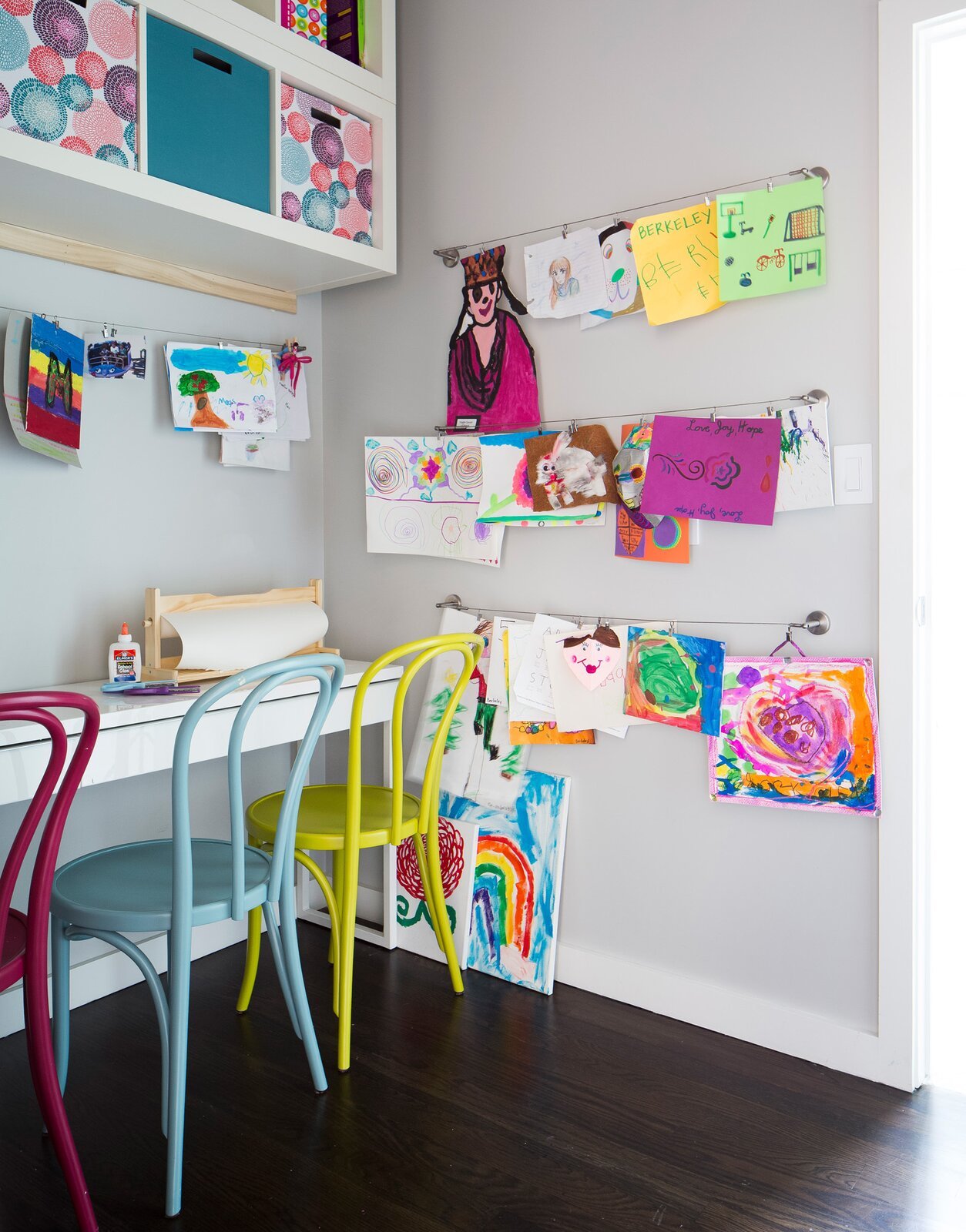 Of course, online school doesn't just spell lectures and computer work all day long: Consider designating space for art projects and reading assignments, too. "It allows kids to get a change of scenery, which with their short attention spans can be extremely helpful," says Barney.

But you don't need a lot of space to create something special. "What I've noticed is that children don't like big spaces," notes Bolshakova. "They prefer to have places to hide." Some floor pillows behind the sofa, or a cozy spot with blankets and pillows in a converted closet, for example, might be the dreamiest place to read.

For one family with three tight-knit girls, Pulp even turned a Jack-and-Jill closet between bedrooms into an art station, with a long desk at one wall, and lines with clips strung up to showcase their artwork.


Light the Way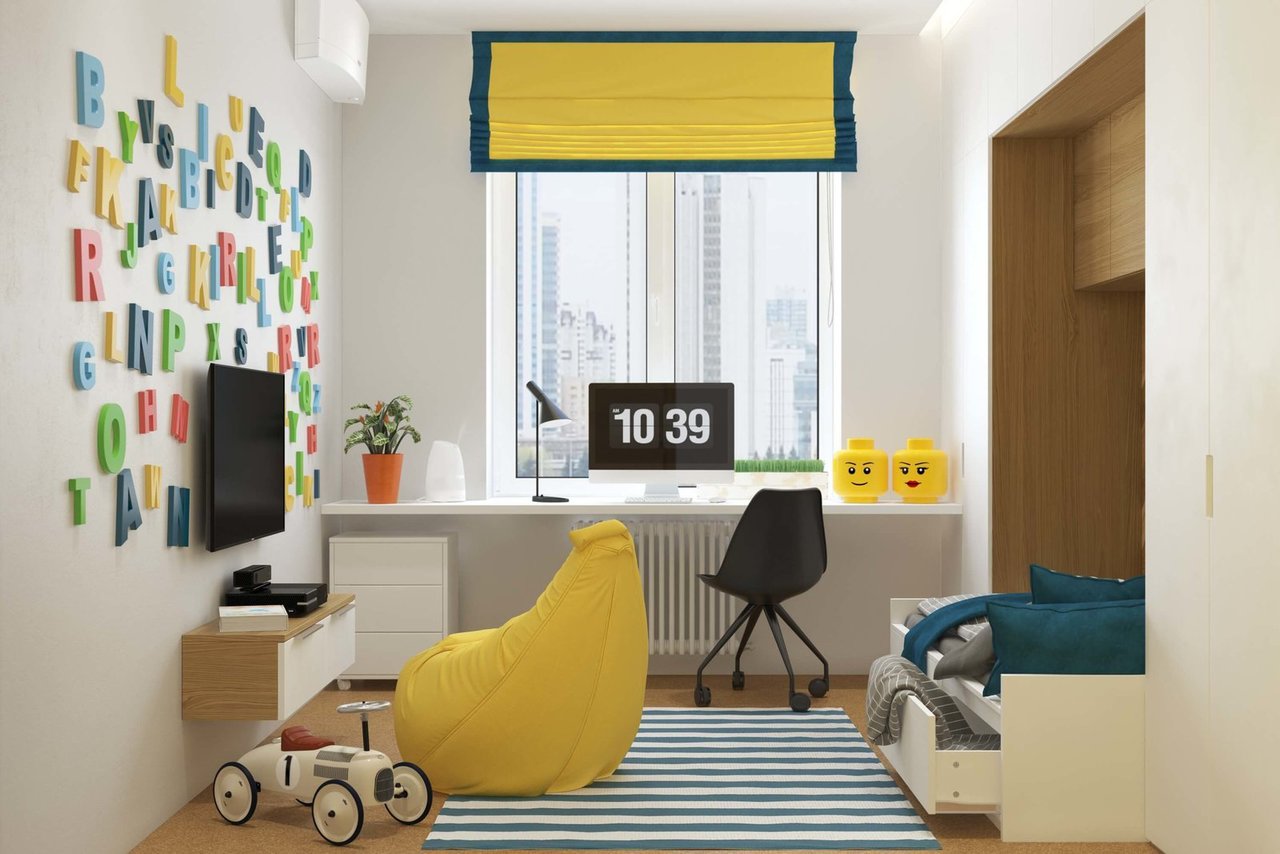 "Lighting is just as important for kids as it is adults," says Barney. Task lamps, floor lamps, and ambient lighting are all vital to incorporate for a well-lit workspace.

As the weather starts to turn, Bolshakova suggests lamps with programmable timers to make sure they flick on each evening even if a little one is engrossed in a project. Choose bulbs with a high color rendering index to imitate natural light, and create a warm, inviting space, even on dark nights.


Listen to Your "Clients"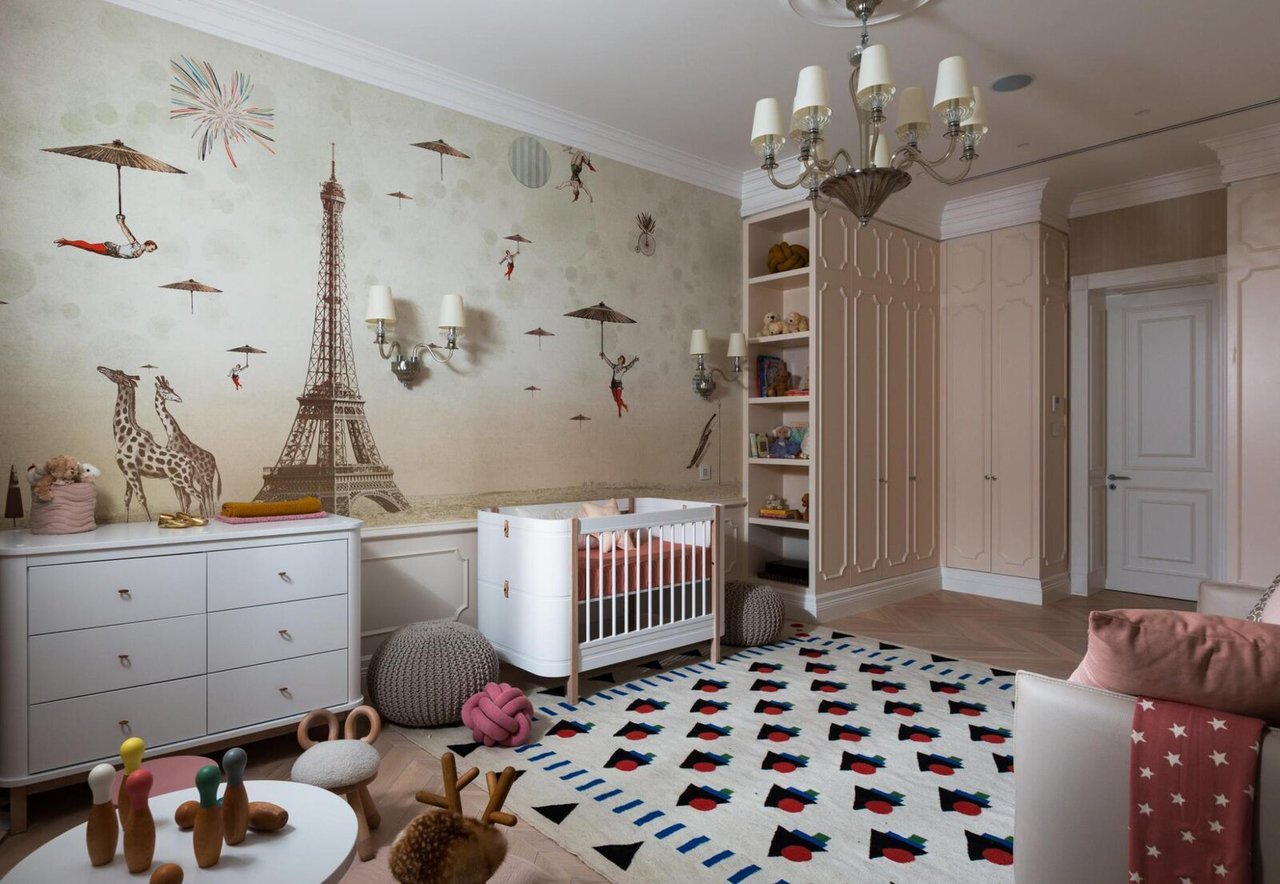 "Having [kids] be part of the design process-like letting them pick the folders or desk lamp-will make them more proud of their space and want to keep it nice," says Lester. Taking the time to create organization systems together that are easy to use and access will enable kids to keep their own space neat and take pride in it.

Ultimately, kids are the ones who will be using these spaces, so why shouldn't they be involved? "I think it's important to listen to your small clients. They have no influences-no magazines, no resources-just pure imagination," says Bolshakova. She's seen sitting areas ignored in favor of sprawling on the carpet to read and draw…and that's just fine. "Just use washable finishings and leave them to their childhood."