A home doesn't need new furniture or a major remodel to feel revived. Thoughtful rearranging (okay, and a few fresh pieces!) can do wonders, and the Memphis home interior designer Sean Anderson redecorated for his former partner is undeniable proof. What was once a home with a country vibe is now a more sophisticated space-with every antique-filled room boasting a cozy, refined look.

Built in the early 1990s, the modern-leaning Tudor home has been an ongoing project for years-and still has a few phases left to go, including a major reno where the home will be gutted, the living room will be expanded, and a pool will be installed. The homeowner bought the four-bedroom, four-bathroom place with the intention of making it his forever home. For several years, he has collected antiques for it but wanted a refresh. So he enlisted Anderson, who once lived there, to breathe new life into it. "Since we have this history and he trusts me, he really gave me full reign to interpret the house the way I saw fit," Anderson says. "So I made him move out when the time came to redecorate."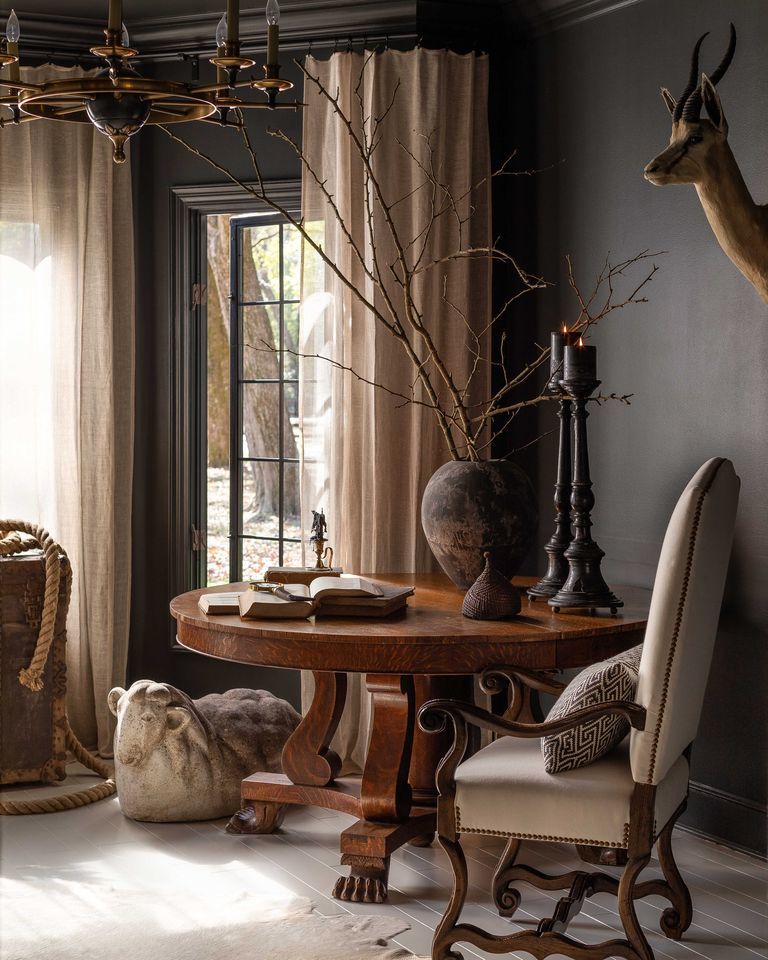 Over about six days, Anderson and his team emptied the entire home and reintroduced all of the furniture and decor into new rooms. Most of the home boasts previously-loved items from places like 1stDibs, Etsy, and local antique markets. Anderson also pulled from the client's attic full of antiques as well as from his existing on-display collection and his own firm's warehouse, where he had been setting aside a few antiques with the client in mind.

The overall look is far from a trendy, cookie-cutter design. The rugged, tonal look embraces used objects that might have scratches and been found at an antique store on the side of the road. "That's part of our Southern culture and heritage: to embrace the imperfections in things," Anderson explains. "We use what some people see as scrap or junk and show it in a refined way."

Apart from showcasing antiques and artwork, Anderson also wanted every single room to feel cozy. While each room flowed well and was beautiful prior to the redecoration, not every room was used. "Now, the homeowner can go to every space on a daily basis," Anderson says. "And he does-every part of this house is utilized."


Den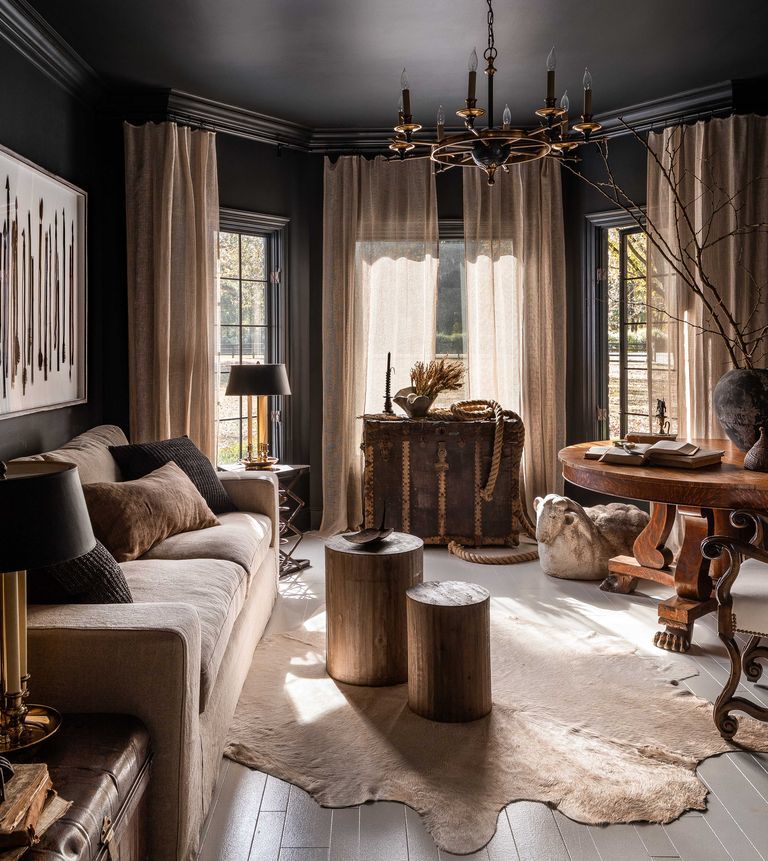 The den was originally made to be used as a dining room, so it's near the kitchen and has a stunning view of the home's property."We wanted to use this space as a comfortable setting to observe some of these treasures while enjoying morning coffee," Anderson says. Standout pieces include the framed collection of arrows accumulated over years of antique shopping and the 100-year-old cement sheep, which was sourced from a garden in Dadeville, Alabama. Paint: Iron Ore by Sherwin-Williams in satin. Curtains: RH (discontinued). Chandelier: Chapman & Myers for Visual Comfort. Tables and rug: antique. Sofa: client's own.

In one of the guest bedrooms (left), Anderson wanted to keep with the theme elsewhere in the house but invert the color story. "I opted to lighten things up but still keep things warm and organic," the designer says. It features a vintage table from Sheffield's Antiques in Collierville, Tennessee, wall art of preserved insects by Christopher Marley, and wall-to-wall sisal flooring.

In another guest bedroom (right), Anderson showcased his client's favorite vacation spot: Nantucket. "I wanted to bring some of those textures and colors into the environment," he says. The theme is evident through the collection of art and decor, including a ring buoy and display ship.


Guest Bedroom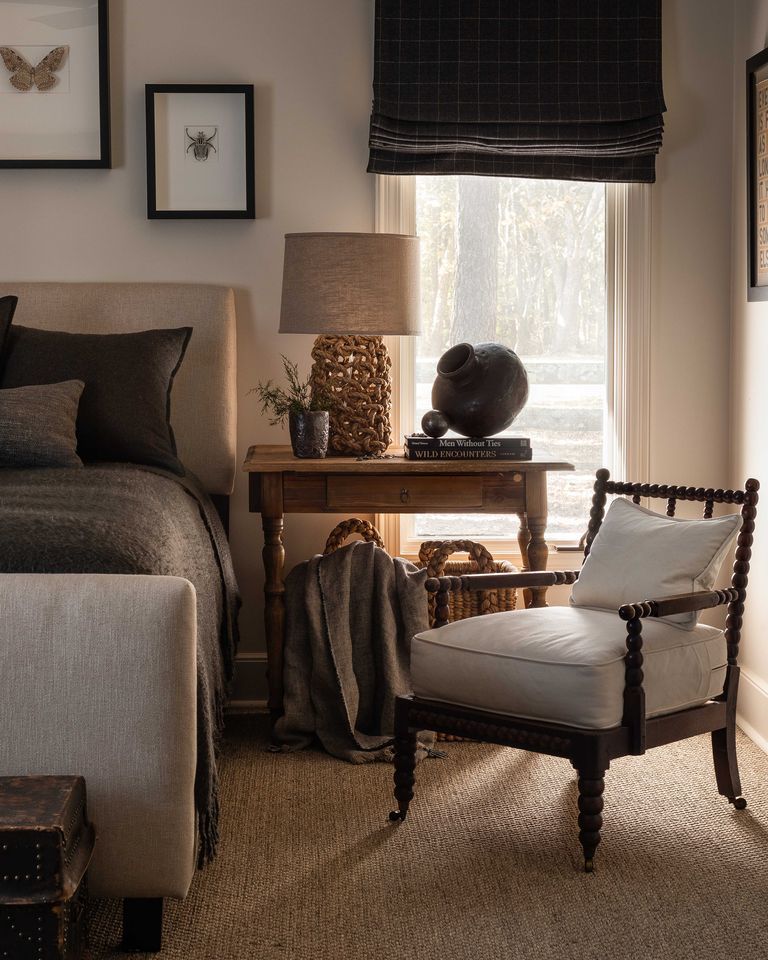 The third guest bedroom is what Anderson dubs a mix of Southern Gothic and summer camp. "The goal was to be moody without being overly serious," he says. "The client owned a pair of twin beds, so the design started around those items and evolved from there." Flag: Black Sheep Antiques, framed by Garner Framing Co. Wall sconce: Hudson Valley Lighting. Leather chair: antique from Market Central. Bed frame: antique from Palladio. Table: Scott's Antique Market. Rug: Etsy.


Laundry Room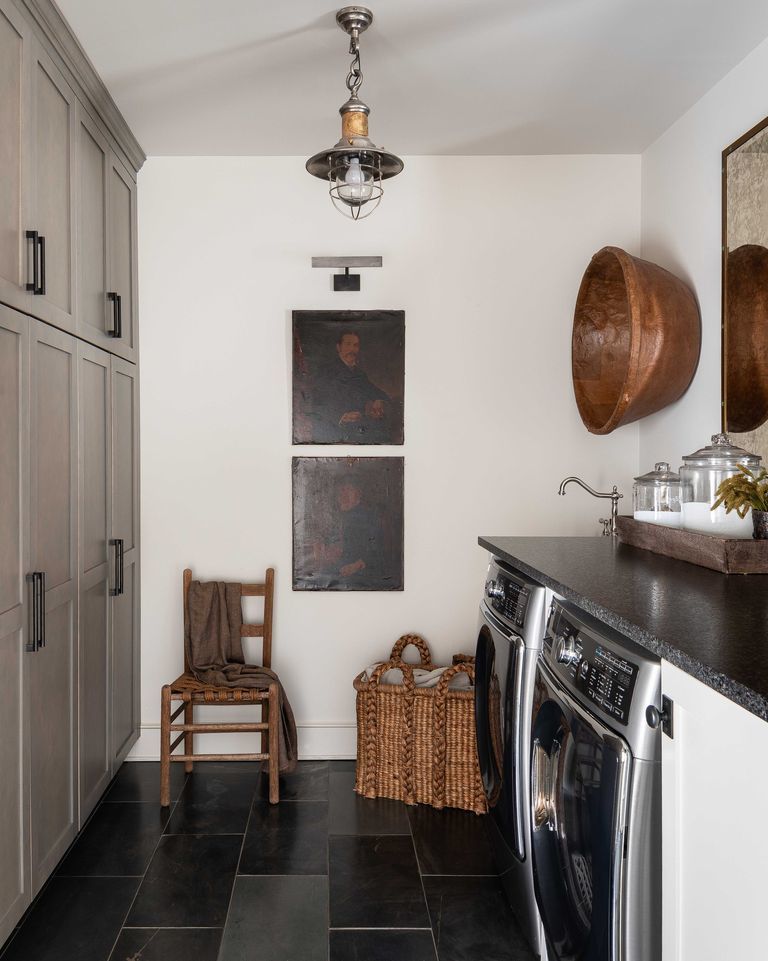 Like much of the home, the laundry room features plenty of antique finds, including the papier-mâché bowl and chair. The ceiling light was found by the client while vacationing in Nantucket. Basket: Pottery Barn. Cabinetry hardware: Ashley Norton. Faucet: Rohl. Sconce: J. Randall Powers for Visual Comfort. Mirror: antique with brass frame fabricated by Garner Framing Co.


Guest Bathroom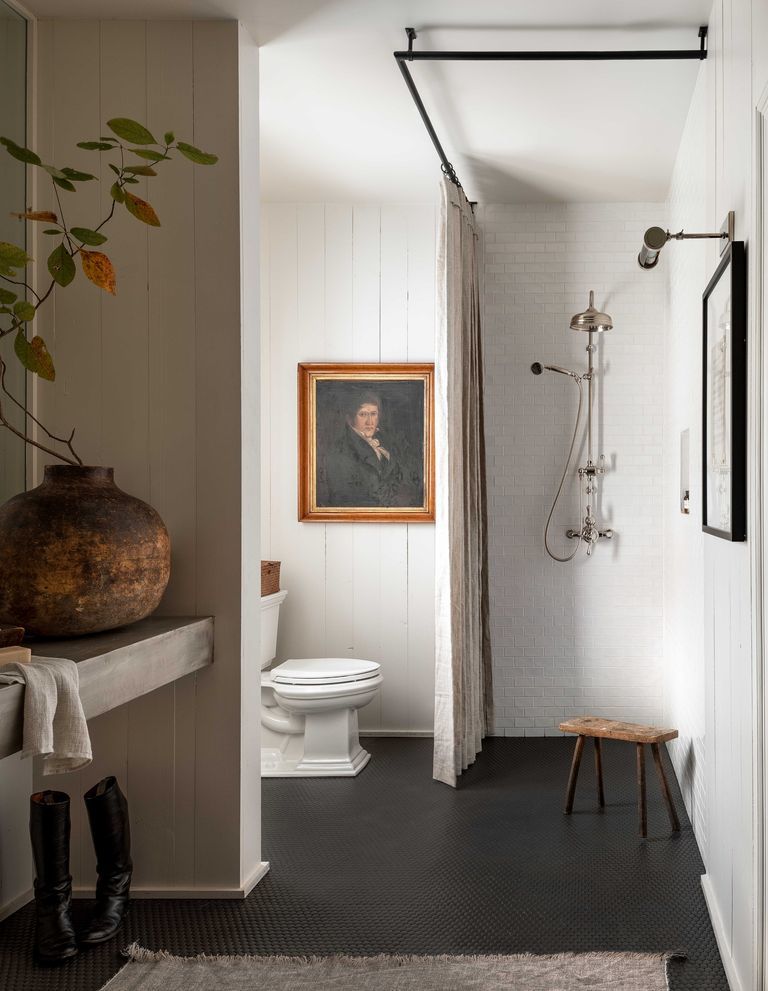 "This bathroom is adjacent to the Nantucket-themed bedroom, so I wanted some of those textures brought into here as well," Anderson says. Art: antique. Stool: Barnyard Antiques. Curtains: Casablanca in Carrera by Great Plains for Holly Hunt via Jim Thompson. Shower: Rohl. Picture light: Hudson Valley.


Living Room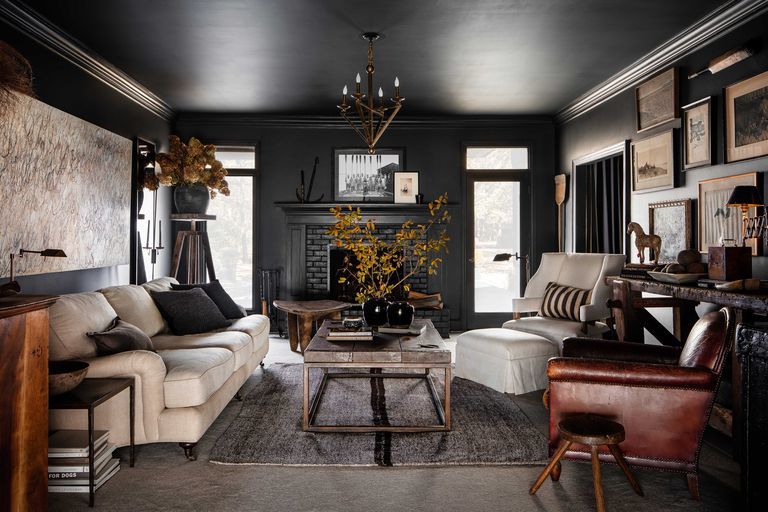 Comfort and function were essential in the living room, where the client does most of his hosting. "Like everywhere else in the house, I was faced with having to work with underwhelming architectural details," Anderson says. "I used this opportunity, much like the den, to layer and fill the space with items that told the story of the client." Chandelier: Currey & Company via Dixon Rye (discontinued). Art: Buddy Whitlock. Sofa: RH. Table: antique from La Maison. Rug: Etsy. Leather chair: antique. White chair: Lee Industries (discontinued).


Main Bedroom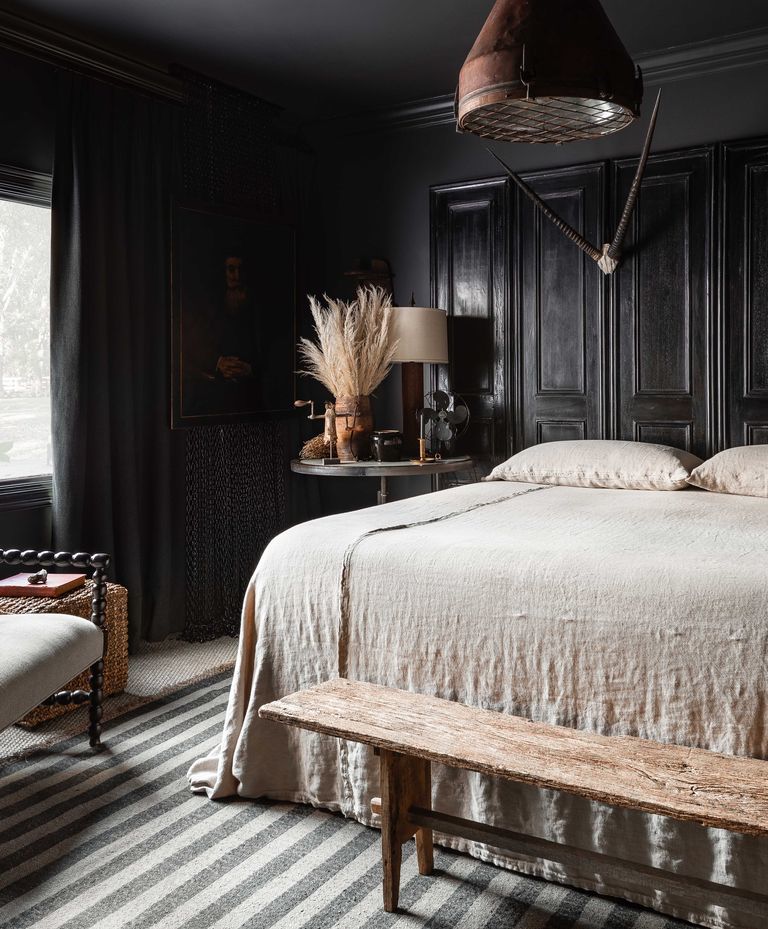 The main bedroom was designed around the beautiful panels the homeowner had kept for years in his attic—which Anderson repurposed as a headboard. "On the drape wall, I suspended an antique oil portrait over chainlink sheers mounted from the ceiling," he says. "I have a need, almost a compulsion, to present art in uncommon ways and wanted to take the opportunity to use chain in an environment that would welcome a heavy, industrial element without feeling forced or out of place." Lighting: antique from Revival Home. Bench: antique from Architectural Heritage. Rug: Etsy. Bedding: custom, Great Plains for Holly Hunt via Jim Thompson.