Before Shot: Dismal Dining Space
With wallpaper in a haphazard print, an old-fashioned floor, and a ho-hum dining area, the Hollenbecks' sparse kitchen looks far from homey. The only positive attribute of this space is the abundant light from the two windows.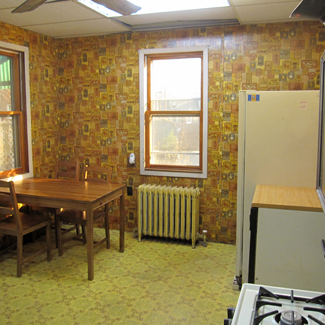 After Shot: Stylish and Serene

The Hollenbecks' new kitchen is effortlessly chic. Throw pillows in the same color palette, a modern, circle-shaped table, and understated window treatments complete the look. Tip: Select a tranquil paint hue like the teal shade here from Sherwin-Williams to serve as a colorful backdrop for basic white appliances. Finish it off by hanging multiple decorative plates or paintings in a row to add visual interest and play with the room's symmetry.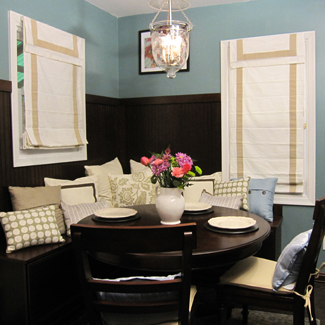 Before Shot: Countertops and Appliances

Faded cabinets, a broken drawer, and outdated countertops really show signs of wear and tear in this kitchen. Even an otherwise practical, efficient island can't make up for Eric and Kate's 1970s-style appliances.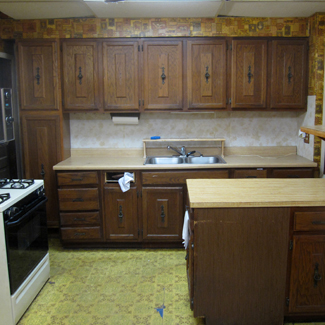 After Shot: Sophisticated Storage Options
Although brand-new cabinets like these may not be an option for everyone, repainting or refinishing the ones you already have will make a bold statement, and installing new cabinet hardware is an easy way to add personality. Sand and prime cabinets thoroughly to prevent wood grain from showing through the paint. Select a focal point — like the cabinet showcasing the decorative white and metallic silver urns here — to draw attention to the space when visitors enter the room.