THE PROPERTY

The watchwords for this six bedroom family home in Houston were 'Italian Modern', and that meant curved shapes, statement lighting and a feeling of plush glamor throughout.

Working with Contour Interior Design, the owners gave the brief of wanting to update their home with luxury pieces and fixtures in collaboration with the home's original architecture in a very sophisticated manner.

That meant a bold color palette of rich purples, enlivening teals and soft greys, furniture by brands such as Louis Vuitton and bursts of structural and daring lighting throughout.


ENTRANCE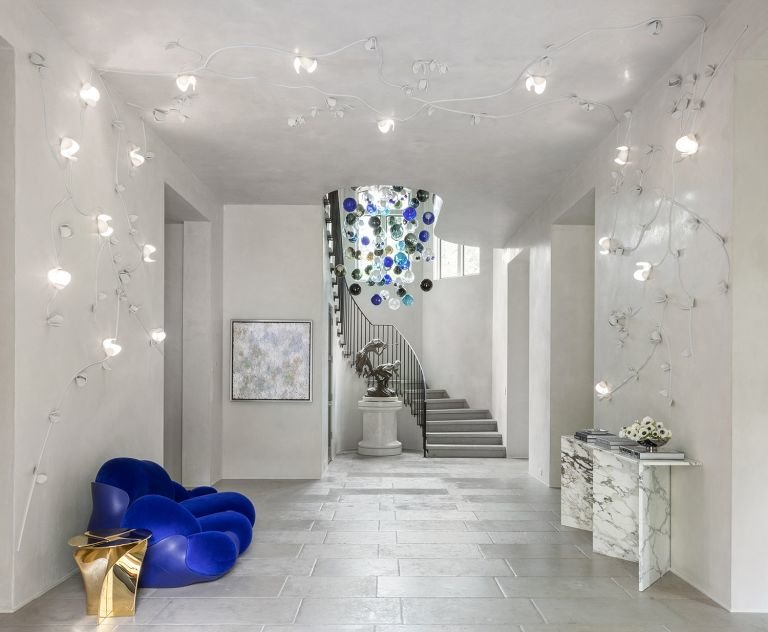 The foyer is a calming space, with a silvery sheen provided by the lights that creep up the walls and across the ceiling.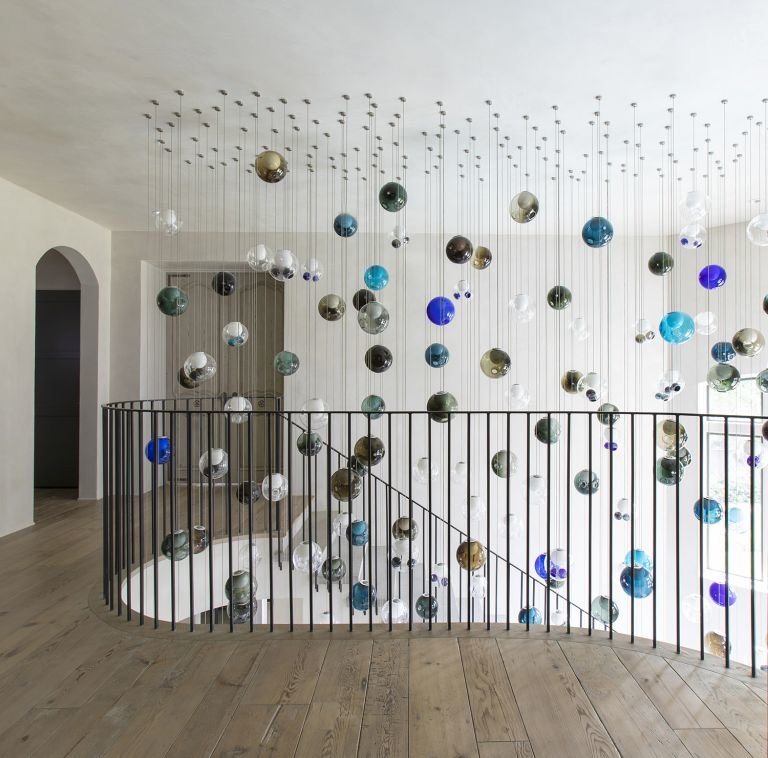 Handmade custom Corian flower in-lit lighting arrangement designed by ContourInterior Design in collaboration with Mak Studio, limited edition Louis Vuitton sofa and sidetable, custom made marble console table, custom Bocci balls arrangement in middle of circular stairs.


LIVING ROOM

Designed for entertaining, the living room features an original Picasso.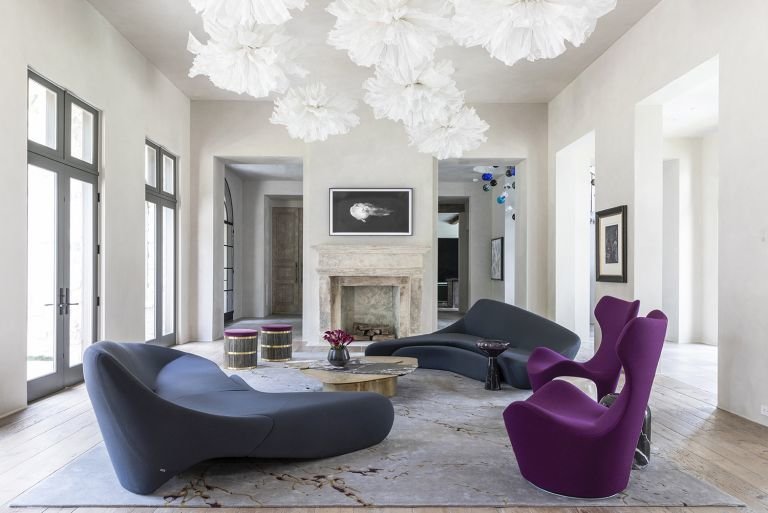 Zaha Hadid B& B Italia sofas, Hive Fandango lighting pendants, De Cotiiscustom handmade coffee table, custom rug, B&B Italia lounge chairs, Draenert side tables,Konekt stools, Original Pablo Picasso Artwork, and Brabbu Yoho stools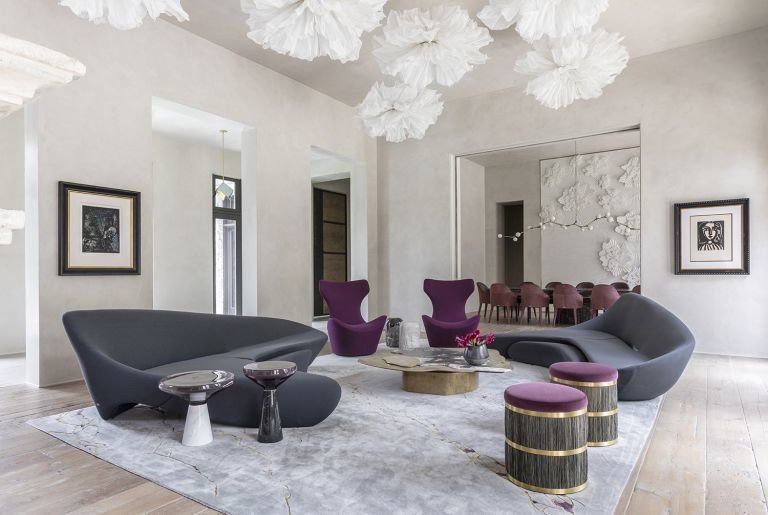 By zoning the curved furniture around a central coffee table, the expansive living room feels comfortable, almost cozy, one of the many easy home decor ideas to be inspired by in his house.


DINING ROOM

A statement light sculpture by Lindsey Adelman makes this vast dining room seem intimate in its soft, warm glow.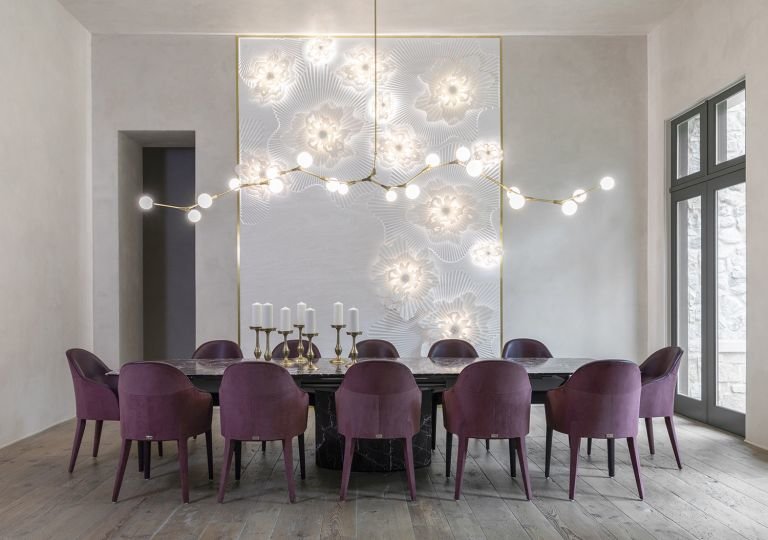 Draenert dining table, custom Lindsey Adelman lighting fixture,Fendi Casadining chairs, custom Corian accent flower wall designed by Contour Interior Design incollaboration with Mak Studio, and custom doors


FAMILY ROOM

The pop of deep green on the sofa creates an elegant dash of warmth in this otherwise calming and muted space.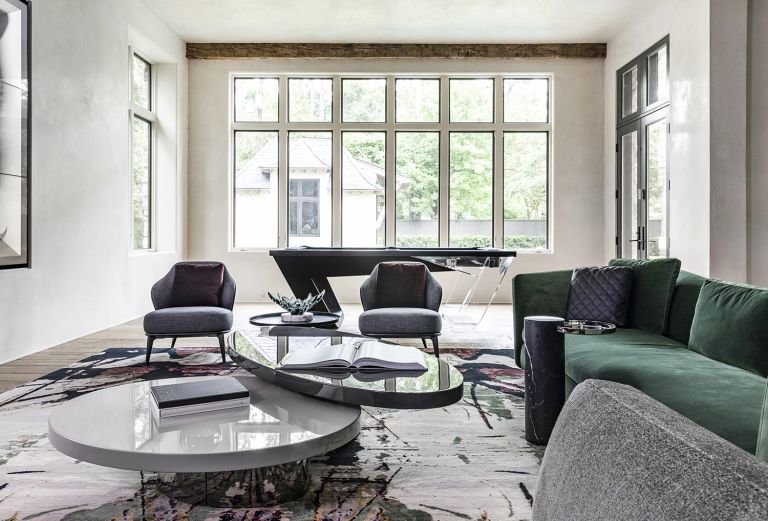 Minottisofa + pillows, ottoman, lounge chairs, and side table. Wittman loungechair, Brabbu side table (custom), Kreoo set of 3 side tables


KITCHEN

The mix of materials in the kitchen creates a striking contrast, using raw woods, metals and stone to blend together texture and homeliness.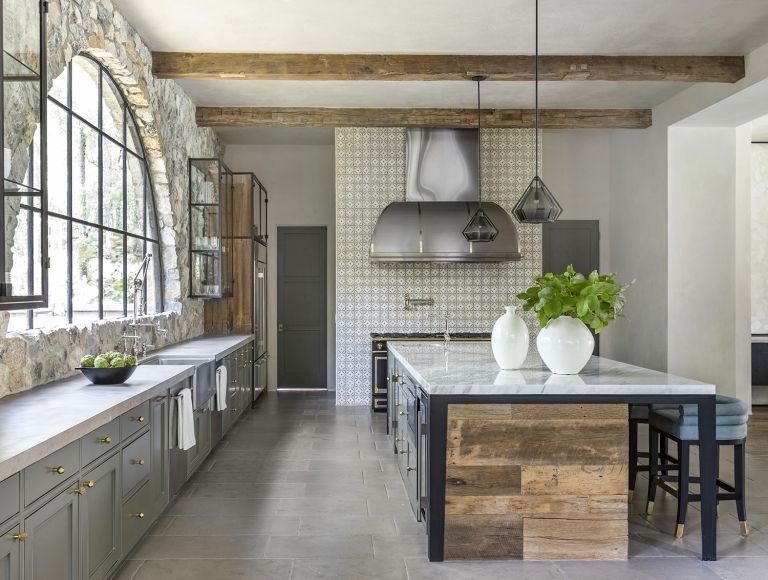 Custom counter stools upholstered in Edelman leather, Gabriel Scott pendant lights, La Cornue Appliances


MASTER BEDROOM

The master bedroom, bold but also deeply luxurious, forgoes a traditional headboard in favour of wonderfully soft velvet panels.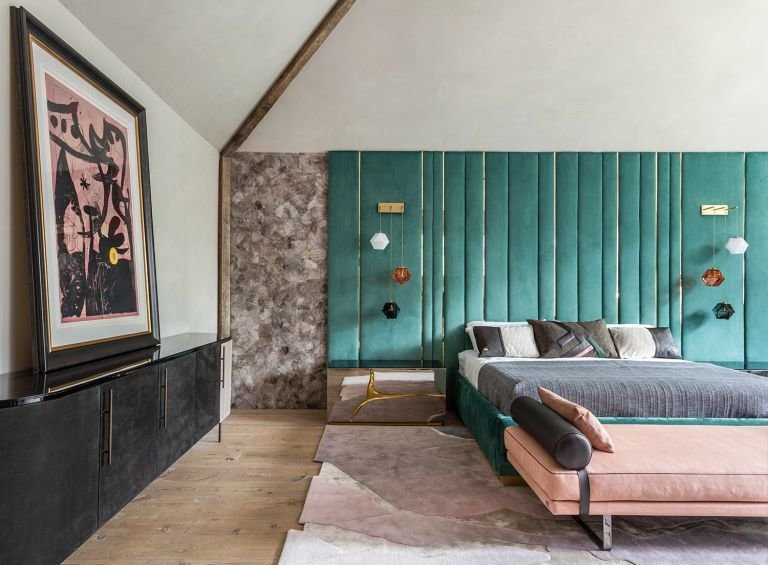 Custom bed and bed panels, Boca Do Lobo nightstands, Baxter dresser,Gabriel Scott pendants, Fendi Casa bench and pillows, Moroso lounge chairs, Holly Huntside table, Tai Ping rug, Bec Brittain chandelier, and custom doors.


MASTER BATHROOM

Providing real seating in the bathroom is a true luxury, creating the feeling of a powder room or salon.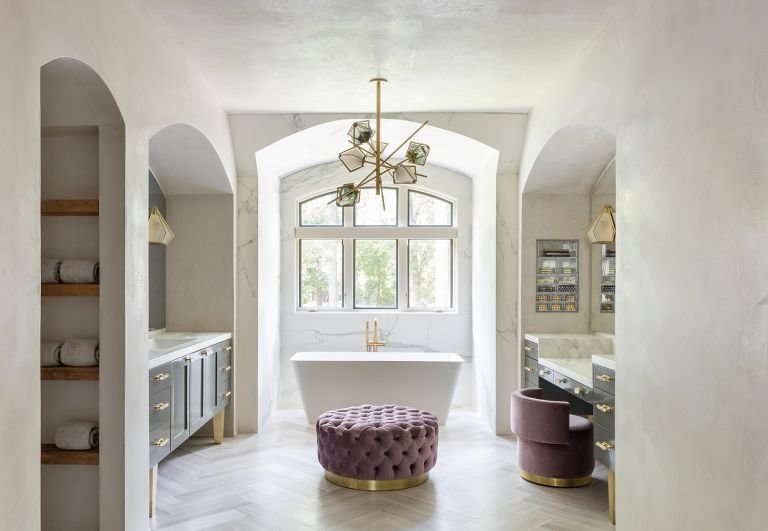 Custom ottoman and stool, Gabriel Scott chandelier and sconces, MatthewStudio hardware