It's easy to see the appeal of an outdoor kitchen – the outdoor trend that brings elements of tropical shores to your backyard, even if the sun isn't always guaranteed.

Nothing epitomizes a sweet summer evening quite like the sweeping aroma of freshly cooked food or the sensation of an exquisitely chilled drink – and an outdoor kitchen offers this, without having to escape the rays. But why should city gardens miss out all on all fun? It is more than possible to indulge a garden in an urban exterior, no matter where you are or whatever the size of your space, proving the area is safe.

If you're thinking of getting involved, begin with these design tips from industry experts who share how to create a garden kitchen in a small city space. We already wish we'd designed one sooner.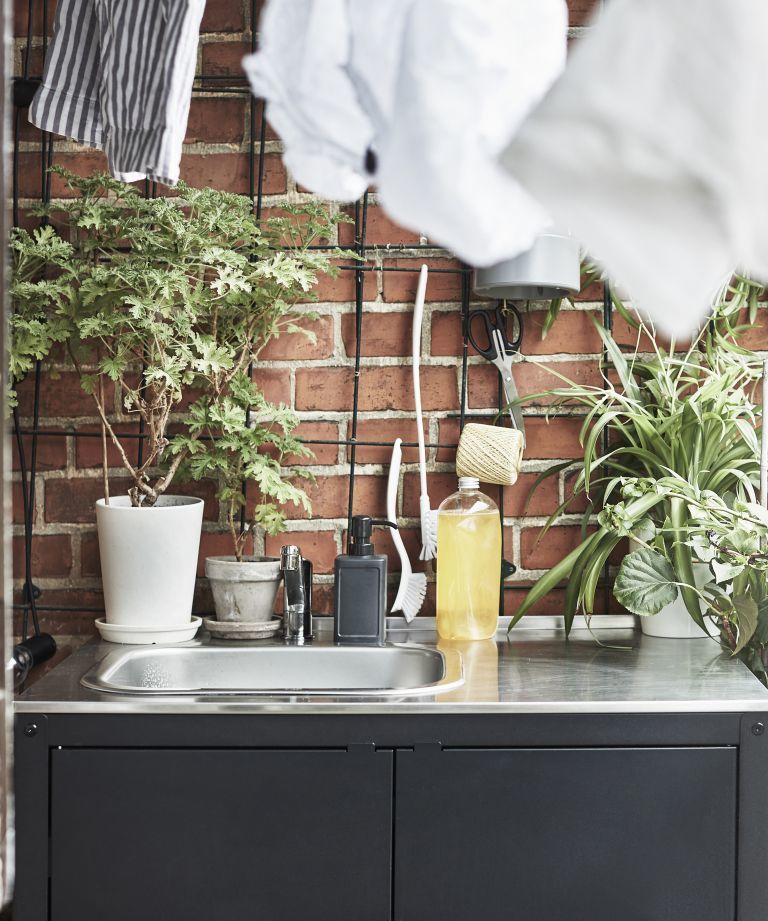 1. Multifunctional furniture

Mastering multifunctionality can be tricky, but in a small space, choosing versatile decor is the key to success. As Jonny Brierley, CEO of Moda Furnishings, explains: 'Storage and multifunctionality are the two key elements that all outdoor furniture for small gardens should have.'

The designer continues, offering examples of ways to save space but still enjoy the amenities of a garden kitchen, suggesting how 'stackable outdoor furniture sets are incredibly useful in small spaces,' and 'a firepit can double up as a cooking station.'

'Versatility is key in small gardens as you need to be able to get as much as possible out of your space,' he emphasizes.


2. An outdoor kitchen island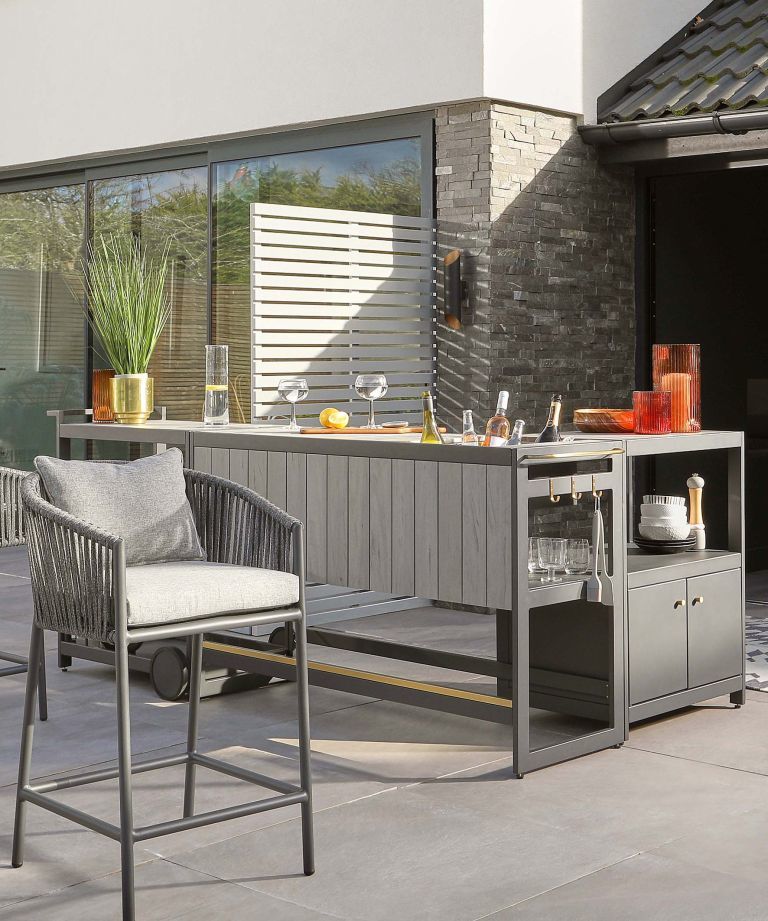 Yes, while an island may not seem like the most obvious addition to a small urban garden, Emilia Ljungberg, designer and resident BBQ enthusiast at IKEA, argues they should be.

'Islands are great because they give you four sides you can work at, walk around and socialize while you're cooking,' Emilia begins. However, the expert suggests that an outdoor kitchen island is not necessarily as rigid as those we see in our interiors, explaining how some can easily be removed from our gardens once winter arrives.

'I made [one] using three serving trolleys and a grill that can be rolled away come winter,' Emilia shares before similarly adding how they can be moved to 'better fit' our spaces.


3. Storage that doesn't compromise style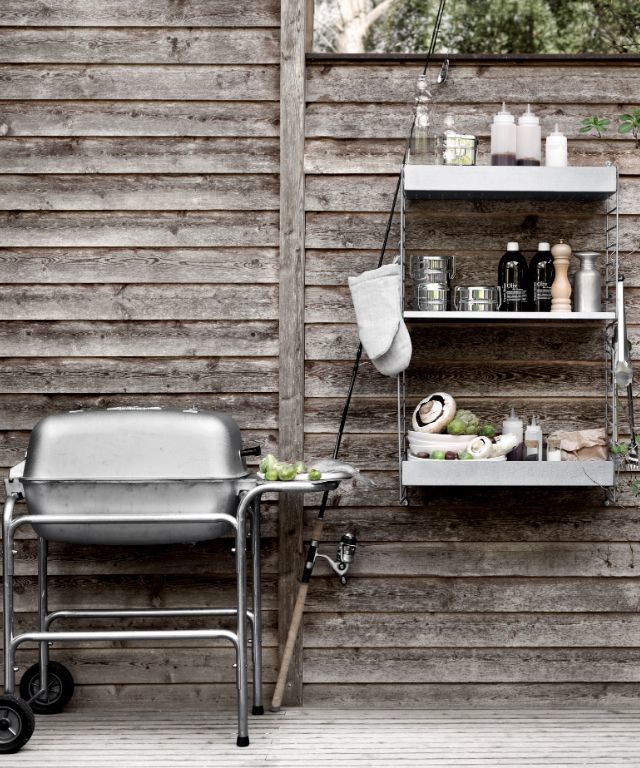 While we're all for experimenting with a garden kitchen, we're not ready to sacrifice the style of our exterior spaces. However, according to Scandi-cool king and CMO of String Furniture Bo Hellberg, you can easily maintain your chic city garden with a good outdoor kitchen storage system.

'Organising your garden and outdoor spaces with smart storage is equally satisfying for the eye as for the orderly mind,' shares Bo. The designer continues, rewriting all dull misconceptions about outdoor shelves by suggesting we add 'wood, rattan, and a lot of greenery as a soft contrast' to our shelves. Then, in the discussion of his galvanized steel shelves, Bo offers more ways to make our garden kitchen storage more fashionable.

'Plants and baskets with herbs obviously fit right in on the top shelves. But I would place it close to the bbq to create an outdoor kitchen. It's a great place for you to keep your plants, bowls, glasses, and anything that's going on the grill,' he says.


4. Distinct 'zones'

We may have heard of fragrance zoning, but what is garden kitchen zoning? According to Jonny Brierley, it is a way of separating your kitchen from the rest of your exterior space to ensure this area doesn't overtake the entirety of your garden. This will mean your kitchen will fit effortlessly into your garden, not overtake it.

'Space and shape are the first two things to consider when creating a space outside that can function as well as your interiors. If you have a long, narrow garden, you may decide to 'zone' the space,' Jonny expands.

'The second point to consider is how you will use the space. Perhaps you need a setup to support an outdoor kitchen or al-fresco dining,' he adds.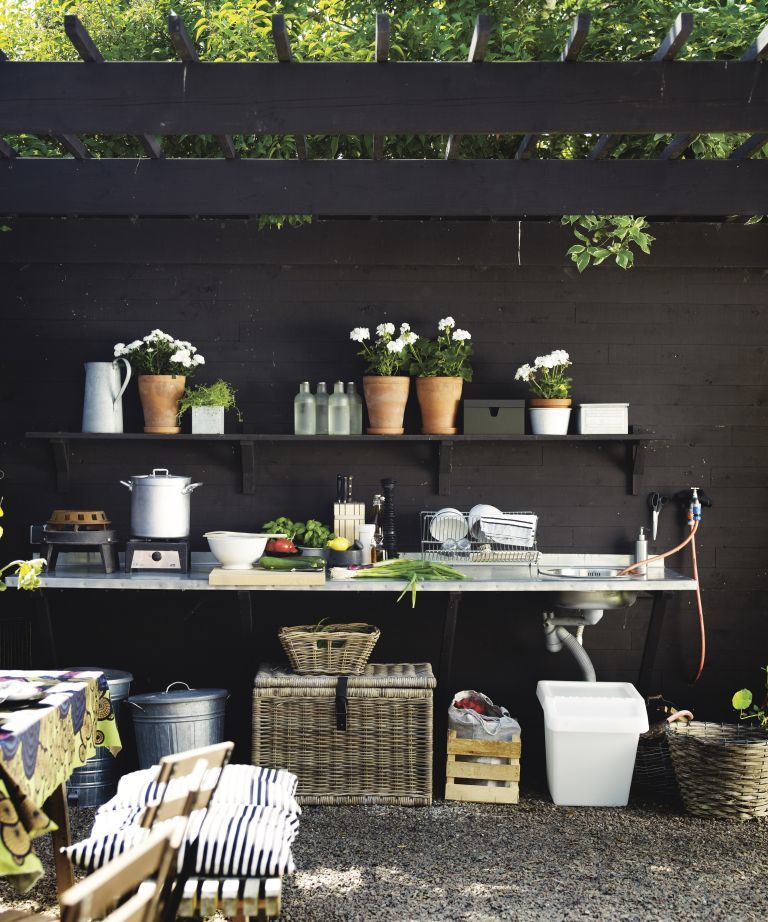 5. Combined work stations

Perhaps the quickest and easiest way to save space in your garden kitchen is to combine your workstations in one place, as Emilia Ljungberg demonstrates for IKEA.

The exterior eatery expert combined her four stations by using one side of her garden kitchen island as a preparation space and grill, while, below the grill, was a waste area for the charcoal and wood. Meanwhile, underneath the workstation, she has room to hide the washing up until the sun sets over her downtime or dinner party.

This is the kitchen that hides our washing up; what more could we want? Apart from a kitchen that does our washing up, perhaps.