But actually, there are a number of other things you can do to give a small bathroom the appearance of more space, and to make it more functional as well. A few visual tricks can make a bathroom feel more spacious while a few storage solutions can make your bathroom appear larger and function better.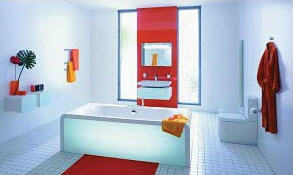 1. Install good light. Nothing opens up a room faster than good lighting. In the case of a small bathroom, recessed lights may be the best bet, as they can illuminate a space without taking up precious wall or ceiling space.
2. Invest in an extra narrow sink and vanity, or consider a pedestal sink. There's no reason to feel stuck by the standard vanity size. Today, vanities are available in narrower sizes that provide a decent sink while not eating into precious floor space. IKEA offers one sink that fits the bill, but similar sinks can be found elsewhere. Another option that will open up floor space is a pedestal sink without all the bulk of a traditional cabinet vanity.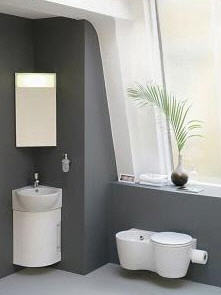 3. Make use of mirrors, the larger the better. Yes, you may think that mirrors went out with the 80s, but nothing beats opening up a bathroom like installing a large mirror. A mirror could mean one single large mirror over the sink, or it could be a series of mirrors in different frames for a different look.