Open shelving can look good if: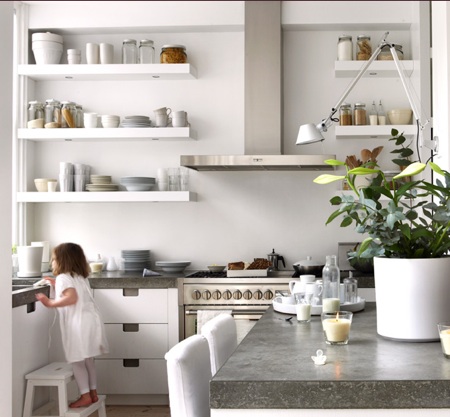 1.) You're organized. For this look to work well, your kitchen shelves need to be treated almost like a display case. Creating an eye-pleasing arrangement of glasses, dishes and pots and pans is mandatory.
2.) You have a nice set of matching dishes. If you have a chic set of white dishes, or a fun set of Fiestaware, open shelving is the perfect way to show it all off.
3.) You cook enough so that your dishes are constantly getting washed rather than collecting dust. If you rarely cook, having dishes out collecting dust is probably not very practical, unless you are prepared to wash all your dishes next time you finally do decide to cook.
4.) Your kitchen is a restful neutral color as a backdrop. If you look around, you'll notice that kitchens that feature open shelves are often all white. Why? Because the busyness of open shelving can be balanced by a serene neutral interior done up all in one color. if you've got a lot going on in terms of color — in tile, countertops, appliances, etc., you might stick with cabinets to help pull everything together.