Dark living room ideas are only increasing in popularity. Once reserved for old houses with high ceilings and opulent decor, these moody, dramatic hues have gone mainstream, gracing the walls, floors and ceilings of homes of all shapes and sizes. These inky hues are everywhere, so naturally, we wanted to pull together all our favorite dark rooms that are sure to tempt you to leave behind your love of neautrals and try something a little darker.


Dark living room ideas

'There are plenty of ways to create drama and add depth to a space when using dark colors. Before decorating a space, I always start by considering the natural light. In this case, it is really important to figure out whether the room is south-facing or north-facing.' advises designer Kelly Wearstler.

'South-facing rooms tend to get a warmer light, which means some colors can show up a bit on the yellow side. To counteract this, I recommend using a dark color with a cool base. Meanwhile, north-facing rooms are a lot darker. But, this doesn't mean you can't use a dark color for decorating! Dark colors are a great way to create a cozy space, just use a dark color with a red base to add some warmth to the room.'

From dark greys, forest greens, and everyone's favorite, navy blues, all of these living rooms prove that dark colors can work with all style, in any sized room. In a small living room they have a lovely cocooning effect, that contrary to popular interior design beliefs, can make a space feel bigger. And in larger living rooms, dark walls have an elegant feel, especially when paired with opulent decor and gold accents. So we say it's time to move on from all-white walls and grey furniture and test out some of these sumptuous dark living room ideas...


1. Go all over with a dark petrol blue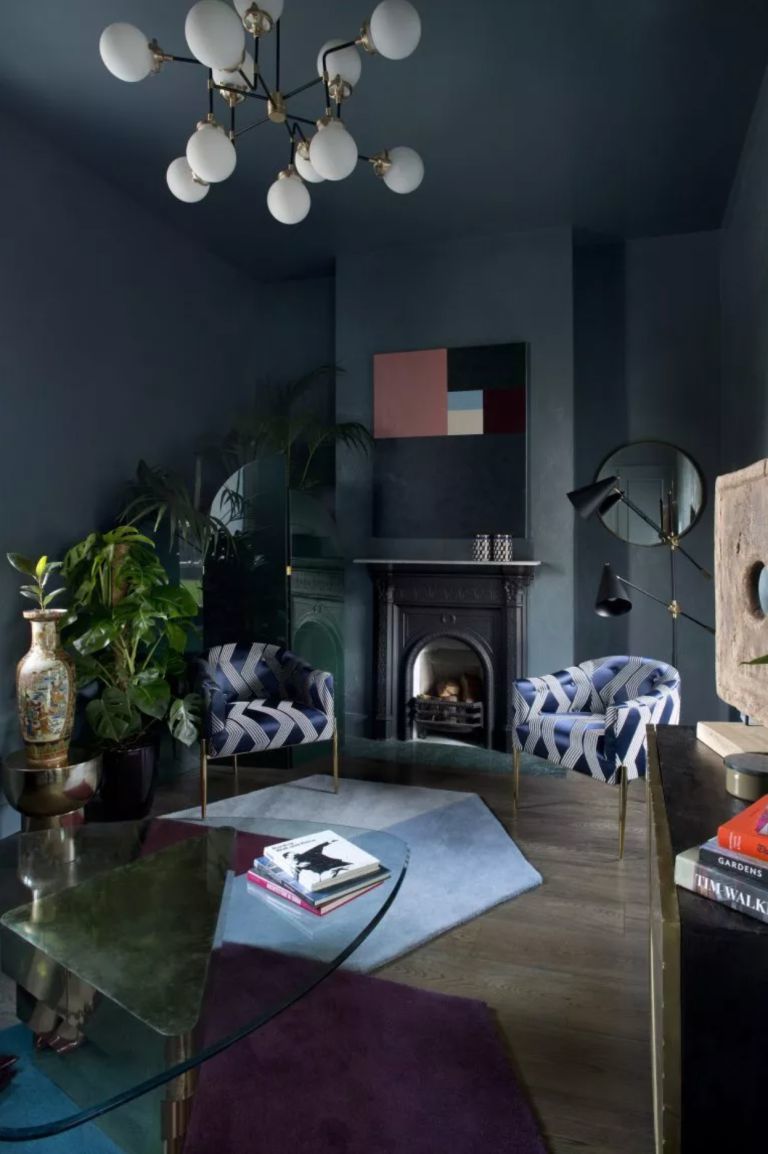 Painted ceilings have been a trend for years now, no longer need they be painted some version of white, treat them like you would your other walls and paint them to match. There's a tendency to keep ceilings light as this is a well-known trick for making ceilings appear higher, but in fact, matching dark walls to a dark ceiling blurs the boundaries of the room and creates the illusion of taller ceilings.


2. Make color pop against a dark living room wall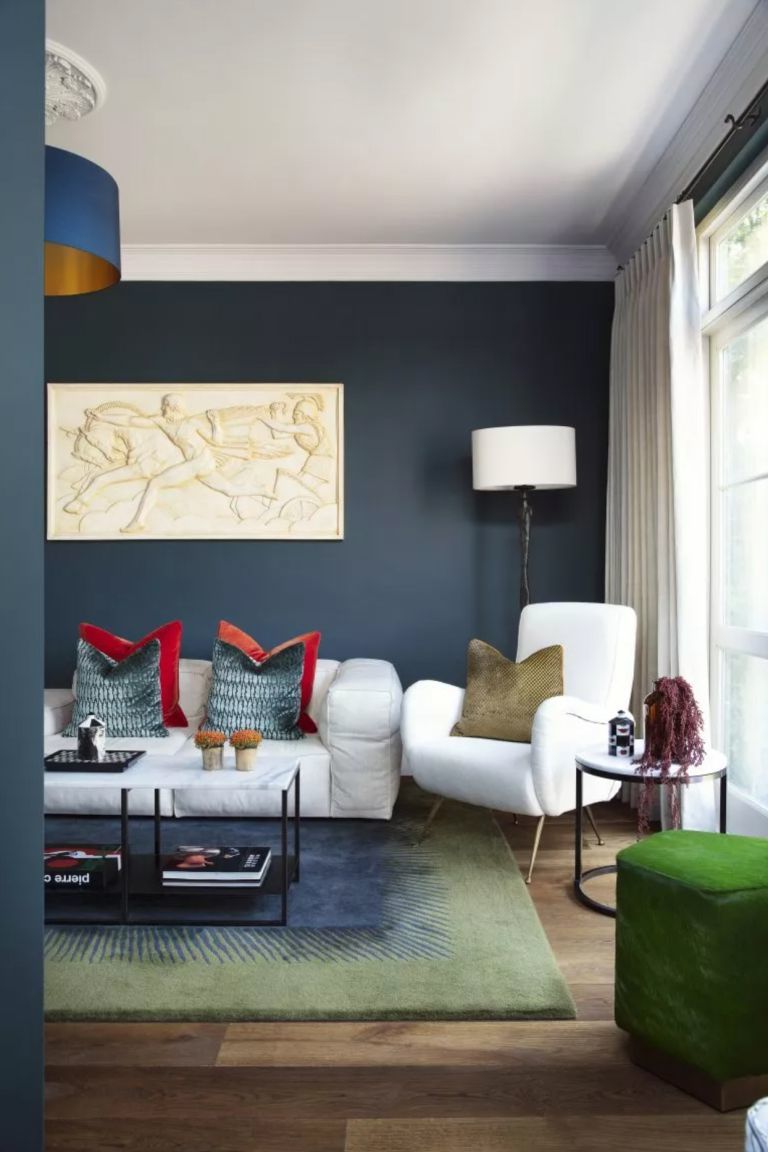 Dark walls accentuate color more than white ever would, so despite their deeper hue, shades like dark grey and navy blue work wonderfully in a colorful living room scheme. Splashes of bold color or even a stark white will create a lovely contrast and lift a dark living room.

'Darker colors act as a great backdrop behind a bright contemporary painting or antique tapestry, making pieces stand out dramatically - so think about where your most treasured and stand-out piece of art is, and use a dark wall to make it pop.' recommends Kelly Wearstler.


3. Reflect light with a silvery dark grey living room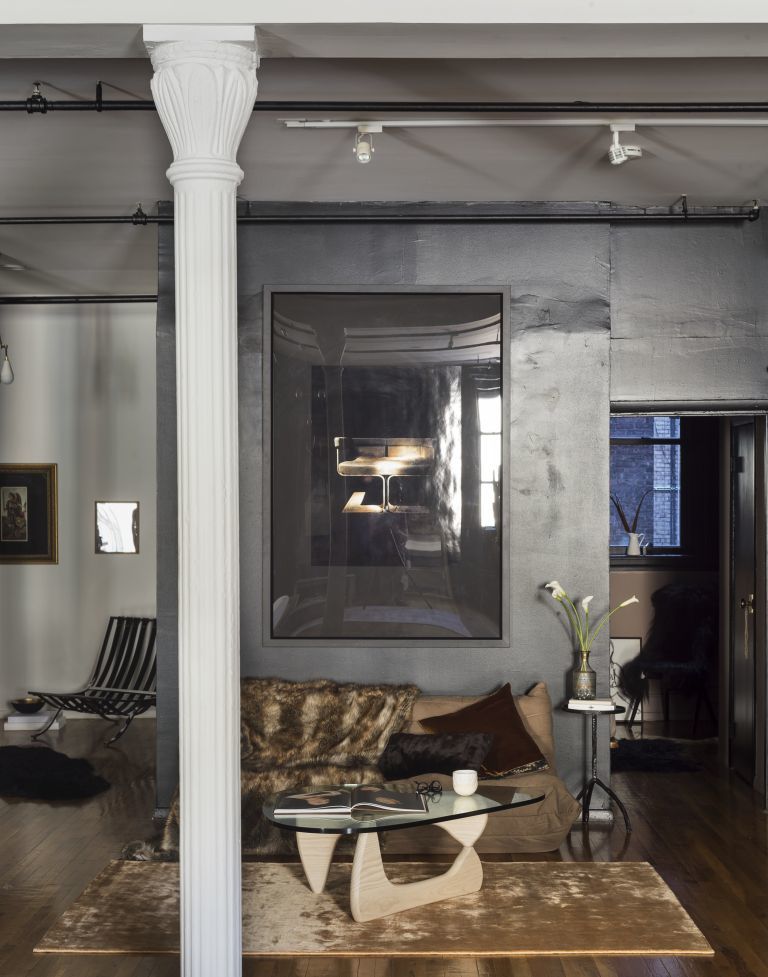 Grey living rooms are a classic but opting for a steely, silvery grey paint with a slight gloss finish is a fresh, stylish take. And paired with brown? It shouldn't work but the warmer tones of the sofa and rug in this dark living room add a softness to the otherwise all-grey space.


4. Blend built-in storage into the walls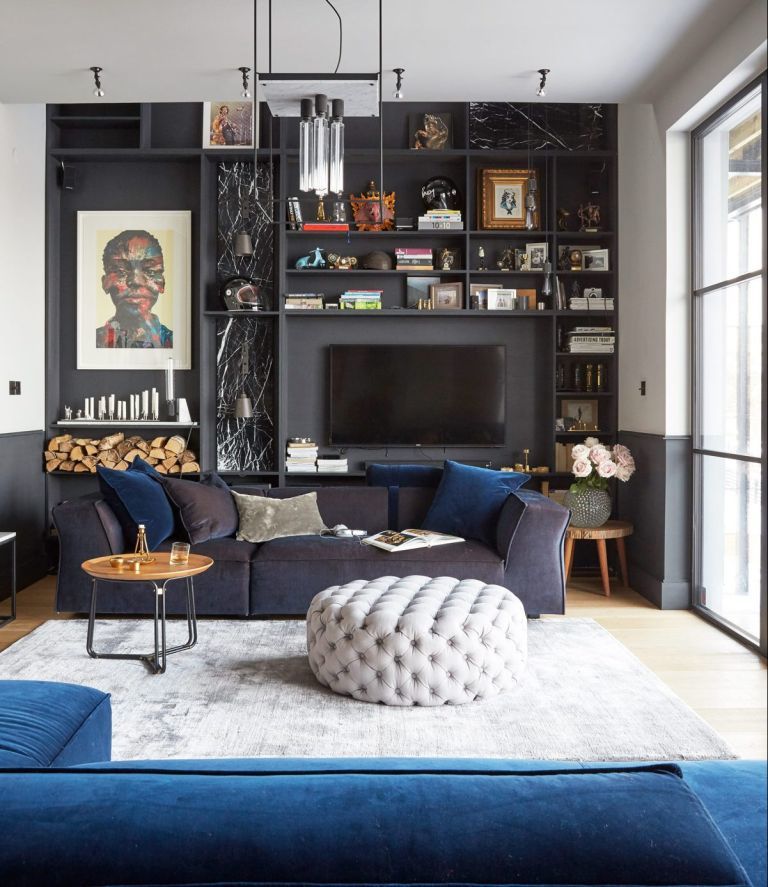 Be inspired by this fabulous modern home in Stockholm and blend built-in storage and shelves into the wall by matching the color to the walls. Again, the dark grey shades provide the perfect backdrop for books and decor, plus is a really easy way to make a TV less of an obvious feature in a living room too.


5. Play with pattern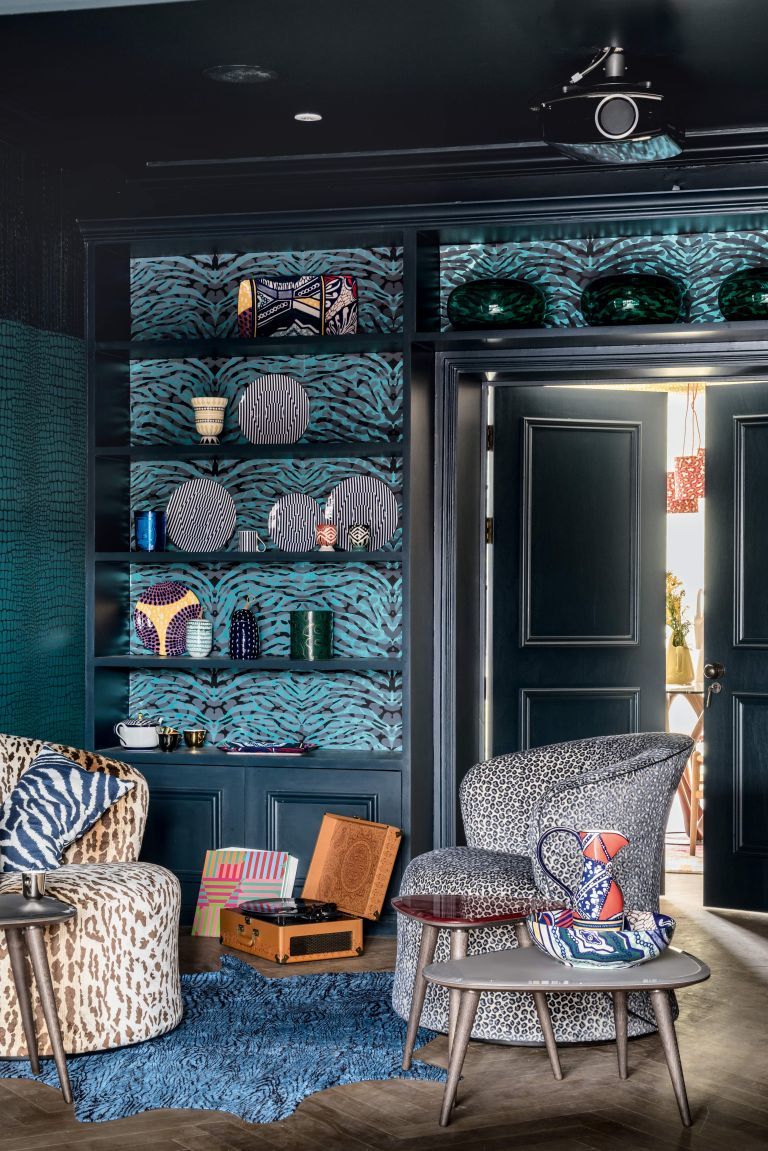 How fabulous is this dark blue living room? Despite sticking to an almost monochrome color pallette there's so much pattern and texture going on to create a very cool, eclectic feel. Going all over with the very deep blue adds drama and atmosphere to the room and the mix of animal prints brings even more eccentric glamour while also giving the space a lift.


6. Mix black walls with gold accents


Black and gold are an iconic color duo and we love the opulent, often slightly gothic vibe they both bring to a room. In this dark living room, the dark walls, ornate gold mirror and chandelier, plus all the taxidermy going on certainly nod to the Victorian gothic style but the fresh white used for the ceilings and the floorboards, plus the simple contemporary design of the rest of the furniture make this room feel fresher and more liveable.


7. Embrace the trend for dark green living rooms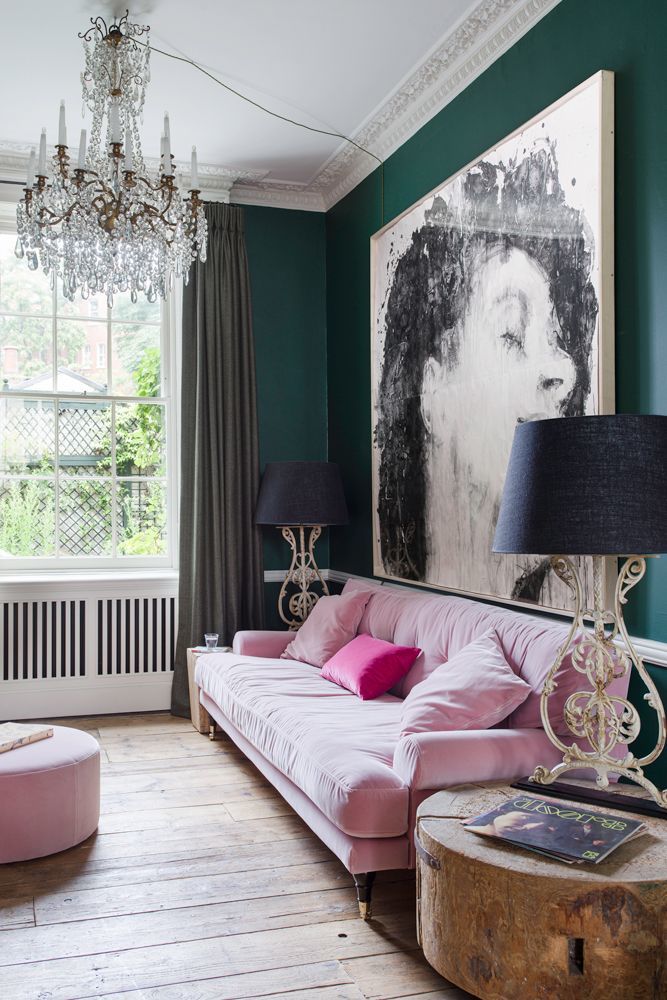 Green living rooms are having a bit of a moment right now. We are seeing more sage, olive, and emerald spaces than we are grey and we are being drawn in by these mood-lifting tones. A deep, velvety forest green can be a great choice if you want to create a dark living room. Not as intense as a charcoal grey or as obvious as a deep blue, a green adds depth and intrigue, plus you can tone down the dark side if paired with the right colors too – case in point in this living room with the lovely blush pink and white.


8. Expand a small living room with dark colors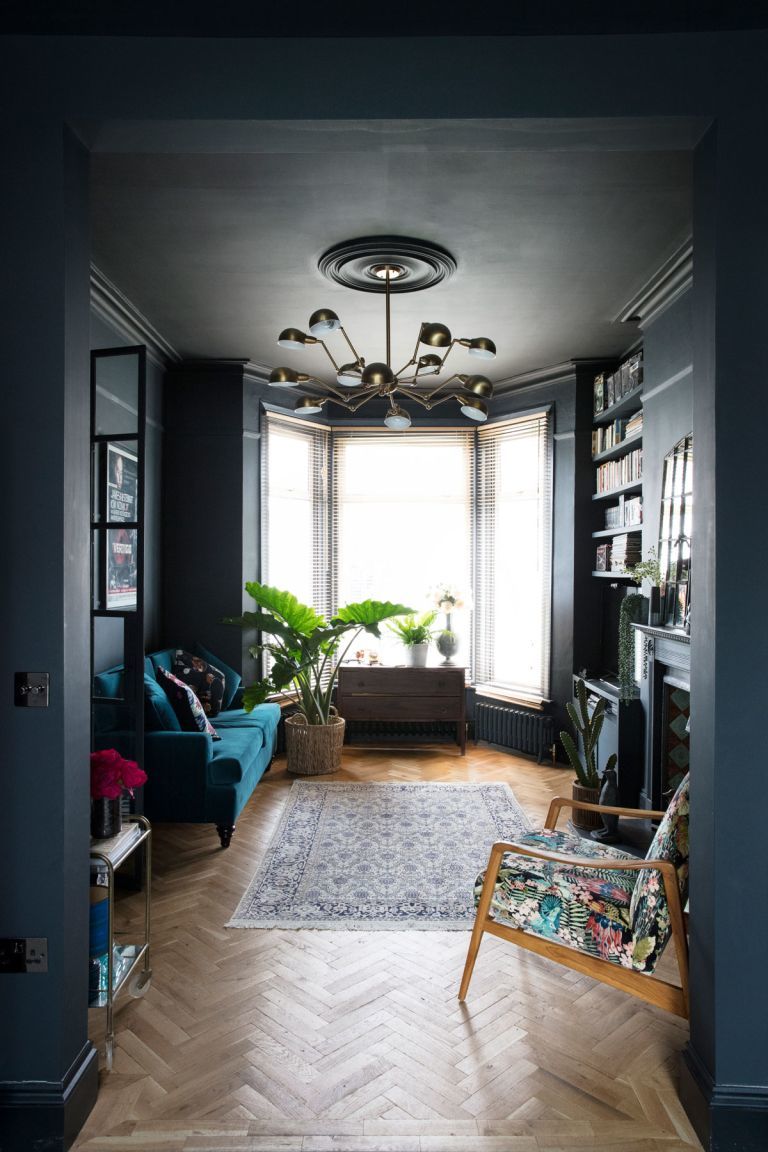 While it may be a truth universally acknowledged that light colors expand small spaces, as this small living room proves, the same can be said about dark colors. Going for a dark paint on the walls and ceiling blurs the edges of the space making it appear larger, plus you create a very sophisticated but cozy atmosphere that's perfect for a living room.

As Kelly Wearstler says, 'I always say, just because a room is small, does not mean it needs to be white or light - don't be afraid to use dark, moody tones in a smaller room. Darker colors can have a beautiful impact, and make a room seem larger and full of character.'


9. Bring together deep rich tones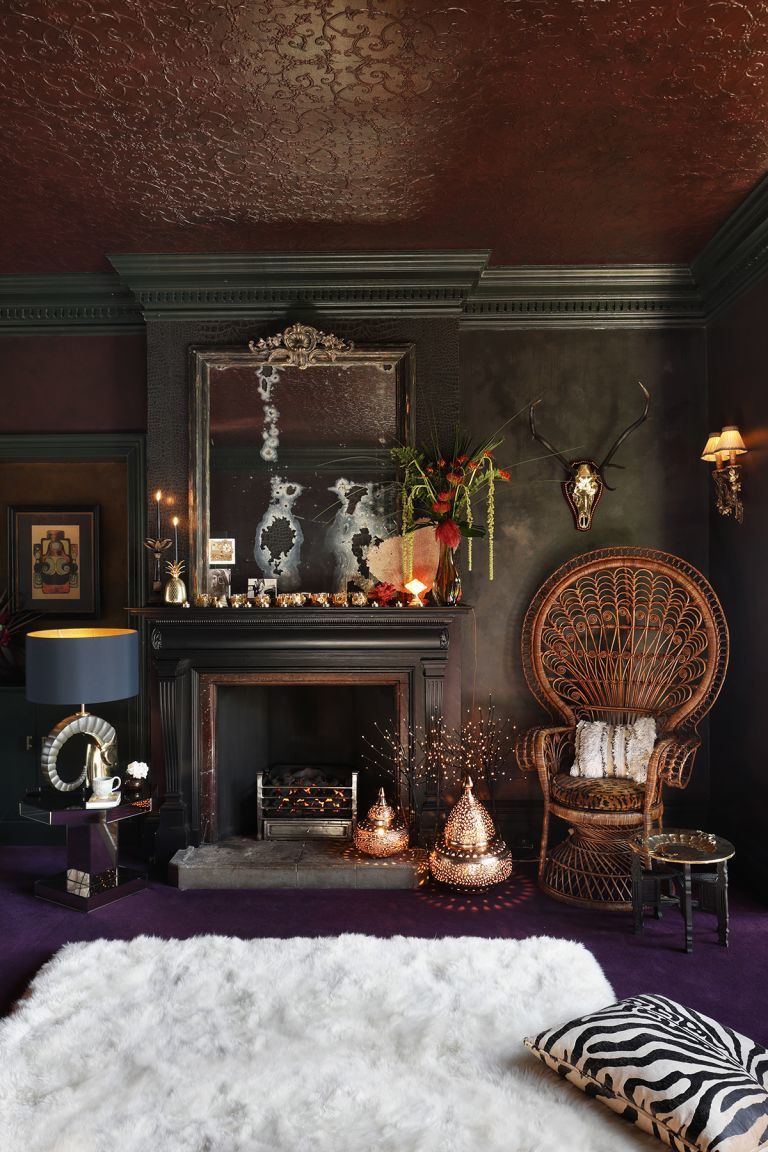 Dark living room ideas aren't all about greys and blues, there are a plethora of rich warm toned shades that create just as dramatic (if not more) spaces. The deep burgundy tones used on the ceiling and plum shade of the carpet in this living room create such a cozy, eclectic space full of personality and quirk.


10. Paint a ceiling a moody hue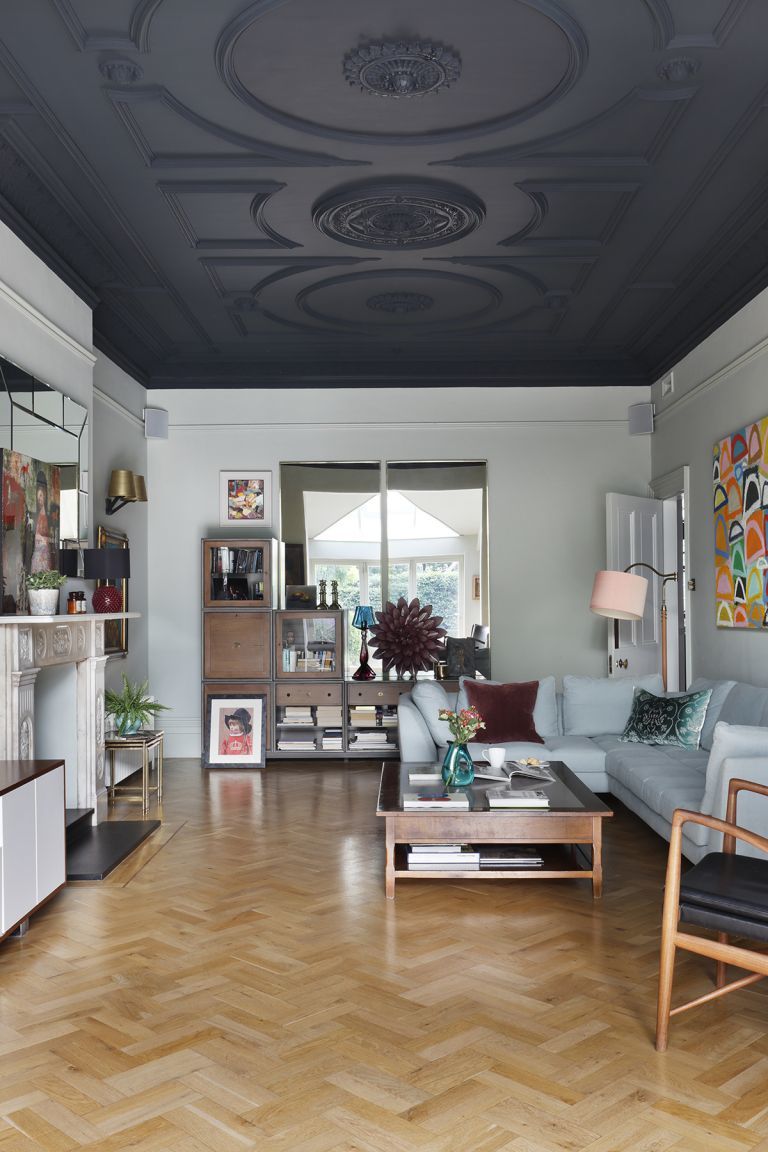 Want to just dip your toe into dark interiors? A feature wall is an obvious choice, but feature walls can look a bit blah, especially with a dark color because it will look so stark against white walls. So instead of a feature wall, paint a feature ceiling in a deep hue. See how this dark living room still feels very neutral and fresh with crisp white walls and pale wooden furniture but the dark ceiling brings the drama without totally overwhelming the room.