Kitchen party season is tantalizingly close, and it's imperative that our countertops are as fun-filled and funky as our champagne cocktails and 80s playlist – but that means going bright, and above all, bold. Thankfully for us, the most daring kitchen trend of them all is having a moment – but beware – this trend is one that is not for the faint-hearted.

Yes, colored kitchen countertops are currently making statements in the most stylish of modern homes, and even though this trend is audacious, it remains painfully chic. However, in all its rainbow-kissed glory, this trend is, perhaps unsurprisingly, easy to get wrong. Here, the experts reveal why everybody should indulge in this craze – and how to make it work in your kitchen.


Are colored kitchens trending?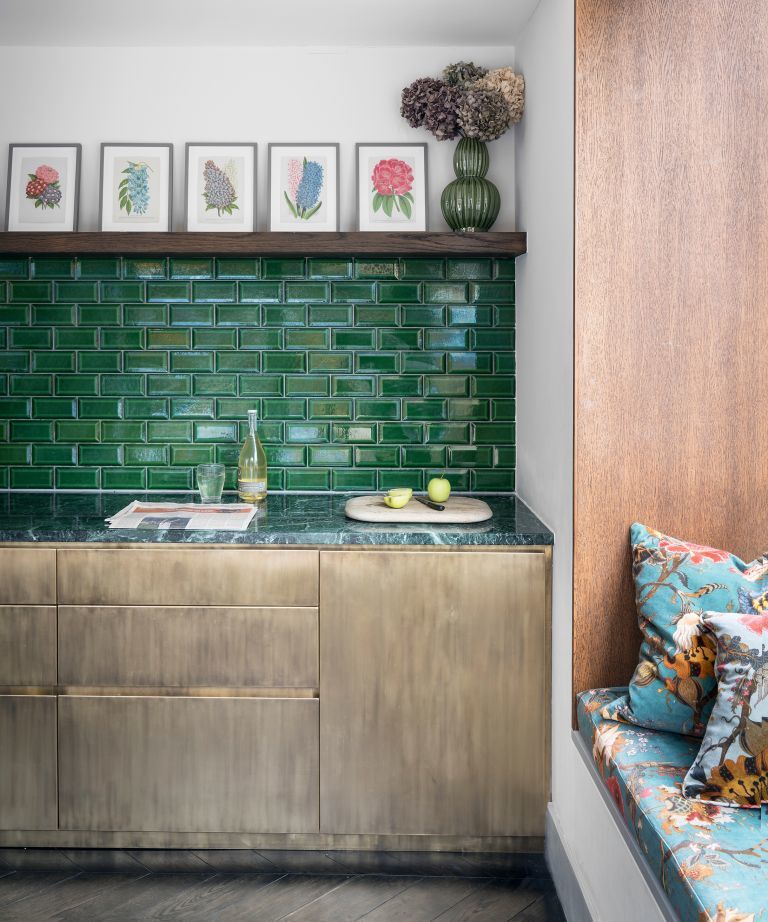 If we're going to take color styling tips from anybody, it is Eva Sonaike. Eva's eponymously named designer brand is built on the combination of color and elegance, so we're inevitably taking notes on everything she has to say. Eva suggests that as families and friends begin to gather around kitchen islands once again, a colored countertop is a great way to add a 'wow effect' and 'make dining and cooking much more fun.'

However, Eva urges us to tread with caution, suggesting that in the case of this bold trend, less is often more.

'With a colored countertop, you can inject color into the home and make a true statement. But keep in mind that less is more, so I would keep the kitchen units and the island base in a more traditional color,' she suggests.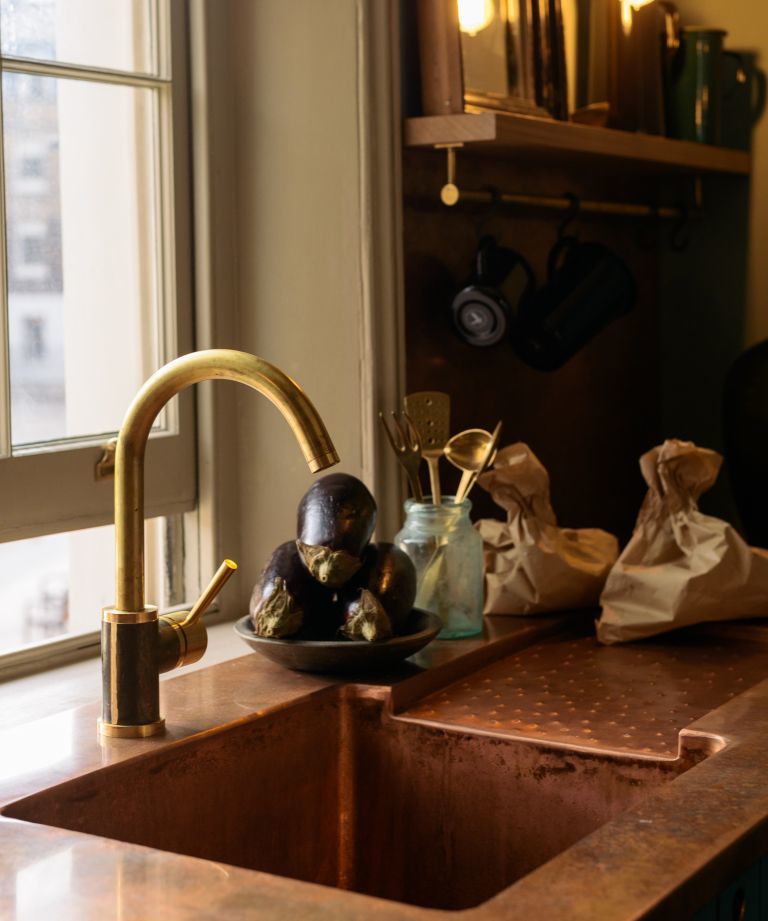 How should we style colored countertops?
1. Combine your countertop with golden hues

To ensure your colored countertop accentuates the rest of your kitchen space, founder and kitchen designer at dsignedby., Irena Kilibarda suggests pairing a darker color countertop' with a 'golden sink, faucet, and hardware, which, she suggests, is 'the perfect complement in the kitchen.'

'There are many options on the market for different kitchen countertops. I personally believe that striking materials are used more frequently in kitchens today. For example, the countertops we use include granite, marble, quartz, and solid surfaces such as Corian DuPont or Compact Fundermax,' Irena adds.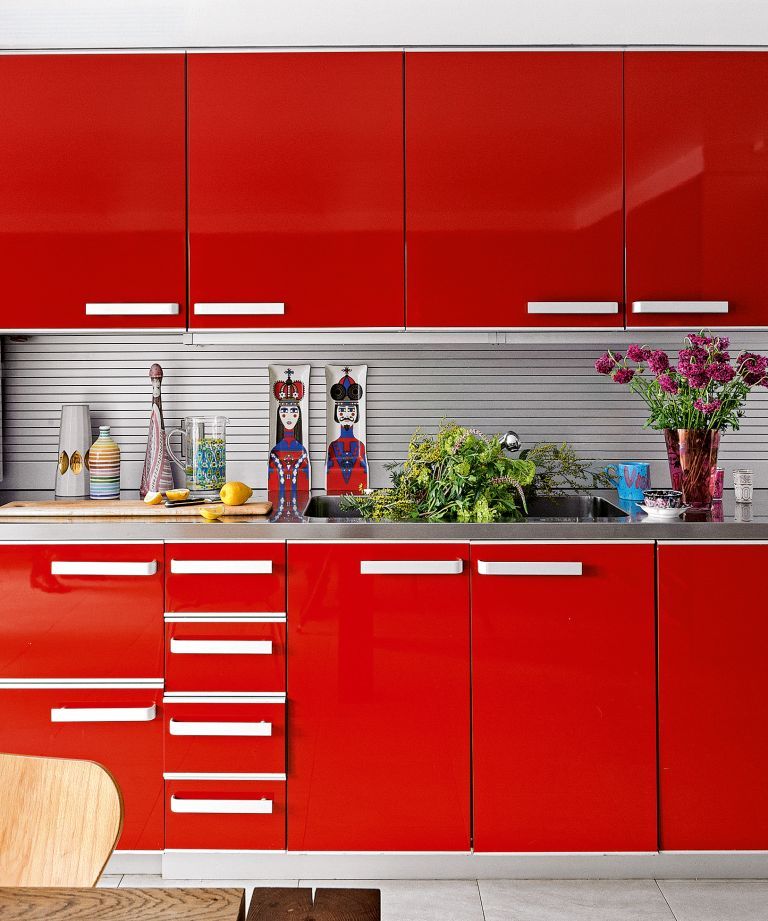 2. Pay homage to the color of summer – baby blue

In case you hadn't already heard, we love baby blue, but it appears that Irena does, too, as she also suggests injecting this trendy hue across our countertops. 'Lighter blue or pastel-colored kitchen is a trendy and fresh approach for this summer,' she states. With the stylish yet soothing summer tones of baby blue stretching across your kitchen, you'll be wondering why you didn't get behind this trend sooner.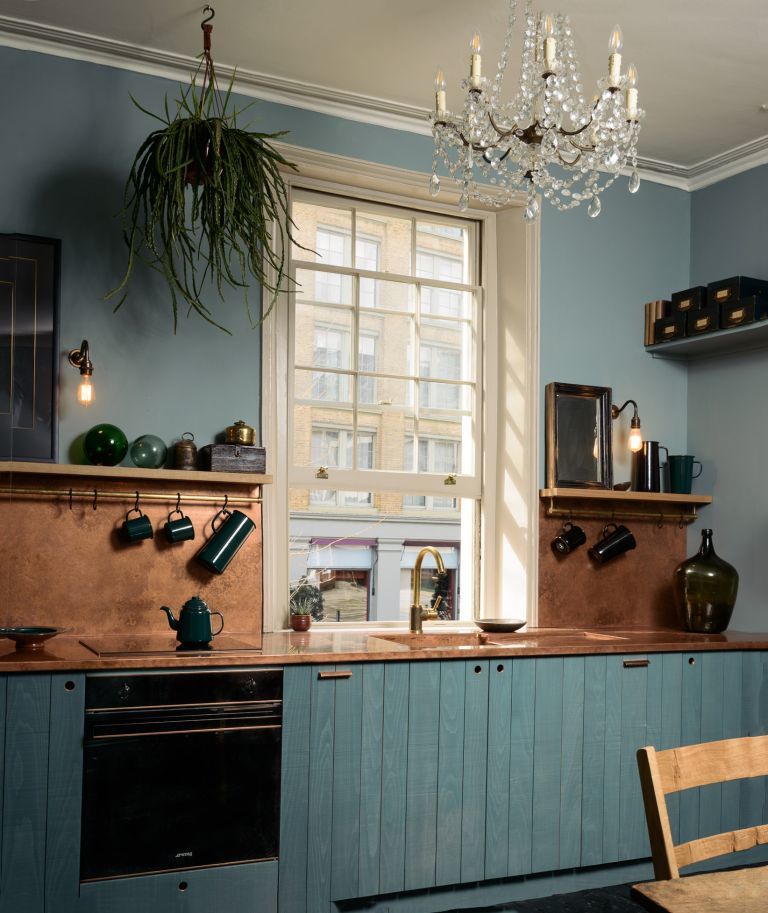 3. For a subtle colored countertop alternative – look to copper

We confess, colored countertops are a bold move, so if you're not quite ready to totally unleash the color spectrum in your kitchen, then fear not. The kitchen exports at deVOL have shared their alternative to bright kitchen countertops in the shape of copper.

'Aged copper makes a wonderful material for worktops; it has a patina and gentle color that creates the most beautiful soft glow. It is quite glamourous in a very understated way, not flashy, just soft tactile and something a little different that works beautifully with a moody kitchen painted in dark colors,' shares Creative Director deVOL Kitchens, Helen Parker.

Beautiful and practical in worktops is often a contradiction and often applies to a manmade material, but this natural metal is quite the loveliest thing we have used in our kitchens in recent years,' she adds.

Whether you opt for a bright and brilliant hue or indulge in the subtler tones of a reddish copper, there's a colorful countertop for every type of person and every type of kitchen. The only thing left to decide on is the remaining songs in that house party playlist.