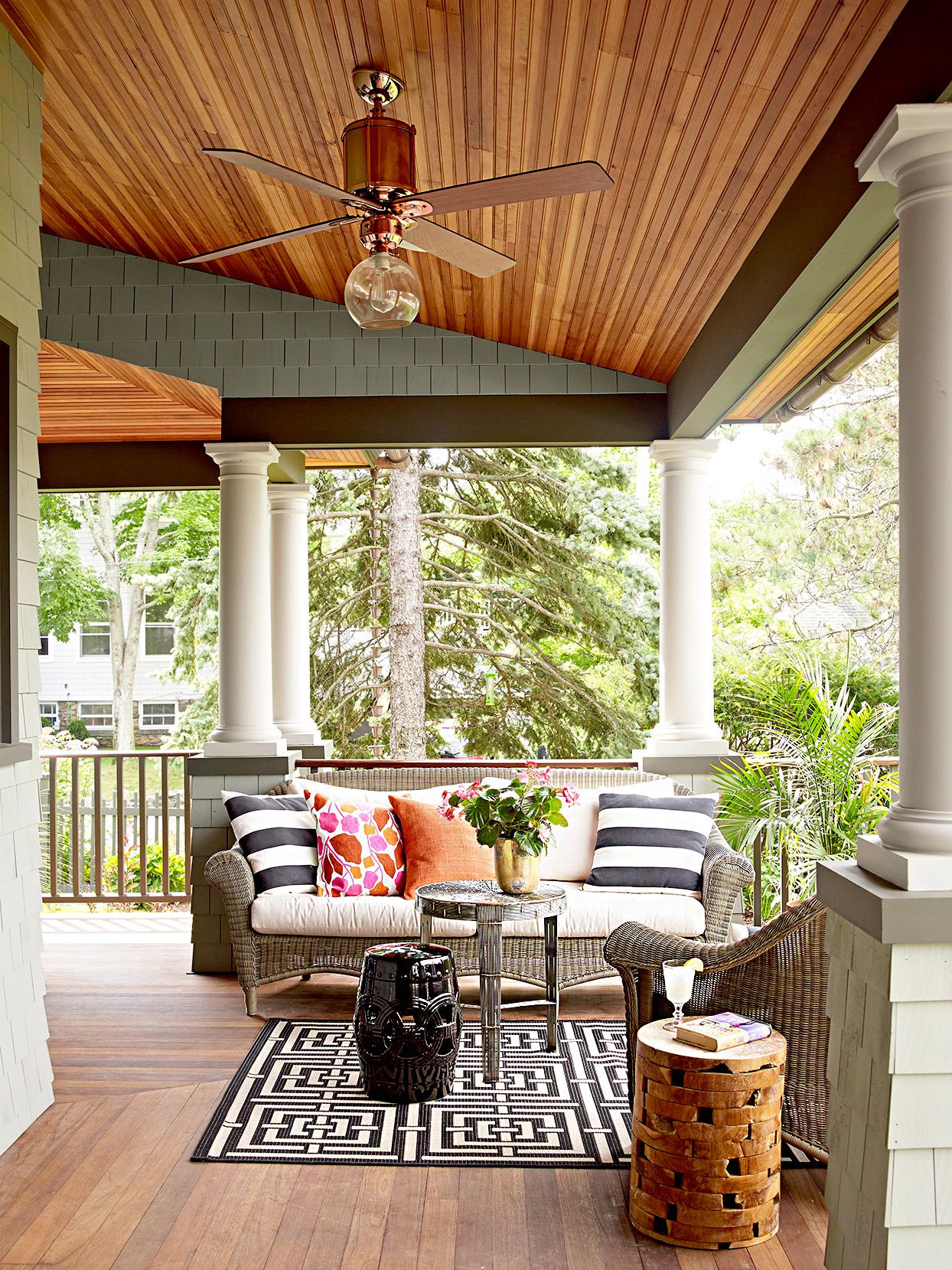 Try On a New-Traditional Look

Approach a porch layout as you would an indoor living room with comfortable seating in traditional shapes. Try a wicker settee that mimics the silhouette of a scroll-arm sofa and deep armchairs. Anchor the seating arrangement with an outdoor rug. Black-and-white is a perennially sophisticated choice, and a graphic print helps camouflage dirt.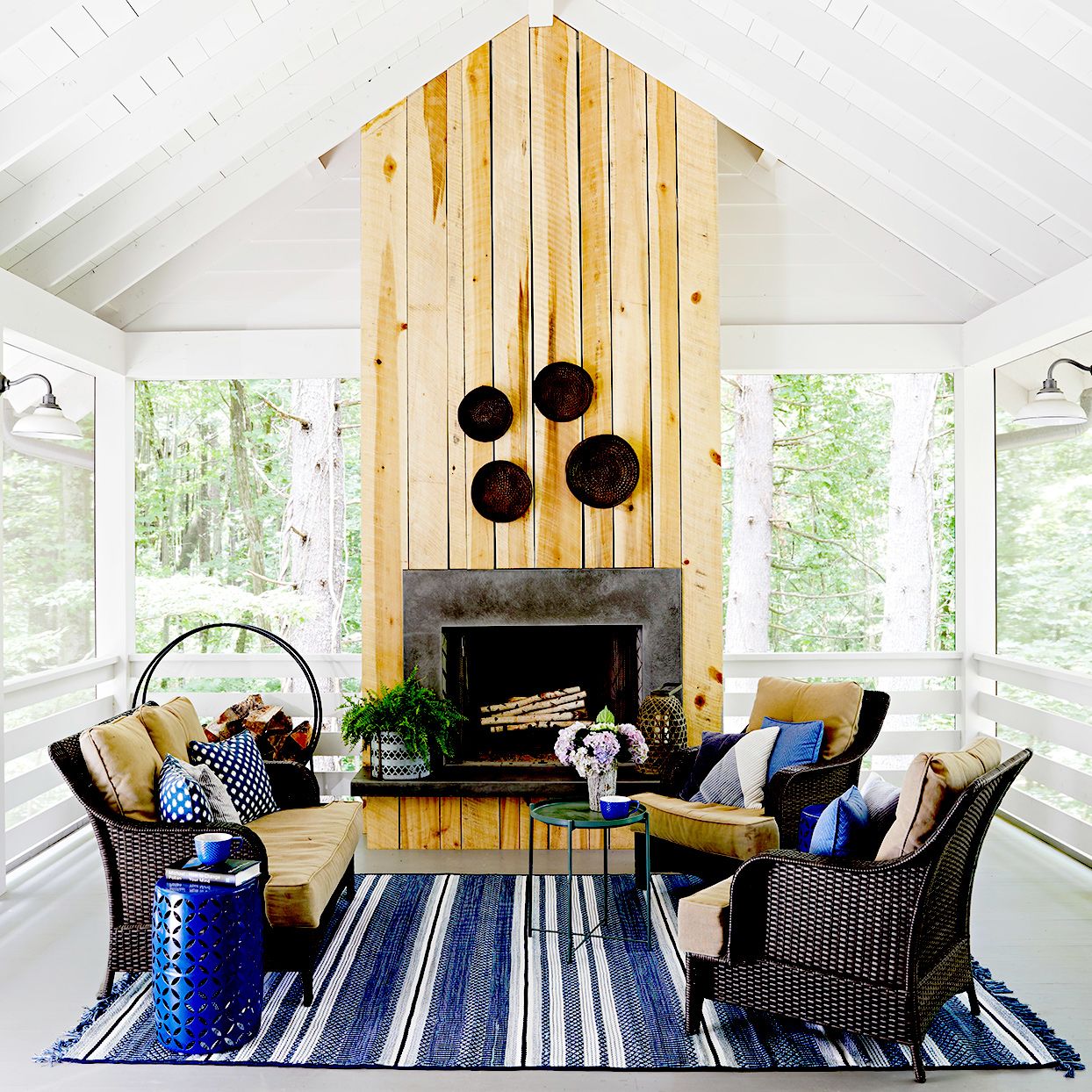 Add a Fireplace

Thanks to a fireplace, a screened porch can be an extension of your living space during all types of weather. Here, the pine framing of the fireplace makes the 17-foot vaulted ceiling an added focal point. The wicker chairs and love seat surrounding the fireplace create a cozy living area, while blue accents contrast the otherwise neutral color scheme.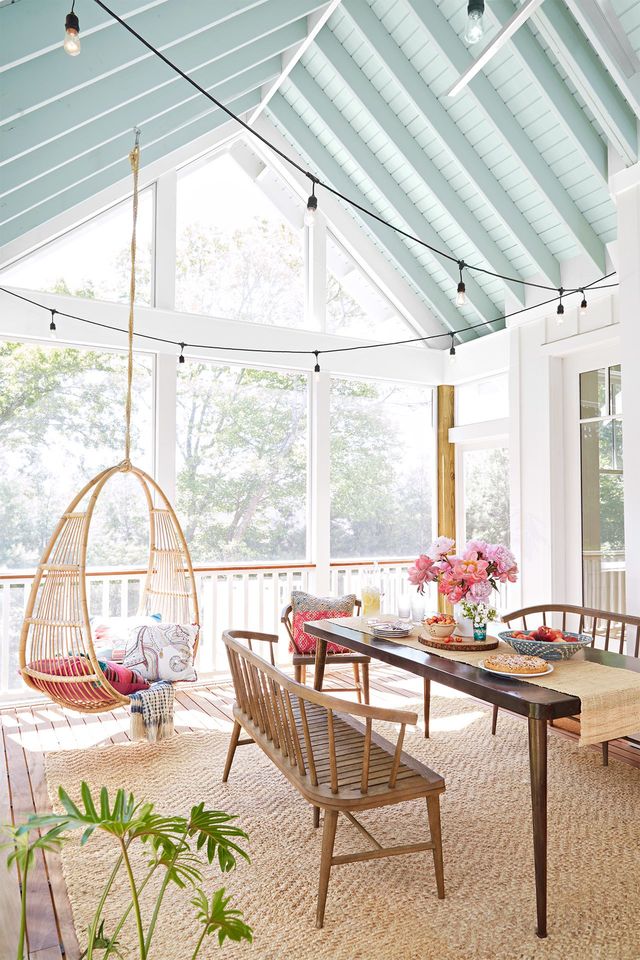 Relax with Beachy Decor

No matter how far you are from the coast, coastal style says relaxation. Woven textures and sunny colors are at its core. Look for furniture pieces with open frames and lighter lines-something the ocean breeze could pass through. Here, a swinging chair keeps the porch casual and fun.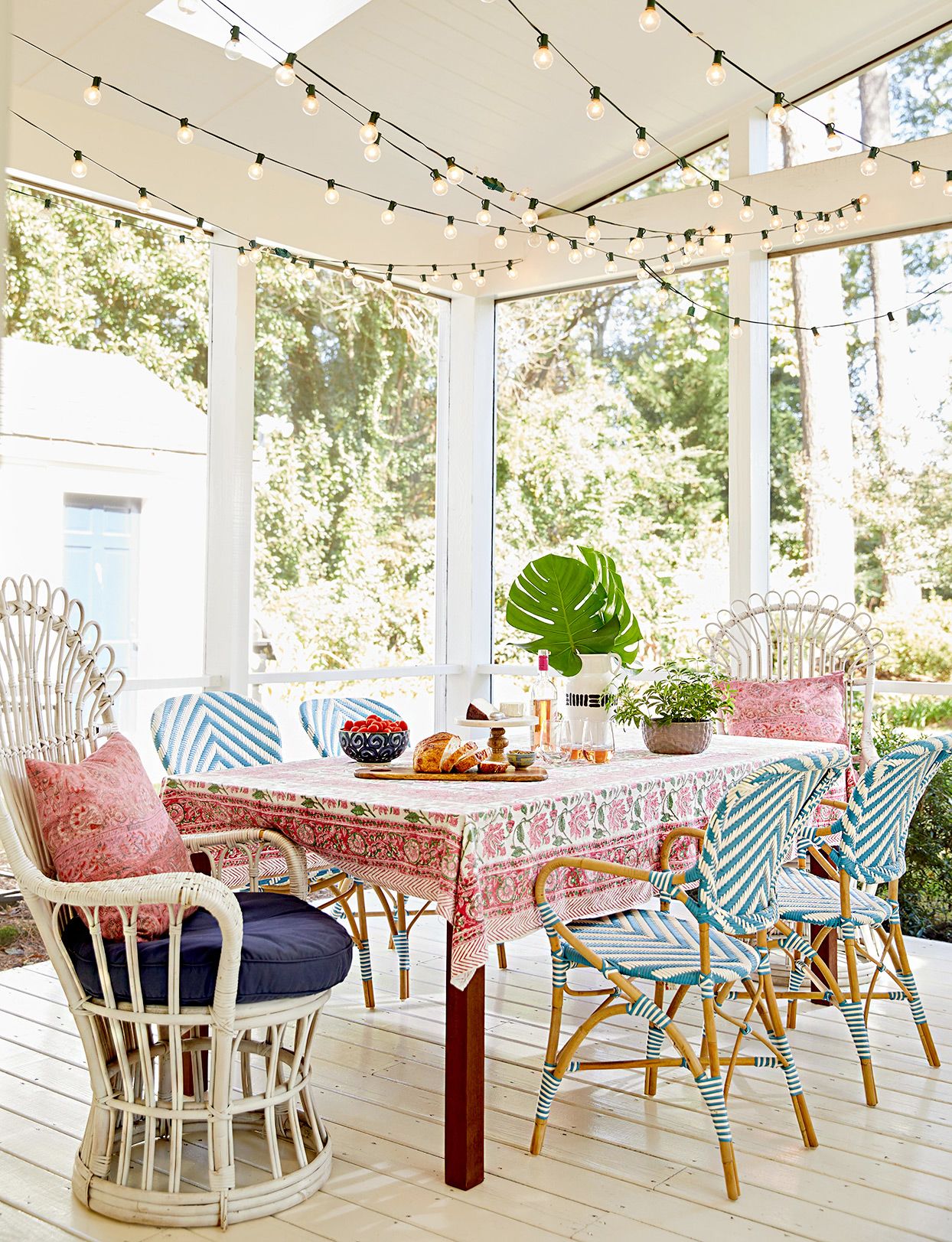 Extend Your Inside Color Scheme

Make your porch feel like it's an extension of the inside of your home. Here, bistro chairs reflect the interior's recurring blue-and-white palette. A floor-to-ceiling glossy white paint job on the porch's natural wood also mimics the home's color scheme. Crisscrossing strands of string lights stand in for overhead lighting.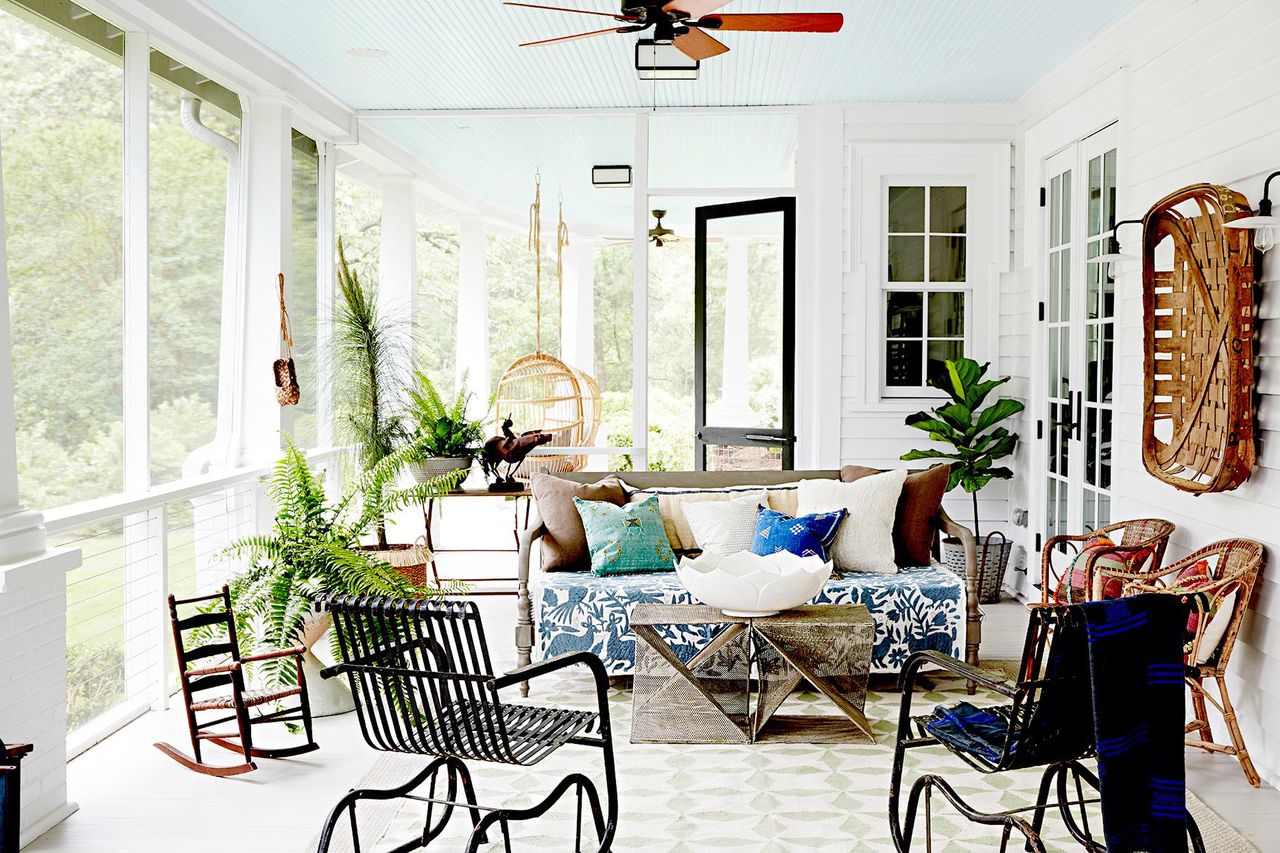 Vary Furniture Shapes

A lot of outdoor furniture can be bulky and boxy. To keep things light and airy, vary the shapes of your porch's furniture. If your sofa frame is solid, for example, get chairs that are spindly. Then switch silhouettes. Here, barrel-back wicker chairs contrast with an angular daybed and perforated metal tables.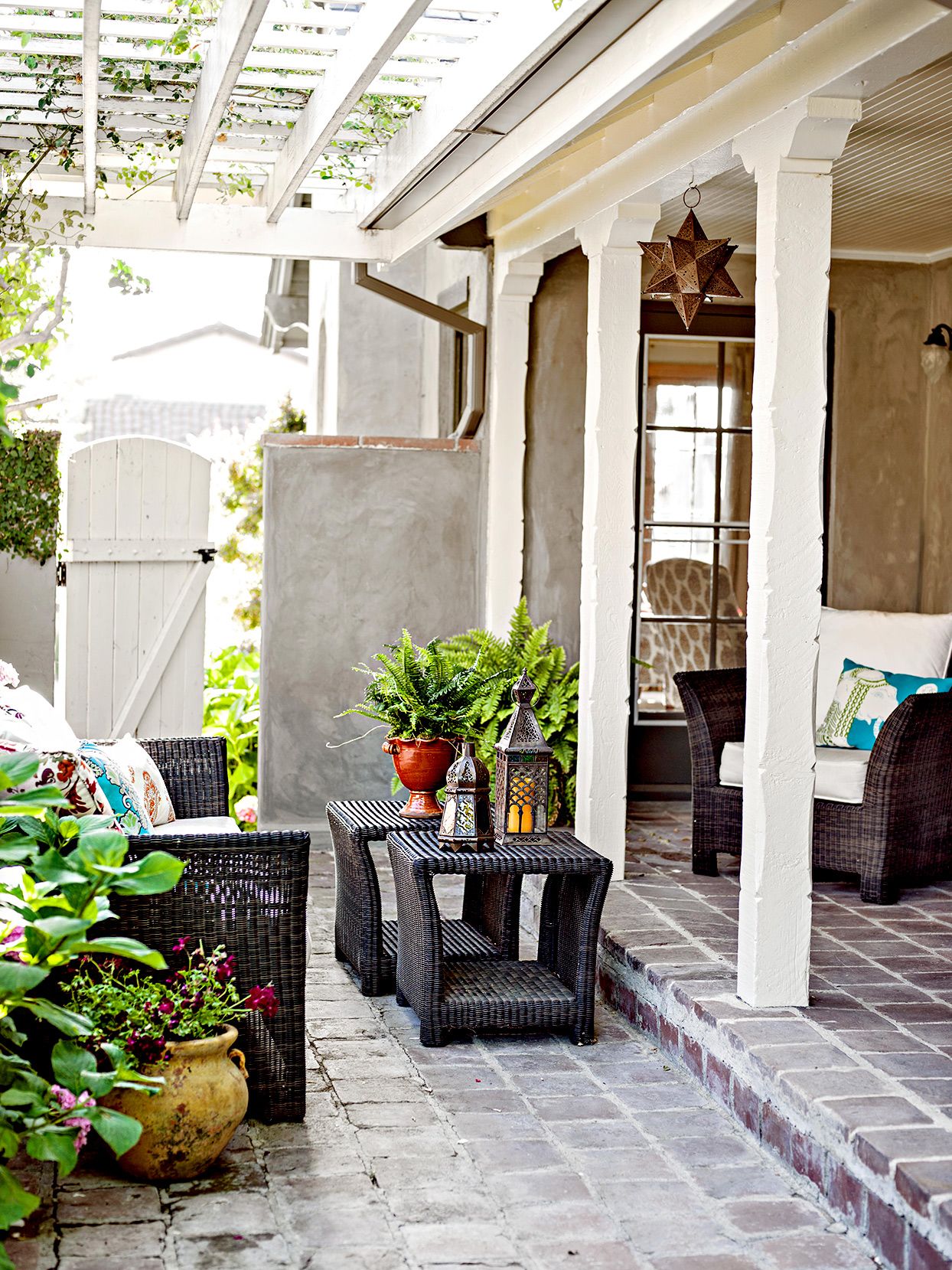 Screen the Sun

A pretty pergola or trellis can extend the use of a porch by blocking intense sun rays. Here, the structure offers support for blooms, too. The potted plants scattered throughout the porch add a natural element to this outdoor space.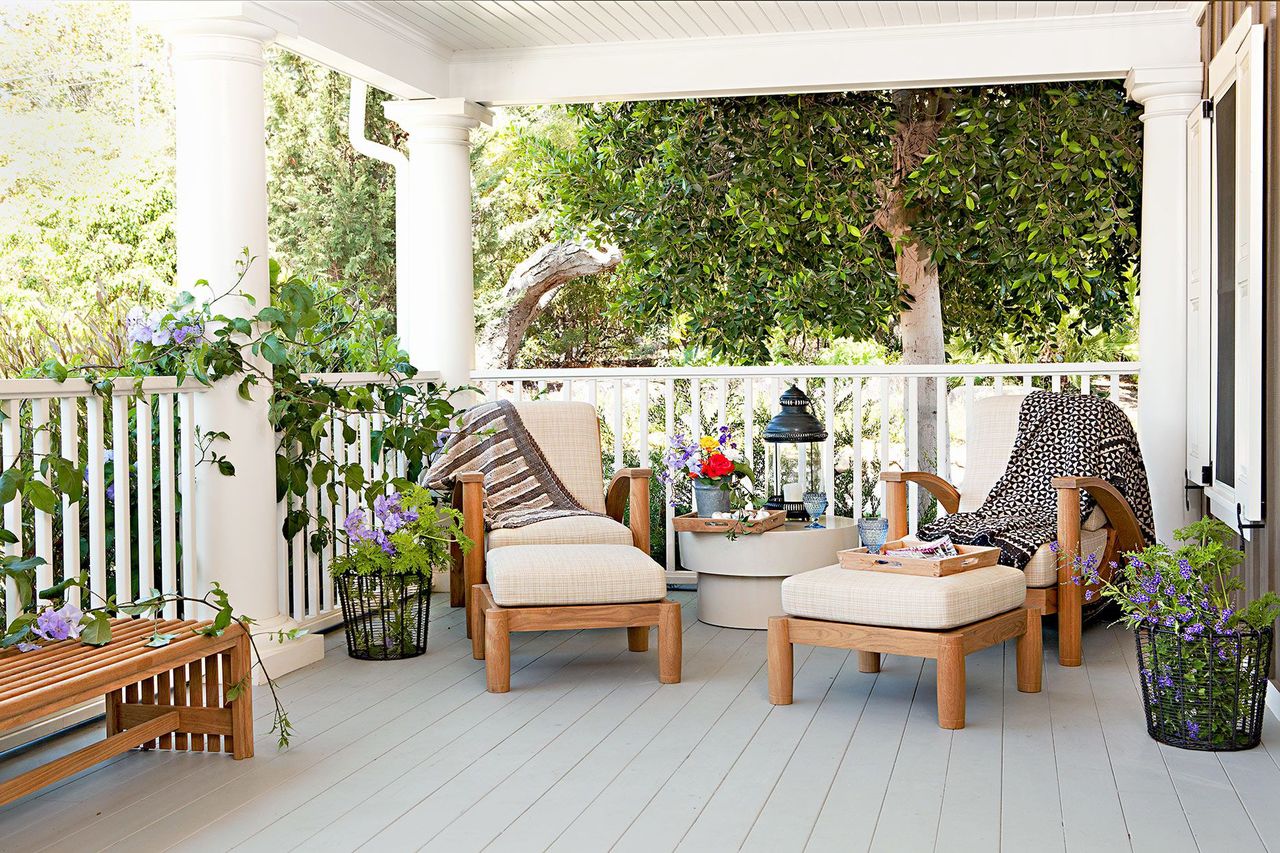 Divide Your Porch into Zones

Even the smallest of porches can benefit from smart space planning. A walkway benefits from a sofa-and-chair combo, pushed or angled with backs against a wall or railing. And when you need an instant refresh, look to a new furniture arrangement.


Add Bold Color

Bright hues or bold tones can help to draw attention to a particular feature of a porch, whether it's an architectural detail or a centerpiece furniture item. Paint is an inexpensive way to update a porch based on your whims or design needs. Bold orange and vivid blue light up this screened porch like a vibrant sunset over water—creating a stylish look that doesn't take itself too seriously.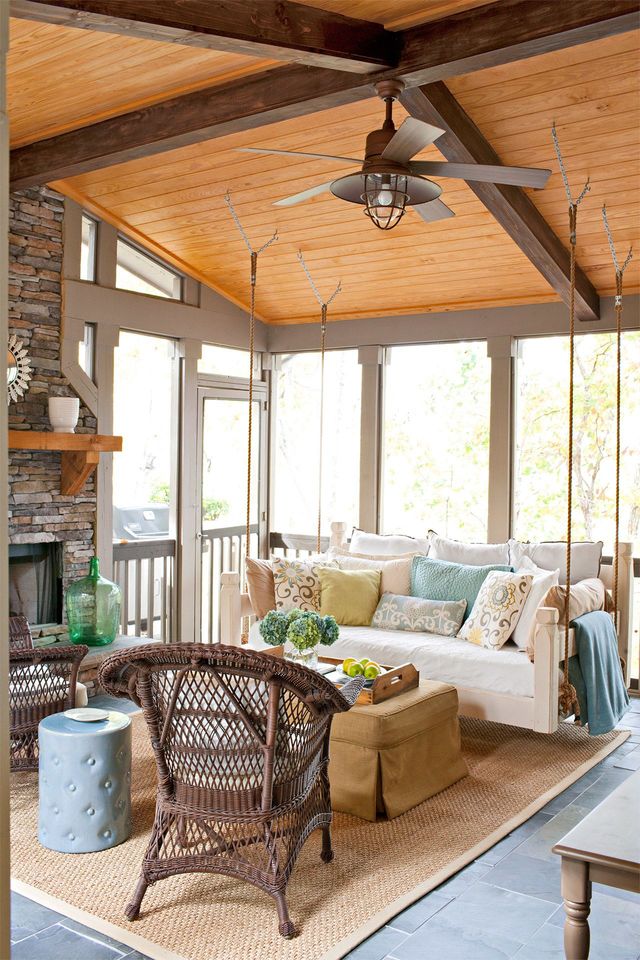 Add an Overhead Focal Point

Lights and ceiling fans do double duty in a porch: They add much-needed function by moving air and improving illumination into dusk and nighttime hours. Both lights and ceiling fans can serve as focal points for overhead spaces. Use a sculptural version to boost the visual interest even more.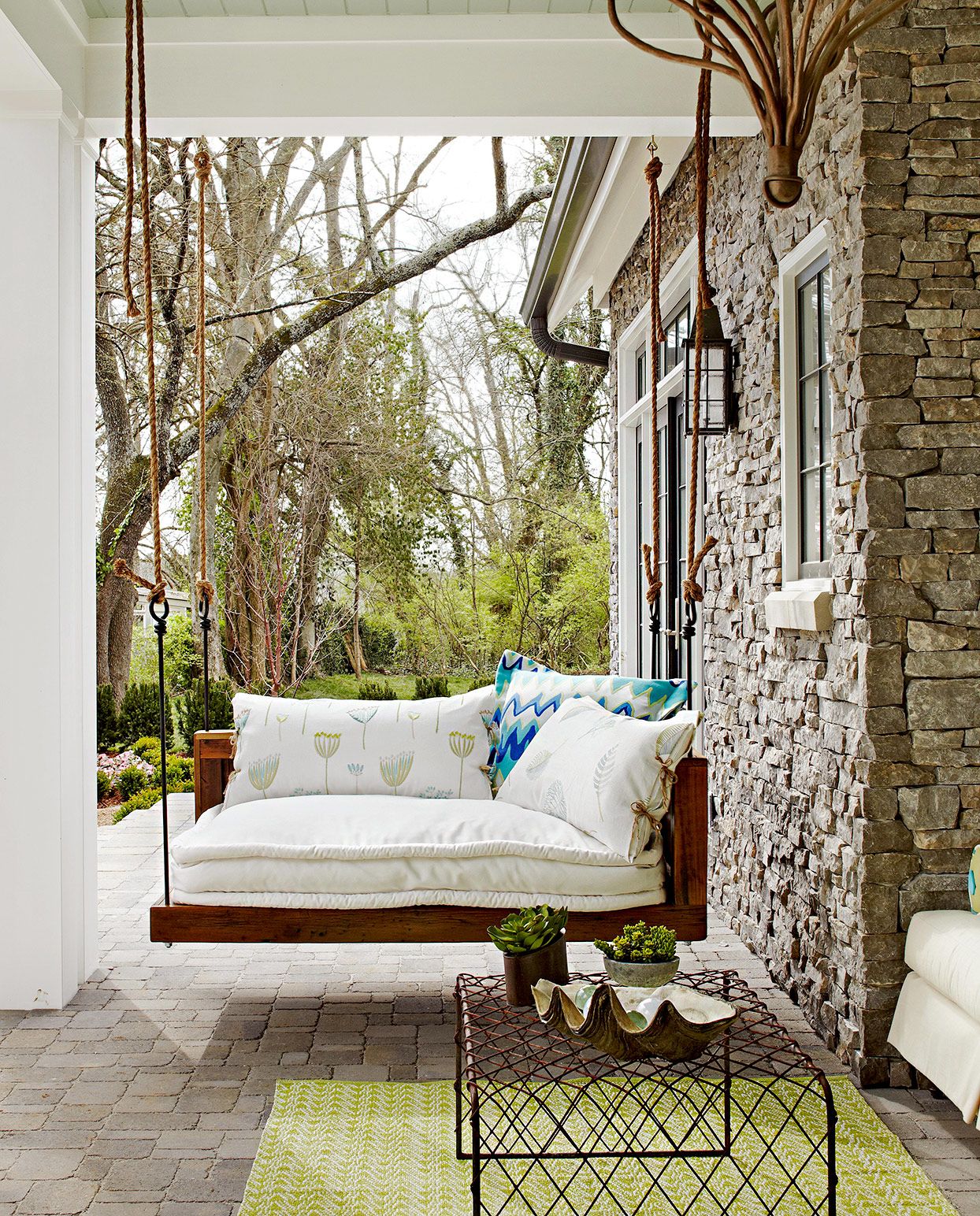 Make It Comfy

Extra pillows, overstuffed cushions, task lights: All these elements help to maximize the enjoyment and use of a porch. This swing covered with indoor-outdoor fabric and edged in super-sized piping beckons relaxation. Place a table close by as a surface to hold glasses, decor, and books.