• Mix metals. Not too long ago many designers would have probably considered this the worst design advice ever, but rules have definitely loosened, and if done right, mixing metal finishes can decrease the sterile, showroom feel that is often associated with kitchens. In Anne Turner's kitchen, eye-catchinn accents like her copper Kitchen Aid Mixer and brass cabinet pulls shine out against the oil-rubbed bronze faucet and light fixtures as well as the stainless steel appliances. The key seems to be keeping the form of the metals more or less in the same family. For instance here all the metal objects (appliances, hardware, fixtures) have relatively simple lines. A variation in form (some intricate, others clean-lined) and finish may have erred on the side of random.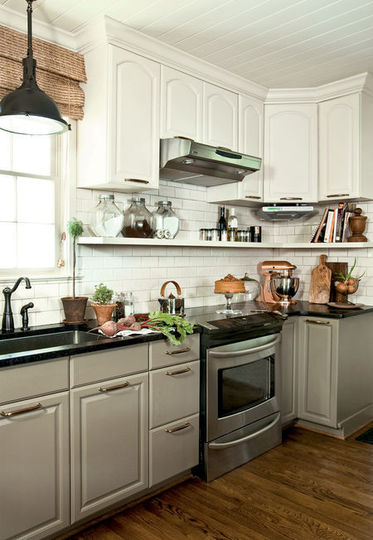 • Use the space over the refrigerator. Of course not all of us will have the luxury of built-ins surrounding our fridge, but that doesn't have to stop us from utilizing the space above it. It would still make a great spot for a wall-mounted wine rack, a floating shelf for extra dishes or cookbooks, or a resting spot for the microwave. My kitchen life was revolutionized the first time I saw someone put the microwave about the fridge. We don't use ours on a daily basis, and it takes up so much counter space. Getting it out of the way was wonderful!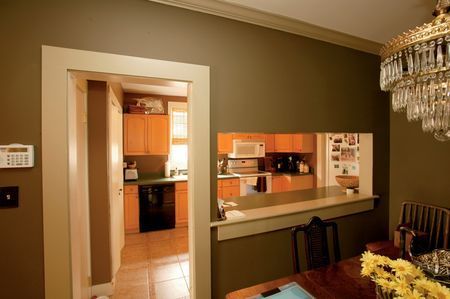 • Paint the upper cabinets a lighter color than the bottom ones. This is a great way to introduce color without overwhelming a small space. Keeping things light and simple on top allows a small space to breathe, giving a room almost as open an effect as open shelving would. PS- for tips on painting cabinets, see this post from earlier this week.