If you're an avid wine collector, investing in a dedicated storage space can be well worth it. Whether it's a sexy subterranean place to retreat for a night cap or you're looking to build a new glass-enclosed space in a spare room or unused corner, we rounded up fifteen designer-approved wine cellar ideas and bottle storage styling tips to help you tastefully preserve your collection. Chin chin!


Try a Wine Wall

In this dining room by Catherine Kwong Design, the entire back wall is dedicated to wine. It makes entertaining easier when you can simply grab and pour without even leaving the room. Plus, if your basement has a skylight, even more reason to turn into a special occasion room, right?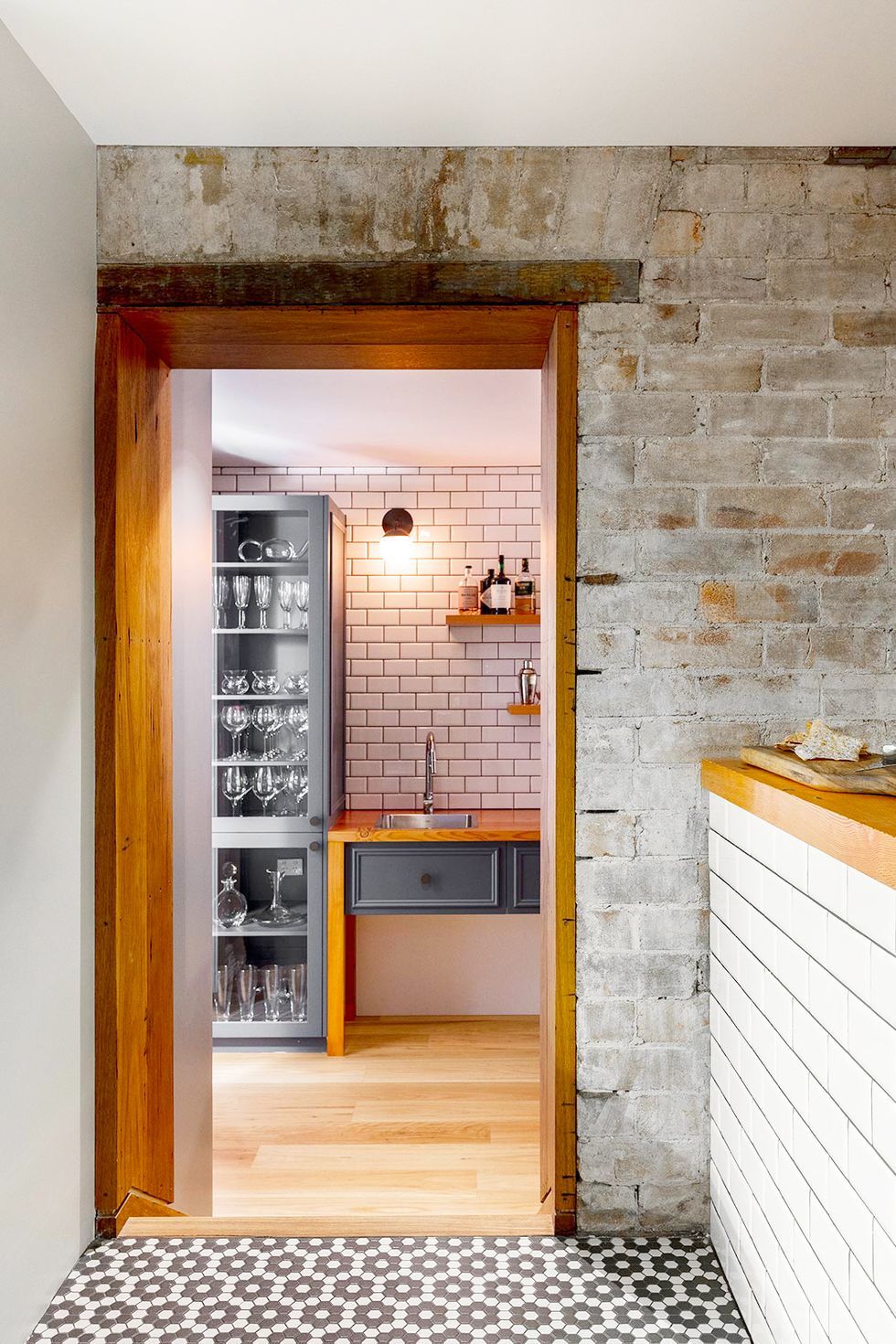 Use Stone

Designed by Arent & Pyke, this home bar is both traditional and low-key, elegant and modern, with an adjacent wine cellar fit for a collector. The stone walls are evocative of a French chateau on a vineyard.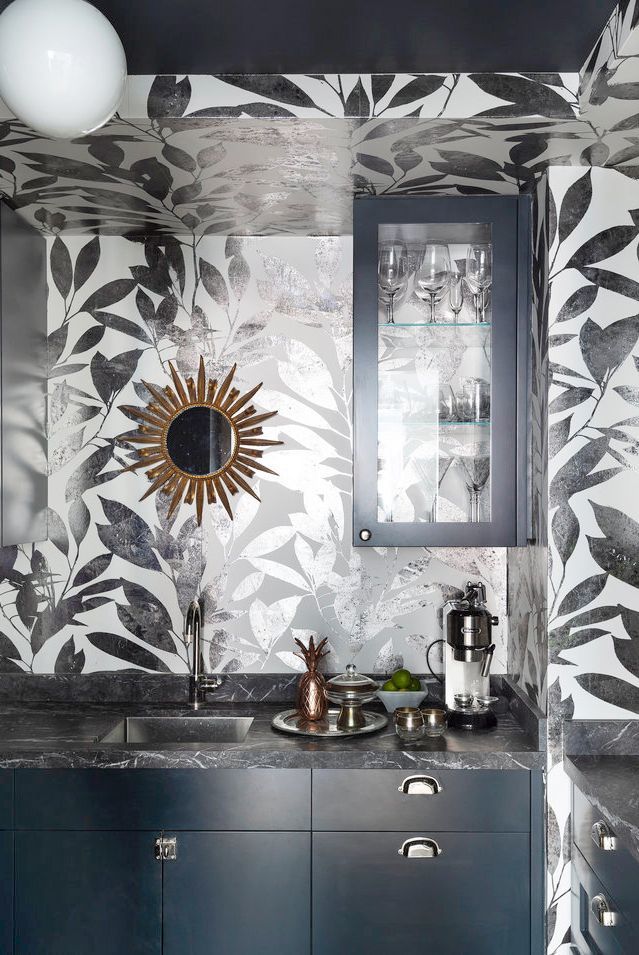 Go Dark

Metallic wallpaper is the perfect backdrop for a moody, intimate home bar or wine cellar. Studio DB paired it with black marble surfaces and stained wood cabinets to finish the look. And, of course, don't forget to keep glasses in the area for tastings.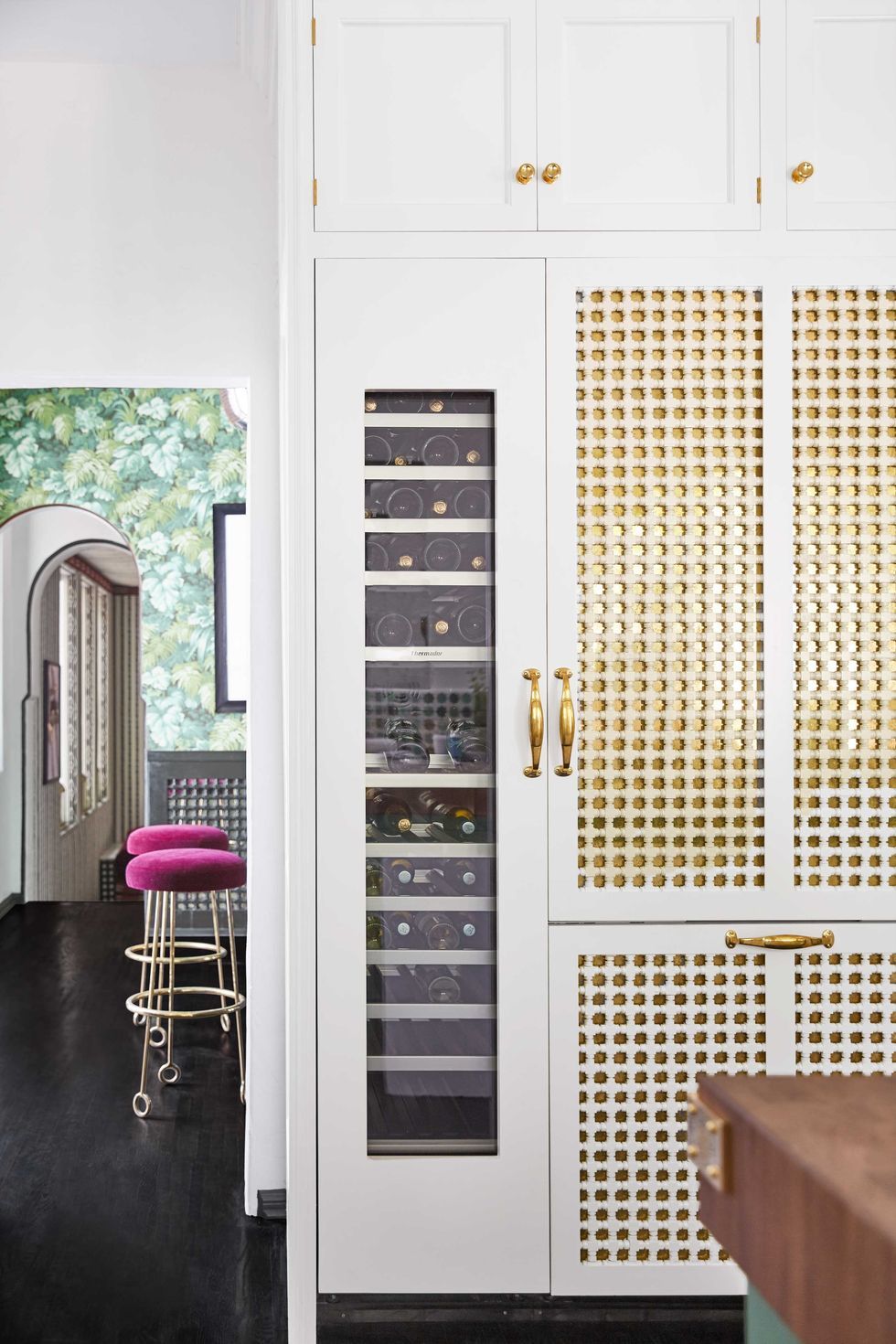 Integrate It

Leave it to designer-to-the-stars Martyn Lawrence Bullard to go all out with gold accents for an integrated wine system that blends right in-but is anything but boring,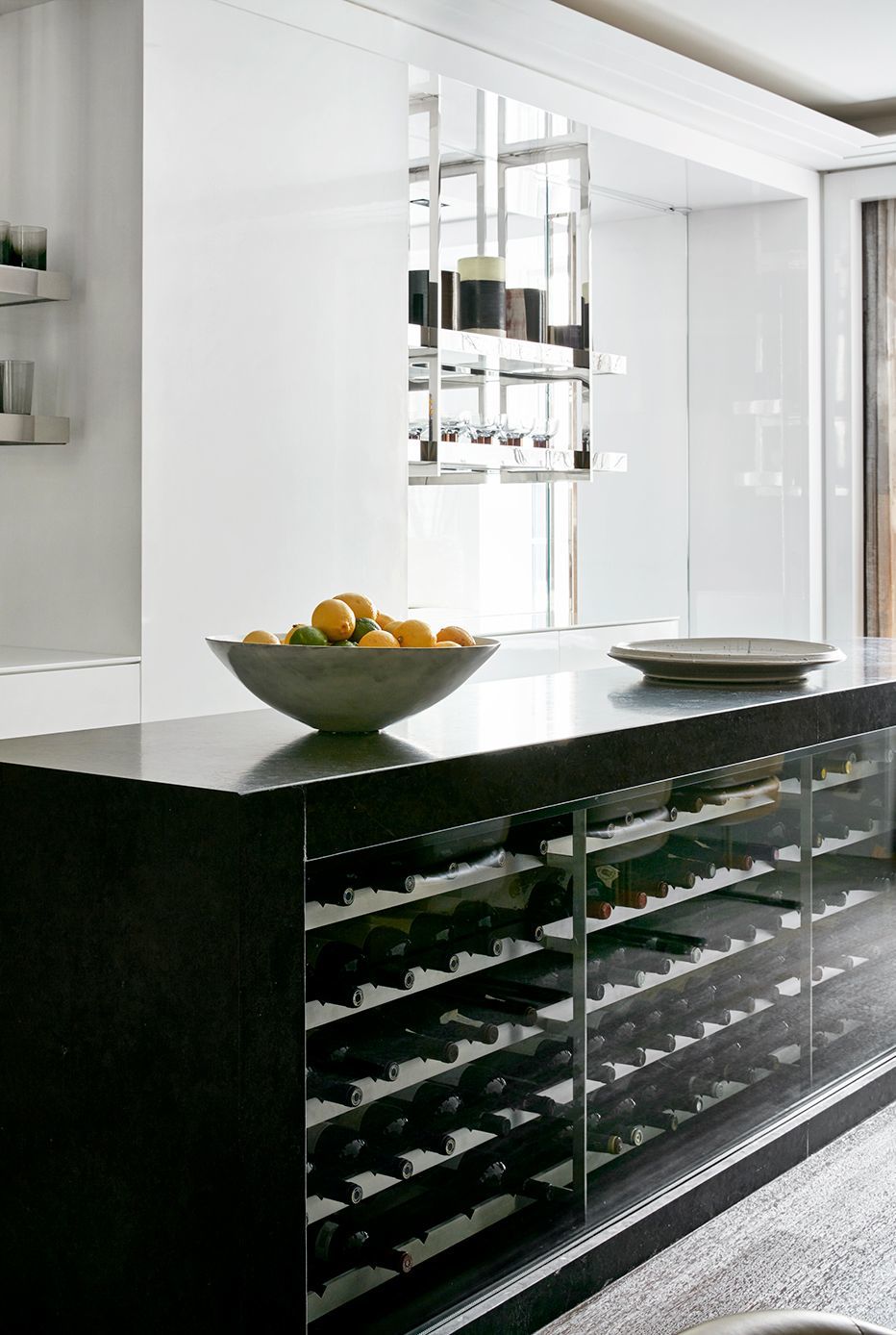 Build Into an Island

You don't need a full room to create a stylish and climate-optimized cellar. Take note of this integrated wine cooler in a kitchen island designed by Pembrooke & Ives.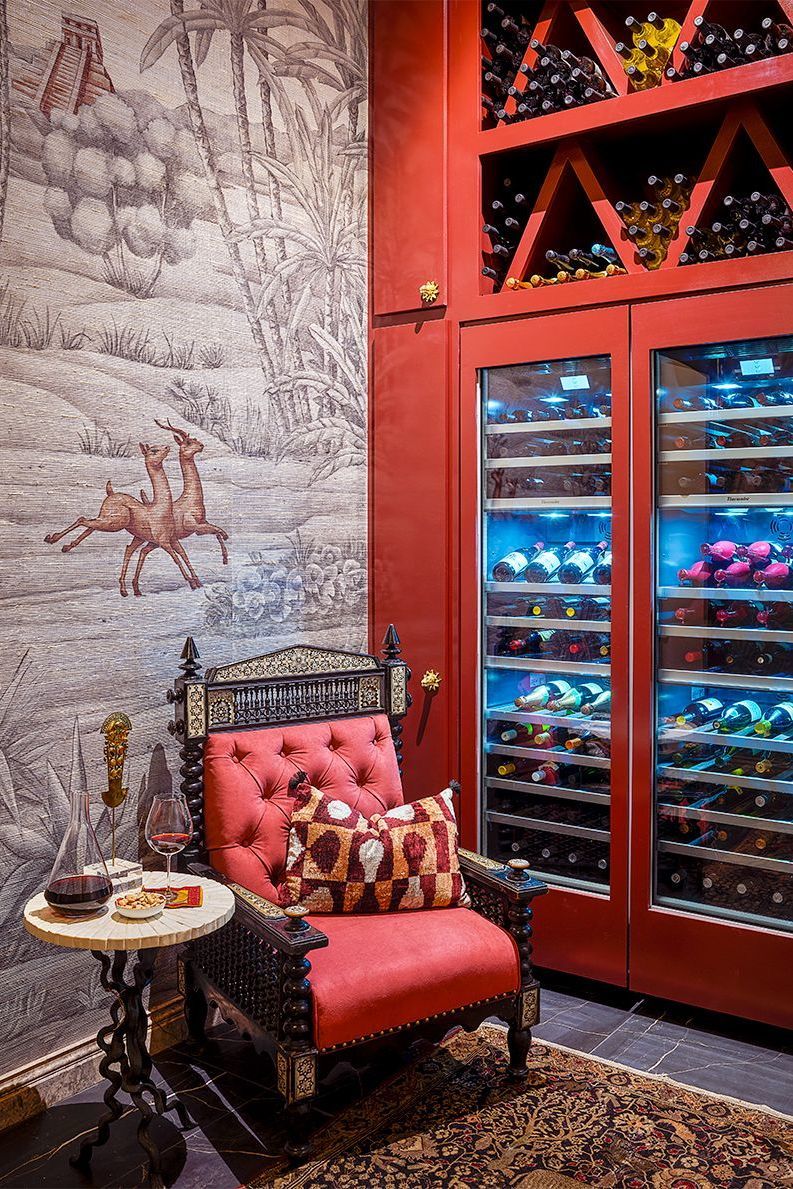 Set the Scene

"The whole room has a sexy, smokey vibe," says interior designer Michelle Nussbaumer. Literally: "You can have a cigar here if you like to smoke." She designed the grasscloth wallpaper to evoke Diana, the Roman goddess of the hunt.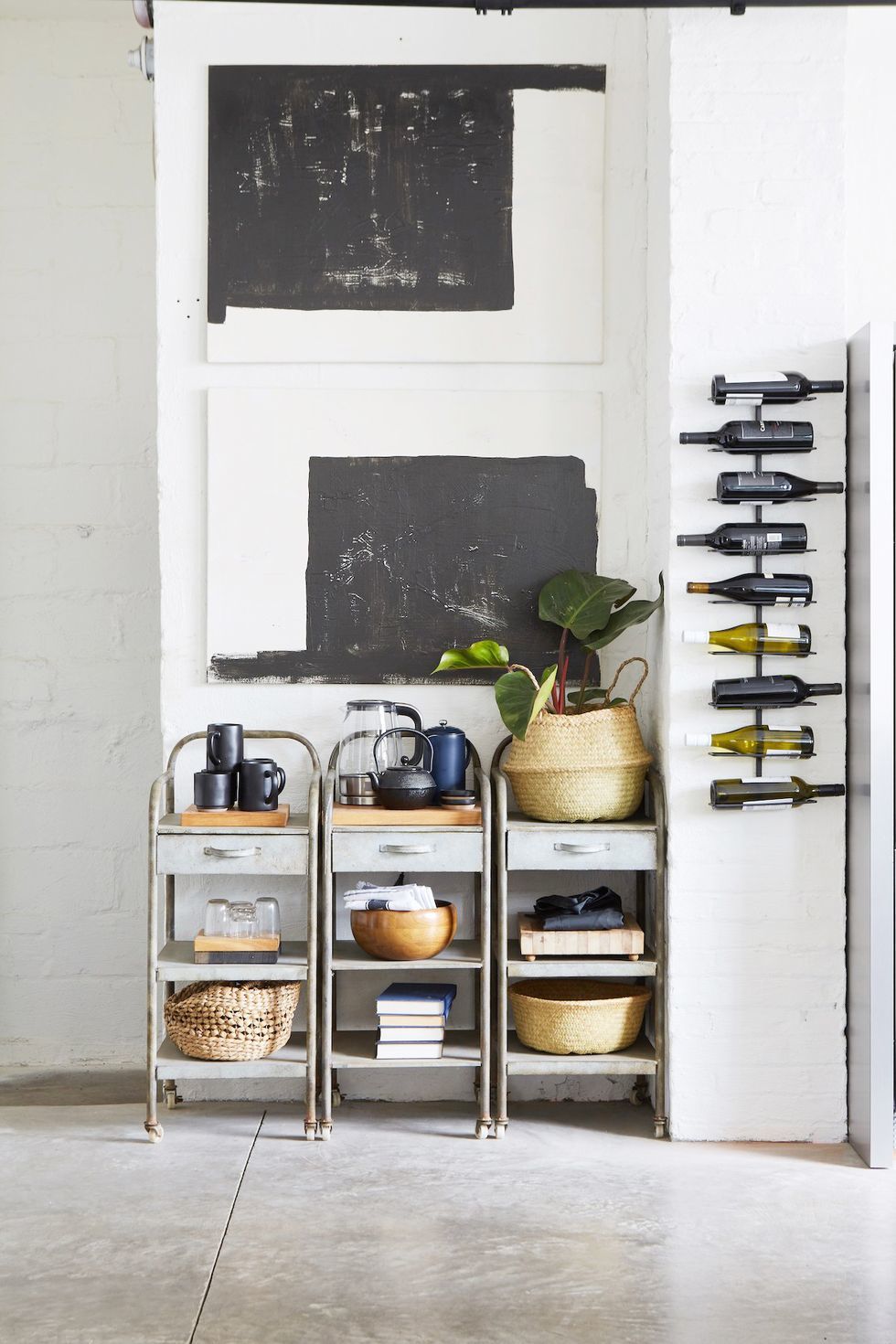 Use a Wall Unit

No space, no problem. Use a wall unit like this one in a kitchen designed by Leanne Ford Interiors. And there's a reason they bottles are organized horizontally: storing them like this keeps oxygen from slipping in through the cork.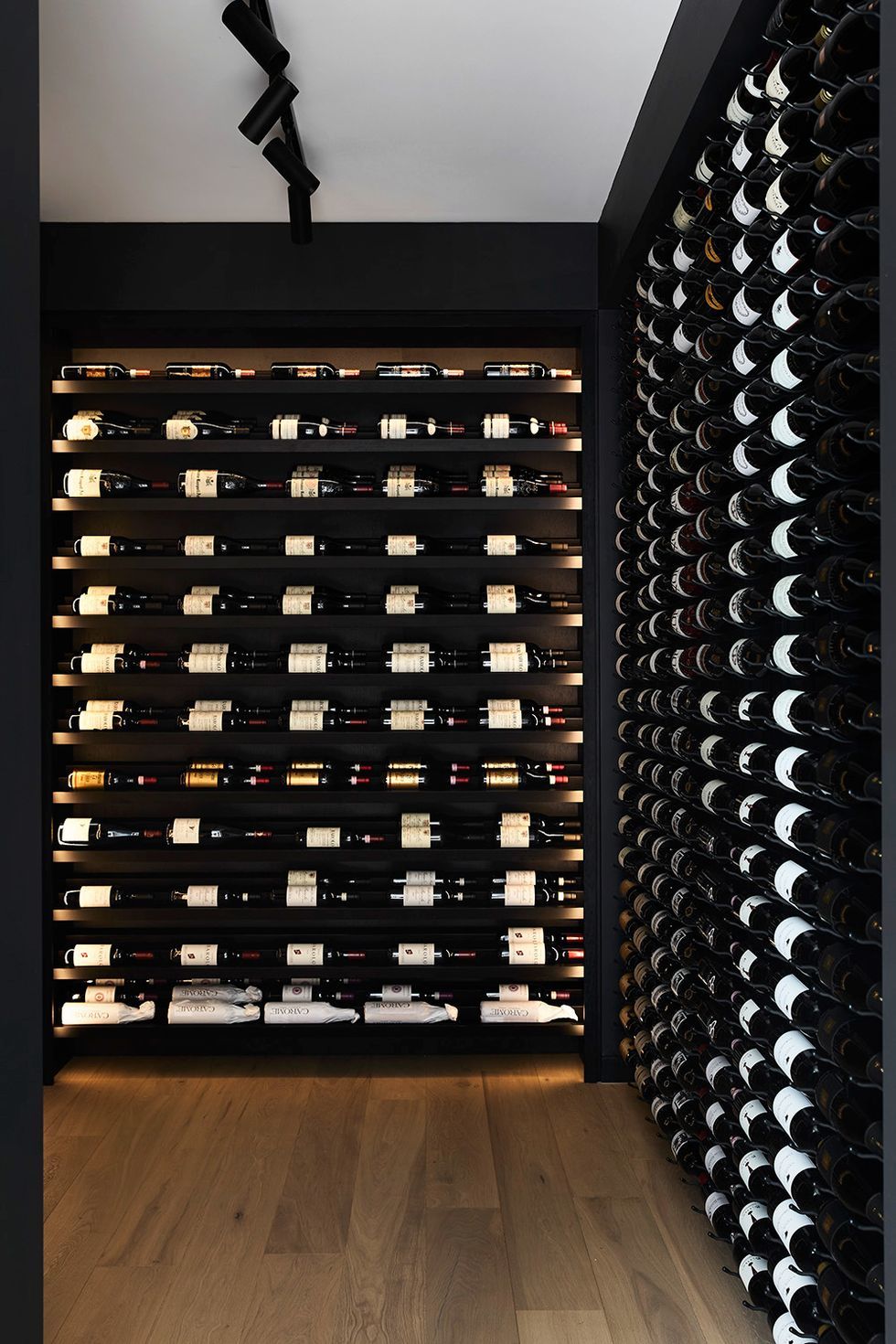 Go Minimalist

Griffiths Studios opted for a matte black backdrop and a grid-like storage setup for a sleek, graphic display that keeps things organized and wine fresh.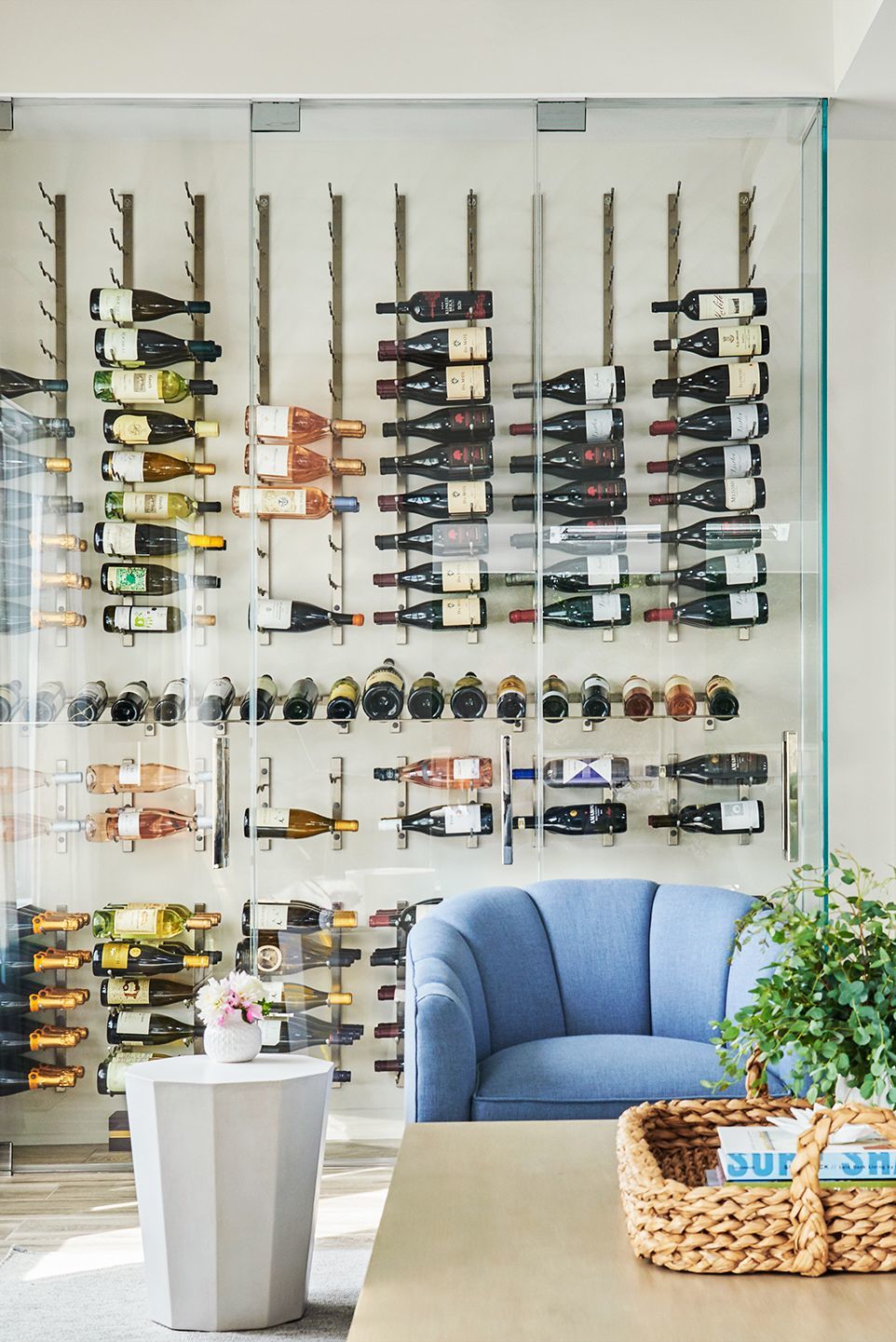 Choose the Right Glass

A closet-sized wine cellar can fit in a living room corner while still housings an extensive bottle collection. Just make sure you use the right glass for optimal wine storage, and "be conscious of your exposed, says designer Michelle Morgan Harrison. Too much direct sunlight accelerates aging, so UV-filtering glass and low-voltage LED bulbs will do wonders.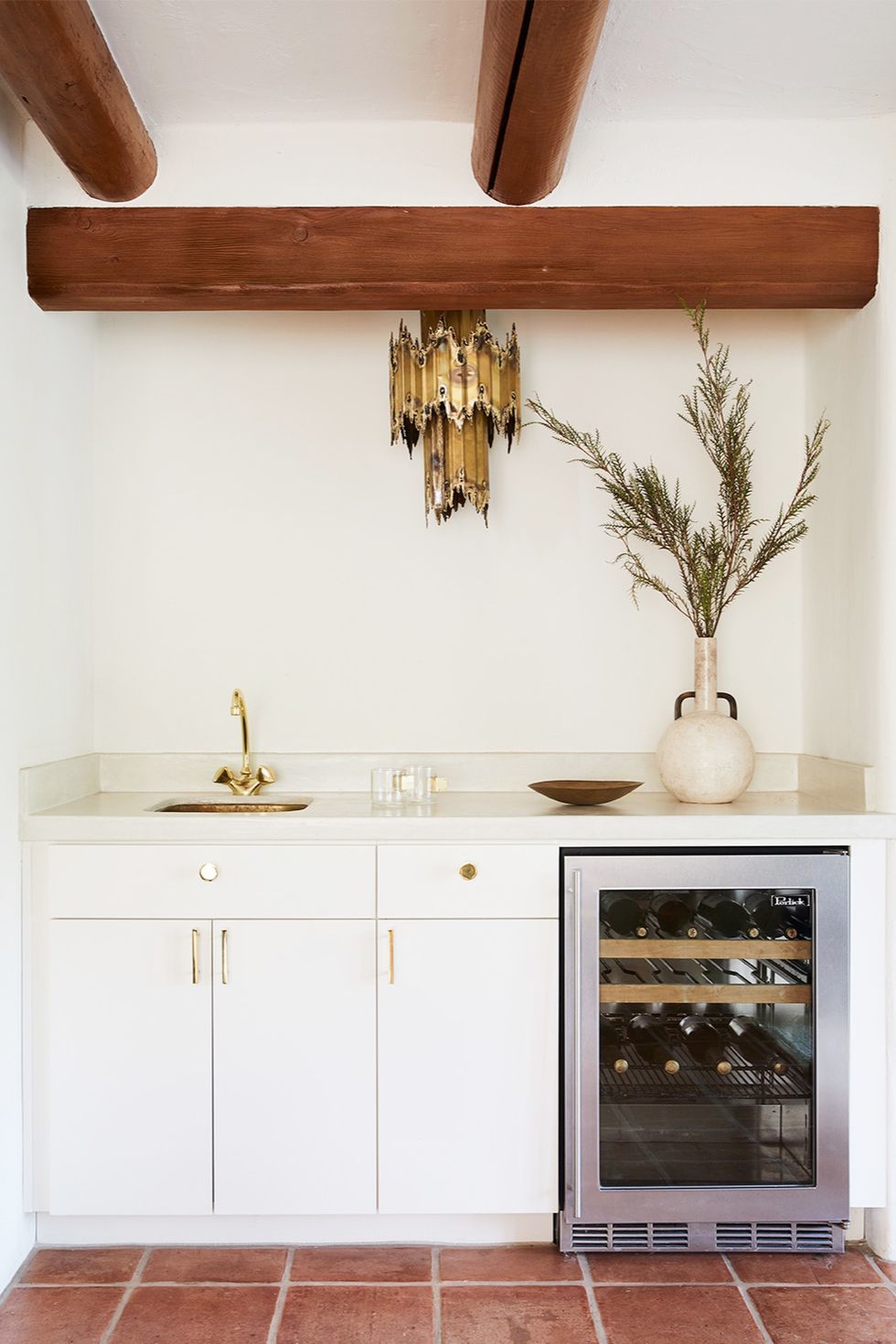 Dress Up Appliances

In this home designed by Corinne Mathern, the exposed beams and lived-in terra cotta floors tiles set the scene for California and Mediterranean-inspired interiors. The brutalist sconce and gold hardware mixed with the homemade pottery complement that style perfectly and keep our eyes away from the appliances.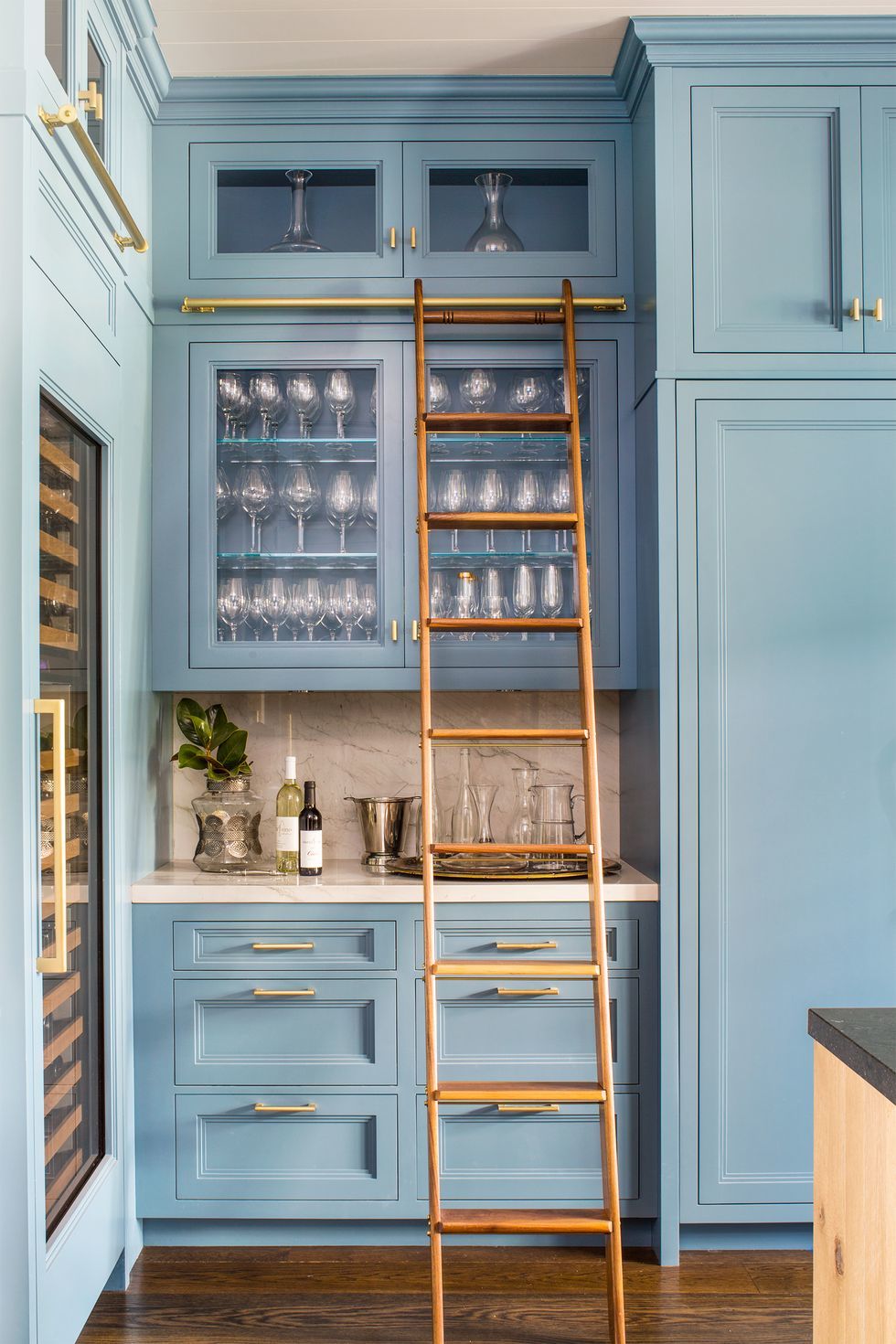 Use Vertical Space

When you have more vertical space than floor space, build up. Take note of this Sommelier-meets-librarian dream designed by Caren Rideau.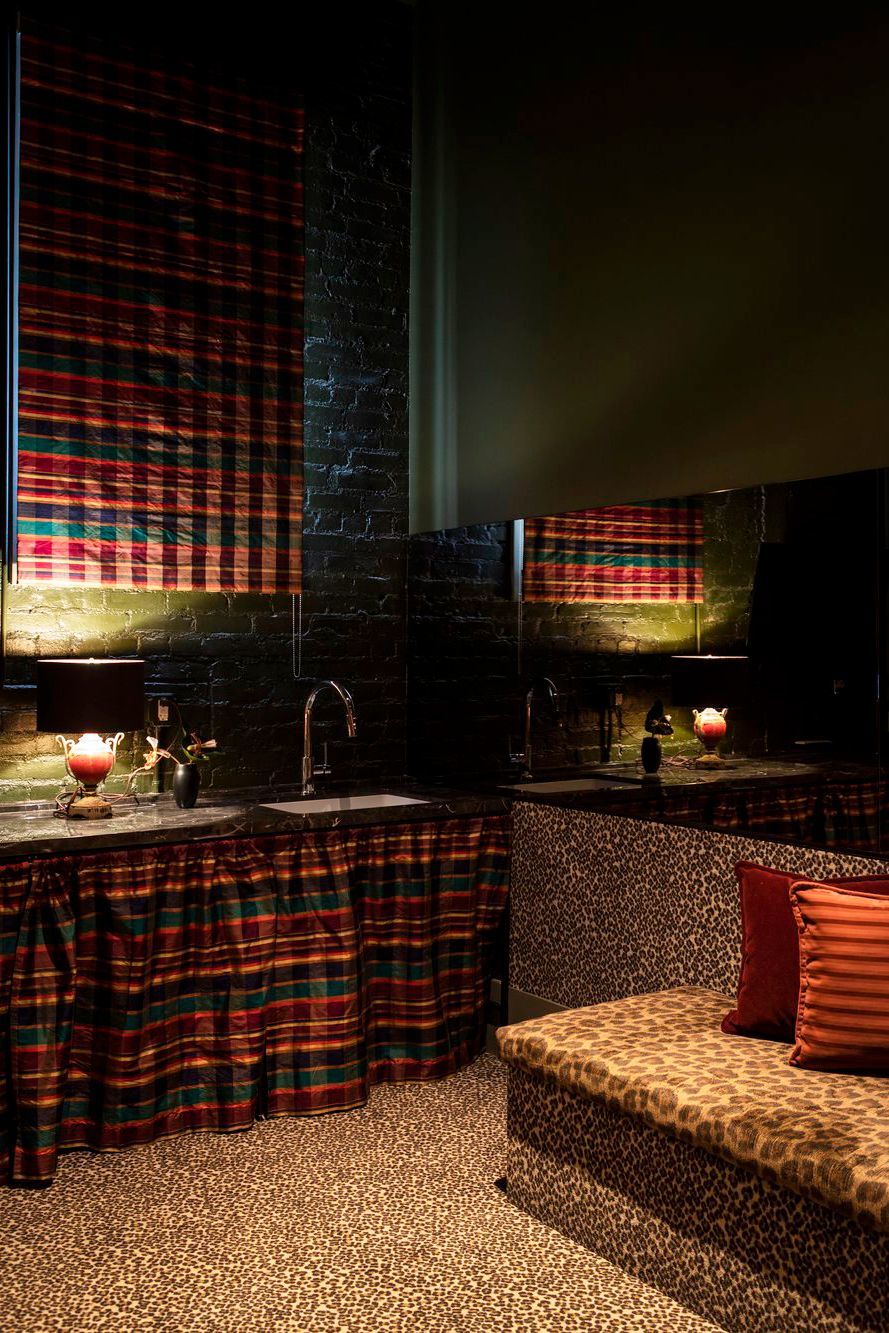 Have Fun With Pattern

This space designed by ETC.etera for Firehouse Hotel is beyond cool. The funky cheetah-print flooring and upholstery set the scene for a good time, while the painted brick adds a gritty warehouse vibe and the striped fabric introduces a touch of traditional, retro-inspired glam. The takeaway? Have fun with it and lean into kitsch.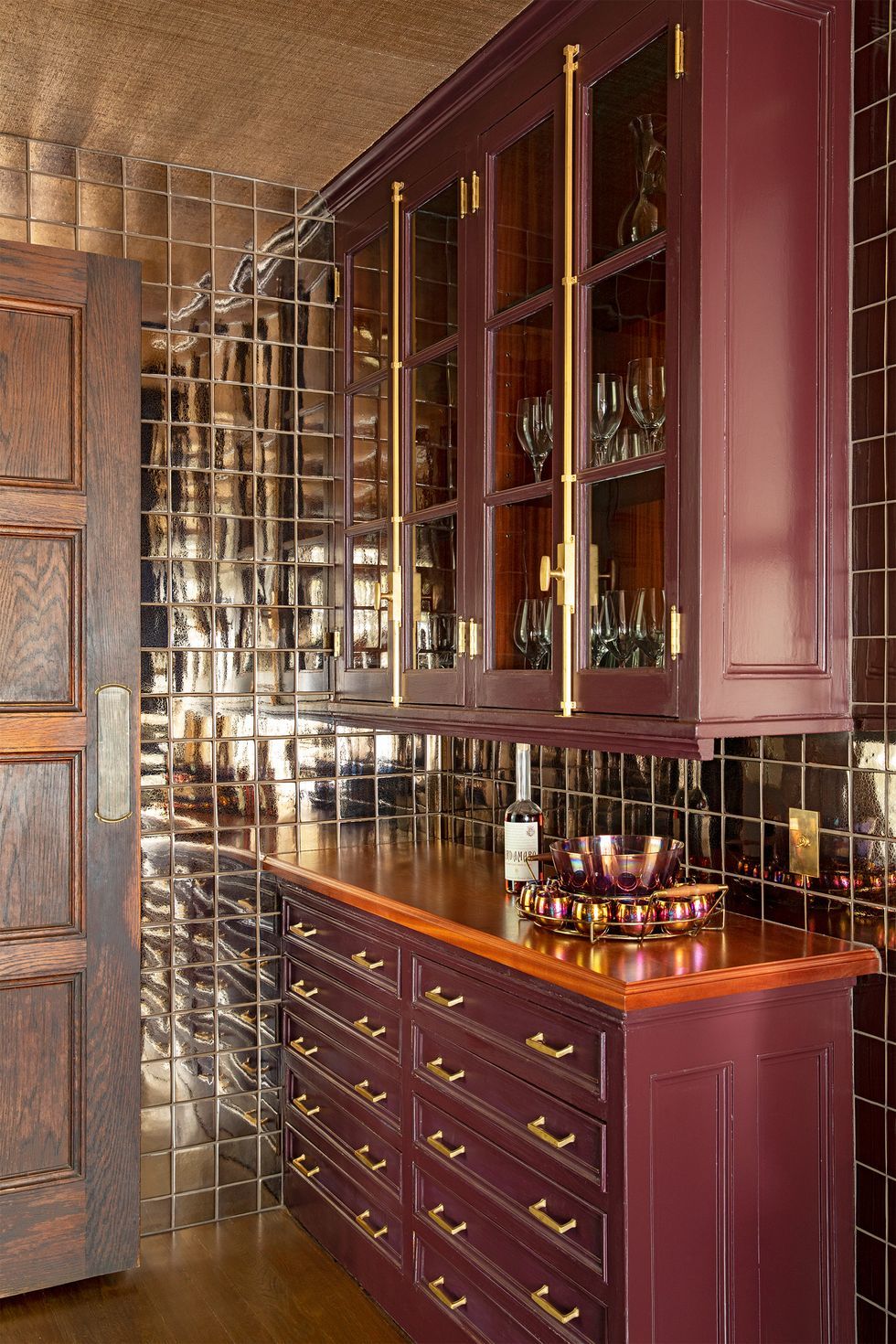 Paint It Wine Red

Paint the cabinets a red wine-inspired hue in an adjacent butler's pantry or entertaining space to set the mood for a tasting. We're digging the smokey mirrored tiles in this space by Birgitte Pearce Design-they elevate the entire experience.


14 of 15
Disguise Appliances

Match your mini wine fridge to your cabinets. Michelle Nussbaumer chose her own purple and red ikat print for a romantic pop.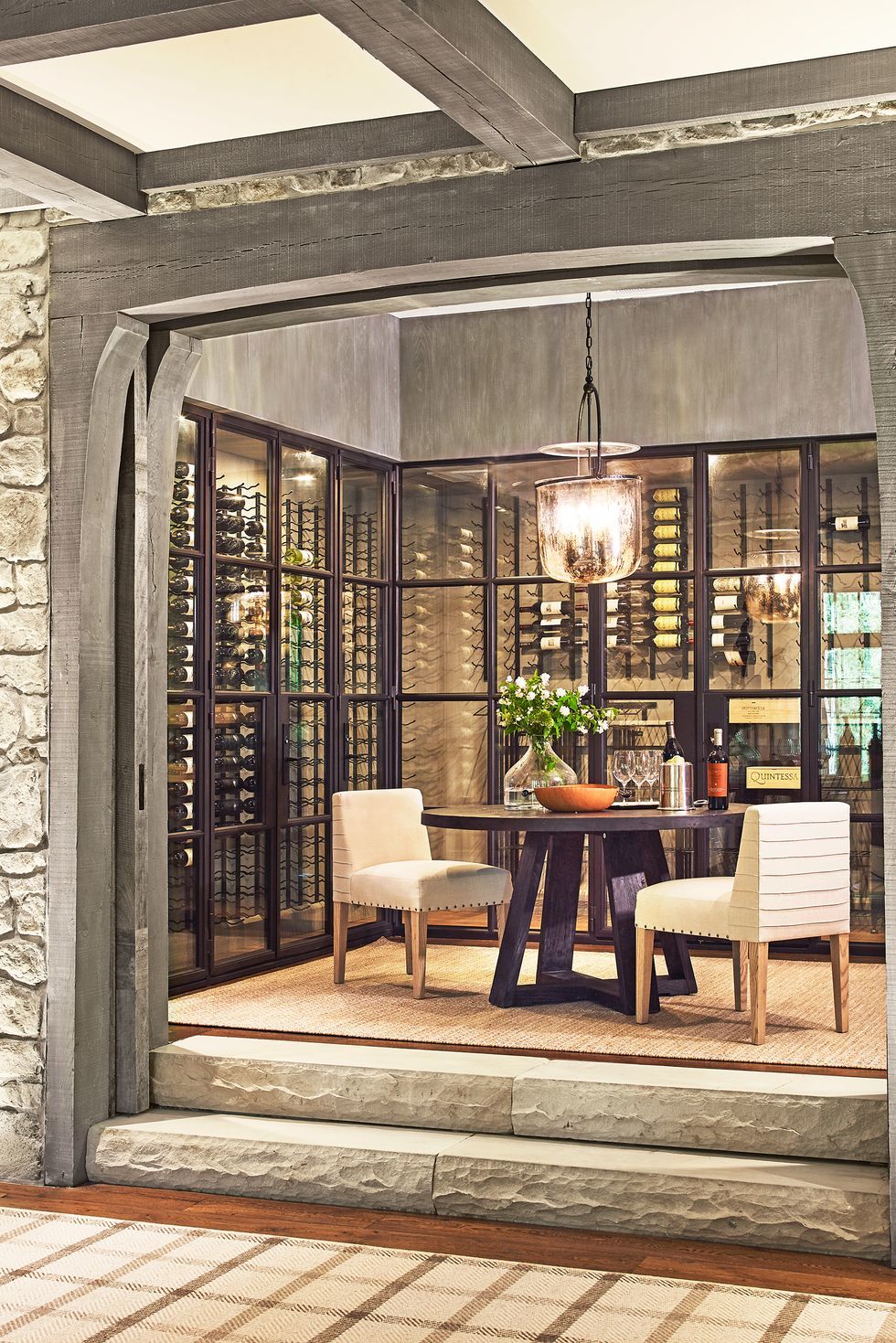 15 of 15
Separate the Lounge Area

When designing a wine cellar you can also host guests in, it's best to keep wine behind glass in a climate-controlled zone and then use the rest of the useable space for a lounge area so you can keep both your wine and your guests comfy. Interior designer Suzanne Kasler designed this wine room for clients who love hosting (read: wining and dining) their large extended family.