Professional installation required, see
Related Articles and Videos
below for more details. Use with our Cole Faucet or Gooseneck Faucet (sold separately). White comes with choice of Chrome, Polished Nickel or Satin Nickel hardware. Espresso comes with choice of Chrome, Polished Nickel, Satin Nickel or Antique Bronze hardware. 55 x 24.5 x 36" h. (backsplash will add 4" to back height).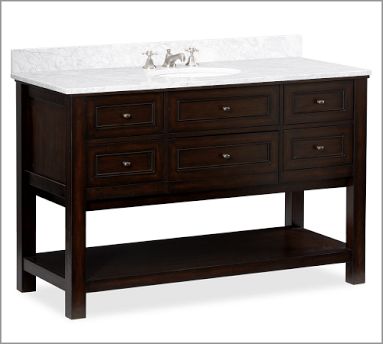 Wood swatches are available for $25.00 each. Please see available swatches below to add to your cart. We will provide a merchandise refund for wood swatches if they're returned within 30 days. Please call 1.888.779.5176 with any questions. See all furniture with wood swatches available.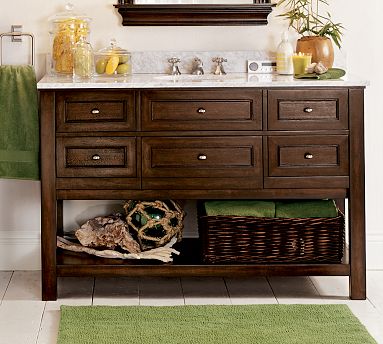 COMPOSITION & CONSTRUCTION
Sink console features top center faux front, bottom center pull-down door and two pull-out side drawers. Three identically sized faucet holes are pre-cut into the marble top.

Frame, leg,and rails are all solid meranti wood. Drawer side panels are alder wood. Drawer bottom, and bottom panel are plywood with alder veneer. Drawer front, shelf and cabinet side panels are MDF (medium density fiberboard) with maranti veneer. Hand-rubbed espresso-stained finish. Top and backsplash are Carrera marble, a white marble that has grayish veining and is mined for us in Italy, Greece, Spain and other countries. White-porcelain sink basin. Brass hardware with choice of four finishes: Antique Bronze, Chrome, Satin Nickel or Polished Nickel.

MDF, a man-made fiberboard consisting of wood fibers and resin binders, is known for its strength and stability, and is commonly used as a base for veneers. It features uniform consistency with no knots, and while it has about the same density as medium-weight hardwood, it is structurally more stable. It won't crack, and finishes adhere well to it, which results in a smooth end coat.