Developed in response to the pandemic, this prefab cabin by Studio Puisto and furniture brand Made by Choice was born from the question "How could we recreate the experience of travel without actually needing to go anywhere too far?" The resulting Space of Mind cabin-perfect for a backyard or rooftop terrace-provides buyers with a much-needed break from the living room.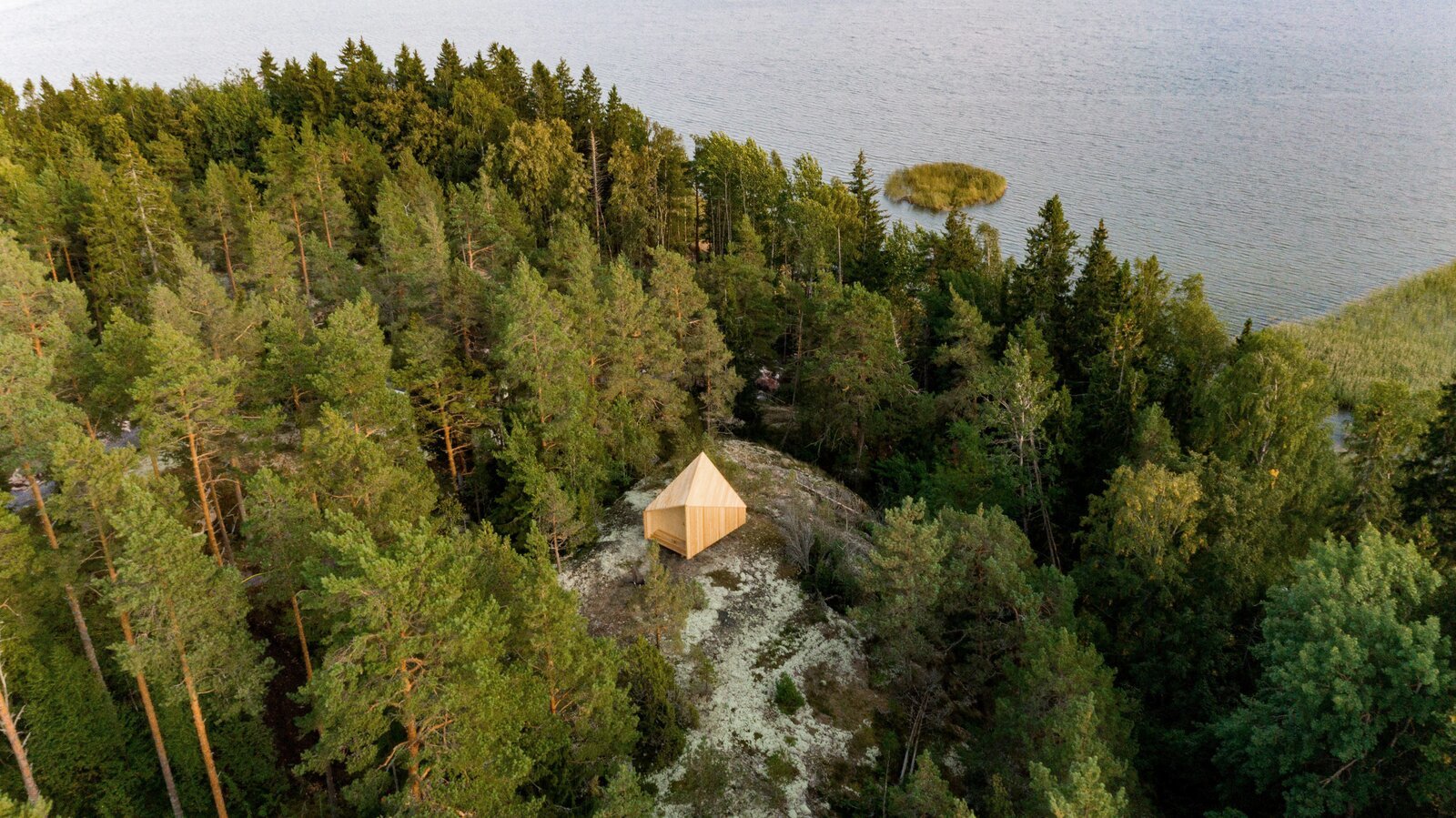 The modular Space of Mind cabin can be placed just about anywhere to become a place to work, relax, or play.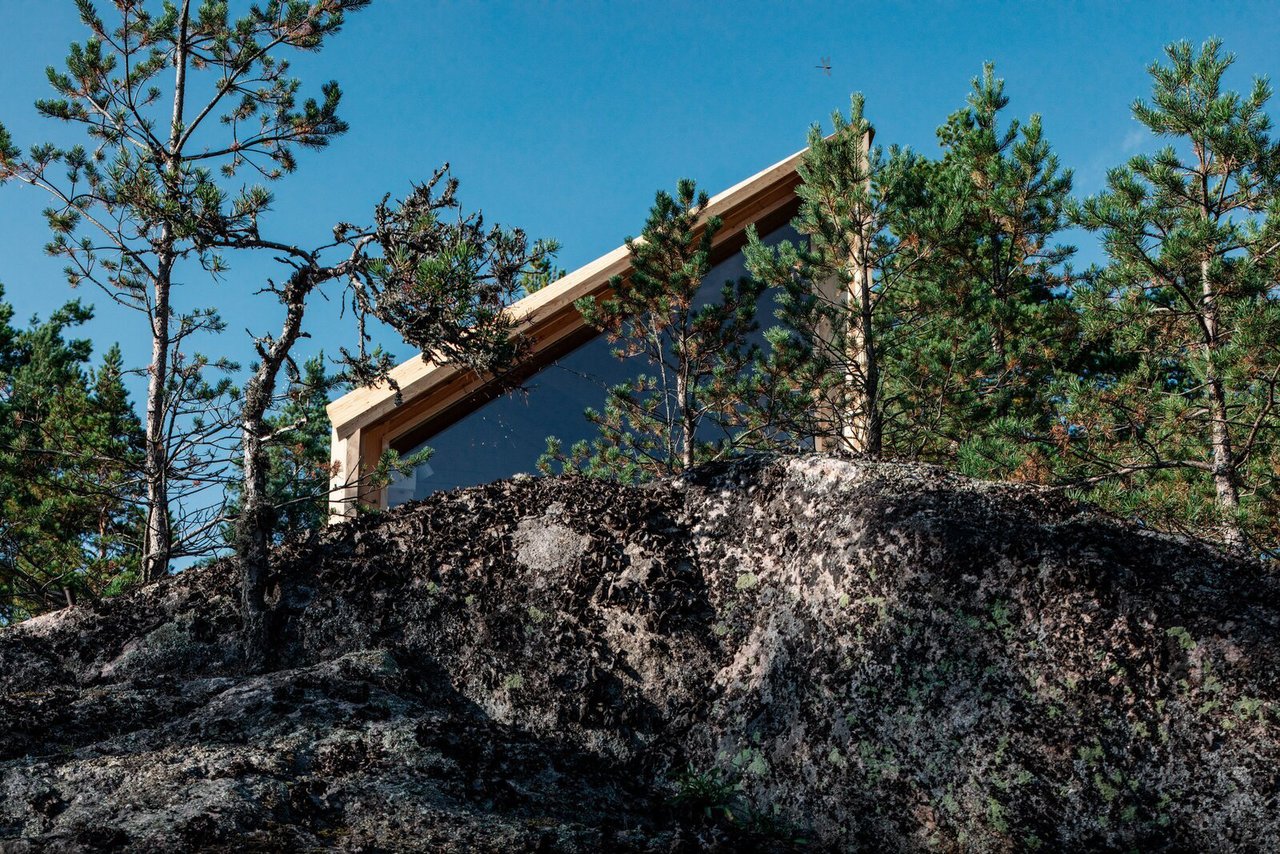 The lightweight cabin causes minimal disruption to its surroundings at just 9 square meters, or about 97 square feet.

Peace of mind varies from person to person, and similarly, Space of Mind was designed as a versatile system that adapts to a range of needs. The outer wooden structure acts as a blank slate while the interior is adjustable to individual preferences. Through simple tweaks, the space can be a home office, gym, or yoga studio, for example.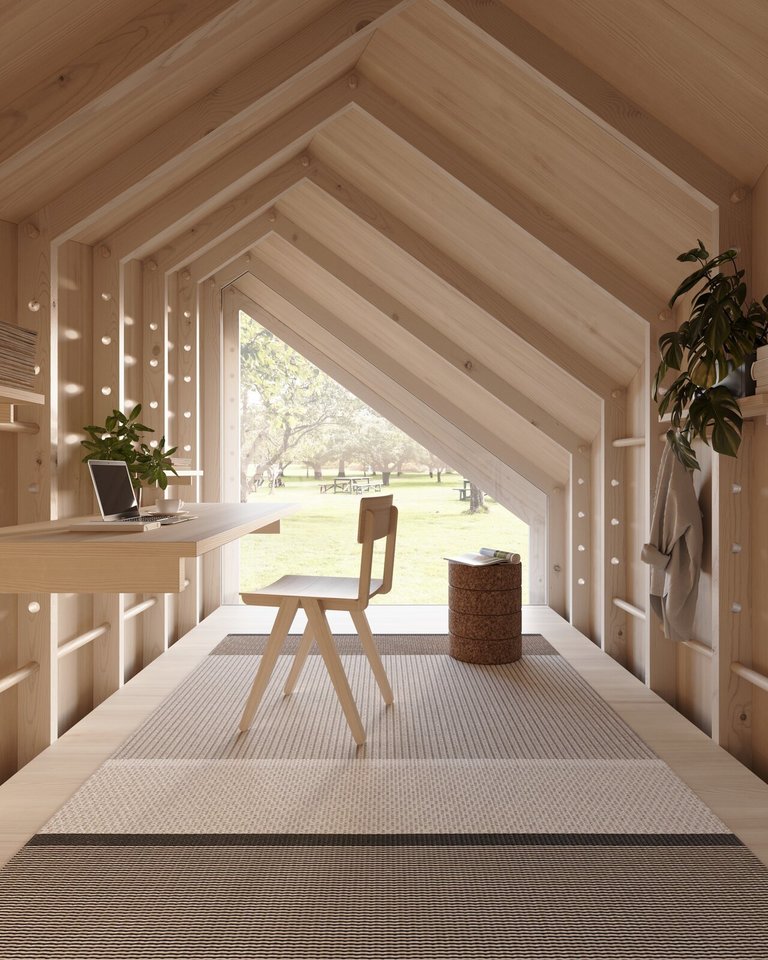 Custom furniture pieces attach to the wood structure on rungs, allowing owners to modify the space as needed over time. Here, the interior is set up as "Focus-Space," a private office with a wall-mounted work surface.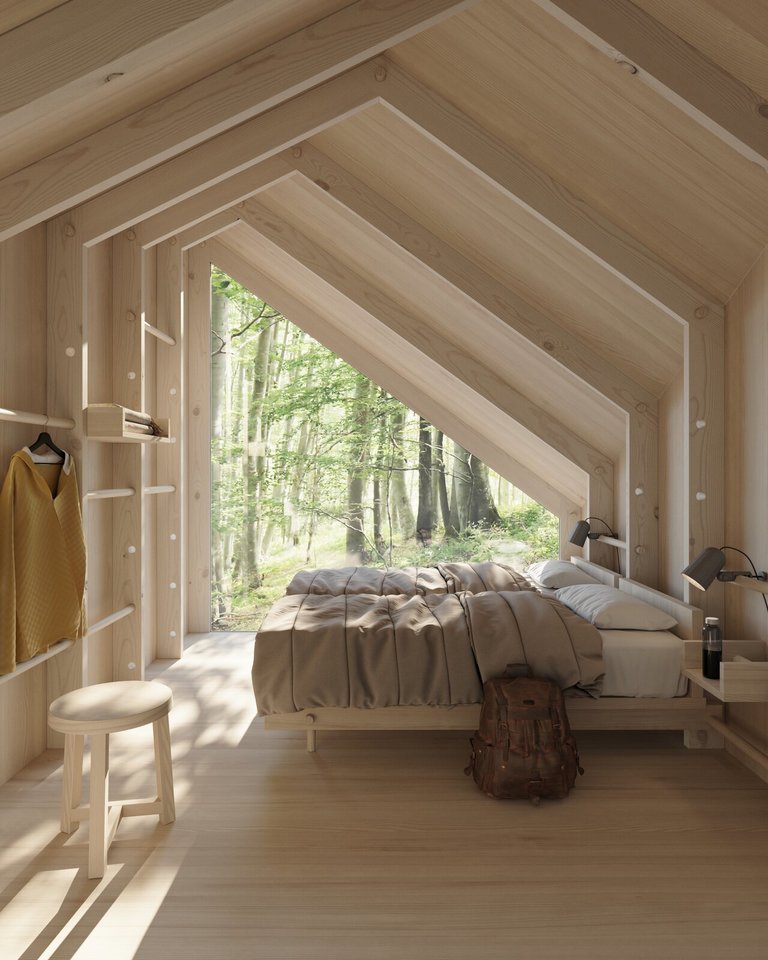 In this rendering, the space is set up for sleep as the "Rest-Space" version. Wall-mounted rungs become clothing racks, and nightstands stand adjacent to the bed.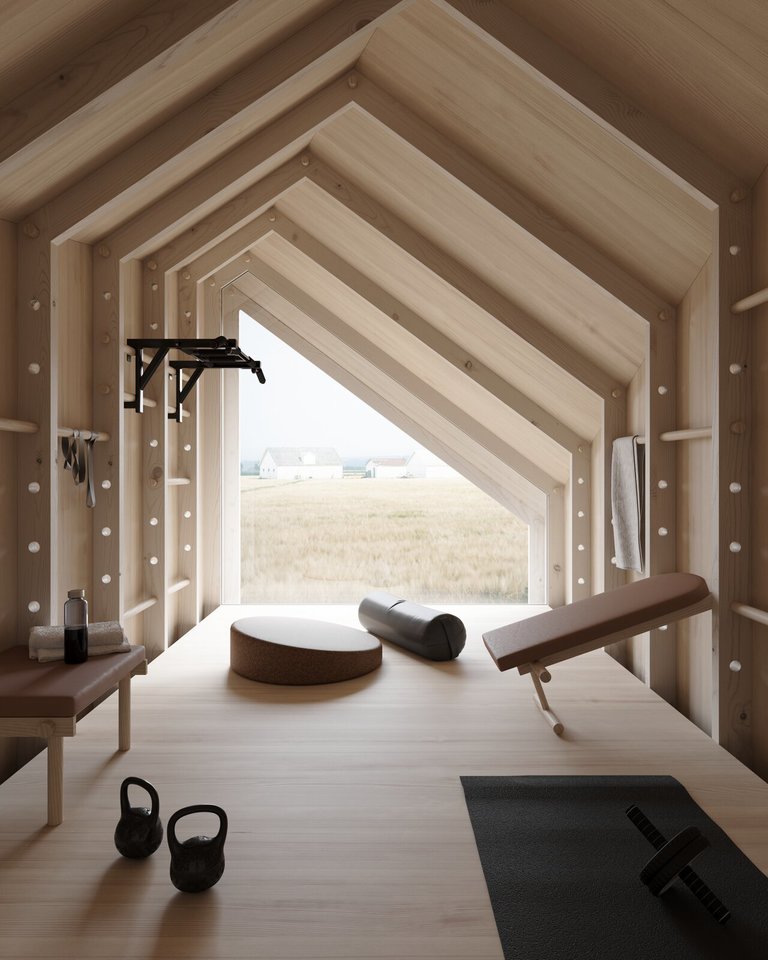 Here, the interior rendering shows the "Wellness-Space." Set up as a gym, the cabin allows owners to arrange and mount exercise equipment.

The prefab's angular form is compact and efficient, creating a spacious experience in just under 10 square meters, or a little over 100 square feet. According to the design team, "The guiding principle was to express how minimal space can provide all the essentials and the headspace to enjoy what matters most-with less we can feel more."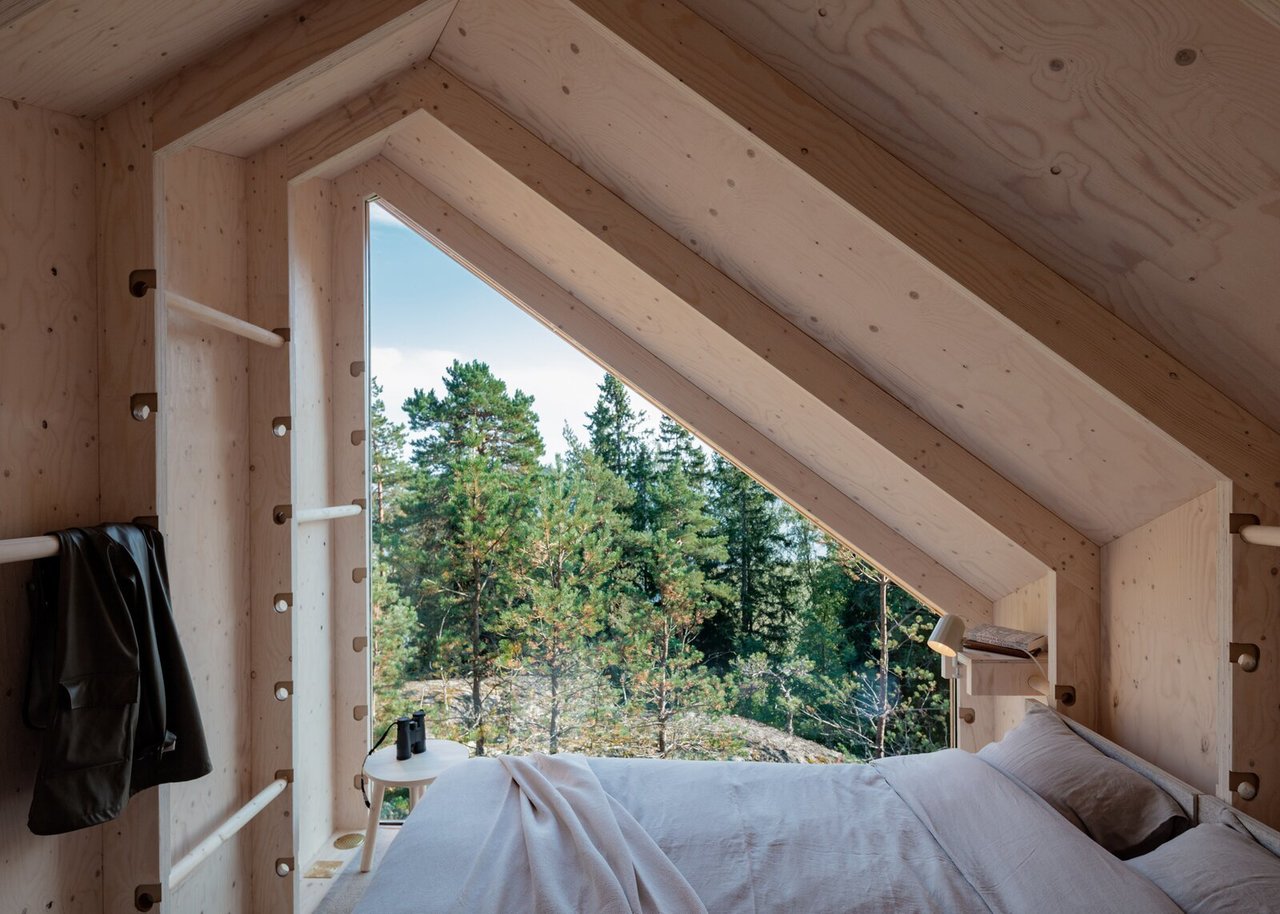 The wood-wrapped interior is simple, yet elegant. A large picture window provides uninterrupted views of the surrounding setting.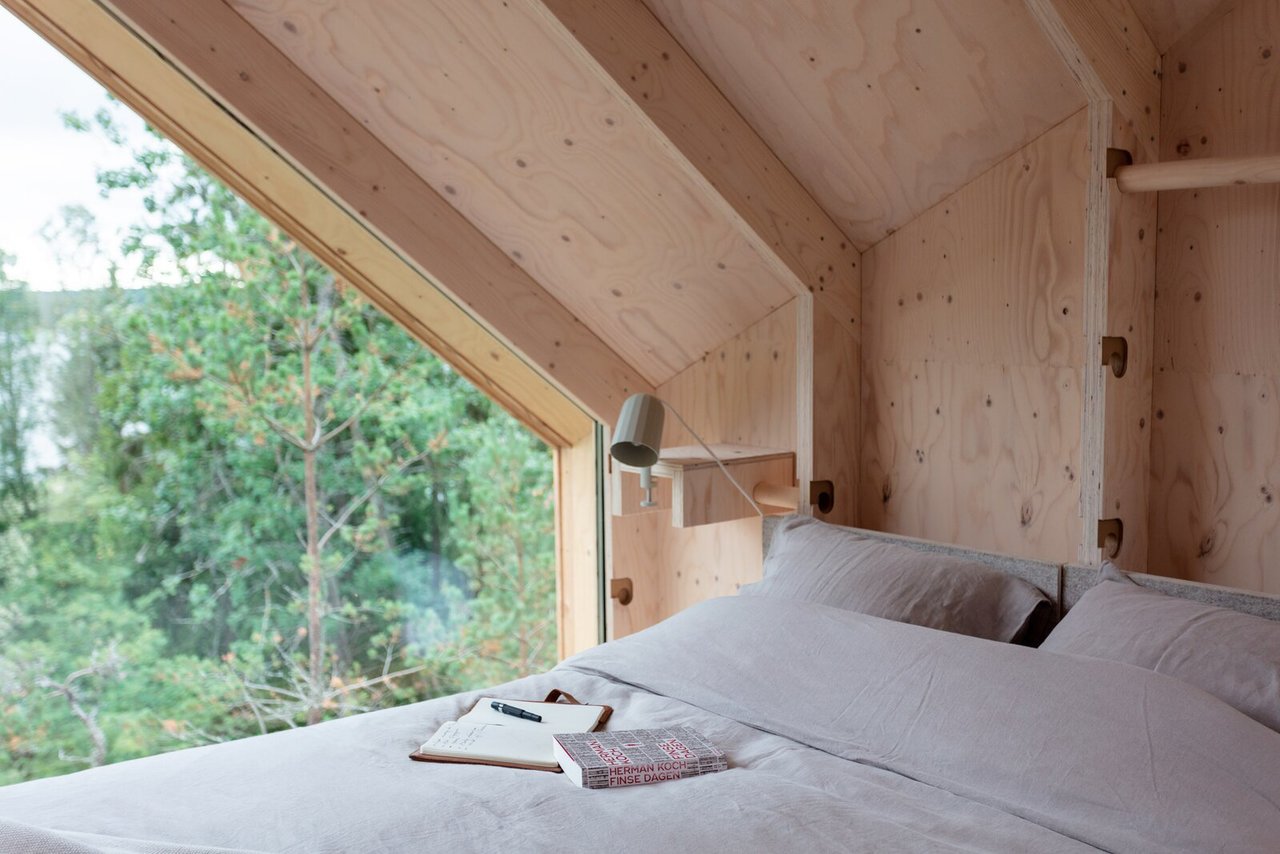 Natural wood tones create a warm interior space. Bedding from Matri adds extra coziness with soft, natural textiles in a light gray hue.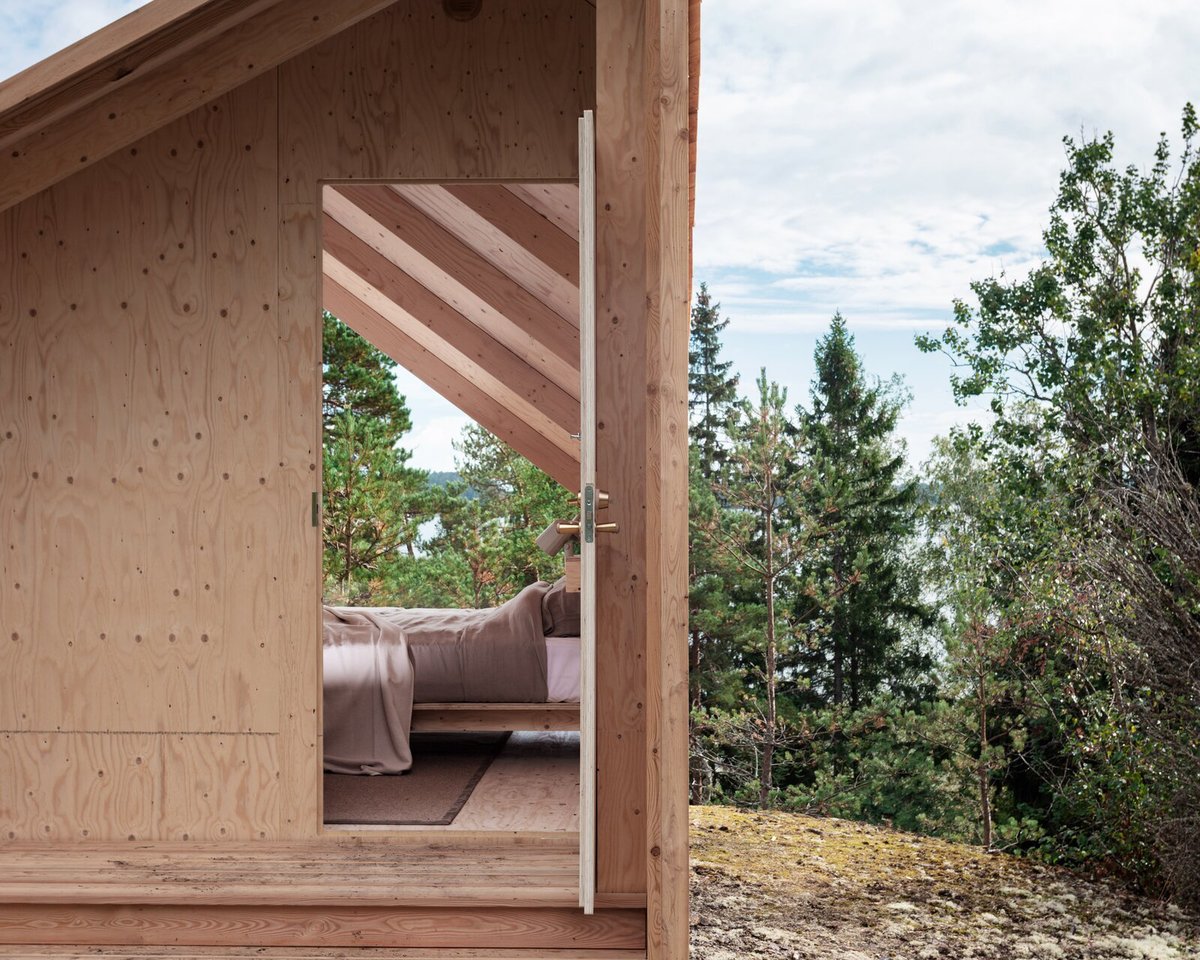 The roof overhangs protect the entrance-and a small space for a mini kitchen to be built.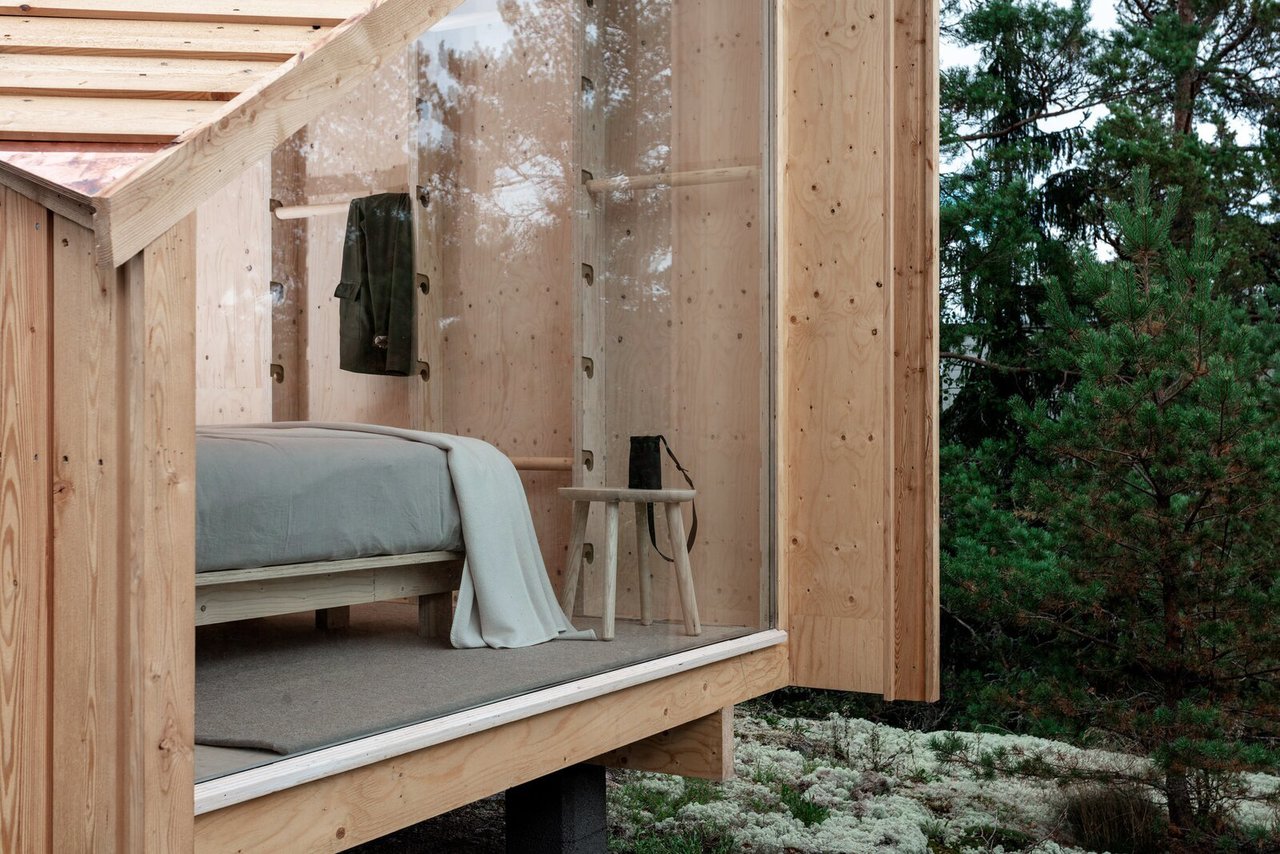 The timber expression carries from end to end, supporting the shell above and extending inward as the interior finish material. The large glass wall blurs the boundary between inside and out, furthering the connection between building and land.

The mass timber structure is constructed of sustainable, durable materials that can be easily recycled. Space of Mind can be connected to the grid, but is primarily designed as an off-grid solution. A mini kitchen can be included under the roof overhang, and a toilet can be added as a smaller second structure. An additional sauna space is currently under development.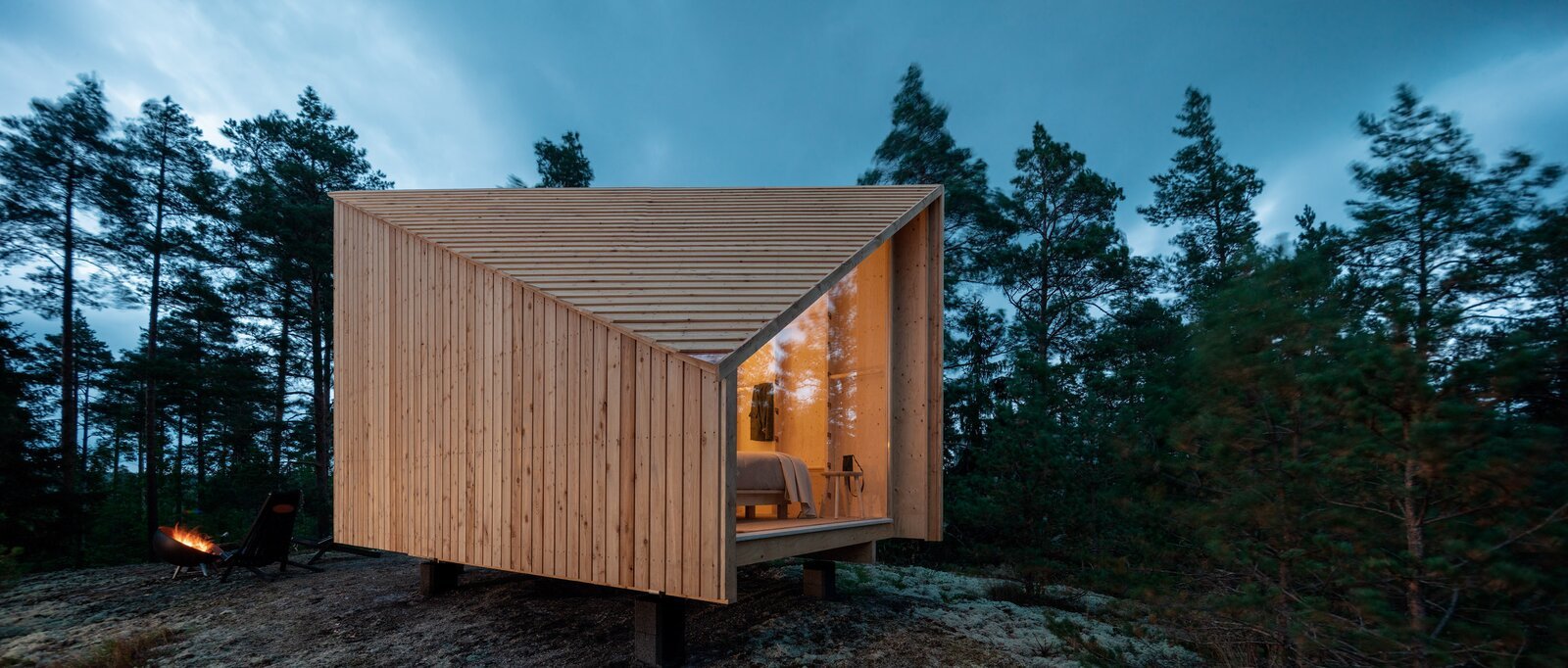 Space of Mind comprises an angular wooden shell, modular structural furniture elements, and a large picture window that frames views of the surroundings.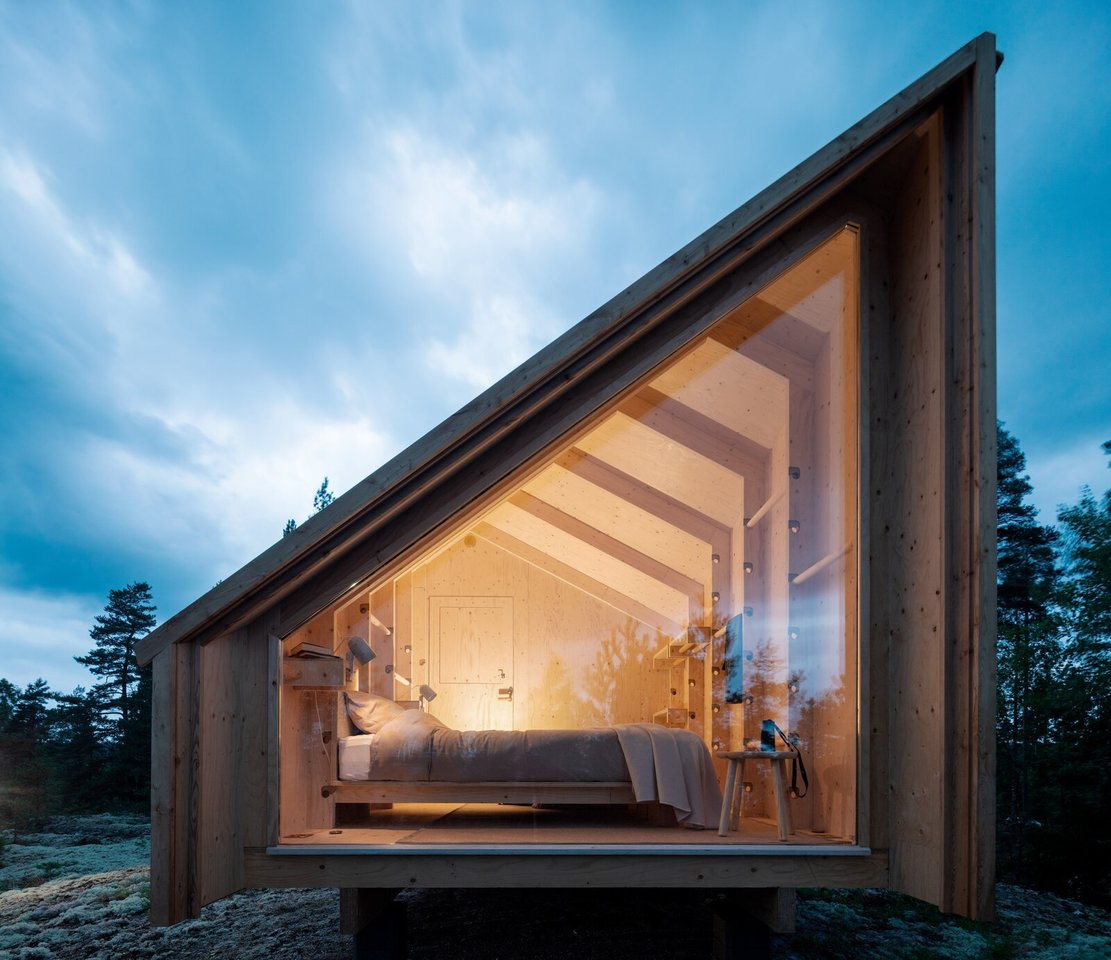 The structure appears to float above the terrain with a resilient foundation that supports almost any site. The structure itself is purposefully uninsulated to connect the occupants closer with the raw, natural elements and ever-changing weather conditions outside.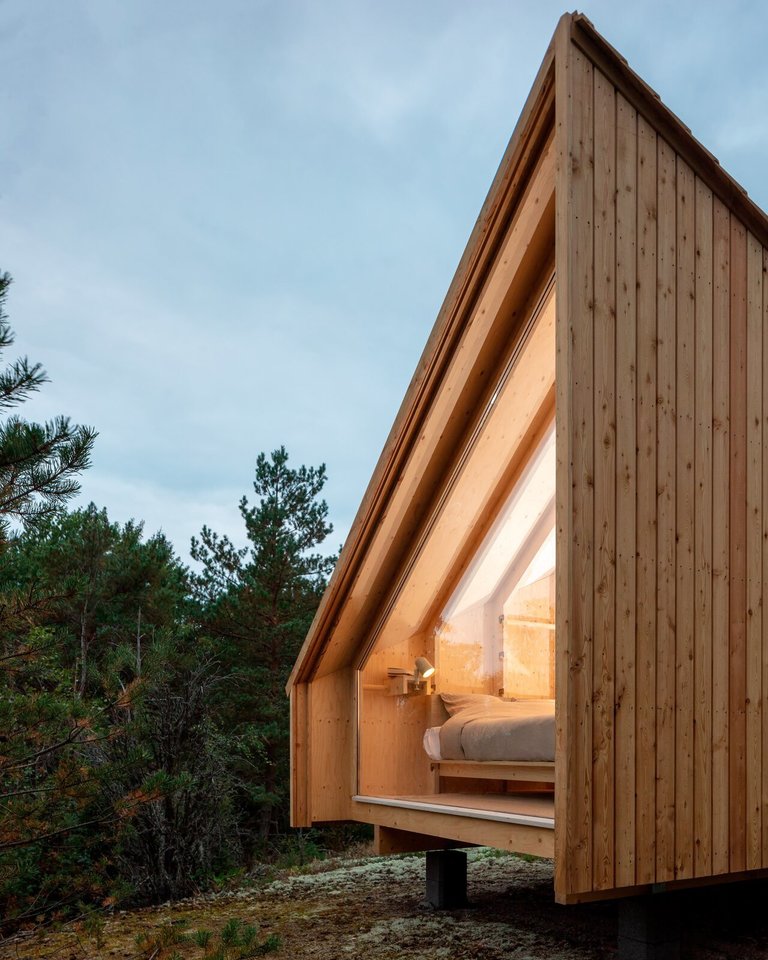 Current cladding options include standing-seam galvanized steel, tar felt, or larch boards, which are shown here in the initial prototype.

Light enough for transportation by crane or helicopter, the entire cabin comes completely assembled and is placed in its final location in a matter of hours.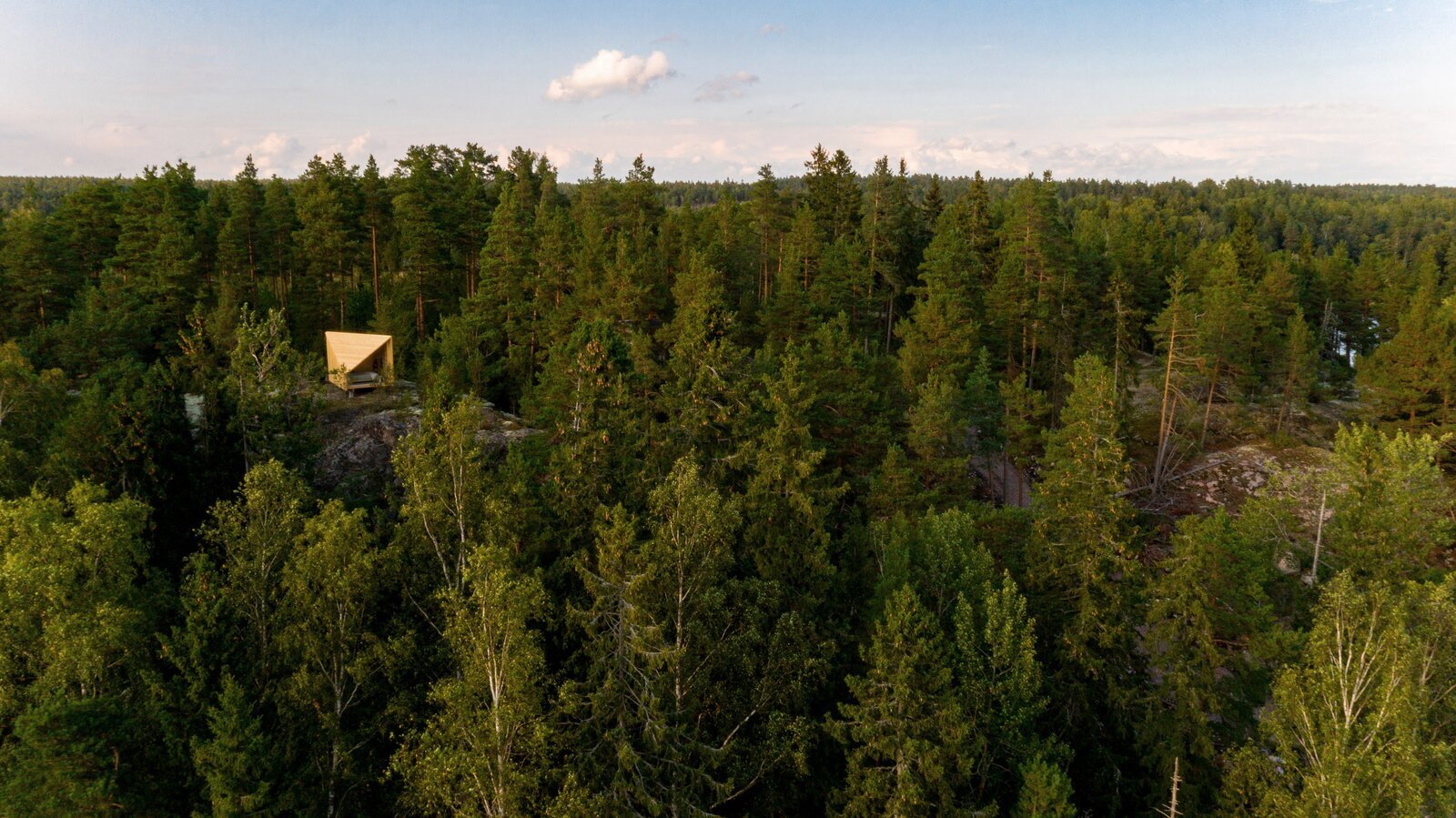 The lightweight structure, prefab assemblage, and simple installation make a minimal impact on the environment. In most cases, a building permit is not required.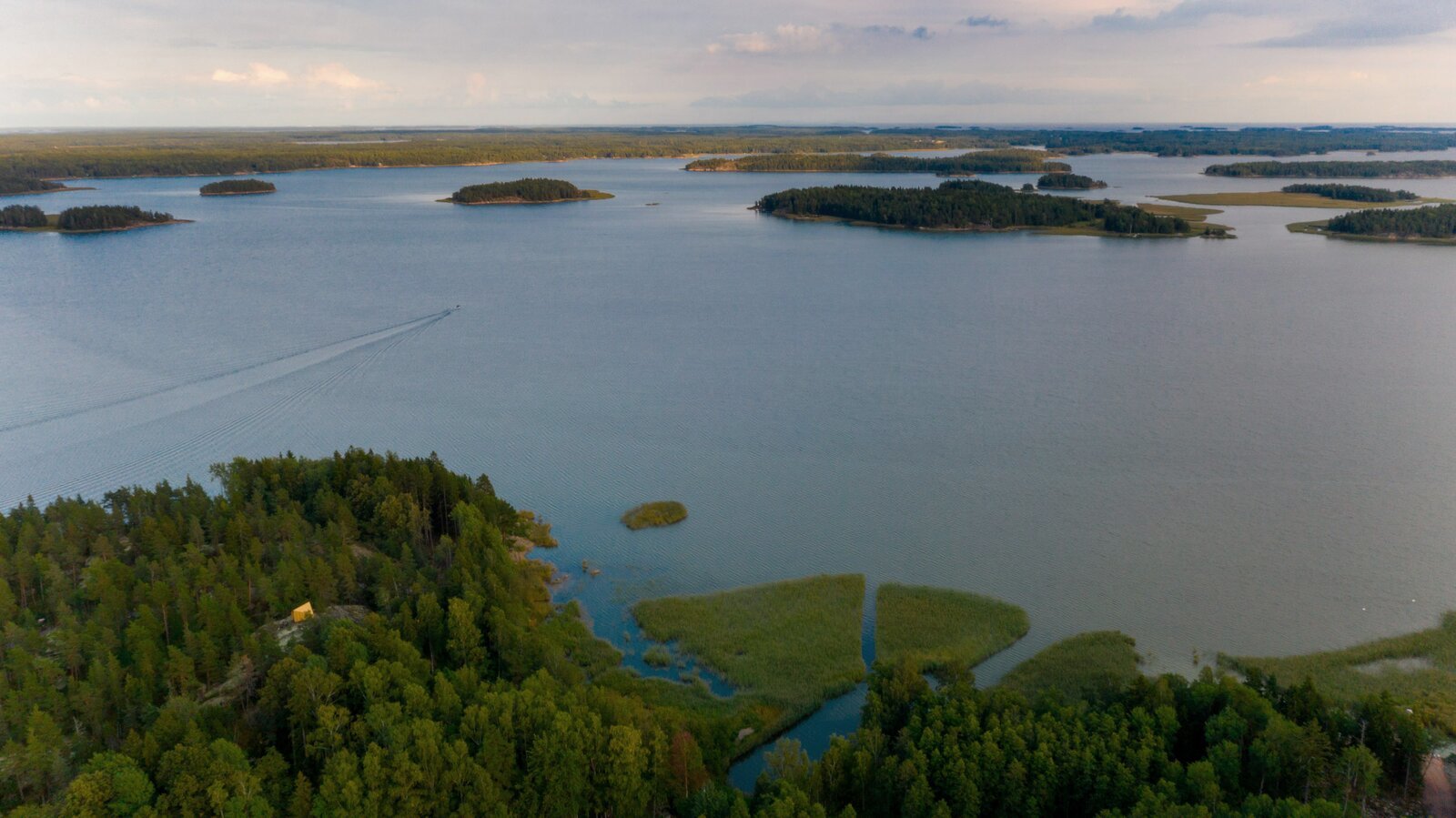 The initial prototype currently sits on a remote mountainside in the archipelago of Provoo, Finland. This beautiful spot, high on a cliff above the sea, was the perfect location for Space of Mind's proof of concept.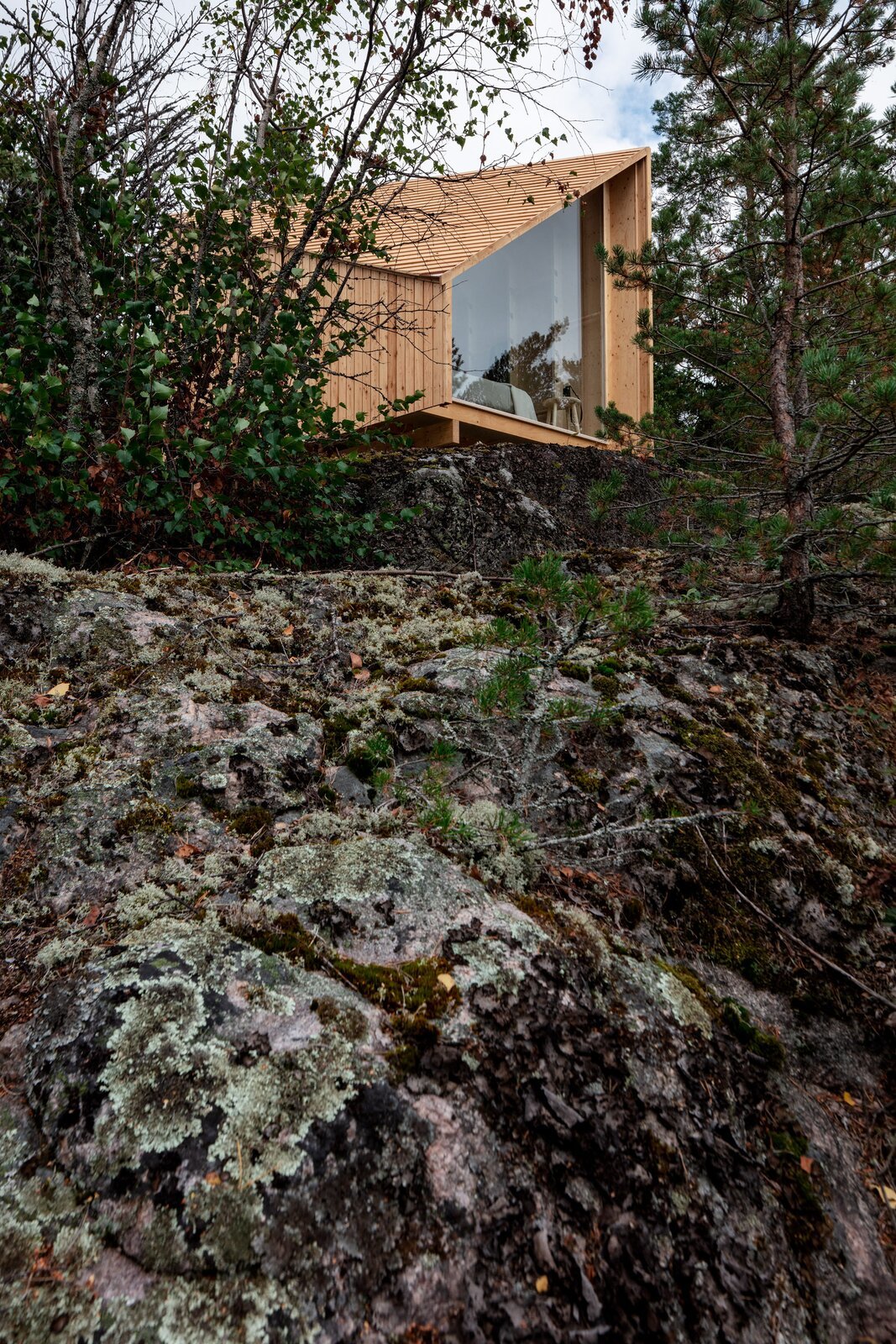 The rugged location was the perfect setting for the initial concept, proving that Space of Mind can be installed anywhere-even the rockiest of terrains.

Starting at €27,350 (about $32,590), Space of Mind is currently for sale for personal use or lease. The design team is even developing a full-fledged hospitality solution that makes it possible to open your own B&B or wilderness camp.




The design team sees strong potential for Space of Mind to flourish as a hospitality solution. Light enough to be moved via crane or helicopter, the cabins could operate as a retreat in one location for a season, and then moved to another location for the next season. Given the modular interior, guests could have even more choice in a personalized stay, down to the very furniture itself.

Space of Mind is a unique opportunity to tailor and create a flexible space that brings rest and relaxation at a time when many of us need an escape. As stated by Studio Puisto, "During a time when our entire systems of living have seemingly all turned upside down, we feel it is now more important than ever to have that flexibility."