Going bar hopping is fun and all, but sometimes you just prefer drinking at home in your pajamas, or you simply can't go to your favorite cocktail lounges and dives these days. And honestly, nothing could be more relaxing than a nightcap in your stylish home bar. Or, maybe you still like to go out, but also want the option to entertain and turn your own space into something that rivals the coolest of clubs (or dive bars, if that's more your pace). Since you're going to need a killer set-up that goes beyond a well-stocked cabinet of booze, we're spotlighting 38 chic home bar ideas to inspire you. Whether you want to build out a home bar, or just want to turn part of your kitchen counter into one, we've got ideas to help you make it happen below.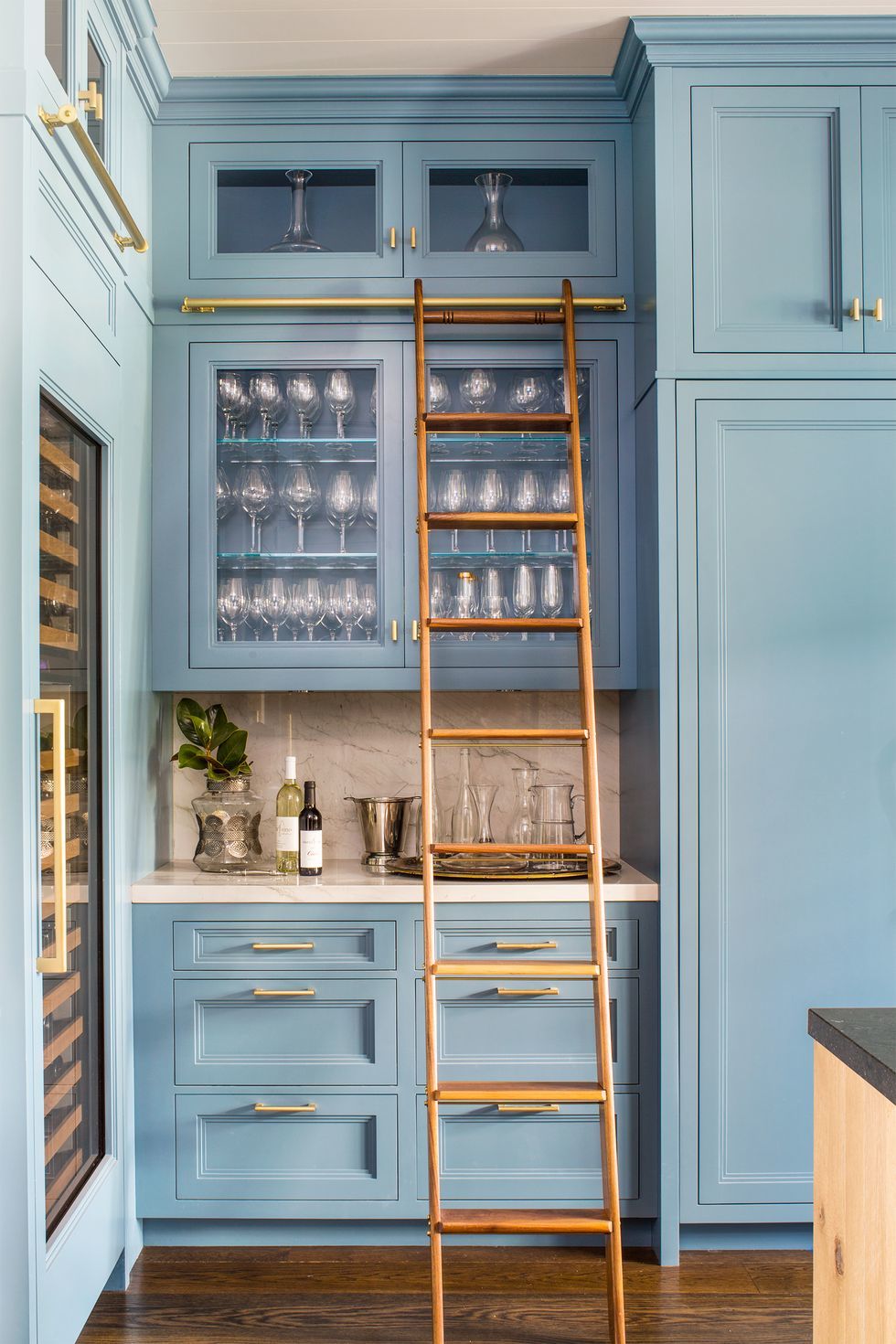 Secure a Library Ladder

Maximize storage by using all your vertical space and then installing a library ladder to reach the items stashed up top. Caren Rideau transformed this kitchen corner into a dedicated home bar by building cabinets all the way to the ceiling.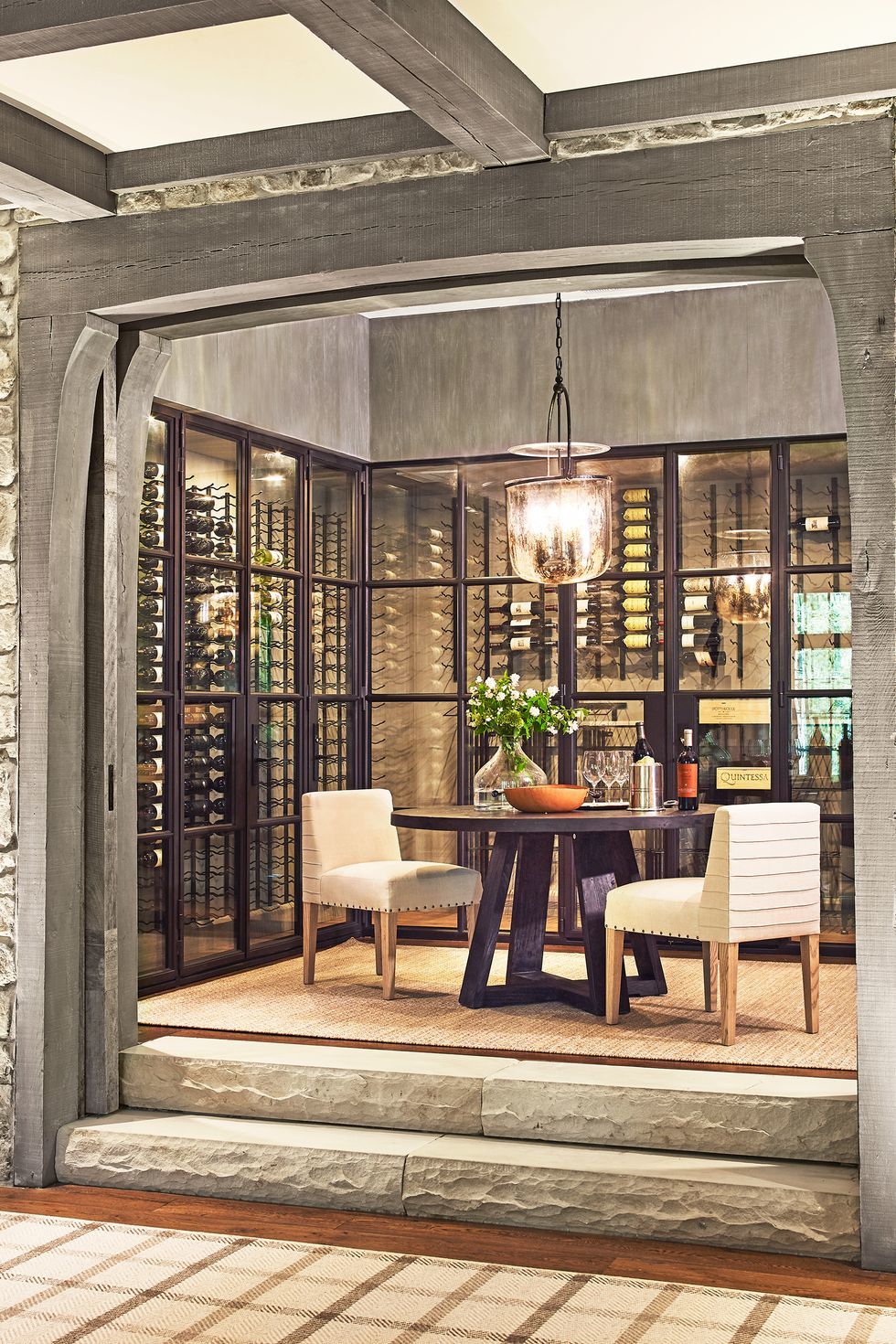 Provide Seating for Sipping

When designing a wine cellar you can also host guests in, it's best to keep wine behind glass in a climate-controlled zone and then use the rest of the useable space for a lounge area so you can keep both your wine and your guests comfy. Interior designer Suzanne Kasler designed this wine room for clients who love hosting (read: wining and dining) their large extended family.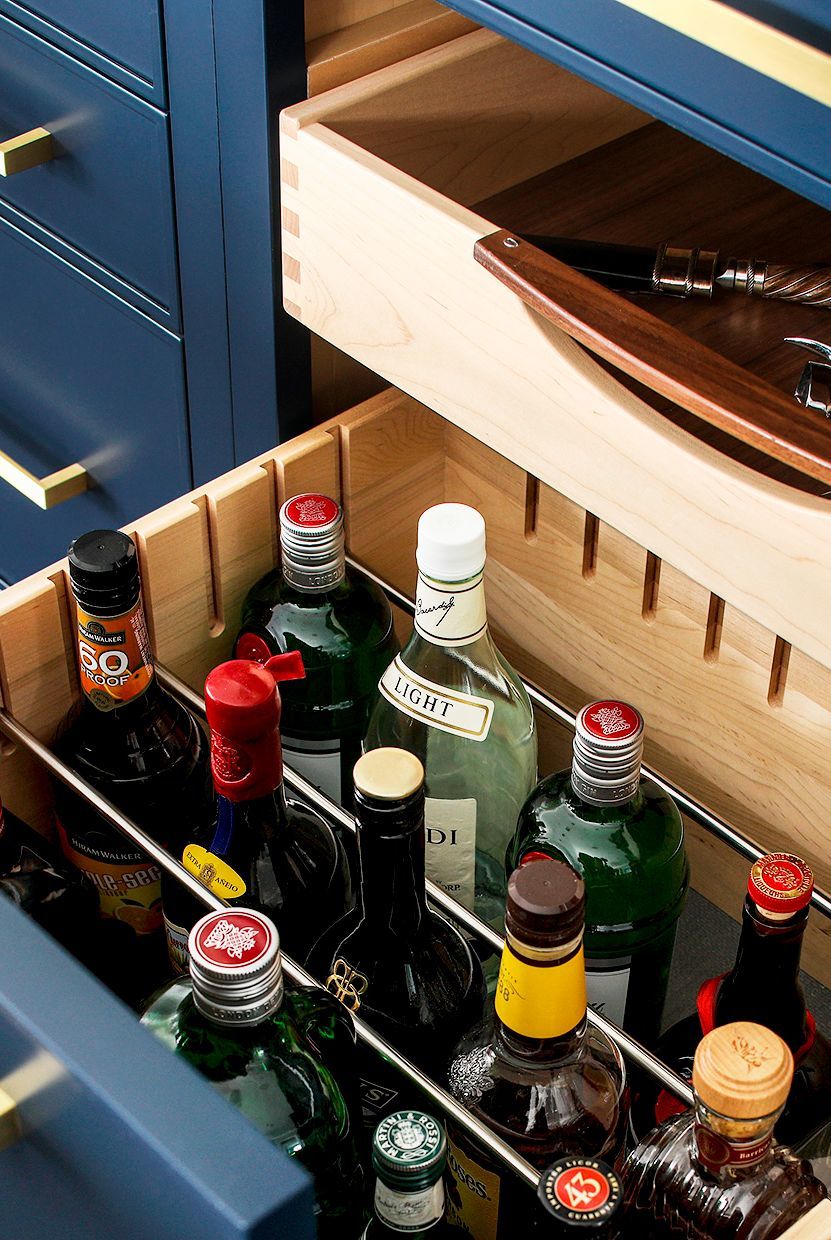 Stash In a Drawer

Even a well-organized drawer can become a home bar. To prevent all your bottles, cans, and other pantry items from toppling over in their respective drawers, purchase some drawer organizers that help keep them all in place. Heidi Piron Design and Cabinetry installed flexible dividers here to keep liquor bottles from clanking together, but separators will be handy for anything in your pantry drawers, really.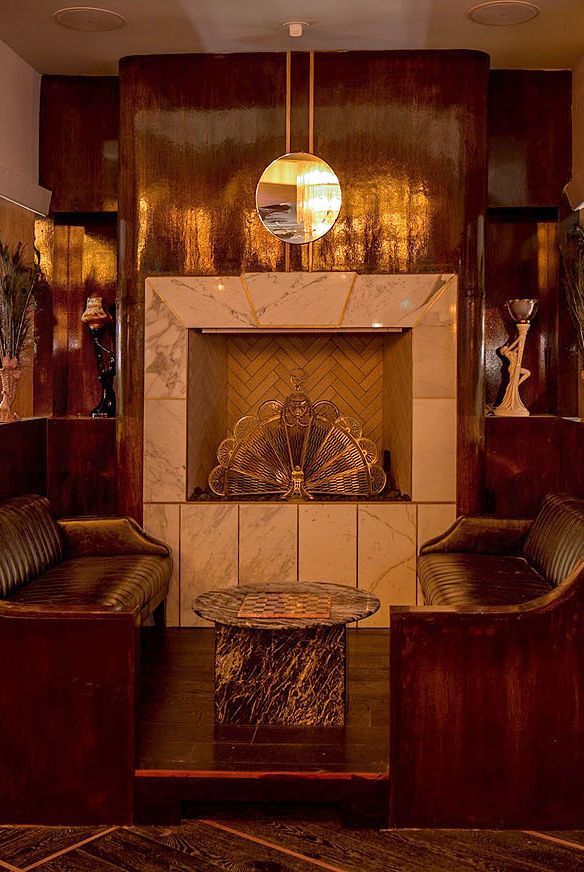 Get Intimate

Make your home bar the perfect place for a nightcap with custom banquette seating, a fireplace, warm tones, and soft lighting. And while you're at it, add a chessboard or some adult-friendly card games. The nature-inspired materials in this sitting area by Romanek Design Studio is the perfect blueprint.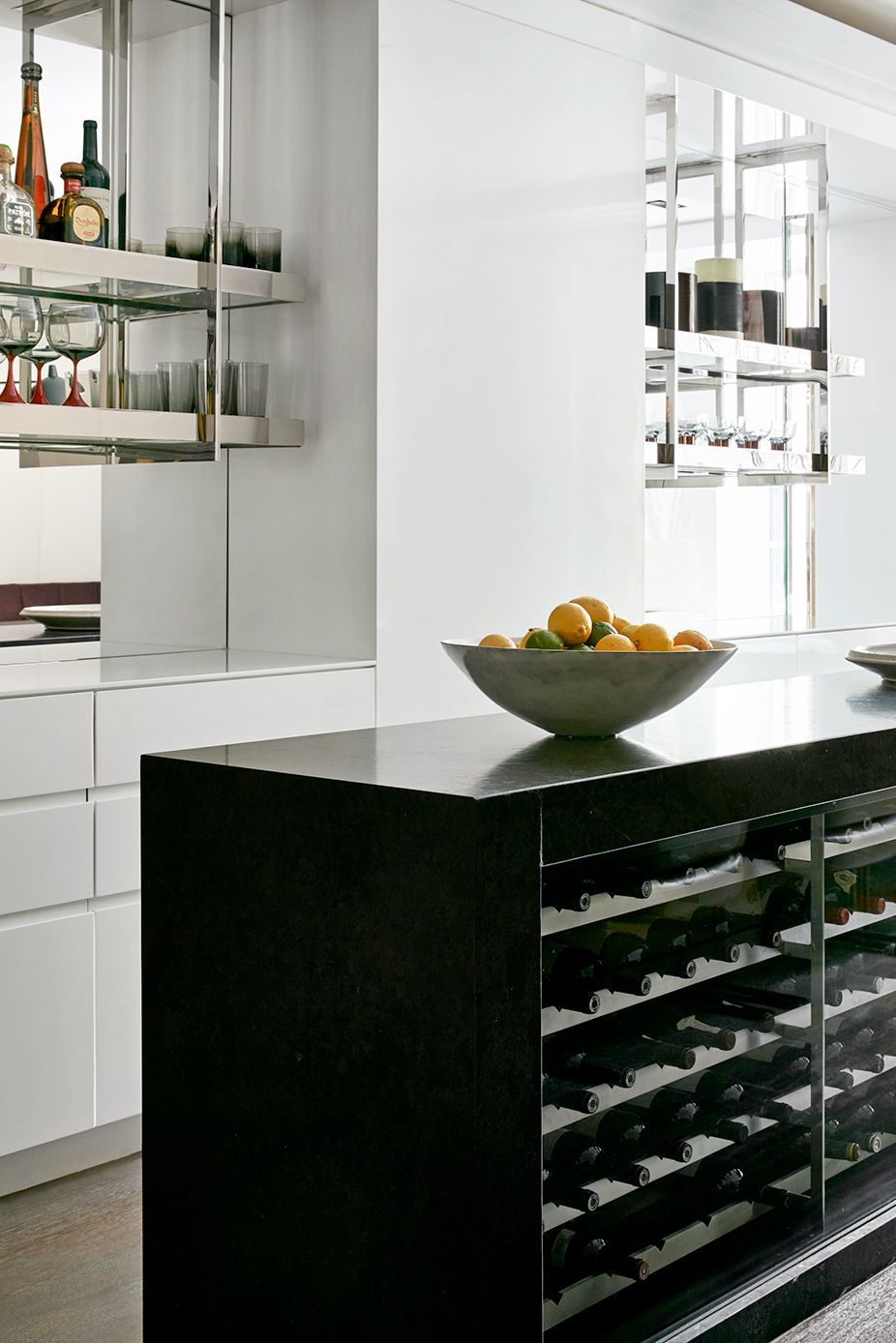 Adopt a Kitchen Layout

You don't need to build your home bar and wine cellar in totally separate rooms. But to ensure your wine bottles are still stored in a stylish and climate-optimized space, consider an integrated approach. Take note of this integrated wine cooler in a kitchen island designed by Pembrooke & Ives.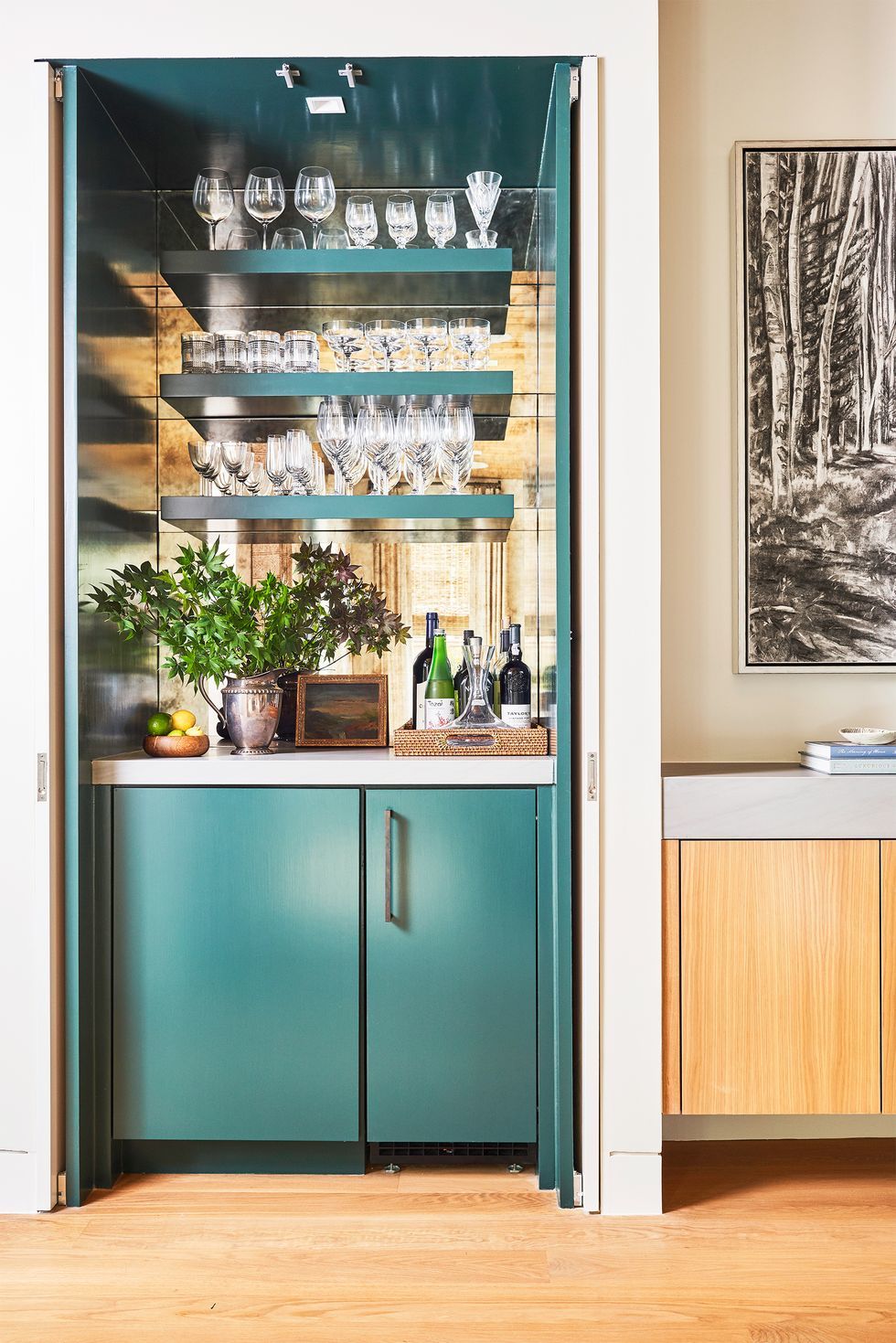 Convert a Closet

Tuck your little home bar behind a closet door and line the back with a wallpaper that pops or mirrored tiles and colorful cabinets (designed Jean Liu opted for a deep teal). And remember: No space, no matter how small, is too small for a wine fridge.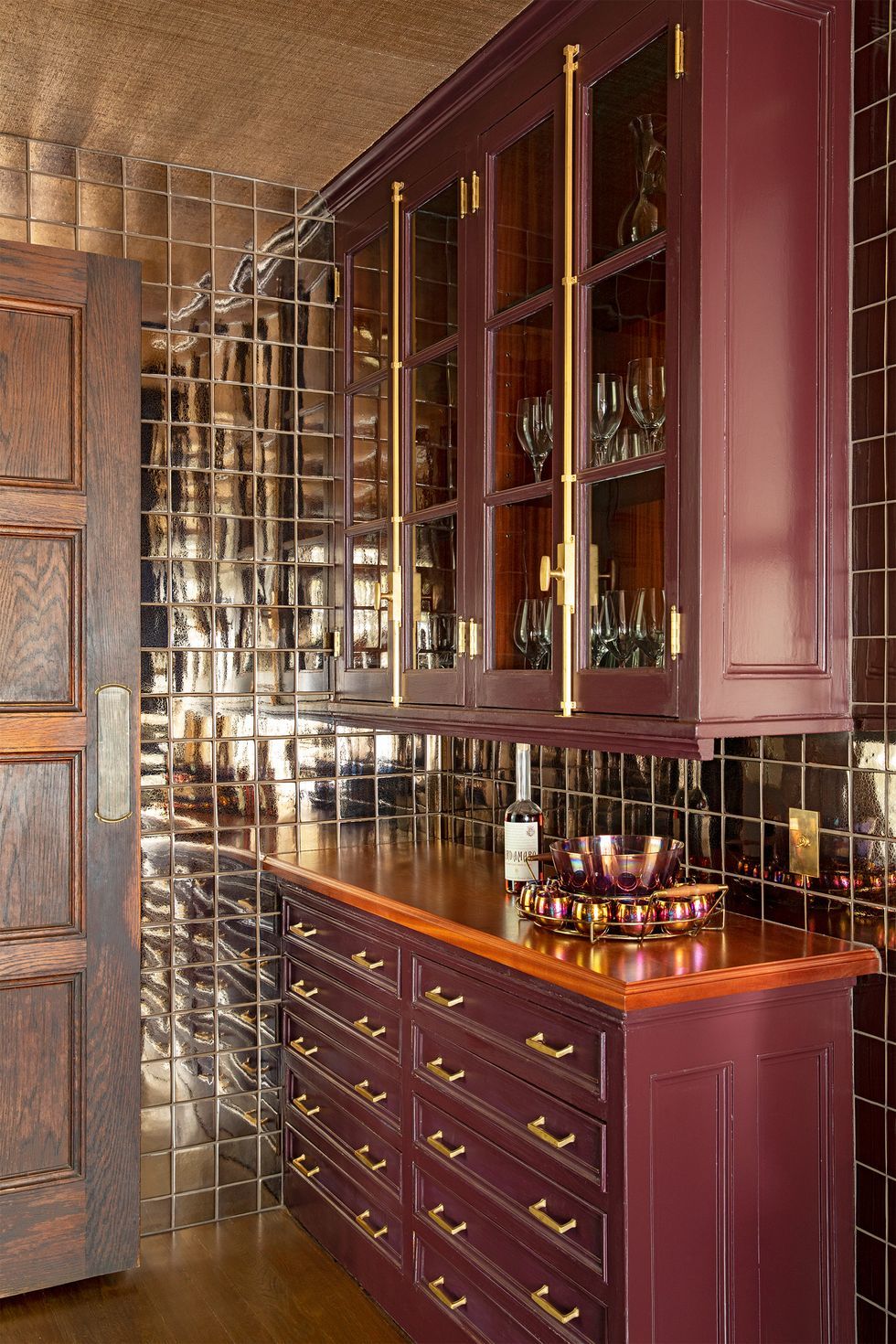 Use Booze As Inspo

Paint the cabinets a red wine-inspired hue in an adjacent butler's pantry or entertaining space to set the mood for a tasting. We're digging the smokey mirrored tiles in this space by Birgitte Pearce Design—they elevate the entire experience.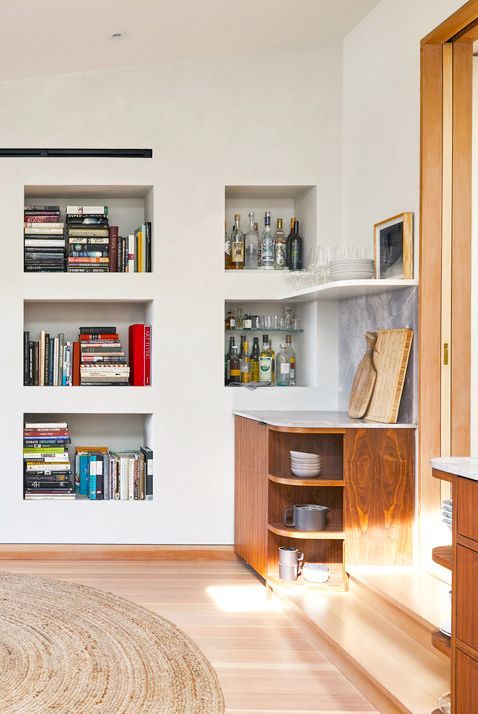 Customize Storage Space

Based out of New York City, architecture firm Shapeless Studio is beyond savvy when it comes to creating stylish storage solutions in small spaces. Here, they carved out a little corner nook complete with built-in shelving, a floating shelf, and a hidden mini fridge so the living room and dining area could fit a home bar.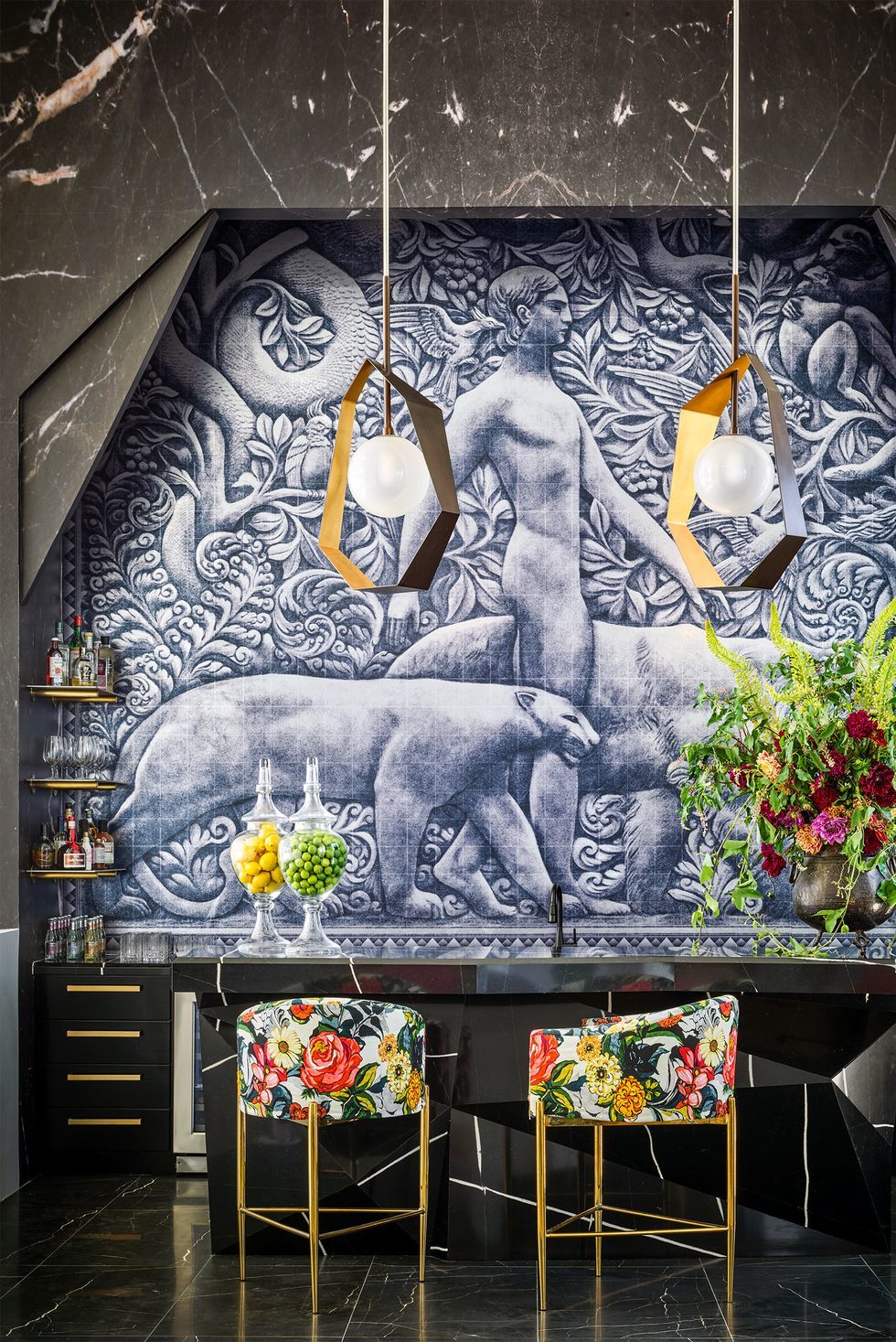 Make It Feel Like a Real Bar

Designed by Michelle Nussbaumer, this home bar is as swanky as it gets. Complete with rich textures, vibrant colors, and elaborate patterns, it's the perfect place to perch for a nightcap or when you're hosting parties.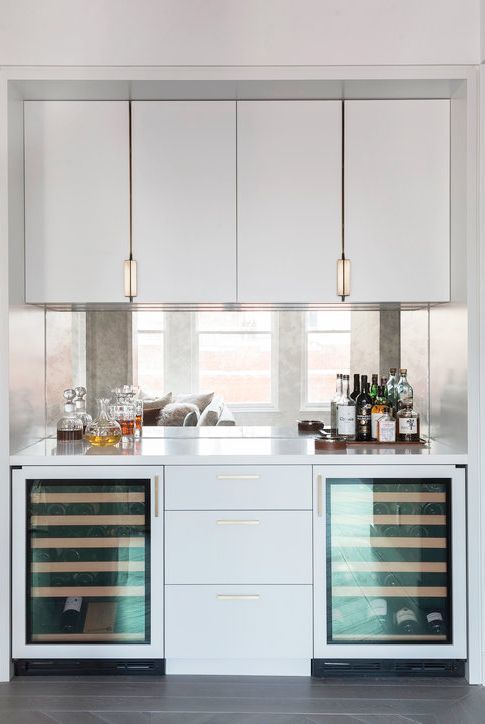 Add a Mirror Backsplash

Not only are the symmetrical wine fridges aesthetically pleasing, but they're also conveniently located and such a good use of the little space. The smokey mirrored backsplash brings the right touch of formal style to this space designed by Studio DB, too.