The solution is CATWALK - a modular steel, clean rectilinear walkway
Conceived by an acclaimed team of architects and designers, CATWALK was designed with modernism, elegance, versatility,
safety, and durability as the key tenets.

CATWALK consists of 2' x 2', 2' x 4', and 4' x 4' modules, enabling it to be built to fit virtually any length or width. The adjustable
feet enable CATWALK to accommodate virtually any terrain. CATWALK is easy to install, and easy to service.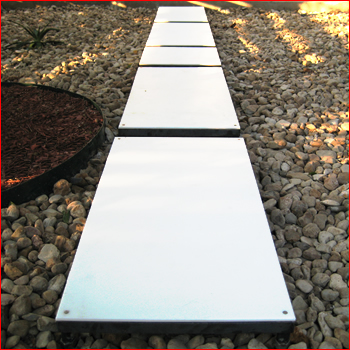 CATWALK is available with the following options:
- illuminated white panels, lit from the inside by small points of power-sipping L.E.D. light
- IPÉ, a beautiful, warm-hued, sustainable Brazilian hardwood (pictured below)
- Massaranduba, a sustainable Brazilian hardwood that takes on a clean, silver patina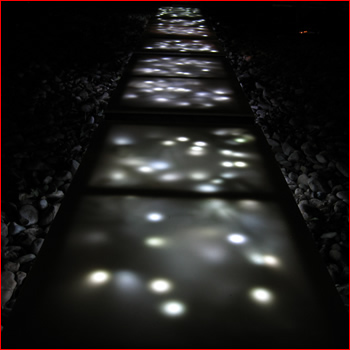 COMING SOON: CATWALK will even be available with an addressable RGB LED array, enabling you to program colorful
light shows, cycle through the entire color spectrum, cycle through warm hues, cycle through cool hues, hold a static
color, or accommodate custom-programmed sequences.