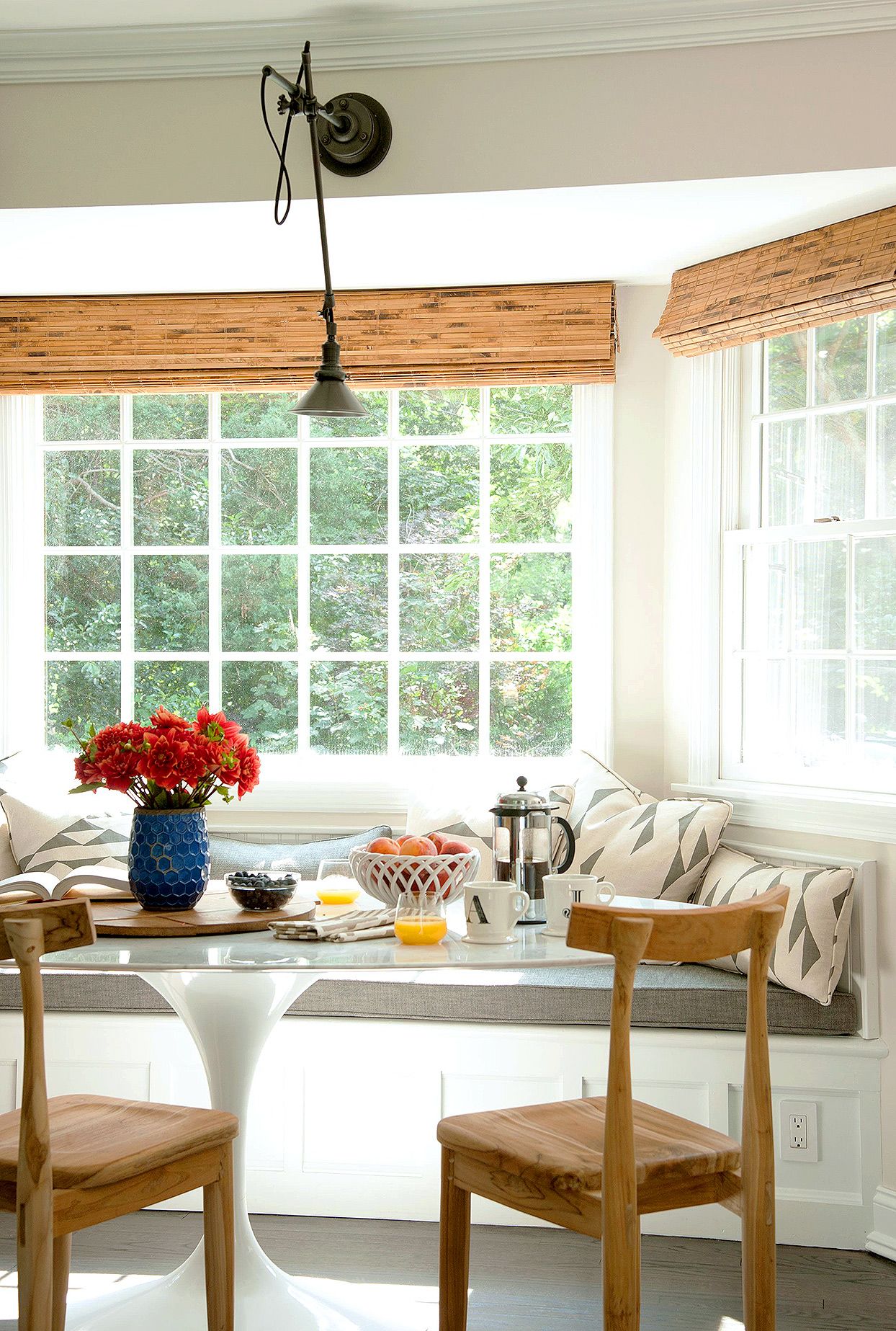 Filled with Light

A wall of windows makes this breakfast nook the perfect spot to grab a quick meal or lounge with a cup of coffee. A tulip table is perfect for adding additional chairs when the whole family eats together. A built-in banquette adds hidden storage to the casual breakfast nook.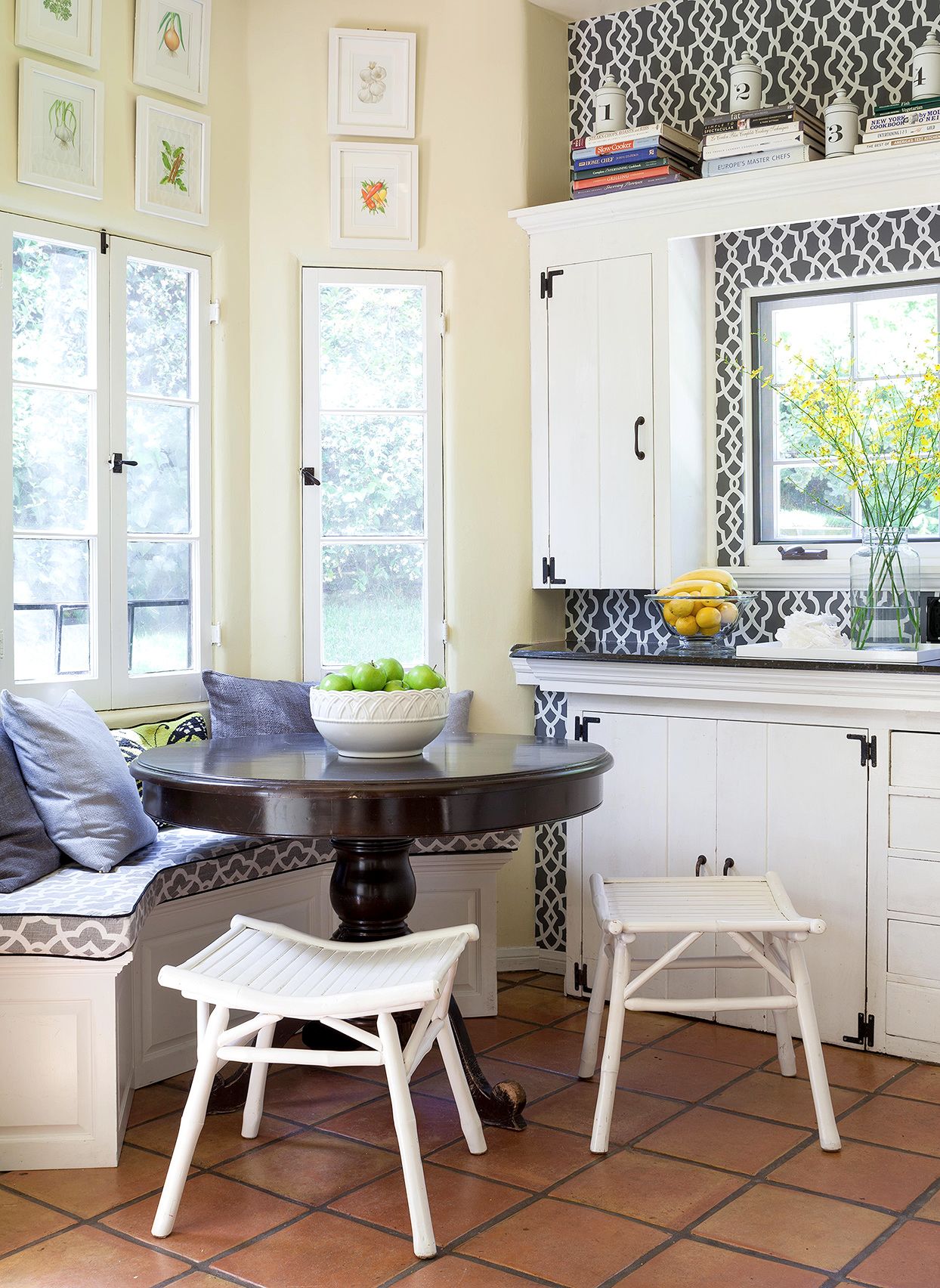 Sliver of Space

At the end of this kitchen, a tiny banquette and a few chairs are tucked under the window. This sliver of space allows dining for at least four people, which the kitchen lacked before this custom bench was added. Plus, the breakfast nook opens up to provide additional storage to the small space.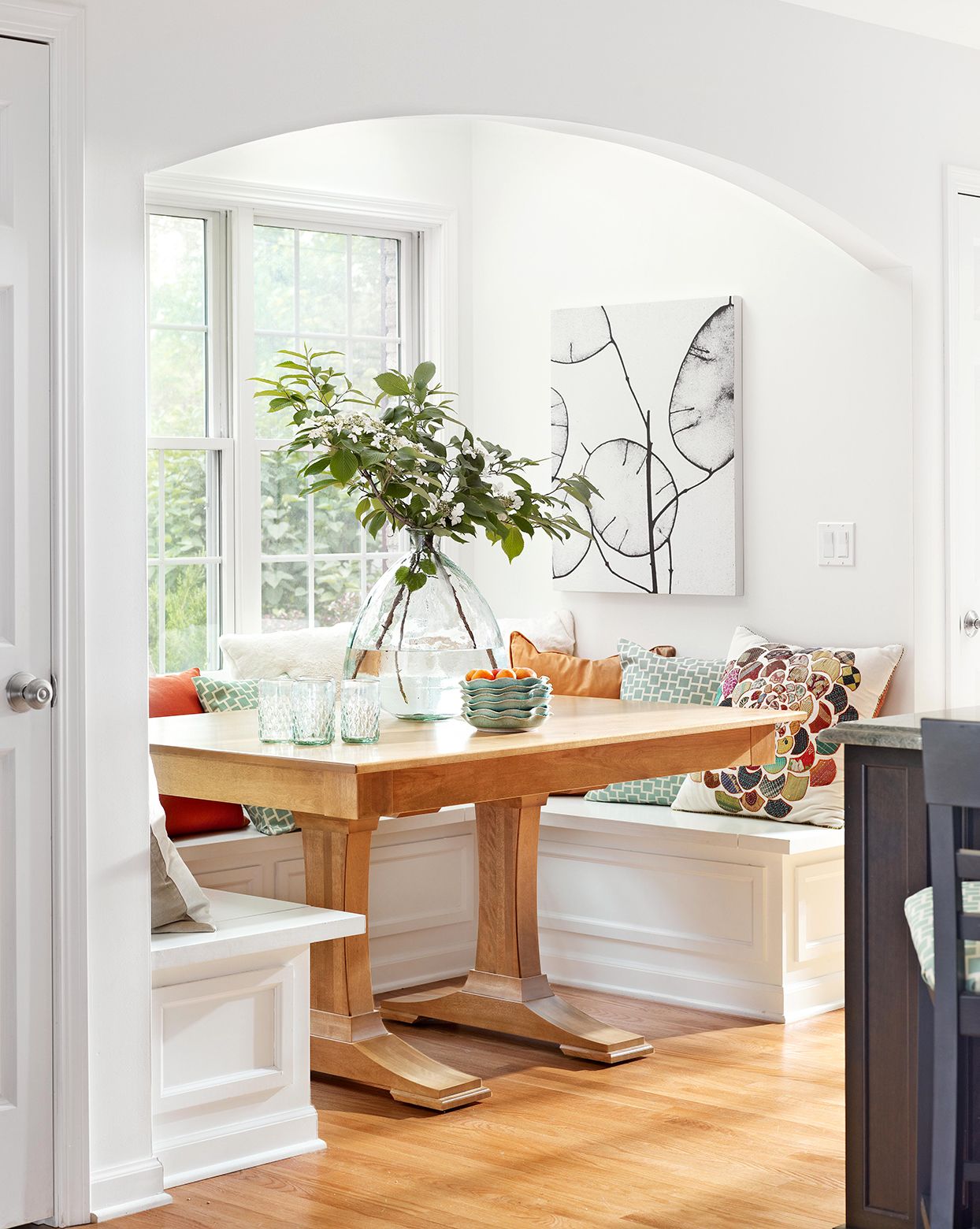 Breakfast Booth

Consider borrowing square footage from spaces adjacent to your kitchen to create a new breakfast nook. A separate eating area gives diners a place to sit out of the cook's way. This banquette is the perfect place to add extra (hidden) storage to the kitchen.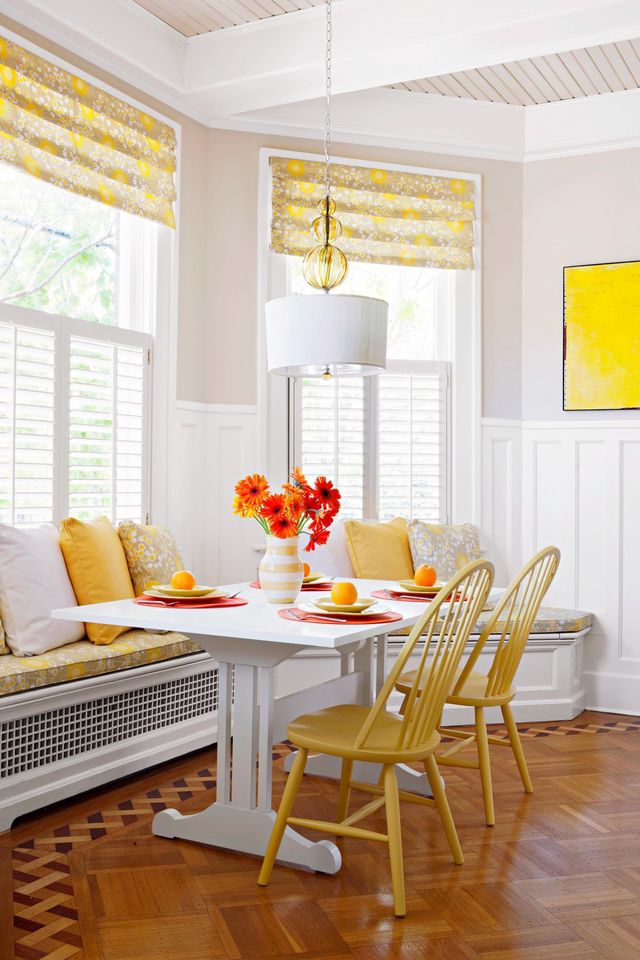 Let Light In

Minimal window coverings keep this breakfast nook bright and sunny. Soft yellow cushions, pillows, and painted chairs add to the room's happy feel. The L-shape breakfast nook design makes the most of this kitchen's nook and creates many extra places to sit.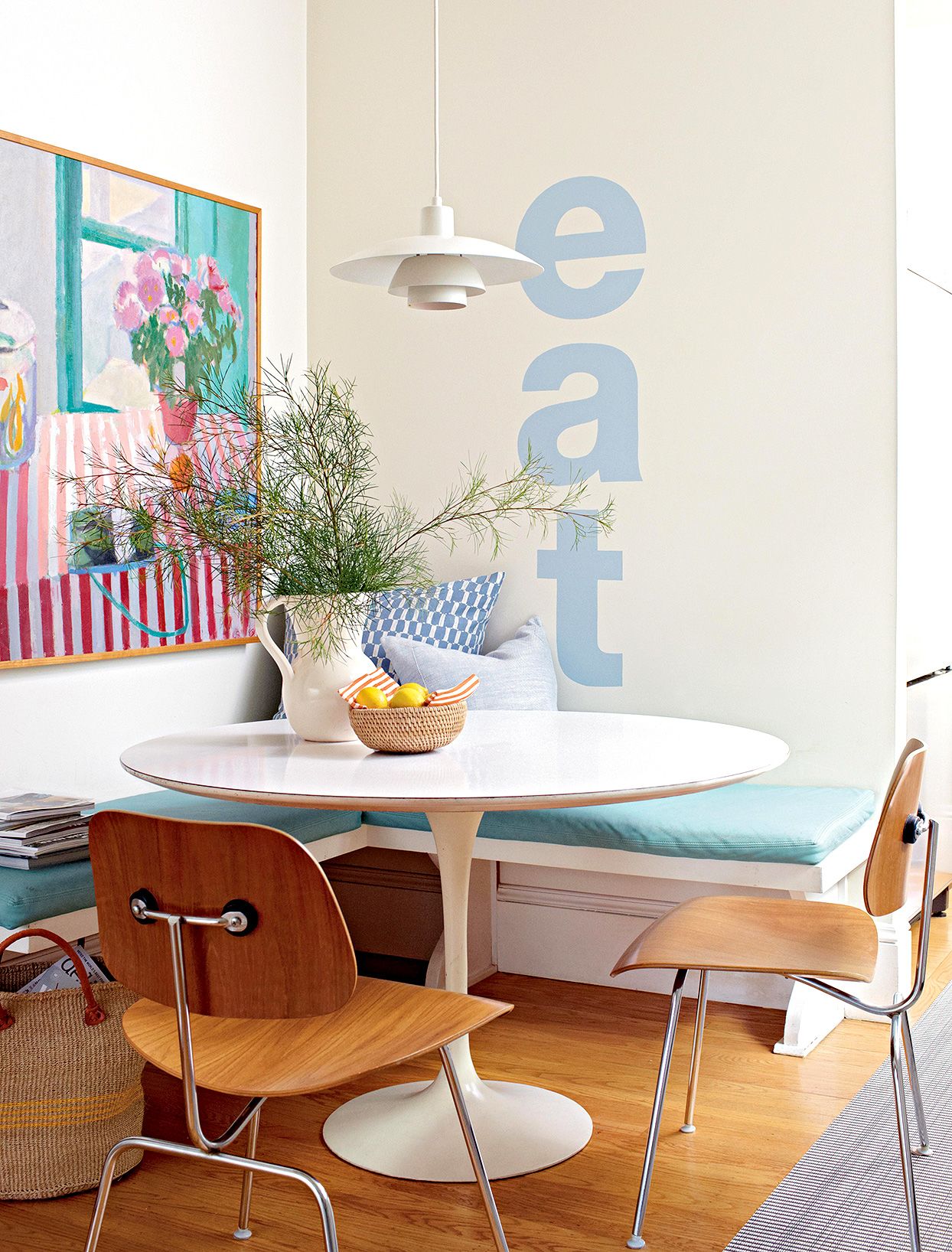 Fresh Take on Vintage

This sweet breakfast nook fits perfectly into a previously unused corner of the kitchen. A built-in bench wraps the corner, adds storage, and lots of seating. Vintage inspired furniture and light fixtures add a playful, casual vibe to the eating area.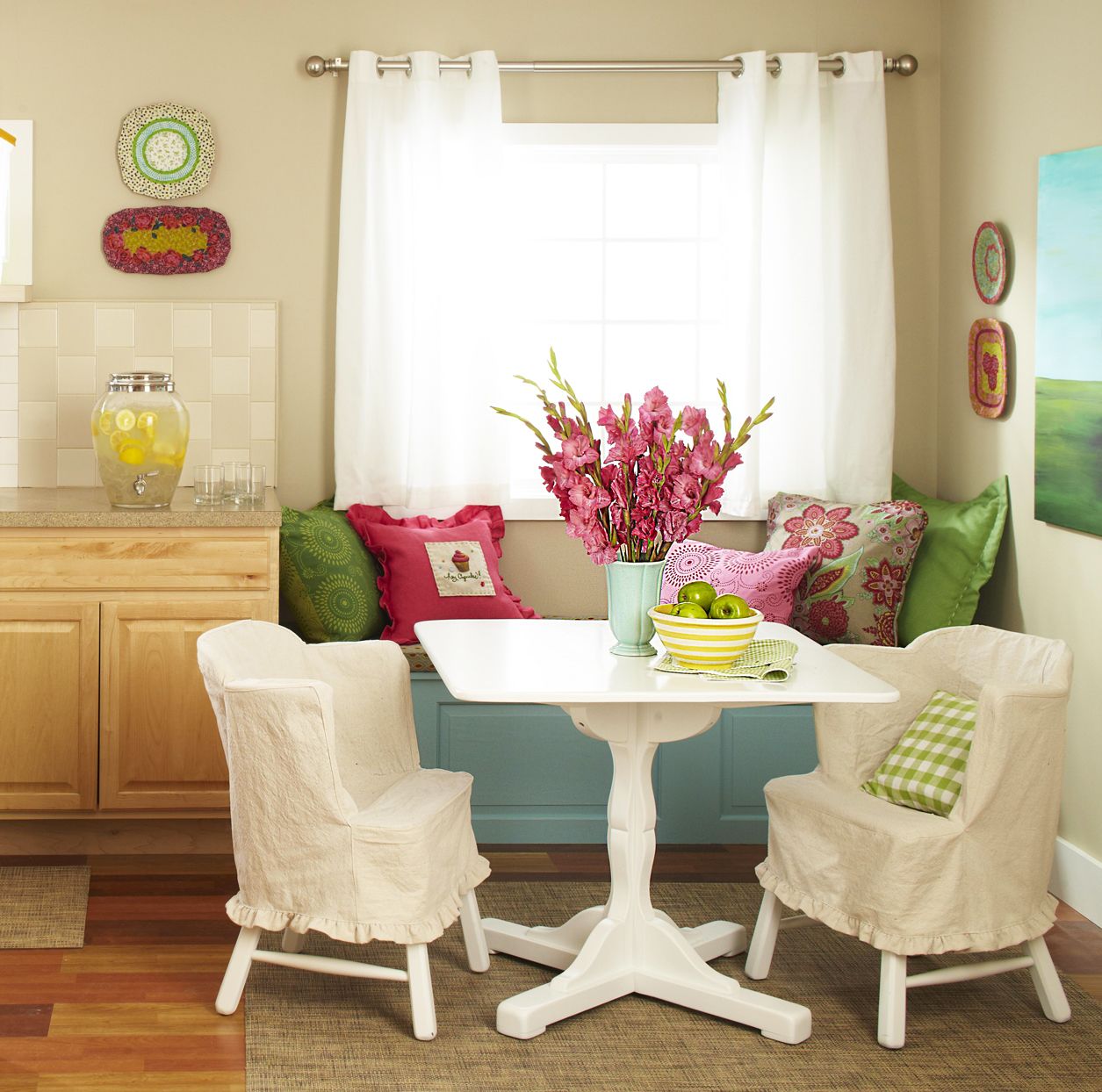 Mismatched Moment

In this cottage breakfast nook, mismatched chairs and a table are unified with a coat of white paint and slipcovers sewn from dropcloths. The bench is a repurposed bifold door, painted in a crisp blue. Accessories complete this kitchen's cozy breakfast nook.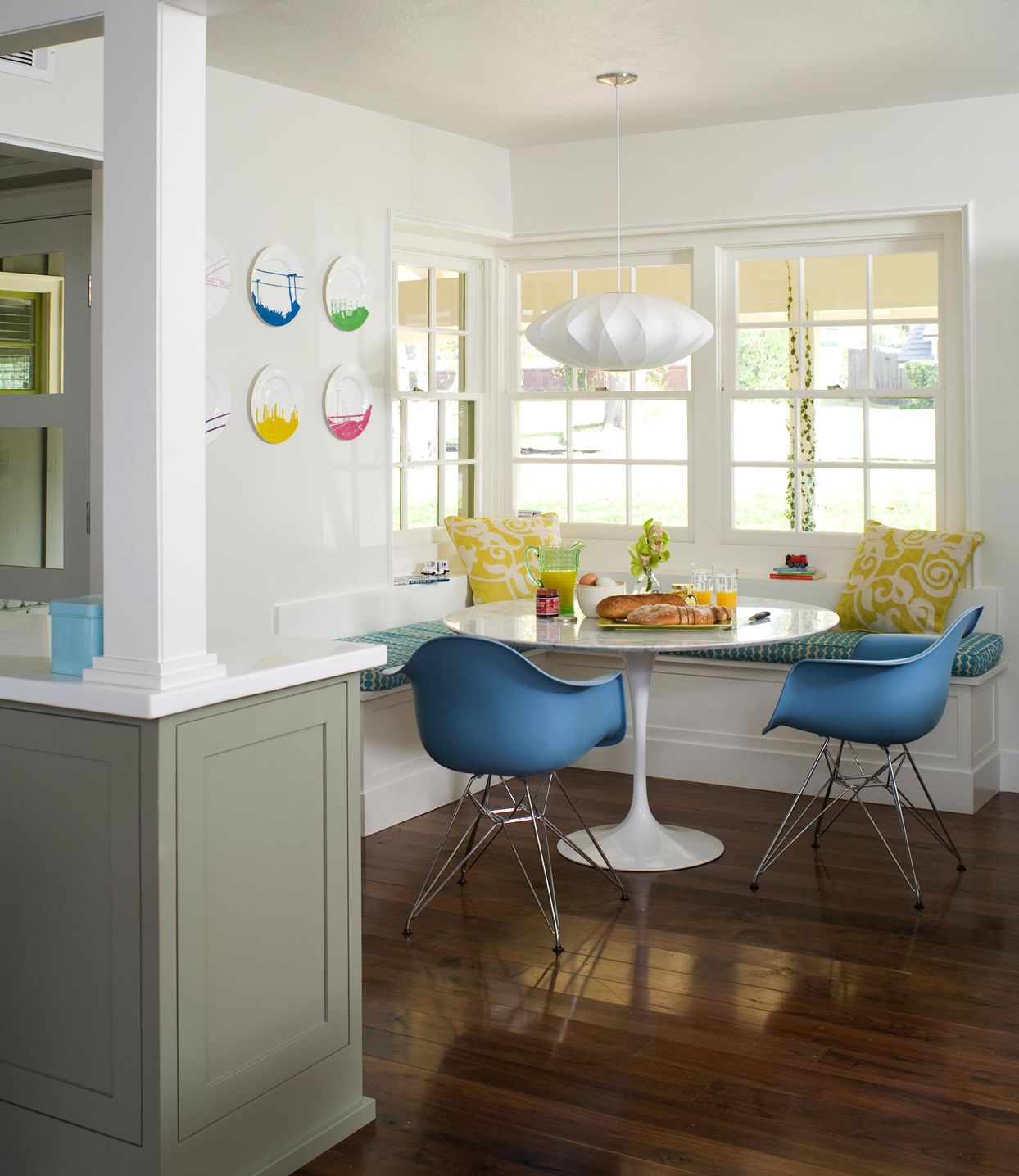 A Modern Look

A modern table-and-chairs set, pendant lighting, and wall decor put a stylish spin on a traditional breakfast nook. Keeping the walls white in both this space and the kitchen creates a cohesive look and ties the rooms together.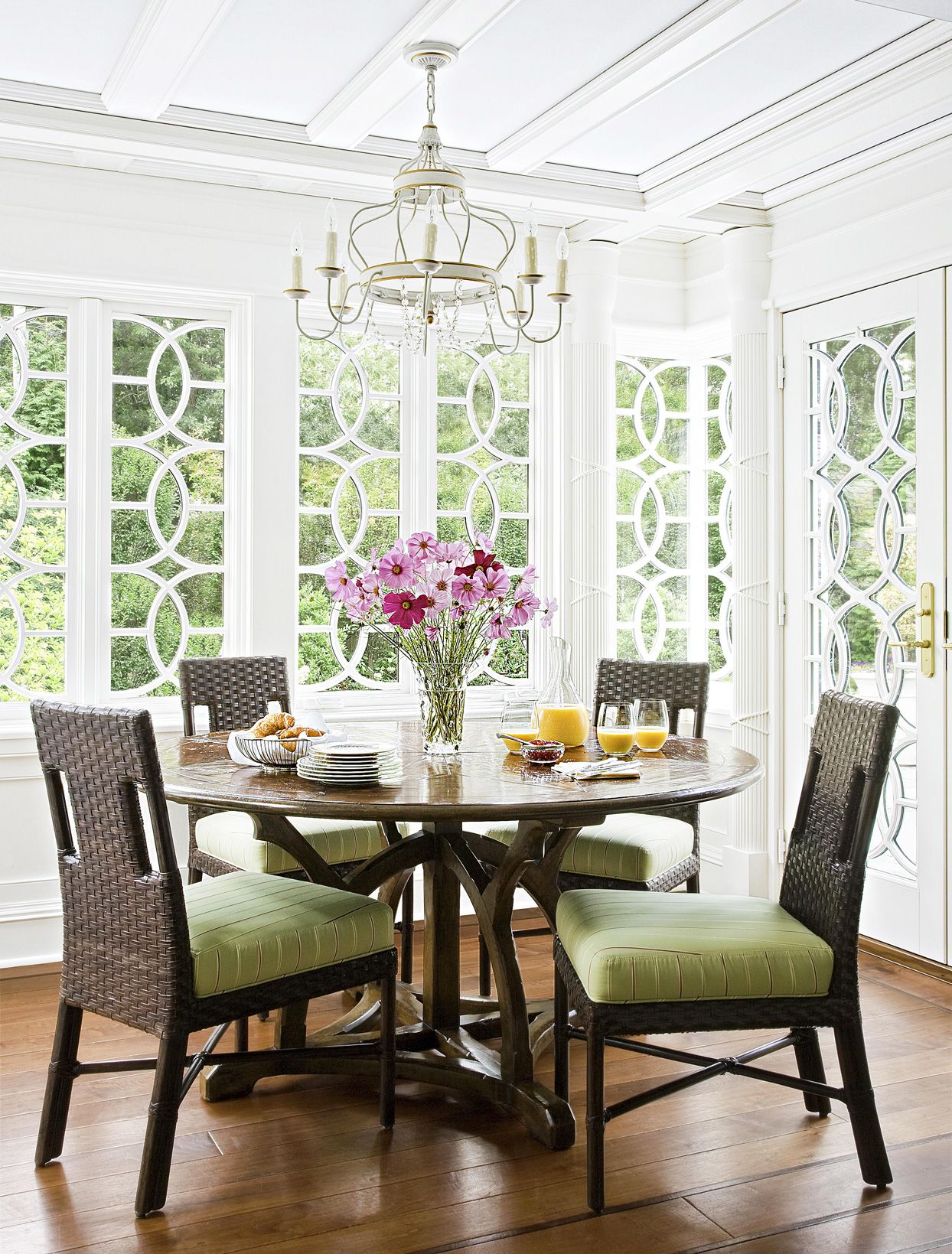 Bright and Beautiful

Natural light highlights the details in this breakfast nook. White walls and window details provide a beautiful backdrop for the dark wicker furniture. Green seat cushions add a pop of color to the breakfast nook's mostly neutral color scheme.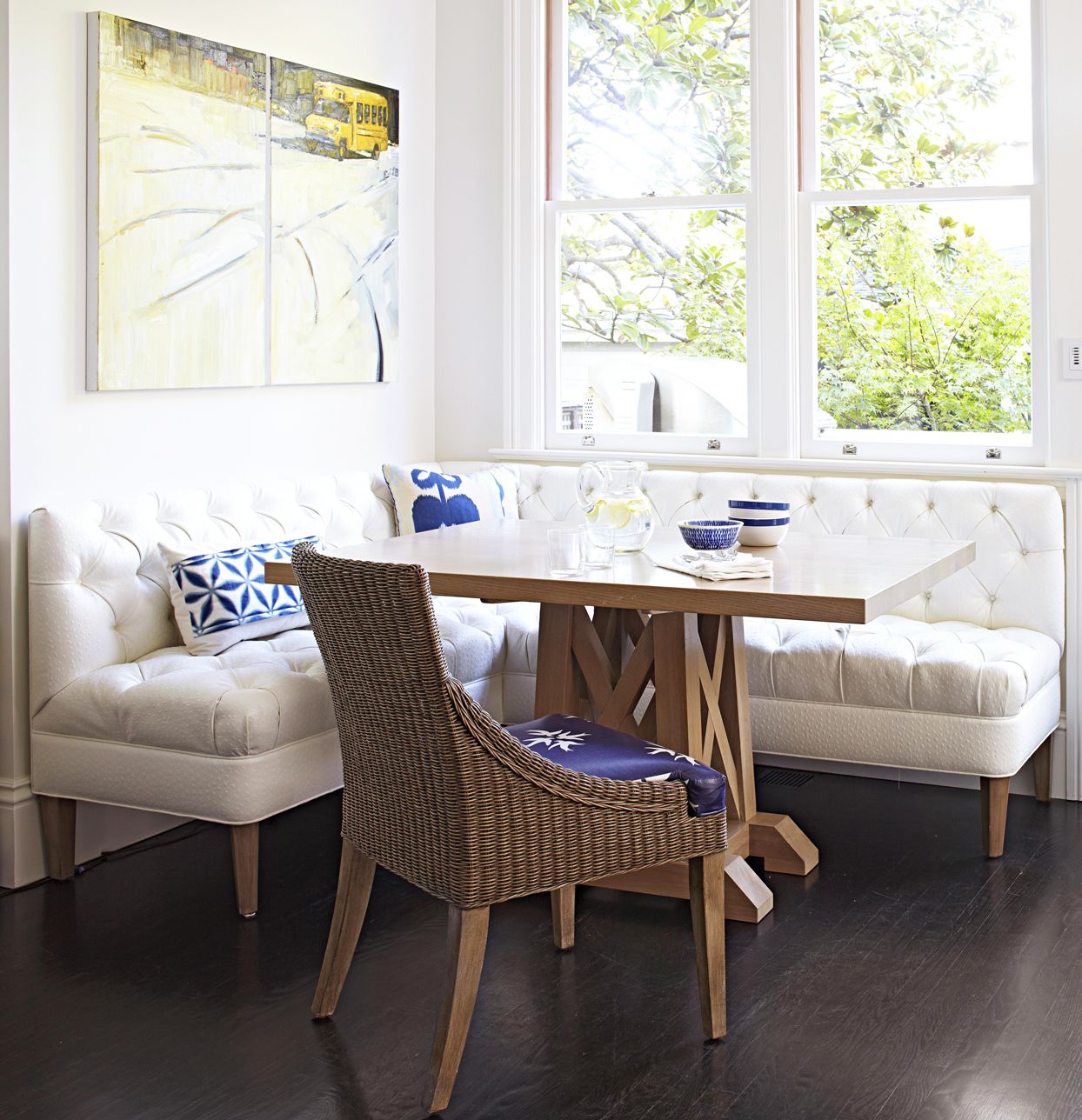 Comfy Niche

Like many others, this breakfast nook takes advantage of windows that provide natural light and great views. Low, comfortable benches keep the breakfast nook casual and comfortable.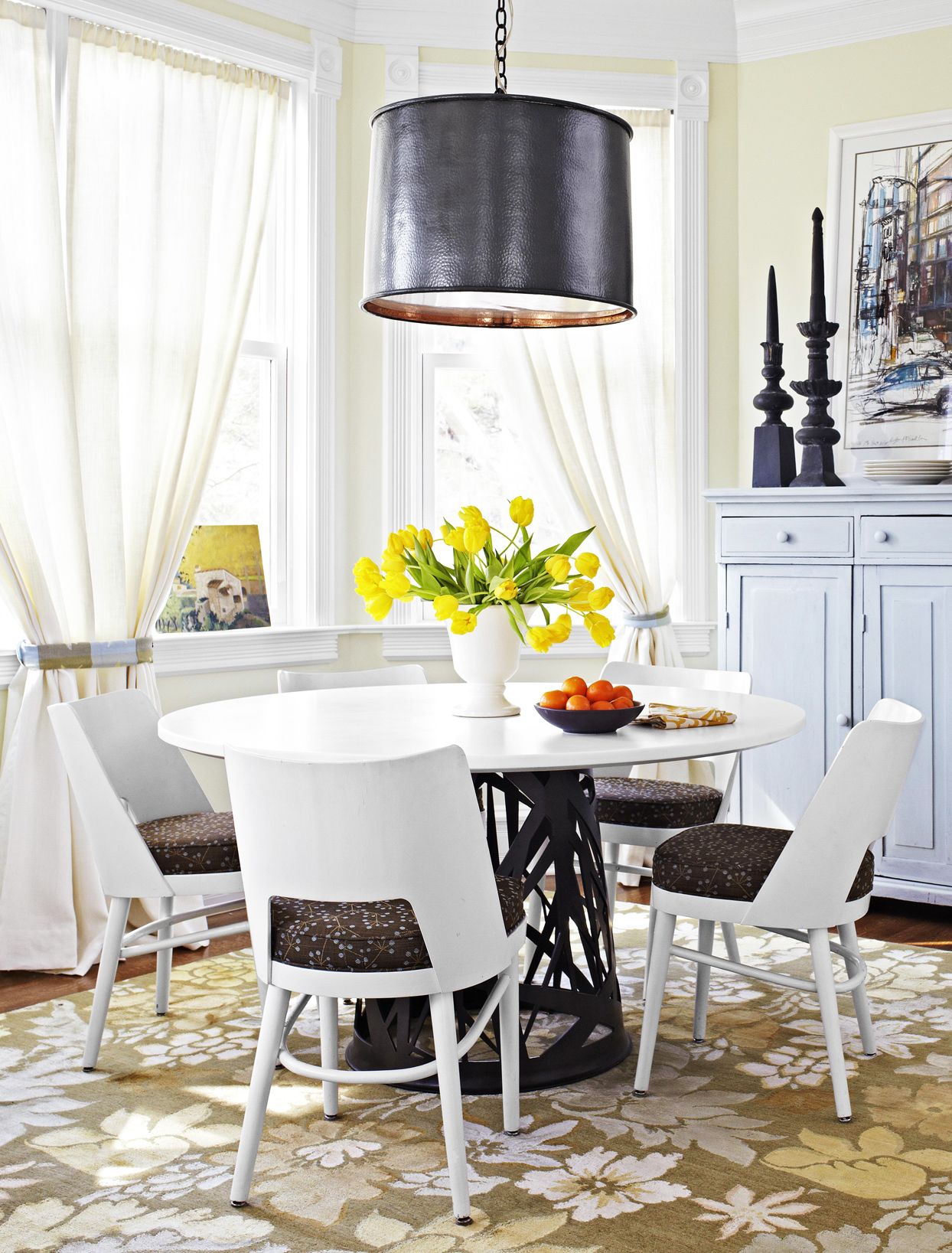 Little Details

The little details of this breakfast nook tie the room together. The patterns on the seat cushions and rug add style to the room. The black pendant light and white table and chairs provide contrast to the breakfast nook. These simple details complement each other and create a cohesive look. A nearby china hutch stores overflow from the kitchen, such as infrequently used linens and dishes.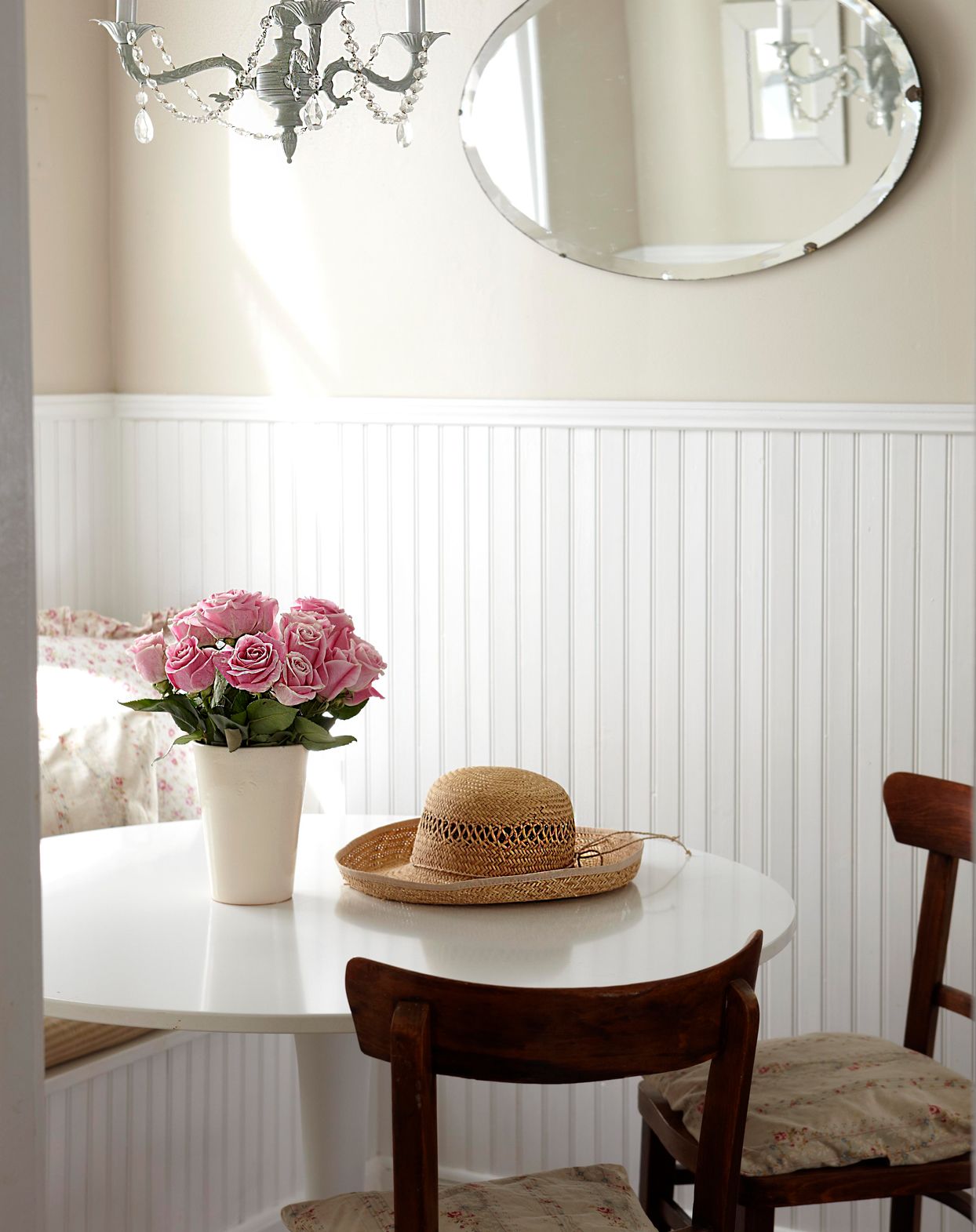 Sleek and Chic

A sleek white table, a dainty chandelier, and pretty fabrics transform a narrow breakfast nook into an intimate gathering spot. The beaded board on the wall of this breakfast nook links it to the adjacent kitchen. A strategically placed mirror opens up the dining area and gives the impression that the space is bigger than it is.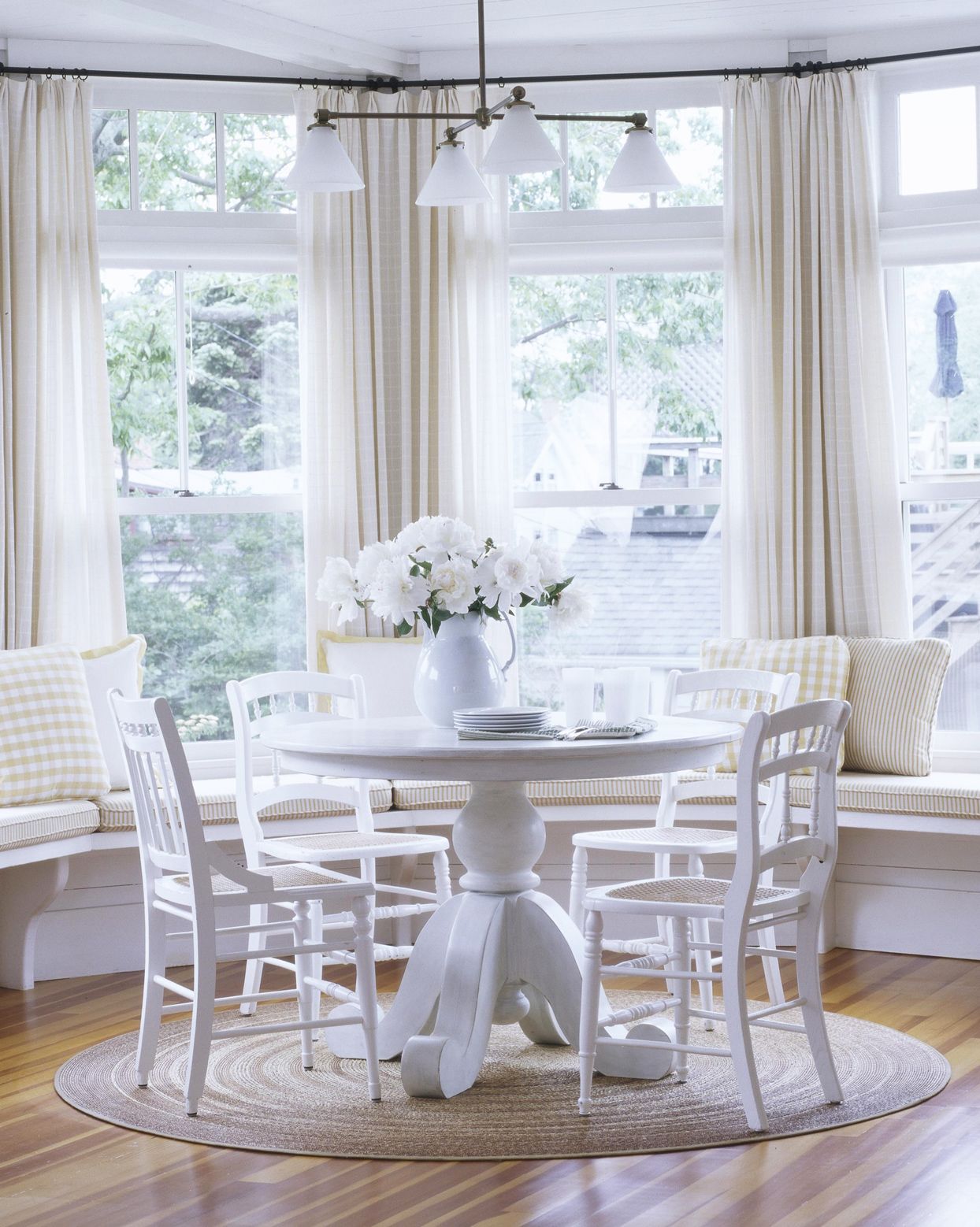 Bay Window Banquette

Bay windows are a perfect spot for a breakfast nook, especially when the space sports curved walls like this cottage nook. A built-in bench hugs the curves of the window to provide extra seating. In an oversize breakfast nook like this one, consider a table with leaves, which gives you the flexibility to adjust your dining accommodations based on your seating needs.