Inside the new Canopy by Hilton in Baltimore. Photography by Durston Saylor.

That was March and the beginning of the COVID-19 lockdown. In the unprecedented year since, Singh and the firm have kept busy. Taking the studio 3,000 miles cross country, Canopy by Hilton, a recent project, gives folks another reason to visit Baltimore. The hotel coupled with the city's lively waterfront (come post-pandemic), its century-old, still operational Domino Sugar factory, and crab cakes, of course.

Located at Wills Wharf in the city's Harbor Point neighborhood, the hotel is part of a mixed-use, new-build structure by Beatty Harvey Coco Architects. It's one of Hilton's "lifestyle" brands. Translated, that means that "while it is not a five-star luxury experience with several amenities, it is a boutique hotel experience," Singh explains. "Small, intimate, and when you wake up you know exactly where you are." As such, Canopy by Hilton offers the utmost flexibility stemming from a pragmatic floor plan and strong ties to place through literal and figurative interpretations.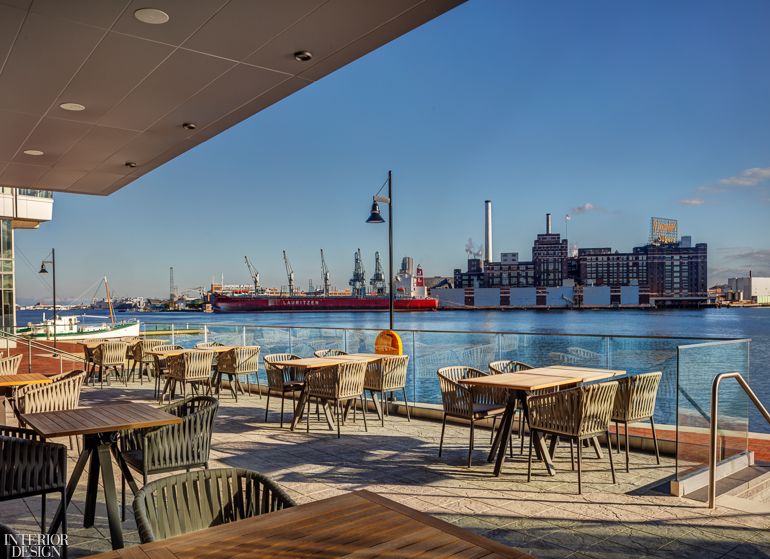 The deck offers guests waterfront views in a laid-back atmosphere. Photography by Durston Saylor.

Check-in is a minimal affair, just a simple desk of wood planks at one with the lobby. This, in turn, is super-comfy and somewhat residential in flair with two seating groups of leather sofas and high-back, velvet-covered chairs divided by a freestanding, double-sided fireplace. Oak millwork with shelves for books, ceramics, found objects, and a TV contributes to the vibe. Meanwhile, references to Baltimore's industrial heritage come with oversized pendants, their armature, and the fireplace itself, all of blackened metal.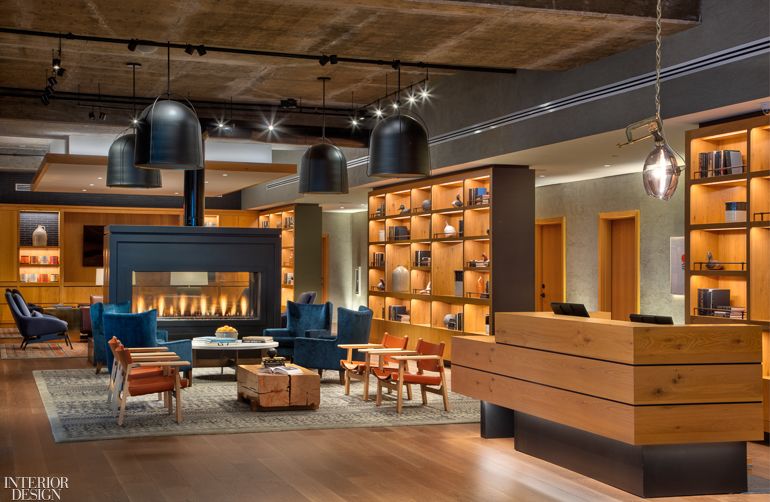 A seating area for guests references Baltimore's heritage with industrial accents. Photography by Durston Saylor.

An extension of the lobby, a transparent boardroom is delineated with a blackened steel and glass storefront. Its sliding door opens to a custom oak table, surrounded by Charles and Ray Eames classics. More than just a formal setting, the space offers solitude to guests when not booked for events.

"What's different about this property," Singh continues, "is a larger restaurant program than usual." Here it takes over a prominent corner of the floor plan with wraparound windows and is dominated by a freestanding copper and black-painted bar. The exposed ceiling and dark ductwork hue industrial as does the gutsy, suspended storage fixture. Meanwhile, everything opens onto a deck set with ample seating. As for the restaurant proper, it's run by a local. Cindy Lou's Fish House is undeniably elegant. Leather banquettes, ebonized walnut tables, and custom floor lamps comprise the mix.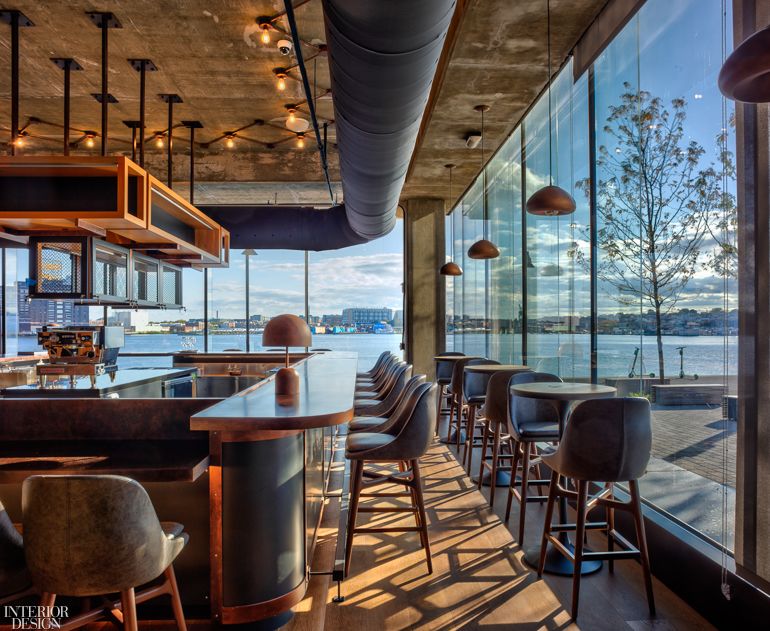 Cindy Lou's Fish House. Photography by Durston Saylor.

Speaking of locals, Singh with curator Nathalie Beatty and artist Karl Connolly put together a knockout collection of works from Baltimore's art community. To wit: the main elevator lobby with exposed concrete walls boasts an oil on canvas by Connolly while a mixed-media piece in an elevator lobby for guest rooms is by Charles Mason III, and the boardroom's acrylic on linen is by Timothy App. Arguably most striking of all is Jonathan Maxwell's triptych of paint, resin, and concrete mounted on an armature of gears that allow the three components to be moved closer together or farther apart. The assemblage faces the restaurant's screen wall of beer bottles, "from a local brewery and is part of the story."




A sliding barn door of painted steel in the guest rooms separates the bathroom from the sleeping area. Photography by Durston Saylor.

Rooms number 156, eight of them suites that extend to 800 square feet. Singh devised a standard scheme for all with custom furnishings and minimal millwork to keep costs at bay. The standout is the canopy of bent oak that frame the bed, easily construed as nautical. It's lit from behind for an ambient glow. No ceiling holes here. A sliding barn door of painted steel separates bathroom from sleeping quarters, while another sliding door of wood closes off the shower from the powder-coated steel and quartz vanity. Meanwhile, a clever open steel and oak unit set within a niche at each room's entry replaces closets as a chic but compact dressing area. All said, plenty of reasons to book Baltimore when travel rebounds.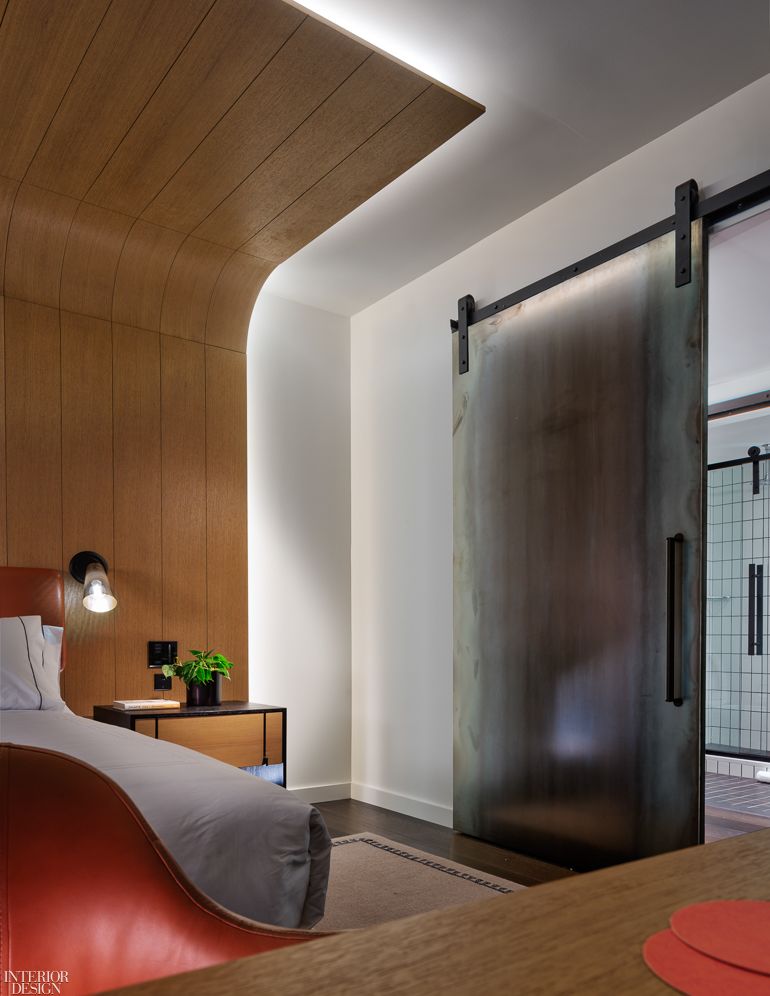 The bent oak canopy lights up from behind for an ambient glow. Photography by Durston Saylor.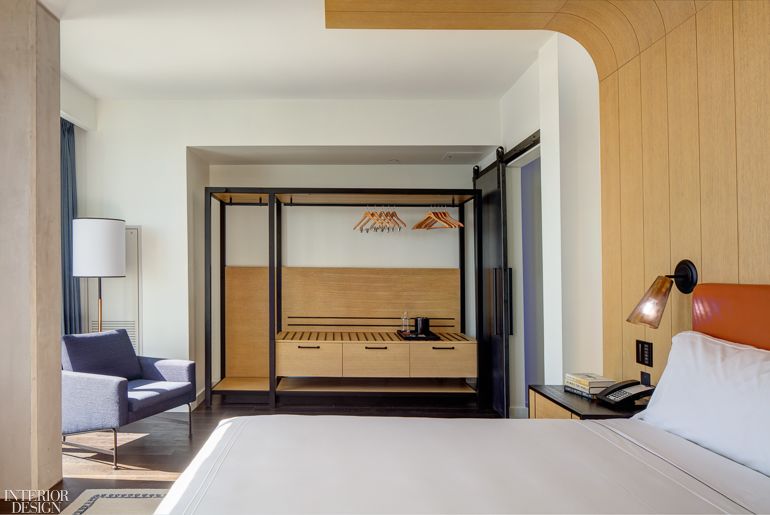 Neutral hues and plenty of natural lights offer guests a soothing space to unwind. Photography by Durston Saylor.