The best boy's bedroom ideas are one's that firstly reflected the inhabitant's personality, suit your style too and have the potential to last years – you don't want to be redecorating every few years as they grow up. Boy's bedrooms should be fun, creative spaces that they want to spend time both playing and sleeping. And they aren't all about blue color schemes and pirate ship decor, we've found plenty of gender-neutral decor ideas and fun themes to suit all styles (and fear not, they are all very adult approved too!)

Just a scroll through the plenty of kid's bedroom ideas below and you'll find shark themes, dinosaur themes, jungle themes, pirate themes and space themes, as well as graffiti walls, skateboard shelves, and secret dens. Whatever their hobby, favorite sport, favorite animal, or interest, you can incorporate them into the room decor.

Even the bedroom storage gets a cool twist – like the pail-inspired bucket storage that hangs from pegs on the walls, the Lego shaped storage boxes or the pegboard wall that's used to display favourite treasures.

We're also big fans of the wall murals, the bunk beds, the games tables, skateboard wall shelves, treehouse-inspired beds and the pop art prints (who said kids can't appreciate art?)


1. Go for a stylish treehouse theme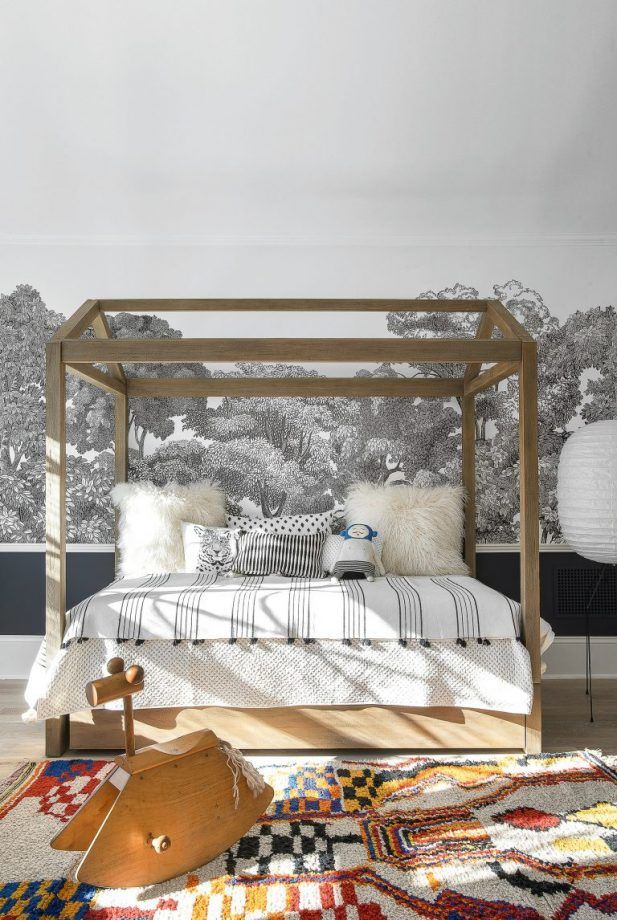 So they want a forest-themed room? Well, who says forest-themed can't be stylish? Check out this cute boy's room idea, with a chic black and white tree canopy mural and canopy bed, both create that treehouse feel but in a more subtle way that has longevity and will grow with them.


2. Go subtle with a cool space theme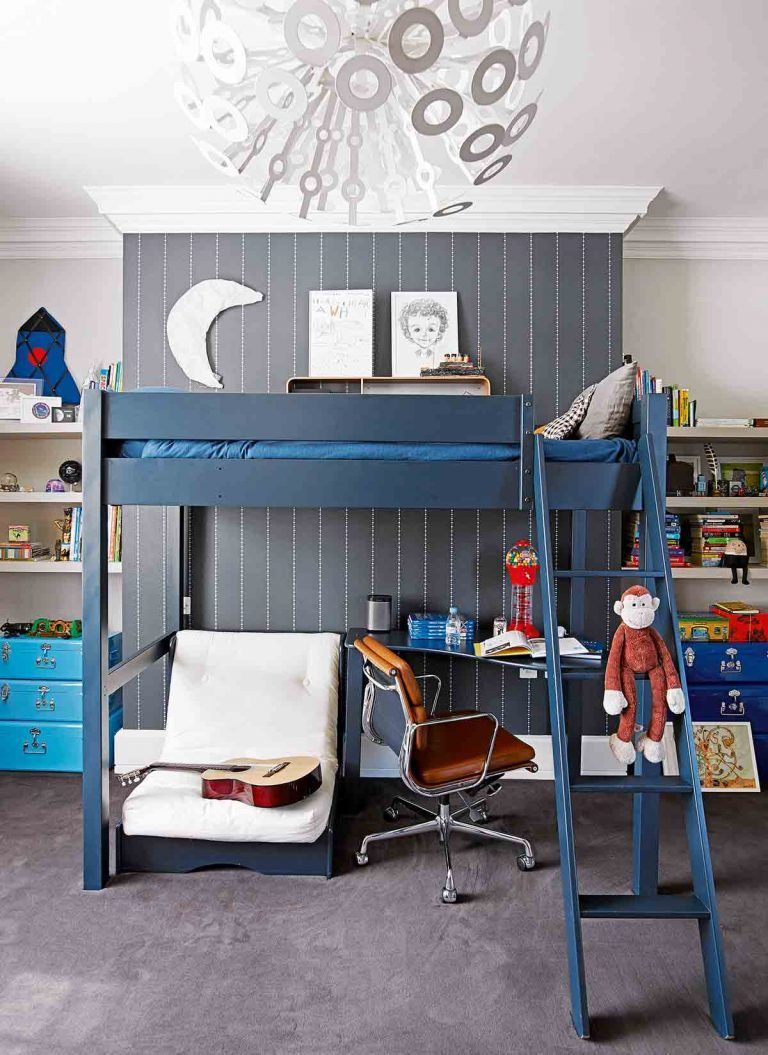 The space theme in this boy's bedroom is another example of how your children's passions can be incorporated into their room without totally dominating the room. The deep colors, the spacey lighting, and wall decor pick up on all things solar and lunar, but without being too obviously themed, so you could easily switch it out as their (ever-changing) tastes grow up.


3. Hang a jungle themed wallpaper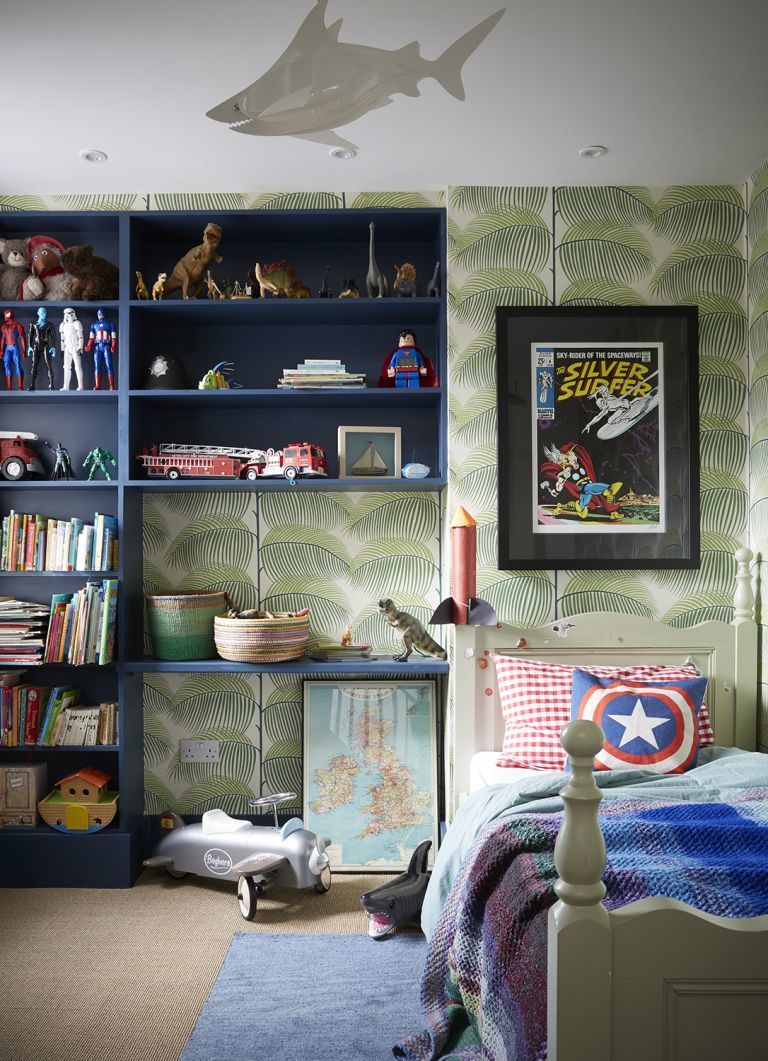 Easy way to take a simple room and turn into a magical creative space? Wallpaper. You can get so many kid-approved designs from starry skies to under the sea, but when it comes to an on-trend look you can't go round with a palm print, giving an instant jungle vibe. Paired with deep blue in this space it feels fun and fresh but it's not overly childish – you can imagine this easily turning into a teenage boy's bedroom without too much redecorating.


4. Pick a preppy elegant look for a boy's bedroom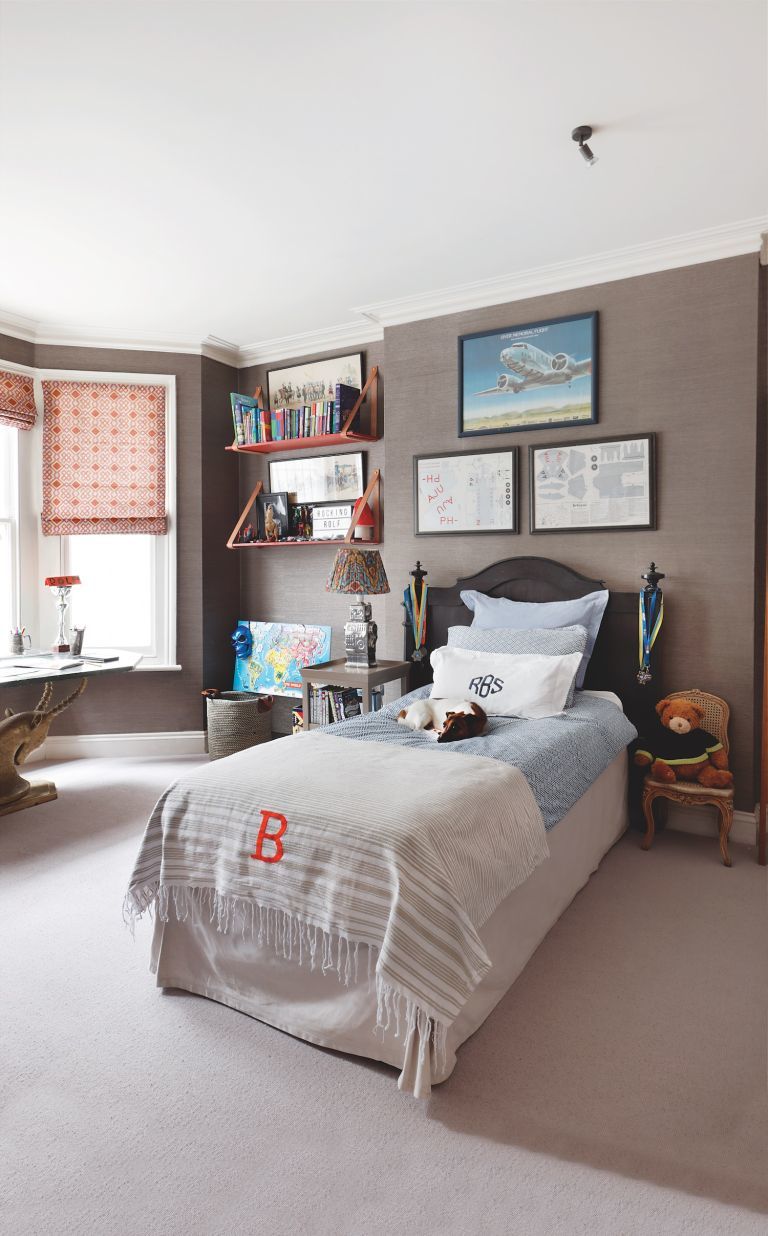 Looking for a boy's bedroom idea that's a little more elegant? This boys' room feels very chic and sophisticated, with a lovely grass-cloth wallpaper, smart, monogrammed bedding and framed prints rather than posters.


5. Use their books as decoration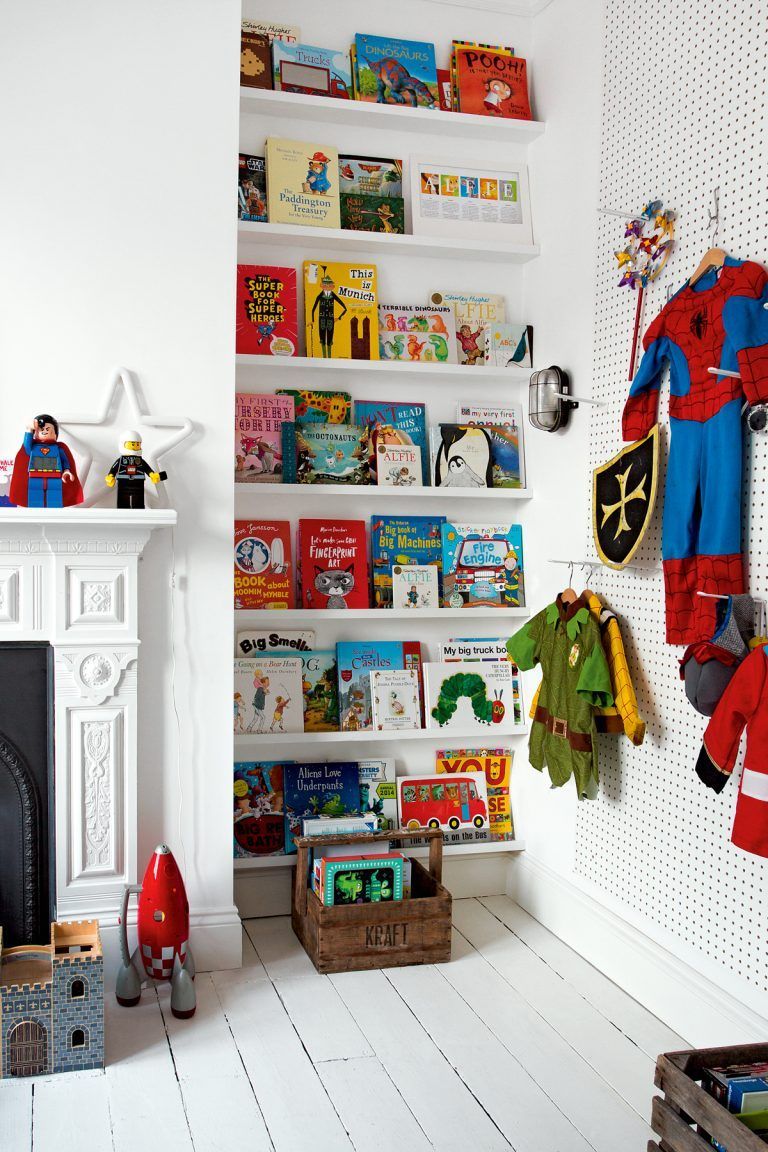 Shallow shelves are a great way of displaying childrens' books which become a gallery wall in their own right, while a pegboard provides a handy place to store superhero outfits. Plus, they take up a minimal amount of space, leaving floor space free to play.


6. Keep it simple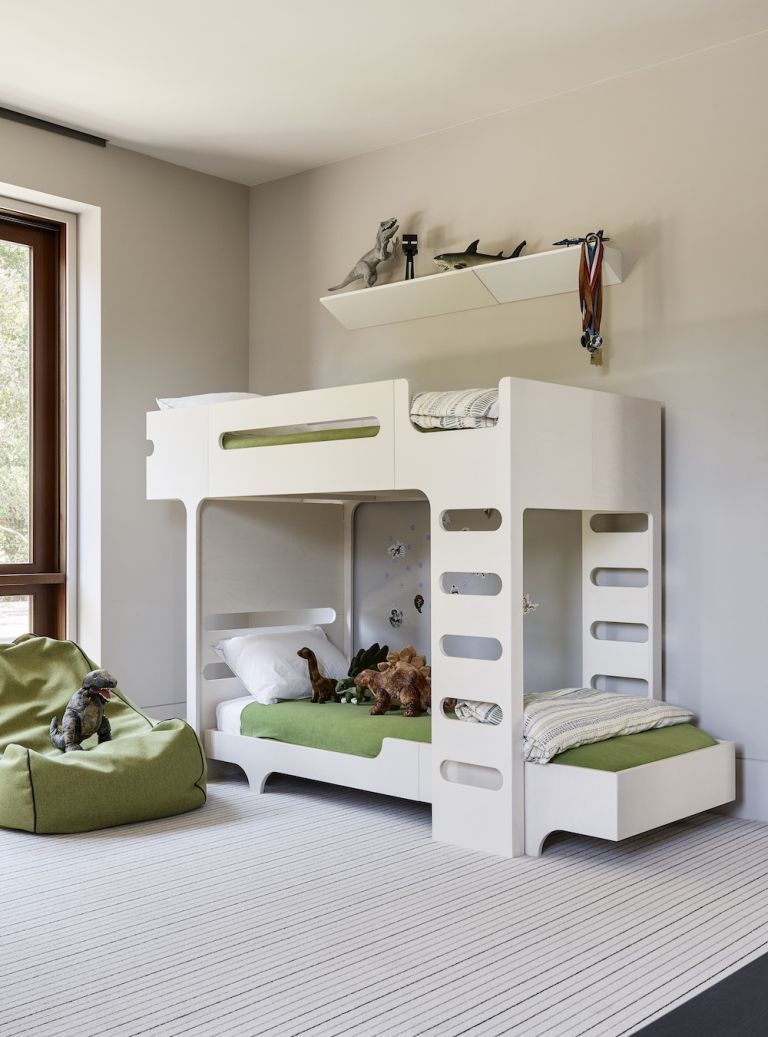 If you are going for longevity in your boy's bedroom design, stick with a neutral scheme and just bring in accents of color and decor to give the room a theme. See how in this space the colors and furniture are kept for simple and then the bedding and toys bring in the fun, and these can both really easily be switched up too.


7. Make room for fun and games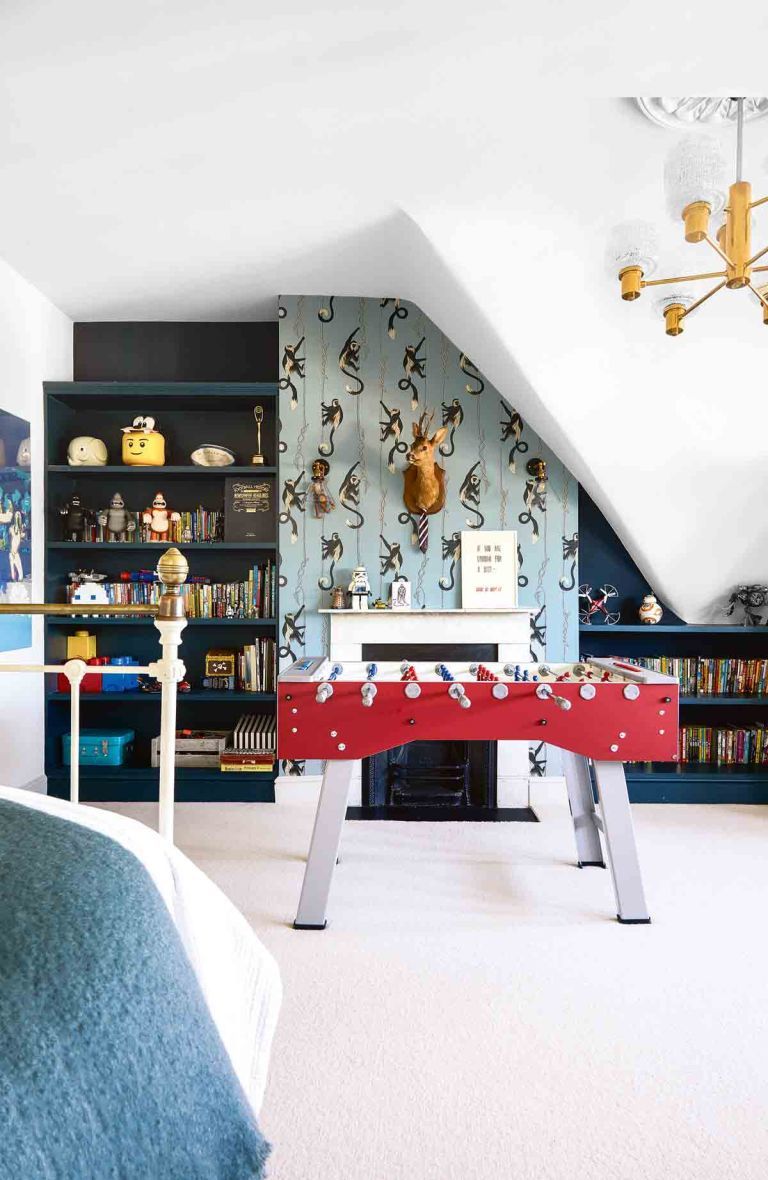 Remember that a boy's bedroom is potentially the place they are going to play too, especially if you don't have a separate playroom, so do consider making space for toys and keep some floor space clear too. Try and switch out some bulky storage pieces for wall-mounted storage if you can.

This boy's bedroom had previously been two smaller rooms, but the stud wall was removed to make a large space to last from childhood to teenage years. The football table makes this a fun space to hang out in when friends come to play.


8. Bring in color with flags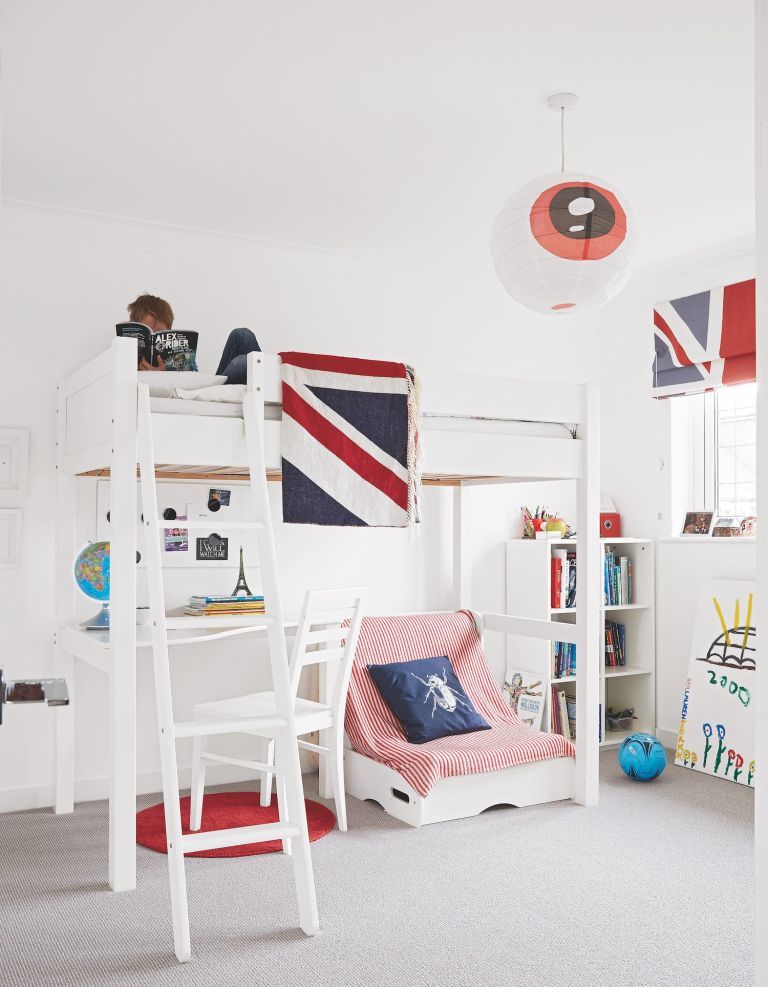 Set a cool, edgy theme with flag decor in the form of wall hangings or, as used in this bedroom, roller blinds, and accessorize with a matching rug or bedding. The Union Jack theme has a decidedly Rock 'n' Roll feel to it that will appeal to them as they get older too.


9. Build a secret den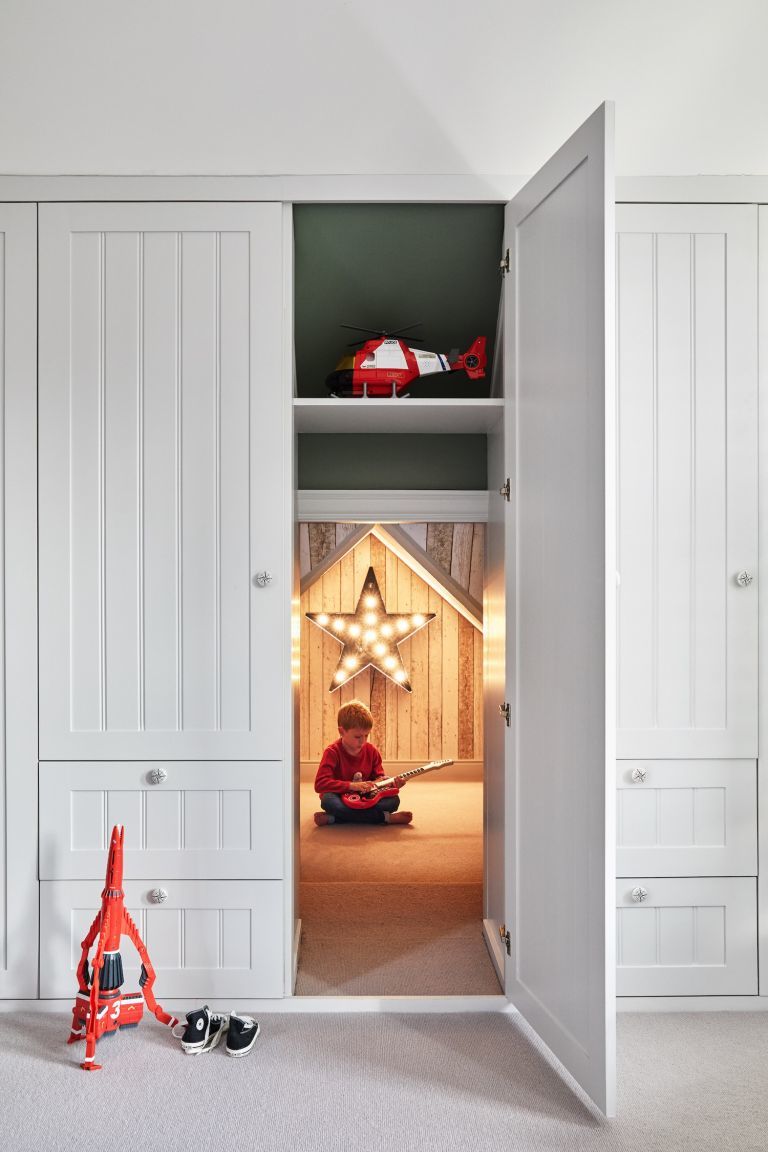 One of these wardrobe doors opens into a 'secret room', creating a den-like space for one lucky boy. Perfect for playing with cars and trains, and keeping the mess out of the bedroom. Work with an architect to make sure you get the best design for your space, and to ensure that all health and safety measures are taken.


10. Pick a classic nautical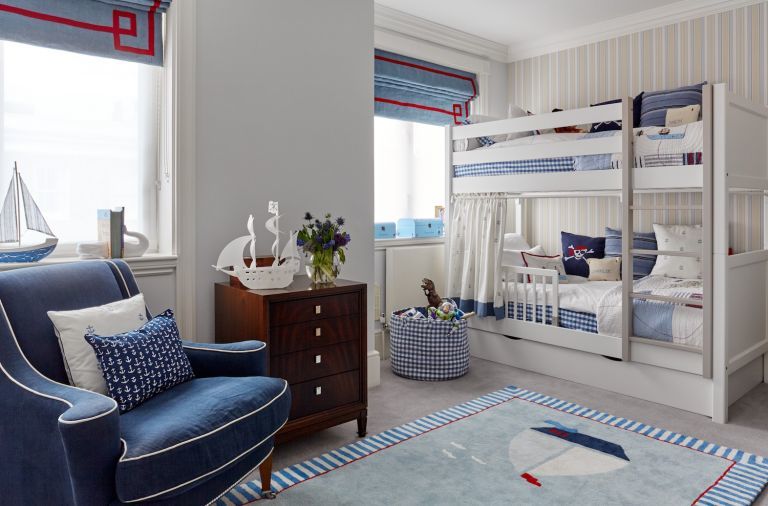 We love the powder blue and red color combo in this nautical-themed room, such a classic look. Designed by Katharine Pooley, everything has been thought out down to the last detail, including bed curtains, bedding, and accent cushions.