Copenhagen-based architecture team
BIG Architects
is delivering on its namesake and thinking outside the box on their latest project,
Zira Island
, off the coast of post-Soviet
Azerbaijan
in the Caspian Sea. Located within the crescent-shaped bay of the capital city Baku, Zira Island features carbon-neutral resort and residential development spanning 3.3 million square feet. To honor its parent country, the development design mirrors the seven peaks of Azerbaijan and operates as a carbon neutral island—a self-contained community using as few resources as possible.
Harnessing the power of the sun, solar and photovoltaic panels are strategically placed on Zira Island roof tops and building facades to provide power, as well as heated water. The masterplan also includes waste and storm water collection, whereby harvested water is run through a treatment facility to clean, process, and store it for irrigation use. Solid waste extracted from the water is composted and re-used as top soil. Lastly, the island harnesses wind energy through an offshore wind farm to provide its own CO2-neutral power supply.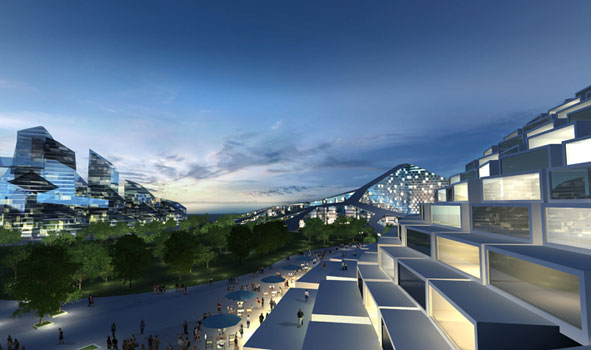 View over Zira Island's interior.
"
This new architecture not only recreates the iconic silhouettes of the seven peaks, but more importantly creates an autonomous ecosystem where the flow of air, water, heat, and energy are channeled in almost natural ways," said Bjarke Ingels, co-founder of BIG. "A mountain creates biotopes and eco-niches, it channels water and stores heat, it provides viewpoints and valleys, access, and shelter."

Each of
Zira Island's replicated seven peaks features residential development, hospitality development, and public space. The master plan is currently on display in a public exhibition through May 31 at the
Danish Center for Architecture
in Copenhagen.