Whether you're tired of working from home or are back in the office, we can all appreciate a well-designed workspace for how they promote creativity, productivity and collaboration, something every company can benefit from. As the year comes to a close, we're looking back through our At The Office column to share the most popular posts of 2020.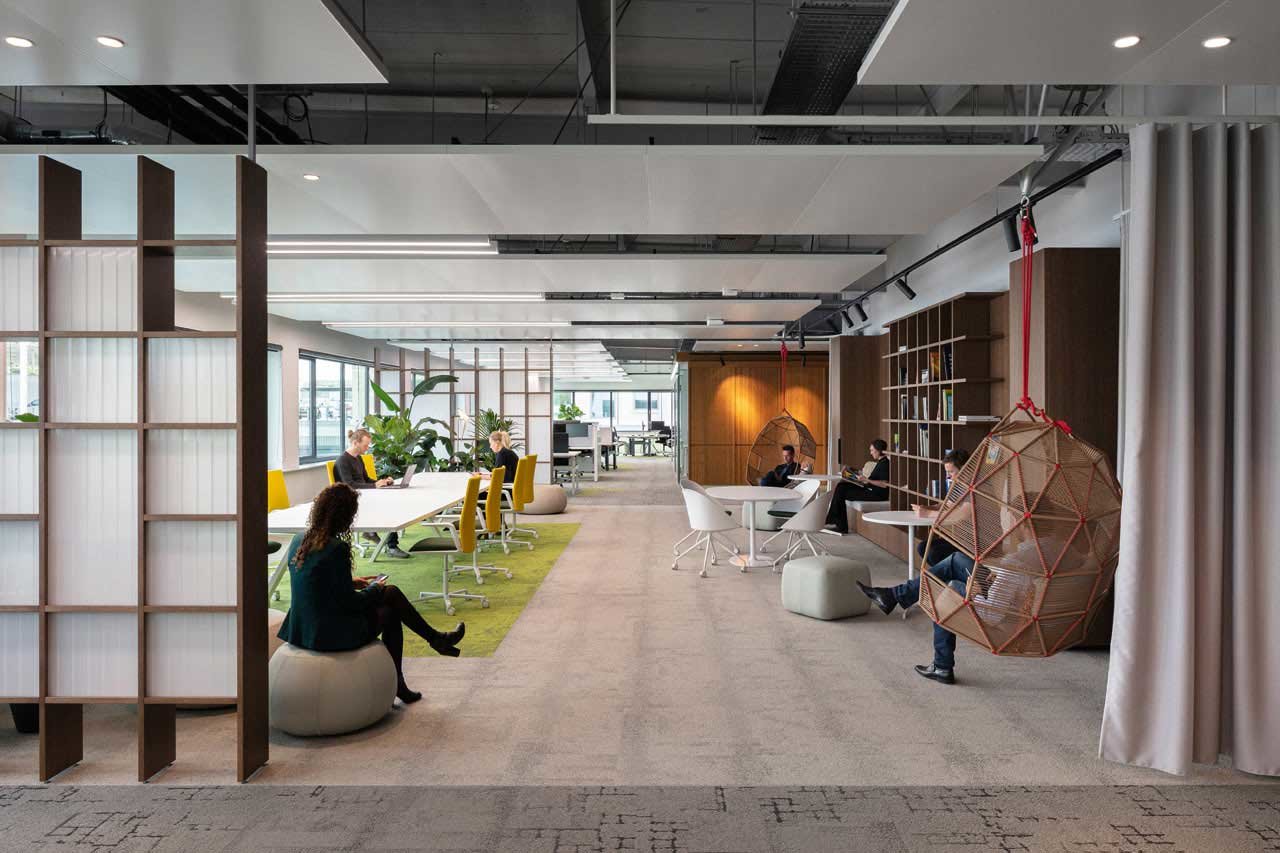 10. Arper Outfits the CBRE Group's New Office in Amsterdam

The CBRE Group, the world's largest commercial real estate services and investment firm, moved into new Amsterdam offices that once housed a car garage. The Dutch branch relied on their own design team to create the modern interior of The Core, which merged original details with new furnishings from Arper.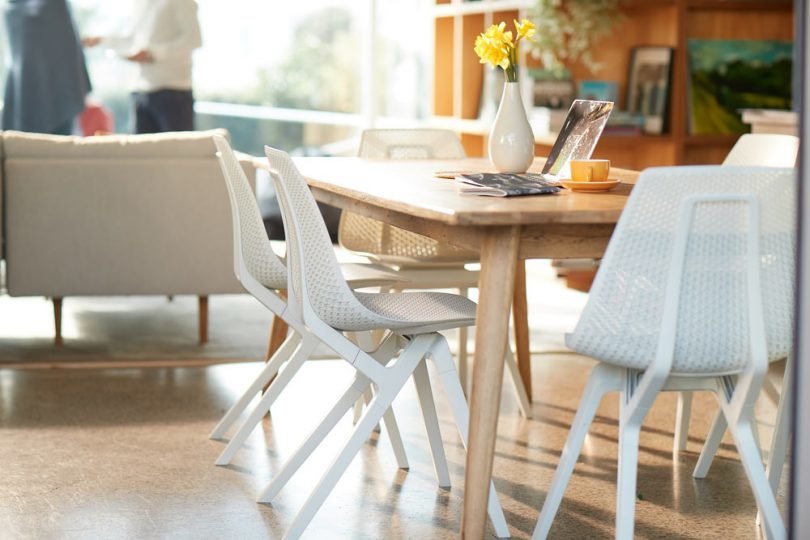 9. The noho move™ chair Is Made From Reclaimed Fishing Nets + Carpets

New brand noho launched with a new chair that's completely sustainable, as it's made from a 100% regenerated and regenerable nylon. Based in Aotearoa, New Zealand, noho collaborated with Aquafil to create an everyday chair collection made out of ECONYL® regenerated nylon, a material from upcycled waste plastic, like reclaimed fishing nets and end-of-use carpets. The noho move™ chair is designed with "dynamic comfort" which allows the user to sit back and lean forward while the chair moves with you.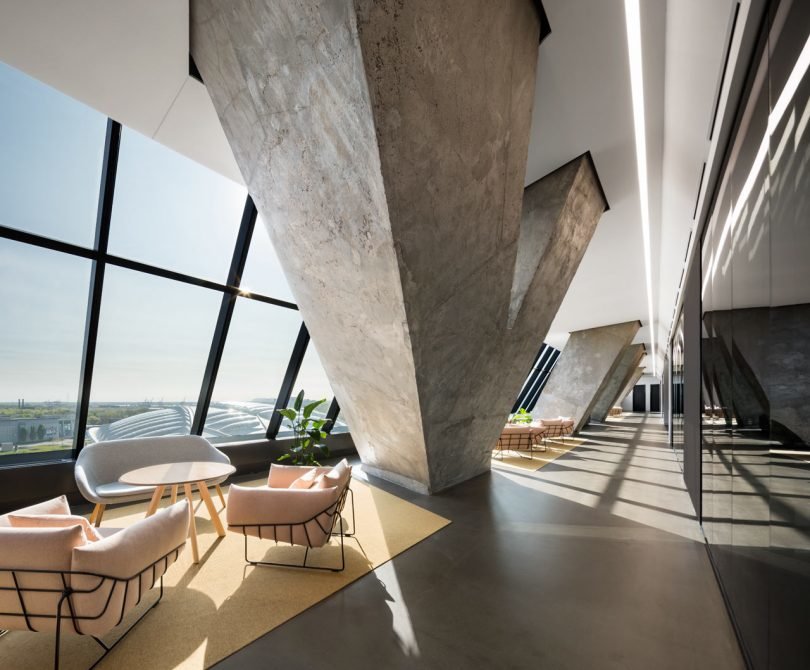 8. Montreal's Empty Olympic Tower Revived into Offices for Desjardins

Abandoned since 1987, the Olympic Tower of Montreal was transformed into new offices for Desjardins, one of Quebec's largest financial institutions. Provencher_Roy designed the office interiors which span seven of the building's 12 floors, equaling 80% of the available rental space. Now labeled the Montreal Tower, the structure was opened up when Provencher_Roy removed a good portion of the prefabricated concrete panels and replaced them with an all-glass curtain wall covering about 60% of the facade.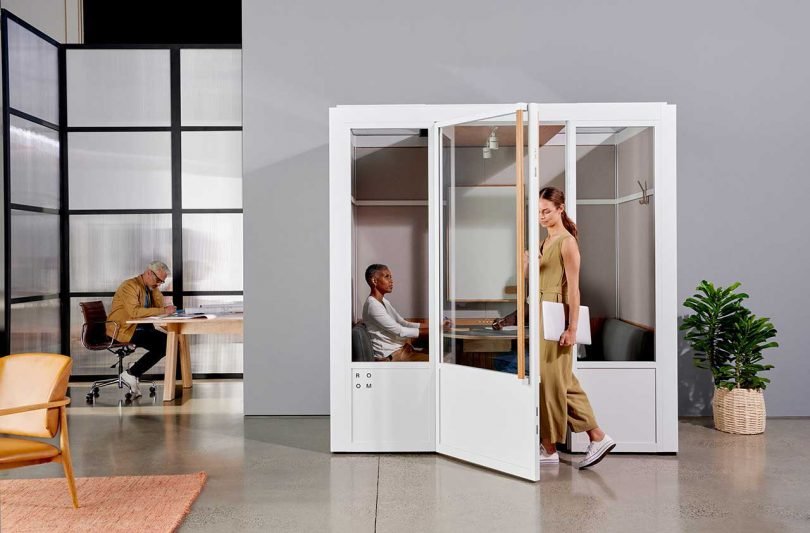 7. ROOM Launches New Modular Meeting Rooms for the Modern Workspace

New York-based ROOM continued to reimagine the modern workspace with modular architectural solutions that give employees options for privacy. The startup launched a trio of new designs – the Meeting Room, Open Meeting Room, and the Focus Room – offering private spaces for focused work or collaboration, whether it's in-person or virtual.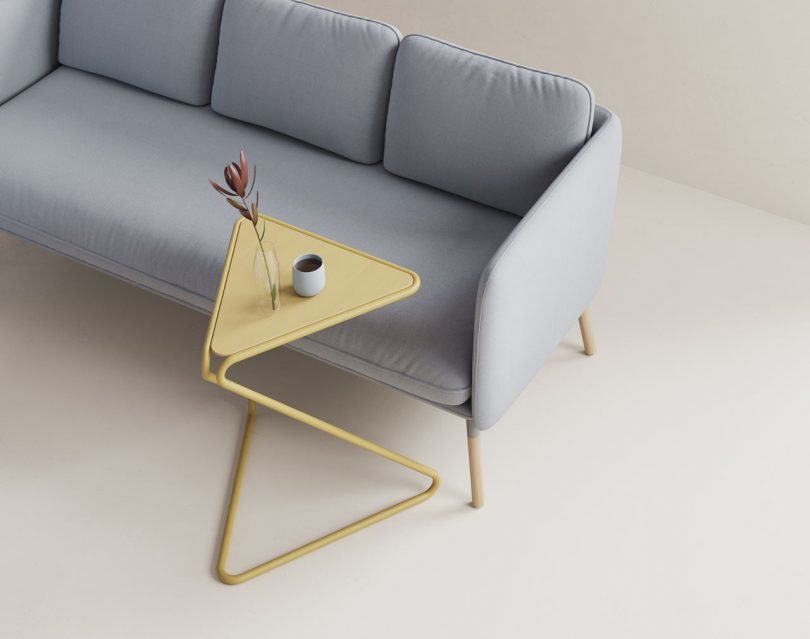 6. The Ziggy Table and Stool Easily Adapt to Any Work Situation

Many companies have been prioritizing adaptability to keep up with the needs of their ever-evolving workspaces and employees. The Ziggy Table and Ziggy Stool, designed by Brad Ascalon for Hightower, are compact pieces that keep that in mind. The geometric duo are both fun and functional and can easily be moved around as needed for solo work or brought together to collaborate with others.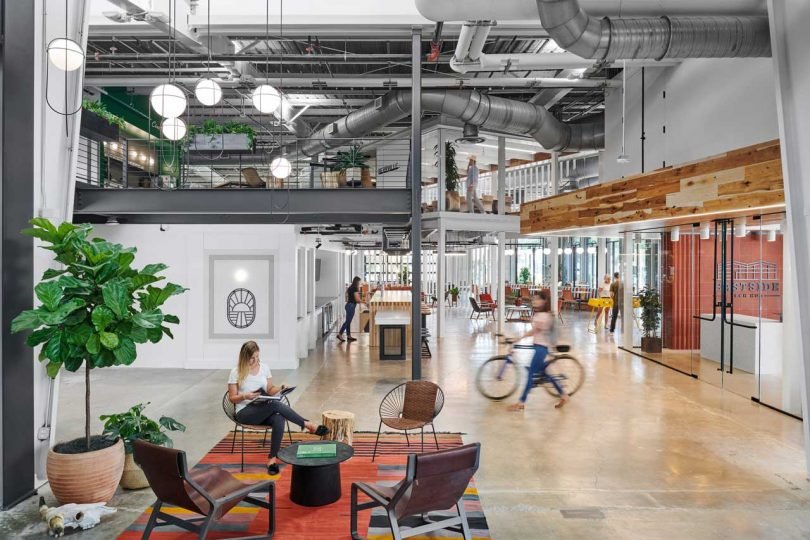 5. H-E-B Digital and Favor Set up New Office in Austin's 1st Recycling Center

Once home to Austin's first recycling center, this 81,000-square-foot warehouse was renovated by IA Interior Architects to become the new home of H-E-B Digital and Favor Delivery. The massive transformation resulted in an energetic headquarters decked out with local art and materials that give nod to its Texas location.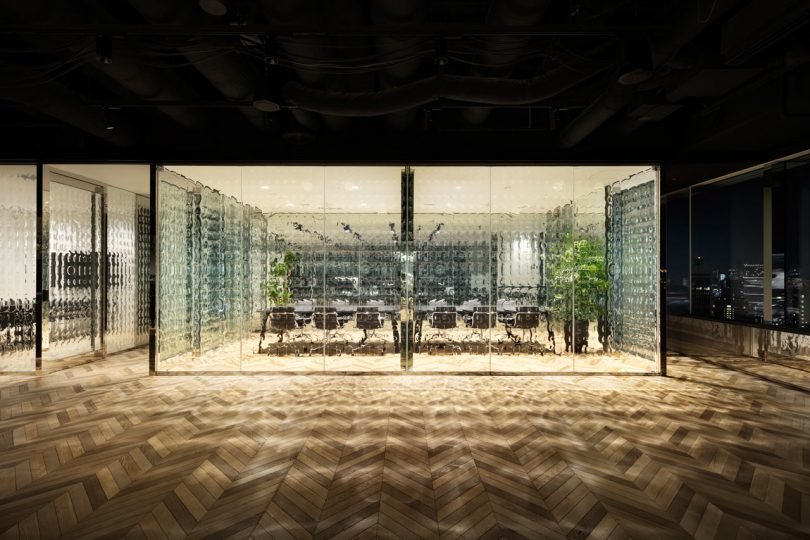 4. Nendo Infuses "1"s and "0"s into Glass Partitions at an Office in Tokyo

When designing the new interior of the "IoT Center" for a global professional firm's Tokyo office, nendo dove into the digital world. In addition to the typical workspaces and conference rooms, the digital hub in Tokyo houses three galleries and a lounge where new digital technologies are put on display and a multipurpose space for seminars and events. Instead of using typical partitions to divide the spaces, nendo designed transparent glass walls infused with binary code, i.e. the "0"s and "1"s computers use to write and store data.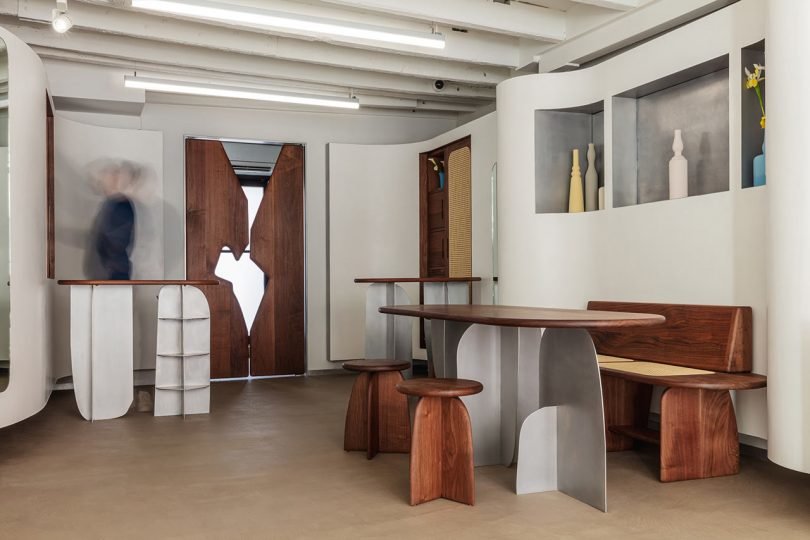 3. Shapeless Studio Brings Geometric Shapes to the New NYC Ahlem Eyewear Shop

LA-based Ahlem Eyewear enlisted the help of Shapeless Studio Architecture & Interiors to design their retail space in New York City. The modern eyewear brand, which specializes in design-focused frames handmade in Paris, moved into the flexible 500-square-foot space situated on Elizabeth Street in SoHo – a space that can easily morph into a showroom, gallery, or event space. Taking inspiration from the brand's unique eyewear, particularly their craftsmanship, geometric forms, and use of sustainable materials, the designers created a space that welcomes visitors with a floating curved wall, custom millwork, and sculptural walnut doors inspired by the work of Isamu Noguchi.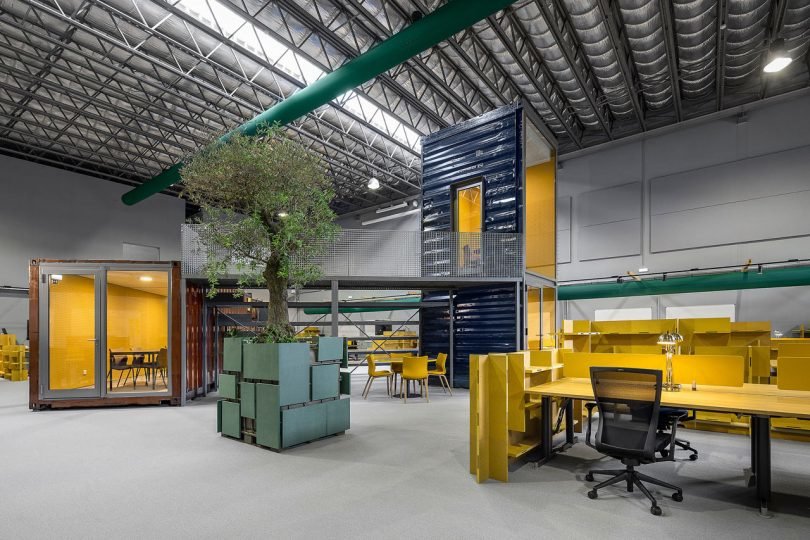 2. A Warehouse Is Transformed with Shipping Containers into Innovative Office

When the Spectris Innovation Centre Porto was looking to expand, studium transformed an empty warehouse in Maia, Portugal. The basic warehouse with grey walls is now a colorful home to a variety of meeting areas, team spaces, individual work spots for about 60, and select places for leisure time.


And the most popular At The Office post of 2020 is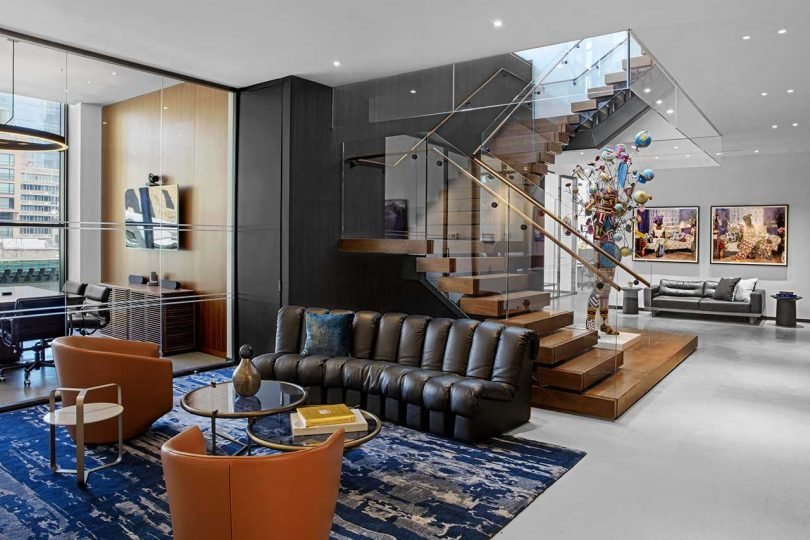 1. See Inside the New Art-Filled Offices of JAY-Z's Roc Nation

Surrounded by galleries in the Chelsea neighborhood of New York City, the new offices of Roc Nation fit right in with founder and rapper JAY-Z's collection of modern art displayed throughout. Working closely with Roc Nation's CEO, Desiree Perez, architect Jeffrey Beers designed a sleek, collaborative environment perfectly complementing the entertainment company's impressive roster of talent and other creative ventures.