We've plenty of beautiful ensuite bathroom ideas. From compact spaces to luxe, hotel-inspired master bathrooms, there's an ensuite bathroom idea here for everyone.

It all starts with the entrance – why not make it a grand one, with a dramatic set of double doors? Or for a more modern look, opt for a steel framed glass partition to create a shower room, to separate the master bathroom from the bedroom. Dial up the grandeur with ornate cornicing, ceiling roses, fireplaces and even a chandelier, but keep bathroom fittings streamlined and modern – with modern freestanding bathtubs, wall mounted brass taps and other modern design ideas.

Want to go all-out? Upgrade your master bathroom with not one but two freestanding bathtubs, so you can comfortably soak together without having to share. A side table in the middle will help make sure that drinks are always within reach. After all, it's called the master bathroom for a reason - and it deserves to be show-stopping.

Looking for something a little out of the ordinary? Take inspiration from custom-made designs like the wooden bath (yes, really) designed by Beata Heuman, and her Fornasetti wallpapered bathroom cabinets. Swoon. For a more classic look, we turn to Marie Flanigan Interiors who created an elegant but understated bathroom combining rustic charm with modern bathroom fittings.

For hotel-inspired luxury, it's all about the little things like soft vintage rugs and sheepskins for keeping feet warm when you brush your teeth, bathtubs with a view (either in a bay window or set up with Netflix), and stylish in-bathroom lounge seating. You're bound to fall in love with these stunning ensuite bathroom ideas.

From statement bathroom lighting and striking tiles to vanity islands (like a kitchen island but for doing your makeup) and extra tall bathtubs deep enough to submerge you right to the shoulders, these are the ensuite bathroom ideas that dreams are made of.

But the real luxe factor is all in the details – like having the rim of your bath just wide enough for resting a glass of wine on. Now that's good design.


RISE 'N SHINE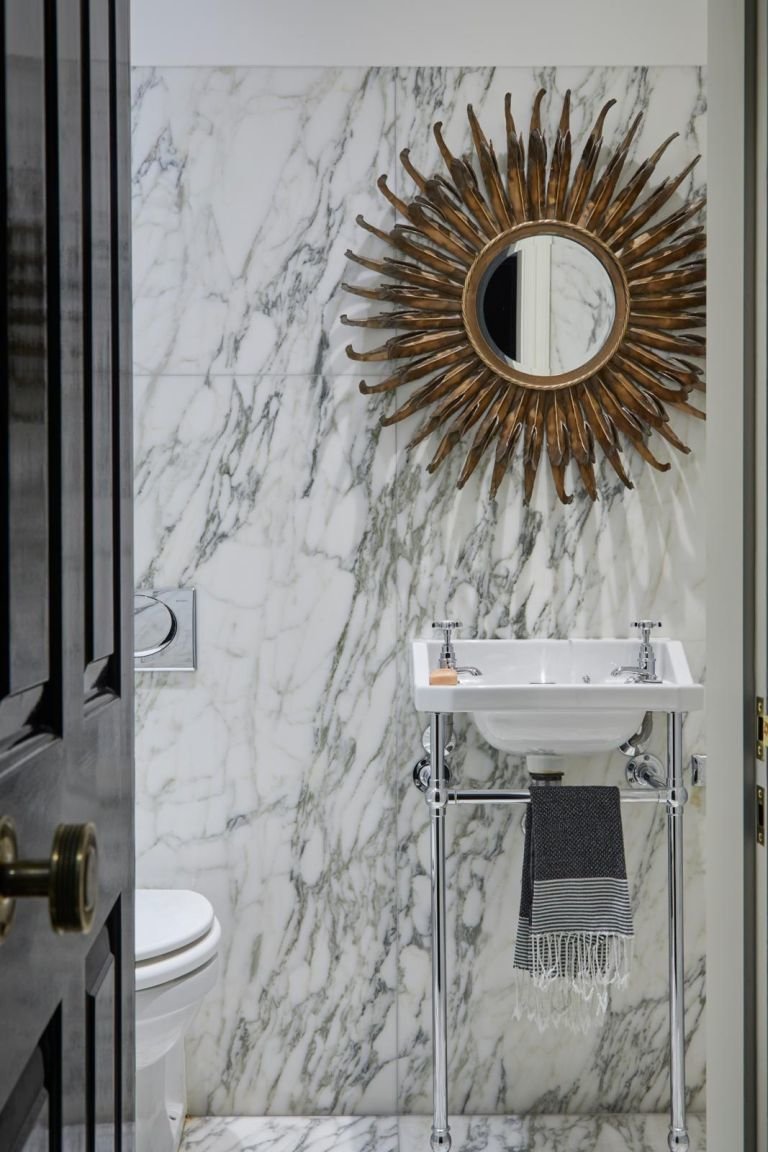 The gorgeous sun burst mirror makes a great wake up call in this beautiful marble ensuite bathroom.


TOP BRASS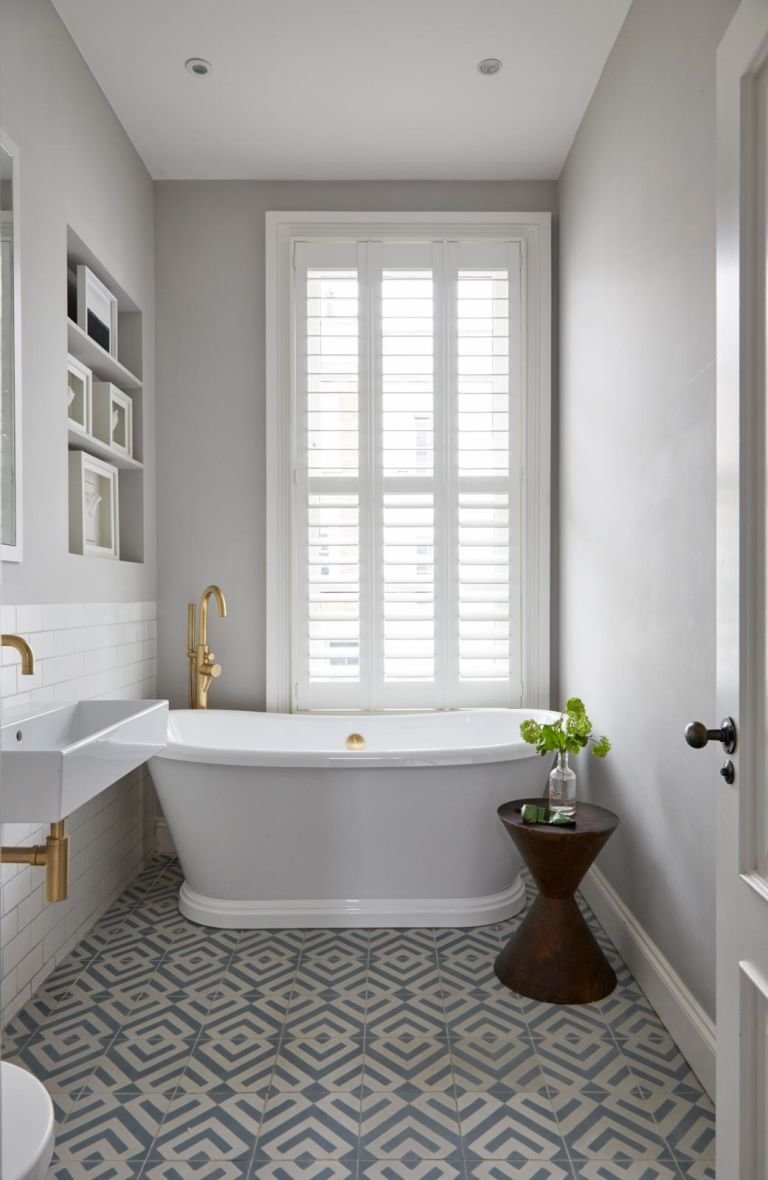 The geometric floor tiles, freestanding tub and brass details keep this bathroom firmly on trend. BC Designs has a great selection of compact tubs.


TOP DRAWER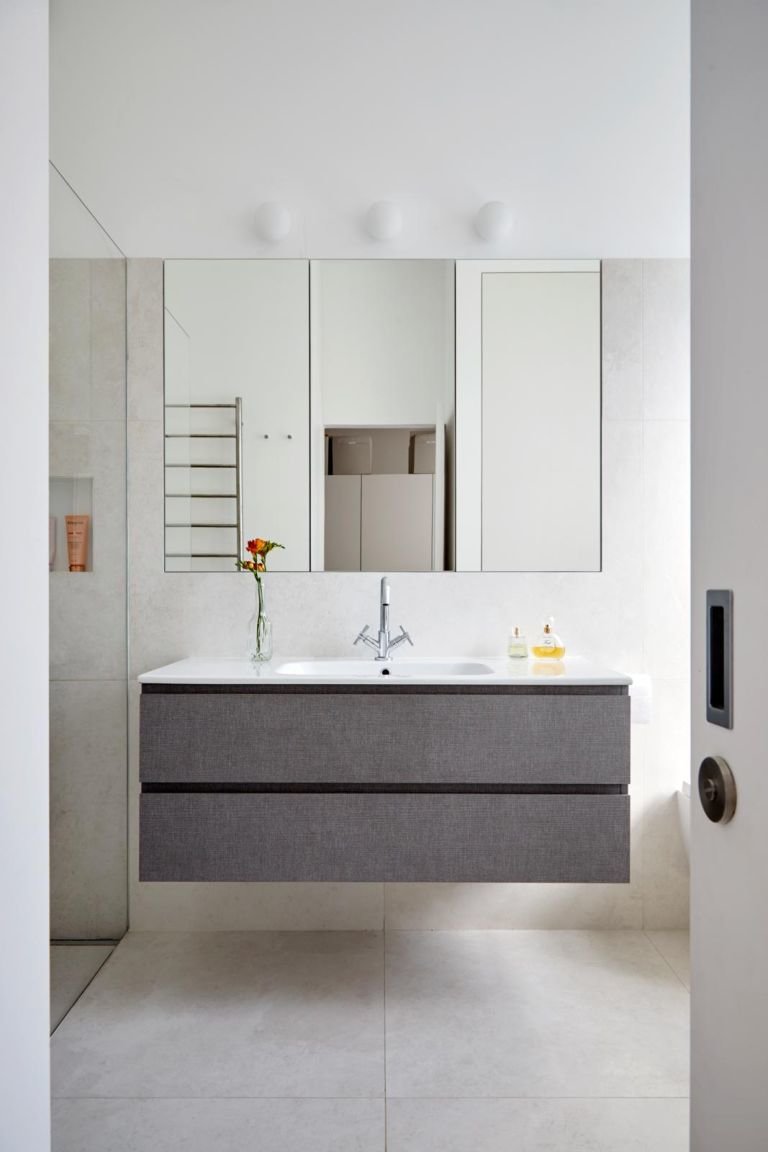 The deep drawers in this wall-hung vanity unit provide ample room for towels and toiletries, while its 'floating' style frees up floor space.


HERITAGE DETAILS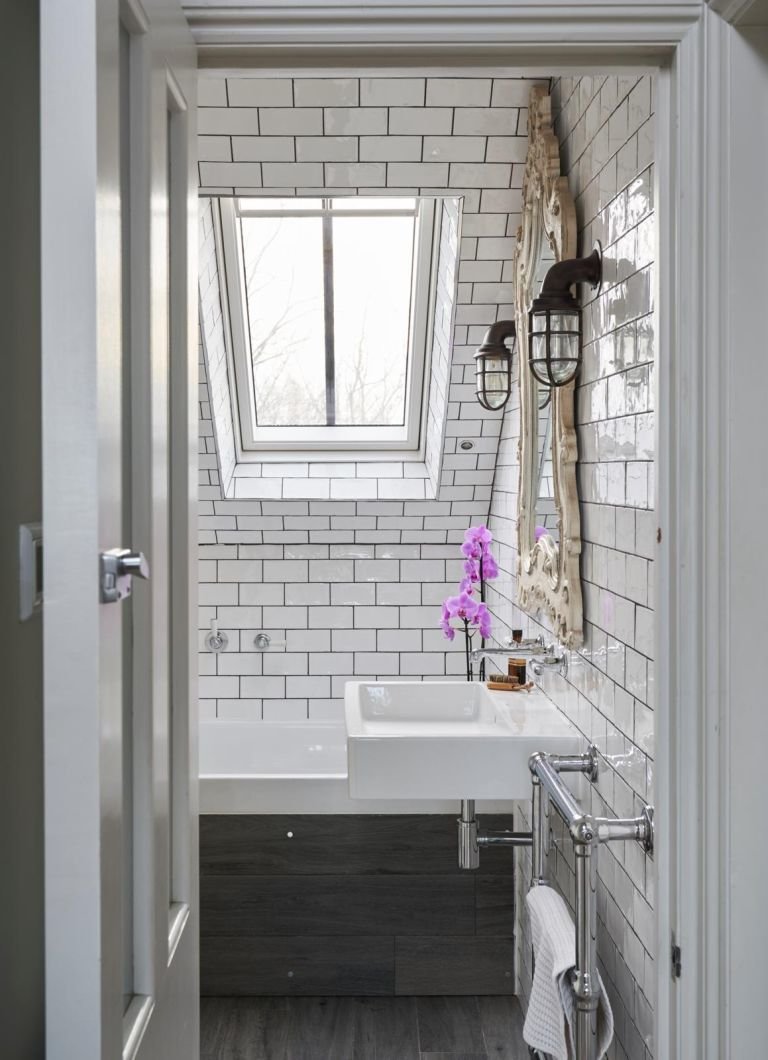 In a small space it makes sense to keep materials to a minimum, so the bath panel blends with the grey timber flooring. Heritage details such as the towel rail, mirror and wall lights add character.

Get the look Find similar baths and basins at V+A Baths.


CUPBOARD LOVE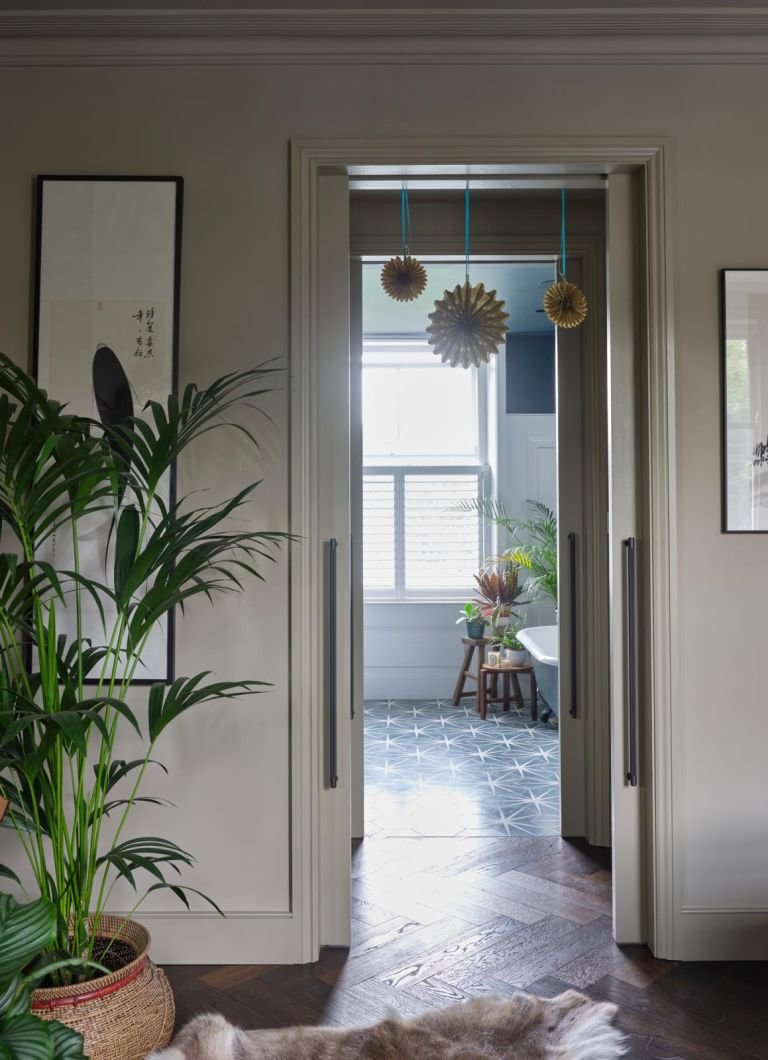 A small space between the master bedroom and ensuite has been cleverly utilised as a wardrobe area.


ALL OUT OPULENCE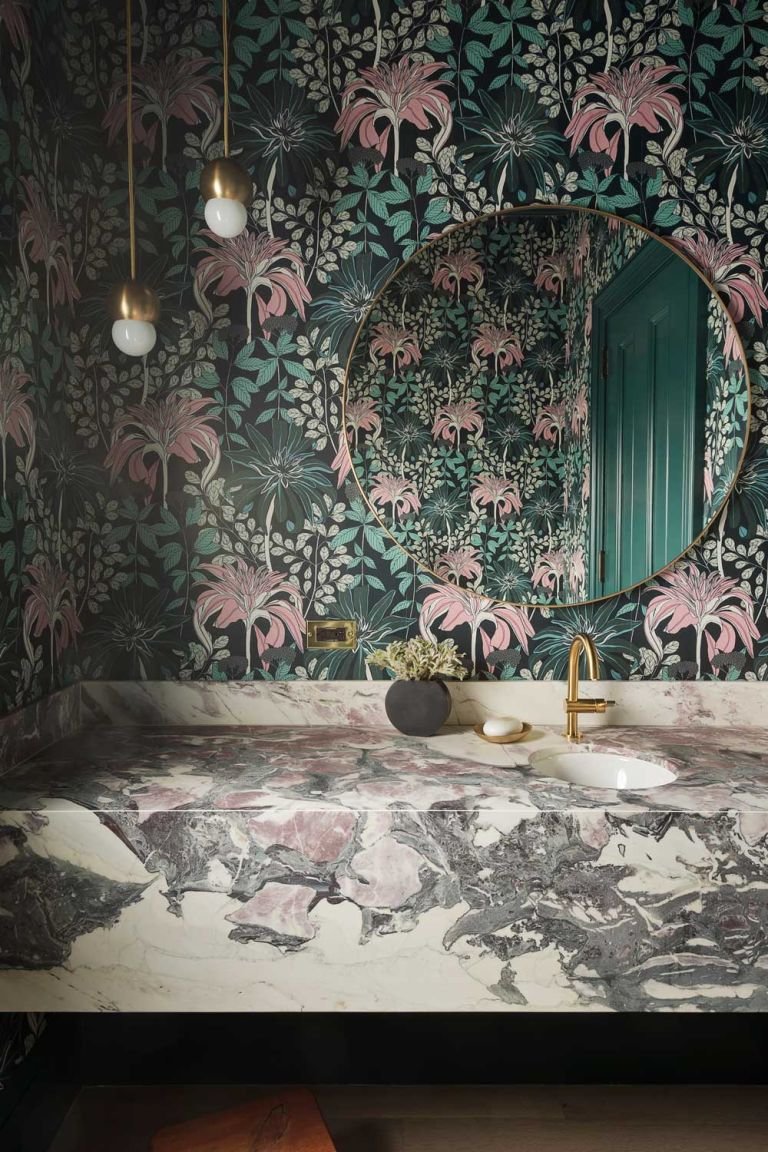 It's easier to go OTT in a room you don't spend huge amounts of time in, as it'll be a pleasant surprise each time you see it rather than overkill. Here this flamboyant floral wallpaper has been teamed with richly veined marble and brass detailing to dramatic effect.


DIVIDE AND CONQUER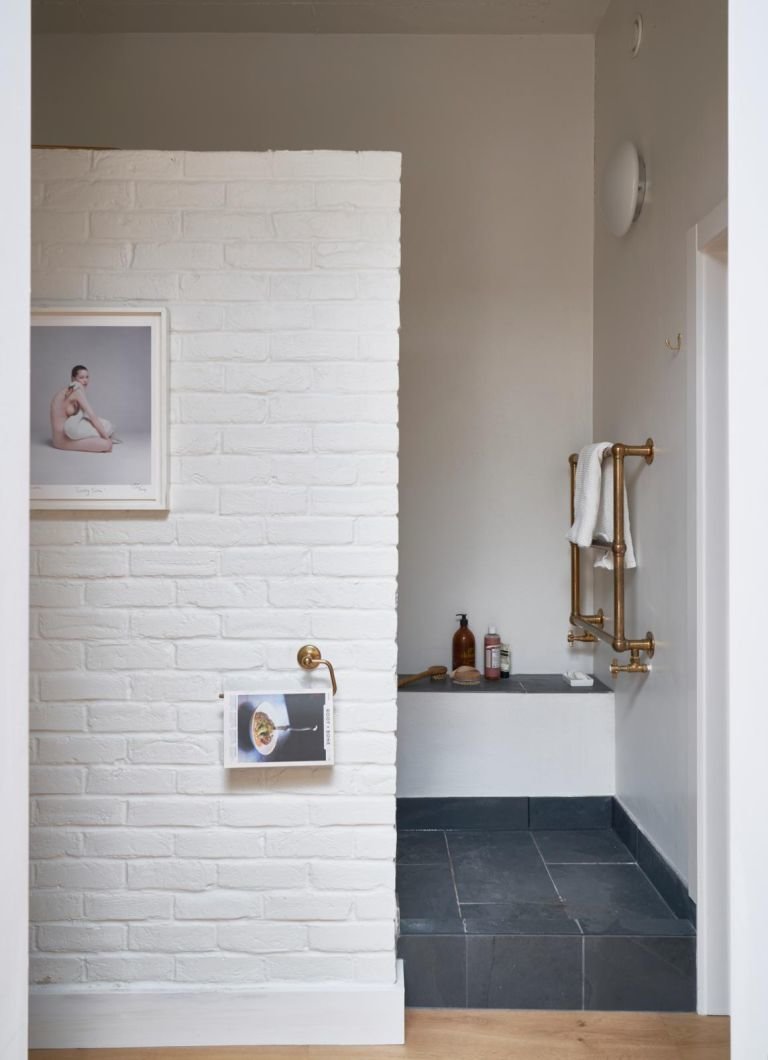 This dividing brick partition wall creates a cool and convenient separation between the bedroom and walk-in shower.


LATHER IN LUXURY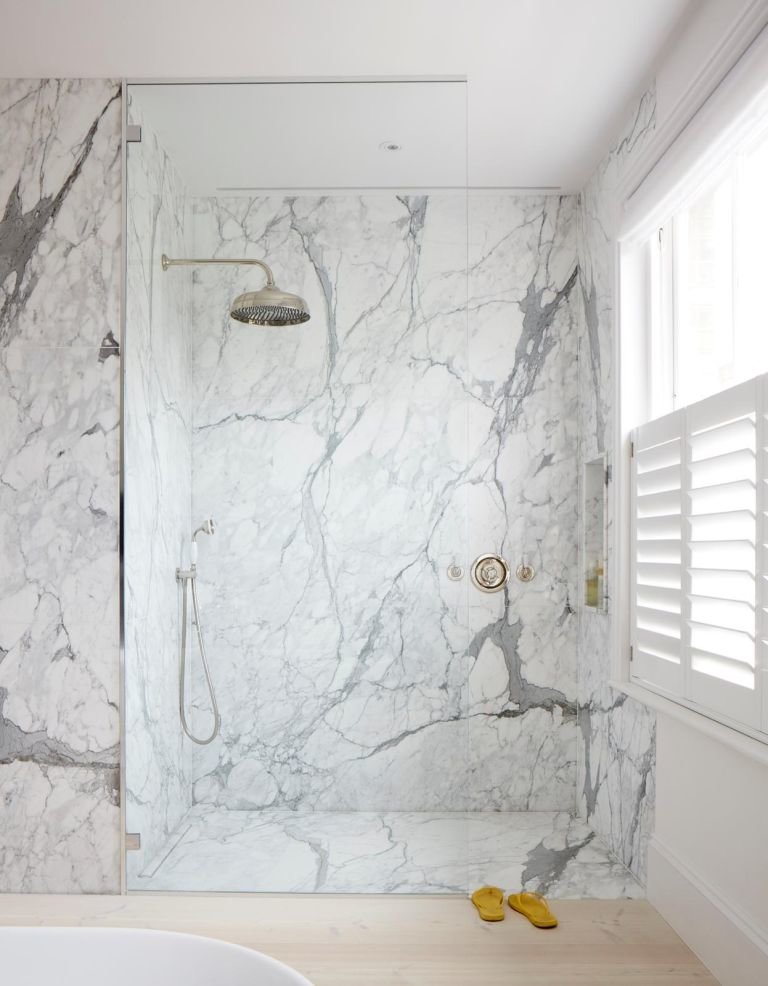 The floor-to-ceiling carrara marble, the rain fall shower head, the lack of superfluous detail, this is everyday luxe at its best.


GRAND REVEAL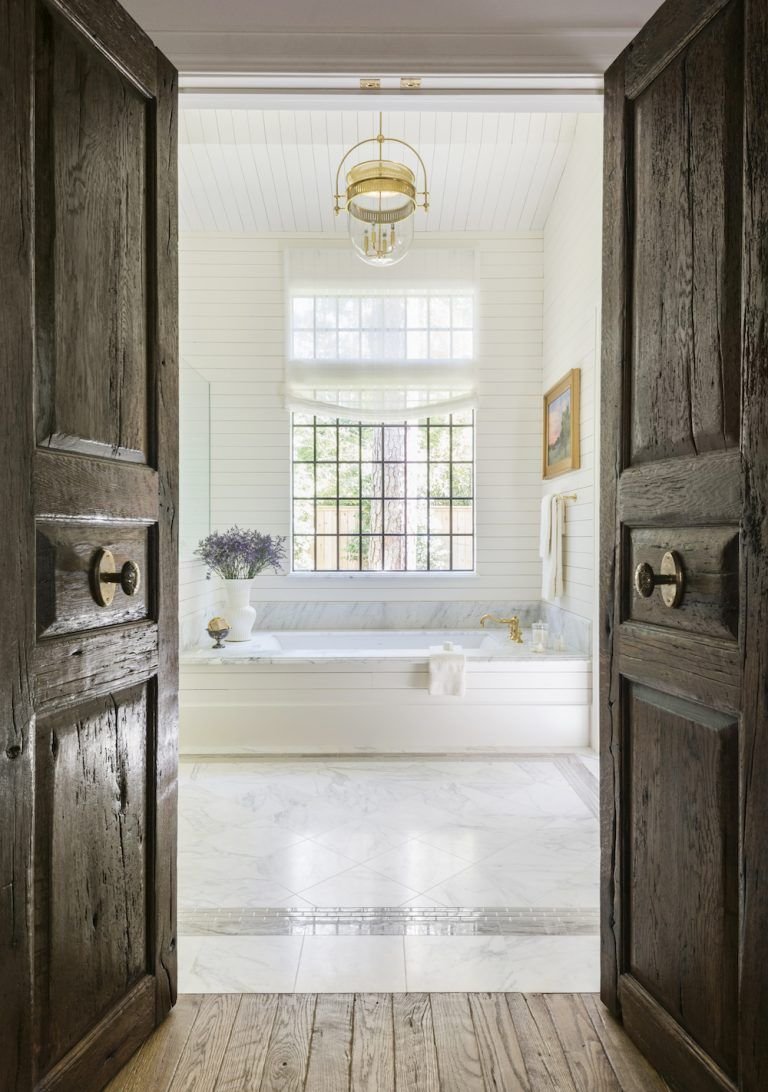 Dramatic double doors connect a master bedroom with this jaw dropping master bathroom. The proportions of this space are very grand for a bathroom, and the marble floors add to the spa-like feel.


SPA STYLE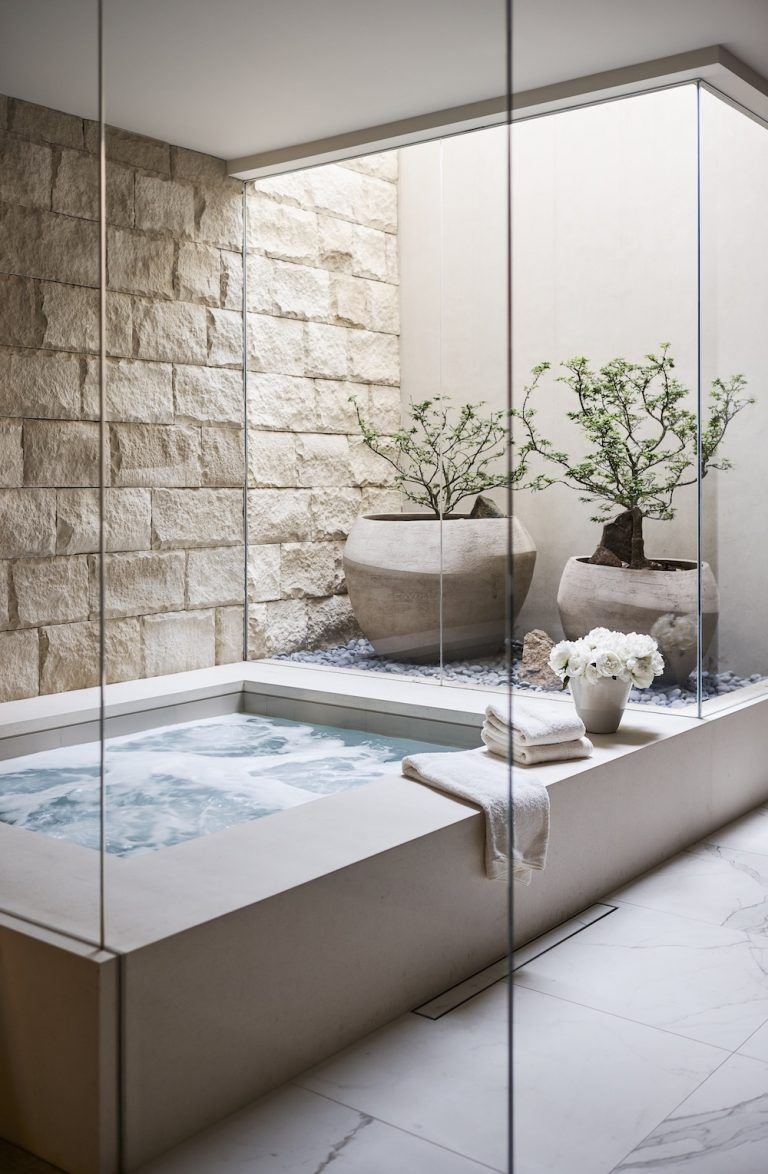 We're in love with this chic bathroom space, from the whirlpool bath to the indoor-outdoor vibe that the light-well garden creates.


EYE CATCHER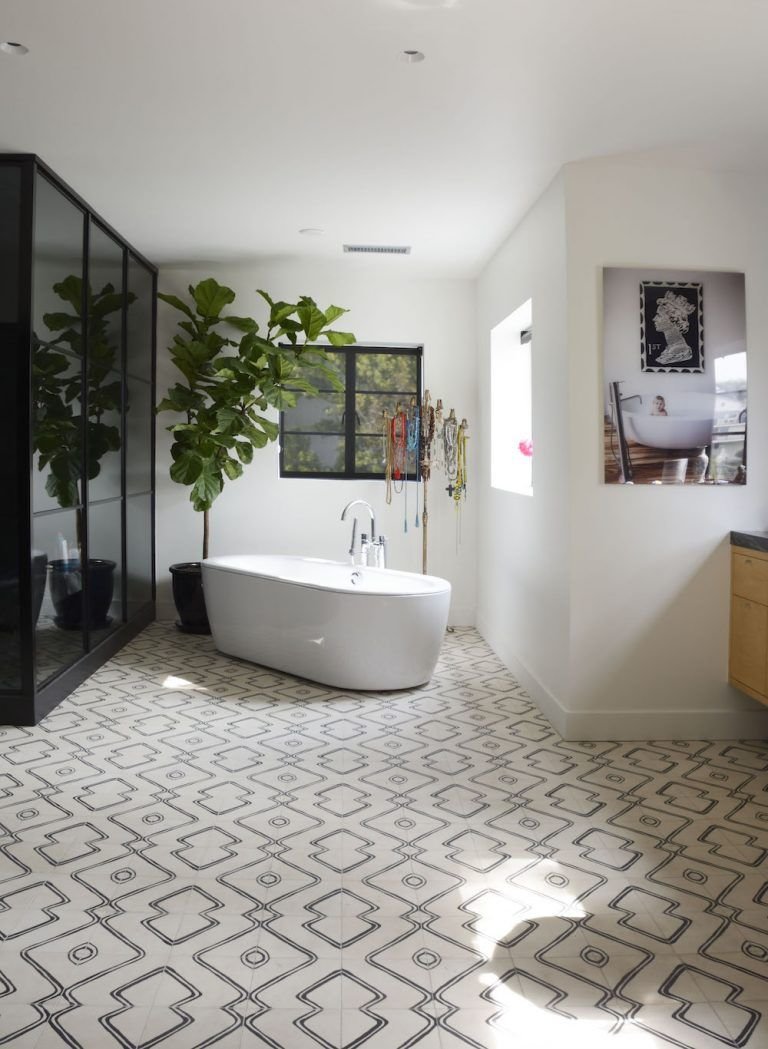 This master bathroom design incorporates lots of striking design ideas, from the freestanding bath at an angle to the shower room behind smoked glass panels and an upcycled church candelabra used to display jewellery.


OLD MEETS NEW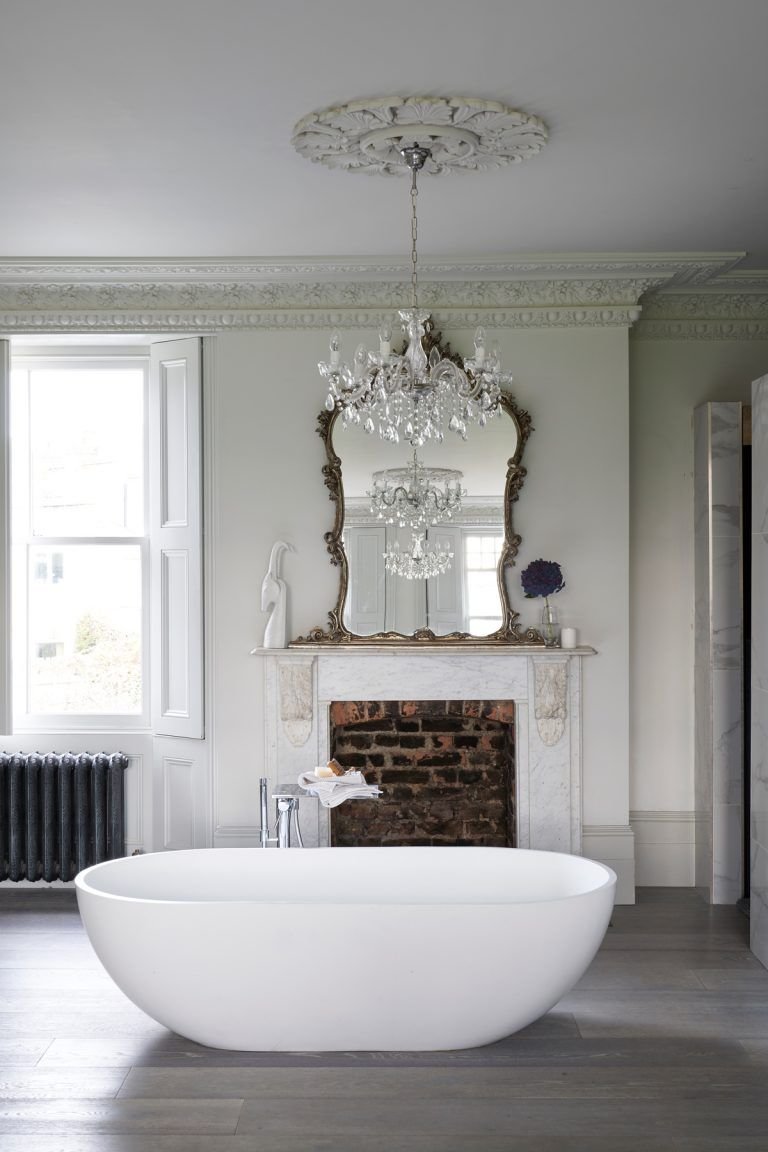 The ornate plasterwork cornicing and ceiling rose are complemented by both classic and contemporary fixtures. The chandelier and mirror are vintage, while the freestanding bath could not look more modern.

Get the look: The bath and fittings are from the Axor Starck collection by Philippe Starck for Hansgrohe. The Carrara marble fireplace and vintage chandelier are from Renaissance London. The Menagerie Gazelle ceramic on the mantelpiece is by Jonathan Adler.


LOUNGE SPACE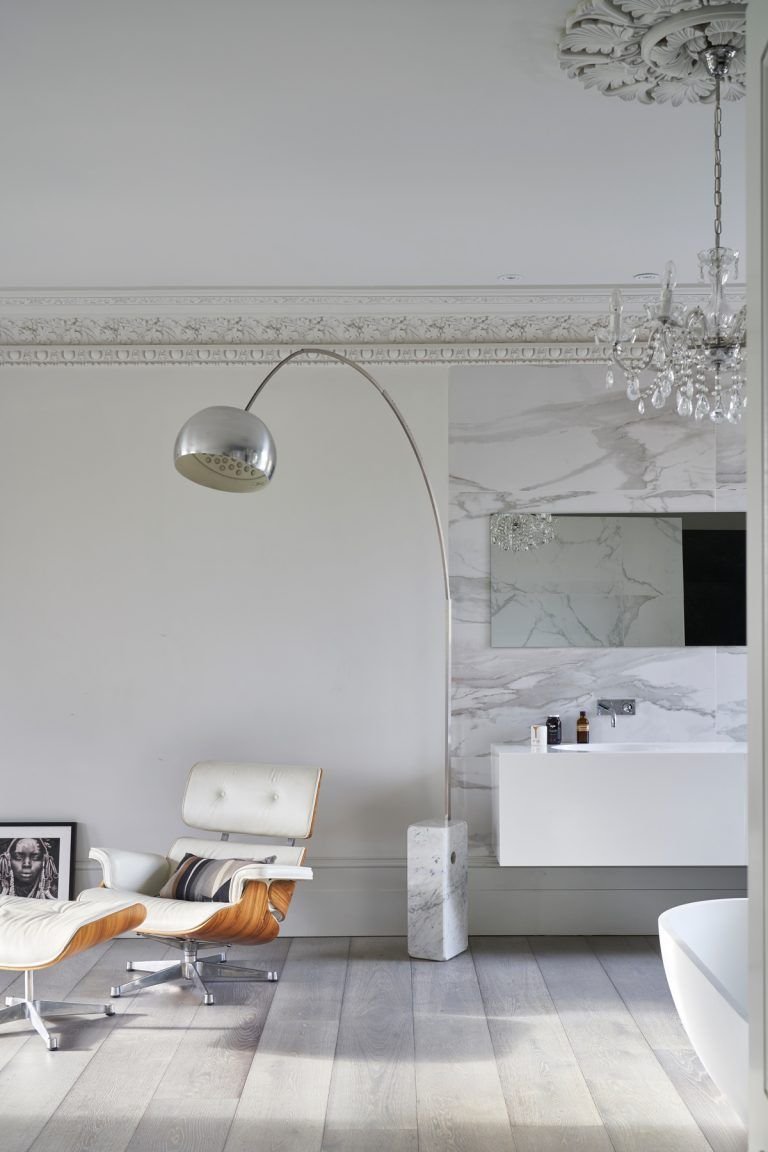 A lounge area in a bathroom is very luxe – especially when the lounge seating in question is a classic Eames lounge chair. The marble wall tiles help differentiate the wet area from the lounge area.

Get the look: The Corian-topped vanity unit was designed and made by Lee Redmond Interiors. The marble wall tiles are from Tower Ceramics. The tap is from the Axor Starck collection by Philippe Starck for Hansgrohe.


BRASS FIXTURES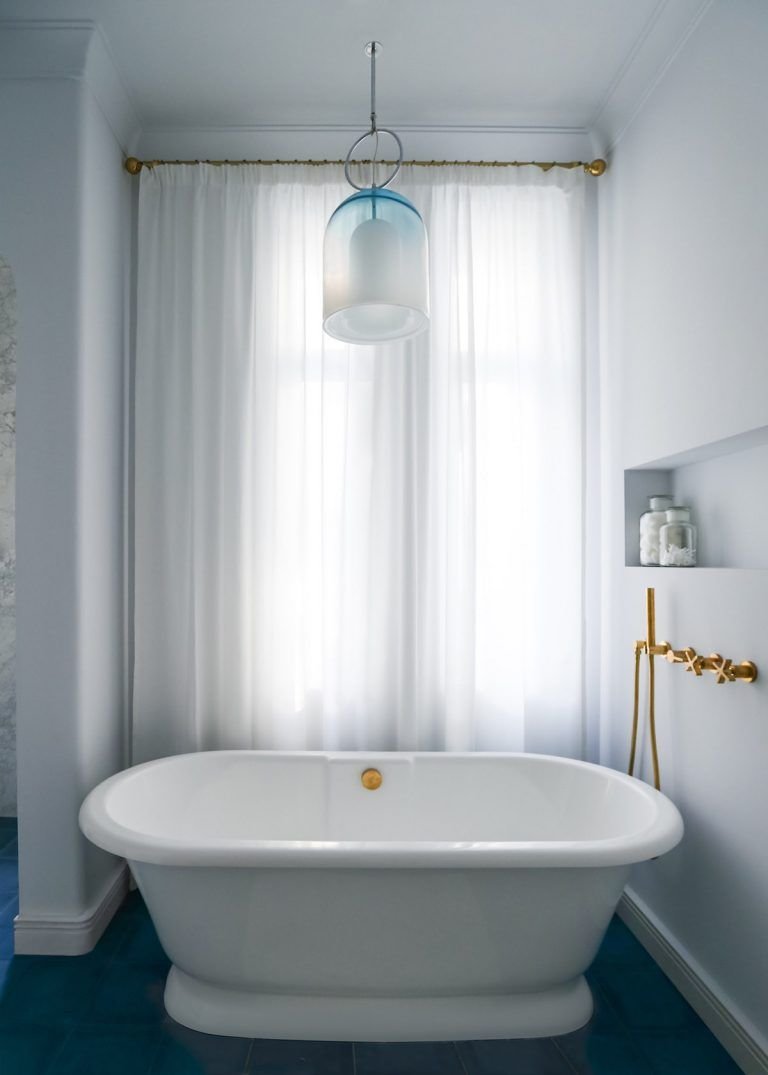 Un-lacquered brass by Studio Ore adds warmth, modernity and glamour to this serene bathroom space. We love that striking modern pendant too.

Get the look: Un-lacquered brass by Studio Ore. Bathtub by Victoria & Albert. Floor tiles by Emery et Cie.