Lap of Luxury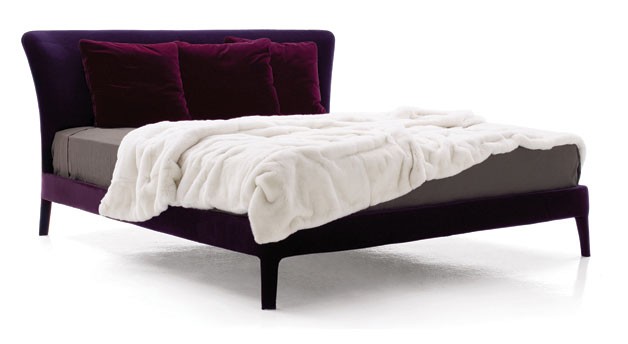 Maxalto's plush Febo collection is noted for its elegant, completely upholstered form and prominent stitching at the seams. It includes a sofa, armchair, chaise longue and bed; pictured here, the queen-sized bed is $8,246, including three small cushions and the slatted base. It is available at Adlon in six different sizes.
www.adlondesign.com
.
Pretty as a Peacock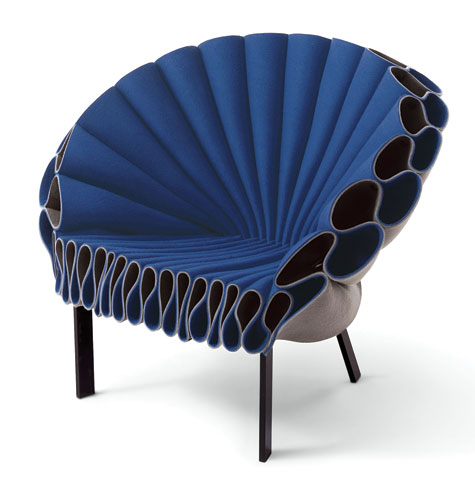 Using three layers of felt and a minimal, dark-varnished metal frame, Israeli furniture designer Dror Benshetrit and Italian furniture manufacturer Cappellini have created Peacock, a unique armchair with soft, folded edges. The felt—which comes in different colors-—is one big piece; no sewing, weaving or upholstery is used. Priced at $6,406 (for one color) or $10,000 (for two colors). At Contemporaria;
www.contemporaria.com
.
Perfect Fit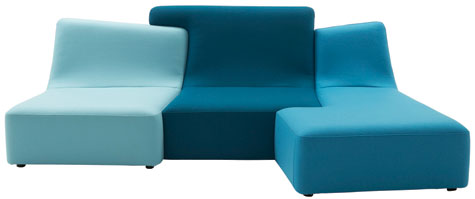 Confluences, French designer Philippe Nigro's playful collection of seating for furniture manufacturer Ligne Roset, is a rainbow of brightly colored lounge chairs that fit together in different configurations to offer a range of sitting positions, seat depths and back heights. Prices vary; the configuration pictured starts at $4,635. At Ligne Roset;
www.ligne-roset-usa.com
.
Under Glass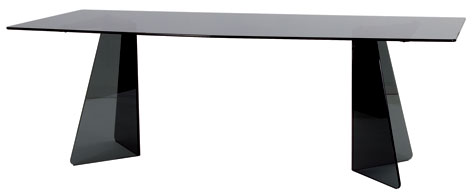 The singular beauty of glass is clear in French designer Cedric Ragot's Silly Cat collection, a series of tables that includes dining, coffee, pedestal and end tables made from tempered gray European glass in eye-catching geometric shapes. Available at Roche Bobois in extra clear, smoked (shown) and bronze. $3,090.
www.roche-bobois.com
.
Find more products in Home & Design...