It's possible you've not considered bathroom wallpaper ideas before. But if you've been perusing wallpaper ideas for elsewhere in your home, it won't have escaped your notice that beautiful patterns and prints are showing up on the walls of the most stylish modern bathrooms and cloakrooms.

If you took a sneak peek inside Kate Moss's bathroom at her Primrose Hill property, perhaps you were as taken as we were with her lustrous grey floral wallpaper, a collaboration between the supermodel and De Gournay.

In fact, the transformative power of wallpaper can be seen most strongly in a bathroom, turning this functional space into an indulgent sanctuary with just a single wall of pattern.

Wallpaper gives a less utilitarian feel than tiles, it instantly soften a space - but why not combine the two? This works well for both style and practical reasons.

Or indulge further and wallpaper the ceiling, like some have decadently done in the examples ahead.

If you're concerned about the effects of steam or splashes of water, there are brands that specialise in bathroom wallpapers, which are made to withstand their effects.

However, it's best to avoid using wallpaper too near the bath, shower or basin. Stick to places where it is less likely to be splashed, such as above a timber panel behind a bath, or above or beside a tiled basin area - and make sure your bathroom is well ventilated.

Of course, where you can go to town, is in a downstairs loo or guest bathroom. If it's a room you don't use every day, you'll be pleasantly surprised by a bold design each time you enter the room.

Bold - or just beautiful, check out the prints, patterns and panoramas ahead and decide what's right for your space.

Want interesting walls in more rooms? See the latest wallpaper trends.


1. Create impact with a mural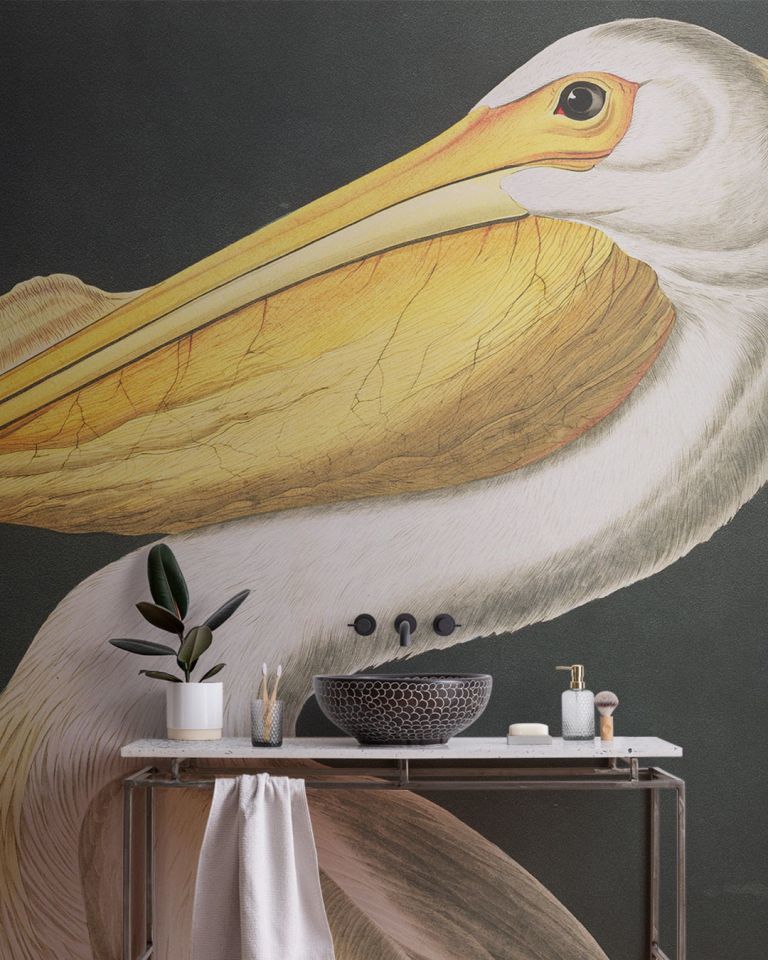 Instead of using a wallpaper with a traditional repeat pattern, think about creating impact with a single image across a huge mural wallpaper. This White Pelican wallpaper mural, is blown up from an illustration from the artist J.J. Audubon and is one of MuralsWallpaper, the manufacturer's most popular designs.


2. Team walls and windows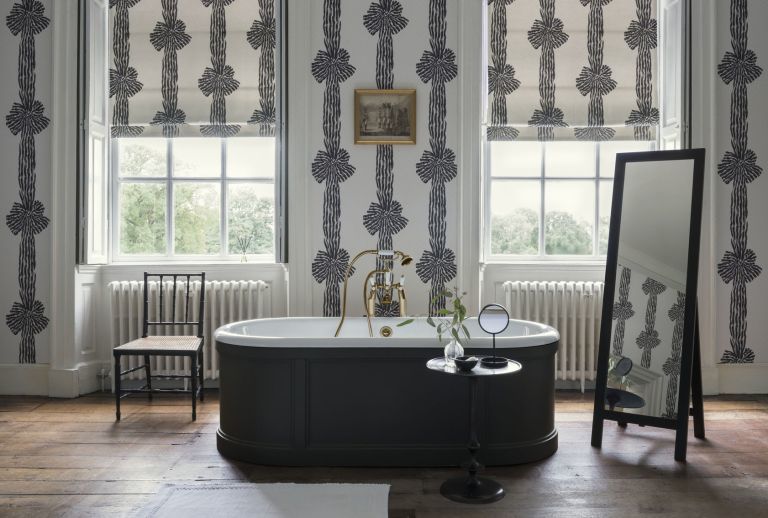 The elegant effect of this knotted sash wallpaper from Warner House is amplified with the classic yet contemporary design replicated on the blinds in this beautiful monochrome bathroom.


3. Go all out luxe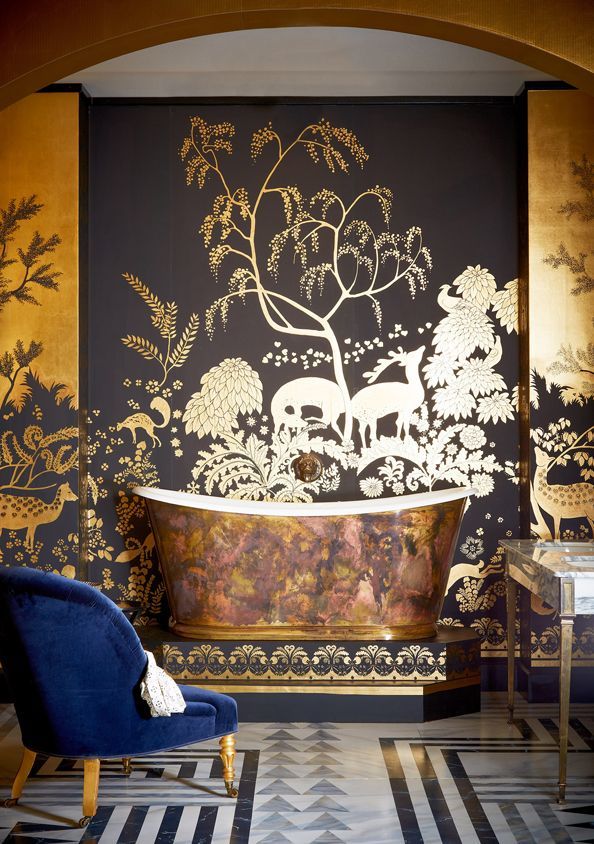 This bathroom oozes pure opulence, with the stunning hand-painted Rateau wallpaper from De Gournay setting the scene for an indulgent soak in this Usk tub from Drummonds, beautifully perched on a raised plinth.


4. Soften your scheme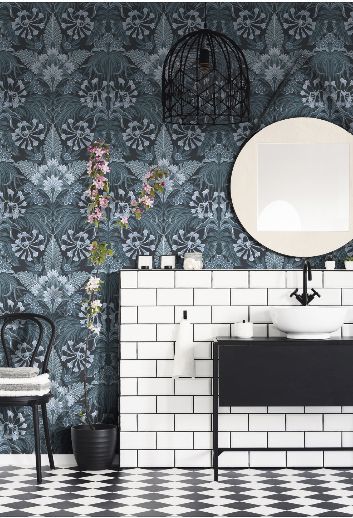 The addition of this lovely Mirk wallpaper from Woodchip & Magnolia instantly softens this scheme, bringing warmth to the monochrome fittings and tiles, while enhancing its dramatic style.

Love the tiles? See more bathroom flooring ideas.


5. Nod to the terrazzo trend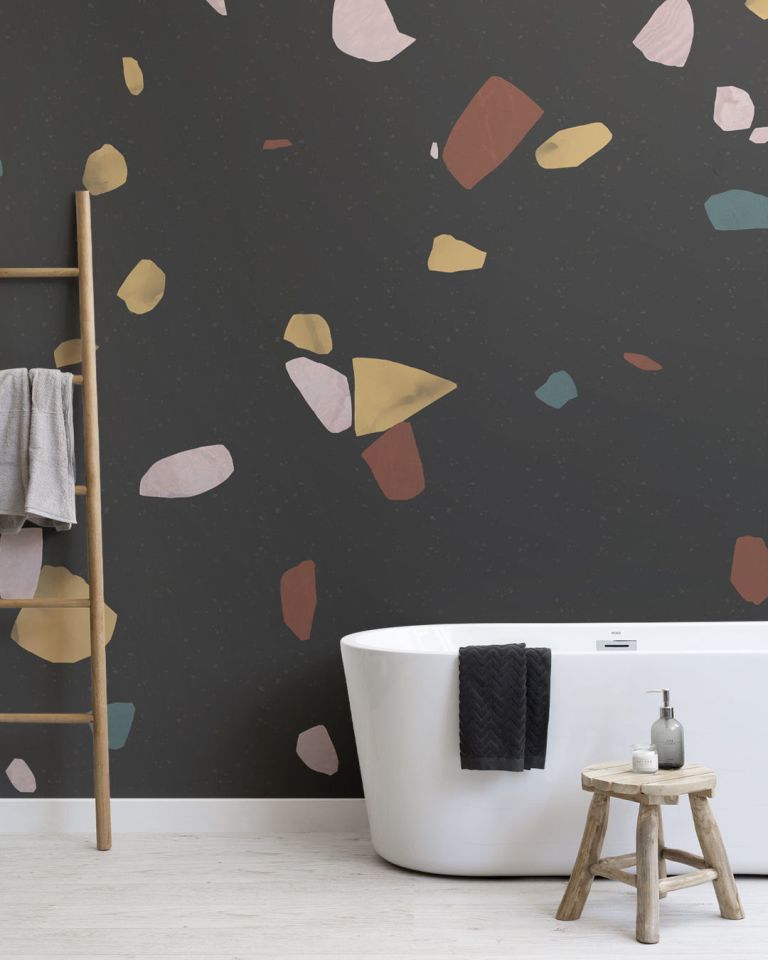 The trend for terrazzo is still big in bathroom design, but if investing in the real thing is too long term a commitment, then this large scale Black Marble stone terrazzo print wallpaper is a great alternative.


6. Set a scene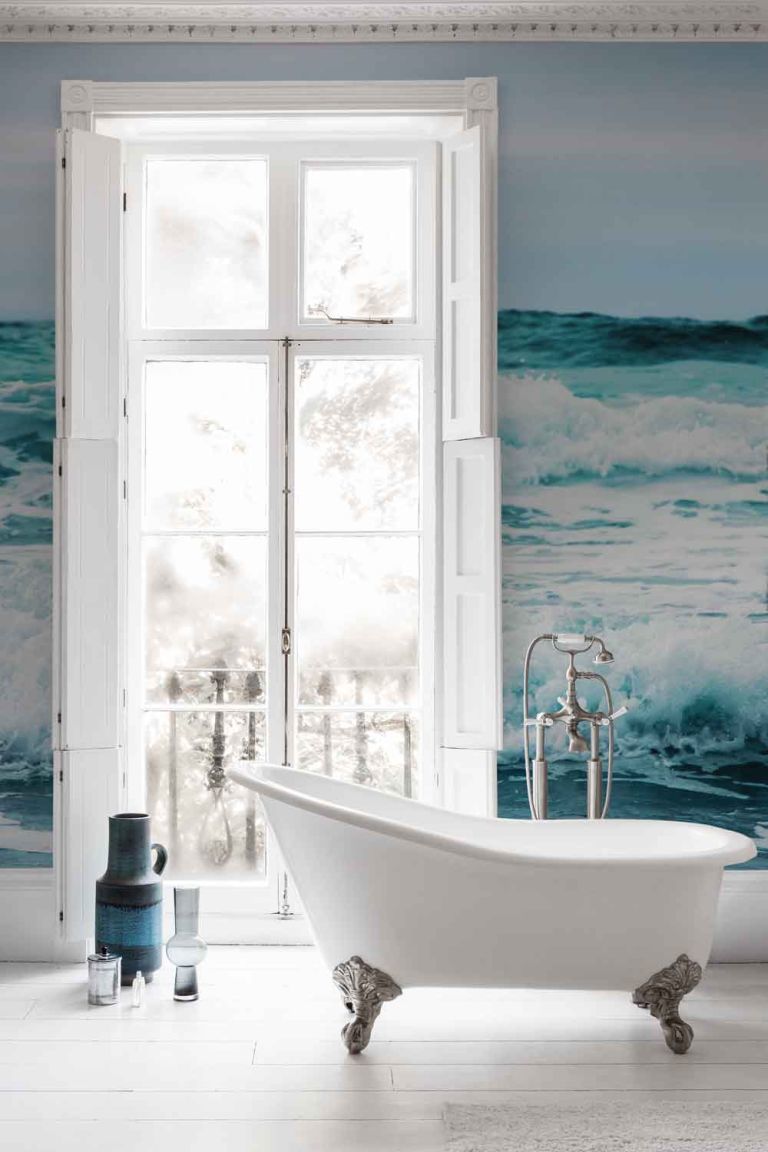 Dreaming of your next holiday? Why wait, bring holiday vibes to your bathroom with a wall mural like this one by Nic Miller for Surface View. The beauty of these murals is not only in the design but that they can be scaled up or down to suit the size of your space.


7. Introduce super model style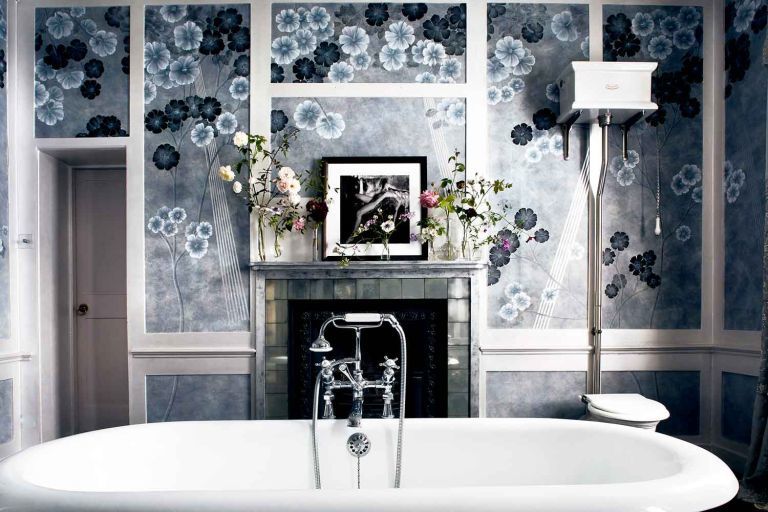 This pretty wallpaper in Kate Moss's bathroom in her Primrose Hill property is a collaboration between the supermodel and De Gournay. 'Anemones in Light', a beautiful chinoiserie wallcovering, not only offsets the Spey cast iron bath and Mull classic bath and shower mixer from Drummonds, it's now part of the design house's permanent collection.


8. Go wall to wall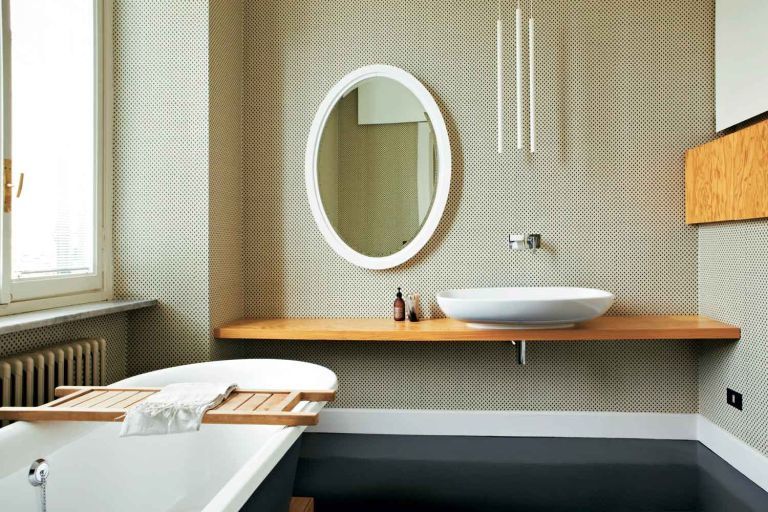 With a subtle wallpaper like this Polka Square (BP 1056) from Farrow & Ball you can afford to go wall to wall, as it oozes elegance and it's not the type of print you will tire of too soon.

See Farrow & Ball's trending paint colours for the year ahead.


9. Paper the 'fifth' wall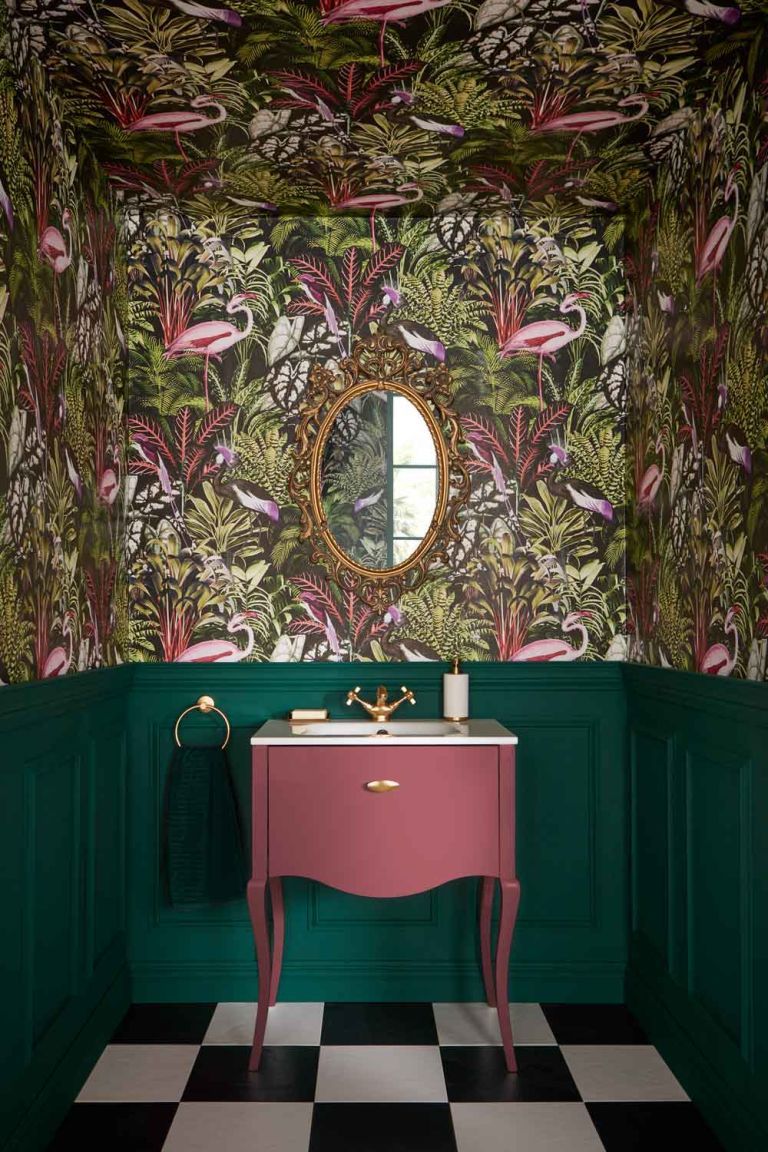 Wallpapering the ceiling in a cloakroom or bathroom with a flamboyant wallpaper such as this Midnight Tropic from Graham & Brown will create a cool and cosy cocoon.

Like the idea of something other than a plain white ceiling? Check out more ceiling ideas.


10. Choose the same paint colour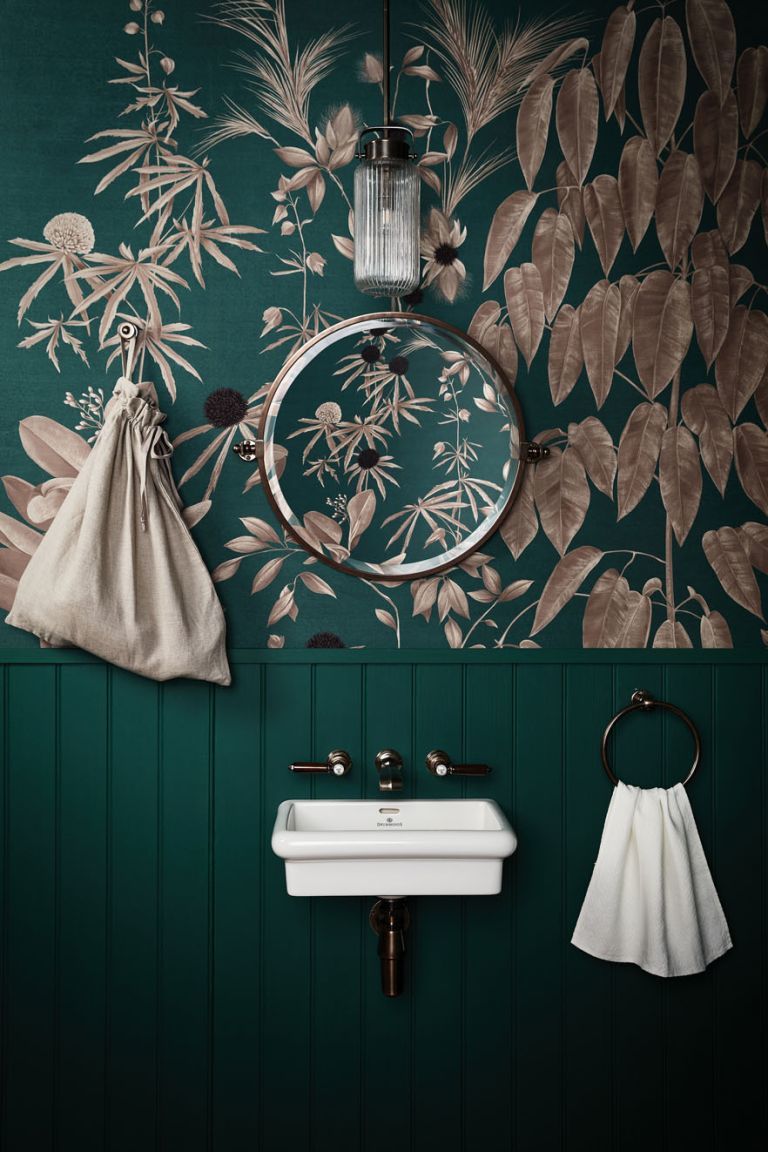 This stunning Garden of Serica (in Malachite) wallpaper by Anna Glover is offset beautifully by the timber panelling in the same rich green colour and provides a stylish backdrop for the utility-style fittings, which include the Bourne wall mounted basin, Chessleton wall mounted basin mixer, Towel ring, Round tilt Mirror in antique brass and Derwent pendant light; all from Drummonds.

Bathroom lights are now as beautiful as those for the rest of the home. See more bathroom lighting ideas.


11. Bring nature in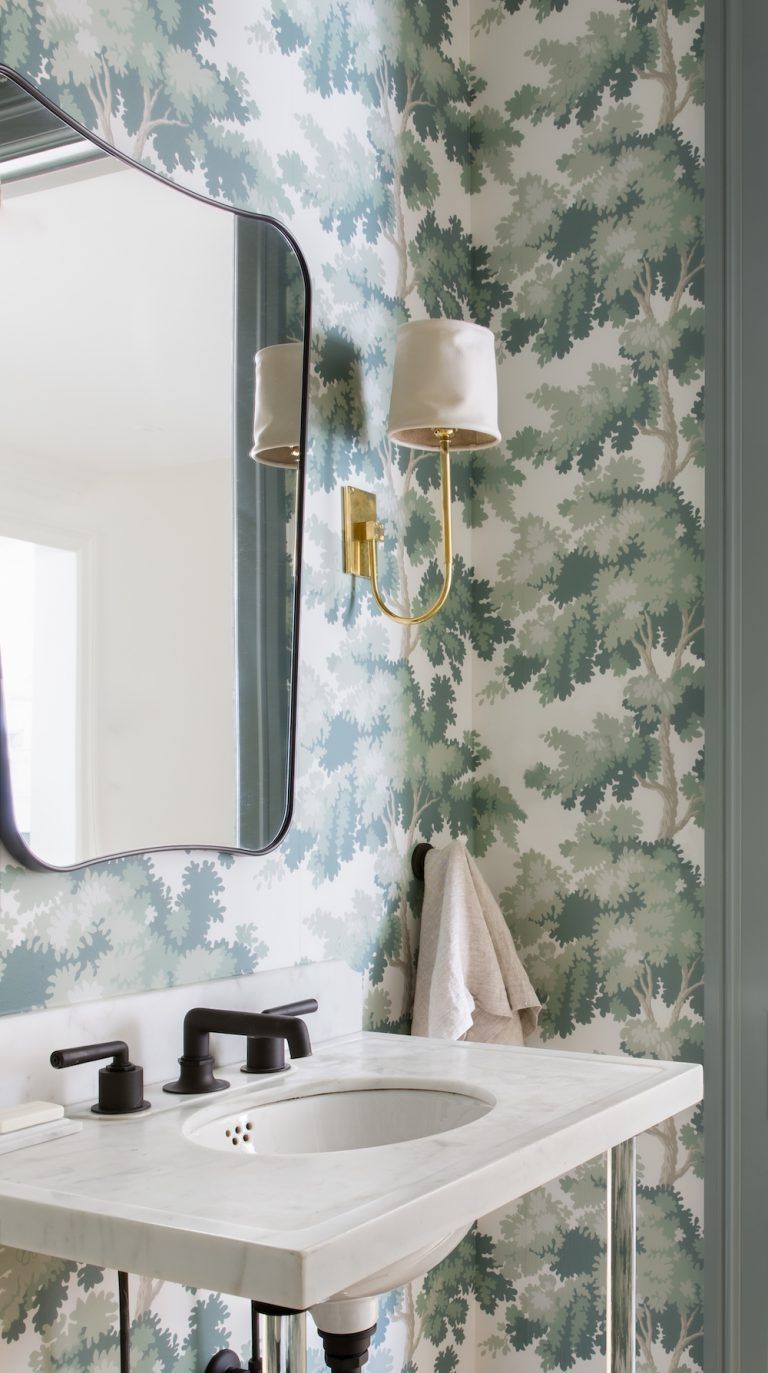 A gorgeous Sandberg wallpaper sets the tone in this stylish cloakroom, and is perfectly offset by the window frames painted in a complementary shade.

The wallpaper is from Sandberg; Mirror, Gio Ponti Mirror (Gubi); Wall lights by Adam Otlewski.


12. Splurge on designer prints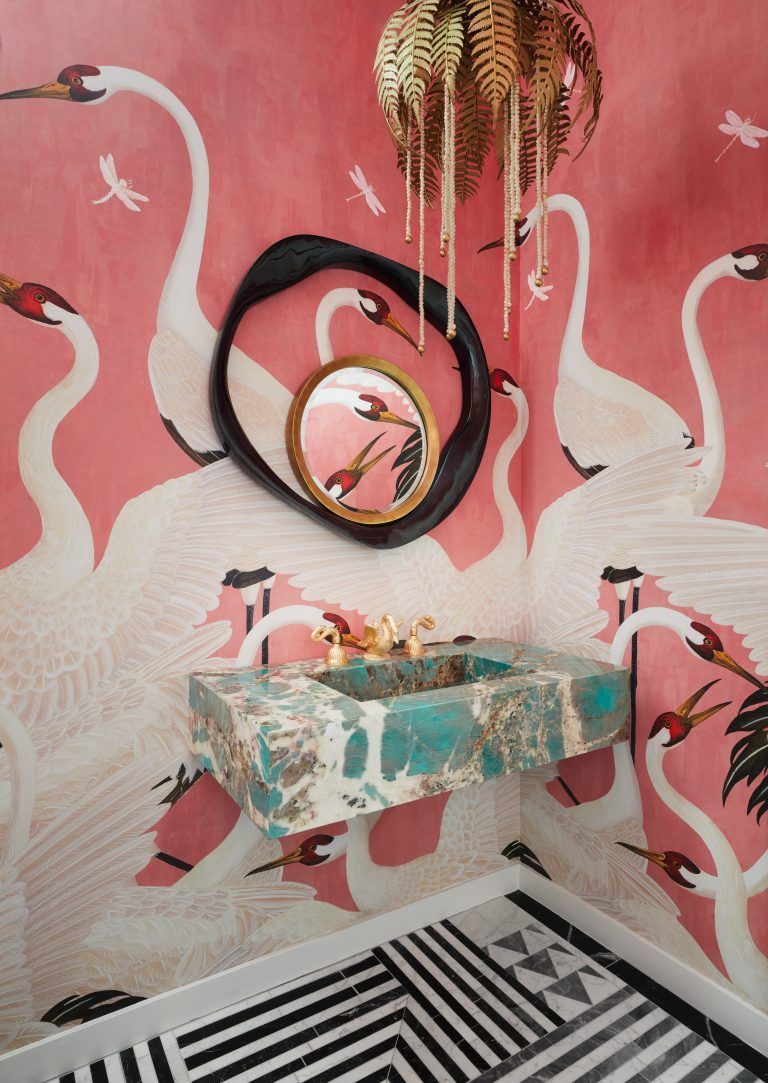 In a small room you can splurge on an expensive wall-covering. Gucci's signature Heron print paper makes a bold statement in this cloakroom.

Heron wallpaper, Gucci. Basin, custom-made in stone. Floor tiles, bespoke by Kelly Wearstler.